Find out the best, and most cost-effective way to travel from Ho Chi Minh City to Phnom Penh. If you are backpacking Southeast Asia on the popular travel route then it is likely you will need to travel from Vietnam to Cambodia at some stage to start your adventures in a new country!
---
If you are like me and happen to be traveling clockwise on the famous banana pancake trail in Southeast Asia, then at some stage you will no doubt be needing to travel from Ho Chi Minh City to Phnom Penh.
These are two huge cities, and there are numerous options you can choose from to travel this route from Vietnam to Cambodia. Though if you happen to be backpacking on a budget then maybe you can't afford a flight but still want something semi-decent.
Well before we get into the exact details on how you should make this journey, let's get into the why. Why should you visit Phnom Penh in Cambodia? I'll be honest, it isn't the most glamorous city, at all.
Some parts can be quite sketchy and I may or may not have accidentally stayed in the red-light district. Nevertheless, I have actually visited Phnom Penh twice, simply because I believe it should be customary for any traveler or tourist visiting Cambodia to learn about its past.
I know it may be hard to comprehend and understand. Though visiting S21 Prison and the Killing Fields provides you an insight into what happened in the country, and how the people were affected by these events in the not so long ago past.
The journey may be a long one, though in all honesty, the worst part is the border crossing as they always seem to take forever. Though depending whether you travel overland or by air will also affect how long the total journey is.
Nevertheless, personally, it was definitely one of the longer journeys and border crossings we did in Southeast Asia.
Though before I get into my experience I will let you know all options when it comes to traveling from Ho Chi Minh City to Phnom Penh. This includes whether to bus, plane, minivan, taxi, or train, prices, how to book tickets, departure times, and more!
| | | | |
| --- | --- | --- | --- |
| | Time | Cost | Highlight |
| Limobus | 6 hours | from $18.00 | Comfortable journey |
| Private Transfer | 6 hours | from $80.00 | Super comfortable journey |
| Bus | 7 hours | from $12.00 | The cheapest way to travel |
| Fly | 50 mins | from $120.00 | A bit more pricey, but a quick journey |
---
How I Book Cheap Transport In Vietnam: 12.Go Asia
---
Ho Chi Minh City To Phnom Penh: The Best Ways To Cross The Border From Vietnam To Cambodia
---
Ho Chi Minh City To Phnom Penh Distance
The distance from Ho Chi Minh City to Phnom Penh is approximately 240 kilometers. Sure this doesn't sound like a lot, and if it was a straight journey it would be pretty damn easy.
Unfortunately, life is not that easy, and even with pretty decent highways the whole way, you will have to do a border crossing when traveling from Vietnam to Cambodia.
Though if you happen to take a plane rather than traveling overland you will quickly realize how much quicker the journey is by air. But by the time you arrive 3 hours early at the airport, and do the whole customs thing is it actually worth it?
The deciding factor that will sway you whether to take a bus, private transfer, plane, or train will depend on your budget and how long you have to complete the journey.
---
Ho Chi Minh City To Phnom Penh Travel Time
Depending on the type of transport you decide to book from Ho Chi Minh City to Phnom Penh will affect how long it takes to travel.
Bus: The bus journey from Ho Chi Minh City to Phnom Penh takes approximately 7 and a half hours. Though there could easily be delays at the border meaning this transport method could take longer than planned.
Limo Van: The Limo Van is slightly quicker than taking a bus at just 6 hours. This is simply because there are fewer people on the van so less waiting around for everyone to get out of Vietnam and into Cambodia.
Flight: The quickest way is no doubt flying as the total journey time from Ho Chi Minh City to Phnom Penh is an easy 50 minutes. Though keep in mind this is an international flight so it is recommended you arrive at the airport 3 hours prior to departure.
---
How I Book Cheap Transport In Vietnam: 12.Go Asia
---
Private Transfer From Ho Chi Minh City To Phnom Penh
Duration: 6 to 7 hours
Cost: $80.00 – $120.00 per car
Before you think this is the perfect way to travel from Ho Chi Minh City to Phnom Penh there is something you need to be aware of. This is because taxis actually require a special permit to cross the border from Vietnam to Cambodia and only a certain amount of cars can actually cross per day.
As a result, you will find that most taxi drivers will only drive you up until the border and then drop you off. This means you will be on your own with the whole immigration process, exiting Vietnam, and entering Cambodia.
Once you have been granted entry into Cambodia you will then need to negotiate with a taxi driver to take you the remaining distance to Phnom Penh.
I know doing this type of process can be daunting, especially once you get to the Cambodian side you can feel pressured into taking an overpriced taxi because you have limited options.
This method takes about the same amount of time as if you were taking a bus or a minivan. Though by taking one of these you will also have an employee who will guide you through the border and help with any documents that need filling out.
The prices are also considerably higher than taking a bus or van, so I would recommend going with the other travelers in a bus or minivan.
If you are looking at a private transfer I recommend booking in advance online with 
12.Go Asia.
---
Bus From Ho Chi Minh City To Phnom Penh
Duration: 6 and a half hours
Cost: $12.00 to $30.00 per person
Now in my personal opinion, taking a bus from Ho Chi Minh City To Phnom Penh is an excellent way to travel and cross the border from Vietnam to Cambodia.
There are special tourist buses that operate this route and that is actually what I used when traveling this route. Though before we get into my experience, let's talk about the basics.
Taking a bus will take somewhere from 6 to 7 hours. Unfortunately, this can vary quite a lot depending on traffic, and if everyone on the bus is organized in terms of entry requirements. Therefore I would recommend setting an entire day aside if you decide on this option, don't make any afternoon plans.
My preferred company for bus travel in Cambodia, and on the Ho Chi Minh City to Phnom Penh route is The Giant Ibis.
---
Bus vs Tourist Bus
Now when you are traveling essentially any country in Southeast Asia you will quickly learn that there are two different types of buses, the regular bus, and the tourist bus.
The standard regular bus is more to local standards, which is fine if you know that is what you are booking and are prepared for it. Though if not, you may be in for a surprise.
Though luckily there are a handful of buses servicing this route that cater to travelers and their needs. These include Giant Ibis, Mekong Express, Sinh Tourist, and Sorya. Though personally, as you may have figured, my preferred company operating from Ho Chi Minh City to Phnom Penh is Giant Ibis.
They have comfortable buses with air conditioning, are reliable, and have an attendant onboard to assist with the border crossing, ensuring the entire journey is a smooth experience. Though you do pay a bit extra booking them compared with other options.
---
Sleeper vs Seater Bus
Since you have been traveling in Vietnam no doubt you know there are two different types of buses here. The first is your standard bus that you are no doubt quite familiar with. They have just your standard seats. Now the second is called a sleeper bus, and it can be quite an interesting experience on one of these.
Once you enter the bus you will notice there are two aisles you can walk down rather than just one. This separates the three rows of sleeper seats that are stacked two tall.
At first thought, you may think "Yay legroom" or "Yay I can lay down on this long journey". However, in all honesty, they are not comfortable for anybody over 165cm. At the back of the buses is a huge flat area, where they chuck the tall people.
Luckily this isn't common on the Ho Chi Minh City to Phnom Penh bus route. Instead, you will have just a standard seat which you will no doubt be missing after traveling Vietnam.
However just be aware that if you book a bus with Travel Mart or Virak Buntham they have night buses with shared sleeping cabins. Therefore if you are traveling alone you may end up sleeping next to a stranger.
Also, the timing is pretty bad as you generally need to wait at the border for the immigration offices to open, essentially doubling journey time.
---
Bus Schedule From Ho Chi Minh City To Phnom Penh
Here is the bus schedule departing from Ho Chi Minh City and arriving in Phnom Penh. Of course, there are more companies than just these I have listed. Though this is just a selection of the most popular.
| | | | |
| --- | --- | --- | --- |
| Bus | Departure Times | Length | Price |
| The Sinh Tourist | 06:30, 08:30 , 11:30 & 15:30 | 6.5h | from $14.00 |
| Giant Ibis | 08:00 | 6.5h | from $19.00 |
| Mekong Express | 07:00 , 08:30 & 13:00 | 6.5h | from $12.50 |
| Sorya Bus | 06:45, 8:00 & 11:30 | 6.5h | from $12 |
| Vietnam Transport | 08:00, 09:00, 11:30 & 13:30 | 5h | from $21 |
| Phuong Heng | 06:00, 08:30 & 15:30 | 5h | from $12 |
As you can see all companies cost about a similar amount and depart rather regularly. Though personally, I enjoy traveling with Giant Ibis.
They cater to travelers so even though you are paying a bit more you do get to travel in comfort and get assistance with crossing the border. We enjoyed them so much that they were the only company we booked the rest of our Cambodia travels with
---
How I Book Cheap Transport In Vietnam: 12.Go Asia
---
How To Book Tickets
Booking your travels and transport in Cambodia and Vietnam is super easy, including the cross-country journey from Ho Chi Minh City to Phnom Penh. I have actually had great luck booking online with 12.Go Asia.
I have used them throughout all my travels in Southeast Asia and never have had an issue. They also offer some of the best companies to book your Ho Chi Minh City to Phnom Penh journey with.
The other option is to head to a nearby travel agency or through your hotel once you are in Ho Chi Minh City. Though they will just book you on whatever is available and what they make a decent commission on. So not necessarily always the best or most comfortable journey.
Anyway by booking with 12.Go Asia you can see what other travelers have said about certain routes with particular companies. Then you can just book your ticket through their website and they will email you a copy. It's super easy!
---
Where Does The Bus Drop You Off
Depending on the bus company you decide to book with it is likely they will drop you off somewhere different, such as their office, rather than at the bus station.
If you choose the right company and research in advance, this could pay off for you as some drop you off right in the bang center of town. From there it will be just a short walk if you have booked in the main tourist area.
Though of course if you are staying further afield taxis are seemingly everywhere.
Giant Ibis: The Giant Ibis Office In Phnom Penh near Sisowath Quay
The Sinh Tourist: The Sinh Tourist Office In Phnom Penh (House 315 & 307, Preah Sihanouk Blvd)
Mekong Express: Mekong Express Limousine Bus Station near Chroy Changvar II Bridge in the city center
---
My Experience Taking The Bus From Ho Chi Minh City To Phnom Penh
For me booking my journey with Giant Ibis happened on a fluke, but I was damn happy to travel and book with them rather than a different company.
I had certainly seen horror stories and videos online about travelers doing it by themselves in taxis or local buses, so I knew off the bat that I wanted to book the entire journey through a reputable company.
We actually stumbled upon The Giant Ibis offices in Ho Chi Minh City. They were an easy walk away from our hostel and the board out front advertising the journey had me sold.
I looked online at reviews before booking though and decided it would be the best option for me. We booked the tickets in advance and rocked up at their offices on the day about twenty minutes before departure.
Shortly after the staff there checked our tickets, we loaded our bags into the luggage compartment, jumped onboard, and found our seats.
Just before departure, we were provided with a lunch bag consisting of a few nibbles and a drink. For me, nothing is better than surprise snacks, though we had brought some of our own goodies as well.
It was a rather uneventful journey out of Ho Chi Minh City as we made our way to the border. It was a surprisingly rather short journey to the border only taking about an hour and a half to two hours and we had arrived.
Once there the bus attendant made sure we all had our passports before heading into the Vietnamese immigration office to exit the country. This was kind of just a huge-looking shed place, but we lined up, provided our passports, and slowly got them back one by one with the exit stamp.
Rather than heading straight to the Cambodian side we then went for a little toilet stop where we could also buy some snacks, and what appeared to be duty-free shopping.
In all honesty, it was quite a random stop, but while there we were briefed about what to expect at the Cambodian border. Soon enough we were back on the bus and heading that way.
If you have done much research on the border crossing from Vietnam to Cambodia you will quickly learn about the scams here targeting travelers. Tax for this, payment for that stamp, etc.
Though because we were briefed in advance, and traveling in a large group we knew what exactly to expect and what we needed to pay. If you are a little hesitant about this border crossing then I highly recommend booking through a company like The Giant Ibis where they do this journey daily with numerous travelers.
After getting my entry stamp and jumping back on board, I managed to sleep for the majority of the journey. Though we did make one toilet/ snack stop, which lasted about 20 minutes.
Luckily enough the rest of the journey flew by and soon enough we were arriving at Phnom Penh. We were dropped off at the Giant Ibis offices there.
Unfortunately, we didn't preplan this in advance but it was about a 20-minute walk to our accommodation. Sure we could've got a cheap tuk-tuk but after being on a bus most of the day it was nice to stretch the legs.
---
Limobus From Ho Chi Minh City To Phnom Penh
Duration: 6 hours
Cost: $18.00 per person
Another good option for traveling from Ho Chi Minh City to Phnom Penh is by taking the limo bus. I know it may sound strange, but essentially this is just a decked-out van allowing you to travel in absolute comfort.
The top choice for this journey is the company Sapaco with tickets priced at 420,000 VND / $18.00. As you can see this is certainly pricier than the regular bus. Though the fact that this journey is so much more comfortable may make it worth it to a lot of people.
The limo bus with Sapaco departs at 6 am, 6.30 am to 7 am, as well as 2.30 pm in the afternoon.
---
How I Book Cheap Transport In Vietnam: 12.Go Asia
---
Fly From Ho Chi Minh City To Phnom Penh
Duration: 50 minutes
Cost: $110.00+ per person
Now flying is a super popular way to travel from Ho Chi Minh City to Phnom Penh. this is for sure the most efficient and fastest way to travel from Vietnam to Cambodia. Though this will only be the case if it is within your travel budget.
Luckily there are plenty of airlines that operate this route including Vietnam Airlines, Cambodia Angkor Air, and VietJet. If you manage to book far enough in advance then you should be able to find some better prices than waiting until the last minute.
The flight time is just 50 minutes between these two cities, quickly turning a 7-hour plus journey into less than an hour.
Though what you do need to keep in mind is the travel time to and from the airport, as well as being at the airport 3 hours before departure. There will also be extra time going through immigration in Cambodia. So in reality it isn't actually that quick of a journey for such a high price.
In Ho Chi Minh City the airport you will be flying out from is called Tan Son Nhat International Airport (SGN). Luckily it is only located about 8 kilometers from the main tourist area.
The best and easiest way is by taking a Grab car which should cost you 80,000 – 150,000 VND / $3.50 – $6.50. This is a much better option than dealing with the hassle of a taxi.
Once at Phnom Penh International Airport (PNH) there are plenty of options to get into the city center including a bus, train, taxi, or tuk-tuk. You can also buy tickets online with 12.Go Asia.
---
FAQ's About Traveling Ho Chi Minh City To Phnom Penh
How many days to spend in Phnom Penh? Now I am not going to lie, there are many more beautiful and incredible locations in Cambodia, though I do recommend spending 2 nights in Phnom Penh while on your travels.
This will allow you to experience some of the historic sights in Phnom Penh to gain a greater understanding of the country's past and what its citizens had to go through.
How far in advance do I need to book tickets? It is recommended you book tickets in advance to ensure you can travel with a reputable, clean, and safe company. You should try for at least a week in advance to be safe. Though if you are not worried about this then you can probably just book the day before.
Booking through 12.Go Asia is perfect for those busy periods as you can book when you haven't even arrived in the country yet! This means you can relax knowing all the planning is taken care of.
---
Where To Stay In Phnom Penh
Phnom Penh is a huge bustling city so you may be overwhelmed figuring out where exactly you should stay. Certainly, there is something for everyone here from affordable guesthouses to sociable hostels, or luxe hotels.
However, what I have personally had issues with in the past is figuring out where exactly in this city I should be booking my accommodation.
Sure, it's easy even to look at a map and figure out what is the city and what is not. Though your girl ended up staying in the red-light district during my second trip here.
I honestly have no idea how it happened, but it may have been the super affordable hotel with a rooftop pool. I mean it was okay for one night, but it was certainly a bit seedy venturing out trying to find somewhere for dinner.
Nevertheless, simply make sure to check out reviews and other travelers' opinions thoroughly. This city is full of budget deals for travelers, some even too good to be true.
A backpacker's favorite in this city. Dorm rooms start at $7.00.

BOOK NOW

Live in luxury for less with prices from $40.00 per night for a double room.

BOOK NOW

Excellent value for money with modern pod-style dorms starting from $6.00 per night.

BOOK NOW

Enjoy riverside living with the most incredible infinity pool. Rooms start from $80.00 per night.

BOOK NOW
---
How I Book Cheap Transport In Vietnam: 12.Go Asia
---
Things To Do In Phnom Penh
This huge bustling city is packed full of things to do, though there are definitely some top spots on many travelers' lists when visiting. Here is a brief overview of the best of the best things to do here in Phnom Penh:
Killing Fields Of Choeung Ek: This is well worth a visit in Phnom Penh where you can learn more about Pol Pot's reign in the 1970s and what happened to many Cambodians. It is a tough thing to experience and witness in front of you.
Though I believe doing so is a sign of respect when traveling the country, rather than turning a blind eye to many locals' experiences. I highly highly recommend doing the audio tour while here where you will learn so much and listen to local stories.
Tuol Sleng Genocide Museum at S21 Prison: Many people will visit the killing fields and this museum in one day. This will allow you to put faces to the names and stories you would have heard.
It was estimated between 12,000 and 20,000 inmates were held here, but only 12 survived the atrocities that occurred. I highly recommend hiring the audio guide here as well. This is once again another hard experience, but an important one to have when traveling Cambodia.
Night Market: This is a popular shopping spot in the city, both for locals and travelers. You will have plenty of opportunities to buy the perfect souvenirs to take back home. It is located right on the riverside and an easy walk from many hotels in the tourist area.
---
LIKE IT? PIN IT!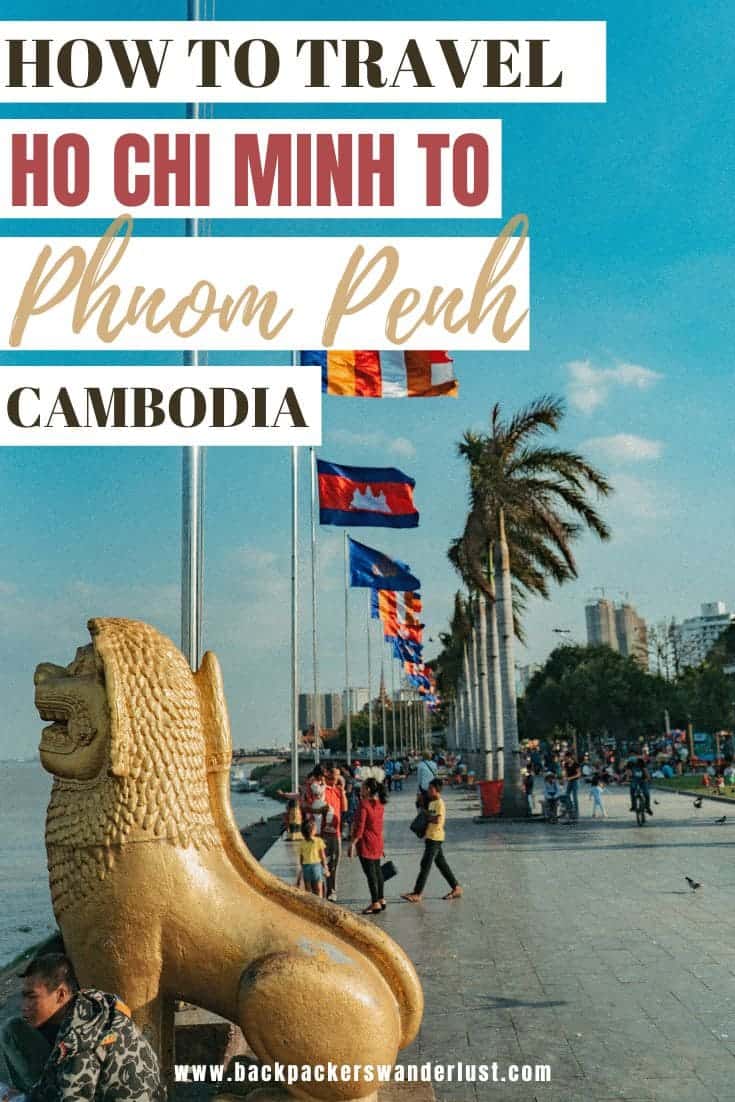 ---
Want more Vietnam Inspiration?
Check out….
---
Disclaimer: This post contains affiliate links. So, if you click on it and purchase something, I get a small percentage at no extra cost to you. As always all opinions are my own and your support is much appreciated.
Photo credit: "
KHV A321-200 At Spot V2
" (CC BY 2.0) by Ken H.
Related Posts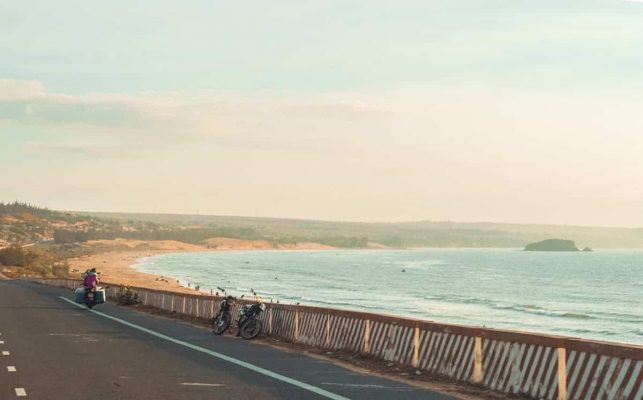 If you are traveling the entirety of Vietnam you will no doubt find yourself needing [...]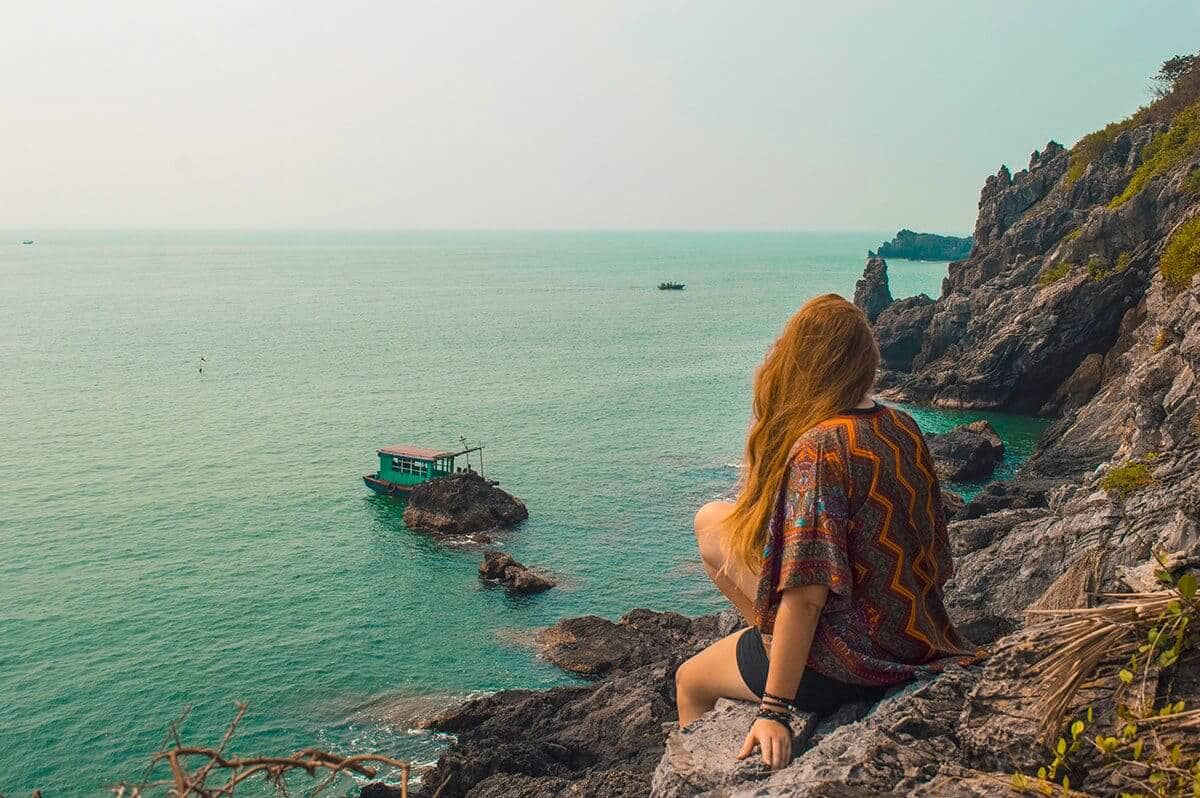 Find out the best things to do in Vietnam for backpackers and travelers! Listed from [...]
18 Comments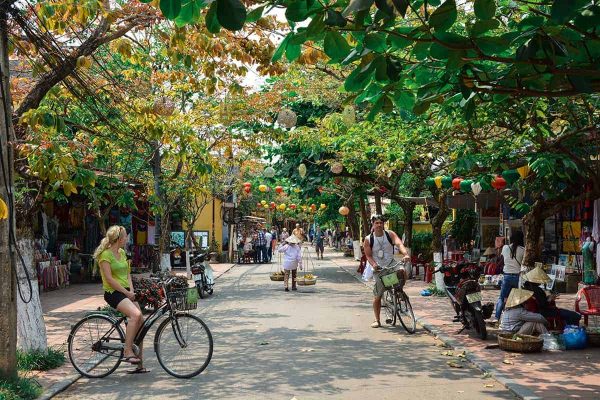 Come find out all you need to know about backpacking Hoi An to have the [...]