Come check out the best ways to travel from Phnom Penh to Sihanoukville in Cambodia. I will compare the bus, minivan, train, and plane choices to let you know which exactly is the best option!
---
No doubt if you are traveling in Cambodia then you seriously need to check out the islands. Koh Rong and Koh Rong Samloem have some of the best beaches I have ever seen.
Think crystal clear waters, squeaky white sand, just absolute perfection. Now I started my Cambodia travels in Phnom Penh so that was my starting point. Luckily it is relatively easy to figure out how to travel from Phnom Penh to Sihanoukville.
Though what I struggled with personally was the town of Sihanoukville. Questions like Is Sihanoukville still worth visiting, how safe is it, and can I time any of the transport correctly so I don't need to spend overnight in Sihanoukville and instead head straight to the islands floated around my mind.
Sihanoukville certainly isn't this sleepy little town like it used to be. Instead, casinos are popping up around every corner and the whole place seems to be in a state of construction. Though luckily nearby you have the idyllic islands of Koh Rong and Koh Rong Samloem.
But before we get into traveling from Sihanoukville to Koh Rong, we need to take a step back and figure out how to exactly get from Phnom Penh to Sihanoukville. Whether that is by plane, train, bus, or minivan I will explain all the details of each option, allowing you to book confidently.
| | | | |
| --- | --- | --- | --- |
| | Time | Cost | Highlight |
| Minibus | 6 hours | from $12.00 | The cheapest way to travel |
| Train | 6 hours | from $18.00 | Scenic ride |
| Private Transfer | 4 hours | from $70.00 | Super comfortable journey |
| Bus | 6.5 hours | from $15.00 | More comfortable than a minivan |
| Fly | 50 mins | from $70.00 | A bit more pricey, but a quick journey |
---
Phnom Penh To Sihanoukville: The First Step To Traveling To The Islands In Cambodia
---
Phnom Penh To Sihanoukville Distance
The distance from Phnom Penh to Sihanoukville in Cambodia is approximately 227 kilometers. I know this doesn't sound like a lot, and in all honesty, it is a pretty easy and decent drive. The roads are well paved and you will be traveling on the busy highway the majority of the distance.
Though in saying that sometimes the roads are not the safest. Personally, I haven't had any accidents, but I have heard plenty of stories from other travelers, and when you are on the roads it is easy to see why.
It is a mixture of buses, huge lorry trucks, and families on motorbikes, and everyone is trying to overtake each other. No doubt you will have one 'what the fuck' moment.
You may think the airport is safer and the better option, but this is still questionable. No doubt taking a flight is the most expensive method of traveling from Phnom Penh to Sihanoukville. Also, you do have the hassle of waiting around at the airport on either side.
The deciding factor that will sway you on whether to take a bus, private transfer, plane, or train will depend on your budget and how long you have to complete the journey.
---
Phnom Penh To Sihanoukville Travel Time
Of course, depending on the type of transport you decide to book from Phnom Penh to Sihanoukville will affect how long it takes to travel this journey.
Private Transfer: Taking a private transfer will allow you a bit more freedom in terms of stop offs etc, or perhaps you are arriving at the airport and want to head straight to the coast. A private transfer will take you around 4 hours.
Bus: The bus journey from Phnom Penh to Sihanoukville will take approximately five and a half hours. This is simply because a bus travels slower than a taxi or minivan.
Train: I love taking trains, but unfortunately in this case taking a train is actually the slowest transport method at 7 hours. This is honestly because the trains here travel super slow. Though depending on what type of carriage you book you may find it a more comfortable journey than other options.
Limo Van: The Limo Van is slightly quicker than taking a bus at just 4 hours. This is generally because you are in a smaller vehicle so it is easier to serve in and out of traffic along the highway.
Flight: The quickest way is no doubt flying as the total journey time from Phnom Penh to Sihanoukville is an easy 50 minutes. Though keep in mind you will need to be at the airport at least an hour prior to departure.
---
Private Transfer From Phnom Penh To Sihanoukville
Duration: 4 hours
Cost: $70.00 – $120.00 per car
If you aren't on too much of a budget or perhaps are traveling in a group you can split the total costs with, then taking a private transfer is a good way of traveling from Phnom Penh To Sihanoukville.
This is no doubt the fastest way if you are traveling overland, and the highway creates a smooth and relatively straightforward journey.
The exact amount it will cost will depend on whether you need a standard sedan for up to 4 people or a minivan for large groups. Either way, prices begin at around $70.00 and go up from there.
You will also want to make sure that the car has air conditioning so it can be a relaxing ride. One thing to be aware of is the amount of room in the trunk and whether that will fit 4 individual suitcases, depending on how much you travel with you may find that it is more suitable to hire a larger vehicle.
One of the bonuses for taking a private vehicle from Phnom Penh to Sihanoukville is that you will be able to make plenty of stops on the journey. Whether that is somewhere to eat, bathroom breaks, or perhaps a photo spot.
Though to be honest this isn't the most beautiful road in the country. It will also give you flexibility to depart earlier or later in the day in case you have commitments.
If you are looking at a private transfer I recommend booking in advance online with 12.Go Asia.
---
Bus From Phnom Penh To Sihanoukville
Duration: 6 and a half hours
Cost: $15.00+ per person
A common way for travelers on a budget to travel from Phnom Penh to Sihanoukville is by bus. Though be aware this is one of the longer options taking anywhere from six and a half hours to eight hours depending on traffic, and how many stops the bus makes along the way.
The best operators that offer this route are The Giant Ibis, Sorya, and Virak Buntham Express. Though in my personal opinion, I think The Giant Ibis is the best company to book with.
This is because they commonly cater to tourists so their services are of a high standard. You can expect free pick up, comfortable buses, air conditioning, as well as snacks and water. Just be aware that even though they advertise wifi on board it barely ever works.
If you are looking at not staying the night in Sihanoukville and instead heading straight to the islands, make sure to time your bus journey appropriately.
The majority of buses leave in the morning and you will arrive in the afternoon, the exact time depends on which bus you decide to book. Though the latest bus arrives at 5 pm, whereas the last ferry departs at 3 pm (hopefully with slowly increased tourism post covid, this will change).
---
Bus Schedule From Phnom Penh To Sihanoukville
Here is the bus schedule departing from Phnom Penh and arriving in Sihanoukville. Of course, there are more companies than just those I have listed. Though this is just a selection of the most popular.
| | | | |
| --- | --- | --- | --- |
| Bus | Departure Times | Length | Price |
| Giant Ibis | 08:00, 09:30 & 12:30 | 6.5h | from $16.00 |
| Olongpich Transport | 01:30 | 6.5h | from $15.00 |
As you can see all companies cost about a similar amount and depart rather regularly. Though personally, I enjoy traveling with Giant Ibis.
They cater to travelers so even though you are paying a bit more you do get to travel in comfort and get assistance with crossing the border. We enjoyed them so much that they were the only company we booked the rest of our Cambodia travels with.
Honestly, there are not too many bus companies operating this route. That is because it has become more popular to travel this journey by van, or VIP van if you have a bit more to spend on comfort. Though more on that later down.
---
How To Book Tickets
Booking your travels and transport in Cambodia is super easy, including traveling from Phnom Penh to Sihanoukville. I have actually had great luck booking online with 12.Go Asia.
I have used them throughout all my travels in Southeast Asia and never have had an issue. They also offer some of the best companies to book the route from Phnom Penh to Sihanoukville.
Here you can see what other travelers have said about certain routes with particular companies. Then you can just book your ticket through their website and they will email you a copy. It's super easy!
The other option is to head to a nearby travel agency or through your hotel once you are in Phnom Penh. Though they will just book you on whatever is available and what they make a decent commission on.
So not necessarily always the best or most comfortable journey. I did this and our van nearly broke down halfway and the air con stopped working.
---
Where Does The Bus Drop You Off
Depending on the bus company you decide to book with it is likely they will drop you off somewhere different, such as their office, rather than at the bus station. Though luckily Sihanoukville is a super small place and it won't take long to make your way to the ferry terminal, assuming you don't actually want to stay there.
Giant Ibis: The Giant Ibis Office at 500 Ochheuteal Street. Near Origin Coffee.
---
Minibus From Phnom Penh To Sihanoukville
Duration: 6 hours
Cost: $12.00+ per person
No doubt the most popular way of traveling from Phnom Penh to Sihanoukville is actually by minivan. You will have two different types to choose from, either your standard van or a VIP van.
I traveled in a standard van, though if I were to make this same journey again I would for sure book in a VIP Van. I know the journey isn't too long, but it only costs a little bit more for super comfy seats and plenty of legroom.
| | | | |
| --- | --- | --- | --- |
| Minivan | Departure Times | Length | Price |
| Bayon VIP | 07:15, 08:45, 13:30, 14:30 & 15:30 | 6h | from $16.00 |
| Layrata Express | Every hour from 7 am to 5 pm | 6h | from $12.00 |
| Mekong Express | 07:00, 07:30, 08:00, 08:30, 13:30, 15:00 & 17:30 | 6h | from $12.00 |
| Cambodia Post VIP | 07:30 & 13:30 | 6h | from $15.00 |
a comfortable van is the most popular option to travel from phnom penh to sihanoukville
---
Fly From Phnom Penh To Sihanoukville
Duration
: 50 minutes
Cost
: $70+ per person
If you don't have too long for your Cambodia travels then you may find yourself looking into taking a flight from Phnom Penh to Sihanoukville. There are a few airlines that service this route including Cambodia Angkor Air, JC Airlines, and Lanmei Airlines.
They all offer direct flights and if you book far enough in advance you may find this quite an affordable option. Just be aware that not all airlines operate every day so you may have to look at a couple before deciding on your final choice.
Even though it may be a relatively short flight from Phnom Penh to Sihanoukville at just a 50-minute journey, you do need to factor in the travel time to and from the airport.
If you are staying in Downtown Phnom Penh you will find the International Airport approximately 12 kilometers away. Even though this may not sound like long, there can be quite a lot of traffic on the roads.
I traveled to Phnom Penh Airport during Songkran when the city was nearly abandoned and it still took us a decent 15 to 20 minutes. You can book a taxi on the Grab mobile app where you can find out the price in advance to avoid the hassle of haggling.
Once at Sihanoukville International Airport, there are unfortunately not too many options for traveling into the city or to the ferry terminal which is approximately 20 kilometers away.
The most popular, and one of the only methods is to take a taxi which should cost between $20.00 and $30.00. Though be aware the roads are under constant construction in the city and the straightforward 30-minute ride can quickly, double, or triple in length as you get stuck in traffic.
Therefore even though the flight itself is the quickest option to travel from Phnom Penh to Sihanoukville, it isn't necessarily the fastest overall when you factor in travel times to and from the airport.
---
Train From Phnom Penh To Sihanoukville
Duration
: 8+ hours
Cost
: $8.00
If I am to be frank, taking the train isn't the most efficient method of transportation from Phnom Penh to Sihanoukville, nor basically anywhere in Cambodia.
The train is notorious for being slow, poorly maintained, and lacking in stops at main destinations (though a company that has the current contract is slowly improving this).
Though I do love taking trains, and I know I am not the only one in the world who thinks this. Oftentimes it is all about the journey and a local method of transportation like this is a great way to see the country and experience the landscapes.
The train only operates limited days per week which are usually Fridays, Saturdays, and Sundays departing from the Royal Railway Station in Phnom Penh at 07:00 am.
A plus is that tickets are pretty damn cheap starting at just $8.00, though be aware the total journey takes a minimum of 8 hours, which is basically your entire day gone.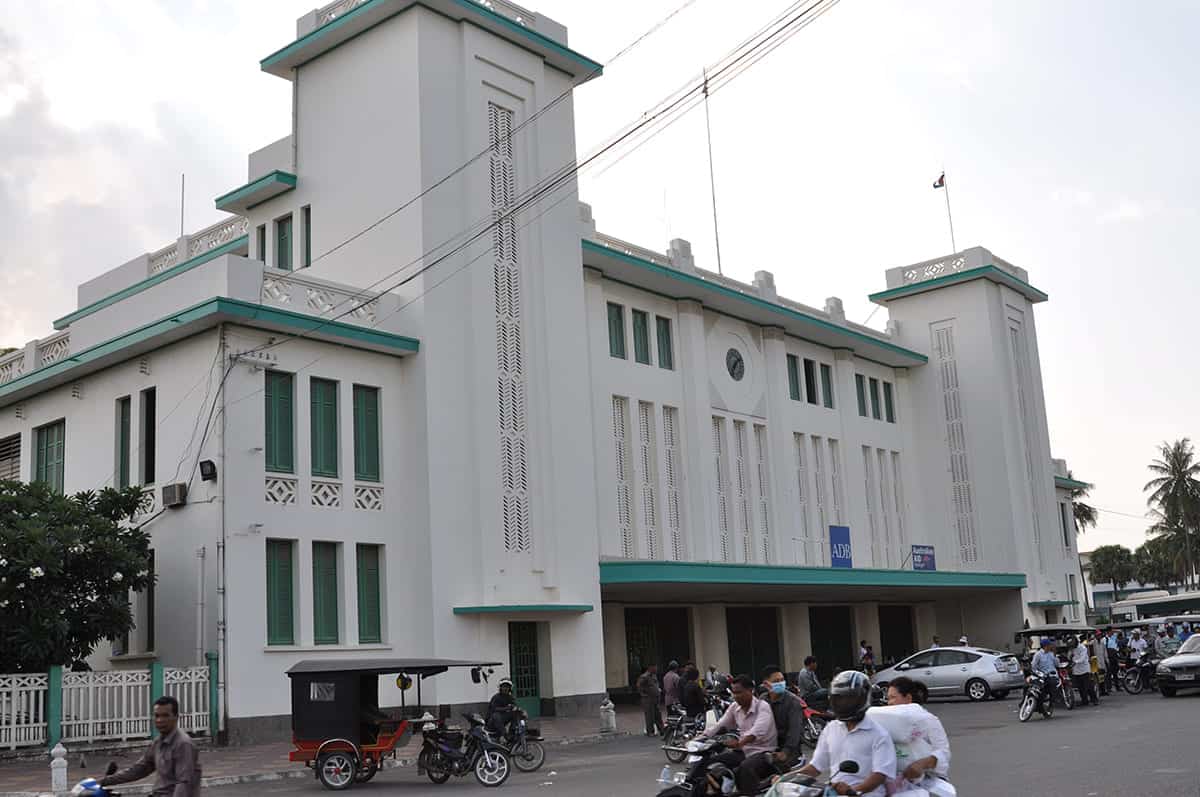 ---
FAQs About Traveling From Phnom Penh To Sihanoukville
How many days to spend in Sihanoukville? If I haven't already answered this I recommend as little time as possible in Sihanoukville. Instead, you will want to travel straight through to the islands when you arrive.
Just be aware that depending on when your transport arrives, this may not be possible as the ferries stop running mid-afternoon. Therefore you may find yourself staying overnight in the city and then catching an early boat out.
How far in advance do I need to book tickets? It is recommended you book tickets in advance to ensure you can travel with a reputable, clean, and safe company. You should try for at least a week in advance to be safe. Though if you are not worried about this then you can probably just book the day before.
Booking through 12.Go Asia is perfect for those busy periods as you can book when you haven't even arrived in the country yet! This means you can relax knowing all the planning is taken care of.
---
Where To Stay In Sihanoukville
Honestly, Sihanoukville used to be the perfect backpacker hangout. Though these days it is filled with casinos, construction, and resorts targeted at Chinese tourists. There is not too much left here so I will split this where to stay section into separate areas of the mainland and nearby islands.
Mainland: The only place I recommend in Sihanoukville is in Otres Beach called Sok Sabay Resort. It is like being transported to a whole other world as soon as you walk in, and trust me that is what you will want.
They have wonderfully air-conditioned rooms, awesome internet, a delicious onsite restaurant offering vege and vegan options, and a clean pool in a tropical garden. Alternatively, you can always just head straight to one of the islands.
Koh Ta Kiev: If you are looking for something off the beaten track with minimal other travelers then check out Koh Ta Kiev. This island is equally as stunning as the others, though a lot less built up.
One of the top places to stay here is called Kactus where you can find basic bamboo huts and dorm rooms. You won't be able to find any super glamorous accommodation here. This spot is like the rest of the islands 20 years ago, with just what you need and nothing more.
Koh Rong: This is certainly the most built-up island where you can find an assortment of restaurants, cafes, and types of accommodations as well as some incredible beaches. Whether you are wanting an all-inclusive 5-star resort or a cheap dorm room, you can easily find it here.
I don't recommend staying in the main town where you arrive straight off the ferry, but instead, somewhere a 10 or 15-minute walk away. This will still allow you to access all the amenities but also have some privacy and a quiet beach to relax on.
For something, more lux check out Long Set Resort, for mid-range prices you have Tree House Bungalows, and for dorms, Nest Beach Club (though it is a party hostel).
Koh Rong Samleom: Koh Rong's slightly lesser ventured sister is Koh Rong Samleom. I loved staying at Sara Resort in the main beach area. The rooms have amazing air conditioning, an awesome location and the onsite restaurant is delicious.
For something, a bit off the beaten track definitely check out Sleeping Trees for their glamping tents. This is on the other side of the island looking straight out to sea, so awesome sunsets. It does like that paradise white sand beach, but the snorkeling here is next level!
In mainland Sihanoukville, this low-key resort is still paradise. Prices start from $65.00 per night.

BOOK NOW

Just a 5 minute walk away from the main town. Here you can find wooden huts starting from $50.00 per night.

BOOK NOW

Beautiful private rooms from $35.00 per night and in a beautiful beachfront location.

BOOK NOW

Discover life off the beaten track by staying in Koh Ta Keiv. Rooms here start from $15.00 per night.

BOOK NOW
---
Things To Do In Sihanoukville
Can I say leave? I know that may sound bad, but honestly, Sihanoukville is not what it used to be like. Instead, I recommend using this as a stepping stone to and from the islands.
You may find yourself having to stay here a night before or after in order to catch your transport to or from Sihanoukville to Phnom Penh. Though if this is the case I recommend booking yourself somewhere nice where you can relax in a comfortable air-conditioned room. You really won't want to be exploring.
---
LIKE IT? PIN IT!
---
Want more Cambodia Inspiration?
Check out….
---
Disclaimer: This post contains affiliate links. So, if you click on it and purchase something, I get a small percentage at no extra cost to you. As always all opinions are my own and your support is much appreciated.
Photo credit: "
KHV A321-200 At Spot V2
" (CC BY 2.0) by Ken H."Giant Ibis" (CC BY 2.0) by Michael Coghlan. "The elegant PP Train Station" (CC BY 2.0) by Shankar S. 
Related Posts
Come find out the best, easiest, and most cost-effective way to travel from Siem Reap [...]
Come check out the perfect 2 weeks in Cambodia Itinerary for first-time visitors, hitting up [...]
Come check out how to travel from Sihanoukville to Kampot. I will compare the bus, minivan, [...]