Come find out the best, easiest, and most cost-effective way to travel from Siem Reap to Bangkok. From what companies to book with, crossing the border from Cambodia to Thailand, costs, and more will be explained below for those backpacking Southeast Asia.
---
If you are like me and following the famous banana pancake backpacking trail in Southeast Asia then no doubt, at some stage you will find yourself needing to travel from Siem Reap to Bangkok, which includes a border crossing from Cambodia to Thailand.
These are two cities popular with travelers, and each has its own charm. They are seemingly complete opposites to each other, though at the same time and equals when it comes to must-visit spots.
So when your Angkor experiences are over and you are ready to make your way to your next stop, you will be needing to know how to make the journey from Siem Reap to Bangkok.
Though before we get into the exact details of how to complete this journey, let's talk about why; more precisely why should you visit Bangkok. Well, it is a huge metropolitan city that honestly has something for everyone.
Whether that is hitting up the ever-popular Khao San Road, drinking a cocktail from your infinity pool looking over the city, trying some of the best street food in the country, and much more. It is also a well-connected transport hub with numerous choices to travel north, or south once you arrive in Thailand.
The journey is long, and if you have done research before, then no doubt you have heard about the scams. Whether that is a tourist entry/exit fee or a 'special' tax.
Nevertheless, the worst part for me was simply just waiting in lines at immigration. However, whether you travel overland or by air will also affect how long the total journey is.
Though before I get into my experience I will let you know all options when it comes to traveling from Siem Reap to Bangkok. This includes whether to bus, plane, minivan, taxi, or train, prices, how to book tickets, departure times, and more!
| | | | |
| --- | --- | --- | --- |
| | Time | Cost | Highlight |
| Bus | 8 hours | from $25.00 | The cheapest way to travel |
| Fly | 50 mins | from $120.00 | A bit more pricey, but a quick journey |
| Train | 10 hours | from $20.00 | See the countryside from a train |
| Taxi | 6 hours | from $200.00 | Fast for an overland journey |
---
Siem Reap To Bangkok: How To Cross The Border From Cambodia To Thailand
---
Siem Reap To Bangkok Distance
The distance from Siem Reap to Bangkok is approximately 400 kilometers, and yes it does take a while, though more on this below. If you are planning to make this journey overland as I did, bring snacks and make yourself comfy, you will be here for a while.
Luckily the majority of the distance is on highways, though there will no doubt be some waiting around when you cross the border from Cambodia to Thailand.
Though if you happen to take a plane rather than traveling overland you will quickly realize how much quicker the journey is by air. I will recommend this option if you are short on time and value this more than money.
The deciding factor that will sway you on whether to take a bus, private transfer, plane, or train will depend on your budget and how long you have to complete the journey.
---
Siem Reap To Bangkok Travel Time
Depending on the type of transport you decide to book from Siem Reap to Bangkok will affect how long it takes to travel.
Bus: The bus journey from Siem Reap to Bangkok takes approximately 8 and a half hours at a minimum. Though there could easily be delays at the border meaning this transport method could take longer than planned, as well as evening traffic when arriving in Bangkok.
Flight: The quickest way is no doubt flying as the total journey time from Siem Reap to Bangkok is a straightforward 1 hour and 15 minutes. Though keep in mind this is an international flight so it is recommended you arrive at the airport 3 hours prior to departure.
---
Bus From Siem Reap To Bangkok
Duration: 8+ hours
Cost: $25.00 per person
Now I always enjoy taking a bus. Though you need to be prepared for a pretty long journey when traveling from Siem Reap to Bangkok. At a minimum, it will take 8 hours, though this can easily be increased thanks to traffic and border delays.
Therefore prepare to spend a full day traveling on the bus and don't make any plans in Bangkok for the same day.
To make things run a bit smoother there are special tourist buses that operate this route and that is actually what I used when traveling this route.
Alternatively, you can take a local bus to the border town of Poipet, and then a different bus once you enter Thailand to Bangkok. Though just be aware you may be stuck for quite a while waiting on the buses, and you will not be provided any assistance when crossing the border.
My preferred company for bus travel in and around Cambodia, and on the Siem Reap to Bangkok route is The Giant Ibis which you can book on 12.Go Asia.
---
Bus vs Tourist Bus
Now when you are traveling essentially any country in Southeast Asia you will quickly learn that there are two different types of buses, the regular bus, and the tourist bus.
The standard regular bus is more to local standards, which is fine if you know that is what you are booking and are prepared for it. Though if not, you may be in for a surprise.
These can also be quite different when it comes to the border crossing. This is simply because you will only be taken to the border and provided no further assistance in transport for the rest of your journey, or with immigration.
If you are a relatively new traveler I don't recommend this method. Though if you are a seasoned adventurer and enjoy getting out of your comfort zone, this could be a perfect choice.
If this doesn't sound like you, don't worry, luckily there are a handful of buses servicing this route that cater to travelers and their needs. These include Giant Ibis, Travel Mart, and Virak Buntham Express.
Though personally, as you may have figured, my preferred company operating from Siem Reap to Bangkok is Giant Ibis. They have comfortable buses with air conditioning, are reliable, and have an attendant onboard to assist with the border crossing, ensuring the entire journey is a smooth experience.
Though you do pay a bit extra booking them compared with other options.
---
Bus Schedule From Siem Reap To Bangkok
Here is the bus schedule departing from Siem Reap to Bangkok. Of course, there are more companies than just those I have listed. Though this is just a selection of the most popular.
| | | | |
| --- | --- | --- | --- |
| Bus | Departure Times | Length | Price |
| Giant Ibis | 07:45 | 8.5h | from $45.00 |
| Virak Buntham Express | 08:30, 11:45 & 14:30 | 8h | from $30.00 |
| Travel Mart | 11:45 | 12.5h | from $30.50 |
As you can see all companies cost about a similar amount and depart rather regularly. Though personally, I enjoy traveling with Giant Ibis. They cater to travelers so even though you are paying a bit more you do get to travel in comfort and get assistance with crossing the border.
---
How To Book Tickets
Thankfully it is super easy to book your travels in Cambodia or Thailand, including from Siem Reap to Bangkok.
I have actually had great luck booking online with 12.Go Asia. I have used them throughout all my travels in Southeast Asia and never have had an issue. They also offer some of the best companies to book your journey with, including my favorite the Giant Ibis.
The other option is to head to a nearby travel agency or through your hotel once you are in Siem Reap. Though they will just book you on whatever is available and what they make a decent commission on. So not necessarily always the best or most comfortable journey.
Anyway by booking with 12.Go Asia you can see what other travelers have said about certain routes with particular companies. Then you can just book your ticket through their website and they will email you a copy. It's super easy!
---
Where Does The Bus Drop You Off
Depending on the bus company you decide to book with it is likely they will drop you off somewhere different, such as their office, rather than at the bus station.
If you choose the right company and research in advance, this could pay off for you as some drop you off right in the bang center of town, a quick walk away from your hostel.
Luckily the companies I have recommended, The Giant Ibis, Travel Mart, and Virak Buntham Express, both drop passengers off at Phra Nakhon. From here it is just a few minutes walk from the popular backpacker hangout of Khao San Road, where you will be able to easily find an assortment of hostels.
---
My Experience Taking The Bus From Siem Reap To Bangkok
After being picked up in a small minivan and taken to the actual bus it was time to start the journey from Siem Reap to Bangkok.  Today's journey is with the Giant Ibis.
This is the same company I booked my previous border crossing from Ho Chi Minh City to Phnom Penh with, as well as some internal travels within Vietnam and Cambodia.
Honestly, online I had read some horror stories, as well as watching a few videos about getting scammed at the border, or just simple bus complications. That is why I knew when I was booking this journey that I wanted to travel with a reputable company that I trusted.
Once on board the bus we found our seats and got given a sweet little lunch pack to keep us going. Before we knew it we were heading out and away from the incredible city of Siem Reap.
Luckily the bus had power outlets by the seats so I was able to work on my laptop while we traveled, making the journey go a lot faster than expected.
Soon enough the border had arrived and the staff went around to make sure everyone was prepared to exit the country. We made our way over to what seemed like a random small shack but was actually the immigration office.
As we had the Giant Ibis stickers on us the border staff knew we were traveling as a group so we avoided a lot of the common scams that go on here. On the bus, we were briefed about them and told what we do and do not have to pay.
A worker from the company also assisted us, in case any of the passengers were given any grief.
Luckily everything ran smoothly there and it was time to enter Thailand. Unfortunately, this was the longest part as we ended up standing in queues for 40 minutes, waiting for our turn to be processed.
After a long wait, we were all quickly processed and it was back on board the bus to complete the remainder of our journey. Though luckily a short distance away we pulled in at a 7/11 for some delicious snacks and of course toasties for the backpackers. It is certainly good to be back in Thailand.
Back onboard we drove the rest of the distance, everyone napping after a long day of travel. Luckily we didn't hit too much traffic arriving in Bangkok so it didn't take too long until we were jumping off and checking into our nearby hostel around Khao San Road.
---
Fly From Siem Reap To Bangkok
Duration: 1 1/2 Hours
Cost: $60.00+ per person
If you are perhaps relatively limited on time you may find the best, and most straightforward way to travel from Siem Reap to Bangkok is by taking a flight.
You can easily find direct flights between these two locations, though the deciding factor will be the price, especially if you are not traveling with carry-on luggage if I know I don't. Luckily if you happen to book far enough in advance you can score yourself some deals.
Just remember this will give you less freedom as a traveler, in terms of having to stick more to an itinerary, rather than going with the flow. You can book these airfare tickets online over at 12.Go Asia, or directly through the airline's website
You will be able to find the cheapest airfares with Air Asia, which start at $60.00. Though just be aware that they are a budget airline, so the services that they offer are minimal.
This means you will pay extra for things like luggage, and food, and there isn't any onboard entertainment. Alternatively, you can also book Bangkok Airways if these are important to you, but you will be paying a premium for their services.
The bonus of taking a flight is that you don't have to be cramped in a bus for hours on end, and for this journey, I am talking more like a minimum of 8 hours.
Instead, you will be able to relax in comfort as this long journey is quickly decreased into a simple 90-minute flight. Though be aware you are typically expected to be at the airport 3 hours prior to departure for an international flight. As well as the journey from the airport to your accommodation for the night.
All flights depart from the Siem Reap International Airport (REP). This is an easy short drive away from the main city center by motorbike or taxi.
Be aware there are two different airports in Bangkok your flight may arrive. This is either Suvarnabhumi Airport or Don Muang Airport, which are both a decent drive away from the popular backpacker hangout of Khao San Road.
---
Siem Reap To Bangkok By Train
So if you are looking for a true experience and adventure why not take the train from Siem Reap to Bangkok, crossing the border from Cambodia to Thailand.
Unfortunately, this is not as straightforward an option as it may sound. Instead, you will need to do multiple transfers, though what you lose in time, you gain a real adventure, and save in cash, as this is a real budget option.
---
Getting To Poipet
This first stage of your adventures will be traveling from Siem Reap to Poipet. This is easiest done by bus and is a relatively short journey taking 3 hours, and costing a pretty affordable $10.00.
The best company to book the route with would be Virak Buntham Express which offer 4 trip daily from Siem Reap to Poipet. Though be aware in order to make the border connections, and actually get to Bangkok in one day, you will need to take one of the morning vans.
These buses depart from the Virak Buntham station in Siem Reap and tickets can be booked online over on 12.Go Asia.
| | | | |
| --- | --- | --- | --- |
| Bus | Departure Times | Length | Price |
| Virak Buntham Express | 04:30, 08:30, 14:00 & 18:00 | 2h -3h | from $10 |
Alternatively, you can also travel from Siem Reap to Poipet by taxi. Though be aware this will cost you a lot more, approximately $60.00. This may be suitable if the schedules don't match your planned itinerary.
---
Poipet To Aranyaprathet
Once you arrive in Poipet you will then need to go through Cambodian immigration to exit the country. This is where you will most likely be taken advantage of as you are lone strangers and at the mercy of the border agents.
After you have exited Cambodia you will then need to enter Thailand, which depending on your country of origin you may be able to get a visa on arrival.
Once you have entered Thailand you will need to take a tuk-tuk to Aranyaprathet station where you are able to take a train to Bangkok. It should cost you around 100 THB / $4.50 for the 10-minute ride.
---
Aranyaprathet To Bangkok
The final stage of traveling from Aranyaprathet station to Bangkok. You will want to take the train bound for Hua Lamphnong Station. Beware there are only two different trains that operate this route daily. They depart at 07:05 am and 2:00 pm and it is a cheap journey costing around $2.00 to take you the 5 to 6-hour distance.
One thing to be aware of is that you can only purchase these train tickets on the day of and the only seat type available is third-class coach.
---
Private Taxi From Siem Reap To Bangkok
The last but nowhere near the least option is taking a private taxi from Siem Reap to Bangkok. Be aware this is the most costly option setting you back at least $200.00. In all honesty, it is not an option I recommend, considering for that price you can fly business class from Siem Reap to Bangkok.
Nevertheless, if this is something you are interested in then you will need to split the journey into two parts. The first is from Siem Reap to Poipet, and then the second is from the border to Bangkok. Be aware many taxi drivers may try to charge crazy amounts as you don't have a whole lot of options, and they know that.
You can book a taxi and check out prices over on
12.Go Asia
.
---
FAQs About Traveling Siem Reap To Bangkok
How many days to spend in Bangkok? Honestly, I recommend spending between 2 to 3 days here in Bangkok. This will allow you enough time to see some of the main sights and get a good feel for the place before needing to move on.
Though if you are quite a party animal you may want to spend a little longer here. Bangkok has an incredible party scene, hello Khao San Road!
Another option would be using Bangkok at home while doing a couple of day trips. One of my favorites was a day trip to Ayutthaya from Bangkok using the train. Lastly, you can maximize the amount of time you spend in Bangkok by taking an overnight bus or train to your next destination.
How far in advance do I need to book tickets? It is recommended you book tickets in advance to ensure you can travel with a reputable, clean, and safe company. You should try for at least a week in advance to be safe. Though if you are not worried about this then you can probably just book the day before.
Booking through 12.Go Asia is perfect for those busy periods as you can book when you haven't even arrived in the country yet! This means you can relax knowing all the planning is taken care of.
---
Where To Stay In Bangkok
There are multiple different areas of Bangkok that are popular with travelers. Though the main ones here are the ever-famous Khao San Road, Silom, Siam, and Sukhumvit. Khao San Road is perfect for first-time travelers coming to Bangkok or those just looking to party.
Heads up, I do not recommend that ANYONE stay on actual Khao San Road. There is constant noise from the street below and because that's automatically where travelers book there is no standard for accommodation as no matter what the room gets filled.
For a more "normal" experience of Bangkok, I recommend you stay in Silom, Siam, or Sukhumvit. I have stayed in both and I prefer to stay in the Khao San Road area. Well not on the actual street itself, but within the area. A 5 or so minute walk away.
In terms of hostels on Khao San Road, the list seems to be never-ending. Seriously there are hundreds! Though check out my guide on the best hostels around Khao San Road for the best stay.
Here are my top picks for the backpacking Bangkok travel guide:
Find the best hotels in the area
A super social hostel with a pool. The perfect place to stay for backpackers.

BOOK NOW

A favorite with travelers. A hostel with all the amenities, from $16.00 per night.

BOOK NOW

Ibis Styles Bangkok Khaosan Viengtai

Colorful accommodation with a decent pool and onsite restaurant. From $55.00 per night.

BOOK NOW

Affordable and modern private rooms from $40.00 per night.

BOOK NOW
---
Things To Do In Bangkok
The Grand Palace: Visiting the Grand Palace has to be one of the top things to do in Bangkok. Sure you will be surrounded by hoards of tourists, but it a must-do when you are here. You can try to visit early morning when it first opens if you want to beat the crowds.
The entry fee is $16.70 / 500 THB so it will put a rather large dent in your budget. This grants you access to both the Royal Palace and the famous Wat Phra Kaeo Temple housing the 14th Century Emerald Buddha.
Reclining Buddha (Wat Po): Another one of the must things to do when in Bangkok is visiting Wat Po. This is home to the incredible 45-meter-long reclining Buddha. It is also 15 meters high and this Wat (temple) is the oldest and largest in Bangkok. The entry fee is $6.70 / 200 THB and it is on the same grounds as the Grand Palace.
Flower Market: The Flower Market is one of Bangkok's most famous markets. As the name implies this is where you can find a sea of flowers being sold. The most popular time to visit here is actually midnight when the freshest flowers arrive ready to be sold in stores the next morning.
Chatuchak Market: The Chatuchak Weekend Market has everything you could ever want and even things that you probably never would want all in the same place. This is Thailand's biggest market boasting over 15,000 stalls!
Boat Trip On The Chao Phraya River: The boats on the Chao Phraya River are actually are a form of public transport in Bangkok and it is a great way to see some of the city. There are both contrasts of Bangkok located along the river. From the shining and grand temples to the low-key markets.
Wat Arun: Wat Arun is definitely known as one of the more instagramable temples in Bangkok. Though that is because it is absolutely beautiful. Known as the Temple of Dawn it is one of the many iconic sights of the city.
Airplane Graveyard: The famous airplane graveyard in Bangkok has become a famous Instagram spot in recent years. Near to the Ramkamhaeng Station in Bangkok, you will find a field of abandoned airplanes. Be aware that locals patrol the area and will ask you to pay an entry fee.
You will need to pay this in order to access the property and it generally is a couple of hundred baht.
Food Tour: If you are a bit of a foodie like me what better way to discover a new city than through its flavors.  There are a few different options available. Though I recommend checking out Get Your Guide to discover what tour would be best suited for you.
If you are looking for an all-in-one, Bangkok by Night Tuk Tuk Tour: Markets, Temples & Food encompasses an assortment of Bangkok highlights.
Lumpini Park: If you are looking for a break from this bustling city and missing a bit of greenery in your life. Then definitely head to Lumpini Park to get back in touch with nature. It is super easy to get to as well as being located between the modern business districts of Silom and Sukhumvit.
Khao San Road: If you are not staying in the backpacker hub of Khao San Road it is definitely worth heading out to spend a night partying. Though if the party life isn't your scene you can still people watch, try some street food, and get in a bit of shopping.
---
LIKE IT? PIN IT!
---
Want more Thailand Inspiration? 
Check out….
---
Disclaimer: This post contains affiliate links. So, if you click on it and purchase something, I get a small percentage at no extra cost to you. As always all opinions are my own and your support is much appreciated.
Photo credit: "Poipet" (CC BY 2.0) by Du Hangst."Popiet (Thai Border)" (CC BY 2.0) by James Antrobus. "Aranyaprathet to Bangkok" (CC BY 2.0) by Clay Gilliland. "Aranyaprathet- Popiet Border" (CC BY 2.0) by Thanate Than. "Aranyaprathet Border Crossing" (CC BY 2.0) by I G. 
Related Posts
Find out everything you need to know about traveling from Khao San Road to Suvarnabhumi [...]
3 Comments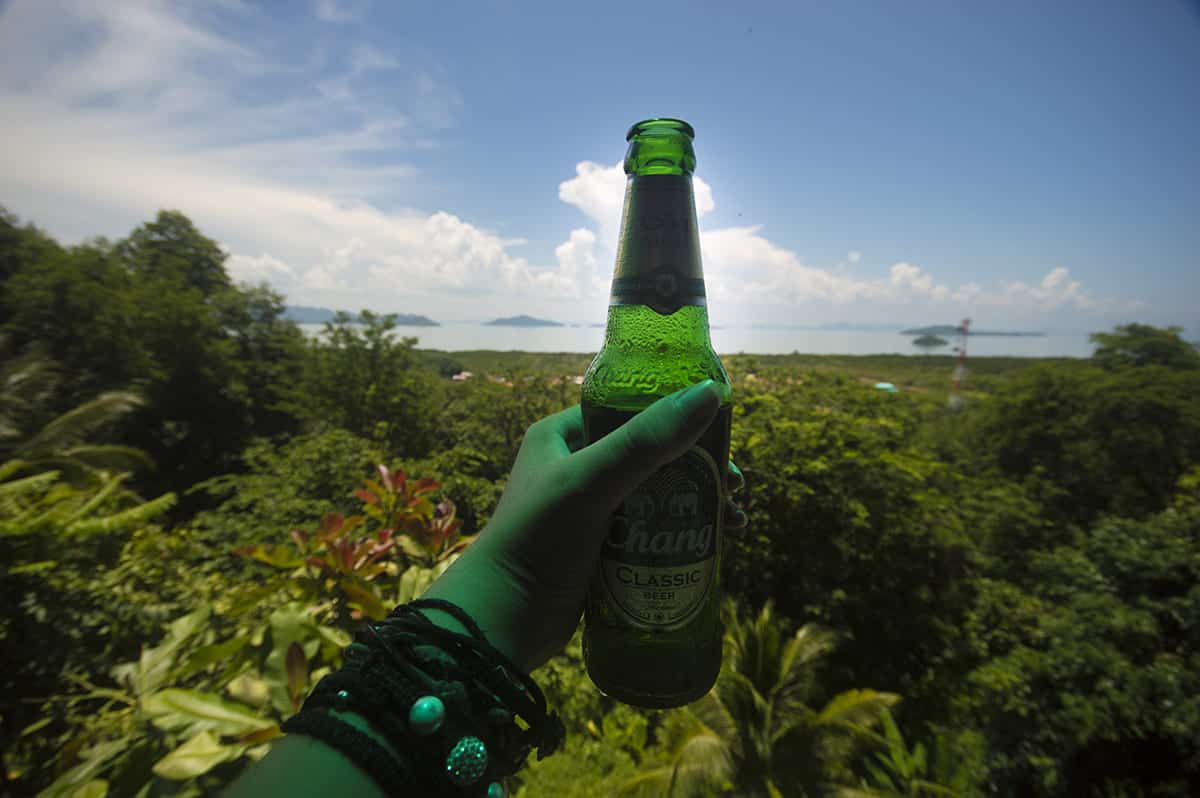 Come discover the ultimate island paradise by checking at our backpacking Koh Lanta itinerary. Find [...]
2 Comments
Khao San Road is a place known for its crazy nightlight and basically a right [...]