Check out this Hotel Indigo Bangkok review to ensure you have the perfect stay while in Bangkok, Thailand. Let's talk about how to get there, the rooms, dining and facilities in Bangkok's only boutique hotel!
---
Bangkok is a city I have traveled numerous times, though I am usually left underwhelmed. The City can seem very chaotic with lots going on, so having a great place to escape is super important.
Well, I am happy to say after a delightful stay at Hotel Indigo Bangkok Wireless Road all my expectations were blown away at Bangkok's only 5 star Boutique Hotel. So I am happy to share all about it with you in this Hotel Indigo Bangkok Review.
---
The Perfect Bangkok Stay: Hotel Indigo Bangkok Wireless Road Review
---
Location Of Hotel Indigo Bangkok
Getting there
For those that arrive by plane, the cheapest way to get to Hotel Indigo is by Skytrain/BTS. From the airport, the Skytrain is a half an hour journey to its final station Phaya Thai, and from there connect to the BTS Bearing Line, getting off at Ploenchit. From there it is less than 200m to Hotel Indigo.
Getting Around The City
Depending on where you are going it is usually best to use the BTS Skytrain where you can connect with many different areas of Bangkok. If you are traveling to a part of Bangkok which does not have a line on the Skytrain I highly recommend using the Grab App on your phone. This allows you to order taxis, input your destination and ultimately avoid taxi scams which are common in Bangkok. I found fares extremely affordable and you can always check how much it will cost you before booking the ride.
---
Arriving At Hotel Indigo Bangkok
We arrived just after 12pm, catching a grab taxi from our previous accommodation in Bangkok. Porters at the door help to carry luggage and welcomed us to the hotel. Being early normally means sitting around a hotel lobby for a few hours with not much to do. Though, this isn't the case for Hotel Indigo Bangkok. Early guests are allowed access up to the 24th floor while they wait for their room to be ready.
The 24th floor of Hotel Indigo is where you will find the very impressive infinity pool, gym and a small bar that also serves food. There is a great area to just chill and enjoy the view or for those that have their swimmers on hand, towels are provided for a swim.
We found the wait only to be about half an hour before someone came up and told us the room was now ready. Our bags were delivered by one of the friendly porters from the lobby.
---
Executive King Chaiyapruek Room
Hotel Indigo Bangkok has 192 luxuriously designed rooms with great space and features. We stayed in the Executive King Chaiyapruek Room and could have happily stayed forever. There is plenty of natural light thanks to the large floor to ceiling windows surrounding the room, controlled by switches by the bed. But why would you want to pull the blinds down when you have an amazing view over Bangkok. Even on the 5th floor, we were high enough to appreciate the beauty of the impressive skyline in the distance. If you are lucky enough to get a room at the front of the property (west facing) you will get an impressive sunset view right from your plush bed.
A large desk sits in front of a window, providing an inspiring backdrop for your workspace. The room also features a lovely lounge area, ideal for relaxing while enjoying the view. I must also say that the beds are incredible here! In an area of the world which is notorious for hard beds, it is very rarely you come across a comfortable mattress which just molds perfectly to your body.
The bathroom itself is bigger than a generic standard room providing plenty of space. A large walk-in shower even has a small bench to sit down on. Though, if you want to relax completely then why not try out the enormous free standing bath. Again, situated next to a huge floor to ceiling window overlooking the city below.
---
Facilities At Hotel Indigo Bangkok
Hotel Indigo Wireless Road, has many high-end facilities to make your stay in Bangkok as comfortable as possible. Whether that means relaxing in the pool or working hard in the gym, Hotel Indigo has your holiday needs covered.
Let's start with the impressive pool which is honestly one of the most amazing I have ever seen. Up high on the 24th floor, the infinity pool has some of the best views in town. It's also West facing so you can enjoy a perfect sunset during an evening swim. There are plenty of deck chairs surrounding the pool providing the ultimate tanning area. Though, there are also seats undercover around the bar if you want to just relax.
On the same floor as the pool is the gym. The gym at Hotel Indigo Bangkok is a good size and well equipped. Towels and bottles of water are provided and again, the views are amazing. Perfect excuse to record some miles on the treadmill or bicycle while watching what happens on the busy Bangkok streets below. Open 24/7 you can work out no matter the time of day!
---
Dining At Hotel Indigo Bangkok
Breakfast: Metro At Wireless
Breakfast is provided on the second-floor restaurant called Metro At Wireless and it is one of the best I have ever had. A menu is provided with options such as scrambled eggs, a full cooked western breakfast, as well as a few local favorites.
At the self serve buffet, you will find nearly everything your heart could desire. To drink there is a fridge containing various glass bottles of fruit juices and yogurt. There are also plenty of fresh fruit and bread options, as well as hash browns to complement your western breakfast.  The best part though had to be the jam doughnuts! Each one weighed about as much as a cricket ball and one bite in it's not hard to see why. They are so good, why not treat yourself to a second.
---
CHAR Rooftop Bar
Above the pool deck is a restaurant is the rooftop bar. We spent an evening up here for a few drinks and nibbles while watching the sunset over the skyline. Located on the top floor of Hotel Indigo Wireless Road Bangkok this certainly is the place to be at the end of the day.
Enjoy live music played by talented DJs while taking in the views. We loved the atmosphere at the CHAR Rooftop Bar and no doubt this is the ultimate place to start a night out in Bangkok.
Providing a wide range of alcoholic and nonalcoholic beverages there is something for all taste buds. Also, the delicious menu is a must try featuring grilled inspired bites and delicious nibbles.
Operating Hours: 05.00 PM – 01.00 AM
DJ: Tuesday – Saturday from 08.00 PM – 12.00 Midnight
---
We really enjoyed our stay at Hotel Indigo Bangkok Wireless Road. It was the perfect way to experience a different side of Bangkok we had not seen before. The room luxurious and modern with beautiful gold finishes. Also, the facilities here are absolutely amazing, it is no wonder this is Bangkok's only 5 star Boutique Hotel.
'Be Inspired, #StaySurprised with #Neighbourhood15 #bestkeptsecret at #Hotelindigobkk'
---
Any Questions? Let me know in the comments!
---
LIKE IT? PIN IT!
Want more Thailand Inspiration? Check out….
Disclaimer: This post may contain affiliate links. So, if you click on it and purchase something, I get a small percentage at no extra cost to you. As always all opinions are my own and your support is much appreciated.
Backpackers Wanderlust was a guest at Hotel Indigo Bangkok Wireless Road, however, as always, all opinions are my own.
Related Posts
Come find out absolutely everything you need to know about the Thailand Laos Border Crossing [...]
13 Comments
Find out the simplest ad best ways to travel from Bangkok to Koh Tao in [...]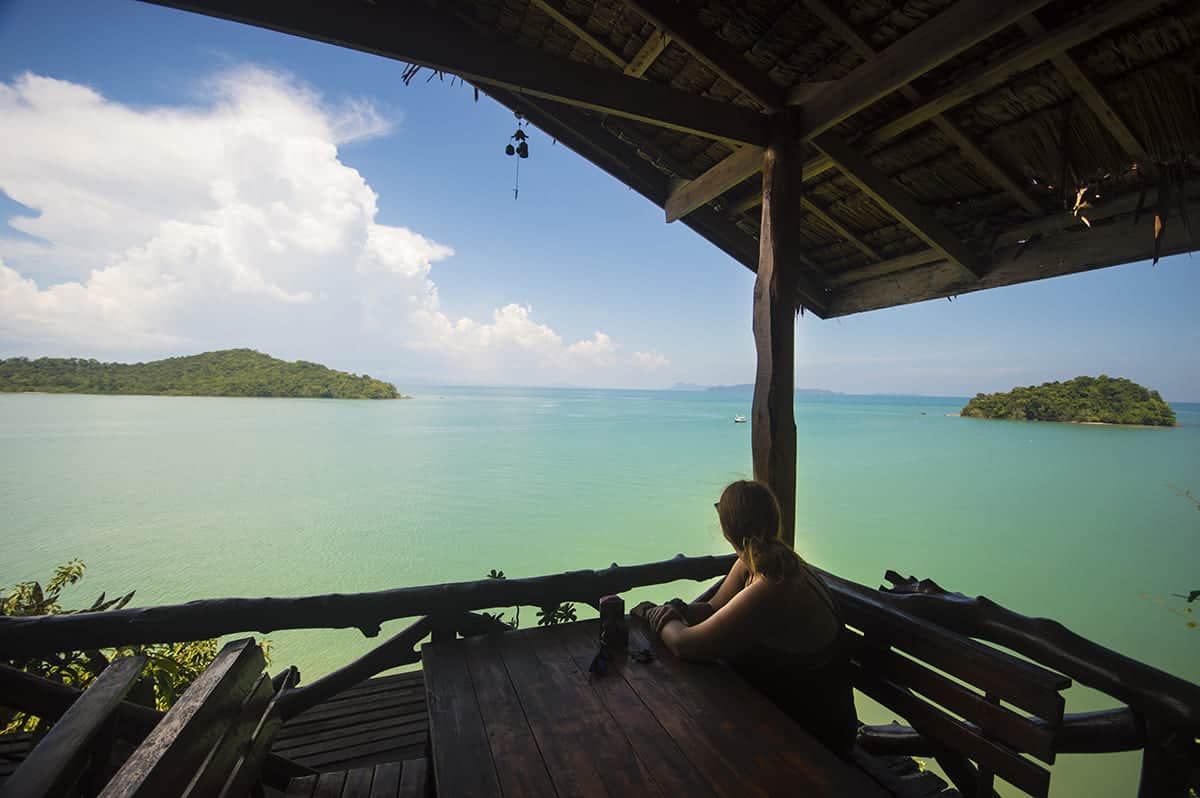 Find out everything you need to know for backpacking Thailand on a budget. Learn about [...]