Learn all you need to know about backpacking Chiang Mai on a budget while in Thailand. I will be giving you all the information you need to know such as costs, getting around, accommodation, what to do and so much more!
---
Chiang Mai is my favorite city in Thailand and perhaps even further afield. Anytime I visit Southeast Asia a pop-in stop to Chiang Mai is a must for a bit of rest and relaxation. Though it's not just me in love with this city it's popular with backpackers, families, couples, and digital nomads alike. If you are planning a visit to Thailand a few days backpacking Chiang Mai is a must for your itinerary.
In this backpacking Chiang Mai travel guide, I will let you in on all the top things to do, where to sleep, eat, and more!
There are plenty of things to do here and amazing restaurants to eat at. I am quite the foodie and this being my favorite place is saying something. Whether you enjoy eating with locals at the markets or finding an incredible vegan spot there is something for everyone. Make the most out of your visit and slow down a little as you appreciate the chilled relaxed vibes of the Old Town. If you are looking to get away from the hassle of a big city like Bangkok I couldn't recommend Chiang Mai more! Though don't worry if you are a bit more of an adrenalin junkie, there are plenty of fast-paced activities to keep you busy as well.
---
Everything You Need To Know About Backpacking Chiang Mai
---
How Many Days To Spend In Chiang Mai
I won't lie and say I have spent a short period ever in Chiang Mai. The smallest amount of time I have ever spent in this city is 5 days, and this would be one of my favorite digital nomad places. After a long journey from Bangkok to Chiang Mai, you will want to have a chill day to start with. Most budget travelers will either bus or take the overnight train (highly recommend) which can take 12 hours and is generally a rather restless night. Aka I am saying your first day might be a bit of a write-off. Though Chiang Mai is super cheap and is one of the cheapest places in Thailand. So 1 more night here is a lot better for your wallet than an extra day down south.
Overall, I would recommend you spend at least 3 days in Chaing Mai. This will allow you to embrace the more relaxing side of Thailand and slow down a bit. Though what I do recommend to both my friends and travelers alike is to make sure you are in Chiang Mai for the Sunday Night Market. Therefore if you are arriving on a Monday, yup, I would stay for 1 week.
If you are thinking that is too much time to spend in one place, don't worry! There is plenty of things to do in Chiang Mai which I will cover further down. You also may want to break up this time with a trip up north to the backpacker town of Pai. This is a super popular spot with young travelers and could nicely break up a week in Chiang Mai. Though for those people who get motion sick the roads are notorious!
The Sunday Chiang Mai Night Market... Foodie Heaven!!!
---
Cost Per Day To Travel Chiang Mai
Welcome to the home of budget travel in Thailand. I mean why else would so many digital nomads choose to call this place home. It's comfortable and affordable, an excellent combination for budget travelers.
In terms of accommodation, there is such a wide variety available. Though considering you're on my website I while assume you're a budget traveler. If so, you can't go wrong with a hostel dorm bed and you will have such a wide variety of choices. To shorten the list of choices a bit further I have written a post on the best hostels in Chiang Mai. Though expect to spend around $7.00 to $12.00. The dorm rooms here are also very modern and full of amenities. For a private room, you will look at paying $15.00 to $25.00 per night which you can share if you are traveling with someone.
There are plenty of night markets throughout the week to keep your budget low. Overall I would budget approximately $30.00 per day for backpacking Chiang Mai to stay on the safe side. This will allow you to splurge on certain activities (yes, elephant nature park), have a somewhat decent bed to rest in, and delicious meals.
---
Where To Stay In Chiang Mai
You are spoiled for choices when it comes to choosing where to stay in Chiang Mai. There are countless luxury 5-star resorts, locally run guesthouses, and modern hostels. No matter your budget or the type of traveler you are there is something to fit all needs.
I mainly choose to stay within the confines of the Old Town when choosing where to stay in Chiang Mai. This is definitely the best location if you are staying for a short period. Though if you are thinking about living in Chiang Mai you will want to stay further afield. The Old Town is within walking distance to many beautiful temples, excellent shopping, delicious restaurants, and the famous Sunday Night Market.
On my most recent visit, I stayed at De Lanna Hotel. This is a mid-range hotel located in the heart of the Old Town. The location was fantastic and having a pool to enjoy during the afternoon heat was fantastic. Though on the complete opposite side I have also stayed in the cheapest available hostel on my first visit. The owner was great, but the facilities less than, and I think it's probably a good thing it's shut down. Though just make sure to read reviews to stay at the best hostels in Chiang Mai.
Here are my top picks for the backpacking Chiang Mai travel guide:
Find the best hotels in the area
A modern and upscale hostel. From $13.00 per night including a fab breakfast.

BOOK NOW

A favorite with travelers. A hostel with all the amenities, from $6.00 per night.

BOOK NOW

Beautiful private rooms for $25.00 per night and in the heart of the city with a pool.

BOOK NOW

A walk from the city attractions, starting from $18.00 per night with an amazing pool.

BOOK NOW
Getting Around Chaing Mai
---
Getting From Chaing Mai Airport To The Old Town
There are quite a few options to travel from Chiang Mai Airport to The Old Town. The two are actually only located 3 kilometers away from each other. Though no journey to the airport is cheap, no matter which country you are in and how far away the airport is located.
Luckily there are both private and public transportation options available which create plenty of choices!
---
Prepaid Taxi
The prepaid taxi is the most common option for getting from Chiang Mai airport to the city center. It's a quick and convenient way to travel between the two locations and you know you aren't getting ripped off.
You will need to visit one of the prepaid taxi counters just before you exit the arrivals hall. Once here there are two types of taxi options to choose from. Either the Chiang Mai Airport Taxis or the metered taxis. There isn't a major difference in price. The fixed price taxis cost 150 THB / $5.00 and the metered taxi usually works out to around the same amount.
Prepaid taxis are generally my go-to option when arriving in a new country.  It means I do not have to stress about arguing with a regular taxi driver to not get ripped off, making my first hour in somewhere a more enjoyable experience.
---
Songthaew
Let your first experience in Chiang Mai be a local one by taking a songthaew into the old town. This is one of the main ways to travel within Chiang Mai. It is essentially a public bus in the form of the back of a red pickup truck.
Outside of the airport, the songthaews can be found outside the exits of the arrival hall. All you need to do is advise the driver as to where you are going. If he is not going that direction he may say no, though there are plenty more to choose from. The standard rate for the journey is 40 THB / $1.30. Though it is quite common to be offered to leave early for an extra cost of not filling up the rest of the songthaew with passengers. This extra fee can cost anymore from 100 THB to 200 THB / $3.30 to $7.00. Be prepared to haggle if you like or just simply wait for more passengers.
---
Tuk-Tuk
There is also plenty of tuk-tuks to choose from outside the arrival exit. They provide a great introduction to Thailand, especially if this is the first city you are arriving in the country. There is nothing better than enjoying the wind in your hair and the interesting smells around you as you watch these new landscapes pass. The one downside is that tuk-tuks are not the most spacious means of transport. So if you have quite a few bags this won't be the best option.
The standard rate for tuk-tuks is between 100 THB to 120 THB / $3.30 to $4.00. Though the majority of drivers will happily tell you there is a fixed rate of 150 THB / $5.00. So be prepared to haggle, and yes I have fallen for that one before.
---
Bus
Like most places, taking the bus is definitely the cheapest option for the start of your backpacking Chiang Mai journey. There are two different bus routes to choose from, both of which head to central Chiang Mai, just in different directions. These buses can be found just outside the arrivals hall where there is a white bus stop sign.
The first bus is the R3 Red bus which goes to Nimman Road first before Tha Pae Gate. The second bus, R3 Yellow, goes in the opposite direction heading to Tha Pae first before Nimman Road.
The cost of the bus is 20 THB / $0.70 and they run every 30 minutes from 6.30 am to 11.30 pm.
---
Traveling Within Chiang Mai
The Old Town of Chiang Mai is extremely walkable. There are amazing temples, cheap eats, fantastic hostels, and amazing shopping all within walking distance. Though if you are wanting to explore further afield best to get some sort of transport to take you around.
I highly recommend downloading the offline map of Chiang Mai on the Maps.Me app for your cell phone. It'll be super helpful in navigating your way around if you do not have data.  This is one thing I always make sure I have before arriving at a new destination.
---
Walking
It is relatively easy enough to travel around Chiang Mai on foot. Though for exploring further afield this is not a reasonable mode of transport, especially when there are plenty other affordable choices available.
Chiang Mai isn't one of those crazy bustling cities with endless traffic. This makes it a very walking-friendly spot as crossing the roads are relatively easy. Overall I found walking around and exploring the Old Town a rather relaxing experience. There are a few main roads within the Old Town which will have the majority of the traffic. The rest small side streets are super chill with minimal vehicles around.
The distances within the old town are flat so you will have no problem walking around. Though, prepare yourself for the heat and bring lots of water for the journey.
---
Grab
This is my personal favorite way to travel around Chiang Mai. Download the Grab app on your phone and then you are all good to go. It provides the cost before you book which is a great tool to use to keep you on budget. Because you also enter your location before the journey starts by dropping a pin, there are no communication issues and ending up in the wrong place. The drivers are always super friendly, with a nice and clean car as well as having air conditioning blasting.
Grab is available all around Thailand and Southeast Asia as well. If you are traveling around different countries this is a must-have app!
---
Hiring A Motorbike
Hiring a motorbike is a great way to travel around Chiang Mai and further afield. Though I will say that Chiang Mai is probably not the best place to learn to ride a motorbike if this is your first time. The roads outside the old town are quite busy and could easily become too overwhelming,
A little bit of research will lead you to plenty of reputable motorbikes hire companies. A basic scooter will set you back around 250 THB / $8.30 per day. The fancier the model the higher the price. Though prices can generally be negotiated for long-term hire.
This is a great option to see some of the fantastic nature around Chiang Mai. A popular option is also venturing up to the backpacker town of Pai for a few days.
---
Where To Eat In Chiang Mai
From nighttime markets to hip coffee spots and western restaurants, Chiang Mai has a wide variety of foodie options.  These are my top picks, all tested and tried, for my backpackers travel guide to Chiang Mai:
---
Cheap Food In Chiang Mai
One of my favorite ways to test the local delicacies and getting to know a new city is trying the food from street stalls or night markets. There is an abundance of both her in Chiang Mai which will make any foodie drool.
If you haven't heard already, one of my favorite things in Chiang Mai is the Sunday Night Market. This is both a shoppers and food lovers paradise. We always have an excellent time trying out new options. Generally, each item you buy is between 20 THB to 40 THB / $0.60 to $1.30.
There are also numerous other food markets. Favorites include Chang Phuak Gate Night Market, Ploen Ruedee Night Market, and the Chiang Mai Gate Market.
My top pick for an affordable breakfast option is Bagel House Cafe & Eatery. This is a western breakfast option which you guessed it, freshly baked bagels. There are such a variety of bagels and toppings to choose from. The team working are always lovely and it seems to have quite a low-key vibe about it.
---
Western Food In Chiang Mai
Chiang Mai is a mecca for western food which is why it is probably such a popular hangout for digital nomads. No one can refuse a taste of home right!? There are so many options available and something which caters to everyone. Whether you are a meat-eater or vegan, Chaing Mai will be paradise.
Blue Diamond Breakfast Club is a delicious option. They cater more towards the vegetarian and vegan market so be aware of that. The cafe is set inside a beautiful lush garden area and is the perfect place to relax.
For lunch and dinner meat lovers definitely need to hit up Rock Me Burger Bar. The burgers here are absolutely ridiculous in size and my other half was in heaven. I must admit I wasn't a fan of the veggie burger, though I am definitely not the target market so understandable. For veggie lovers, a visit to Taste From Heaven is a must-visit! This is my number one favorite spot for food in Chiang Mai. They have a  vegetarian, mostly vegan menu with both Thai and Western meals.
---
Local Dishes You Must Try
Chiang Mai has plenty of delicious local dishes that you must try! Something I am absolutely in love with and is a Chiang Mai specialty is Khao Soi. This is a noodle curry dish topped with fried noodles. It is certainly a must-try while in the city. It is typically made with chicken. Though a vegan option is available from Taste From Heaven, which is mentioned above.
Thailand has an abundance of delicious food and luckily too many options to try while you are there. Though a cooking class is definitely a good way to try a few of the dishes and pick up some new culinary skills.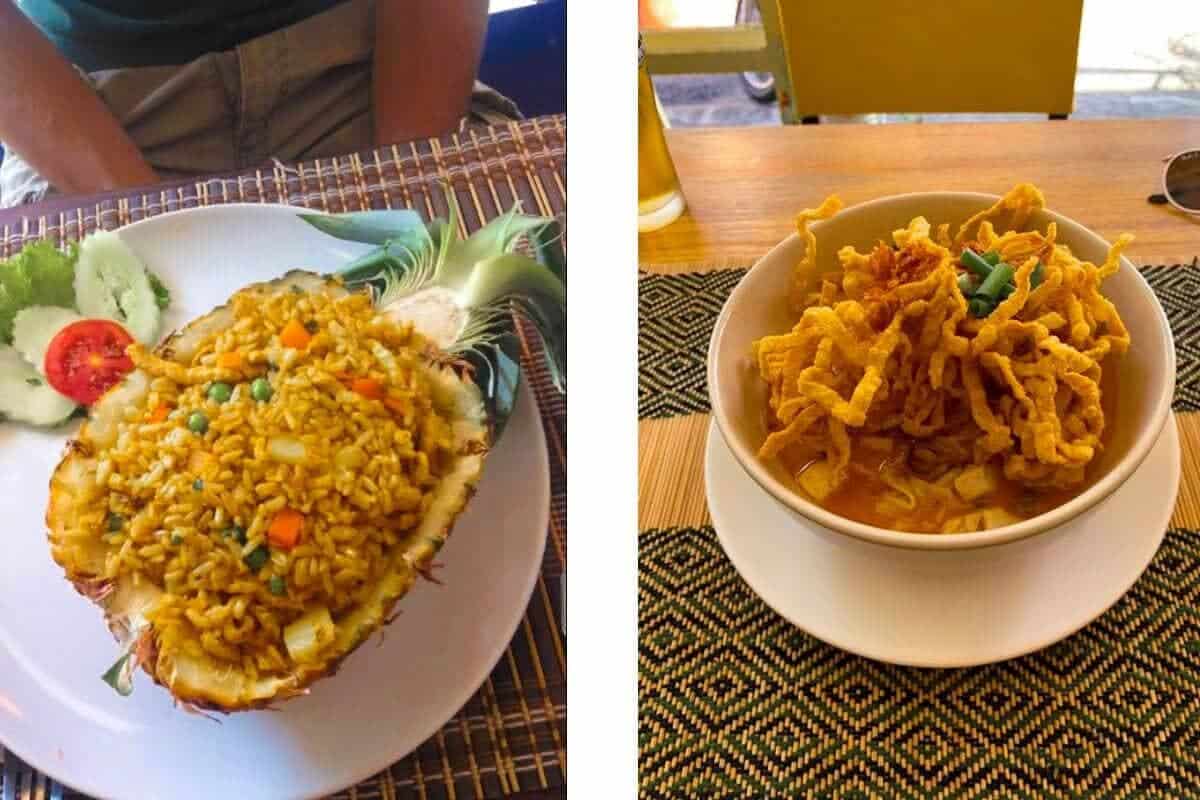 ---
Safety In Chiang Mai
Chiang Mai is a relatively safe place to explore with the exception of the many scams you will find in Asian countries. At the night market try to pay with the exact amount. The vendors here are known to randomly change prices and give you the wrong change, insisting it is correct.
Don't drink the water out of the tap. 7/11 has plenty of cheap water bottles. If you already have a bottle botted throughout Chiang Mai are water stations that dispense filtered water. This is a great choice if you are traveling with a reusable drink bottle.
If you have chosen to hire a motorbike in Chiang Mai just be aware of the police. There are usually multiple checkpoints surrounding the roads around and near the Old Town. Sure they have a purpose, though the majority of people who are pulled over are tourists riding motorbikes. Unless you have an international driver's license, and maybe even still, you will likely be pulled over and asked to pay a fine. The amount is 300 THB / $10.00. This isn't much, but if you're caught multiple times it adds up.
Lastly, I will mention scams from foreigners actually living in Chiang Mai. Unfortunately, I was subject to one of these and fell for it on my first backpacking trip many many years ago. Though I am sure similar occurrences are still happening today. Essentially a fellow traveler has suddenly lost everything and needs help. If you are a naive first-time traveler like me with a bit of a caring side you are the perfect culprit. Also, it didn't help that I was on some extremely strong meds and completely out of it. In the end, I only lost like $80.00, but it's still the fact it happened and that it could've been so much more money. All in all, if you are approached by some random, play dumb, act like you speak another language, and walk off.
Local Experiences In Chiang Mai: Cooking Class, Soap Carving And Lacquer Workshop
---
Things To Do In Chiang Mai
Chiang Mai is full of excellent activities and attractions to keep you busy during your stay. Whether you enjoy a spot of shopping, experiencing a different religion, or want to see some epic scenery, Chiang Mai has something for everyone.
---
Elephant Sanctuary
No doubt one of the most popular things to do in Chaing Mai is visiting one of the many elephant sanctuaries located in the region. There are so many to choose from. Though that isn't always a good thing. I recommend checking out my post on the best elephant sanctuaries in Chiang Mai for an ethical experience.
As travelers it's important we only partake in ethical experiences. Many elephants in the tourism industry are still being abused, even with this large shift towards responsible tourism in recent years. One of the most popular choices in Elephant Nature Park. These are elephants that have been rescued from the logging and tourism trade and have found homes.
I have always booked one of the projects that Elephant Nature Park offers. These aren't located within the park itself, but instead at a sister village where they are teaching ethical tourism with elephants and showcasing what experiences tourists really want. This is a great activity for travelers of all ages, even if you are traveling Northern Thailand with children.
---
Cooking Class
Chiang Mai is just one of those cities where you need to do a cooking class while there. This is a great way to support a local business while learning some new culinary skills. I had such an amazing time doing my cooking class with Arom Dii. It was just myself, my partner and another couple so was a lovely relaxed experience.
We were able to cook 5 individual dishes. This consisted of a starter, soup, stirfry, curry, and dessert. Surprisingly all my cooking came out fabulous and even though I was given a cookbook I haven't been able to recreate the meals with such a delicious taste again. Also, they happily swapped out the meat options for tofu, a big plus in my book!
---
Night Market
If you haven't heard yet, have you been reading! I absolutely love the night markets in Chiang Mai. It is an absolutely delicious foodie experience with great souvenir shopping. I am not lying when I say if I arrive on a Monday I won't leave until the following week so I have a chance o visit the Chiang Mai Sunday Night Market. There are so many stalls here that you'll be walking for hours and still would not have visited them all!
There are also nightly markets located around a couple of the gates of the Old City. These make fantastic spots to grab an affordable meal with a cold beer and simply just relax.
---
Temple Hopping
The Old Town in Chiang Mai is covered in gorgeous temples. A quick map search will show you just how many. Though I will just list a few favorites worth checking out while you are backpacking Chiang Mai. These are Wat Chedi Luang, Wat Chiang Man, and Wat Phra Singh Woramahawihan. You can either walk between them or even hire a bicycle.  Just remember to bring some water for the journey!
---
Grand Canyon Water Park
For some of those adrenalin junkies backpacking Chiang Mai, definitely venture out to the Grand Canyon Water Park. Located inside an abandoned limestone quarry water built up over the years thanks to the heavy monsoon rains.
Jump from some super-high cliffs and compete in the water obstacle course. The ticket cost is 450 THB / $15.00 which is pretty reasonable considering there is no time limit. Once you've swum to your heart's content, enjoy a meal at the onsite restaurant.
---
Local Experiences
While in Chiang Mai I decided to create some more meaningful travel experiences and support local communities. They offer a variety of experiences in even more destinations around Asia and are definitely worth checking out for your trip.
Soap Flower Making: This is what I personally did on my recent trip to Chiang Mai. The Soap Flower Making experience allowed us to create a special handcrafted souvenir. You'll see these at a lot of the souvenir stores and stalls at the markets for sale so it was awesome we were able to make our own.
Gold Leaf Lacquerware: Again the Gold Leaf Lacquerware experience allowed us to create some unique souvenirs to take home. It was also a great opportunity to get to know a local master and have her teach us her skills.
---
Where To After Chiang Mai
When your adventures backpacking Chiang Mai has come to an end then you will need to travel onwards. From up here in northern Thailand, you could either travel further up or back down the country. With Chiang Mai having an international airport as well the options are truly endless.
Though if you are wishing to continue overland, I recommend traveling north towards the Thai Laos border town of Chiang Khong. Chiang Khong is located on the Thai side and it has some truly affordable and more luxurious accommodation options. I stayed at the Namkhong Guesthouse and Resort and even stayed longer than originally I was planning to. Double rooms are just $5.00 per night and there is a pool as well! Over on the Laos side are the town of Huay Xai and the starting point for taking the slow boat to Luang Prabang.
Alternatively, you can end back down South towards Bangkok. If you haven't already to recommend taking the overnight train from Chiang Mai to Ayutthaya. Once there you can spend the day in Ayutthaya exploring the temples.
---
Any Questions? Let me know in the comments!
---
LIKE IT? PIN IT!
---
Want more Thailand Inspiration? 
Check out….
---
Disclaimer: This post contains affiliate links. So, if you click on it and purchase something, I get a small percentage at no extra cost to you. As always all opinions are my own and your support is much appreciated.
Related Posts
Find out how exactly to travel from Phuket To Koh Lanta. Koh Lanta is one [...]
Find out everything you need to know about taking the overnight sleeper train from Bangkok [...]
7 Comments
Thinking about a day trip to Ayutthaya? From how to get there from Bangkok, Ayutthaya [...]
3 Comments