Find out everything you need to know about traveling from Chiang Mai Airport into the City Centre (Old City). From the tuk-tuks, buses, taxis, private transfers, and more these are my top tips so you don't miss your flight, this ultimate guide absolutely has you covered!
---
Chiang Mai is one of my favorite places in Thailand. It's great to be able to simply just chill out and enjoy a slower pace of life. I have spent probably a month in Chiang Mai over various trips and it is a hope of mine someday that I will move there.
Chiang Mai Airport is actually only 3 kilometers away from the Old City. It's a super close journey but unfortunately not really a walkable one considering the traffic around. Though no journey to the airport is cheap, no matter which country you are in and how far away the airport is located! Luckily enough there are numerous transportation options available to get you from the Chiang Mai Airport to the City hassle-free. I will let you know about taking a taxi, bus, songthaew, tuk-tuk, and more. That way you can figure out what is the best option for you!
| | | | |
| --- | --- | --- | --- |
| | Time | Cost | Highlight |
| Taxi | 10 minutes | from $5 | Fast and comfortable journey |
| Airport Transfer | 10 minutes | from $12 | Prebooked and reliable transport |
| Songthaew | 30 minutes | from $1.30 | Cheap journey |
| Tuk-tuk | 10 minutes | from $4 | Perfect introduction |
| Bus | 20 minutes | from $0.70 | Super cheap! |
So, what is the best way to get from Chiang Mai Airport to Old City? Taking a taxi can be expensive, though taking a local bus can be a bit daunting for the first time, plus how are you even meant to know which one to get on!
So let's go through all the options from the airport shuttle bus, train, and private transfer to the taxis and buses to find the right option for you.
---
Chiang Mai Airport To The City: The Best Ways To Travel
---
Taxi From Chiang Mai Airport To City
No matter where you are in the world taking a prepaid taxi is always the easiest and simplest way to travel between the airport and your accommodation. Of course same goes here where prepaid taxis are the most common option for getting from Chiang Mai airport to the city center. It's a quick and convenient way to travel between the two locations and you know you aren't getting ripped off.
To take one, you will need to visit one of the prepaid taxi counters just before you exit the arrivals hall. Once here there are two types of taxi options to choose from. Either the Chiang Mai Airport Taxis or the metered taxis. There isn't a major difference in price. The fixed price taxis cost 150 THB / $5.00 and the metered taxi usually works out to around the same amount.
Prepaid taxis are generally my go-to option when arriving in a new country.  It means I do not have to stress about arguing with a regular taxi driver to not get ripped off, making my first hour in somewhere a more enjoyable experience. Overall starting my new adventures in a country off with ease, allowing me to get to my accommodation and relax after a flight or just get exploring.
---
Chaing Mai Airport Transfer
The easiest way to get from the Old City to Chiang Mai Airport is certainly by booking a private transfer. Though, when something is easy it is oftentimes never cheap. You can book private transfers from any hotel in Bangkok Chiang Mai on 12.Go Asia from $12.00 for a 4 seater car or $16.00 for a 9 seater van. If you are traveling with a large group of people and don't want the hassle of having to organize something when you arrive this could be the best option for you.
Also if you contact your accommodation in Chiang Mai they should also be able to organize a private transfer for you. You will then just have to pay for this transfer once you arrive at the hotel or hostel. This option makes it quite easy as there will be someone waiting there with your name on a signboard.
I have actually used this private transfer option quite a few times when traveling throughout Southeast Asia.
---
Songthaew From Chiang Mai Airport To City
Let your first experience in Chiang Mai be a local one by taking a songthaew into the old city. This is one of the main ways to travel within Chiang Mai. It is essentially a public bus in the form of the back of a red pickup truck. So what better introduction to your experience in this incredible city!
To take a songthaew, make your way through immigration and the arrivals hall until you find yourself outside of the exit of the arrivals hall. Once here, you will see a lineup of bright red pickup trucks aka songthaews. All you need to do is advise the driver as to where you are going. If he is not going in that direction he may say no. Though there will be plenty more to choose from so no stress.
The standard rate for the journey is 40 THB / $1.30. Though it is quite common to be offered to leave early for an extra cost of not filling up the rest of the songthaew with passengers. This extra fee can cost anymore from 100 THB to 200 THB / $3.30 to $7.00. Be prepared to haggle if you like or just simply just wait for more passengers.
View this post on Instagram
---
Tuk-Tuk From Chiang Mai Airport To City
If you are wanting to take a local form of transport, but perhaps don't want to share with other people in a songthaew, then you can take a tuk-tuk. This is also the perfect introduction to Thailand as everyone loves the famous Thai tuk-tuks.
There will be plenty of tuk-tuks to choose from outside the arrival exit. You can always find heaps outside the airport so if you can't see one just wait a few minutes and one should park up. There is nothing better than enjoying the wind in your hair and the interesting smells around you as you watch these new landscapes pass. The one downside is that tuk-tuks are not the most spacious means of transport. So if you have quite a few bags this won't be the best option.
The standard rate for tuk-tuks is between 100 THB to 120 THB / $3.30 to $4.00. Though the majority of drivers will happily tell you there is a fixed rate of 150 THB / $5.00. So be prepared to haggle, and yes I have fallen for that one before.
---
Chiang Mai Airport To City By Bus
Like most places, taking the bus is definitely the cheapest option for the start of your backpacking Chiang Mai journey. Though this can definitely seem quite daunting if you are arriving somewhere new. Nevertheless, this is what you need to know. There are two different bus routes to choose from, both of which head to central Chiang Mai, just in different directions. These buses can be found just outside the arrivals hall where there is a white bus stop sign.
The first bus is the R3 Red bus which goes to Nimman Road first before Tha Pae Gate. The second bus, R3 Yellow, goes in the opposite direction heading to Tha Pae first before Nimman Road.
The cost of the bus is 20 THB / $0.70 and they run every 30 minutes from 6.30 am to 11.30 pm.
---
Where To Stay In Chiang Mai?
You are spoiled for choices when it comes to choosing where to stay in Chiang Mai. There are countless 5-star resorts, locally run guesthouses, and hostels. No matter your budget or the type of traveler you are there is something to fit all needs.
I mainly choose to stay within the confines of the Old City when deciding where to stay in Chiang Mai. This is definitely the best location if you are staying for a short period or this is your first time visiting. Though if you are thinking about living in Chiang Mai you will want to stay further afield in such places as Nimman. The Old City is within walking distance to many beautiful temples, excellent shopping, delicious restaurants, and the famous Sunday Night Market. Have you checked out my 3 days in Chiang Mai itinerary yet?
On my most recent visit, I stayed at De Lanna Hotel. This is a mid-range hotel located in the heart of Old City. The location was fantastic and having a pool to enjoy during the afternoon heat was fantastic. Though on the complete opposite side I have also stayed in the cheapest available hostel on my first visit. The owner was great, but the facilities less than, and I think it's probably a good thing it's shut down now.
Here are my top picks for the backpacking Chiang Mai travel guide:
A modern and upscale hostel. From $13.00 per night including a fab breakfast.

BOOK NOW

A favorite with travelers. A hostel with all the amenities, from $6.00 per night.

BOOK NOW

Beautiful private rooms for $25.00 per night and in the heart of the city with a pool.

BOOK NOW

A walk from the city attractions, starting from $18.00 per night with an amazing pool.

BOOK NOW
LIKE IT? PIN IT!

Want more Thailand Inspiration? Check out….
Disclaimer: This post contains affiliate links. So, if you click on it and purchase something, I get a small percentage at no extra cost to you. As always all opinions are my own and your support is much appreciated.
Related Posts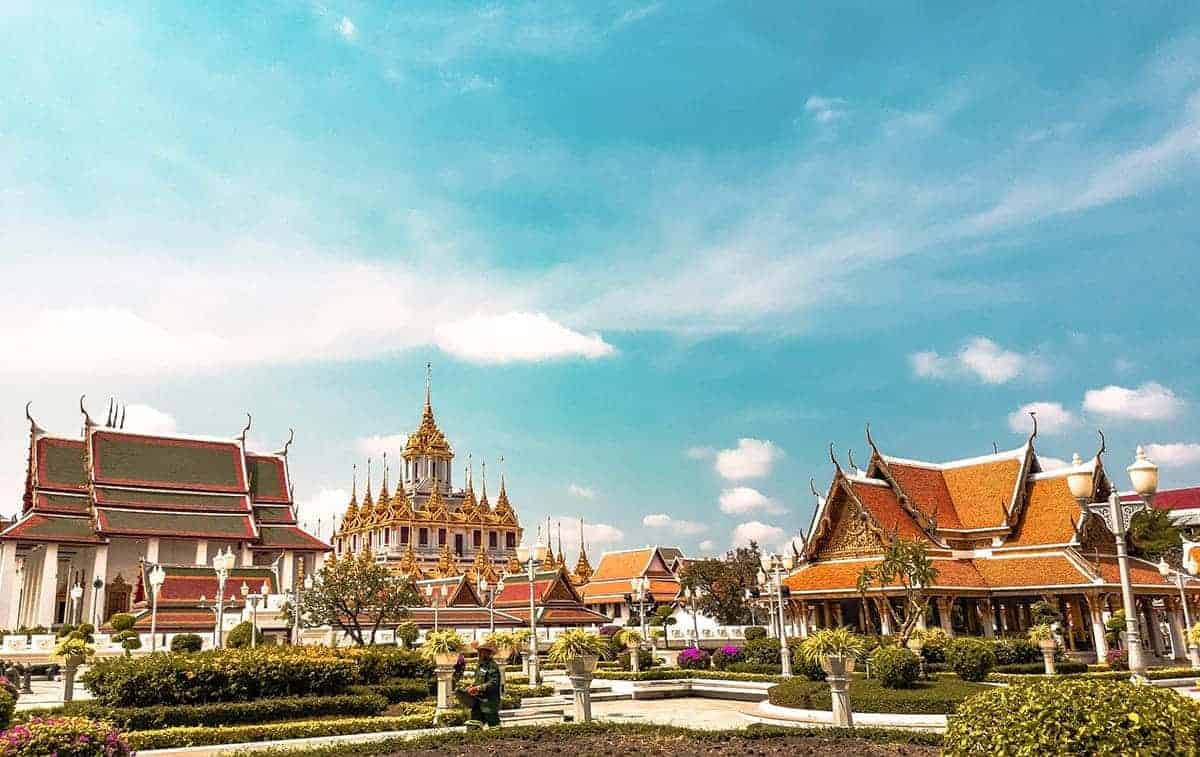 Share Tweet Pin Learn all you need to know about backpacking Bangkok in Thailand. I [...]
Find out everything you need to know about the Chiang Mai Sunday Night Markets. From [...]
33 Comments
Find out everything you need to know about taking the overnight sleeper train from Bangkok [...]
6 Comments