Find out what is the perfect 2 days in Bangkok itinerary to ensure you have the ultimate time in Thailand's capital city. Let's talk about the best things to do, restaurants, where to stay, and more for your 48 hours in Bangkok!
---
Bangkok is a city you will no doubt pass through throughout your Thailand adventures. Whether you are using it for your starting point or just traveling through on your way to explore more of the country.
It has so many different things to do here which could honestly keep you entertained for weeks. Whether that is checking out the markets, the temples or simply getting lost amongst the bustling streets.
However arriving in a new bustling city can be a bit daunting at times, especially if you are someone like me who gets overwhelmed.
I have actually spent a reasonable amount of time in Bangkok over individual trips to Thailand. All up I have probably spent about a month in this city.
That is why I have written this best 2 days in Bangkok itinerary so you can make the most out of your time with your 48 hours in Bangkok.
From where to stay, where to eat, and what to do. I have included everything you could ever want to know and need to know in your Bangkok itinerary.
---
2 Days In Bangkok Itinerary: Make The Most Out Of 48 Hours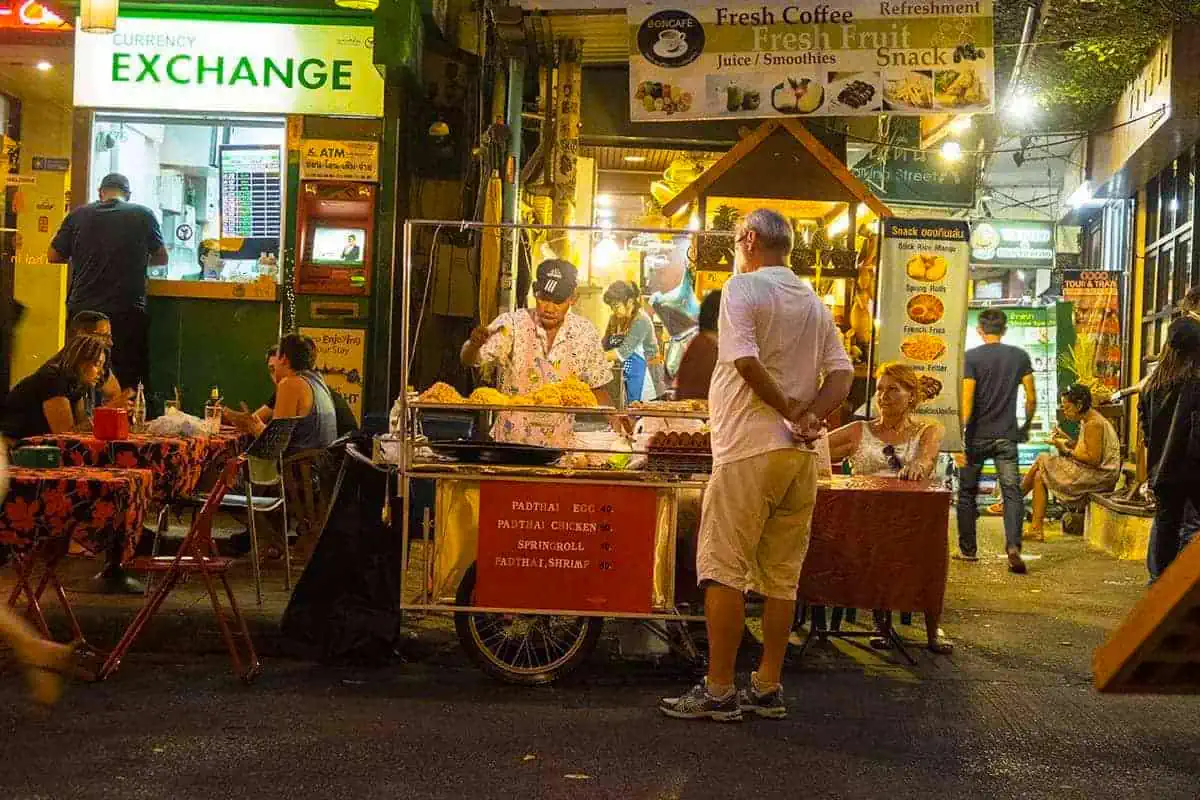 🚗 How I Book Cheap Transport In Thailand: 12Go Asia
---
Day One Of Your 2 Days In Bangkok Itinerary
There is no better way to start your 48-hour Bangkok itinerary than to start with some of the best sights in the city, The Grand Palace and Wat Po.
---
Fuel Your Morning
Before we get exploring, best to start with a delicious breakfast to give you enough energy to last the Bangkok heat. If you like you can get breakfast near your Khao San Road accommodation otherwise there are a couple of options at the Grand Palace area.
Elefin Coffee is an excellent and delicious choice just an 8-minute walk from The Grand Palace. This is a spot for any coffee lovers.
It opens around 7.30 am which is perfect as you'll want to get up early to explore before the tourist crowds start forming.
After some yummy eats to get you fueled up make your way to the incredible Grand Palace.
---
Explore The Grand Palace & Wat Po
It opens from 8.30 am each day until 3.30 pm. The best idea is to visit early though to beat all the crowds, seriously it can get insane when the tour buses start arriving at 10.30 am!
Make sure you are dressed appropriately as well with your shoulders and knees covered up.
The entrance fee will set you back $16.70 / 500 THB which is quite pricey compared to some other spots in Thailand. Though this is an iconic place with incredible architecture making the price worth it.
You will want to spend between 2 to 3 hours exploring the Grand Palace which also includes Wat Phra Kaew which is on the same grounds.
After The Grand Palace, you can simply head across the street to visit Wat Phra Chetuphon, also known as Wat Po.
The entry fee here is $2.60 / 100 THB which is a lot more reasonable.
The reason Wat Po is one of the most popular temples to visit while backpacking Bangkok is that this is where you will find the famous reclining Buddha. Reaching 45 meters in length and 15 meters high it sure is a sight to see.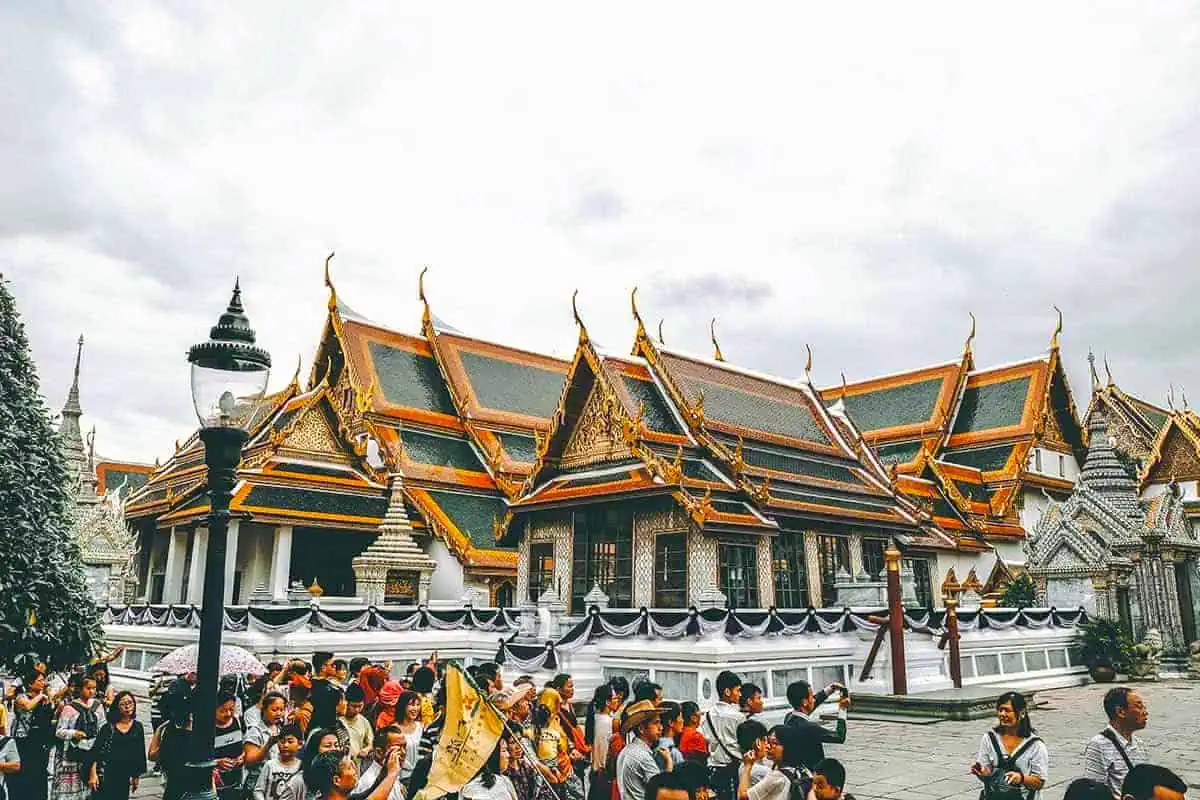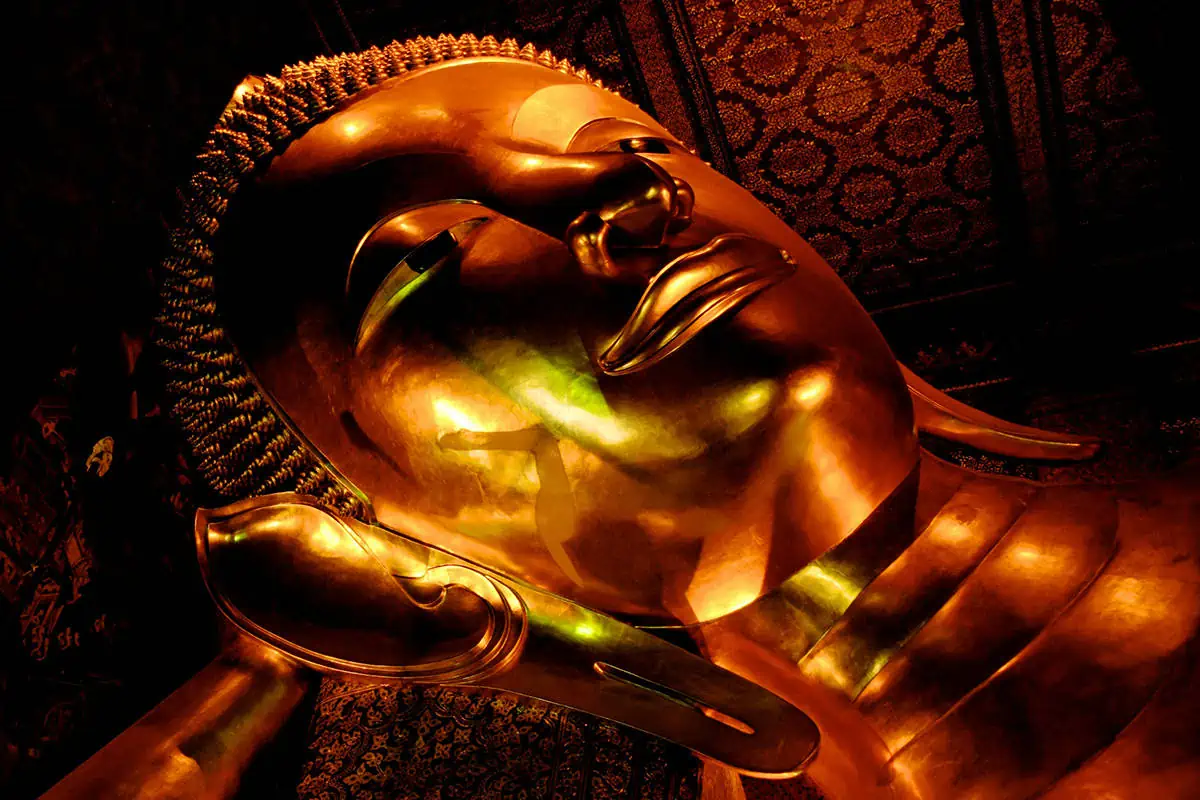 ---
Lunch With A View
Stop for lunch nearby at one of the eateries which have an incredible view over the river to our next stop Wat Arun.
Some of the top choices include The Deck Restaurant, Bitter Deck Restaurant, or Sala Rattanakosin Eatery And Bar.
They are more pricey than a lot of other restaurants you may find around Bangkok. This is because they are in a popular area around the Grand Palace and have such an incredible view.
You will want to budget between $15.00 to $20.00 per person for the meal. Though don't worry this is the most expensive spot we will be eating at!
---
Appreciate The Architecture At Wat Arun
With a full belly make your way over to the Tha Tien Pier which is only a couple of minutes' walk away.
Once here buy a ferry ticket which will cost you around $0.10 / 3 THB. The journey only takes a couple of minutes to get you across to the other side of the river where you will hop off basically right next to Wat Arun.
Wat Arun costs $1.34 / 40 THB to enter and you will need to wear appropriate clothing. Though this should be no problem as you will be covered have been to temples in the morning.
A scarf is highly recommended for female travelers to cover the shoulders and you can easily take it off and on whether you are in a temple or not.
Wat Arun is certainly one of the most popular temples to visit while in Bangkok as it is extremely picturesque and is a popular Instagram spot.
From here you can either choose to head back to your hotel and hide from the midday heat or you could partake in a hop-on hop-off boat tour down the Chao Praya River.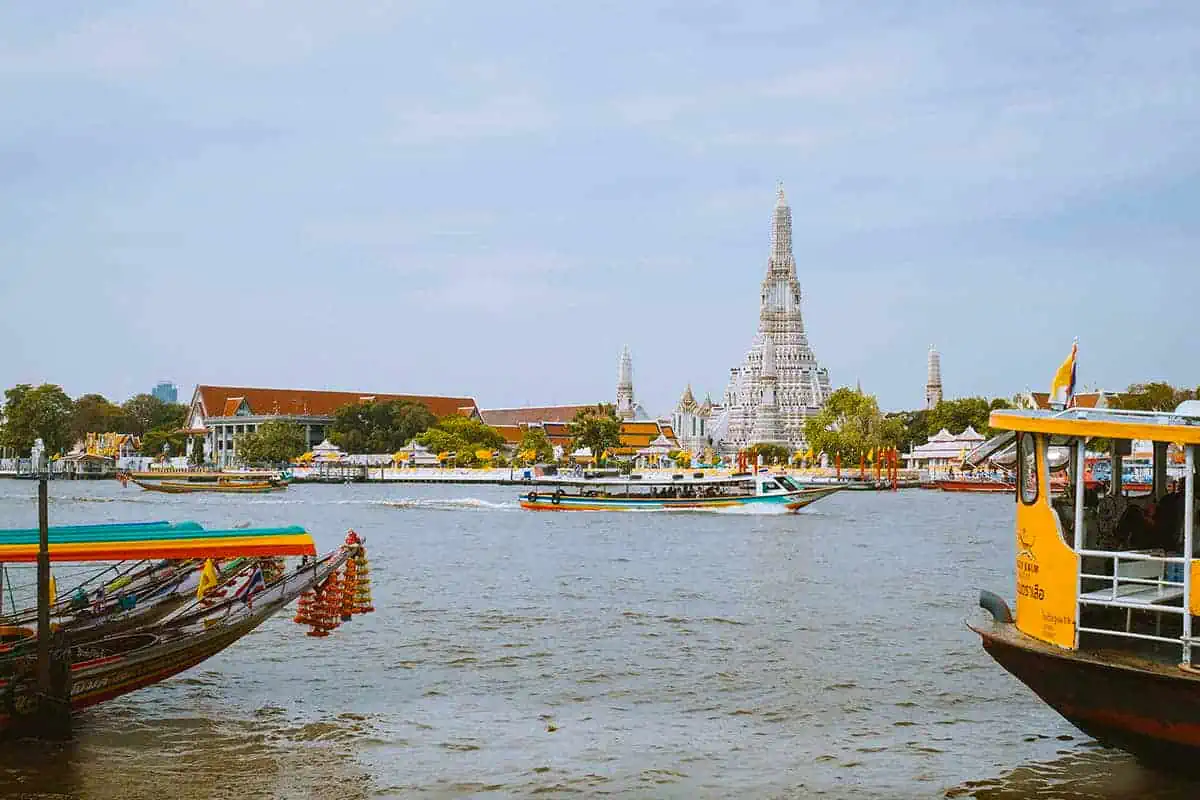 ---
Spend The Evening At A Bangkok Skybar
One of the best things to do in Bangkok is check out some of the incredible SkyBars.
Made famous by the Hangover 2 film, these Skybars offer some of the best views in the city and definitely need to be added to your Bangkok itinerary.
If you are a big Hangover 2 fan then you will definitely need to visit the Sky Bar at Lebua Bangkok.
This is where some parts of the movie were filmed and is one of the best Skybars in Bangkok. It has a huge outdoor area providing plenty of space to relax and enjoy the views over the city.
Another choice is Vertigo at Banyan Tree Bangkok. They have a delicious drink and food menu and are 61 floors off the ground the views from up here are sweeping.
Another great option is visiting CHAR Bangkok. I was staying in this hotel during a recent visit and couldn't miss checking out their impressive Skybar, CHAR. There are insane views across the Bangkok skyline and over the nearby parks.
These views are not usually seen by travelers on a budget. I recommend everyone backpacking Bangkok puts on their best clothes and makes their way to one of the incredible Skybars at least once.
When it comes to visiting a Skybar it is best to book in advance and wear the best clothes you have. That means no jandals and elephant pants.
Arrive at the Skybar just before sunset so you can see the sky change color and watch it reflect from the impressive glass buildings.
It is not the cheapest way to spend an evening. Even a basic soda will set you back $6.00+ so perhaps you may not want to stay too long.
Now, time to get a little bit of rest before an adventurous day tomorrow on our 2 days in Bangkok itinerary.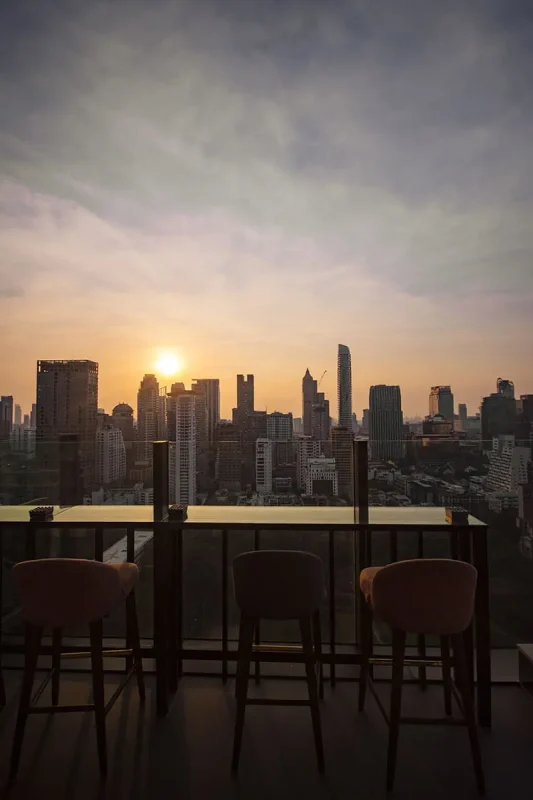 🚗 How I Book Cheap Transport In Thailand: 12Go Asia
---
Day 2 Of Your 2 Days In Bangkok Itinerary
Today will be doing some more iconic things to do in Bangkok, but heading a little further out of the city center to the Floating Market and Train Market.
I recommend booking a guided tour to visit these rather than trying to do it yourself. It is a bit of a drive out of the city center, but your tour guide will keep you entertained and learning about the local language and culture.
There are so many tours of Damnoen Saduak and Maeklong Railway Market available in Bangkok you honestly will be overwhelmed with options! However, I recommend booking on Get Your Guide.
The Bangkok: Damnoen Saduak Market and Maeklong Railway Market is one of the most popular tours and one which I have actually booked myself.
For $34.00 you get a full day of activities visiting both these markets and checking out a different side of Bangkok away from all the city highrises. You will also get an awesome tour guide and be paired with a like-minded group of travelers.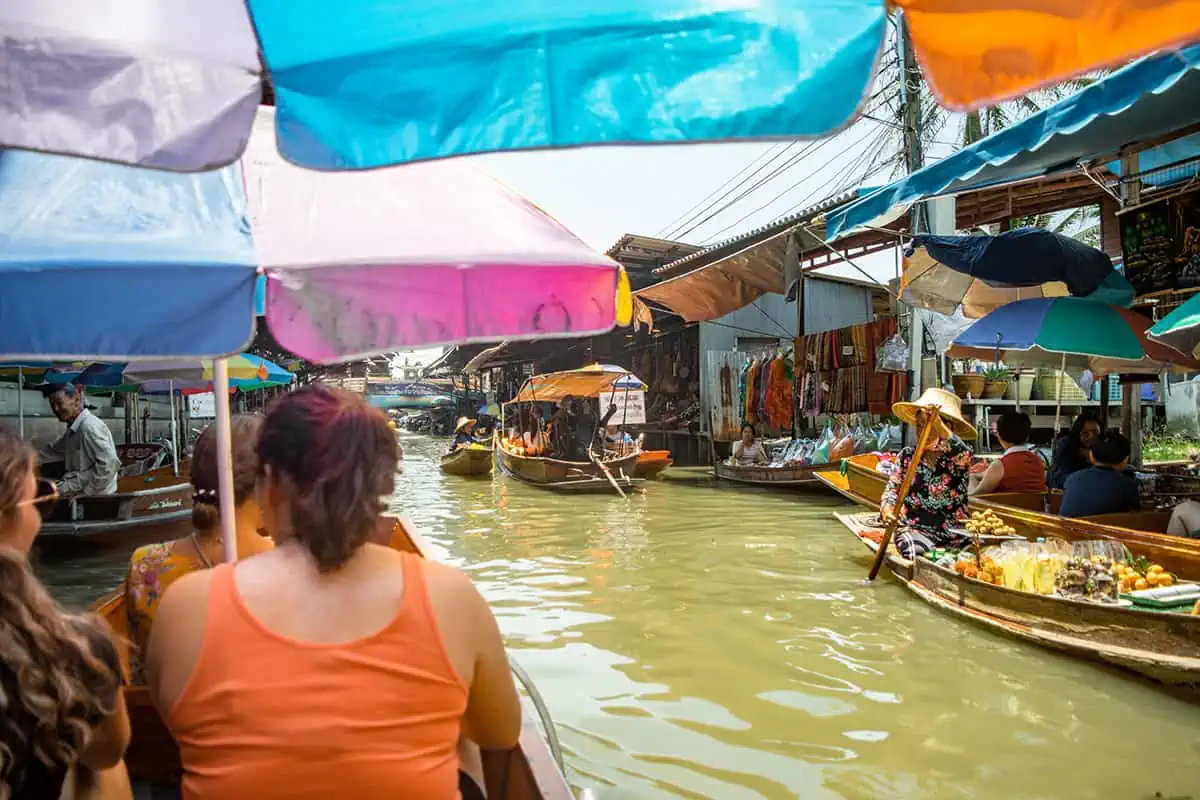 ---
Breakfast Of Champions For A Busy Day
Grab breakfast either at your hotel or close nearby. If you're staying near the Khao San Road area there are too many fabulous places around.
They generally cater to hoards of tourists so aren't too bothered by quality. Though if you aren't a meat-eater Mango Vegetarian & Vegan Restaurant is definitely worth checking out and they have some delicious smoothie bowls.
Green House Restaurant is another good breakfast spot that always seems to be busy, no matter what time of the day it is.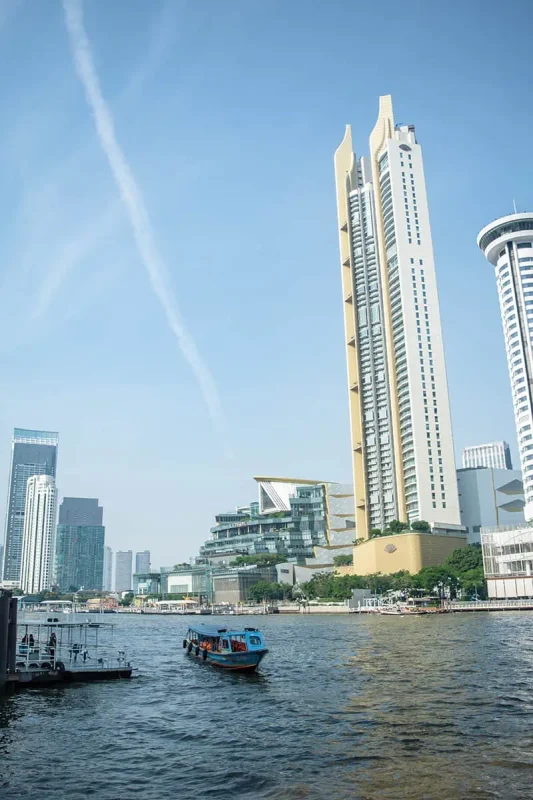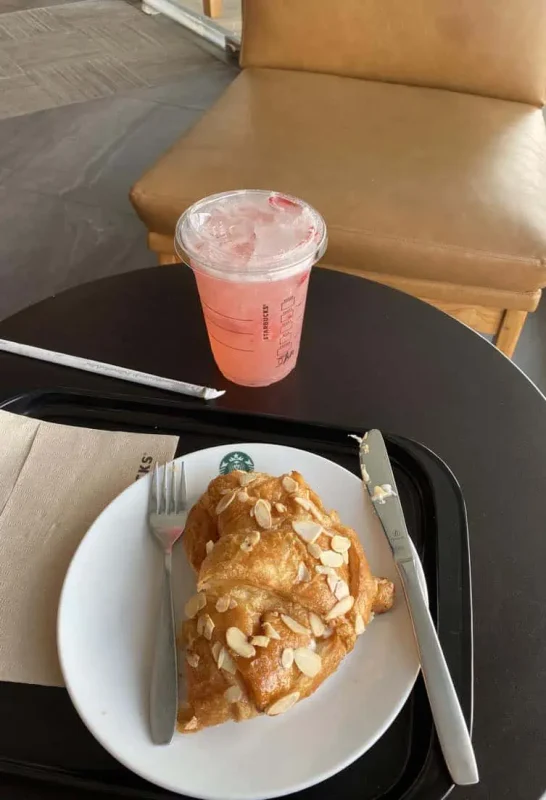 ---
Get Out Of The City On A Train Market & Floating Market Tour
Next up head to your designated meeting spot for your tour. If you booked with Big Country Experience on Get Your Guide this will be River City Bangkok. There is also a Starbucks in case you want to come early and have breakfast here.
From here you will head to one of the most popular things to do in Bangkok, the Maeklong Railway Market.
It can be a bit of a drive here, approximately an hour, but you will also make a stop for a bathroom break and snacks along the way.
First off you will visit a small salt farm off the main road. This is just a short stop here while you wait to catch the train to Maeklong Railway Market.
This means you will get to experience the market on the train itself, as well as on the ground a short while later during your shopping.
What makes this market unique is the fact it is set up on top of railway tracks. As a result, when the train passes by it's like a perfectly timed dance where the locals quickly pull down their stalls and move things out of the way for the train to safely pass.
The train passes through 8 times per day. You will need to time your visit around one of these times if you choose to visit without a tour; 6.20 am, 8.30 am, 9 am, 11.10 am, 11.30 am, 2.30 pm, 3.30 pm, or 5.40 pm.
The train doesn't always run perfectly on time so prepare for it to come through a few minutes on either side of the stated time. Either way, you will hear it coming!
There are numerous cafes and stalls set up alongside the railway tracks so make sure to bring some cash! This spot has more food and drink options for sale.
This was my preferred place for shopping on the day as it had a great lively atmosphere.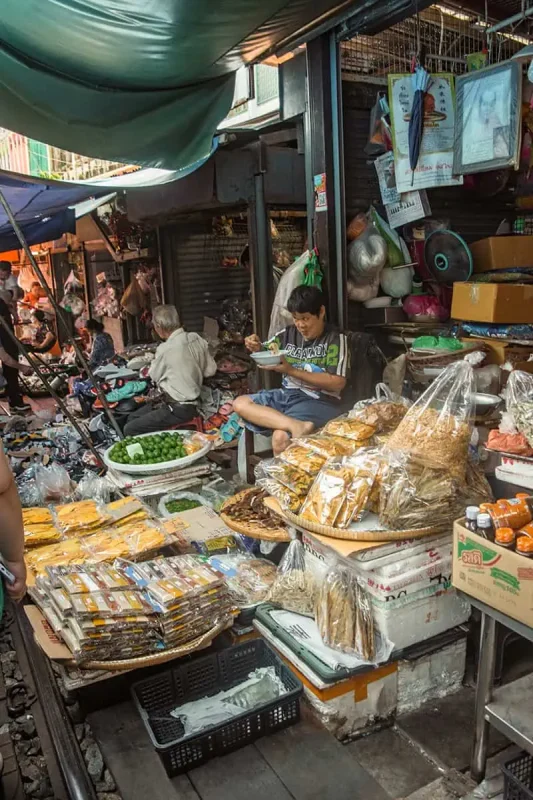 ---
Relax On A Floating Market Tour
After visiting the Railway Market you will jump back into the minivan and drive the short distance over to the Floating Market, also known as Damnoen Saduak Market.
This is definitely your typical Instagram spot when traveling Bangkok. However, it is a lot quieter these days than pre covid. Either that or our tour of the Floating Market was timed perfectly.
Again you will have plenty of opportunities to shop here. This is definitely more popular for souvenir shopping with lots of floating stalls selling wood products, bags, and clothing.
Though if I am being honest no one in our boat was interested, and we didn't feel pressured at all. Instead, we were simply visiting to experience a different side of Bangkok in 2 days.
From here you will enjoy a late local lunch with recommendations provided by your tour guide before heading back into the city and hopefully not getting stuck in traffic.
Basically, the drive back into the city will be the longest of the day, simply because you have slowly traveled further away.
If you are reiling on public transport heading back into the center will take you around 3 hours. It is half this time using private transport, which is why I recommend booking a tour.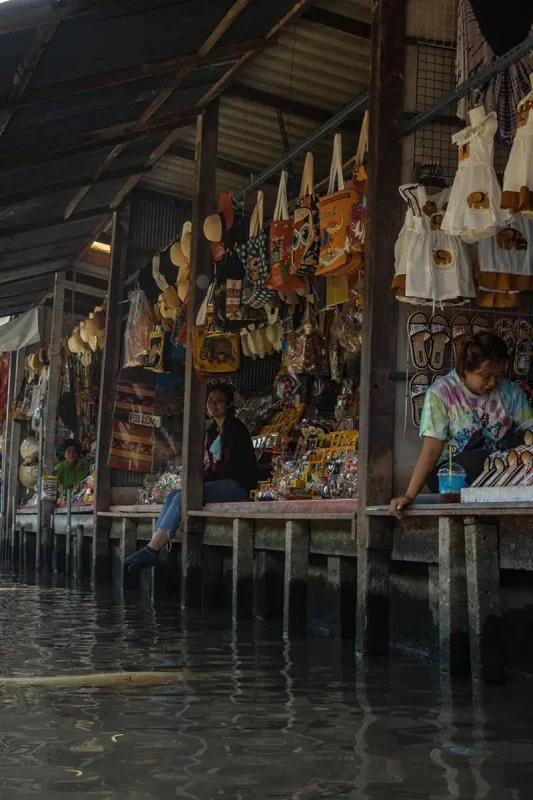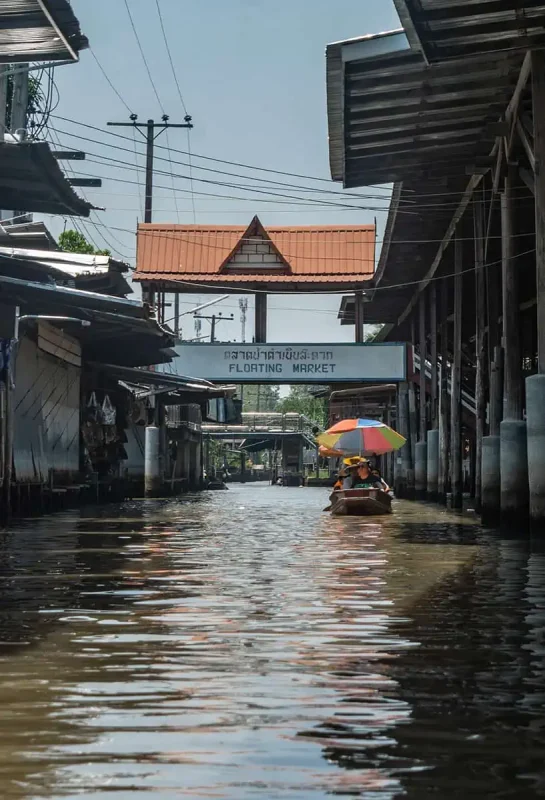 ---
Enjoy The Nightlife Of Khao San Road
Welcome to the backpacker mecca of Bangkok, Khao San Road. This is the place for all the weird and wonderful. I recommend grabbing dinner here and just having a walk around.
There are plenty of restaurants to choose from, though rather than eating on Khao San Road itself, I recommend moving one street over to Rambuttri Alley.
If you are looking for street food you will want to head a few streets over again and look for a stall where the locals are eating. Honestly, the street food on Khao San Road is pretty poor quality compared to the rest of the country.
After dinner grab a beer and join the crazy. If you are up for it feel free to spend the rest of your night partying away. This is definitely the party place to be for travelers so you will fit right in!
---
Add To Your Bangkok Itinerary?
If you happen to be staying longer than 2 days in Bangkok then there are plenty of other things to add to your Bangkok itinerary:
Ayutthaya: If you have time to take a day trip to Ayutthaya I highly recommend this. You can easily take the train from Bangkok to Ayutthaya and explore the temples by bus, bike, or boat.
Lumpini Park: If you are looking for a break from this bustling city then definitely head to Lumpini Park. Here you will find jogging trails, gym equipment, and even boats to hire. You can even find a bit of inner-city wildlife here in terms of birds and the infamous monitor lizards.
Food Tour: If you are a bit of a foodie like me what better way to discover a new city! I recommend checking out Get Your Guide for tours. The top choice is Bangkok by Night Tuk Tuk Tour: Markets, Temples & Food which encompasses an assortment of Bangkok highlights.
Airplane Graveyard: The famous airplane graveyard in Bangkok has become a famous Instagram spot in recent years. Near to the Ramkamhaeng Station in Bangkok, you will find a field of abandoned airplanes. Be aware that locals patrol the area and will ask you to pay an entry fee.
Chatuchak Weekend Market: This is Thailand's biggest market boasting over 15,000 stalls! It is also open from Wednesday to Friday, but during the weekend, this place truly transforms with countless stalls selling anything and everything.
---
Travel Tips For Your 2 Days In Bangkok
Now you know about how you should spend your Bangkok itinerary here are some further tips so you can make the most of your adventures in Thailand's capital city.
---
Where To Stay In Bangkok?
There are multiple different areas of Bangkok which are popular with travelers. Though the main ones here are Khao San Road, Silom, Siam, and Sukhumvit.
Khao San Road is perfect for first-time travelers coming to Bangkok or those just looking to party. I do not recommend for ANYONE to stay on actual Khao San Road.
There is constant noise from the street below and because that's automatically where travelers book, most of the accommodation providers aren't bothered about providing a comfortable and clean space.
If this sounds like you, you can check out my guide on the best hostels around Khao San Road for the best stay.
I recently stayed at Sleep Withinn a very short walk from Khao San Road and it was a great choice for a private room. I could relax in the pool, the room was clean, the air conditioning worked perfectly, and it was $26.00 per night.
For a more "normal" experience of Bangkok, I recommend you stay in Silom, Siam, or Sukhumvit. These are more modern parts of the city and a lot more low-key. My favorite here is Hotel Indigo Wireless Road, however, it is a splurge.
A super social hostel with a pool. The perfect place to stay for backpackers starting from $15.00 per night.

BOOK NOW

A favorite with travelers. A hostel with all the amenities, from $16.00 per night.

BOOK NOW

A great hotel among the action. Private rooms start from $26.00 per night.

BOOK NOW

Affordable and modern private rooms from $40.00 per night.

BOOK NOW
---
Staying Safe In Bangkok
Bangkok is as safe as any other large city around the globe.
The only real crime you need to be worried about is petty theft. Though simply use your common sense. Don't use your phone along a busy street and carry your valuables in a cross-the-body bag.
The number one thing is always to get the taxi to use a meter. If you are concerned about getting scammed in a taxi then use Grab. This is an app that can be downloaded on your phone.
Also, remember don't drink the water out of the tap.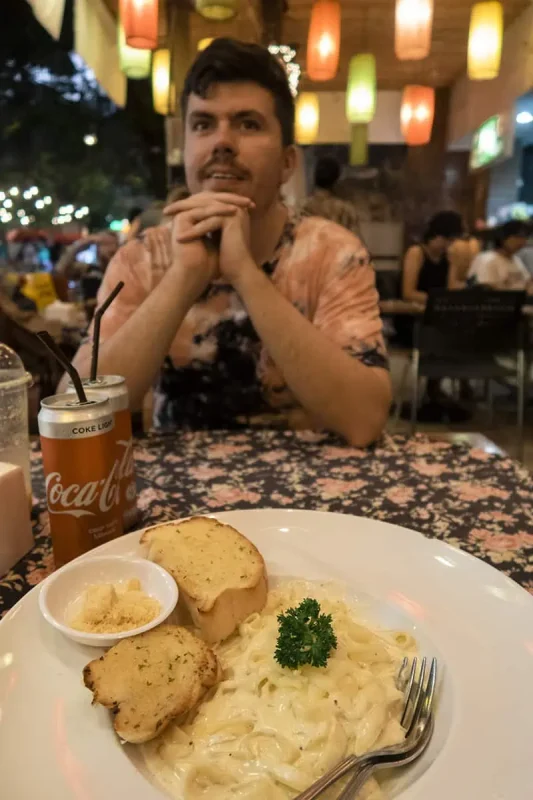 ---
Where To After Your 2 Days In Bangkok Itinerary?
North: Heading up north will take you inland and to beautiful countryside sights. An overnight journey will get you from Bangkok to Chiang Mai. For those looking to immerse themselves in the country definitely take the overnight sleeper train to Chiang Mai.
South: Alternatively, you can end back down South towards the incredible beaches. About halfway down the country on the east side are the islands of Koh Tao, Koh Phangan, and Koh Samui. First travel from Bangkok to Koh Tao and then from there the rest of the islands will be extremely accessible to navigate between.
---
FAQs About The Bangkok Itinerary
Is 2 days enough time in Bangkok?
If you're planning a trip to Bangkok, it's important to give yourself enough time to explore the city and its many attractions. Most travelers find that spending three to four days in Bangkok provides a more in-depth experience. However, if you're short on time, you can still get a taste of the city in two days.
What to do in Bangkok for 48 hours?
There is so much to do in Bangkok, however, if you are short in time there are certainly some highlights worth visiting. These include The Grand Palace, Wat Po, The Train Market, and The Floating Market.
How many days should one stay in Bangkok?
If you have the time you should spend 3 days in Bangkok to fully experience the city as a traveller. However, if you are short on time you could spend 2 nights in Bangkok to explore the highlights. These include The Grand Palace, Wat Po, The Train Market, and The Floating Market.
How much money do I need for 2 days in Bangkok?
Unfortunately, Bangkok is on the more expensive side when it comes to destinations in Thailand. Though I would recommend $35.00 per day for backpackers staying in hostels, otherwise $50.00 per day for a mid-range traveler.
What is the best time to go Bangkok?
The best time to visit Bangkok is from November to February when the weather is not too hot and mostly sunny, which is very suitable for exploring. You will find big discounts if you travel between June and October due to the rainy season, perfect for budget travelers.
How to plan 2 days in Bangkok?
If you are wanting to plan 2 days in Bangkok you have come to the right place. By using my Bangkok itinerary you will be able to check out all the highlights of the city even though you may be short on time. You can leave feeling you made the most out of your time and with no regrets.
What is the most crowded month in Bangkok?
The most crowded month in Bangkok is considered January. This is the busiest month during the high season with plenty of international and domestic tourists checking out Thailand's capital city. You can expect prices to be quite high during the period.
Which month is rainy season in Bangkok?
The rainy season in Bangkok usually starts around late June and continues to early October. During its peak in July and August, there are often intense afternoon and evening downpours.
🚗 How I Book Cheap Transport In Thailand: 12Go Asia
---
Bangkok Itinerary: Wrap-Up
If you're planning to visit Bangkok for a short trip, a 2-day itinerary can be a great way to experience the city's highlights.
In this itinerary, we've covered some of the most popular attractions in Bangkok, including the Grand Palace, Wat Pho, and Wat Arun.
You can also explore the city's vibrant markets, sample delicious street food, and take a relaxing boat ride.
With its stunning temples, bustling markets, and delicious food, it's no wonder that Bangkok is one of the most popular tourist destinations in the world. Whether you're visiting for a couple of days or weeks, there's always something new to discover in this vibrant city.
---
Any Questions? Let me know in the comments!
---
LIKE IT? PIN IT!
---
Want more Thailand Inspiration? Check out….
---
Disclaimer: This post contains affiliate links. So, if you click on it and purchase something, I get a small percentage at no extra cost to you. As always all opinions are my own and your support is much appreciated.
Related Posts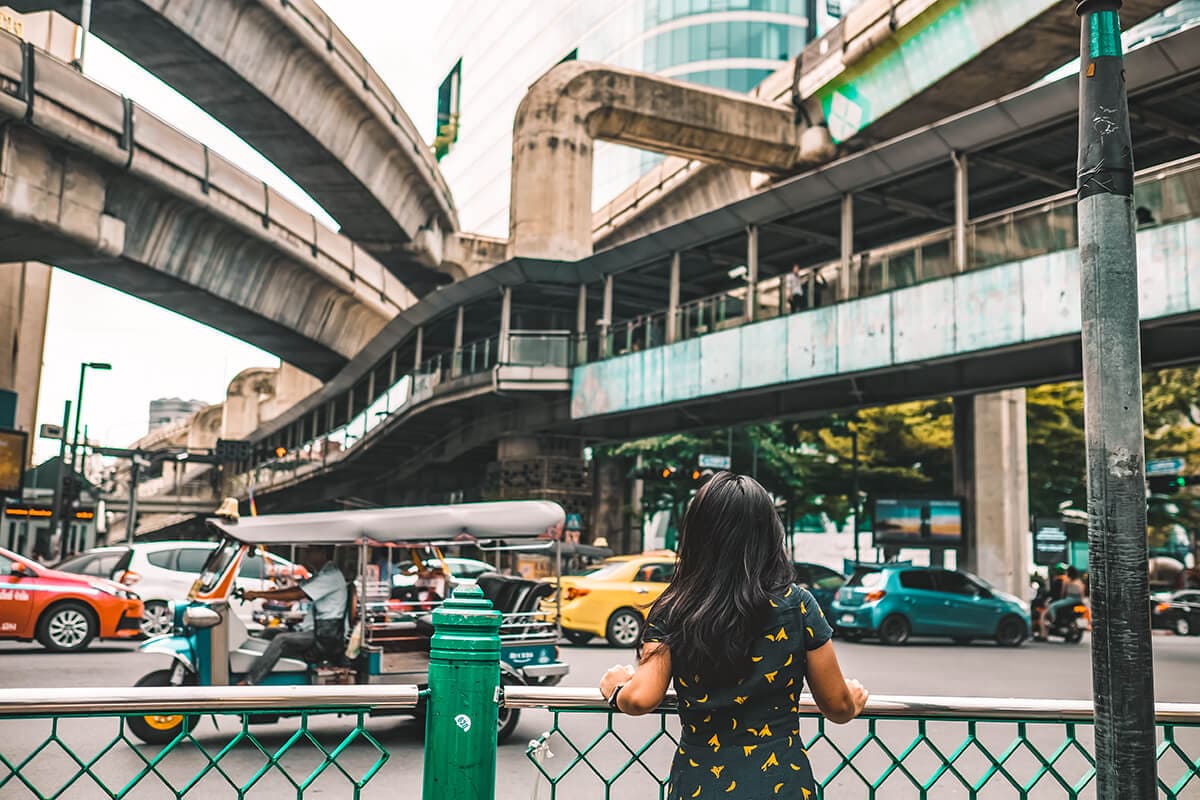 Find out everything you need to know about traveling from Khao San Road to Don [...]
6 Comments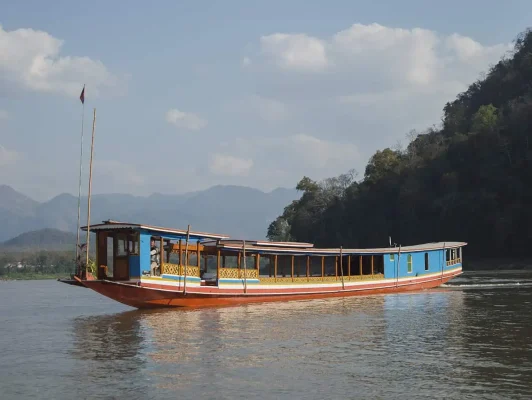 Thinking of taking the slow boat in Laos? Find out absolutely everything you need to [...]
46 Comments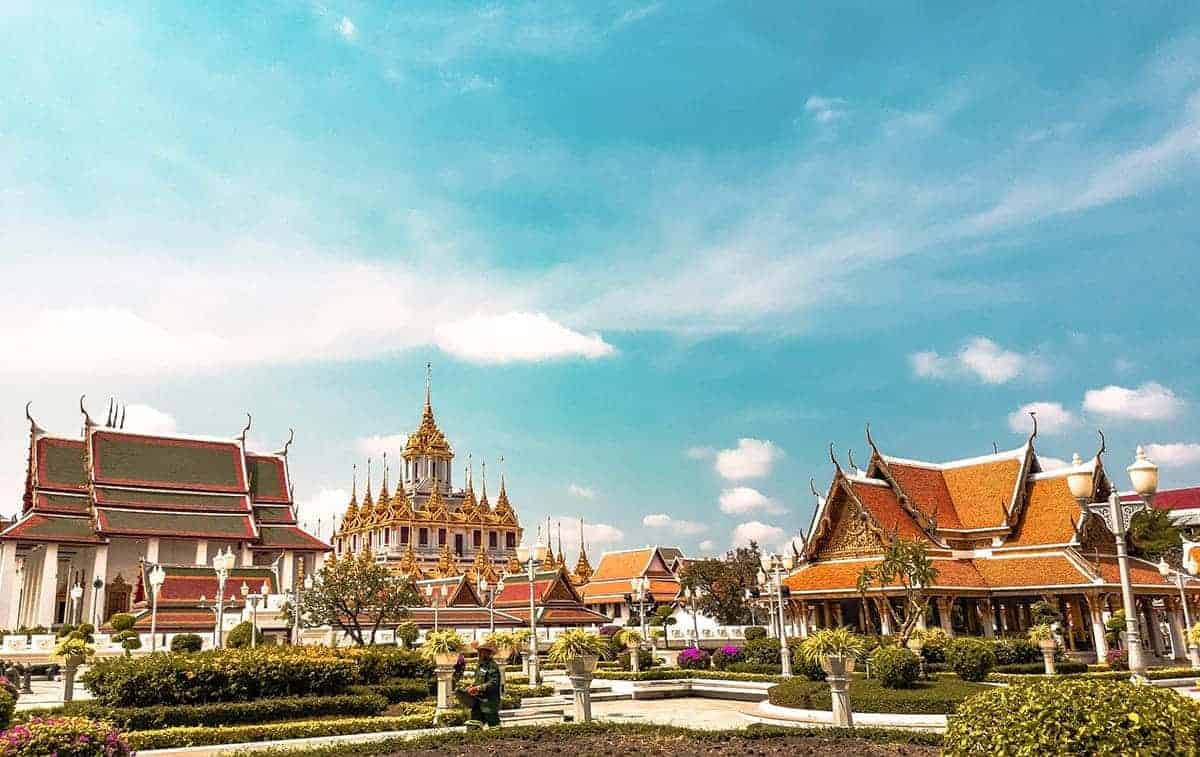 Learn all you need to know about backpacking Bangkok in Thailand. I will be giving [...]