Come discover paradise, parties, and beaches as you are backpacking Koh Phi Phi. Find out the best things to do, restaurants, where to stay, and more for your time exploring the famous island of Koh Phi!
---
If you are a backpacker it is highly unlikely you will visit Thailand without also checking out Koh Phi Phi. This has become an institution with young travelers within the area and is the highlight of a lot of people's trips.
During the day check out some of the incredible beaches around the island and by night find yourself partying underneath the stars. Buckets are flowing and the music is pumping, this is the type of traveler Koh Phi caters from.
We backpacked Koh Phi Phi towards the end of our trip. We had explored a lot of Thailand already and had really enjoyed the laid-back vibes of island life. Watching a sunset with a few locals, discovering hidden gems in the jungle, and getting affordable Thai food at a restaurant run by a lovely local family. This was how our life was for the past month, so coming to Koh Phi Phi was certainly a shock.
Though I think this has more to do with the type of travelers we became over our travels in Thailand. Perhaps if we were on a short trip we wouldn't have looked at prices so much and enjoyed some buckets, regardless of how we would've felt the next day. I will just say if you are a laid-back couple who appreciates an early night, then this may not be the place for you.
Nevertheless, I will give my most unbias tips when it comes to backpacking Koh Phi Phi. I mean, I was there and I did explore it. Unfortunately, it wasn't as much my scene as other Thai islands such as Koh Lanta.
This travel guide will include where to stay, where to eat, and what to do. Basically, it's all you need to know to have an incredible time backpacking Koh Phi Phi!
---
Backpacking Koh Phi Phi: All You Need To Know
---
How Many Days To Spend In Koh Phi Phi
First off, before we start planning the details of the backpacking Koh Phi Phi trip, you'll need to figure out how many days you should spend in Koh Phi Phi out of your entire Thailand itinerary. The island is relatively small, though there are so many things to do you may just find yourself here longer than expected.
Personally, I spent 4 days in Koh Phi Phi and I found this may be slightly too long. We had enough time to explore the island in-depth and relax in our resort. On top of this, it is pretty damn pricey. Like the most expensive place, we visited in all of Thailand. Therefore our budget wouldn't really allow us to stay any longer. Though for most people it is worth it as it is one of the best places to visit in Thailand.
I think this time length of 3 days is the perfect amount of time to spend in Koh Phi Phi. No matter what type of traveler you are this will give you time for a couple of hung-over mornings with afternoon exploration. Chuck in a day trip to some incredible spots and a night or two partying with the best and you would've experienced Koh Phi Phi to the full.
Even though Koh Phi Phi wasn't a highlight of my trip I haven't written it off completely. The island is an absolute paradise. Turquoise blue waters, sandy beaches, and some incredible cliff-top resorts with sprawling views of both. I would actually come back here and do some day trips. Next time I would know where to set my expectations to not be let down.
---
When To Travel Koh Phi Phi
Like the majority of Thailand, Koh Phi Phi has 2 main seasons, the dry season and the wet season.
The dry season is from December to late April. This is when you will have hot dry sunny days and is the peak of the tourist season. Because of this, many accommodation providers increase their nightly rates so you may find yourself spending a bit more than planned. Though this is basically the case anywhere you travel around the world.
The wet season, also known as the monsoon season, is from May to November. These days will be hot, humid, and wet. Downpours are frequent, though they never seem to last long and always seem to be followed by blue skies. The prices during the wet season are also a lot cheaper than during the dry season. Making it a lot easier on your backpacking Koh Phi Phi budget.
The worse months to visit are May, September, and October. These are the wettest months and the sea conditions can be quite rough which will make it difficult to get to. Thailand doesn't also have the same safety rules as Western countries so ferries here can be ill-equipped for such conditions.
I actually traveled to Koh Phi Phi at the start of May. Luckily I didn't experience much rain at all. It only really hit at about 7 pm after the sun went down, or quite late in the afternoon. By this stage, we had already retreated back to our room for the evening. Perhaps we were exactly the type of travelers perfect to explore Koh Phi Phi during the month of May.
---
Cost Per Day To Travel Koh Phi Phi
Being in southern Thailand as well as being an island prices here are generally a bit more than on the mainland. This is because of 2 reasons. Number one, the South of Thailand is more touristy, especially here, whereas backpacking Chiang Mai, is incredible value for money. Though down here in Koh Phi Phi this is far from reality.
Think of your daily budget for Thailand, and double that during your time in Koh Phi Phi. This place is eye-watering expensive. Apart from it being an island, the main reason for the prices is the crazy amount of tourists. Its basic economics, supply and demand.
When it comes to accommodation there are so many options available and at widely different price ranges. The cheapest bungalows start around $5.00 – $12.00 per night. Though this is simply a bamboo hut.
In terms of hostels, you'll be paying around $6.00. The accommodation I stayed in during my visit has unfortunately closed down. Though there has been a lot of construction in the area so it is no longer as serene and peaceful. We paid $11.00 per night for a cute little bamboo hut which included free use of a scooter.
Overall I would budget approximately $27.00 per day for backpacking Koh Phi Phi to stay on the safe side. This will allow you a decent bed to sleep in, a few beers, and a couple of activities.
---
Where To Stay In Koh Phi Phi?
Everything in Koh Phi Phi is relatively close together. There is the main town, where you arrive, and then all the accommodation is spread throughout here as well as up the hills.
I stayed in literally the cheapest "resort" I could find. Knowing I wouldn't be partaking in the drunken parties I decided I would book a place with an infinity pool with an amazing view. It ended up costing us around $25.00 per night, which split between the two of us that were traveling was a pretty good price at $12.50 per night.
Though this place is no longer operating, and I think that may be a good thing. Reviews were seriously not good, and even though I had a pretty good time, it was obvious not everyone had this experience. Also, it was the first and only time I saw a print-out list of the cost of literally EVERYTHING in the room and how much we'd be charged if we broke it. Fantastic.
In terms of accommodation in Koh Phi Phi, you can literally find everything here. From 5-star resorts to those squished dorm room hostels and locally run guesthouses. Though what they all the in common is they will all be ridiculously overpriced.
Reviews of the majority of accommodation providers on the island have quite low reviews. In my opinion, this is people marking more harshly as they don't believe it is good value for money.
If you are traveling with someone else to split the bill with then I would book a private room over a hostel. This is because in the dorms travelers will be coming and going throughout the night as they party at one of the many bars.
Here are my top picks for the backpacking Koh Phi Phi travel guide:
A recently opened hostel with spacious air-conditioned dorm rooms. Starting room $16.00 per night.

BOOK NOW

A modern beautiful resort with a big pool. Double rooms starting from $26.00 per night with a pool view.

BOOK NOW

A beautiful resort for just $20.00 per night. They offer budget rooms for travelers which are also air-conditioned.

BOOK NOW

If you have a bit more money to spend why not check this out. From $100.00 per night for a 5 star resort.

BOOK NOW
---
Getting To Koh Phi Phi From Phuket
Luckily traveling to Koh Phi Phi from Phuket is super easy thanks to the numerous ferry companies which make this journey every day. Just make your way to Rassada Pier which is the main ferry wharf in the city.
If you would like to break the journey up, and perhaps add in another tropical island destination, you can add in a few nights at Koh Phi Phi.
You can either book your tickets in advance using 12.Go Asia or when you arrive in Phuket. There are numerous travel agencies in Phuket where you can book them if you would like to wait and even the majority of accommodation providers will happily book them in (and often organize a pickup transfer to the pier).
You will have the option of a ferry or a speedboat when you book. The speedboat is of course quicker with the journey taking just less than an hour and you will have more room. It will cost you about $25.00 for the one-way journey.
I personally took a ferry for the journey which we were squashed in like sardines. Though costing just $14.00 it is a much cheaper alternative and still worth the 2-hour ride.
---
Traveling Around Koh Phi Phi
Luckily it is super incredibly easy to get around Koh Phi Phi thanks to the fact that the island is so freakin small!
The hardest part will be carrying your luggage to your accommodation as there are no vehicles on the island. This means having to carry your backpack or pull your suitcase. Luckily there are people with luggage carts you can pay to help you if required.
Depending on where you are staying there are a couple of hills on may need to climb. I stayed up on a hill and didn't find it too hard, and I am pretty unfit. Though there were quite a few complaining reviews about the hill so do your research.
The hardest part most people find when trying to get around Koh Phi Phi is navigating within the stores in the town. With the buildings so high and close together since there are no roads, it quickly starts to feel quite maze-like. There are lots of small alleyways and shortcuts and no real landmarks. This leads to quite a few confused travelers. I imagine it gets worse when everyone is drinking as well.
I highly recommend downloading the offline map of Koh Phi Phi on the Maps.Me app for your cell phone. It'll be super helpful to navigate your way around if you do not have data.  This is one thing I always make sure I have before arriving at a new destination. 
---
Where To Eat & Drink In Koh Phi Phi
There is a heap of restaurants and cafes in Koh Phi Phi, you certainly won't have a problem finding what you want to eat. Though you may have difficulty finding something which is actually in your price range.
Being an island the prices here are more expensive generally, and on top of that being a tourist hot spot, prices go up even more. I remember being absolutely shocked and scouring the internet trying to find affordable options because they seemed impossible.
Did I find some? Yes, but by some, I only mean a couple. I definitely recommend trying to book somewhere which includes a buffet breakfast. That way you can full up there and just have an early dinner to save money.
---
Cheap Eats In Koh Phi Phi
Okay, apart from toasties from 7/11 I was lucky enough to find a couple of other cheap eats. Though be aware these are few and far between so save up some extra money before visiting Koh Phi Phi so you can try a few different restaurants.
Only Noodles: This is the absolute cheapest restaurant I found while backpacking Koh Phi Phi. If you're like me your diet essentially the entire time will revolve around this place. Specializing in different types of Pad Thai the dishes here are delicious. What makes it even better is the price, just $2.50 80 THB for a pretty big serving. This is the cheapest meal you will find here hands down.
Pizza: There are numerous hole-in-the-wall pizza places serving massive slices. Obviously, this caters to more of the drunken travelers at 1 am. Though you can't go wrong with some cheap freshly made pizza for dinner. There are no chairs and tables though, so if you are happy eating in the street check out one of these places.
---
Western Food In Koh Phi Phi
I feel like here in Koh Phi Phi there actually may be more Western Restaurants here than Thai. Catering to a rather young demographic of travelers they are supplying to put those people like to eat.
You can find burgers, pizza, and pasta options everywhere. There are also a few more specialized restaurants such as Indian and Mederterian food.
Personally, I didn't eat too often at Western restaurants. The only time was breakfast and that was because it is generally cheaper than other meals offered throughout the day. You can't go wrong with good scrambled eggs on toast.
Also, it isn't too expensive compared with Thai food like you would find on the mainland. Though this is because everything here is just shockingly expensive. Nevertheless here are some of my recommendations for where to eat:
Monster Burger: As the name suggests, this is the place to come for monstrous-sized burgers. It's a DIY style where the total price depends on what ingredients you'd like. Whether that is 5 beef patties and 6 slices of brie cheese. You can create your burger your own way, making it as cheap or expensive as you would like.
Jala Cafe & Spice: This delicious cafe is the perfect breakfast spot. I mean you can't go wrong with pancakes in paradise, can you? They also make a damn good coffee making it well worth the visit.
Efe Mediterranean Cuisine Restaurant: This is one of the most popular restaurants on the island for travelers to visit. Grab a pide, kebab or a buger. They have an extensive menu, catering for everyone.
---
Things To Do In Koh Phi Phi
Koh Phi Phi isn't just a party place, it also has some excellent things to do. Whether you like a bit of exploration, life on the ocean or simply just relaxing, there is something for everyone here.
---
Koh Phi Phi Viewpoint
No doubt one of the best things to do in Koh Phi Phi is to check out the viewpoint. I am sure at least once every traveler will hike their way up the hill to check out the view. Yes, it is as amazing as it looks in photos.
At the top, you will be asked to pay an entry fee of $1.00 / 30 THB. Though it is well and truly worth that small price. There is also a small bar at the top where you can buy drinks.
This would be perfect for sunset, though be aware you will have a shitload of other travelers alongside you. I personally visited in the morning. First, because I am an early riser and secondly cause we were leaving the island that day. Though this turned out to be a smart decision as it was only us and one other person there.
---
Visit Maya Bay
Okay, let's move on to the second most popular thing to do here while backpacking Koh Phi Phi, visiting Maya Bay. This place was made famous by the film The Beach, starring Leonardo DiCaprio. Though throughout the years the number of travelers it attracted was not sustainable.
Litter was left everywhere, the reefs were destroyed and the precious ecosystems were disrupted. As a result, the Thai government made the move to close it from June to September 2018. Luckily this has now reopened again and you can easily book a trip there.
---
Viking Cave
Unfortunately, the only access to Viking Cave is via boat. Though if you have booked a day trip it is likely you will drive past here.
This impressive cave is located on the northeastern side of the island. It is naturally formed on the side of an impressive limestone cliff. Though unfortunately, you are not able to enter the cave. The majority of the time there are people living inside. I was told that they farm birds for the nests. Birds nest soup is a popular dish here in Thailand and are a delicacy. Much out of the price range of backpackers.
---
Drink Buckets
Now you cannot go to Koh Phi Phi and not at least just check out the party scene here. I mean travelers literally come from all over the world to visit! So why not?
You can find tables set up in the main town full of buckets, each containing different ingredients depending on your liquor preference. They are also cheap, but be aware they are potent.
The best places to party here on Koh Phi Phi are Slinky Bar, Stockholm Syndrome, and The Apache Beach Bar. Each of these has its own stand-out feature. Whether that is parting on the beach, fire shows, or beer pong.
There is also the popular Ibiza Pool Party held at Ibiza House. This happens every Tuesday, Thursday, and Sunday with free entry from 1 pm to 9 pm.
---
Go Snorkeling
What better activity to do when you're in a tropical paradise than snorkeling? Koh Phi Phi is teeming with an assortment of underwater life. There will be so many fish to see and the waters are warm like a bath. That's one of my favorite things about Southeast Asia.
For the best snorkeling, I recommend heading to Hat Yao. This is a beach on the south coast of Phi Phi Don and is just a 30-minute walk from Ton Sai. Once there you can spot clownfish and if you're lucky you may even see a black-tipped reef shark!
If you don't have snorkeling gear don't worry. Heaps of places around town will rent it out. Just make sure you bring plenty of water and sunscreen with you.
---
Fire Show
The perfect way to finish off a busy bay on Koh Phi Phi is by grabbing a drink and watching the fire show. These happen each night on Loh Dalum Beach. There are a handful of bars along the beach and each one puts on a fire show once nightfall hits.
It is pretty impressive to watch, but I would think twice about participating. The fire jump rope seems to be a bit of initiation between backpackers. Though this mixed with a few drinks is never a good idea.
---
Kayaking To Monkey Beach
One popular activity while backpacking Koh Phi Phi is visiting Monkey Beach. Sure you can easily hire a private longtail boat to take you there. But, for those looking for more of an adventure, why not hire a kayak?
There are plenty of places offering rentals on both sides of the island. Though for the purpose of visiting Monkey Beach, you will want to hire it from the Loh Dalum Beach Side. The rental should cost you approximately $12.70 / 400 THB. You should be able to reach the beach within an hour where you can then enjoy meeting some new furry friends.
Just one recommendation, do not take food. Like at all. If you do this is basically just an invitation for the monkeys to attack you and grab your bags.
This is also a great place for a spot of snorkeling. So make sure you pack your swimmers and a snorkeling mask!
---
Watching Sunset From An Infinity Pool
Welcome to my all-time favorite activity while on Koh Phi Phi, relaxing back and watching the sunset from the comfort of an infinity pool. There are a few resorts that will let visitors in for a fee.
For the best sunset views head up toward the end of Chaokoh Road. You may need to pop into a few places and ask if you can pay to use the pool, or if it's looking quite busy just sneak your way in. Nevertheless, this is the ultimate way to finish off a busy day exploring Koh Phi Phi.
---
Visit Bamboo & Mosquito Island
The best way to see Bamboo Island and Mosquito Island is by hiring a private longtail boat. This is the ultimate way to relax and appreciate paradise. You can hire a longtail boat for 4-6 hours at a cost of $95.00 / 3000 THB or 2 hours for $47.00 / 1500 THB. If you are traveling as a group or find some people to split the cost with this would work out pretty affordable.
Bamboo Island: Bamboo Island may not be as picturesque as Koh Phi Phi with the steep limestone cliffs. Though you can never go too wrong with a secluded sandy white beach. The waters are crystal clear so make sure to bring your snorkel mask for a spot of snorkeling!
Mosquito Island: As the name suggests, you may not be exactly alone while visiting Mosquito Island. Though the mosquito population should only be an issue if you are visiting during dusk. If you are coming for the day and the sun is out you will be fine.
---
Safety In Koh Phi Phi
Koh Phi Phi is a relatively safe place. You can keep yourself safe and well by using common sense and not putting yourself in difficult situations. Just like anywhere in the world.
The water here is not drinkable. Though you are able to brush your teeth with it. You can buy cheap bottles of water from 7/11. Or even better book accommodation with a refillable water station. This is something that a lot of hostels these days have on offer.
The main thing to be aware of in Koh Phi Phi is to simply not get absolutely wasted to the point of no return. Unfortunately, the majority of things go wrong when your drunk. It'll likely be that you hurt yourself one way or another. Many travelers say after drinking a bucket that the drink was spiked and very quickly afterward they were robbed.
Also if you are drinking it is best to stay out of the water. Again that's just making sure you don't put yourself in a dangerous situation.
---
Where To After Koh Phi Phi?
After your backpacking Koh Phi Phi itinerary has come to an end you have a couple of different options of where you could go:
Phuket:  I personally wouldn't go out of my way to spend some time in Phuket, at least in the main town. Though this is where the nearest international airport is. You can get some of the cheapest flights in Thailand from this airport so it's always busy with people departing and arriving.
Krabi: If you have more traveling to do in Thailand and are wanting to start heading north I highly recommend your next stop be Krabi. Stay in the picturesque town of Ao Nang and make a trip to the famous Railay Beach. From here you can head to the Gulf of Thailand to such islands as Koh Tao, Koh Phangan, and Koh Samui.
Koh Lanta: Lastly if you've had a busy time on Koh Phi Phi and are now looking for a bit of relaxation then head to the chilled-out island of Koh Lanta. This place is the complete opposite of Phi Phi. Explore beautiful nature, make some animal friends, and just chill out with a beer on one of the many beaches.
---
Any Questions? Let me know in the comments!
---
LIKE IT? PIN IT!
---
Want more Thailand Inspiration? Check out….
---
Disclaimer: This post contains affiliate links. So, if you click on it and purchase something, I get a small percentage at no extra cost to you. As always all opinions are my own and your support is much appreciated.
Photo credit: "Phi Phi Leh 09" (CC BY 2.0) by Eulinky. "2010 Thailand Koh Phi Phi & Lanta Scuba Diving" (CC BY 2.0) by Ilse Reijs and Jan-Noud Hutten. "Fire Dancing In Koh Phi Phi" (CC BY 2.0) by Katy Rawlings. "Bamboo Island Beach" (CC BY 2.0) by Mark Fischer.
Related Posts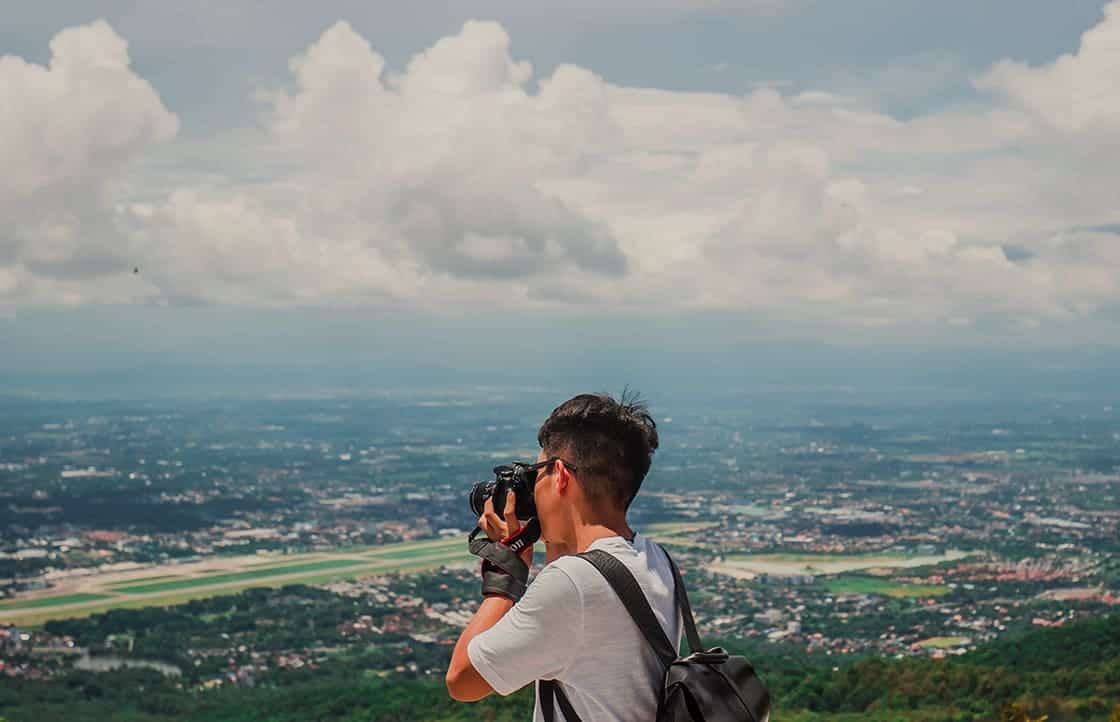 Learn all you need to know about backpacking Chiang Mai on a budget while in [...]
1 Comment
Find out how to see the best of this paradise island with our perfect backpacking [...]
1 Comment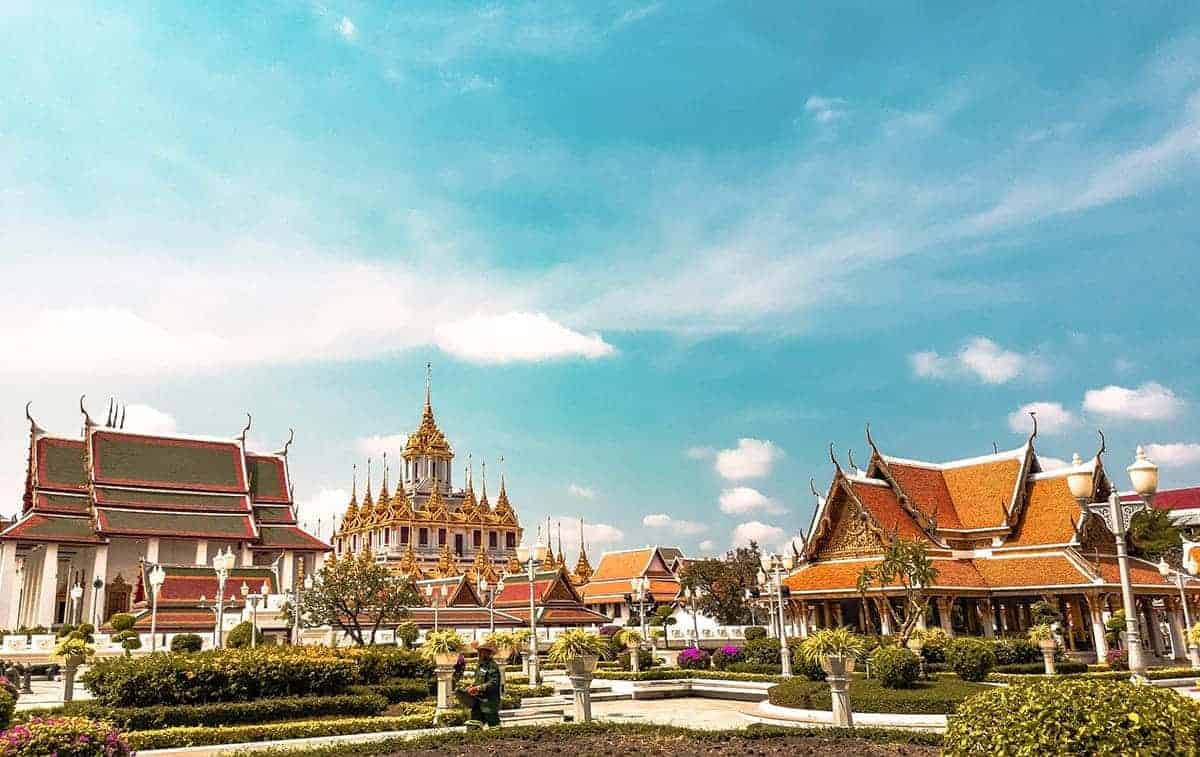 Learn all you need to know about backpacking Bangkok in Thailand. I will be giving [...]