Want to explore the best beaches in Koh Phangan? From my favorite beaches, the best snorkeling beaches in Koh Phangan, how to get there travel around the island, where to stay, and my top tips for enjoying the best Thailand paradise has to offer, with this guide you'll be covered!
---
One of my favorite islands in Thailand is Koh Phangan. It is the definition of paradise and has tourists flocking there all year round. Sure, the main reason for visiting is the full moon party. Though, if you are willing to explore you will come across the best beaches in Koh Phangan which makes this island a must-visit while backpacking Thailand.
If you can, definitely hire a motorbike while you are in Koh Phangan. This will allow you to easily get between all the amazing beaches and have the ultimate freedom to explore.
Get ready for blue seas, white sand, and gorgeous views as I list the 7 best beaches in Koh Phangan that you need to see on your visit!
---
The 7 Best Beaches In Koh Phangan
---
1. Haad Chao Phao
Haad Chao Phao is one of the quieter beaches in Koh Phangan.  Hidden off the main road, just pull over and down an overgrown path is where we discovered the beautiful beach of Haad Chao Phao.
It is slightly rocky, though there is still plenty of clean white sand around. It is possible to swim here no matter if it is low tide or high tide and the rocks provide a perfect place to snorkel around. Though, if you are a confident swimmer you can paddle out 100 meters from the beach where the reef can be found. Here you will find plenty of beautiful corals and exciting sea life making it one of the top spots for snorkeling in Koh Phangan.
Nearby you will find plenty of resorts and restaurants where you can stop and have lunch.
---
2. Leela Beach
One of the most 'Instagram famous' beaches in Koh Phangan is Leela Beach. Known for beautiful pristine white sand, calm blue waters, and a swing between two coconut trees there will certainly be plenty of photos being taken here.
Like many places in Koh Phangan you will need to walk through a resort to access the beach but it is well worth it.  Also, because of the awkward access to the beach, it is mainly just filled with resort-goers. Leela Beach is not as crowded as the popular Haad Rin making it a great place to relax in this busy corner of Koh Phangan.
Nearby the famous coconut tree swing, you will also find a jetty on the water which you can walk out on.
View this post on Instagram
---
3. Haad Salad
My hands-down personal favorite choice for the best beaches in Koh Phangan is Haad Salad. This piece of paradise is the perfect place to relax on the northern side of this island.
Slightly hidden again it can be a bit of a hassle to get to, but trust me it is well worth the adventure. We ended up parking in one of the quieter resorts than following the in-resort signs for paying guests down to the beach. There was pay for parking sign at the nearby restaurant, but there was legitimately nobody in there so we just risked it.
At the beach, there are crystal white sand and surrounding cliffs covered in beautiful swaying palm trees. This is a much more family-friendly place when compared to the alcohol-fueled Haad Rin. Therefore if you aren't a partier and are visiting Koh Phangan during the full moon party, Haad Salad could be the perfect place for you to stay!
If you are into discovering the underwater world Haad Salad has some of the best snorkeling in Koh Phangan. You will have to head out 80 meters to find the coral, though if you wait for low tide you will be able to walk out some of the ways. Expect to find colorful small fish with great visibility.
Down at the beach, there are a few resorts around and a couple of places to grab lunch.
---
4. Chalok Lum Beach
An easy beach to get to with no need to sneak through any resorts is Chalok Lum Beach. Stretching over 2 and a half kilometers long it is never overcrowded. The village of Chaloklum is located right in the center and in the middle of the beach itself is mainly just a fishing area. Here is where you can find some of those beautiful colorful longtail boats sitting in the beautiful blue waters.
On either side is where you can find areas of the beach where you can swim and relax. Though this is only through December to March, during other times of year you will likely have to plan your swim during the daily high tide. This is also not the best beach for snorkeling off the shore due to all the fisherman which have destroyed the nearby coral reefs.
---
5. Haad Rin
Welcome to the craziness of Haad Rin. No doubt if you are traveling to Koh Phangan during the busy full moon time of the month you will find yourself here at some stage. Whether that's partying to the early hours on the beach, watching a waterside fire spinning display, or simply sunbathing on the sand. Sure, this certainly isn't the quietest or most beautiful best beaches in Koh Phangan, but it certainly deserves an honorable mention.
The beach area of Haad Rin can be split into two different sections, Haad Rin Nok and Haad Rin Nai. Haad Rin Nok is certainly a crazy party area where you will find yourself drinking on the sand in the early hours and hitting up the nearby bars and clubs. The opposite of this is Haad Rin Nai which has a more relaxed bohemian atmosphere.
Overall the beach itself of Haad Rin is one of the biggest in Koh Phangan and is, therefore, one of the most crowded. It is also where you will find all the full moon party hostels. If you are looking for a slice of paradise and some quiet time this is certainly where you will not want to be. Though, if you are a backpacker looking to chill out with a beer, people-watch, and perhaps make some new friends there is no better option than Haad Rin.
View this post on Instagram
---
6. Baan Tai Beach
During my time in Koh Phangan, we stayed at Goodtime Beach Backpackers on Baan Tai Beach. Located on the southern coast of the island the beach itself stretches all the way from Thongsala to Haad Rin Peninsula.
Covered in fine white sand surrounded by swaying coconut palm trees this is the perfect place to relax. There are plenty of resorts, affordable guesthouses, and backpackers located right on Baan Tai Beach making it a perfect option for anyone looking for cheap beachfront accommodation.
Depending on the time of year, water currents, and weather, most of the time the water is beautifully blue. Though unfortunately, this was not the case during my stay. Nevertheless, it is an excellent swimming beach with a slow gradient into the sea. The water is extremely sandy as well so you do not have to worry about bumping into rocks. Also during low tide, there is a long sandbar outside Goodtime Beach backpackers which you can walk right out to sea on!
If you are looking for an excellent place to watch the sunset Baan Tai Beach is one of your best options!
---
7. Mae Haad Beach- Best Snorkeling In Koh Phangan
No doubt Mae Haad Beach is one of the best beaches in Koh Phangan. It has gone through a lot of changes in recent years and road conditions have greatly improved providing easier access.
There are a few resorts located around Mae Haad Beach. Though thanks to the roomy beach it never feels overcrowded stretching over 800 meters. At low tide, there is a sandbank beach that joins Mae Haad Beach to the small island of Koh Ma. This is where you can find the National Marine Park. That makes it one of the best areas in Koh Phangan to go snorkeling.
The waters here are extremely rich in sea life, from gorgeous coral reefs, turtles, and small reef sharks. It is extremely unspoiled and being at one of the far corners of Koh Phangan it rarely gets busy.
This is a true slice of paradise and is great competition for the best beaches in Koh Phangan. If you are looking for the perfect sunset there is no better place than Mae Haad Beach.
View this post on Instagram
---
How To Travel Around Koh Phangan
Koh Phangan is a relatively large island so if you are wanting to explore the best beaches in Koh Phangan you will definitely need some mode of transportation. If you feel comfortable hiring a motorbike this is no doubt your best option for getting around. Taxi prices will add up fast. Also, it will be fairly expensive to hire a longtail boat to take you around to all the beaches.
It is extremely easy to find a shop hiring motorbikes, but it may be hard to find somewhere which won't scam you. Ask around to get opinions on a good hire spot. Also, Facebook groups can be helpful for this, or simply just asking around at your hostel. Either way, it is always a risk, but instead of handing over your passport, you can always ask to pay a deposit or hand over a second passport if you are lucky enough to have dual citizenship.
I am surprised at how well-maintained the majority of the roads are in Koh Phangan, especially compared to other places around Thailand. While on the island there was a lot of roadworks going on and potholes being filled. Of all the places I road around Thailand Koh Phangan definitely had the nicest roads to drive on. It's also a lot less quiet on the roads than in many other Thai tourist spots. Though, if you are looking at getting completely off the beaten track your best to head south to islands like Koh Yao Yai or Koh Yao Noi.
There is a mixture of quiet country roads, busy bustling villages, and wide highway-like streets around Koh Phangan. I had previously driven in Vietnam, but Koh Phangan was the first place I drove around Thailand and it was incredibly easy to do so.
---
Where To Stay In Koh Phangan?
A social hostel and dorm beds with privacy, starting from $6.00 per night provide the perfect stay!

BOOK NOW

With a massive pool and beachfront location, what more could you want? Starting from $8.00.

BOOK NOW

Affordable bungalows are perfect for two travelers on a budget from $18.00 per night.

BOOK NOW

Luxury for less in this beachfront resort starts from $70.00 per night.

BOOK NOW
---
Things To Do Other Than The Best Beaches In Koh Phangan
How many things do you really need to do when you're in paradise? Not too many. Though Koh Phangan has a wide array of activities on offer to keep everyone busy.
Full Moon Party: The full moon party is probably the number one thing to do in Koh Phangan and is the reason the majority of travelers actually come here. Seriously during this time of the month, the island can receive an influx of 30,000+ travelers! There is a party every month, but here you can find exact dates and tickets cost $3.33 / 100 THB. Don't worry if you can't make those dates, there is also a half-moon party and a quarter-moon party.
Sramonora Waterfall: Next up, head to Sramanora Waterfall located on the South Side of Koh Phangan in Ban Kai Village.  It is a simple 5-minute drive off the main road making it super accessible. What makes this waterfall a step above others on the island is the natural pool at the top.
Zip Lining: If you like something a bit more fast-paced than island life why not do zip lining with Just for Fun Canopy Adventure? The park offers 1 suspended bridge (30m), 3 short ziplines (30-40m), 1 staircase, 1 ladder, and 1 long zipline (450m).  It costs $25.00 / 800 THB per person.
Ang Thong Marine Park: If you snorkeled all of the beaches while in Koh Phangan why not head out a bit further afield on a day trip to Ang Thong Marine Park? It is made up of 42 separate islands and is one of the best spots to snorkel in the Gulf of Thailand. Prices generally start around $30.00 for the day trip on a group tour.
Hike Khao Ra Mountain: Lastly, you could go for a hike up Koh Ra Mountain. This will give you some awesome views of the island.  There is an entrance fee of $0.67 / 20 THB. The hike will take you around 3 hours return to complete. It is well-signposted so you need to have a guide. It starts at Khao Ra Retreat and then you can just follow the marked path from there.
---
Ready To Hit The Best Beaches In Koh Phangan?
If you're looking for the best beaches in Koh Phangan you will know where exactly to find them now. Whether you are just wanting to find somewhere to swim and relax on the beach or go snorkeling in Koh Phangan there is a beach for everyone. Personally, this island is one of my favorites in Thailand and I am excited to share this slice of paradise with you!
---
LIKE IT? PIN IT!
---
Want more Thailand Inspiration?
Check out….
---
Disclaimer: This post contains affiliate links. So, if you click on it and purchase something, I get a small percentage at no extra cost to you. As always all opinions are my own and your support is much appreciated.
Related Posts
Find out everything you need to know about taking the overnight sleeper train from Bangkok [...]
7 Comments
Find out the perfect 3 days in Chiang Mai itinerary to ensure you have the [...]
1 Comment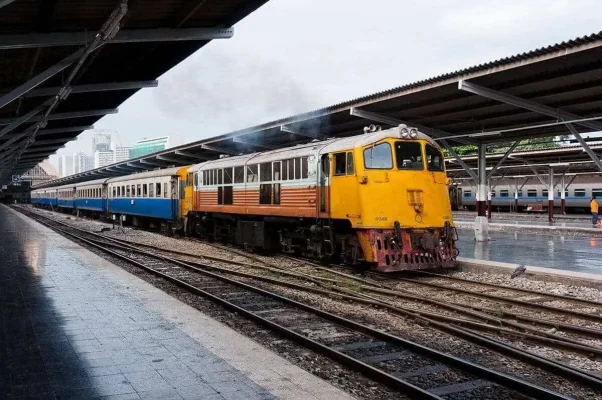 Traveling between Bangkok to Chiang Mai is a common route for most backpackers in Thailand. [...]
23 Comments