Find out how exactly to travel from Koh Phangan To Koh Tao. These two islands are both must-visits when backpacking Thailand. So, let's find out how to get to Koh Tao and what are the best ferry companies?
---
Koh Tao and Koh Phangan are both fantastic destinations. Each with their own appeal, they attract backpackers from all over the world. Whether you are a diving fanatic or want to party with the best of them, these destinations have you covered.
Located in the Gulf Of Thailand these islands are considered part of the Koh Samui archipelago. It is highly likely you will find yourself traveling from Koh Phangan to Koh Tao at some point throughout your Thai adventures or visa versa. Though how to travel between the two is something which you'll need to find out.
Obviously, they are islands so you'll need to take a boat of some sort. Though what exactly is the best way to go about this? How do I buy tickets and are the boat companies actually safe? These are all things which I will cover in this guide on how to travel from Koh Phangan to Koh Tao.
---
How To Get From Koh Phangan To Koh Tao
---
Speed Boat Or Ferry From Koh Phangan To Koh Tao
If you are on a backpacker's budget then you may find that taking a speedboat from Koh Phangan to Koh Tao is too far out of budget. I personally travel by ferry, though this is because I have unlimited time.
Basically, ferries are cheaper but generally take twice as long.
Speed boats are a lot more expensive, but you'll get there in half the time.
As for comfort the speedboat definitely wins there as well. I have traveled around the Gulf of Thailand by ferry and there has always been one problem onboard the boat. Whether that is a leaky air conditioning unit dripping onto you or simply the fact that there are no seats available.
Each option has its positives and negatives. So it really depends on what type of traveler you are and what you think is important; cost vs time.
---
Booking A Lomprayah Boat
I personally enjoy booking with Lomprayah when traveling around the islands in Thailand. I am in no way affiliated with the company. So that is just my honest and true opinion. I have never dealt with issues regarding safety, cancellations or timing. The boats are in decent condition (nothing is perfect in Thailand apart from the sunsets) and everything seems to flow rather smoothly from arrival to departure.
They offer 2 different departure times per day. These are 8.30am and 3.30pm. This is on one of their speedboats so you'll get to enjoy the wind blowing in your face and breath in the ocean air. There are also some epic views on this journey so get your cameras out. Especially as you begin to approach the island of Koh Tao.
The speed boat from Koh Phangan to Koh Tao will take about an hour. The cost of the ride is $15.90 / 500 THB. This is a pretty good price and overall isn't too much more expensive than taking a regular ferry.
You can book this on 12.Go Asia or directly on the Lomprayah website.
---
Booking A Songserm Boat
Songserm is another ferry service operating throughout Thailand. They seem to be more of a local boat, catering for domestic travelers, not those willing to pay top dollars. Though unfortunately there is quite a lot of reviews regarding bed bugs onboard the boats living within the seats.
I personally have not dealt with this before. But being travelers, getting bed bugs can be the worst. This is definitely something to consider when booking. Nevertheless, someone who has a bad experience is much more likely to leave a review than someone who has had an amazing one. That is always something to consider.
Songserm travels once per day from Koh Phangan to Koh Tao. This is at 10am departing Koh Phangan and arriving at 12pm in Koh Tao. With the total journey taking 2 hours it is a low slower than taking a speed boat. Though, leaving at 10am is the perfect time of day to aline with check out and check in at hostels.  The cost of the ticket is $11.20 / 350 THB.
You can book this on the Songserm website.
---
Book A Seatran Discovery Ferry Boat
Unfortunately, Seatran Discovery has decided to pause operations in the Gulf of Thailand due to Covid 19. I will keep an eye out and update this post if any more information released.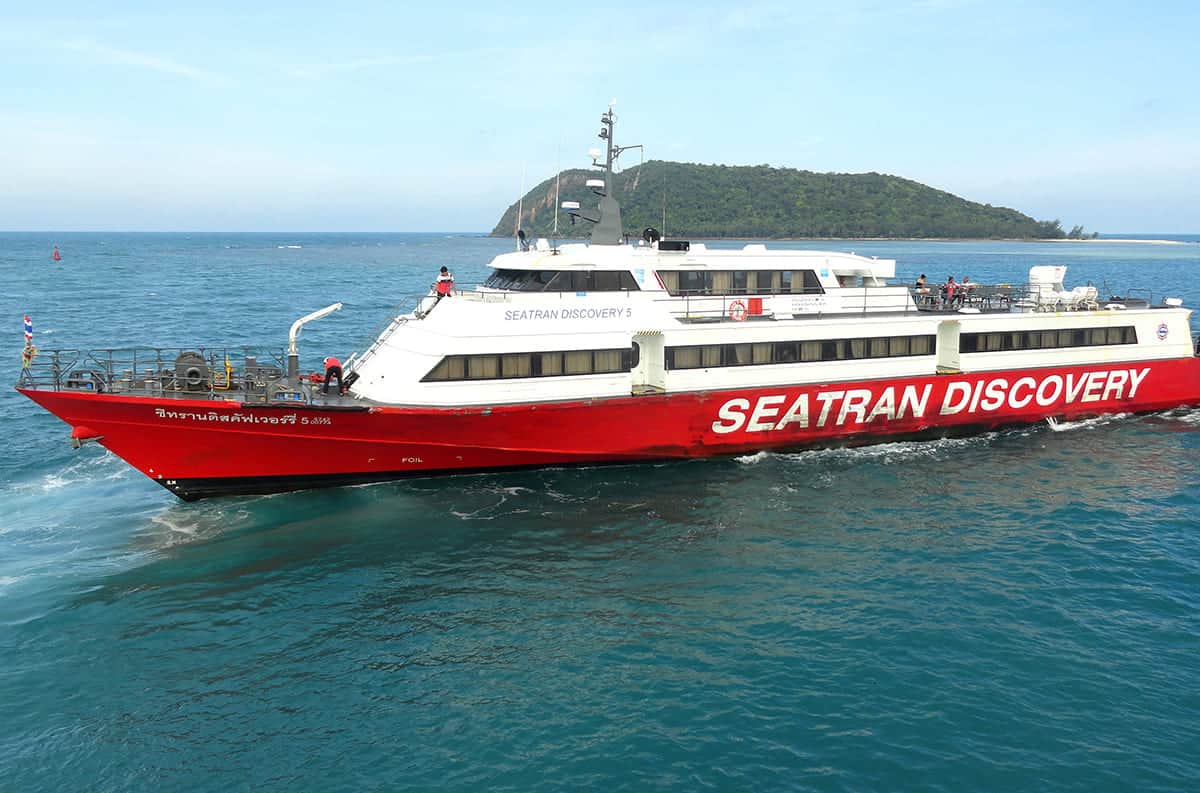 ---
Can You Take A Long Tail Boat From Koh Phangan To Koh Tao
You cannot take a long tail boat from Koh Phangan to Koh Tao. This is due that this would take even longer than a ferry so it's not as efficient and would also cost a lot more.
The seas are also rough between these islands so this would be a far from safe option to take. It is unlikely you'll find a long tail boat driver keen to take you the distance.
---
Buying A Ferry Ticket In Koh Phangan
You can easily buy your ferry or speedboat ticket in Koh Phangan. This can be done either at your accommodation or at the building nearby the ferry wharf.
If you are traveling during the high season I recommend booking your ferry in advance. Literally, even if it is just the day before you should be fine. Just don't expect to rock up on the day you want to watch a ferry and expect that there will be a ticket available.
Apart from the 3 ferry companies listed above, you will probably be able to find a few other companies when you are at the wharf. I recommend checking out reviews before booking any of these. Thailand has a bit of reputation when it comes to safety on these ferry boats. Though this is generally during the wet season when the seas are rough.
---
Getting From Koh Tao Wharf To Your Accommodation
Depending on where you are staying in Koh Tao will decide how exactly to get from the wharf to your accommodation. I was lucky and stayed about a 10 minutes walk away from the Mae Had Pier. Nevertheless, it was an uphill 10-minute walk so it wasn't the easiest to do with big bags.
If you are staying further afield than this, whether that is at the neighboring town of Sai Ri Beach, or elsewhere across the island you will need some sort of transport. You can either organize this directly with your accommodation. Or alternatively, there will be Songthaews (Thai style taxis) available when you get off the ferry boat. This would also be a cheaper option presuming there are other travelers heading to the same area.
Just be aware there are no fixed prices so it's just generally whatever price the driver gives you. You may be able to haggle it down a small amount, but nothing considerable.
---
Things To Do In Koh Tao
There are plenty of amazing things to do in Koh Tao to keep you entertained over your visit. In all honesty, this place is more of a water lover's paradise. So if you are not a fan of swimming and discovering life under the ocean this may not be the island for you.
---
Koh Nang Yuan
Koh Nang Yuan is definitely worth the day trip while you are in Koh Tao. When you think about beautiful Thailand beaches in your head Koh Nang Yuan comes pretty close to fulfilling this image. Picturesque small islands connected by a sand bar that tucks under the water during high tide. You can swim, snorkel, kayak, or sunbathe on the beautiful beach. It is certainly a pretty beautiful place and is for sure somewhere worth visiting if you're nearby on the island of Koh Tao.
Find out how to get from Koh Tao to Koh Nang Yuan.
---
Get PADI Certified
One of the most popular things to do in Koh Tao and why many people travel here is to get PADI certified. Koh Tao is known as one of the cheapest places to get your PADI license in the world. As a result, it attracts thousands of backpackers every year looking to gain some new skills exploring life under the water. With so many dive schools on the island, it helps keep the price low. It can cost as little as $300.00 to become certified here.
The 2 most popular diving schools are Big Blue Diving & Ban's Diving School. If you decide you would like to become PADI certified while you are in Koh Tao then make sure you set aside 3-4 full days to complete this.
---
Ang Thong Marine Park
If you snorkeled all of the beaches while in Koh Tao why not head out a bit further afield on a day trip to Ang Thong Marine Park. It is made up of 42 separate islands and is one of the best spots to snorkel in the Gulf of Thailand.
Prices generally start around $30.00 for the day trip on a group tour.
---
Check Out The Viewpoints
Sunset viewpoint: You will need a motorbike to access Sunset Viewpoint. Once you have your bike it's a quick 15-minute drive to the viewpoint. Be aware that Koh Tao is a very mountainous island with some steep uphills. At the sunset viewpoint, there is a bar where you can buy drinks and chill out while watching the sun disappear below the clouds in the distance.
John Suwan Viewpoint: This is approximately 15 minutes from the tourist hub of Sairee Beach. You can park at Freedom Beach or Taa Toh Bay and then walk the 20 minutes or so to the viewpoint. There is an entrance fee of $1.63 / 50 THB. This palm tree-laden spot is super popular with other travelers. Though getting there first thing in the morning you should have it to yourself. Once at the viewpoint look back inland and check the incredible view of Koh Tao surrounded by blue water.
Love Koh Tao: This has incredible views over Tanote Beach and is the perfect spot to relax. There is a $0.65 / 50 THB entry fee to Love Koh Tao. Though this is waived if you purchase drinks or food. It's unlikely you will visit without grabbing a cold beer while watching the sun drop below the horizon.
View this post on Instagram
---
Cooking Class
Before coming to Thailand I had never taken a cooking class. Though having done a few now I completely understand the appeal. It is a great way to experience a new location, interact with locals and gain some new skills.
There are a couple of different cooking classes located here which will teach you how to make delicious curries and stirfries.
---
Pub Crawl
Being such a small island with relatively limited things to do, partaking in the famous Koh Tao pub crawl has become a bit of an institution for backpackers in Thailand. It a pretty cheap thing to do here and you will also receive a free teeshirt or singlet. You will also meet a bunch of new people.
---
Snorkeling Tour
Why not discover life under the ocean while in Koh Tao by taking a snorkeling tour. I booked mine with Oxygen Tours Koh Tao. Though this was simply because they were the only company operating over the Thai New Year.
We visited Koh Nang Yuan, Mango Bay, Hin Wong Bay, Aow Leuk, and Sharks Bay. There will be a variety of underwater life to explore which plenty of coral reef systems to check out. Lunch is also included as the tours generally run until the afternoon.
Personally, the only downside of the tour was that we booked going into the wet season which meant to in the afternoon the waters got quite choppy and visibility wasn't good as storms rolled over.
---
Where To Stay In Koh Tao?
Unless you have a rather large budget it's likely you will be staying in the main township in Koh Tao. This is where I stayed and where you will find the more affordable accommodation.
Sairee Beach: Sairee Beach is one of the more popular places to stay in Koh Tao simply because this is where the majority of accommodation options are located. There are some quaint bungalows here as well as a handful of hostels for backpackers on a budget.
Mae Haad: Mae Haad is the main area of Koh Tao and where all the ferries depart from. There isn't too much of a nice beach here due to boat pollution. I stayed in this area on my first trip to Koh Tao and found the options quite limited. There are more hostels here as well as a few affordable resorts. I stayed in Baan Rock Inn for $20.00 per night which I shared with my partner.
Chalok Baan Kao: Away from the township in a more peaceful location is the area of Chalok Baan Kao. Here you will find more affordable beachfront bungalows. This is definitely an area for backpackers who want to be more in nature and the seaside without having to pay ridiculous prices.
Ao Thian Og: If budget isn't a limit for you, it's likely you will be staying in Ao Thian Og. This is a super-luxurious area with some of Koh Tao's best resorts and hotels. A night here will cost you a few hundred dollars.
Here are my top picks for the backpacking Koh Tao travel guide:
One of the cheapest hostels around. From $8.00 per night in a shared dorm.

BOOK NOW

A modern guesthouse. From $20.00 per night in the main town.

BOOK NOW

A hostel set in nature with an incredible pool. From $15.00 per night for a shared dorm.

BOOK NOW

A beautiful beachfront location from $15.00 per night for a basic fan room.

BOOK NOW
---
LIKE IT? PIN IT!

Want more Thailand Inspiration? Check out….
Disclaimer: This post contains affiliate links. So, if you click on it and purchase something, I get a small percentage at no extra cost to you. As always all opinions are my own and your support is much appreciated.
Photo credit: "to koh tao" & "Travelling From Koh Tao"  (CC BY 2.0) by Gili Chupak. "to koh tao" (CC BY 2.0) by Fabio Achilli. "Ferry To Koh Tao" (CC BY 2.0) by Bertconcepts. "Party Boat" (CC BY 2.0) by Lachlan Hardy. "Catamaran to Koh Tao" (CC BY 2.0) by Sergey.
Related Posts
Find out the perfect 3 days in Chiang Mai itinerary to ensure you have the [...]
1 Comment
Looking for the best hostels on Khao San Road? Comparing the price, facilities, amenities, and [...]
5 Comments
Find out what is the perfect 2 days in Bangkok itinerary to ensure you have [...]
1 Comment