Wanting to visit an ethical elephant sanctuary in Chiang Mai? Find out everything you need to know about spending a day at the Elephant Freedom Project run through Elephant Nature Park. I will let you know all about my experience from start to finish and all the elephant encounters!
---
For my first time in Thailand, I knew I wanted to book some sort of elephant experience. Though it was important to me that I would be booking an ethical option where the elephant isn't only treated correctly when tourists are around, 24/7. I knew Elephant Nature Park would be my best option for an ethical elephant sanctuary in Chiang Mai. Though, what I did not exactly know was how far in advance it actually books out!
Luckily for me, there was one once left on their Elephant Freedom Project for 2 weeks' time. I did a bit of research on this project making sure it was just as ethical as the main Nature Park we all hear about and decided to book.
Just so you are aware, if you are wanting to visit the main Elephant Nature Park I highly recommend booking at least a month in advance.  In the high season in Thailand, I have even seen it book out two months in advance! This can be a bit problematic for travelers who like to just go with the flow, but trust me it will be worth adding to your Chiang Mai Itinerary.
---
Elephant Freedom Project In Chiang Mai: Should You Visit?
---
How I Book Cheap Transport In Thailand: 12Go Asia
---
---
Ethical Elephant Sanctuaries In Chiang Mai
When it comes to choosing an ethical elephant sanctuary in Chiang Mai the most important thing to do your research. Also, by that I mean you doing the research. It is easy to walk into a travel agency in Chiang Mai enquiring about an ethical elephant sanctuary and they will tell you basically everything you want to hear to make the sale.
I personally like to choose TripAdvisor when looking for reviews of elephant sanctuaries. You can easily google the name of the sanctuary or the project and a TripAdvisor link will come up. Within that, you will be able to see what individual people have to say. That way you know if it was a positive experience and whether it is truly ethical.
It is surprising the number of reviews I have come across in the past stating that an elephant sanctuary that is marketed as ethical is truly not. The elephants could be chained up overnight, be performing tricks or the mahouts could even be carrying bullhooks for control. It is important that we as travelers do this research so we can stop funding these unethical elephant sanctuaries in Chiang Mai.
---
About The Elephant Freedom Project
Located south of Chiang Mai City is the Karen village where the Freedom Program by Elephant Nature Park is held. Elephant Nature Park runs quite a lot of ethical elephant experiences alongside local Karen villages. Elephant Nature Park teaches them about the importance of ethical encounters and sets rules about the do's and don'ts ensuring they are up to the high standard of the company. The purpose is to encourage locals to participate in ecotourism and to show that tourists will still want to interact with their elephants even if they aren't riding them.
Elephant Nature Park has had great success in building their own sanctuary and are now encouraging these smaller Karen communities to start doing the same. When I first booked the Elephant Freedom Project it was a relatively new option on the Elephant Nature Park website and had only been around a couple of months. That meant there was not too much information available. Nevertheless, I was curious so I took the plunge and bought the $75.00 ticket.
---
My Experience On The Elephant Freedom Project
The Van Ride To The Elephant Freedom Project
It's early morning when a van rolls up outside my hostel in Chiang Mai. I jump on board as we navigate the tight streets to pick up the remaining passengers. Once everyone is on board, they play a video about the Elephant Nature Park and the efforts they do to encourage ecotourism.
Elephants in Thailand have been used commercially throughout the years, having their spirits broken in order to be trained and satisfy the demand in various industries. They have been used as nothing more than an instrument for gaining money with no regard for their overall well-being. This is the ideology Elephant Nature Park is attempting to change.
The van ride to the sanctuary takes about an hour and a half through rolling green countryside. Chiang Mai is so much more than just a city. Even though it may seem like a concrete jungle, there are plenty of opportunities to escape. One popular option is the Samoeng Loop which will take you completely into the countryside and to some amazing stops. There are also plenty of other Chiang Mai day trips which will give you a whole new perspective on the city. We stop on the way at 7/11 for snacks. Onward into the countryside we venture and spot numerous elephant riding companies along the way. I honestly did not realize how many there actually were, it's ridiculous!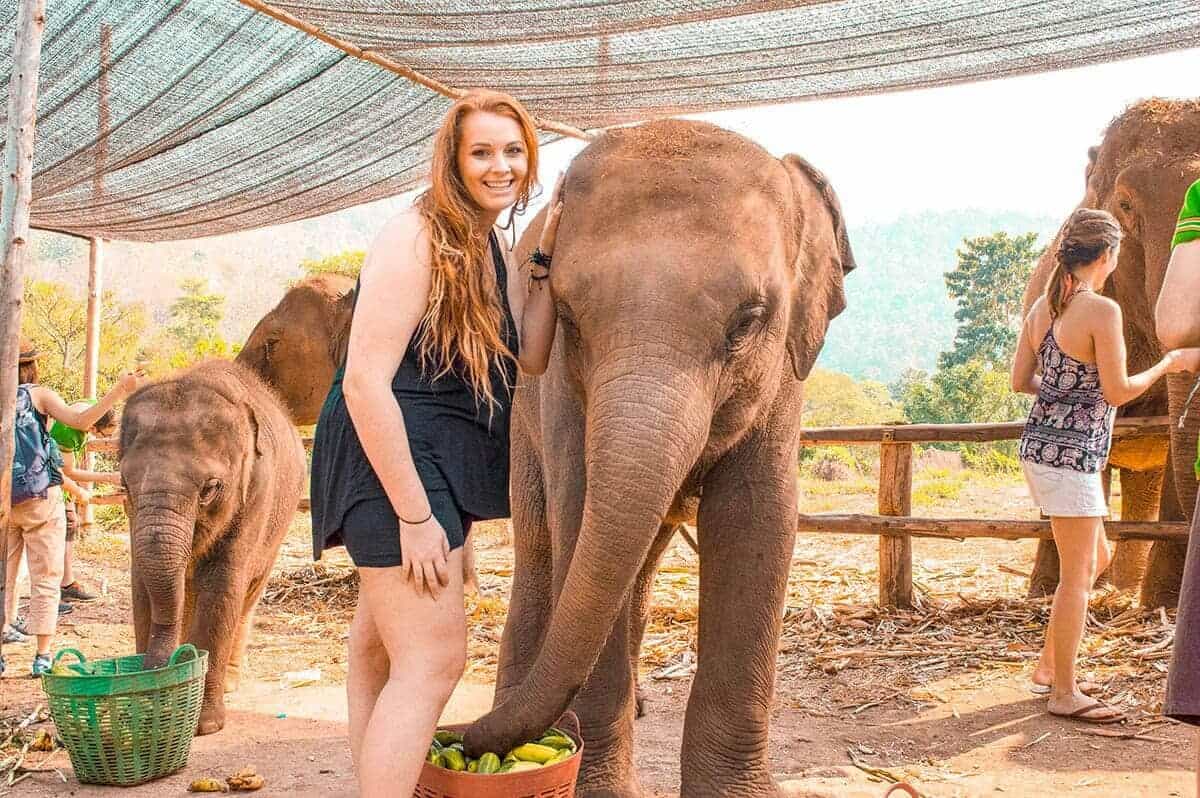 ---
Preparing The Elephant Food
On arrival, we park up at the Karen village under the cover of a large wooden hut. In the surrounding area is a locker room to store our stuff, some bathrooms, and an eating area. Oh, and of course the elephants are just a short walk across a path!
One of the staff members drags out huge sticks of sugar cane and a couple of people in the group are given machetes and shown how to cut them up. A young Chinese boy starts eating the sugar cane himself, encouraging us Westerners to join as well.
Full buckets of water line the bench with bushes inside for us to clean the cucumbers. They tell us the pesticides on them can make the elephants very sick and that it is important we get it all off. The cucumbers change from a white pale green to the usual dark green with each scrub.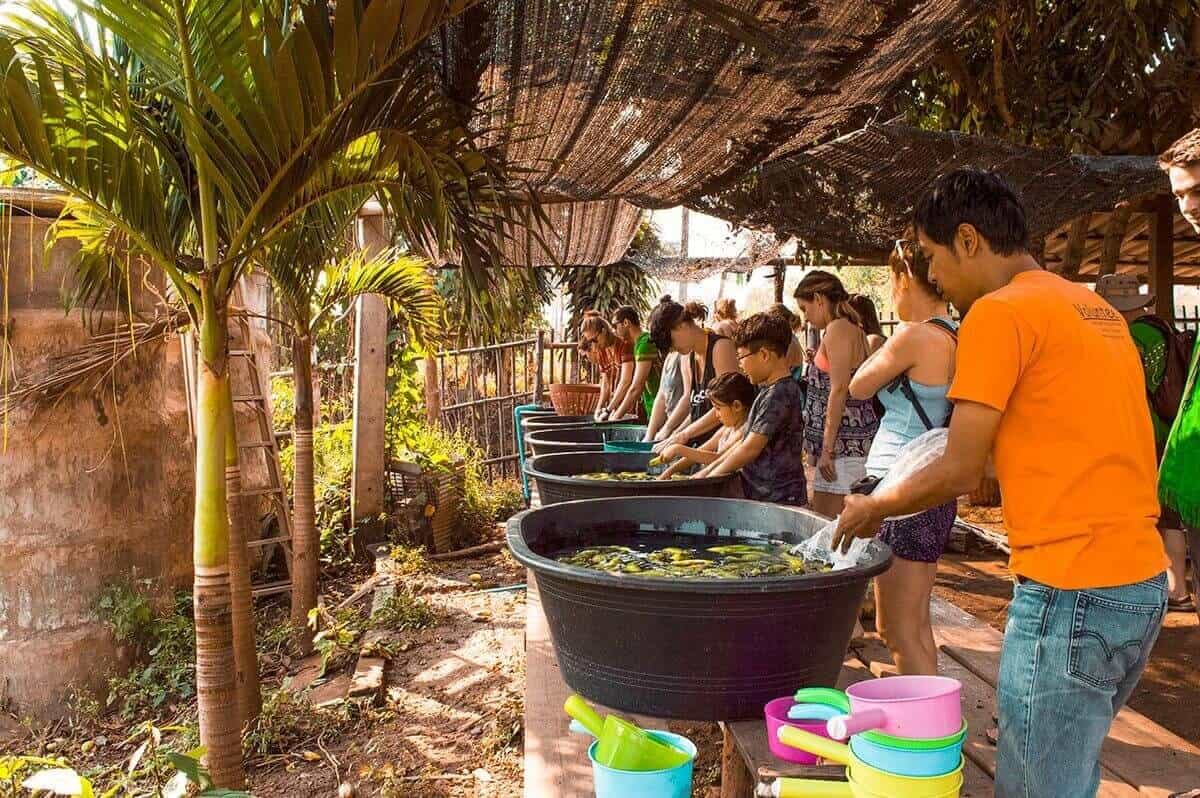 ---
Feeding The Elephants
With food preparation complete we bring it across the path to where the elephants are live. A small wooden fence that is open on one side separates us from these magnificent creatures. There are four larger elephants, two of which must be teenagers and two babies. Excitement is in the atmosphere as we stand by the fence as they reach their trunks over for some food.
Unlike other animal sanctuary experiences, we aren't taught commands which tell the elephant to do a certain movement. Rather the animals do what they want, some refuse to eat the sugar cane, others like to sniff the food before deciding and some just grab it without a second thought.
The baby elephants ignore the fence and run around to get the food, soon the other elephants follow as well. None of the mahouts tell them off for this behavior. Instead, they help us feed them while the staff members tell us the individual elephants' stories.
We have to peel the bananas for the baby elephants as they don't have teeth strong enough to break the skin. Another cheeky elephant grabs the bucket and starts dragging the cucumbers across the dirt area. This goes on for an hour, we take photos and enjoy being right next to these beautiful animals. Eventually, the elephant's interest in the food disappears and it is time to move on to the next activity of today.
---
Walking with Elephants
We begin to walk down the road, with the elephants on the right and us on the left. This way they have plenty of room and we are not in danger. We head off the road to a large paddock area surrounded by fallen trees, dry grass from the heat, and a rolling landscape. The elephants bathe in the sunlight and start pushing around the trees.
Soon enough the air becomes thick as the elephants start throwing dirt everywhere. All over each other, over themselves, and in all directions. Most are loving the dirt bath. Though, one wanders back up the track with his mahout following behind, obviously not in the mood.
Further, into the walk, we end up in a valley with high hills up on either side. The plants are overgrown and the grass is up to my knees off the narrow path. The elephants start spreading themselves out and exploring the area.
A teenage elephant starts walking up the steep hill on one side. With every two steps she makes, she slides back down one. We all wonder what could she be doing and what could be at the very top. Though once she reaches the top she turns around and to our surprise lays down and starts sliding down. I guess everyone enjoys a good slide. We all have a good laugh, because how often do you see an elephant doing that!
After about an hour and a half of playing in the dirt with the elephants, we decide to walk back towards the village. The mahouts and their elephants lead the way through the dry Chiang Mai landscape.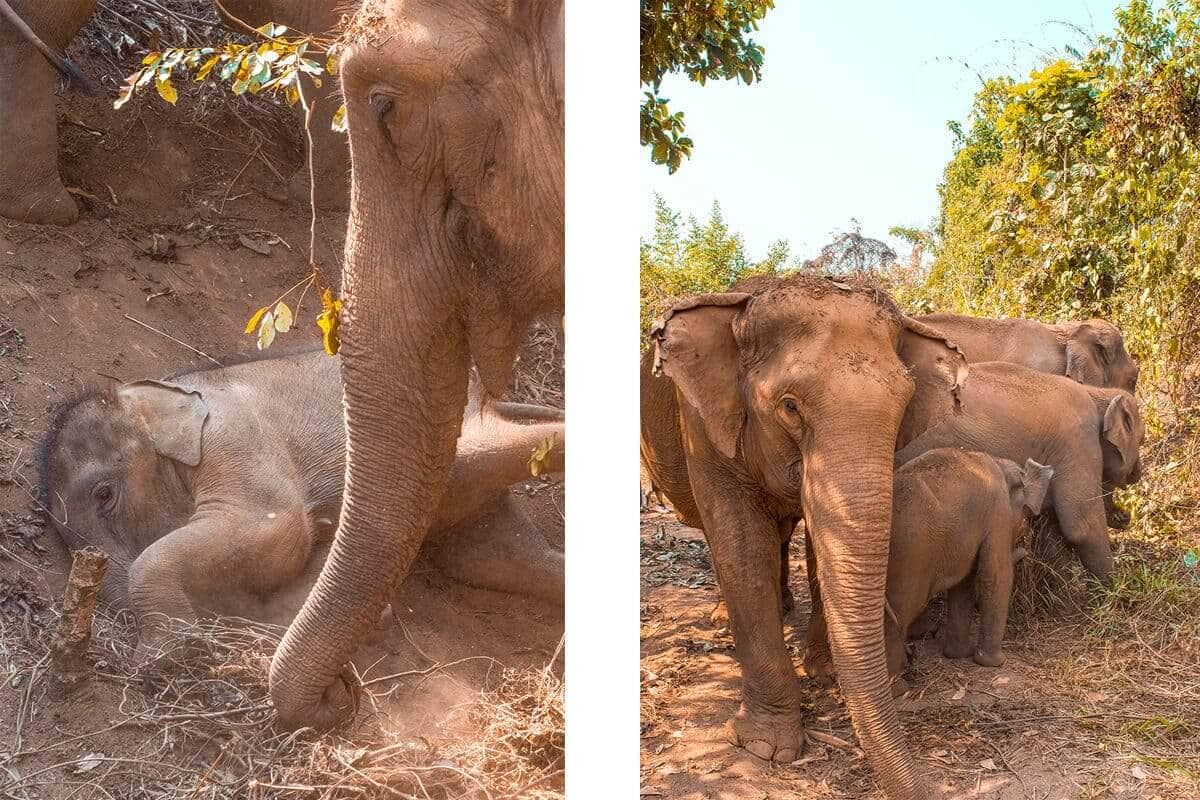 ---
Bathing The Elephants
Once back in the village we pile into the tray of a pickup truck are driven down towards the river for elephant bathing. With the wind in my hair and the hot sun beating down this is the true definition of a good day.
After killing time for twenty minutes the elephants soon emerge from around the corner. The truck arrives with more food for the elephants and they get all excited. We are given brushes and each one jumps into the water to cool down. None of the elephants are forced in and once they are over swimming they walk on out and hang around on the river bank.
The water is about waist deep, though the elephants still manage to fully emerge themselves by lying on their side. I notice that the younger elephants definitely enjoy being in the water more, basically staying in the whole time.
The mahouts have a good time jumping in a covering us all in freezing water. It is a little bit too chilly for me though and I didn't bring a change of clothes. Therefore I decided to wait with the older elephants on the sidelines.
The swimming is unfortunately cut short as another group of elephants arrives. Though, these ones have tourists riding on top. The staff tells us they are known for being quite aggressive towards our elephants. We quickly pack up and look on in disappointment at the riders. Our group of elephants starts walking back towards the sanctuary, away from any possible danger.
---
Lunch
Back at the village, we have a vegetarian lunch of noodles, curry, vegetables, and french fries. I chat with the girls I have met about what they are doing in Thailand and life back home. We bond equally over our love of animals, adventure, and food.
---
Where To Stay In Chiang Mai?
When choosing where to stay in Chiang Mai you are spoilt for choice. No matter your budget or the type of traveler you are there is something to fit all needs.
I mainly choose to stay within the confines of the Old City when deciding where to stay in Chiang Mai. This is definitely the best location if you are staying for a short period or this is your first time visiting. On my most recent visit, I stayed at De Lanna Hotel. This is a mid-range hotel located in the heart of Old City. Though, if you are thinking about living in Chiang Mai you will want to stay further afield in such places as Nimman. The Old City is within walking distance to many beautiful temples, excellent shopping, delicious restaurants, and the famous Sunday Night Market. Have you checked out my 3 days in Chiang Mai itinerary yet?
A modern and upscale hostel. From $13.00 per night including a fab breakfast.

BOOK NOW

A favorite with travelers. A hostel with all the amenities, from $6.00 per night.

BOOK NOW

Beautiful private rooms for $25.00 per night and in the heart of the city with a pool.

BOOK NOW

A walk from the city attractions, starting from $18.00 per night with an amazing pool.

BOOK NOW
---
Other Things To Do In Chiang Mai
There are so many other things to do in Chiang Mai as well. Whether you are keen to learn Muay Thai, do a spot of shopping, or discover some of the incredible nature in this area.
Cooking Class: Chiang Mai is just one of those cities where you need to do a cooking class while there. I had such an amazing time doing my cooking class with Arom Dii. It was just myself, my partner and another couple so was a lovely relaxed experience. We were able to cook 5 individual dishes. This consisted of a starter, soup, stirfry, curry, and dessert.
Night Market: I absolutely love the night markets in Chiang Mai. I am not lying when I say if I arrive on a Monday I won't leave until the following week so I have a chance to visit the Chiang Mai Sunday Night Market. There are so many stalls here that you'll be walking for hours and still would not have visited them all!
Temple Hopping: The Old Town in Chiang Mai is covered in gorgeous temples. These are Wat Chedi Luang, Wat Chiang Man, and Wat Phra Singh Woramahawihan. You can either walk between them or even hire a bicycle.
---
My Opinion: Is It Ethical?
Back in the van we all quickly fall asleep after a busy day under the Thai sun. Taking a tour with Elephant Nature Park is one of the best things I did in Chiang Mai. Throughout the time spent with the elephants, I did not once see them getting pressured, abused by their mahouts, or be overwhelmed by the people around them as groups were kept small. I think Elephant Nature Park has done an excellent job with its Elephant Freedom Program. Especially by encouraging local Karen tribes to practice ecotourism and educate both the tourists and the local Thai people.
When I am back in Chiang Mai I will definitely do another tour with Elephant Nature Park. Though, hopefully, next time I get to visit their main park.
Looking for more things to do in Northern Thailand? Why not give learning Muay Thai in Chiang Mai a try!
---
How I Book Cheap Transport In Thailand: 12Go Asia
---
LIKE IT? PIN IT!
---
Want more Thailand inspiration? Check out…
---
Disclaimer: This post contains affiliate links. So, if you click on it and purchase something, I get a small percentage at no extra cost to you. As always all opinions are my own and your support is much appreciated.
Related Posts
Find out exactly how to travel between Chiang Mai to Luang Prabang. Comparing taking a [...]
61 Comments
Find out everything you need to know about traveling from Ao Nang to Railay Beach. [...]
4 Comments
Absolutely everything you need to know about the Thailand Laos Border Crossing and getting from [...]
10 Comments