Thinking about a day trip to Ayutthaya? From how to get there from Bangkok, Ayutthaya entrance fees, to do a tour or self-tour, the best temples to visit, and my top tips for enjoying the UNESCO site, this ultimate guide has you covered!
---
If you are looking for a relaxing break from the constant chaos of Bangkok there is no better choice than a day trip to Ayutthaya. Being less than a couple of hours away will give you plenty of time to explore this history-filled UNESCO World Heritage Site for a short trip.
It is the perfect place to learn about some of Thailand's history, capture some incredible photos, and learn more about the culture. You will find a mixture of modern temples, as well as a lot of originals from when the city was built in 1350 (though obviously these have been restored).
In this post, you will find all the necessary information for your day tour to Ayutthaya. Find out whether to do it yourself or go on a tour, how to travel from Bangkok to Ayutthaya, the best way to get around, and the top temples to visit.
---
All You Need To Know To Plan A Day Trip To Ayutthaya
---
How I Book Cheap Transport In Thailand: 12Go Asia
---
---
Why You Should Visit Ayutthaya: The History
To truly appreciate the history of Thailand, no holiday would be complete without a visit to Ayutthaya. This historic city was the second capital of the Siamese Kingdom having been founded in 1350. From the 14th to the 18th centuries it actually grew to one of the largest in the world, an important center of diplomacy and commerce.
On visiting you will understand why this area was chosen as the capital. Located on an island encompassed by three rivers that flow to the sea made it a strategic position. Though, unfortunately in 1767 Ayutthaya was attacked and razed by the Burmese. The city was burned to the ground and the locals who called it home had to flee.
What remains is now the popular UNESCO World Heritage Site covering a total of 289 hectares. The impressive Buddhist monasteries and tall 'prang' (reliquary towers) give an insight into the city's past and the grandeur of the architecture.
---
Organized Tour Or Self-Tour Of Ayutthaya?
On An Organized Day Tour of Ayutthaya
There are plenty of day tour options to Ayutthaya from Bangkok and you will have no problem finding one. There are many travel agencies around which will offer such tours, especially if you are staying in the Khao San Road area.  Though, you may have a problem finding a decent one.
These types of tours sold by travel agencies are known to squish people onto small minivans and buses. It is not too much of a fun experience being herded like sheep under the hot sun. Also, something which always is a bit hit-and-miss for me is the type of travelers on group tours. While I love traveling with people from many different backgrounds, it can be difficult to make friends if you don't speak the same language, or don't have any interests in common.
Therefore, before booking one of these day tours from Bangkok, make sure to ask questions. Find out if your entrance fee is included, how you will get between temples, if lunch is included, and how many people will be in the group. If you don't want to do any pre-planning and aren't fussed about what you see then this could be the best option for you.
Check Out Ayutthaya Tours On Get Your Guide
---
On Our Stray Asia Tour
We traveled with Stray Asia for our day in Attyutha. For our group of 21, they organized 3 separate 12-seater minivans, making for an extremely comfortable journey. No stops along the way were necessary as the driver quickly navigated the way through the morning traffic. An easy hour and a half later we found ourselves in the impressive city of Ayutthaya.
Stopping off at the local Good Luck Guesthouse we had a delicious lunch and left our bags (as we were not returning to Central Bangkok and instead of taking the overnight train to Chiang Mai). We had the option to cycle around Ayutthaya ourselves or do a boat tour.
Stray Asia does not offer day tours and rather they specialize in 1 week+ passes around South East Asia. I did the Mekong Pass traveling throughout Thailand, Laos, and Cambodia. The 5-week long adventure was a whirlwind of laughter, adventure, and many new experiences (including Ayutthaya).
---
DIY Self-Organized Day Trip To Ayutthaya
It is also easy to travel to Attyutha by yourself and of course, it will be a lot cheaper than doing a day tour. The city itself is also very nice and I would recommend spending a night here if you have the time. Overall, I would say the easiest way to travel between Attyutha and Bangkok is by taking the train or by minivan.
Trains leave from Hua Lamphong every hour, though the journey takes about the same amount of time it would do in a minivan. Unfortunately, the train station in Ayutthaya is not very conveniently located. You will need to take a tuk-tuk into the main town depending on your plan for the day. The approximate cost of this is 100 baht depending on your negotiating skills.
Tickets can easily be booked in advance from 12.Go Asia which is a transportation booking company I have used around Asia numerous times without issues.
---
Ayutthaya Entrance Fee
There are different entrance fees depending on the type of temples which you visit during your day trip to Ayutthaya. One of the more popular temples is Wat Chai Watthanaram. It costs 50 baht and I highly recommend a visit as it is what truly makes this place feel like the Angkor Wat of Thailand.
The majority of main temples in Ayutthaya cost 50 baht such as Wat Phra Si Sanphet, Wat Mahathat, Wat Ratchaburana, and Wat Phra Ram. Though, Viharn Phra Mongkol Bopit, Wiharn at Wat Thammikarat, Phra Chedi Suriyothai, and Wat Borom Phuttharam are free.
---
How to Get Around On Your Day Trip To Ayutthaya
Hire A Bicycle In Ayutthaya
No doubt one of the more popular options for getting around Ayutthaya is taking a bicycle. Rates are extremely cheap and I saw them starting at 50 baht for 24 hours.
One thing I will say about the bicycle is to make sure you are comfortable riding, especially when the temperatures soar. This option may be alright in the morning and late afternoon. Though I would not recommend hiring one all day to explore the temples. I, personally, have made this mistake one too many times. Now I make sure to fully think about riding a bicycle through, even if it may be the cheaper option. If you do decide to do so pack accordingly. Bring lots of water, sunscreen, and a hat, you will most definitely need it.
---
Boat Tour of Ayutthaya
We decided a boat tour would be best for our one day in Ayutthaya. They cost 300 baht each for a boat. This was shared with 6 other people who were also touring with Stray Asia.
The boats were owned by local families who drove and navigated the canals which run around Ayutthaya. It was a really interesting experience seeing the city by boat as we saw more of local life. Children were going for a lunchtime swim, while the mothers did the daily washing, and men fished from little wooden jetties. Waving at us from the riverbank is no doubt an experience you couldn't get while in a minivan. We got to see a whole different side of Ayutthaya which was so much more than just temples.
I will say one thing to keep in mind if you decide to do the boat tour is that you will only be able to visit the temples along the waterways. Obviously, if you don't mind what you see this won't be a problem. Though, if you want that perfect shot of the Buddha's face covered in vines then you will be disappointed.
In my opinion, it is best to spend a few days in Ayutthaya to truly experience the different types of temples there are. This would also allow you to do the boat tour one day and a bike tour another day.
---
Best Temples To Visit On Your Day Trip To Ayutthaya
Wat Chai Watthanaram
A favorite for me during my day trip to Ayutthaya is Wat Chai Watthanaram. This impressive structure is a highlight and will have the crowds to match. Though due to its location if you are limited on time and on bike best to give it a miss as it is 5 kilometers away from where a lot of the other temples are in the city center.
Wat Chai Watthanaram is one of the most historical sites of Ayutthaya. No doubt one of its most impressive features is the 35-meter-long prang which is in the center of the complex. Its architectural style was actually influenced by that of Angkor Wat in Cambodia.
This temple is certainly a popular choice for locals as well as international tourists. I loved watching all the ladies dressed up in traditional dresses and taking photos.
How I Book Cheap Transport In Thailand: 12Go Asia
---
Wat Thammikarat
Unlike many of the other temples which are often on people's must-see in Ayutthaya lists, Wat Thammikarat is still a working temple. It is common to see monks strolling around going about their business.
Though, a favorite sight is a massive gold reclining Buddha. Seriously it is so big you just have to see it. It even is housed in its very own building next to the temple.
---
Wat Phra Ram
Often skipped by many tour groups you can usually expect Wat Phra Ram to be quieter than the other temples. This is perfect if you are wanting a bit of relaxation or simply appreciate the beauty of Ayutthaya without camera shutters clicking.
The temple is what draws you in to visit here, though the serene gardens will be the reason you stay. It was established in 1369 by the King at the time as a cremation spot for his father. Even though it is older than a lot of the other temples in Ayutthaya it has not received much attention in terms of upkeep. The central prang is okay, which makes for a gorgeous silhouette. Though unfortunately, the crypt is empty and the lions that guard it are quite damaged.
---
Wat Phutthai Sawan
Wat Phutthai Sawan is another temple with a large reclining Buddha. This one is certainly not as grand as Wat Thammikarat. Though a window in the ruin walls provides a beautiful frame for it.
Wat Phutthai Sawan was an important royal monastery during the reign of Somdet Phra Ramathibodhi. He was actually the first king of the Ayutthaya kingdom and started a seeming tradition where the king in charge would build these impressive structures.
---
Wat Phra Si Sanphet
Wat Phra Si Sanphet is not just an important historical site, but it was also considered the spiritual center for Thais. It is strategically located within the grounds of the Royal Palace. Also as it is a royal monastery it prevents monks from residing there.
It was quite damaged by the Burmese during the war but luckily has since been restored to its original condition. Wat Phra Si Sanphet showcases how glorious the country was during that time, playing an important part in the history of art and archeology. In the center of the temple are three pagodas which were said to be the base of royal houses in the Ayutthaya period.
---
Wat Phanan Choeng
Famous for its huge golden Buddha Wat Phanan Choeng is certainly one temple worth visiting. It does not have the aged ruins like many other Ayutthaya temples, but it is still considered one of the most beautiful.
According to legend, the Buddha here shed tears when the Burmese attacked Ayutthaya in 1767. It is housed in a beautiful teak building. I am not sure if it was a small space, but this seemed to be one of the busiest temples.
After checking out the Buddha don't leave too quickly. Head down to the river to see literally thousands of catfish swarming the riverbanks. There is cheap food available to buy so you can feed them. Though, just be careful where you stand as the splashes they make are crazy. It is certainly a different temple experience for your day trip to Ayutthaya!
---
Wat Mahathat
No doubt Wat Mahathat is a must-visit temple while in Ayutthaya. This is where you can see that famous photo of the Buddha statue being consumed by a tree. It is uncertain how exactly it ended up down there, though the likely reason is from looters after the Burmese army raided the city in 1767.
---
Wat Ratchaburana
Wat Ratchaburana is one of the most complete temples here in Ayutthaya. As it is so well preserved it is certainly worth the visit. Though, the highlight here is that it is one of the few temples in Thailand where you can actually go inside the main prang and drop down inside the crypt.
---
Where To Stay In Ayutthaya
You will actually only need to stay one night in Ayutthaya. Though I will get into details on that below in the transportation section. The main touristy area of Ayutthaya isn't too large in itself being the main island which the rivers are situated around.
For an affordable private room have a look at Baan Are Gong Riverside Guesthouse where rooms start at just $14.00 and it's in a great location. Another option is Chommuang Guesthouse with rooms starting from $16.00 per night. These options are great if you have a friend or partner to share with.
For those traveling solo or a more of a budget, a hostel is a great option. Also, they generally will run their own tours of the nearby temples, often at a much cheaper price than the travel agencies.
---
Time For Your Day Trip To Ayutthaya
Hopefully, now you've figured out which type of day trip to Ayutthaya would be best for you. Whether that is on a group tour, self-tour, or perhaps you've decided to even do a full adventure around South East Asia! Ayutthaya is such an interesting and beautiful city with so many historic places to see. If you do have the extra time I highly recommend spending a few days here. That way you can truly appreciate these impressive temples and learn more about the culture.
---
How I Book Cheap Transport In Thailand: 12Go Asia
---
LIKE IT? PIN IT!
Want more Thailand Inspiration? Check out….
Backpackers Wanderlust was a guest on the Mekong Pass with Stray Asia, however, as always, all opinions are my own.
Disclaimer: This post contains affiliate links. So, if you click on it and purchase something, I get a small percentage at no extra cost to you. As always all opinions are my own and your support is much appreciated.

Related Posts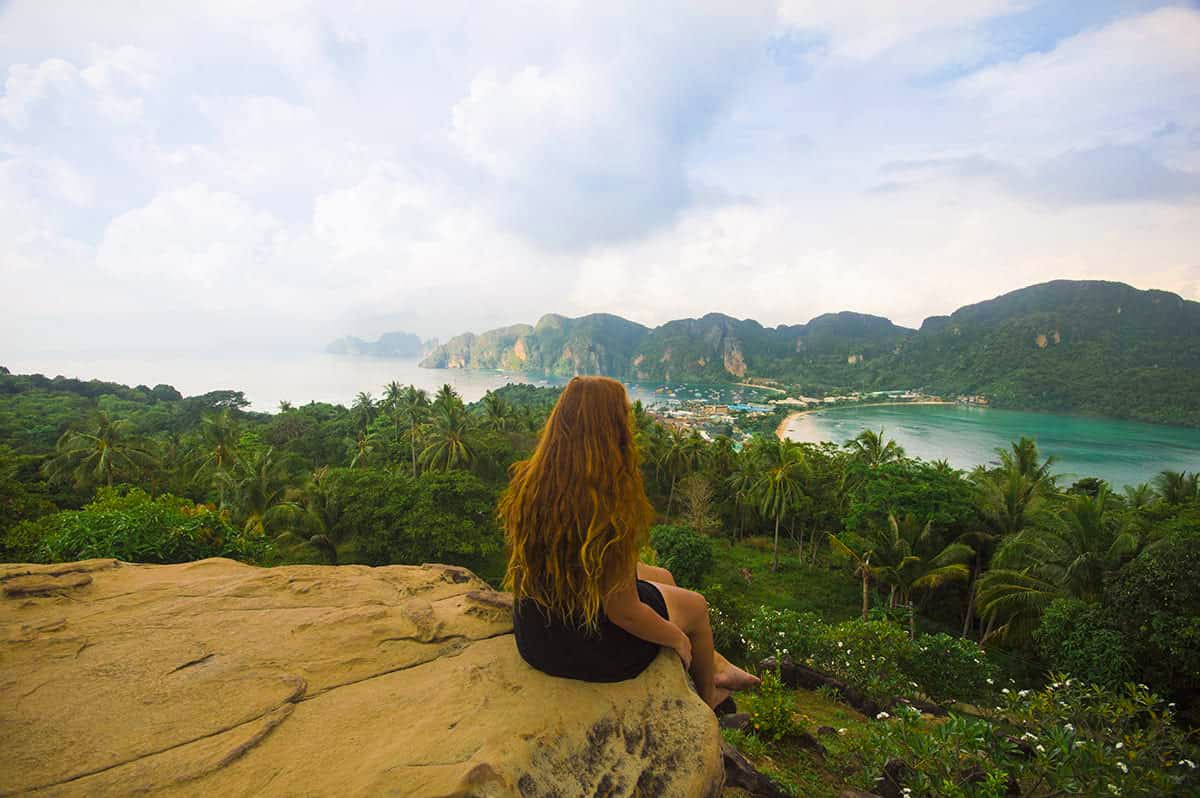 Share Tweet Pin Come discover paradise, parties, and beaches as you are backpacking Koh Phi [...]
Find out everything you need to know about traveling from Ao Nang to Railay Beach. [...]
4 Comments
Khao San Road is a place known for its crazy nightlight and basically a right [...]