Thinking of taking the slow boat in Laos? Find out absolutely everything you need to know such as costs, where to take it from, what to bring, what to expect, and more important information on your slow boat to Luang Prabang!
---
Taking the slow boat Laos seems to be a right of passage for many travelers backpacking around Southeast Asia. The 2-day journey takes you from the Laos border town of Huay Xai down to Luang Prabang.
Some people refer it to as the journey from hell. Though trust me it isn't that bad taking the slow boat Luang Prabang!
I have read numerous horror stories about taking the slow boat Thailand to Laos. Though, obviously not phased enough by the infamous rumors I decided I would take the journey and form my own opinion on the two-day adventure.
The slow boat is no doubt the most popular way for all types of people to travel between Northern Thailand and Luang Prabang, Laos. Though, it is certainly not for everyone.
I have actually taken the slow boat Laos twice. Once on the public slow boat and the second time on a private operator. If you have done any long bus journeys or plane rides it isn't worse than those. Though there are certainly a few tips and tricks that will make your journey a lot more bearable!
In this guide, I will let you know anything and everything so your slow boat in Laos journey is as stress-free and easy as possible! From departure points, costs, what to expect, and more.
---
Taking The Slow Boat In Laos: EVERYTHING You Need To Know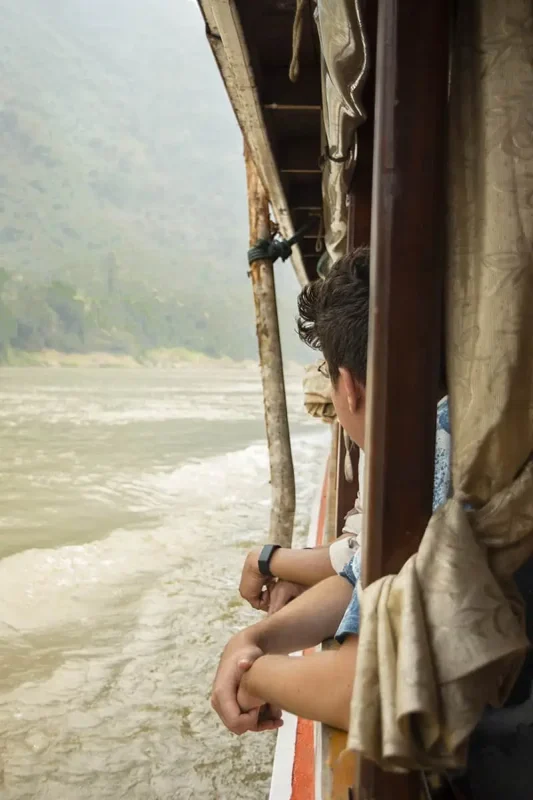 ---
🚗 How I Book Cheap Transport In Thailand & Laos: 12Go Asia
---
Why Take The Slow Boat To Luang Prabang
If you have ever traveled into the countryside of any Southeast Asian country you will appreciate the slower lifestyle. No one is in a rush and you can just simply relax and watch the world go by. Well, this is exactly how I would describe the slow boat to Luang Prabang.
It provides the perfect opportunity to slow down and breathe.
With a constant stream of fresh air, you can take In your surroundings. Watch the water buffalos play on the shore, see the locals who live along the river that connects them with the rest of the world, and look at the landscapes changing along the way.
Sometimes, especially when traveling, you forget to appreciate the smaller things in life and this provides the perfect opportunity for this.
The journey is in no way luxurious, even on the private slow boats. Though you will be able to bask in the sunshine, meet other travelers, and reminisce on all the memories you have been able to make on your travels so far.
---
Crossing The Thai-Laos Border
The first step in taking the slow boat to Laos is crossing the border from Thailand. We took a tuk-tuk to the border from Chiang Khong which cost us $4.50. Racing through the town the cool morning breeze is a refreshing change from what we are used to.
The roads are busy with vendors selling food at the morning markets. Dust looms in the air from the dry landscape. Soon enough the hustle and bustle disappear behind us and the landscape opens up to a large building in the distance.
Being early morning the border is extremely quiet. We are quickly processed through the Thai side and officially exit the country. To get between the Laos and Thai immigration offices you will need to pay $0.75 for the bus.
The ride lasts about 10 minutes and goes over the Thai-Lao Friendship Bridge. However, we had to wait about twenty minutes in line with about thirty other people for the first bus to depart. Of course, the bus driver was late, a typical occurrence on this side of the world.
When you jump off the bus on the Lao side it is a mad rush to get your forms filled out to avoid delays. Just make sure you write it out correctly and have a pen with you! The visa fee was $30.00, though this amount changes depending on where you are from.
In case you don't have USD there is an ATM a few steps away so no need to worry about getting cash beforehand. All up the process probably took about thirty minutes to receive our Lao visas and the majority of this time was spent waiting in line.
---
Types Of Slow Boat Laos Journeys
There are actually a couple of different slow boat options you can choose from. One is a lot cheaper than the other. Though with that comes the crowds. I have done the journey on both the public slow boat and on a private slow boat as part of a tour. The experiences varied greatly.
Though I will get into the positives and negatives of each below.
Public Slow Boat: The Public Slow Boat was what the majority of people taking the slow boat to Luang Prabang do and it was what I did during my first trip to Laos. The boat was full of locals and travelers of all backgrounds.
It is a much cheaper option when it comes to getting to Luang Prabang via the Mekong River. Though as a result these boats are usually filled to the brim.
It is a mad rush to find your seats and I would relate this more to being stuck in a bus or plane where really you just sit down, look out the window, and get up to use the bathroom every so often.
Slow Boat Tour Package: Alternatively you have the tour package. This is a lot more pricey coming to around $150.00 per person. Though it is much more of an experience than just a simple journey. The group sizes are also a lot smaller so you won't be stuck squished into a seat the whole way.
You will find meals are typically included, as well as a stop at Pak Ou Caves which the public boat doesn't do. This journey is a lot more relaxing where you can walk around, change spots, and it also has cleaner toilets. You can check out more about this journey in the below video.
---
Where To Catch The Slow Boat In Huay Xai
Once you have crossed the Thai Laos border you can head to the slow boat pier. This is around a 30-minute walk from the main town. Though with all your luggage I recommend getting a tuk-tuk instead.
You must simply advise the tuk-tuk driver to take you to the slow boat pier. They will know what you mean as that is where 90% of travelers in the area go. This should just cost you a couple of dollars.
---
🚗 How I Book Cheap Transport In Thailand & Laos: 12Go Asia
---
Slow Boat To Luang Prabang Price
Once to the pier, you will need to buy your tickets for the slow boat Huay Xai to Luang Prabang. The ticket booth is on the top of the hill above the road. The price is $20.70 / 430,000 LAK for the 2-day journey to Luang Prabang.
You will need to bring your passport and cash along with you when you book it. They will give you a ticket and a seat number in exchange.
You can book the slow boat in the town of Huay Xai itself rather than having to go down to the pier. However you will pay a few dollars more for the luxury of a third party organizing it all for you, but it will include a tuk-tuk transfer. The price of this is $21.20 / 440,000 LAK.
If you are on a strict itinerary it will be best to spend 1 night in Huay Xai so you can book tickets for the boat the day prior. Though you can risk it as I did and simply turn up on the day and hope for the best.
---
First Day On The Slow Boat Thailand To Laos
After taking a tuk-tuk from the border to the pier we are quickly directed to the ticketing booth to purchase the slow boat tickets which would take us to Luang Prabang. They took our passport information and we were given allocated seat numbers.
Heading down to the boat we dump our bags at the back and wait patiently at our seats. There are about ten other people on the boat. Though the list at the ticketing office was already quite full. Unfortunately, James and I are not seated together.
Though, we just switch around a couple of pieces of paper with 'seat numbers' written on them and chill out. Many other people did this as well. It ended up being the solo travelers sitting together and those coupled up in another group.
At this point, it is still mid-morning and the boat doesn't depart until 11 a.m. We stock up on snacks from a couple of nearby stores. It is six hours until we would next be off the boat so food is necessary.
As the boat begins to fill up the weight pushes us deeper into the water and the crew starts preparing to depart. The majority of people on the Laos slow boat are tourists. The seats on the boats are surprisingly comfortable.
They are chairs ripped out of old vans. Though, they are not bolted to the ground so it's a fight for legroom.
We head off not long after we are meant to and begin our journey down the river. The countryside goes by and it quickly becomes the same view for the next six hours. The speed we are traveling provides an extremely enjoyable breeze, a great relief from the hot temperature.
A six-hour boat trip with no books to read and a limited amount of battery left from the previous hours I spent playing Candy Crush has left me with not much left to do. I decide to grab a cup of noodles from the vendor at the back of the boat.
The overpriced $1.20 cup keeps me entertained for the next thirty minutes as I stare at our location on Google Maps slowly getting closer to Pakbeng.
---
Staying In Pakbeng
Arriving in Pakbeng was a great relief, I could not wait to get out and start stretching my legs. We arrived an hour earlier than expected and this is in the dry season when the water levels are low.
There is a mad panic with everyone grabbing their bags quickly. Ours is at the bottom since we were one of the first to arrive that morning, so we chill out and wait for the crowds to disperse a bit.
Departing the boat numerous people are standing around the river's edge holding signs up with available rooms. Pick-up trucks wait on the road to take people to their guesthouse. Pakbeng is quite a hilly area so the cars are much appreciated.
We booked at the Phomephithak Guesthouse for $14.00 total. We were one of those stupid people who booked via the guys who came onto the boat at the start.
Arriving at our guesthouse in all honesty it was not that organized. People were directed to rooms that were already full and not having enough available, even though it was all pre-booked. We ended up in a room with a double bed, private bathroom, and air-con.
At night we head down the road to find somewhere for dinner. My advice is to find somewhere with a good view of the river. We ended up at a restaurant just up from the Happy Bar. The food was reasonably good and by the time our meals came out the place was full.
I just ate a sandwich for $3.90.We also order our lunch for the next morning as well before heading off to bed at our Guesthouse.
The following day we get up to a slight chill in the air and the sound of roosters. Back down at the same restaurant as the previous night we grab breakfast and watch the elephants across the river have their morning bath.
The breakfast and packed lunch cost $5.40. Afterward, we grab our bags and head down to the slow boat pier.
---
🚗 How I Book Cheap Transport In Thailand & Laos: 12Go Asia
---
Second Day On The Slow Boat To Luang Prabang
Heading down to the slow boat the crowds are already lining up on the river's edge. We get worried it's too late to get a decent seat. Luckily as we line up they start filling up a second boat and we manage to snag a couple of seats near the front.
Continuing down the river for our last day on the journey we are all a little over it. I quickly fall asleep to the rocking motion and hearing the river rush by. I wake up to a wee bit of a commotion as the boat makes its regular stops along the river to drop off locals to their village.
A tourist's backpack and been taken off by someone thinking it is one of the locals. The Laotian people don't understand why this foreigner is freaking out and we tourists don't know how to say to the locals to stop driving away.
Luckily a young local woman can translate and they pull back into the river's edge to collect the bag. The young backpacker's life is restored and we all cheer in relief.
Continuing down the river, still equally as bored as the previous day it is time for noodles round two. I am vegetarian and I have no idea what type of noodles are which, especially as the lady behind the counter makes them.
I basically check which one appears less meaty, pick up any lumps of meat-looking substance. The overpriced noodles of $1.20 have kept me sane a little longer.
The last couple hours away from Luang Prabang the scenery on the river finally begins to change. It becomes a lot more mountainous with limestone karst jutting up out of the ground.
Personally, I think this is the most picturesque part of the journey and certainly gets you excited for the adventures to come in this amazing new country.
---
Arriving In Luang Prabang
One of the main things you will read online about the Laos slow boat journey is being dropped off in the middle of nowhere and having to pay ridiculous prices to get into the center of Luang Prabang. This is ALL old information.
Docking up at the port everyone forms a human chain to help get the bags off in a timely fashion. The late afternoon heat is intense and the sun is blaring down. Once we receive our bags it is a short but steep climb up the river bank. At the top is a formal tuk-tuk stand.
Here we gave our details, paid $2.40 per person, and then jumped on the next tuk-tuk leaving. In all honesty, it is extremely organized and no one was demanding ridiculous prices.
As we are leaving a few people walk along the dirt road to flag down a tuk-tuk. It is known that you will get a cheaper rate. Though, I could not imagine lugging my bag down there in this heat.
---
🚗 How I Book Cheap Transport In Thailand & Laos: 12Go Asia
---
Additional Tips For The Slow Boat
The toilets on these boats are not great. In all honesty, the toilet itself was not too bad, but lord did it flood. Try to go relatively early on in the trip and then hold on until you arrive in Pakbeng. I am going to assume it's water from the bucket that is used to flush the toilet, and fingers crossed no other kind of liquid!
Do not book your accommodation in Pakbeng in advance unless you are wanting to stay somewhere super-duper fancy! Even in saying this no place in Pakbeng is truly fancy and certainly not worth the prices you see online!
Do not listen to the man who will come onto the slow boat at the beginning of the journey and start selling accommodation. These beds are overpriced and it is a scam.
At Huay Xai buy some baguettes to bring onboard. Peanut butter and bananas were a favorite of mine. You can also preorder if you are staying in town to pick it up the next day. No one should live off cup noodles.
It's well known that the Laos slow boat seats in the back are the worst as the motors on the boat are literally deafening. This is no joke, they are crazy loud! Arrive early to get yourself a seat up the front half. You won't regret it.
Your Thailand SIM card will work for the majority of the journey! Yes, even though we are not in Thailand we are so close to the border that Thailand SIMs work and Laos ones do not. You can buy a Laos SIM card in Huay Xai. However, you will only be able to use it for a small portion of the journey on the first day.
---
What To Pack For The Slow Boat In Laos
While onboard the slow boat Huay Xai to Luang Prabang your main bag will be at the back of the boat and be basically unreachable until you get to Pakbeng, then the following day until Luang Prabang. As a result, you will want to bring a day pack with all of your necessities to ensure you have a smooth trip.
Jacket: The mornings on the Mekong River can be foggy and cold. Until the sun really starts shining you may find yourself a bit cold. Bring along a hoodie or jacket you can easily take off. This can also double as a pillow for ultimate comfort levels.
Sunblock: If the boat is facing a certain direction you may find yourself stuck under the sun. Definitely bring sunblock to prevent yourself from getting burned. You are basically stuck in those seats for the journey so there is no way to move.
Sunglasses: It'll definitely be worth bringing sunglasses along with you. The sun shining off the Mekong can be super bright so protect your eyes by bringing along a pair of sunglasses.
Toilet Paper: The toilets on the boat are not the best and trust me just bring toilet paper or wet wipes. This is something you should always carry in your day pack from Southeast Asia anyway as you never know when you could get stuck.
Snacks: Feel free to live on overpriced cup noodles. Though instead I highly recommend bringing your own snacks on board. I mean you don't go on a road trip without snacks, so don't do the slow boat without them either! There are shops down at the slow boat pier which sell a variety of nibbles.
Entertainment: Now I don't know what you do for fun, but I presume it's not taking a 2-day slow boat in Laos. Anyway best to take some sort of entertainment. Whether that is a battery pack to charge your phone, or some paper to write your adventures down in.
Unfortunately, there are no tables so I wouldn't bother with cards, etc.
---
Where To Stay In Luang Prabang?
There are plenty of choices when it comes to choosing accommodation in Luang Prabang. From the impressive 5* resort, historic hotels, simple hostels, and locally owned guesthouses, you will find something to fit your budget and needs.
During our recent visit, we stayed on a quaint little side street minutes from the center and Mekong River. I fell in love with this little spot. There are a few budget guesthouses and nicer hotel-style accommodations available down this street.
Check out Mylaohome Hotel & Spa for comfortable rooms, an awesome spa, and a delicious cafe onsite from $23.00 per night. There is also Villa Pumalin which has an indoor pool and beautiful wooden rooms starting at $30.00 per night.
A chill hostel with friendly staff. Dorms start from $6.50 per night inclyding breakfast.

BOOK NOW

More of a luxe hostel with great facilities. Dorms start from $10.00 per night including breakfast.

BOOK NOW

A great location and with rooms starting from $45.00 per night including breakfast.

BOOK NOW

A walk from the city attractions, starting from $26.00 per night with breakfast.

BOOK NOW
---
FAQs About Taking The Laos Slow Boat
Where do you get the slow boat from to Laos?
The slow boat starts in the border town of Huay Xai in North Laos. You can catch the boat to Luang Prabang from the slow boat pier.
How long is the slow boat from Thailand to Laos?
You will spend 2 days on the slow boat from Huay Xai to Luang Prabang with an overnight stop in Pakbeng. How long you spend on the boat depends on the water levels, though you can expect to spend 6 to 7 hours each day onboard.
How much does the slow boat to Laos cost?
The price is $20.70 / 430,000 LAK for the 2-day journey to Luang Prabang.
Does the slow boat to Laos run every day?
Yes, the slow boat to Laos runs every day. In the high season, you may find there are multiple morning departures.
What time is the slow boat to Laos?
The slow boat leaves for Luang Prabang at 10.30 am from Huay Xai. If you already have tickets then I recommend arriving 30 minutes prior. However, if you don't already have tickets you will want to arrive as early as possible to try to book a spare seat.
Where do you get the slow boat from to Laos?
The slow boat starts in the border town of Huay Xai in North Laos. You can easily catch the boat to Luang Prabang from the slow boat pier a short drive out of the town center.
---
Other Things To Do In Luang Prabang
There are plenty of awesome things to do, so much I recommend spending at least three days in Luang Prabang. It's an awesome city with gorgeous landscapes, some of Laos best waterfalls, and delicious food.
---
🚗 How I Book Cheap Transport In Thailand & Laos: 12Go Asia
---
Ready For The Slow Boat To Luang Prabang
Now you have read absolutely everything you need to know about taking the slow boat to Laos you should be able to do this 2 day journey with ease!
Don't fall for the scams, snag yourself a comfortable seat and bring some snacks and your journey from Huay Xai to Luang Prabang will fly by.
---
LIKE IT? PIN IT!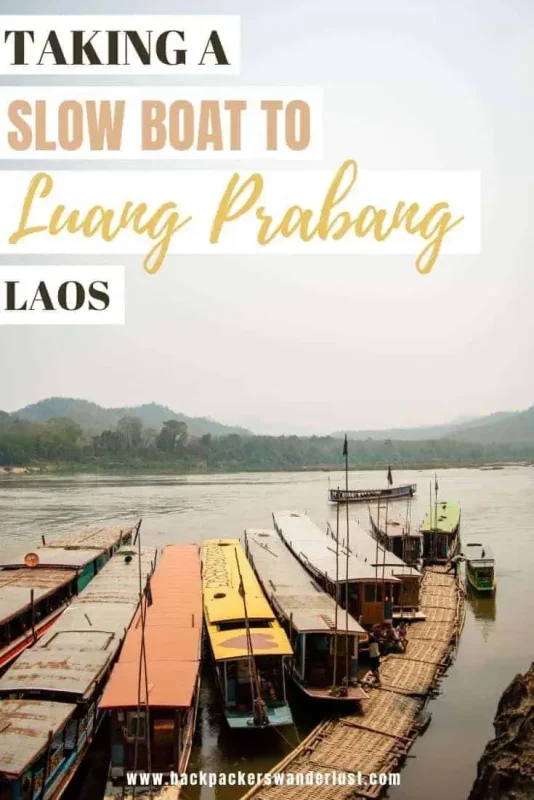 ---
Want more Laos Inspiration? Check out….
---
Disclaimer: This post contains affiliate links. So, if you click on it and purchase something, I get a small percentage at no extra cost to you. As always all opinions are my own and your support is much appreciated.
Photo credit: "Chiang Khong, Thailand 22" (CC BY 2.0) by JamesAntrobus . "The slow boat up the Mekong River in Laos" (CC BY 2.0) by DanSearle
Related Posts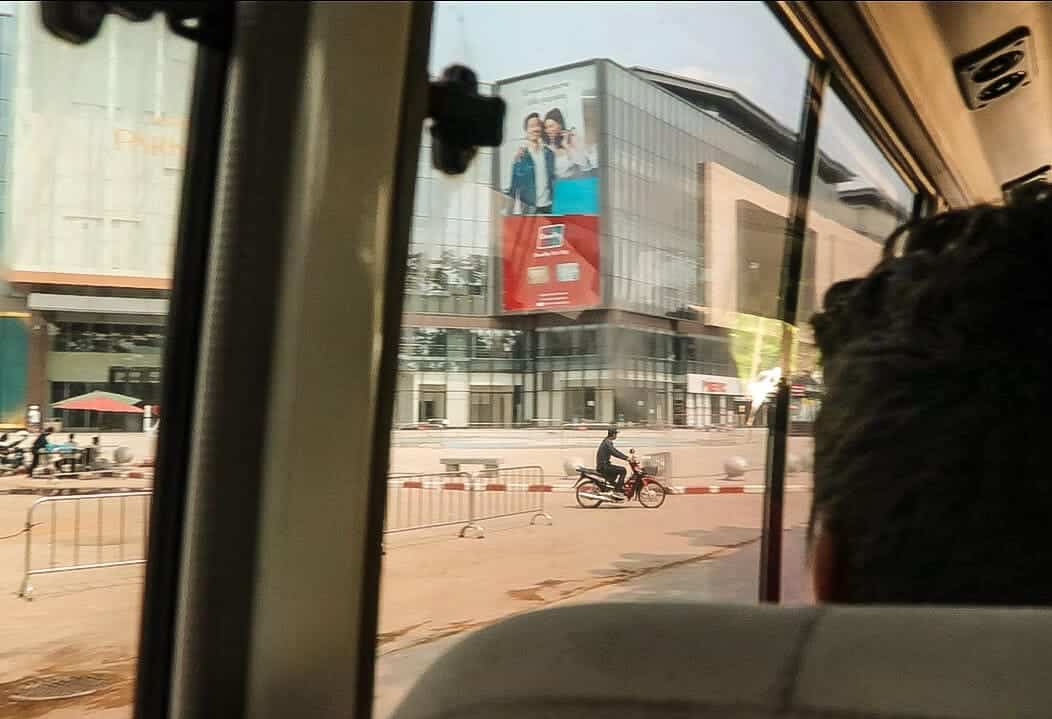 Find out the best and easiest way to travel from Vang Vieng to Vientiane in [...]
1 Comment
Looking for the best hostels in Luang Prabang? Well, I have compared the price, facilities, [...]
1 Comment
Looking for the best hostels in Vang Vieng? Well, I have compared the price, facilities, [...]
1 Comment