Find out the perfect one day in Vientiane itinerary to ensure you have the ultimate stay in Laos capital city. Learn about the best things to do, restaurants, where to stay, and more to make the most out of your 24 hours in Vientiane!
---
Vientiane is not a common backpacker destination. There are some interesting things to do here, though most travelers seem to use it as a midway point between Luang Prabang or Vang Vieng and their next destination whether that is Southern Laos or another country.
Nevertheless, whether you ended up with an extra day before your next destination or it is planned, don't worry because surprising to many travelers, there are some good ways to send one day in Vientiane.
Honestly, my first trip to Vientiane was an absolute flop. So, I was glad to find myself back here earlier this year, even if it was only for 24 hours. A word of caution if you are tubing in Vang Vieng before Vientiane, do not drink the river water!
I spent the following few days absolutely sick. Though, I was super happy to get out and about this time so I could write this perfect one day Vientiane Itinerary so you can make the most out of your time with your 24 hours.
---
24 Hours In Vientiane: A One Day Vientiane Itinerary For The Best Time
---
One Day In Vientiane Itinerary
Morning- Patuxai & Temples
Start exploring the capital of Laos by checking out some of the impressive monuments and temples which call it home. Though, before you do it is best to start off with a delicious breakfast to keep your energy levels up! An excellent option for those caffeine lovers is Coffee Hut.
They have a wide variety for your breakfast fix while on a budget. If you are looking for fresh juices and bites another great choice is Noy's Fruit Heaven. Quality ingredients make for the best food so you cannot go wrong here!
Now you are fueled for the daytime to check out some of the best temples and monuments around Vientiane:
Patuxai is a popular landmark among tourists and might even remind you of a certain attraction in Paris. This Arc is an impressive structure in itself, though make sure to climb to the top for the ultimate views.
It was constructed to give commemoration to the Lao citizens who died during the war against France. Even though it is similar to its European counterpart, this one is covered local cultural influences.
To climb to the top there is a fee of $0.35 / 3,00LAK, which is nothing for the impressive views. Watch the traffic circling you as you enjoy the gorgeous surrounding gardens.
This is one of the most popular attractions in Vientiane so it is definitely a smart idea to come here in the morning when it is relatively quiet and the temperatures are not soaring yet.
Pha That Luang is one of the most important monuments in Laos and no doubt the most Instagram famous in Vientiane. It was built back in the 1500s and is one of the defining symbols of Laos. Representing the religious roots of the country it has a mixture of Hindu and Buddhist influences.
There is an entrance fee if you wish to go inside some of the temples within the ground. Though the majority of visitors simply just enjoy the view from the outside. There are plenty of different temples and stupas to see around Pha That Luang so it is easy to spend a considerable amount of time exploring the grounds.
---
Afternoon- COPE Center (History Of Laos)
On your way from Pha That Luang to the COPE Center, you are best to stop for lunch. Tyson Kitchen is a popular restaurant serving delicious western meals. This place can get very busy so you are best to go for lunch because you might be waiting for a table at dinner. Make sure to try one of their wood-fired pizzas!
I didn't know what to expect when visiting the COPE center, but I am so glad I did. The Vietnam War is known throughout many countries, though what many overlook is that Laos also sustained a devastating amount of damage.
It was actually part of the Secret War during the 60s and 70s and bombed so much that it was equivalent to one planeload of bombs being dropped every 8 minutes for a decade. It still holds the title of the most bombed country on earth.
As you can imagine this had a major effect and resulted in many lost limbs. COPE was set up to assist them. Providing artificial limbs, wheelchairs, and physical rehabilitation. Visiting the COPE center is well worth it and an extremely educational experience.
You will learn about the bombings and not just psychological effects, but the fact that there are still many bombs in Laos yet to be detonated.
There is also the Karma Kafe at the COPE center itself which serves fair trade coffee and ice cream. This might be the perfect place to finish off your COPE experience and digest all the information and facts you have just heard. All profits from here also go towards supporting COPE and its mission within Laos.
Check out my 2 weeks in Laos Itinerary!
---
Evening – Night Market
Head down alongside the riverfront to enjoy a sunset in the evening. Here you will also find the Vientiane Night Market. This market is a lot different from the other evening markets I have come across in Laos, and by that I mean it is not as touristy.
You won't find any of those tacky souvenirs, instead, it is a much more local experience. Here they sell technology, clothing, food, and all sorts. Whether you are after a knock-off watch, some sneakers, headphones, you will definitely have no problem finding these items here.
I found it a great place to shop for general items I might have lost or have broken along my travels.
You can either have dinner here at the night markets or there is an excellent local restaurant up from Tysons Restaurant. It is located on the same side of the street and will be absolutely full of locals are tourists enjoying a delicious Lao meal.
The prices here are ridiculously cheap and you will not be spending a couple of dollars for a delicious meal. Their kitchen area is very small and basically on the side of the street so there may be a bit of a wait for your meal. Just grab a beer, relax and enjoy the experience.
After dinner, be sure to head back down to the waterfront to enjoy an evening beer at one of the bars. They like to call them 'sky bars, though the views are only from about 6 floors up so set your expectations accordingly. Nevertheless, there is still an impressive view from above over the river and the bustling night market.
Now, time to get a little bit of rest before continuing your adventures and departing Vientiane.
---
More Time In Vientiane?
If you have a bit longer in Vientiane I highly recommend visiting Buddha Park. This is more of a day trip from Vientiane, being located 25 kilometers outside of the city, it will take between 40 minutes to 1 hour to travel the distance.
Nevertheless, it is well worth it to make this journey for a unique experience. You can download the 'Lao Bus Navi' app which has real-time details on bus schedules and departures in Vientiane.
Once there you will find many Buddhas as well as Hindu Gods. It is a truly interesting experience and is very popular among tourists. Even if it looks a bit dated, this park is actually rather new, having been built in 1958.
To get to Buddha Park you have two options. The first, and easiest, is to go on a guided tour. This will include transportation and a guide which will be able to provide further information on the history.
The second is to take the bus there. You will need to ride bus number 14 from the morning market at a cost of $1.00 / 8000LAK.
Entry into the Buddha Park itself costs $1.75 / 15,000LAK.
---
Travel Tips For Vientiane
Where To Stay
There are plenty of choices when it comes to choosing your accommodation in Vientiane. From 5* resorts, historic hotels, simple hostels, and locally owned guesthouses, you will find something to fit.
During my most recent visit, we stayed at Mixay Paradise Guesthouse. The rooms pictured online are a lot nicer than the ones we had just walking in. So you might get a better deal when booking online with rates starting room $20.00 per night.
Another choice is Mekong Riverside, which offers air-conditioned private rooms for $16.00 per night. In my opinion that is a great deal, especially in such a good location.
Traveling Around Vientiane
The easiest way to get around Vientiane is by using the LOCA app, which is essentially the Uber and Grab of Laos. It will save you from having to haggle to get a good price and is an excellent choice for navigating the city. As always there are the tuk-tuks you can use as well.
There are plenty of these around and it will not take you long to find one.
---
Any Questions? Let me know in the comments!
---
LIKE IT? PIN IT!
---
Want more Laos Inspiration? Check out….
---
Disclaimer: This post contains affiliate links. So, if you click on it and purchase something, I get a small percentage at no extra cost to you. As always all opinions are my own and your support is much appreciated.
Related Posts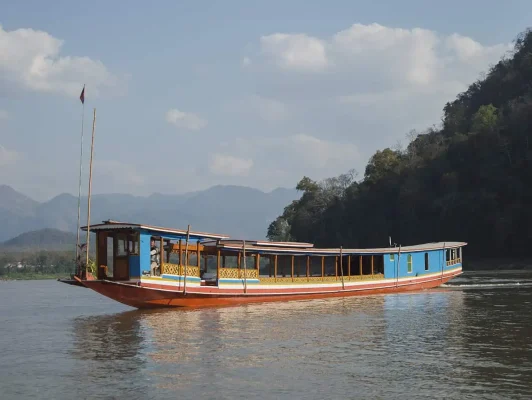 Thinking of taking the slow boat in Laos? Find out absolutely everything you need to [...]
47 Comments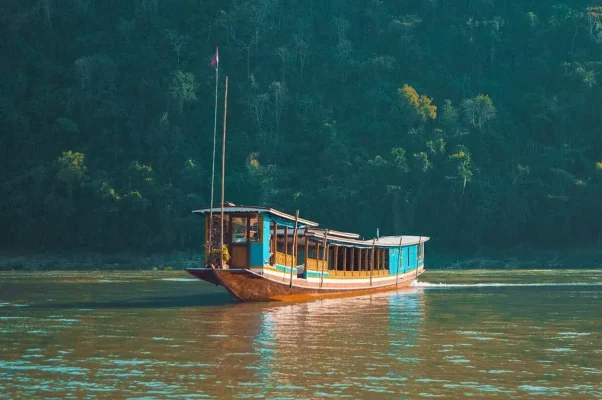 Find out exactly how to travel between Chiang Mai to Luang Prabang. Comparing taking a [...]
61 Comments
Find out all you need to know about visiting Tham Chang Cave in Vang Vieng [...]