Find out absolutely everything you need to know about common scams in Laos to help you keep safe. Learn about what to look out for, situations to avoid, and more as I explain how to can have a scam-free trip to Laos.
---
Researching a country is important before you travel there. It will help keep you safe and simple make for an easier, stress-free time.
This is something I have always done before venturing somewhere new, and luckily I have avoided scam situations the majority of the time.
Laos is in no way a dangerous country. Though, scams are everywhere in some form, no matter where you travel there is a chance you will come across one. The most important thing when traveling is keeping yourself safe and away from dangerous situations.
Scams in Laos may only cost you $20.00 or could set you back thousands.
---
Scams In Laos: All You Need To Know To Keep Safe
---
How I Book Cheap Transport In Laos: 12Go Asia
---
Ripped Bank Note Scams In Laos
Unfortunately, ripped banknotes in Laos are essentially worth nothing. These notes, like anything over time, deteriorate and break down, essentially ripping and becoming worthless.
Obviously, people try to pawn these broken notes off to each other to receive the usual benefit, and placing the receiver in a less-than-ideal situation; either admit defeat or continue the chain and pawn it off to someone else.
This is definitely something that has happened to me before while traveling Laos, and unfortunately, I didn't realize they were worthless until I tried to buy something with them. Not going to lie, I did strategically pawn them off down the track.
How To Avoid:
As us tourists are usually the most naive, we are the common victims of receiving these damaged notes. It is likely the most common scam in Laos and one you will no doubt experience.
Money exchangers are notorious for this, so be sure to double-check each note they give you. Inspect it carefully, don't walk away, and do it later, even if there is a line behind you. If there are any issues state you need it swapped.
Be aware, if you walk away and come back later, they will pretend that they do not remember you.
---
Motorbike Rental Scams In Laos
This is a surprisingly common scam in Laos and actually one of the reasons we avoided hiring a motorbike during our previous visits.
Usually, other countries in Southeast Asia have the standard issues of getting your passport held hostage while the owners demand money for damages not caused by you. Unfortunately, in Laos, they take this to a whole new level.
It has become an infamous situation for the motorbike hire staff to come and 'steal' their motorbikes from those who have hired them. Obviously, the person renting the motorbike doesn't realize it was actually the company that has stolen the bike.
This leaves the person responsible for the motorbike in an extremely awkward and difficult situation. Now when they go turn up to the motorbike rental store without the bike, they will be forced to pay exorbitant amounts. Though, unbeknownst to them the bike is in the owner's possession.
How To Avoid:
Apart from the obvious of not hiring a motorbike, there will always be some sort of risk when hiring a motorbike, especially in Laos. The best thing you can do is asking other travelers if they have hired one and their recommendations.
You could always ask your hotel or guesthouse for their recommendation, though there is a risk that they may get kickbacks or a certain percentage of the money made by recommending you to certain shops.
---
Hotel Theft Scams In Laos
Unfortunately, Laos has gained quite a reputation for hotel thefts over the years. The majority of accommodations throughout the country are locally owned guesthouses.
With more relaxed rules being privately owned, it seems to provide the perfect opportunity for staff and owners to take advantage of travelers. The majority of the time money is what is being stolen.
I feel like this might have happened on my most recent trip to Luang Prabang, Laos. Though, I don't count my money every day, meaning I had no proof and was not 100% sure I was a victim.
How To Avoid:
Not all guesthouses or hotels are bad, in fact, there will only be a small percentage that has essentially caused this bad reputation. The best thing to do is to research your accommodation before booking and look at reviews.
These reviews are important as they provide an unbias perspective. If you are booking a fair amount of time in advance, I highly recommend you look at updated reviews closer to the date of your stay.
Things can change fast, and you will want to have the option of canceling if the past few guests have had negative experiences.
---
Short Changing In Laos
When shopping in the markets in Luang Prabang, or anywhere in the country, there is the possibility of being short-changed. This could come in a variety of forms. Whether they have simply given you the wrong note change or suddenly altered the price when you handed over your money.
This is simply a risk you take while traveling and could literally happen anywhere around the world.
This is certainly something to look out for while shopping in the Luang Prabang Night Market and other markets throughout the country.
How To Avoid:
Be sure to double-check and triple-check the change you are given. You can say aloud the amount of notes you are handing over so the seller knows you are aware of exactly how much cash is there.
Also when haggling don't just do it vocally, but you can write down on your phone how much you want to purchase it for. Ultimately avoiding any miscommunication and decreasing opportunities for the seller to randomly increase the price.
---
Slow Boat: No Accommodation Scams In Laos
If you are deciding to take the slow boat from the Thai-Lao border town of Huay Xai to Luang Prabang you will no doubt come across this scam. All is going well and you are sitting on the infamous Slow Boat.
Though, before departing a local gentleman will come on stating to be an official guide and that there is no accommodation in Pakbeng. That your boat is the last one of the day so all the guesthouses will be full by the time you arrive that evening.
A list will come around and you can put your name on it, you will need to pay in advance for the room so you cannot back out (usually around $20.00). Be aware there are so many guesthouses in Pakbeng and they WILL NOT sell out.
I will admit I got scammed with this one. Even though I read about it online in advance. I mean what if it was true and there would be nowhere to stay at night.
In all honesty, the room we stayed in was rather okay, but it certainly wasn't worth the crazy price we paid for it (about $20.00).
Even though it's not that much money, they sell probably about 10 rooms per boat, which is at least an extra $100.00 for them than if the customers didn't believe their tricks and booked a room once they arrived.
How To Avoid:
The best way to avoid these scams is by being knowledgeable and standing your ground. There will always be a guesthouse available in Pakbeng and a lot cheaper than the gentleman will be offering it.
This scam basically works thanks to the limited internet available in Pakbeng. This way the guesthouses cannot put their rooms online for tourists to book in advance. Though some still seem to do it and sell each one for crazy prices online, you can see it here.
---
Morning Alms Rice Scam In Laos
Now tourists participating in the Morning Alms in Luang Prabang is a controversial subject to start with. I recently traveled around Laos with an ex-monk who now calls Luang Prabang home. He advised me that only people who practice Buddhism should partake in the Giving of Alms ceremony.
Nonetheless, tourists still join in each morning and it is up to you whether to make the informed decision to do so or not. As for the scam itself, it is extremely common that a local will pressure you into partaking in the ceremony.
Sitting you down on a mat and giving you found to pass to the monks. Once the ceremony is over the locals will demand you pay them a ridiculous price to cover the food they provided you with.
If they provide a cost upfront for the rice or food they provide you with, it will be too small of a portion to feed the monks. Once you have given it all away relatively fast the local will quickly re-top up your basket with more food.
This cycle continues and before you know it you are having to pay 6 or 10 times the original price for all the top-ups the locals provided.
You can check out the Alms Giving Ceremony on Trip Advisor and search "scam" to see just how common it is!
How To Avoid:
The best way to avoid this scam is to simply not participate. Just say no to the locals when they try to get you involved. At the end of the day, they have their own interests at the heart of making money, not providing for the monks.
If you wish to check out the Alms Giving Ceremony in Luang Prabang simply stand on the other side of the street, give the locals and monks space and respect this practice.
Turn your camera's shutter off and be as silent as possible. You can also head off the main street and into a more local area for a more authentic experience.
---
Happy Restaurant Drug Scams In Laos
With Vang Vieng's party town ways in the past. The 'happy' restaurants and certainly decreasing in popularity. Though when you have minimal care they can seem like an enticing deal.
Unfortunately, many of these places are involved with corrupt police. Even though it is 'safe' for you to consume drugs on their premises, as soon as you step outside the door you might be greeted by some local police.
Whether you are high yourself or have taken some food with you, you are now in breach of the laws.
Police here can be paid off but be prepared for it to cost you quite a bit. Generally, around $1000.00 will save you from a Laos jail, though it will put a dent in your travel budget.
How To Avoid:
Luckily many hostels in Vang Vieng have signs around warning of this common scam. Though the best thing you can do is simply avoid these restaurants and eateries.
On my most recent visit to Laos these places were completely abandoned by tourists and now seemed to be catering for locals. Though that doesn't mean a couple of rouge tourists may enter and end up costing them a lot more than expected.
Drugs are illegal in many countries in Southeast Asia and the penalties and certainly not worth the high.
---
Other Important Things To Be Aware Of In Laos
These aren't considered scams per se. They are everyday things which you should simply be aware of to save you money.
Bridge Tolls:
Some bridge tolls are official, others aren't. Nevertheless no matter where you turn it can seem like they are constant. If you are taking a tuk-tuk somewhere as a tourist, likely the driver will insist you pay the toll.
Depending on whether you are on a motorbike, car, truck or even walking will depend on the amount the toll is. Of course, if you are returning in the same direction be prepared for another toll.
ATM Fees:
Seemingly nearly impossible to avoid, ATM fees can add up fast! This is especially true when backpacking Laos on a budget. Though, here in Laos, some ATMs charge a lot more than others. BCLE is the cheapest ATM to use with fixed fees throughout the country.
USD to LAK Conversions:
Lastly, just be careful when staying at hotels that list their prices in USD and convert it to LAK. Sometimes they will add an extra $20.00+ during converting the process and unless you are aware of the current rates you may not notice.
---
How I Book Cheap Transport In Laos: 12Go Asia
---
LIKE IT? PIN IT!
---
Want more Laos Inspiration? Check out….
---
Disclaimer: This post contains affiliate links. So, if you click on it and purchase something, I get a small percentage at no extra cost to you. As always all opinions are my own and your support is much appreciated.
Related Posts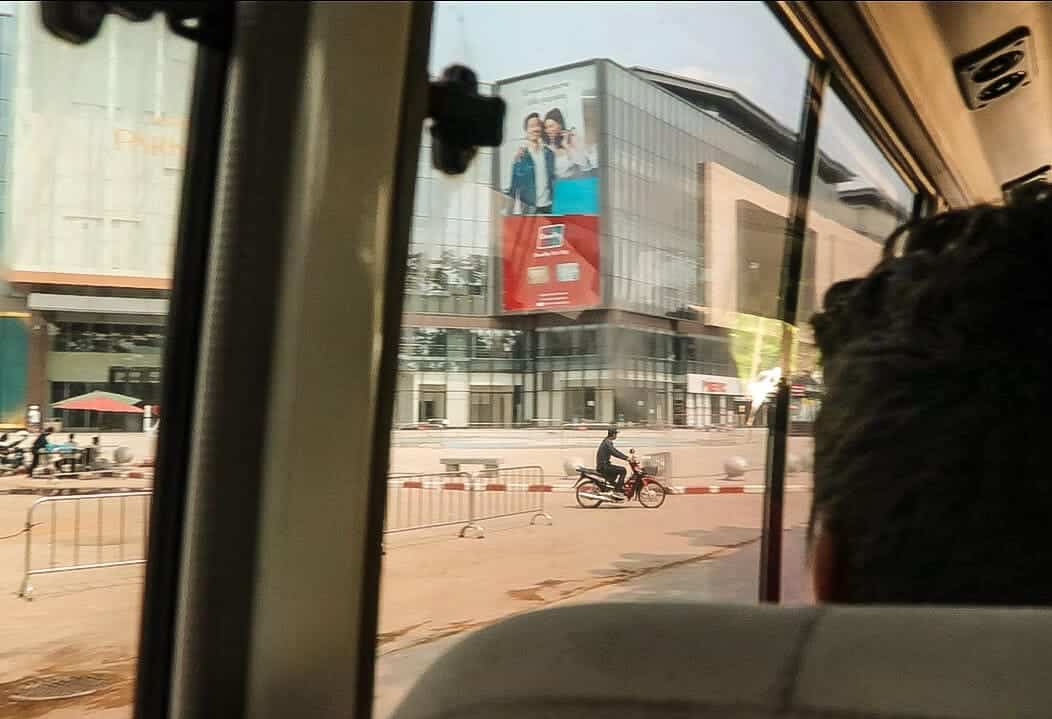 Find out the best and easiest way to travel from Vang Vieng to Vientiane in [...]
1 Comment
Find out everything you need to know for backpacking Laos on a budget. Learn about [...]
1 Comment
Come find out everything you need to know about going river tubing in Vang Vieng, [...]
2 Comments