Find out all you need to know about visiting Tham Chang Cave in Vang Vieng and the secret Blue Lagoon Two which is also located there. This includes how to get there, what to do, entry fees, where to stay and more!
---
Vang Vieng is such an awesome town with plenty of adventurous activities to keep you busy. There is also some incredible nature with the bluest lagoons, insane viewpoints and plenty of caves. This includes Tham Chang Cave which involves a little bit of everything and is well worth the visit if you are in Vang Vieng, Laos.
On the outskirts of the town, high in one of the money limestone rock formations hides the cave. Though, at certain parts of the day, it definitely seems less of a hidden oasis and more of a tourist farm. Depending on when during the day you decide to visit, there can be one hundred plus tourists also there. Buses pile up in the carpark, out of breath people block the stairway. All in all, it is worth the visit, you have just got to time it correctly.
Visiting Tham Chang Cave & Blue Lagoon Two In Vang Vieng
---
How I Book Cheap Transport In Laos: 12Go Asia
---
The History Of Tham Chang Cave
Tham Chang Cave was an important feature during the early 19th Century. During this time it was used as a bunker in defense against the Yunnanese Chinese invaders. It is obvious to see why they used it as a bunker. There is an excellent view of the landscapes as far as the eye can see so they could know if the intruders were coming. The caves themselves are also a very good size meaning hundreds of people could fit inside.
---
Why Visit The Caves?
If you are visiting Vang Vieng then I highly recommend a visit to the cave. They are located fairly close to town, actually close enough that you can walk if you would like, though I will get into that all a bit later. Vang Vieng is home to some amazing natural formations and beautiful landscapes and these caves are another one which you need to check out. This town is so much more than tubing!
Next to the caves runs the Nam Song river, making for a peaceful environment. Though the cave itself is certainly the highlight of the visit. There is a bit of a climb to get to the top, but it is all worth it. Covered in stalagmites and stalactites the cave is certainly one of beauty. The formations inside the cave sparkle against the brightness of the torch. Caves are also nature form of air conditioning so it provides great relief from the crazy Vang Vieng heat.
All in all, it is definitely worth visiting the caves to discover a different part of Vang Vieng. This town is so much more than river tubing and partying!
---
Tham Chang Cave Entry Fee
The Thamm Chang Cave entry fee is 15,000LAK / $1.70. Also depending on how you get there, there could be an additional 'parking fee' involved. For a motorbike, this charge is 3,000LAK / $0.34.
---
Tham Chang Cave Opening Hours
Tham Chang Cave is open 8am until 4pm, 7 days a week.
---
Getting To Tham Chang Cave
It an easy-to-access location, the caves are not too far from the Vang Vieng city center. The easiest way would be hiring a motorbike for the day. This is a cheap way to check out the Tham Chang Cave, as well as other awesome spots around Vang Vieng. Hiring a motorbike should cost you approximately 50,000LAK / $7.00 per day. Just be aware of the notorious motorbike scams in Laos.
The other option to get to the cave is to walk. It is not located too far out of the center and is approximately a 2 kilometer walk away. If you do decide to walk be aware you will need to pass through a resort to access the beginning of the trail which takes you to the cave. This resort charges a 2000LAK / $0.20 fee to pass through. So just be aware of that. Once you have crossed over the big orange bridge you can simply turn left and follow the path. If there are crowds around which is likely, you can just follow them to figure out where to go. There is a ticket booth below the cave itself which is where you pay the entry fee.
---
My Experience
I actually visited Tham Chang Cave with my Stray Asia Group tour. We were just about to leave Vang Vieng for Vientiane, though not without a stop here to marvel at some more natural beauty of the area.
We arrived at the caves at about 10am, which honestly seemed like a super touristy and busy part of the day. The carpark was full of buses and there were quite a lot of people about. My recommendation would be to come as soon as it opens or late in the afternoon. This place would be even more special with fewer crowds, so if you have a flexible schedule then I would try for around those hours. Jumping off the bus we walk along the big, bright orange bridge across the Nam Song River. A short 5-minute stroll later we are at the bottom of the staircase which leads up to the cave.
We decided to conquer the worst part first, climbing the 200+ stairs to the cave before exploring the lower area. It is quite a steep climb up, though luckily there are a few flat bits you can stop to catch your breath. Once you reach the top there is a tunnel-like entry which opens up into the interior of the cave. The ceiling is 4+ meters high and filled with impressive stalagmites and stalactites. There are lights on the inside highlighting its beauty so you don't need to bring a torch. The only thing I didn't like was some of these lights were colored, giving it a sort of 'disneyland-ish' feel. There is also a viewpoint on one part of the cave which looks over the countryside and township of Vang Vieng.
At the bottom of the staircase, we go for a walk around to check out some more of the beauty surrounding Tham Chang Cave. Here is a smaller, less impressive cave, as well as the 'secret' blue lagoon two which I will cover in a bit more detail below.
---
The Secret Blue Lagoon 2
There are 3 blue lagoons in Vang Vieng, the touristy Blue lagoon 1, the secret Blue Lagoon 2 and Blue Lagoon 3. Well, blue lagoon 2 is actually located at Tham Chang Cave. There is a small river with a couple of pools at the stairs leading up to the cave and this is where the secret blue lagoon 2 is located.
At the pools, there were a couple of ladders leading down for easy access into the pool. Now, this was much nicer, clearer and had basically no people swimming in them compared to the other lagoons around Vang Vieng. Though, I am not personally sure if I would actually swim here myself or not. It was absolutely idyllic and picturesque. Though what concerns me is you are essentially right next to the entry of Tham Chang Cave with hundreds of tourists entering and exiting. Then again it's each to their own and yes, it might be cool for a quick Instagram photo. I personally just would not feel comfortable swimming right next to all those people going about their business.
---
What To Bring To Tham Chang Cave
It is likely that you will be visiting during the dry season. Therefore you will definitely want lightweight clothing which is breathable. The sun here is intense so do not forget sunscreen as well.
For your adventures inside of the caves, shorts and a tee-shirt will be fine. It is cold inside, but not that cold. In terms of footwear, sneakers will be the best choice. Your feet will not be getting wet and you will want something with a good grip and that is comfortable for the climb up. Also, you could bring your swimwear and a towel if you are wanting to swim at blue lagoon two during your visit. There is also a public bathroom which you could get changed in a few minutes away from the lagoon.
Definitely we sure to bring your camera as well!
---
Where To Stay In Vang Vieng?
Find the best hotels in the area
A relaxed and chill hostel slightly outside of the center. From $9.00 per night.

BOOK NOW

A social and party hard hostel on the main road of the town. From$4.00 per night.

BOOK NOW

One of the newest guesthouses in the city. From $30.00 per night with breakfast.

BOOK NOW

A luxurious hotel with amazing views. Prices start from $100.00 per night.

BOOK NOW
---
Other Things To Do In Vang Vieng
There are plenty of awesome things to do in Vang Vieng apart from the cave. If you can I recommend you hire a bicycle or motorbike to explore some of the beautiful landscapes of the region. Honestly, the best thing you can do is getting out of the main town, whether that is hiking a viewpoint or going river-tubing. All in all Vang Vieng is an awesome chill town worth checking out in Laos and while you are there it is definitely worth checking out the impressive Tham Chang Cave.
---
How I Book Cheap Transport In Laos: 12Go Asia
---
LIKE IT? PIN IT!
Want more Laos Inspiration? Check out….
Disclaimer: This post contains affiliate links. So, if you click on it and purchase something, I get a small percentage at no extra cost to you. As always all opinions are my own and your support is much appreciated.
Related Posts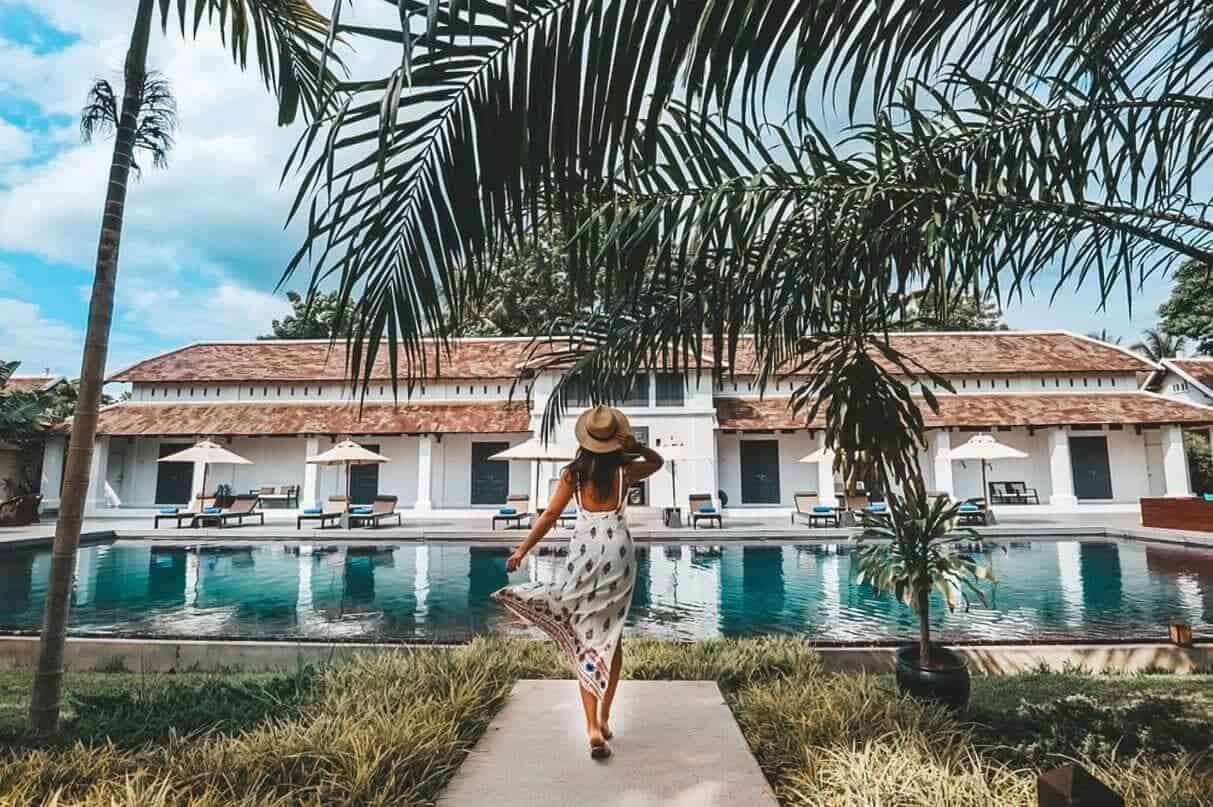 Find out where to stay in Luang Prabang for the ultimate holiday. I have compared [...]
1 Comment
Thinking of visiting Pak Ou Caves in Luang Prabang? Find out absolutely everything you need [...]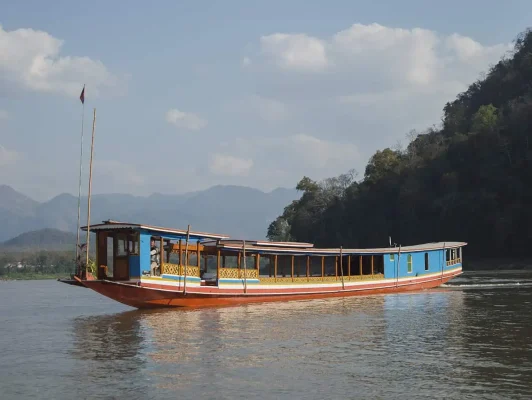 Thinking of taking the slow boat in Laos? Find out absolutely everything you need to [...]
47 Comments