Wanting to visit the Luang Prabang Night Market? Find out absolutely everything you need to know such as where it is located, times, what you can buy, prices and more!
---
No doubt one of the best things to do in Luang Prabang is visiting the incredible Luang Prabang Night Market. Spend an amazing evening here exploring the beautiful souvenirs, trying some delicious food, and shopping to your heart's content.
This is a place where locals and travelers mingle appreciating the culture and the handicrafts. Everyone interacts, converses, eats, and shops all in one location.
When a night market is held every night you know it has to be an amazing one! This is exactly what the Luang Prabang Night Market is and so much more. With stalls and shop selling everything, you could ever want it is easy to spend hours exploring the winding lanes which run throughout the city.
It's a must on your Luang Prabang itinerary!
So let's get into everything you need to know about visiting the Luang Prabang Night Market. This includes hours, location, what to buy, prices, and more!
---
Luang Prabang Night Market: What You Need To Know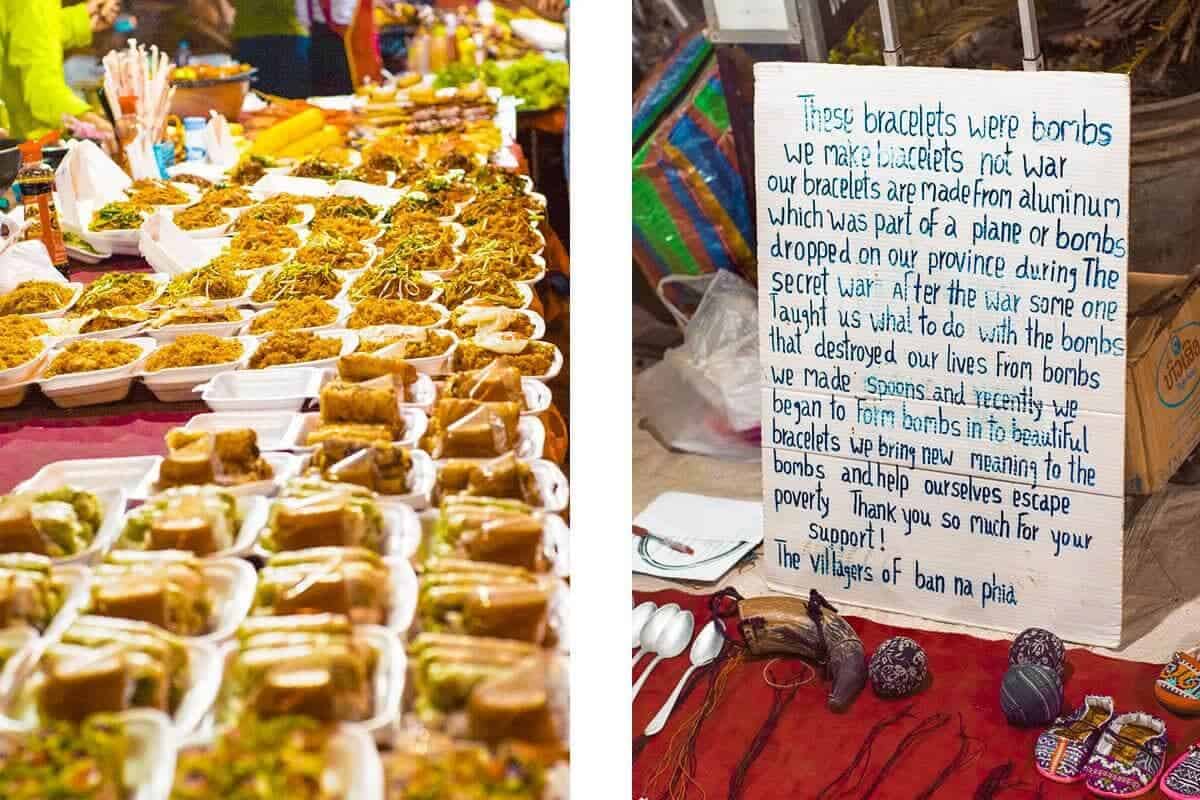 ---
Why Visit The Luang Prabang Night Market
When I am in Luang Prabang literally every evening you will find me at the Night Markets. No, even though it sounds like I may be, I promise I am no shopaholic. I mean I travel with a backpack so my shopping is kept to a minimum!
Though there is just something so special about the Luang Prabang Night Markets which draw in the crowds each and every evening.
Here you can find everything you could ever want. There is a wide variety of dinner options suitable to budget travelers and the nearby restaurants cater for those willing to spend a little bit more. You can also find plenty of affordable souvenirs here as well as clothes, yes, of course of elephant pants.
Overall the Luang Prabang Night Market has a much more relaxed vibe than many of the other markets I have visited in Asia. You are not hounded by the vendors and it's all smiles and laughs. It's the perfect way to spend a chilled-out evening after watching the sunset along the Mekong River.
Exploring The Luang Prabang Night Market While In Luang Prabang, Laos
---
Luang Prabang Night Market Hours
The Luang Prabang Night Market is open 5.00pm until 11.00pm each evening. This means you have absolutely no excuse not to visit while you are in the city!
---
Location Of The Luang Prabang Market
You can find the Luang Prabang Night Market on Sisavangvong Rd. It is on the Alley Behind Lao National Tourism Office in Luang Prabang.
Honestly, if you are staying in the city center it is pretty hard to miss!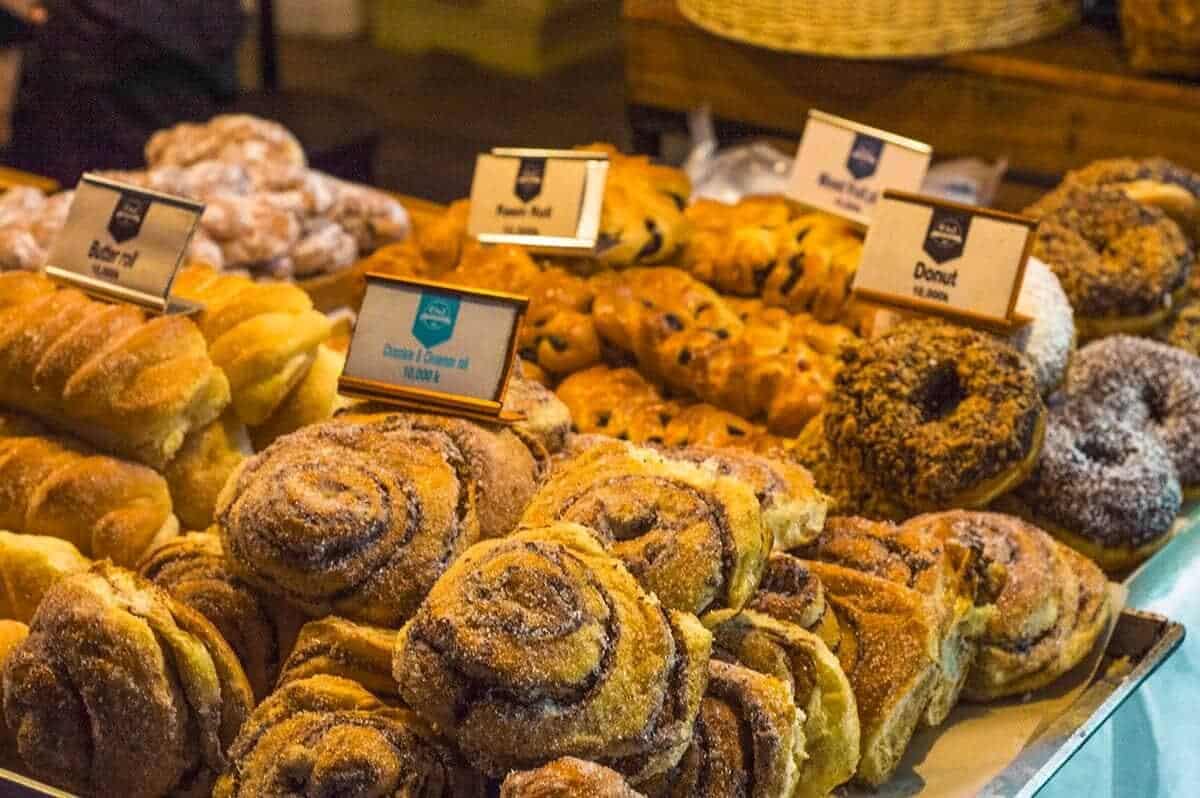 ---
What To Expect
The Luang Prabang Night Markets occur every night in the city center. During that time the roads are closed to vehicles and hundreds of red and blue stalls are set up.  There are usually up to three hundred vendors selling a range of goods from food and drink to clothing and little souvenirs.
The vendors here are extremely friendly and keen to have a good laugh. If you are a beginner at haggling this is honestly the perfect place to practice your skills! You will receive so many smiles and may even walk out with a couple of good purchases!
Seriously if you are backpacking Luang Prabang you must visit the Luang Prabang Night Markets. It is the perfect place to stuff your face after a busy day! Whether you have just been exploring Kuang Si Falls or even if you have just arrived off the slow boat and needing something other than a cup of noodles.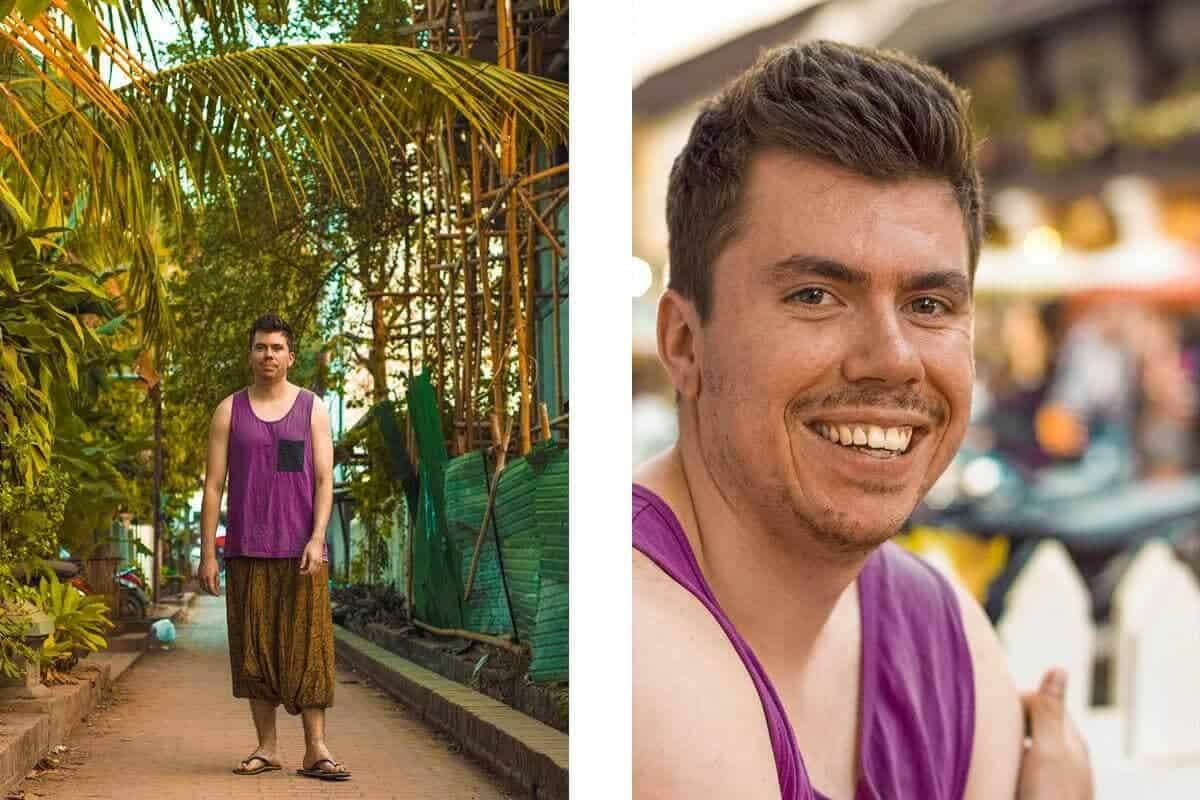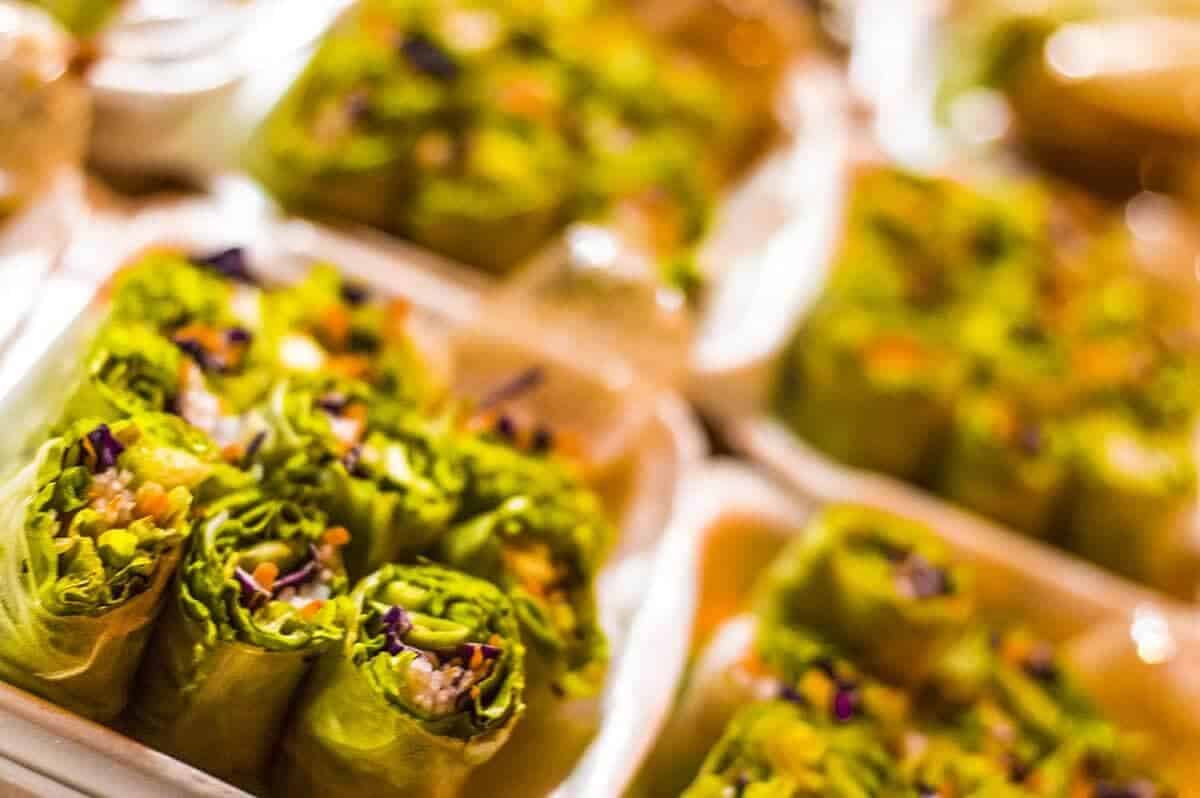 ---
Luang Prabang Night Market Food
If you are craving a little bit more western food in your diet I must say Laos is the country you need to visit. It may not be as popular as neighboring Thailand or Vietnam.
Though, the food stalls and restaurants here had the best range of western food in Southeast Asia. I am going to say this is because of the French influence. And even better, because of that influence, the food is damn good!
---
Baguettes
Let's start with baguettes because if I have learned one thing from traveling Laos, it's that they have the most amazing baguettes! At one end of the markets, you will find so many baguette vendors all lined up next to each other.
It's the perfect place to mix and mingle with other travelers with large picnic-like tables set out front. They are actually open for breakfast, lunch, and dinner. Don't tell anyone but we ate here at least twice a day. My usual was tofu, avocado, cheese, tomato, and lettuce which costs $3.00.
---
Street Food
Of course, there are the typical crepe stands in the marketplace. They have all the main toppings of condensed milk, banana, chocolate, egg; basically everything that is good in life.
The smoothie stalls are also ever-present here. Though, unlike Thailand where they use ice, in Laos, they have milk-based smoothies. This goes down very well especially if you are ordering a sneaky oreo, banana, and condensed milk smoothie!
Along the little laneways which extend from the Luang Prabang Night Market, you will find more local-style buffet meals for as cheap as $1.00. Who can say no to that!
---
BBQ Meals
Also, at the main center end of the market is a favorite dinner stall. They have numerous vegetarian dishes including noodles, rice, spring rolls, as well as BBQ'D meats which you can add on top.
This was mine, and I am sure many others, number one dinner spot. There are even mats set up on a grassy spot close by so you can chill out and enjoy your meal. A massive portion of noodles cost only $1.20!
If you are interested in a meal that is a little more upscale there are numerous restaurants open along the market side. Chill out with a good meal, cold beer and people watch from the comfort of your table.
---
Dessert
Now for everyone's favorite meal, dessert. Keep an eye out for the bakery stall near the town center end of the market. Their baked goods are the ones that feature in most of my photos.
Here they sell the most amazing danishes, trust me and just buy one, or four. They only cost $1.20 and if you are too full from dinner save it for breakfast.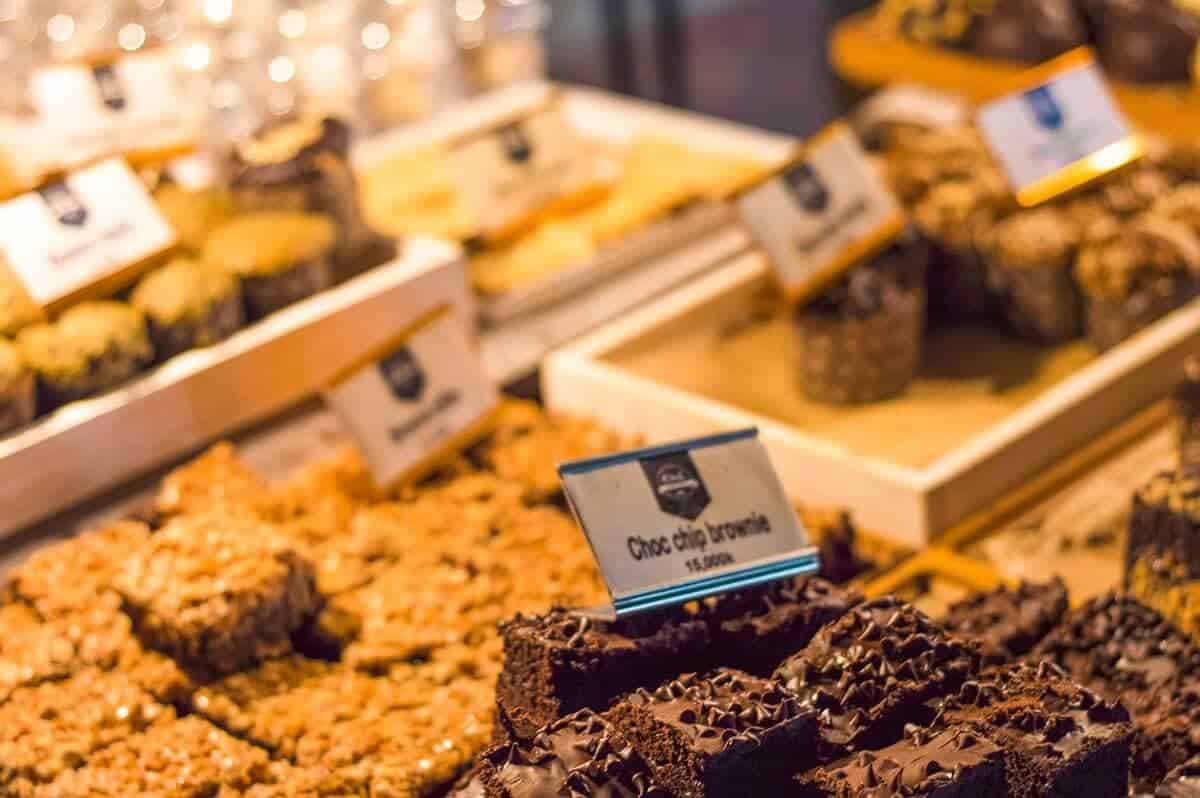 ---
Souvenirs At The Night Market
The stalls set up along the road seem to be endless, just a maze of red and blue tents. Though what is lurking in these tents is amazing, and what I reckon is the best souvenir shopping in Laos.
---
Clothing
Clothing is a major seller here and personally, I thought it had the widest variety of my favorite backpacker elephant pants in my travels of South East Asia. We purchased two shirts from here which we wore the next day to Kuang Si Falls. James also purchased a pair of elephant print shorts for $3.00.
If you are wanting one of those 'Beer Laos' singlets this is the perfect place to find one in your desired color, shape, and size.
The variety of silk scarves are endless. The jewelry is also amazing with some signs stating the bracelets are made from bombs (I am not too sure how true this is though, as it could be one of those touristy things).
---
Souvenirs
You will find typical souvenirs like key chains and bags, as well as little elephant toys and postcards. If you are after one of those gorgeous hand-painted decorative umbrellas this is the perfect opportunity. There are even bed covers and pillows in a wide assortment of beautiful designs!
Many of the stalls do unfortunately sells very similar items, though this is a regular occurrence in Southeast Asian countries. Just keep an eye out for those special little trinkets among the chaos.
---
Arts
My favorite stalls at the Luang Prabang night market were definitely those vendors selling art. Seriously, I fell in love with some pieces here and regret not buying them.
I would have loved to have taken some photos of it, but you are not allowed to protect the artist's creative integrity, which is understandable.
---
Endangered Animals
Unfortunately, you will see many vendors selling souvenirs that are made from endangered animals. This includes ivory, dried sea creatures, fur, claws, teeth, and leather.
There are even dead snakes and scorpions packaged into bottles of alcohol. Please avoid buying these types of products to ensure you don't support the endangered animal trade.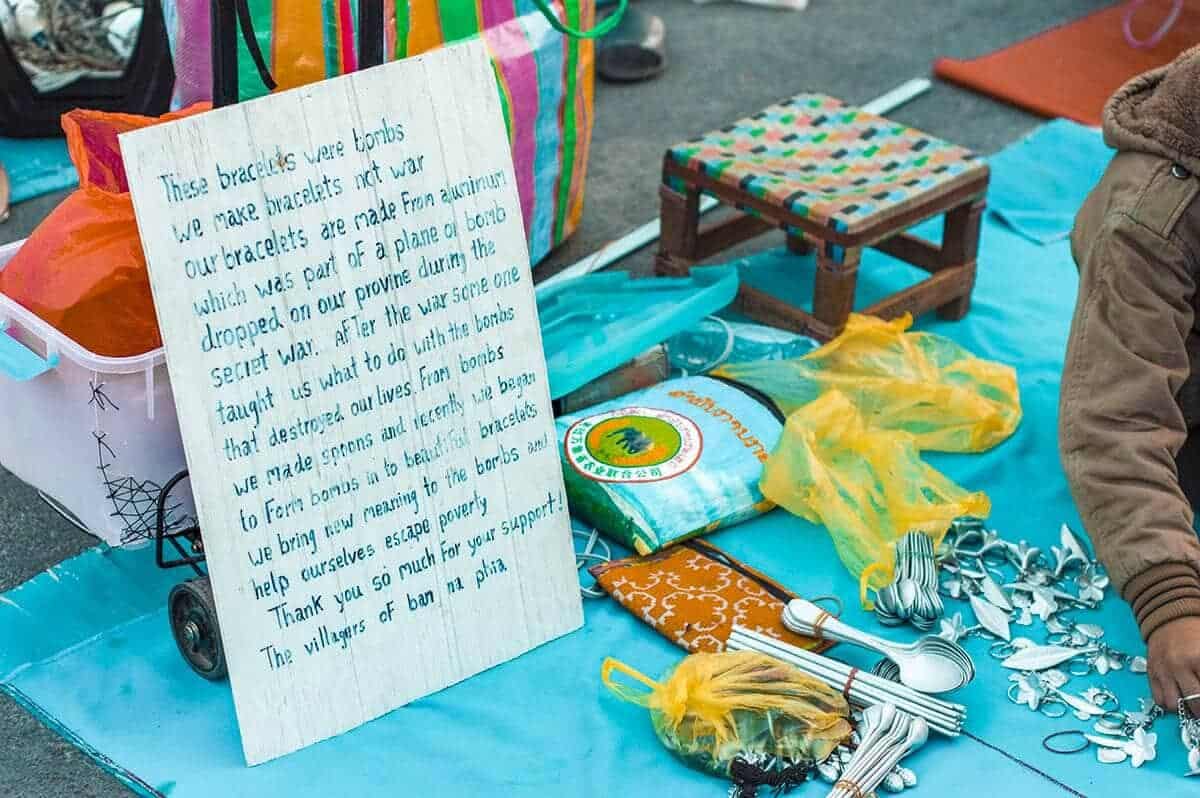 ---
Luang Prabang Night Market Prices
It can always be difficult in markets around Asia to know exactly how much you should pay. To make things a bit easier the food generally has fixed pricing displayed on signs. Most items are around 20000 – 30000 LAK, though if you are looking for something fancier expect to pay more.
The decor, clothing, and basically anything except the food is a little more difficult as they do not have fixed pricing. For many items here you will want to haggle.
It is best to know a rough estimate of the price of the item before purchasing so you know whether you are getting a fair deal, though this can sometimes be hard to do. To avoid this you can try to shop around try to establish an average price.
Alternatively, it is best practice to counteroffer at least half what the seller first says it costs. Unfortunately, 99% of the time they will refuse and offer a price lower than the original. You will then go back and forth until an agreement is made.
Through personal experience, I have found that the closer you are to the middle of the market the more expensive items get. On the side streets and at each end of the road is where average prices seem to be a bit cheaper. I guess this is due to be traffic within the center.
---
Other Markets In Luang Prabang
If you are perhaps wanting to visit a more local market in Luang Prabang, or perhaps you've checked out the Night Market and want to see what else is on offer these are some of the other markets recommended seeing:
Luang Prabang Morning Market: Right in the center of town, behind the Tourism Information Center is the Luang Prabang Morning Market. This is the perfect place to try a local meal or pick up some traditional ingredients.
They sell everything from fish, vegetables, herbs, pork, eggs, fruit, and even toads, and bugs. It is open in the morning from 5am to 11am.
Phosi Market: On the road to Kuang Si Waterfall you can find the Dara Market. This is the largest market in Luang Prabang and it is open 5am to 5pm. Here you will find some of the cheapest clothing and textiles in the city.
Though just be aware this place is known your pickpocketers so make sure to keep your valuables safe.
Naviengkham Market: This market is similar to Phosi, but on a smaller and more intimate setting. It is the perfect place to pick up fresh fruit as well as ingredients for cooking. There is also a range of clothing choices here, perfect if you are on a budget. Naviengkham Market is open from 11am to 6pm.
Dara Market: Located nearby to the TAEC Museum is Dara Market. This indoor market mainly sells sinhs, the traditional skirt worn by Lao women. Though you can also find traditional Lao blouses and men's shirts. It is open from 8am to 5pm.
---
Why Visit Luang Prabang
Luang Prabang is a beautiful picturesque town, the former capital of Laos and in more recent times it has been declared a UNESCO world heritage city. It oozes charm, with a mixture of French and Laotian architecture it has become one of my favorite cities.
Though, I did find that exploring one of the amazing UNESCO world heritage sites in South East Asia did come with a higher price tag.
There is no better way to discover the historic streets of this city than under dusk while discovering new cuisine and appreciating the impressive artwork of the locals. The mixed French and Laotian influence is evident throughout the street while you duck underneath the many overhanging stalls.
---
Where To Stay In Luang Prabang?
There are plenty of choices when it comes to choosing accommodation in Luang Prabang. From the impressive 5* resort, historic hotels, simple hostels, and locally owned guesthouses, you will find something to fit your budget and needs.
During our recent visit, we stayed on a quaint little side street minutes from the center and Mekong River. I fell in love with this little spot. There are a few budget guesthouses and nicer hotel-style accommodations available down this street.
Check out Mylaohome Hotel & Spa for comfortable rooms, an awesome spa, and a delicious cafe onsite from $23.00 per night. There is also Villa Pumalin which has an indoor pool and beautiful wooden rooms starting at $30.00 per night.
Here are my top picks for the backpacking Luang Prabang:
Find the best hotels in the area
Little Friendlys Freedom Place

Plenty of common areas, a great vibe, and breakfast, it is well worth $6.00 per night.

BOOK NOW

A relaxing location near the party, from $7.00 per night including breakfast.

BOOK NOW

Beautiful private rooms from $23.00 per night and in the heart of the city.

BOOK NOW

A walk from the city attractions, starting from $26.00 per night with breakfast.

BOOK NOW
---
Other Things To Do In Luang Prabang
There are plenty of awesome things to do, so much I recommend spending at least
three days in Luang Prabang
. It's an awesome city with gorgeous landscapes, some of
Laos best waterfalls
, and delicious foods.
---
LIKE IT? PIN IT!
---
Want more Laos Inspiration?
Check out….
---
Disclaimer: This post contains affiliate links. So, if you click on it and purchase something, I get a small percentage at no extra cost to you. As always all opinions are my own and your support is much appreciated.
Feature photo credit: "Luang Prabang – Laos" (CC BY 2.0) by Christianbowman 
Related Posts
Come find out everything you need to know about going river tubing in Vang Vieng, [...]
2 Comments
Come find out absolutely everything you need to know about the Thailand Laos Border Crossing [...]
13 Comments
Find out the best waterfalls in Laos that you need to visit at least once. [...]