Thinking of visiting Pak Ou Caves in Luang Prabang? Find out absolutely everything you need to know such as how to get there, what to do, entry fees, where to stay, and more important information!
---
On the outskirts of Luang Prabang and up the impressive Mekong River is the Pak Ou Caves. An important religious site for locals in Luang Prabang, it has gathered popularity with tourists and is now at the top of many 'best things to do in Luang Prabang' lists.
It's easy to understand the appeal of a visiting traveler. A relaxing boat ride, impressive limestone cliffs, and the fascination by the hundreds of Buddha statues. It is definitely worth the day trip if you are visiting Luang Prabang.
So, let's get into all the important information about visiting Pak Ou Buddha Caves in Luang Prabang. From how to get there, tours, entry fees, what to expect, and more.
This is certainly one spot to add to your Luang Prabang itinerary!
---
Pak Ou Caves In Luang Prabang: All You Need To Know
---
How I Book Cheap Transport In Laos: 12Go Asia
---
The History Of The Pak Ou Caves
As I said, the Caves are an important religious site in Luang Prabang. The history actually dates back thousands of years and they have been used as a place of worship for centuries.
Legend has it they are lived in by the spirits of the rivers. Locals believe that the caves themselves were identified back in the 16th century by one of Laos' greatest Kings, King Setthathirath.
Nowadays the caves are a place of worship, especially throughout the month of April which is the Laos New Year. During this period the caves can get packed by locals who visit to wash in the water and tend to all the Buddhas inside.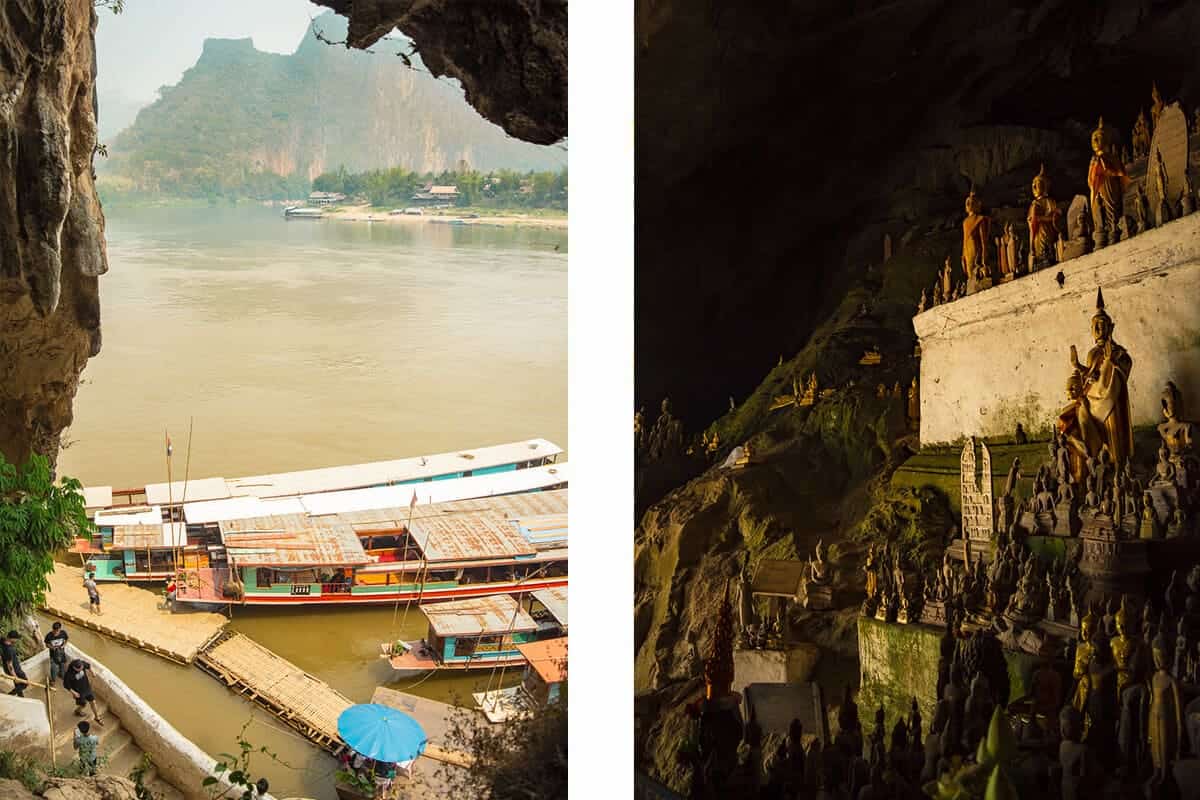 ---
Why Visit The Caves?
For me, the Caves are definitely worth a visit in Luang Prabang and an excellent choice for a day trip out of the city. Filled with over 4000 individual Buddha statues it is unlike any other place of worship I have been to before.
The landscapes are insane around the cave and nothing beats getting into the Laos way of life more than a relaxing boat trip up the Mekong River.
Just be aware, as you have probably guessed the Pak Ou Caves are rather touristy. It might not be as high up on your Luang Prabang itinerary as Kuang Si Falls or the Night Market. Though being packed into a cave with just a couple of boatloads of people can seem quite squished.
You will certainly have to be patient and take turns walking around the cave as some of the paths are quite small. So you will have to wait for people to go up, turn around and come back down. There were even a couple of vendors there selling odd trinkets.
For some reason, there were even kids selling fish that you could release back into the Mekong.
You certainly won't have the caves to yourself and it is a relatively compact area inside the cave so it can seem quite busy, even though in reality it isn't really. Just set your expectations accordingly and everything will be fine.
---
Pak Ou Caves Entry Fee
The Pak Ou Caves entry fee is 20,000 LAk or $2.25. Though if you are visiting as part of a group tour, this fee is typically included in the price.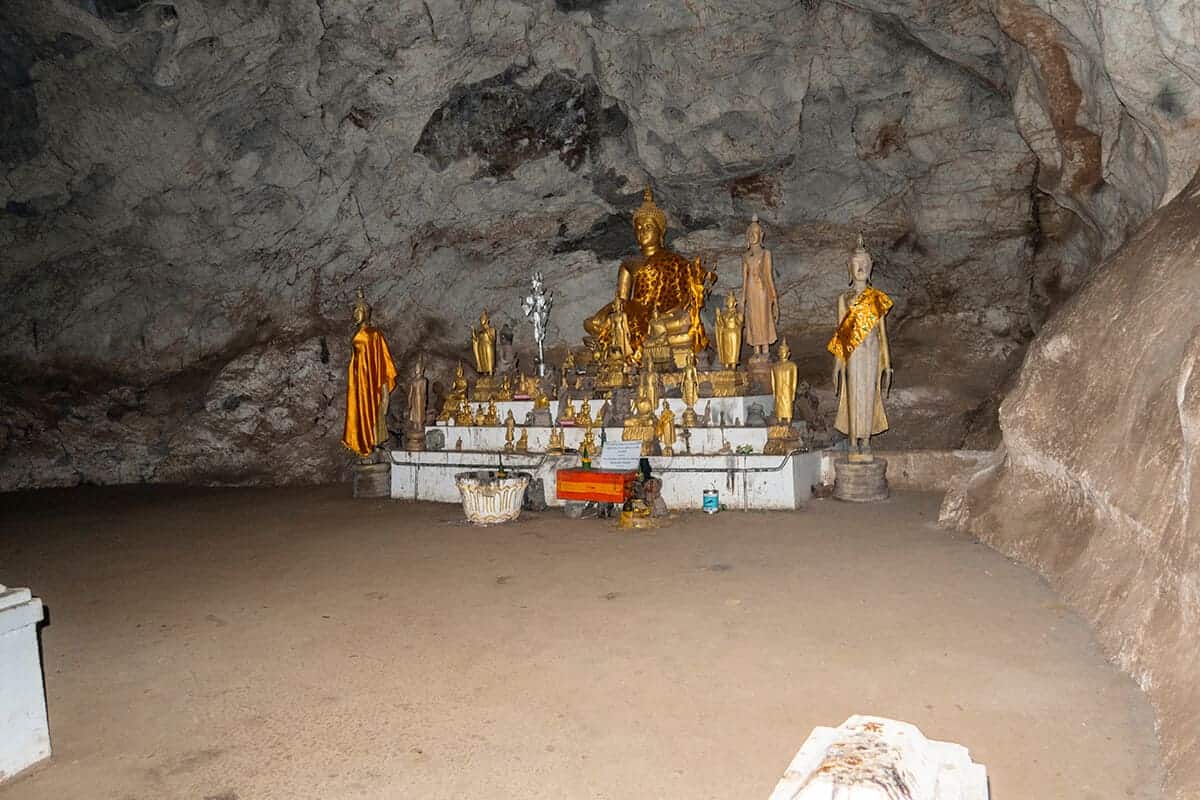 ---
Book A Pak Ou Caves Tour
No doubt one of the easiest ways to get to the Caves is definitely booking a tour. Since you need a boat to get there, essentially there are not many other options. Many of these tours will also include a stop at the 'whiskey village'.
These odd little side visits are super common in Asia as the tour operators will get kickbacks if one of their guests purchases something.
Tours To Pak Ou Caves:
---
Getting To Pak Ou Caves
The Pak Ou Caves are located 25 kilometers north of Luang Prabang. Essentially this means you will need to take some sort of transport to get there, whether you are on a group tour or doing it yourself.
If you aren't super keen on taking a boat to get to the Caves, then your next best and only option is the tuk-tuk. This tuk-tuk will take you to the nearest village near the caves and then you will need to get a ferry over the river.
Though, in my personal opinion, I wouldn't even bother with this choice. The views from taking a boat down the Mekong are stunning and I don't see why you would want to sit in the back of a dusty tuk-tuk when instead you could be relaxing on a boat.
So, if I have convinced you to take the boat to the Caves, this is how you do it. Unless you are traveling in a big group of people who you can split the cost of the boat with, your best bet will be going to the port opposite the popular Saffron Coffee.
This is where you can join existing groups, which makes for a cheaper journey to visit the Caves. Make sure you set aside at least half of the day for your visit to the caves, The boats typically take two hours traveling upstream to Pak Ou Caves and one hour for the journey back to Luang Prabang.
---
My Experience
I actually visited Pak Ou Caves on my Stray Asia Group tour. We had just taken the two-day slow boat traveling from Chiang Mai to Luang Prabang and had one more stop to make at the caves before our arrival in the city.
We arrived at the caves just before lunch and it wasn't too busy. I have heard after lunch it can get super crazy. Though luckily for us there were only about 6 other boats waiting on the pontoon jetty. Jumping off the boat we are greeted by a worker who we pay our entry fee to.
A small climb up a few sets of steps is the entry for the first cave, called Tham Ting. This is a cave on the side of the cliff, but it doesn't close all the way in. Instead, there are incredible views over the Mekong River.
It does seem a little squishy in the lower cave, especially since you will need to wait for people to go down before you go up. Though, it is incredibly impressive to witness all the beautiful Buddha statues which call this spot home.
There is also the upper cave called Tham Theung. You will need to wear semi-decent shoes to visit the upper cave as there is a fairly steep incline and quite a few stairs. It should take approximately 15-20 minutes to climb to the top.
The upper cave is certainly more your typical definition of a cave. It is very dark inside so definitely bring your phone light if you want to see within!
---
What To Pack For Pak Ou Caves
It is likely that you will be visiting during the dry season. Therefore you will definitely want lightweight clothing that is breathable. The sun here is intense so do not forget sunscreen as well.
For your adventures inside Pak Ou Cave shorts and a tee shirt will be fine. Even though the caves are a religious site you don't need to cover your shoulders or knees. If you want to out of respect that is cool but just be aware it is not forced.
In terms of footwear, sneakers will be the best choice. Your feet will not be getting wet and you will want something with a good grip that is comfortable for the climb up to the upper cave.
Definitely, be sure to bring your camera. It is safe to bring a DSLR on the boat ride and you won't be getting wet so don't need to bring a GoPro.
---
Where To Stay In Luang Prabang?
There are plenty of choices when it comes to choosing accommodation in Luang Prabang. From the impressive 5* resort, historic hotels, simple hostels, and locally owned guesthouses, you will find something to fit your budget and needs.
During our recent visit, we stayed on a quaint little side street minutes from the center and the Mekong River. I fell in love with this little spot. There are a few budget guesthouses and nicer hotel-style accommodations available down this street.
Check out Mylaohome Hotel & Spa for comfortable rooms, an awesome spa, and a delicious cafe on-site from $23.00 per night. There is also Villa Pumalin which has an indoor pool and beautiful wooden rooms starting at $30.00 per night.
Here are my top picks for the backpacking Luang Prabang:
Little Friendlys Freedom Place

Plenty of common areas, a great vibe, and breakfast, it is well worth $6.00 per night.

BOOK NOW

A relaxing location near the party, from $7.00 per night including breakfast.

BOOK NOW

Beautiful private rooms from $23.00 per night and in the heart of the city.

BOOK NOW

A walk from the city attractions, starting from $26.00 per night with breakfast.

BOOK NOW
---
Other Things To Do In Luang Prabang
There are plenty of awesome things to do, so much I recommend spending at least three days in Luang Prabang. It's an awesome city with gorgeous landscapes, some of Lao's best waterfalls, and delicious food.
---
How I Book Cheap Transport In Laos: 12Go Asia
---
LIKE IT? PIN IT!
Want more Laos Inspiration? Check out….
Disclaimer: This post contains affiliate links. So, if you click on it and purchase something, I get a small percentage at no extra cost to you. As always all opinions are my own and your support is much appreciated.
Related Posts
Wanting to visit the Luang Prabang Night Market? Find out absolutely everything you need to [...]
15 Comments
Find out all you need to know about visiting Tad Yuang Waterfall outside of Pakse.  [...]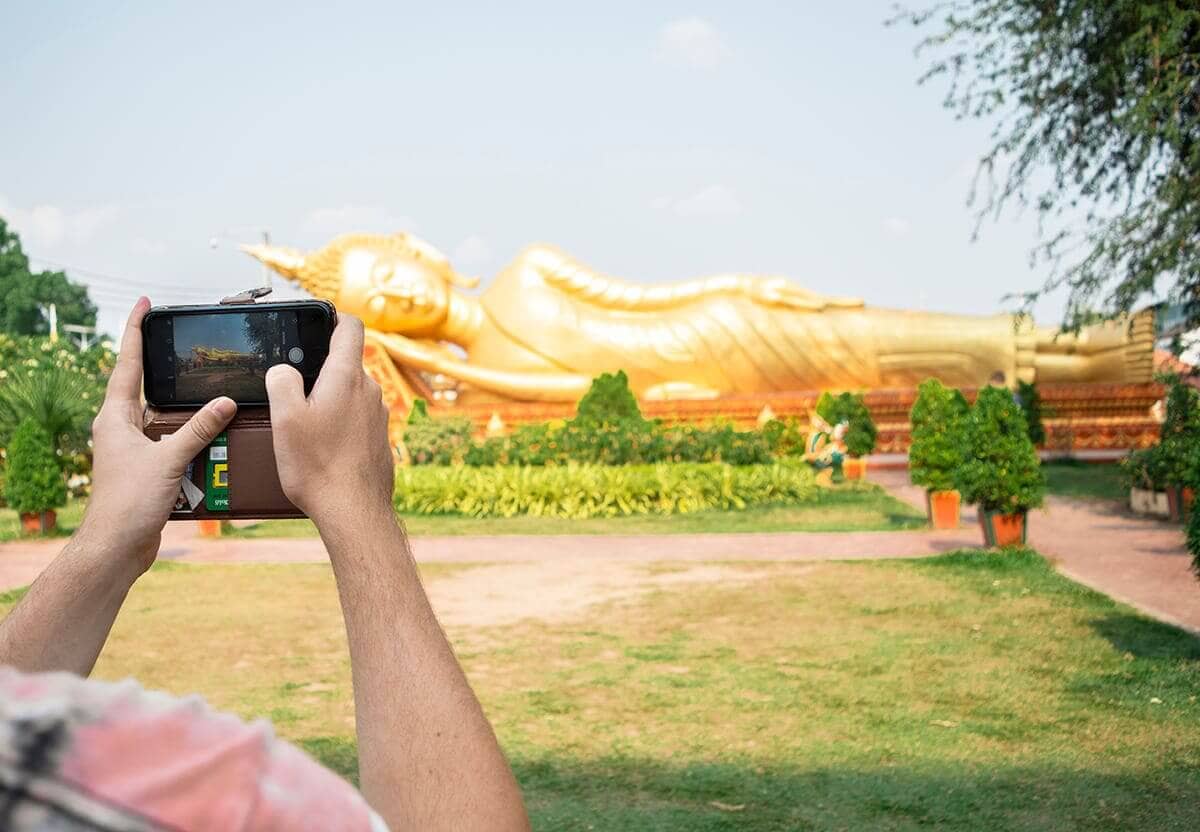 Find out the perfect one day in Vientiane itinerary to ensure you have the ultimate [...]
1 Comment