Find out everything you need to know for backpacking Laos on a budget. Learn about the best travel tips, money, important information, top places to see, and more in this backpacker's guide to Laos!
---
Laos is such a gem of Southeast Asia and must be added to your itinerary. Unlike the other surrounding countries, there are no palm tree-covered beaches to be found in this landlocked slice of paradise.
Rather prepare yourself for some epic adventures, insane jungle landscapes, and days relaxing along the Mekong River.
Very popular with backpackers, thanks to being located on the famous 'banana pancake trail', Laos is full of travelers of all ages. No matter whether they are staying for a week or a month, these people are looking to get the most out of their experience and learn about a new country.
Though, most travelers (including me on my first visit) only travel to Northern Laos on a well-trodden backpacker trail. Well, let me tell you there is so much more to offer than just Luang Prabang, Vang Vieng, and Vientiane.
That's why if you have longer than one week I highly recommend heading into Southern Laos.
Make sure to check out my 2 weeks in Laos Itinerary, traveling from North to South. 
However, before we get into all the details of the best places to see in Laos, let's start with the basics. I will cover for you everything you will never need to know about backpacking Laos.
From money matters, visas, when to go, accommodation, getting around and so much more before finally getting into where exactly you should go and do during your adventure traveling Laos on a budget.
---
Backpacking Laos On A Budget: All You Need To Know
---
What Is The Currency In Laos
The local currency in Laos is the Lao Kip.
Check online exchange rates.
---
Cost Per Day & Budget To Backpack Laos
I actually kept track of all my costs when backpacking Laos on a budget during my first trip. From transportation, accommodation, food, activities, and more. I wrote it all down so you could know how much it would really cost you to travel Laos.
In total, I ended up spending $29.36 per day, so basically $30.00. This was staying in some of the cheapest rooms, eating street food, and taking shared minivans to get around.
The biggest portion of basically anyone's budget for backpacking Laos will be accommodation. This is especially true if you are staying in Luang Prabang. There are a few hostels here, but the majority of this town caters to more of an upscale traveler.
With plenty of nice restaurants and pricey accommodations, it is easy to blow your budget here. Double rooms generally start around $20.00 and hostel dorm beds will cost you around $5.00.
---
Entry Requirements For Backpacking Laos
Depending on your passport country of origin, you will likely need a visa to enter Laos. However if you happen to have a passport from the Association of Southeast Asia Nations (ASEAN) or from South Korea, Japan, Russia, or Switzerland, you receive visa-free access to Laos.
If you are like me and are not part of the above countries, don't worry because it is a relatively easy process. There is no need to organize a visa in advance as you can get a visa on arrival at all international airports and the majority of overland border crossings.
You will need to bring with you a passport-sized photo, information on your accommodation, and the entry fee (between $30.00- $42.00 depending on your home country). You are best off paying this fee in USD as paying in Lao kip or Thai baht will be worse exchange rates.
It is a relatively straightforward process which I have done multiple times when traveling from Chiang Mai to Luang Prabang. Try to bring a pen with you to speed up the form-filling in process instead of having to wait around to borrow someone else's.
There are some countries that unfortunately cannot receive this visa on arrival. The majority includes those from Africa and the Middle East. It is best if you check this website to see whether you are eligible or not.
---
Best Time To Backpack Laos
The high season in Laos is between November and February. This is also known as the dry season, with minimal rain and clear days. During this period, there is an influx of tourists as people come to visit and as a result, accommodation prices increase.
I traveled Laos both in February and in March, which in my opinion was a good time of year to visit. The crowds were never too bad as it was towards the end of the busy season. We only had rain during this period when in Southern Laos, in Pakse and Don Det.
Though, in Pakse, it only really rained at night for a few hours. In Don Det, we had a quite full day of rain, which made it awkward as we had to catch different boats to get off the island.
Nevertheless, the day before in Don Det was ridiculously hot with plenty of sunshine. So it was likely just a one-off and quite a nice change from the wrath of the burning sun.
I am not usually the type of person to say don't travel to a country during these months and if the weather is quite bad I will recommend a certain area. Though, in Laos, I highly do not recommend traveling in the monsoon season between May and October.
I have not had any personal experience with it, but I have seen enough posts on backpacker Facebook groups about how bad the flooding can be. My friend got stuck in Vang Vieng and was not able to leave her room for 24 hours due to flooding.
Though, this is a common occurrence throughout Southeast Asia in each country's respective monsoon seasons. The plumbing here is not like many Western countries and floods are inevitable.
Also if you want to see the calm blue waters of Kuang Si Falls, don't expect it in the wet season. You will be greeted with rushing brown water and too strong of a current to swim.
---
Sleeping in Laos on a budget
You can find a wide variety of accommodations in Laos, though I will say the further south you travel the more limited your options will become. Nevertheless, you will come to find some awesome and comfortable guesthouses that will have everything you need for a good stay.
In Luang Prabang, Vang Vieng, and Vientiane you will be able to find everything from hostels to 5-star hotels. These three towns are quite well-trodden on the backpacking Laos scene and as such cater to all types of travelers.
In Kong Lor, one of my favorite spots in Laos, you will only have a couple of choices as to where to stay. It may be a quiet village which is difficult to get to, but it is so worth it which I will cover further down.
In places such as Pakse and Don Det, they cater to more of an adventurous traveler who likes to get a bit more off the beaten track. They offer decent hostels, heaps of guesthouses, and a few decent hotels to choose from.
Overall, if you are a dorm bed person I would budget about $8.00 per day to spend on accommodation. If you are like me and enjoy simple guesthouses, and also have someone else to split private room costs with, I would budget $12.00 per day.
---
Getting Around Laos On A Budget
In my opinion, Laos is relatively easy to travel around on a budget. Buses and minivans cater to tourists and are able to take you around the country with ease.
Planes: If you are planning to take planes in Laos you won't be able to explore much of the country. Domestic flights connect Luang Prabang to Vientiane and Vientiane to Pakse. Though by doing this you would be missing some great gems.
Even though the touristy Vang Vieng is not what it use to be, it is still worth the effort. Also, Kong Lor is a must, though you will need to take at least one bus to get there from Vientiane. Lao Airlines and Lao Skyway connect the country's domestic Airports, but in my opinion, it is unnecessary.
Instead, if the journey is too long in your opinion I would recommend trying to break up the journey with a stop in the main town such as Thakhek.
Train: The new kid on the block is the train having opened in December 2021. This has domestic connections from Luang Prabang, Vang Vieng, and Vientiane. As well as further afield to Bangkok and Kunming in China.
These don't exactly fit with the general aesthetic of Laos, as they are high-speed Chinese trains, though they do cut back on your total travel time around the country.
Be aware they are definitely more on the pricey side so may not be the first choice for travelers. Though if you are only here on a short holiday and value time more than money they and a perfect choice.
Mini Van: No doubt the number one way for travelers backpacking Laos, the minivan is a top choice for getting around. Tickets can be easily purchased one day in advance and are the quicker way of traveling compared to buses.
Just be aware that you may be packed in sardines and just a bit motion-sick as the driver speeds around tight corners. It is generally only a couple of dollars extra than taking a bus and connects the main backpacker trail in Laos of Luang Prabang, Vang Vieng, and Vientiane.
However, to connect further south to will likely have to take a bus.
Bus: A slightly cheaper option than a minivan, the bus is a good choice for those who aren't in a rush and are traveling Laos on a budget. It can be a mixed bag as to the quality of the buses, whether you will have air-con or not. Though, for some people, this is not too important.
A bus is a great choice if you get motion sick (especially from Luang Prabang to Vang Vieng) as they travel at a slower pace. No doubt in Southern Laos you will likely need to take one of the infamous sleeper buses.
Think of a small bed on a moving bus you will be sharing with a stranger. Therefore make sure you book with someone you are comfortable sleeping next to or prepare for your personal space to be invaded by a stranger.
Boat: If you are traveling overland from Northern Thailand to the first main tourist town of Luang Prabang then you will need to take a slow boat down the Mekong River. Tickets can be easily booked from Huay Xai and is a great introduction to the country.
The 2-day journey is truly not as bad as many blogs make it out to be. I have actually done the slow boat twice now! The second boat in Laos was to travel from Pakse to Don Det. Though this is a short journey between 20-30 minutes and is a great way to see life on the river.
Motorbike: A less popular, but still doable option is to motorbike around Laos. As you will likely be traveling North to South or vice versa then renting will not be an option. This means you will need to purchase one.
It may not be as popular as doing it in Vietnam, though I can tell you it is still possible and people definitely give it a go. There is so much to see in Laos that is not possible by just taking minivans or buses.
I saw plenty of 'motorbike for sale' signs in Pakse and generally, it will cost you a few hundred dollars depending on the type.
---
Food & Drink In Laos
In Laos, you can truly get a wide variety of food. This is especially so in the touristy towns of Luang Prabang, Vang Vieng, and Vientiane. They offer everything from Vietnamese to Italian to Mexican. Foodies will be in love.
Though, again the further South you go the slightly more limited the options get. Being a vegetarian is not always fun for me. For the week I was making my way from Vientiane to Pakse, I literally had to live on fried vegetables aka oily veggies. It wasn't the greatest but certainly made me appreciative of the first meal I got to eat in Pakse.
Laos has plenty of delicious local dishes that you must try! I highly recommend trying out a different type of rice, sticky rice which can be found all over the country. To eat, take a small ball of sticky rice with your fingers and use it to pick up other food.
Also, make sure to try out laap (mincemeat salad), tam mak hoong (spicy green papaya salad), and the many delicious fish dishes on offer!
At local eateries, you can plan to spend between $2.50-$3.50 per meal. Though, eating out at Western-style upscale restaurants you can easily double this amount.
Find out the best restaurants in Luang Prabang. 
---
What Is Internet Access Like?
Internet access in Laos is not horrible, but it is definitely not as great as you would usually find in neighboring Thailand. When we were getting quite off the beaten track there were sometimes issues getting decent WiFi from hotels. Though we had a sim card which helped the majority of the time.
---
Buying A Simcard In Laos
The easiest way to buy a SIM card in Laos is definitely at the airport when you arrive. The people at these booths are trained to help foreigners and know what plan will be best for you.
Though, I have not actually flown into any international airport in Laos, only out of. So I have had the struggle of trying to find a sim card in the towns. Most recently I was in Huay Xai, having crossed the border from Laos.
There is a phone store there where you can buy a Lao SIM card. They did not speak much English. However, we were able to point to the plans we wanted to be loaded onto our phones.
I did the 7GB for 30 days plan and I must say the coverage was fairly decent. The only time there were issues was traveling on the slow boat to Luang Prabang. This takes you into very rural areas and no SIM cards have reception during the entire journey.
If you need more than 7GB while you are backpacking Laos then you will need to renew your plan. During our visit, the only options were 1GB for 24 hours, 1.5GB for 7 days, 5GB for 3 days, 7GB for 7 days, and 7GB for 30 days.
---
Top Places To Visit While Backpacking Laos On A Budget
Luang Prabang
Oh, Luang Prabang! This hidden gem in the heart of Laos is a must-see. Usually, the first spot for travelers backpacking Laos, Luang Prabang makes for a great introduction to the country
This ancient town is full of charm, with its golden-hued temples and the relaxed life along the Mekong River. One day, you're exploring a bustling morning market, with its exotic fruits and Laotian food, and the next, you're catching the sunset from the top of Mount Phousi.
It's a place that perfectly combines untouched nature with a vibrant culture just waiting to be discovered. Enjoy the beauty of this UNESCO World Heritage Site and the temples which call this place home.
There are some great restaurants and the night markets are a must-see. Enjoy a day trip to Kuang Si Falls one of the most picturesque places in Laos and Pak Ou Caves to experience a different side of the city.
Book Activities:
---
Vang Vieng
And then there's Vang Vieng! Nestled amidst towering limestone mountains, this little town in Laos is an adventurer's paradise.
Picture this: You're kayaking down the serene Nam Song River, steep cliffs on either side and suddenly you're flying through the air on a zipline! Then, after a day packed with adventure, you're chilling out at a riverside bar, taking in the picturesque views of the sunset.
But that's not all. Vang Vieng also has its share of gorgeous caves and lagoons for the explorer in you.
This once drug and alcohol-fueled backpacker hangout is no longer. The infamous tubing in Vang Vieng is a lot more relaxing and pleasant these days. Enjoy the beautiful scenery of limestone karst mountains and endless jungles.
For those brave, enough to partake in the Vang Vieng Challenge. However, if you prefer something a little more subdued, relax in one of the blue lagoons, blue lagoon three is my personal favorite!
Whether you're an adrenaline junkie or a nature lover, Vang Vieng is sure to leave you spellbound!
Book Activities:
---
Vientiane
This capital city of Laos is a whole different world and makes a good day stop on your way to the south of the country.. It may not have the heart-pounding activities of Vang Vieng or the charming vibes of Luang Prabang, but it's got its own unique vibe.
Imagine tree-lined streets packed with tuk-tuks, motorbikes, and the occasional saffron-robed monk. With plenty of Buddhist temples, like the breathtaking That Luang, a golden stupa that's a national symbol, Vientiane is a sanctuary of spirituality.
Add in some French colonial architecture, bustling markets selling everything from fabrics to street food, and a chill riverfront with amazing sunset views, and you've got a city that's just waiting to be explored!
There are some great things to do here such as visiting the COPE Centre, as well as checking out some of the impressive temples and monuments.
Though in all honesty, unless you are planning on visiting the nearby Buddha Park, I only recommend spending 1 day in Vientiane.
Book Activities:
---
Kong Lor
Kong Lor is a hidden gem tucked away in Laos that you absolutely have to visit.
Picture this – a massive limestone cave, stretching over 7 kilometers, with a river flowing right through it. That's why they call it the "River Cave"!
Your adventure to Kong Lor Cave (Tham Kong Lo) begins on a small boat, cruising through the darkness with just the boatman's headlamp lighting up the incredible stalactites and stalagmites.
It's like stepping onto another planet! And here's the best part – when you emerge into daylight on the other side, you'll be greeted by lush rice fields and towering karsts. Talk about a surprise!
This geological wonder of Southeast Asia features stalactites, stalagmites, limestone mountains, rivers, and 300-foot-high ceilings. This place is not the easiest to get to unless you have your own motorbike.
You can check out my 2 weeks in Laos itinerary for information on how to travel from Vientiane to Kong Lor and onwards using public transport.
---
Pakse
Next stop on our Laotian adventure? Pakse! It's right at the confluence of the Mekong and Xe Don rivers, making it the heart of Southern Laos.
It's your ticket to the famous Bolaven Plateau with its cool climate, breathtaking waterfalls, and lush coffee plantations. One of my favorite waterfalls here is Tad Yuang Falls which I highly recommend checking out.
And hey, if you're a coffee lover, you're in for a real treat! Trust me, nothing beats a freshly brewed cuppa made from locally grown beans.
Not a coffee aficionado? No worries! Pakse has so much more to offer. You've got the Wat Luang temple, the biggest Buddhist monastery in town, which is an absolute spiritual haven.
And there is the Champasak Provincial Museum – it's a real treasure trove of local culture and history. Oh, and make sure you don't miss the traditional wooden houses on stilts, they're truly a sight to behold!
---
Don Det
Don Det, a tiny island nestled in the Mekong River in Laos, is the ultimate chill spot! Time slows down here and nature steals the show.
Take a leisurely stroll around the entire island, stopping by cute cafes and peaceful spots along the Mekong. You can't help but feel totally relaxed as you soak in the breathtaking sunsets and the soothing sounds of nature.
Don Det is also the perfect place to relax at the end of your backpacking Laos on a budget adventure. This lush riverside island is a backpacker's paradise. Also, you will likely find the majority of tourists who decide to backpack Southern Laos.
Life is slower here so enjoy the riverside life from your hammock, visit the nearby Little Eden pool to meet other travelers, or grab a Lao Beer at one of the many restaurants and bars. A sunset cruise along the river is the perfect way to end this trip.
But hold up, Don Det isn't just about zen vibes! There's actually a ton of adventure waiting for you here.
Rent a bike and explore the countryside, kayak down the Mekong River and spot rare Irrawaddy dolphins, or even go hiking in the nearby forests.
And at night, brace yourself for a mind-blowing spectacle of clear, starry skies that city folks can only dream of.
No matter if you're a chill-seeking soul or an adventure junkie, Don Det is a slice of paradise in Laos that's got something for everyone!
---
Work For Accommodation In Laos
Give working for your accommodation a try. Many hostels in Laos offer those who are staying a free place to rest their head. Though in exchange you must be willing to help with cleaning, the front desk, and other general duties.
Another option is WWOOFing or Helpx.
---
LIKE IT? PIN IT!
---
Want more Laos Inspiration? Check out….
---
Disclaimer: This post contains affiliate links. So, if you click on it and purchase something, I get a small percentage at no extra cost to you. As always all opinions are my own and your support is much appreciated.
Related Posts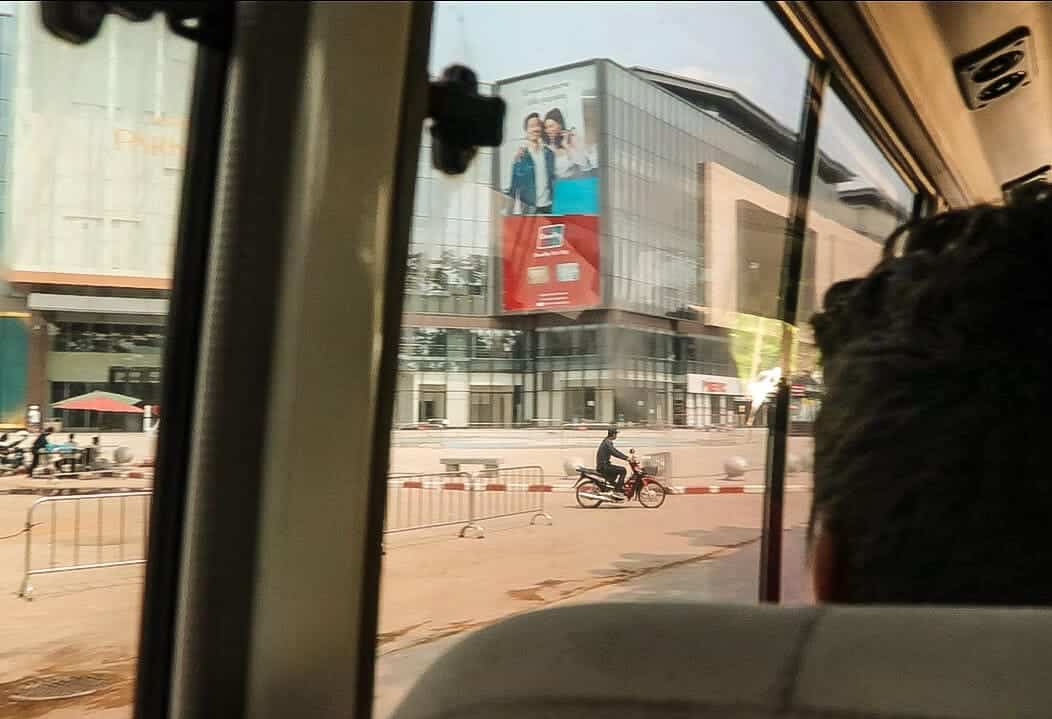 Find out the best and easiest way to travel from Vang Vieng to Vientiane in [...]
1 Comment
Thinking of visiting Pak Ou Caves in Luang Prabang? Find out absolutely everything you need [...]
Wanting to visit the Luang Prabang Night Market? Find out absolutely everything you need to [...]
15 Comments