Find out absolutely everything you need to know about visiting Blue Lagoon 3 in Vang Vieng. Learn about how to get there, what to do, entry fees, where to stay, and more!
---
One of the top things to do other than tubing in Vang Vieng, Laos is to visit one of the many Blue Lagoons in the region. They provide the perfect place to hide from the hot sun and to have a refreshing swim. My favorite is Blue Lagoon three.
Though there are actually 5 different blue lagoons in Vang Vieng. Each one has its own unique factor which draws in numerous tourists each day.
I came across Blue Lagoon Three in Vang Vieng by chance just researching online. With photos showcasing bright blue water under the shadow of a huge limestone mountain I knew I had to visit.
There wasn't too much information about it online so I thought I could visit and make an awesome guide. I mean who wouldn't want to visit somewhere with sparkling blue waters, numerous water activities, and amazing views across the dry landscape.
In this guide to Blue Lagoon 3 and Blue Lagoons in Vang Vieng, I will let you know the highlights of each lagoon, why you should visit blue lagoon 3, entry fees, opening hours, how to get there, what to expect, and more.
---
Blue Lagoon 3 In Vang Vieng: What You Need To Know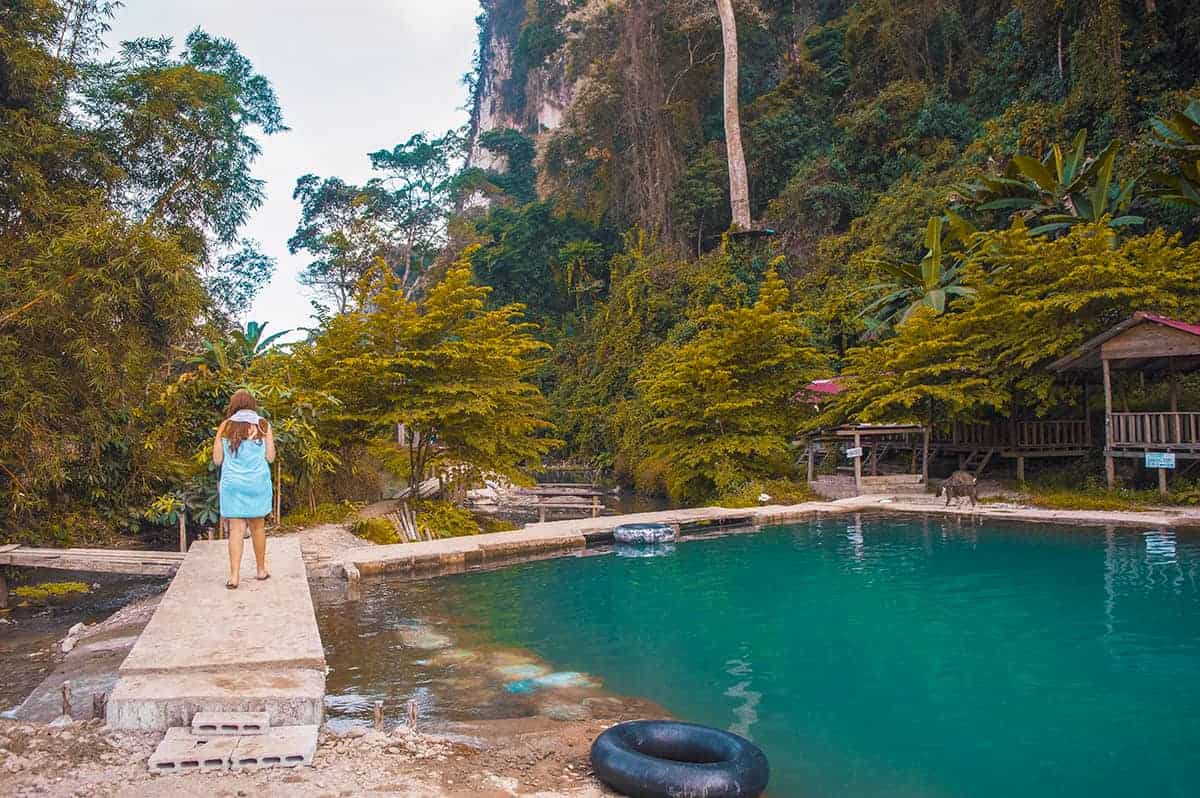 ---
What Makes Blue Lagoon 3 So Great
Visiting Blue Lagoon One is no doubt equally as popular as tubing when in Vang Vieng. You will constantly be hounded by tuk-tuk drivers asking if you want to visit, as well as the constant advertisements spread throughout the town.
It is a well-known destination and fairly easy to get to, even by bicycle. Though, once you arrive you will be greeted by a small lagoon covered with tour groups, hungover backpackers, and local kids. It is nowhere close to the tranquil setting a lot of people imagine.
In contrast, the lesser-known, though slowly growing in popularity, Blue Lagoon Three is an excellent option. The magical blue waters are feed from an underground spring below. Set on one of the many limestone karsts which cover the landscape it is like being transported to a tropical paradise.
The complete opposite from the dry countryside just outside the entrance.
If you read a lot of posts online about Blue Lagoon 3 people will talk about how quiet it is and how you will be the only ones there and that is what makes it special. This may have been the case ten years ago, but it's certainly not like that anymore.
Nevertheless, this place isn't super packed, just don't expect to have it to yourself. While I was visiting there may have been 15 or 20 other people there. Though Blue Lagoon 3 is pretty huge so there is plenty of room to spread out and enjoy.
If you visit either early in the morning or in the late afternoon when it is under the shadow of the nearby mountain it will be pretty quiet.
---
Blue Lagoon 3 Entry Fee
The entry fee to Blue Lagoon 3 is 10000 LAK / $1.06. On top of the entry fee, you will also pass over a toll bridge which costs another 10000 / $1.06.
---
Blue Lagoon 3 Opening Hours
Blue Lagoon 3 in Vang Vieng is open 7 days a week from 8 a.m. to 6 p.m.
Though be aware that in the afternoon it is under a shadow from a nearby mountain so can get quite chilly.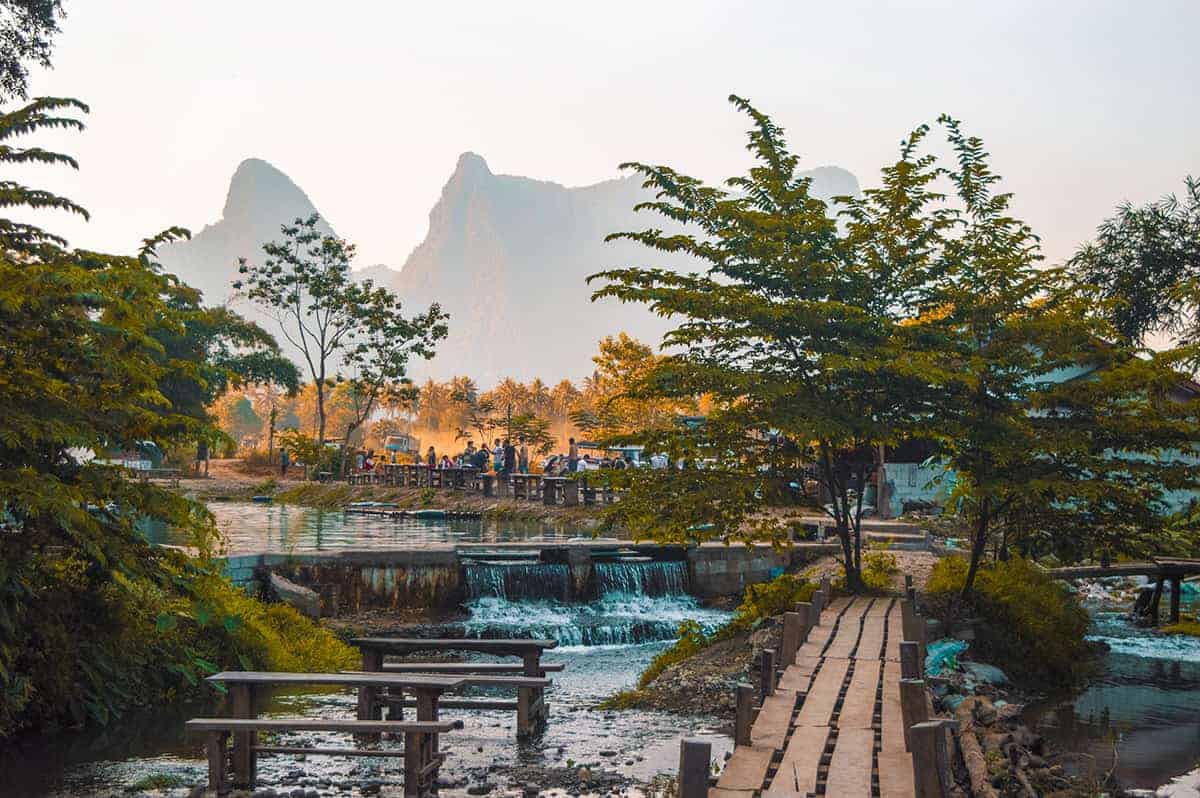 ---
Getting To Blue Lagoon Three
You will need some sort of transport to get you from the city center in Vang Vieng to Blue Lagoon Three. It is further away than Blue Lagoon 1 and 2 located about 20 kilometers out into the countryside and takes around an hour to get to depending on road conditions.
Either way, you decide to travel to Blue Lagoon Three it will be no easy feat. The road is bumpy so you will constantly be thrown around and the sun can be intense. Bring heaps of water and sunblock.
It is also twice the distance of the popular Blue Lagoon One so I would definitely not recommend trying to ride a bicycle there. Though we saw many people struggling.
The journey to Blue Lagoon Three is the perfect opportunity to get out of the touristy city center and into the Laos country lifestyle. To experience a world where time moves slower and the local children run out and wave as you drive past.
---
Tuk-Tuk
Taking a tuk-tuk is certainly the easiest way to travel to Blue Lagoon 3 in Vang Vieng. This was the method I used for my visit and after negotiating a price with the driver we agreed on $14.40 for the return trip and a couple of hours there to explore.
This was for the entire tuk-tuk so if you were traveling with a large group you could split that and it would work out quite cheap!  Though, being only two of us we decided to splurge and spend the extra $7.20 each.
The drive there is equally as magical as the Blue Lagoon itself. With a flat dry landscape as far as the eye can see and amazing lime karsts rising out of the ground. Even though it does take some time to get there you'll have the excitement of watching the village life.
Be aware there is a toll bridge that you will need to pay for on behalf of the driver. It is located just as you are exiting out of the main part of Vang Vieng and costs 10000 LAK / $1.06.
---
Bicycle
The second option you have of getting to Blue Lagoon 3 is by cycling there on a bike. We saw a surprising amount of people attempting this during our journey there.
Let me just say these people looked absolutely exhausted. It's one thing biking 20 kilometers, but doing it on dirt roads covered in potholes is a whole other thing.
Honestly, I wouldn't recommend cycling to Blue Lagoon 3 in Vang Vieng. It may be a lot cheaper as it only costs a couple of dollars to hire a bike. Though you will be left absolutely exhausted and likely sunburned from the harsh countryside sun.
---
Scooter
Alternatively, you can hire a motorbike and drive yourself to Blue Lagoon 3 in Vang Vieng. Basically, follow the signs as much as you can. Otherwise, follow the general direction of traffic.
If there are also tourists heading that way it is likely you will all end up in the same place.  Be aware that the paved road ends very quickly into the journey to Blue Lagoon Three. After it finishes you will be driving on dirt roads and rocky paths. I would only recommend driving there if you are confident and have driven in similar conditions before.
There is a common motorbike scam in Laos so be aware of that if you decide to hire one as well.
---
When To Visit Blue Lagoon Three
Depending on what time of year, as well as what time of day you visit Blue Lagoon Three can really make or break your visit. You may find the tranquil blue waters have turned an interesting shade of brown and look quite muddy.
---
Seasons
The is the most important thing to figure out whether it will be worth visiting Blue Lagoon 3. Depending on the season you visit will result in how not only this Lagoon but many around Vang Vieng will look.
December to May: December through to May is the best time of year to visit. This is considered the dry season. Though unlike the name suggests you won't find the pools have completely dried out.
Instead, they will be the perfect milky blue shade. This is exactly when all those incredible photos have been taken, mine included. Though the one downside is that this is the peak season for travelers, both local and domestic.
June to October: This is known as the monsoon season in Laos and all over Southeast Asia. The heavy monsoon rain cause havoc over the region during this time of year. Roads are typically closed due to unsafe conditions and towns can quickly become flooded.
During this time you can expect the waters in the Blue Lagoons in Vang Vieng to have turned brown. The one upside is that there won't be many travelers around and you can enjoy them to yourself.
---
Time Of Day
As with the majority of tourist hot spots, you'll want to visit Blue Lagoon Three either early or late in the day. This will allow you to beat the crowds. The majority of travelers seem to hang around from about midday until 3pm.
Early in the morning, it seems people are still resting from their hangover so the lagoon is relatively quiet. In the late afternoon the mountain, it is located in front of casts a large shadow dropping the temperatures.
I would recommend visiting in the morning to bask in the sunshine and enjoy the peacefulness. This will also allow you to get those awesome photos without anybody ruining your shot. If you visit during the weekday rather than on a weekend you will also find it a little quieter.
This is when the majority of locals are at work or at school. So you will find it is just generally international travelers during this time.
---
What To Do At Blue Lagoon 3
There is actually quite a lot to do here at Blue Lagoon 3. This is the perfect place to spend a day. Whether that is swimming in the turquoise waters, dining at the onsite restaurant, jumping off the dive platforms, or simply relaxing in the sunshine.
---
Swim
You can't come all the way to Blue Lagoon Three without going for a swim. Even if you weren't planning to, after spending an hour traveling through the dusty countryside there will be nothing you want more!
On arrival, you will be greeted by a beautiful large swimming area. Having driven all this way through dry landscapes with the cracked ground and dying plants I honestly was not expecting much. Though, I was pleasantly surprised with what I found.
The area stretches the size of multiple swimming pools all with the most beautiful water, comparable with Kuang Si Falls in Luang Prabang. Small fish are noticeable on the surface, though quickly disappear in the vast waters.
This is a little slice of paradise in the middle of nowhere.
---
Dine
Whether you've worked out an appetite swimming or simply just craving a little something to settle your stomach after a bumpy journey, there is an onsite restaurant at Blue Lagoon 3. Creatively enough it is called BL3.
Now you won't find too much information about it online. Though they do show up on Google with a couple of reviews. You pay up at the counter and then the team will bring the food directly to you. In terms of food, they offer a small range of dishes such as larp and chicken kebabs.
Of course, they also sell Beer Laos as well!
There are plenty of shacks and tables you can eat your meal at so no need to worry about where you will sit.
---
Play
One of the big appeals about Blue Lagoon Three is the vast array of activities on offer there. It could honestly keep you entertained for hours!
Laze around Blue Lagoon Three on one of the many tractor tubes which are piled high around the pool. Try out your balancing abilities by attempting to stand up on one of three bamboo rafts floating around. Give the flying fox a go and splash into the water.
Or, if you are feeling a little more adventurous, jump off the Tarzan swing high above the water. I certainly was not brave enough for that. Though plenty others were and it looked like they had a great time.
---
Relax
If you want to chill out and have a beer this is the perfect place to do it! There is no need to leave straight away after you've had a swim in the beautiful blue waters. Instead, bask under the warm Laos sunshine with a cold drink and enjoy the moment.
There is plenty of seating, picnic tables, huts dotted around the outside of the Blue Lagoon. Sit on the water's edge and dangle your feet into the chilly water.  When I visited there was even a fire lit with seats around the outside to keep you warm after a swim.
---
Cave
Other than just swimming at Blue Lagoon 3 there is also a cave to explore. I did not do this though as by the time we got out of the pool the sun was starting to set. Just follow the pathways around to the left of the building.
It is all marked very well and provides some excellent photo opportunities in the Laos jungle.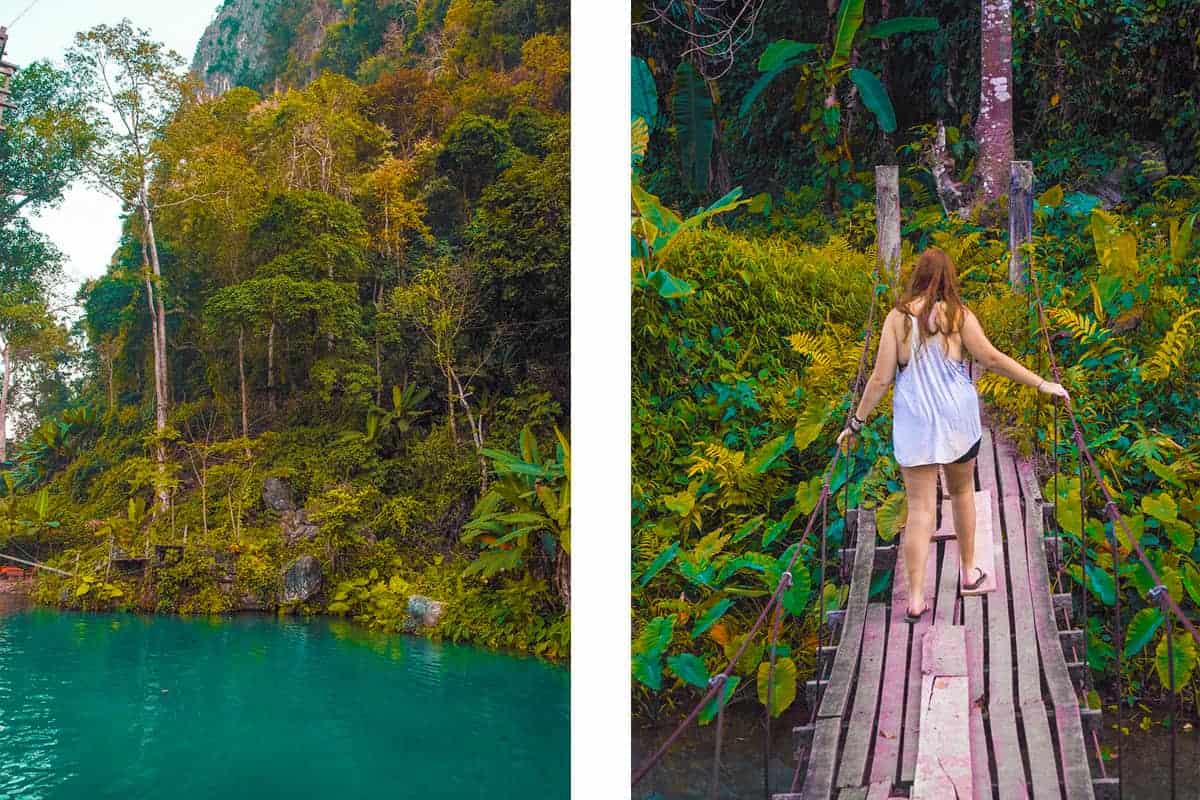 ---
What To Pack For Blue Lagoon 3
There are some things its best to take along with you while visiting the Blue Lagoons in Vang Vieng to make the most out of your experience:
Camera: Of course you can't forget the camera. This place is absolutely incredible and you will want it when you see the bright blue waters.
Go Pro: For sure bring along your Go Pro if you have one. You won't be able to see much under the water, but you will be able to get some epic shots of yourself swimming and relaxing!
Swimmers: Yes you may not be able to swim in all the pools. But you will definitely want to bring along your swimmers so you can cool off and take a dip. There are changing rooms so no need to wear them under your clothes.
Towel: Bring along your towel so dry off after you have had a refreshing swim.
Sunblock: Let's avoid looking like a lobster and bring a reef-safe sunblock along with you!
Sunglasses: It'll definitely be worth bringing sunglasses along with you. The sun shining off the sea can be super bright so protect your eyes by bringing along a pair of sunglasses.
---
Other Blue Lagoons In Vang Vieng To Visit
There are actually five different blue lagoons in Vang Vieng. Travelers usually visit at least one of them while they are in the city. They provide the perfect way to cool off and relax away from the dusty city center. Though each one is quite different so let me do a round-up of each so you can decide where to visit.
Blue Lagoon 1: Blue Lagoon 1 is no doubt the most popular lagoon in Vang Vieng. Here you will find both travelers and locals hanging out and cooling off from the hot Laos temperatures. It is located 10 kilometers out of the center of Vang Vieng.
As well as just the lagoon there is also a cave you can explore and a zip line course. You can either jump from either a 2-meter or 5-meter branch into the blue waters. The entry fee is 10000 LAK / $1.06.
Blue Lagoon 2: Blue Lagoon 2 is a lot quieter than the other blue lagoons in Vang Vieng. Though this is simply because the majority of visitors here are to visit Tham Chang Cave, myself included. I am not so sure if it's as relaxing swimming about while hundreds of tourists walk by checking out the cave.
Nevertheless, the water here is incredible making it a top choice for instgrammable places in Vang Vieng, The entry fee is 15000LAK / $1.58 which includes entry to the cave which has a fantastic view over the city.
Blue Lagoon 4: It is pretty hard to find information online about Blue Lagoon 4. It does come up on Google Maps with a few highly scored reviews. I imagine this would be one of the quieter lagoons so if you are wanting a relaxing one this may be the best choice.
Discover Laos offers a tour there and caving so if you are super desperate to find out what/where is exactly Blue Lagoon 4 definitely check them out.
Blue Lagoon 5: Located quite a distance out of the city center is Blue Lagoon 5. Though this makes for the perfect tropical spot away from the dusty streets. They also have bungalows there so you can stay the night and enjoying it longer.
Come here for a quiet time and away from all the crowds. You can see their Facebook Page for the latest updates.
---
Where To Stay In Vang Vieng?
While staying in Vang Vieng we slept in a private bungalow at Pan's Place for $7.10 per night. The room was basic with only two single mattresses on the floor and a fan.
However,  it was the first bamboo bungalow we stayed in so we enjoyed the novelty. Plus, it was clean, the reception was helpful and we had no unwanted visitors throughout the night which is always a bonus.
During my second visit to Vang Vieng, I wanted to stay somewhere slightly more comfortable and settled on Vang Vieng Galaxy Guesthouse. They had recently opened and I was amazed at how clean and modern everything was. Room there start at $30.00 per night.
A relaxed and chill hostel slightly outside of the center. From $9.00 per night.

BOOK NOW

A social and party hard hostel on the main road of the town. From$4.00 per night.

BOOK NOW

One of the newest guesthouses in the city. From $30.00 per night with breakfast.

BOOK NOW

A luxurious hotel with amazing views. Prices start from $100.00 per night.

BOOK NOW
---
Other Things To Do In Vang Vieng
There are plenty of awesome things to do in Vang Vieng apart from the cave. If you can I recommend you hire a bicycle or motorbike to explore some of the beautiful landscapes of the region.
Honestly, the best thing you can do is getting out of the main town, whether that is hiking a viewpoint or going river-tubing.
All in all Vang Vieng is an awesome chill town worth checking out in Laos and while you are there it is definitely worth checking out the impressive Tham Chang Cave and Blue Lagoon 2.
---
LIKE IT? PIN IT!
---
Want more Laos Inspiration? Check out….
---
Disclaimer: This post contains affiliate links. So, if you click on it and purchase something, I get a small percentage at no extra cost to you. As always all opinions are my own and your support is much appreciated.
Related Posts
Looking for the best hostels in Luang Prabang? Well, I have compared the price, facilities, [...]
1 Comment
Find out the perfect three days in Luang Prabang itinerary to ensure you have the [...]
8 Comments
Find out absolutely everything you need to know about common scams in Laos to help [...]
1 Comment