Visit Kuang Si Falls, Laos
I had seen numerous photos and video of Kuang Si Falls in Luang Prabang and I knew it was somewhere I wanted to visit when we were in Laos. The beautiful turquoise waters following down the numerous waterfalls seemed like a picture perfect site. Though, thanks to Luang Prabang being such a popular tourist site with not too much to do during the day I knew it was bound to be busy.
---
How I Book Cheap Transport In Laos: 12Go Asia
---
How to get to Kuang Si Falls
There are two main options to get to Kuang Si Falls, either making your own way there on a scooter you have hired or paying a tuk tuk to take you there.
Hiring A Scooter
I only really recommend this option if you are an extremely experienced rider. The roads in Laos are definitely the worse I have seen in South East Asia. Though, there was plenty of roadworks going on while I was visiting so hopefully this will change soon. Be prepared for dirt, crazy drivers and plenty of pot holes between the town center in Luang Prabang and Kuang Si Falls. Parking your motorbike will cost about $0.25.
Hiring A Tuk Tuk/Pickup Truck
The other option, and the one that I used, was to hire a tuk tuk to take you there. The tuk tuks in Laos and basically just pick up trucks which legally can only fit six people in, but drivers will squish in more. If you are in the main square in Luang Prabang, at the top of where the night markets are held it is super easy to find a tuk tuk to take you. Though, it may be a lot harder to find one which will give you a decent price. If you are wanting to save money the drivers will usually round up a group of people to share the cost. They should charge somewhere between $3.50-$6.00. Alternatively, you can hire a private tuk tuk for $20 with some haggling.
After leaving our beautiful hotel, called Phanhthasone Guesthouse, we found a group of people in the middle of the town and a driver who was willing to charge $6 each for a return trip, entry fee and four hours exploring the waterfalls. As there were more drivers wanting to take us to the falls than there were people wanting to visit, so we used this to our advantage to get a decent price.
The Bear Sanctuary at Kuang Si Falls
After a very bumpy drive to Kuang Si Falls and me trying my hardest to avoid being car sick we finally arrive. The car park is full of tuk tuks and the surrounding buildings full of the drivers. We are directed past the ticketing box and onto the path towards the grounds. Meanwhile our driver stays behind giving money to the ticketing person. They are obviously getting it at a discounted rate.
The path is well trodden up towards the falls and soon we are greeted by a bear enclosure. They are enjoying their days lazing about while another one who happens to be missing an arm itches himself on a log. There is a viewing platform higher up which gives the perfect view over their enclosure. This sanctuary is not funded by the government, rather by an Australian charity. Many of the bears had been rescued from poachers as their bile is used in Chinese medicine. It is well worth supporting their conservation efforts by donating or by purchasing a souvenir tee-shirt during your visit.
What To Expect At Kuang Si Falls
Lower Pools
The lower pools are where you can swim at Kuang Si Falls. Further up the lower pools you go the less people there will be. There are numerous jumping points from trees and rocks, just make sure to double check the depth to avoid getting injured. There are no lifeguards to help you if something happens. Though, you will know which pools you can jump into as it is well sign written. So please don't ignore these rules.
The water itself is quite chilly, providing the perfect relief from the hot Laos temperatures. While swimming little fish will come up and started nibbling on your feet. They are like the ones at a fish spas. Can't complain about a free foot treatment.
The Main Waterfall
Further up the path you will find the main waterfall. Trust me it is hard to miss and extremely beautiful. A bridge stretches out front of it over the main pool allowing you to see it from either side. Unfortunately, you are not able to swim in it. Though, I could just imagine how dangerous this would be as the water looked deep with a strong current. The waterfall is three tiers and you can access both the top tier and middle tier aka the secret pool through a very steep hike up through the Laotian jungle.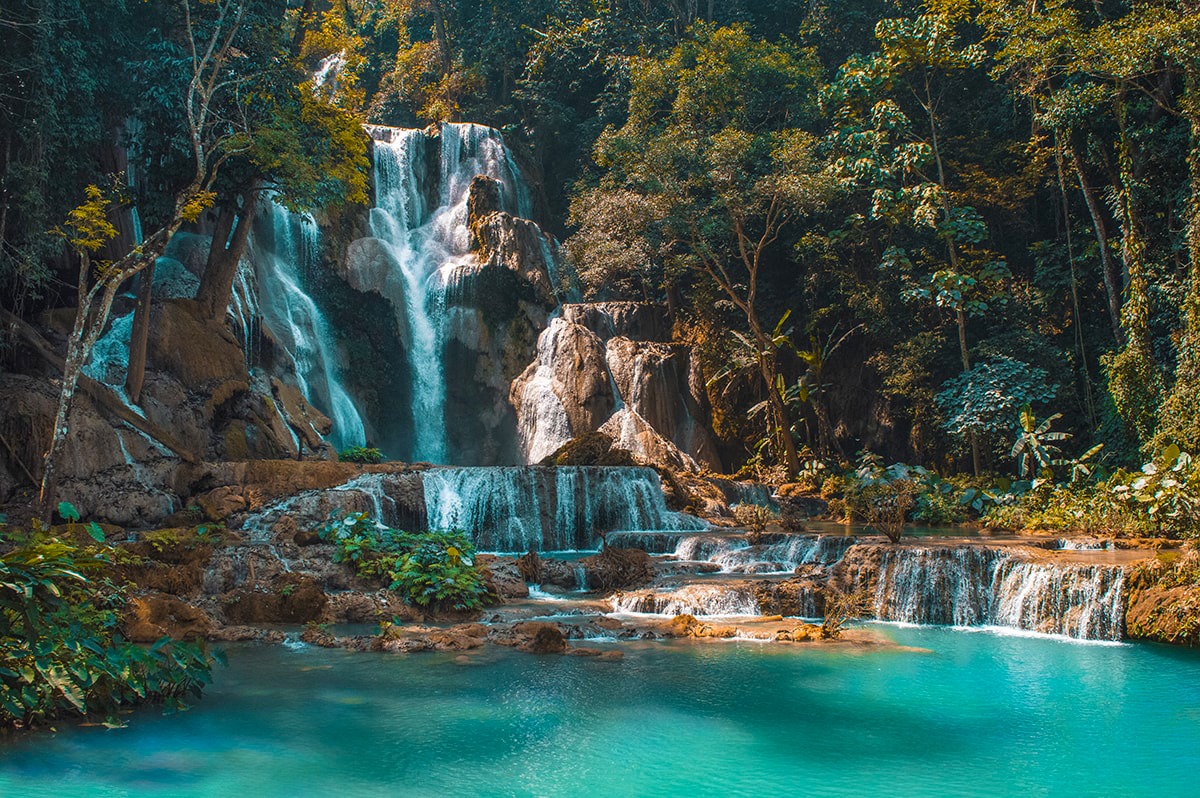 The Secret Pool at Kuang Si Falls
If you continue right along the bridge and into the jungle you will come across a very steep path/climb. We had to take our shoes off  as it was just so slippery to climb up. Though, about half way to the top, there are two options. Continue on the path up or to go left towards the 'do not enter' and bamboo fenced off path. To get to the secret pool you need to ignore all warning signs and jump over that. I personally did not do it myself, though you can read Nomadic Matts adventure on exploring the secret pool.
Hike To The Top
Continuing the hike up the waterfall is not for the faint hearted, especially when it can be so hot. It is extremely steep, the ground is uneven and covered with tree roots. It is easy to tell this climb is a challenge by comparing the amount of people at the top with the massive number of tourists below. Seriously there were maybe ten people at the top while I was visiting!
Unlike the lower pools, at the top the pools are not as bright of gorgeous blue color. This may be due to all the shade up there. Though, there is an awesome view point which looks right over the Laotian jungle.  There is also some swings and to get across you have to balance on bamboo lengths tied together.
To get down continue to follow the path to the other side of the waterfall and you will see a track that descends. Just like the walk up the walk down is equally as difficult. I may have fallen over a few times. Remember to watch your footing!
Dining At Kuang Si Falls
By the time you have finished swimming, climbing and playing at Kuang Si Falls no doubt you will be hungry or at least thirsty! In the parking lot there are so many eatery options and plenty of juice stalls to keep you going. Though, I was certainly not brave enough to try the fish pictured!
Important Details
The entry fee into Kuang Si Falls is $2.50.
It is located 29 kilometeres south of Luang Prabang
Open every day from 8am until 5.30pm
---
How I Book Cheap Transport In Laos: 12Go Asia
---
LIKE IT? PIN IT!
Want more Laos inspiration? Check out….
Disclaimer: This post contains affiliate links. So, if you click on it and purchase something, I get a small percentage at no extra cost to you. As always all opinions are my own and your support is much appreciated.