Find out where to eat in Luang Prabang for delicious food and delightful drinks. Learn about the 12 best restaurants that you need to try in Luang Prabang for breakfast, lunch, and dinner!
---
One of the best ways to discover a new destination is through its food. Even better is when there is a wide variety of cuisines and local delicacies to try.
If you are a bit of a foodie and enjoy exploring some of the best restaurant Luang Prabang for breakfast, lunch, and dinner you will love it.
I have spent quite a bit of time in Luang Prabang over the numerous trips I have spent in this gorgeous city. I love Laos as a country, and Luang Prabang embodies everything great, including the incredible food!
The beautiful UNESCO World Heritage site of Luang Prabang has such a wide variety of awesome cafes and restaurants to suit any tourist where you can try the best food in Luang Prabang. From quaint French-inspired eateries, riverside coffee spots, and authentic Italian hideaways.
Though, with all these options it can get a little overwhelming, especially if you want to try them all. That's why I have created the ultimate list of where to eat Luang Prabang and the best restaurants in Luang Prabang!
---
Where To Eat In Luang Prabang: My Favorite Cafes & Best Restaurants Luang Prabang Worth Visiting
---
🚗 How I Book Cheap Transport In Laos: 12Go Asia
---
Breakfast In Luang Prabang
You will want to make sure you start your day right with the best breakfast in Luang Prabang. Luckily enough you will be spoilt for choice with the plenty of cafes in Luang Prabang!
---
Formula B
Formula B is a fantastic breakfast cafe located in Luang Prabang, Laos. It is situated on Sisavangvong Road and is known for its delicious baked goods, brunch items, and coffee.
After a few hit-and-miss breakfast places, we decided to hit this place up and were delighted. They have an incredible drinks menu and plenty of delicious bakery options!
From cakes to croissants and savory delights, they have something for everyone here. I have got to recommend their brownie for anyone with a sweet tooth.
The ambiance of the cafe is comfortable and cozy, making it a great place to start your day. They also have fantastic air conditioning providing the perfect spot to hide from the Lao heat.
They are also open for lunch in Luang Prabang as well if you are looking for a delicious bite during other times of the day.
Opening Hours: 8 am until 5 pm Monday to Friday, and 8 am to 6 pm Saturdays & Sundays
Location: Sisavangvong Road, Luang Prabang, Laos
---
Joma Bakery Cafe
Joma Bakery Cafe is an iconic Luang Prabang eatery as well as a hot spot for millennials and expats. With a more relaxed coffee shop vibe, it is common to see people in here for a couple of hours grabbing a few drinks and relaxing.
No doubt this is the best bakery in Luang Prabang and is well worth checking out on your visit.
Though I will say this place is certainly on the more pricey side. However, you can add avocado to anything for $0.50 / 10,000LAK, they definitely know the market they are catering to.
I have also got to give a shout-out to Joma Bakery Cafe for taking the initiative to become an environmentally friendly business and sustainable. They serve drinks with paper straws, have a free water refill area and takeaway drinks come in biodegradable cups.
Opening Hours: 6.30 am until 9.00 pm, 7 days a week
Location: Chao Fa Ngum Rd, Luang Prabang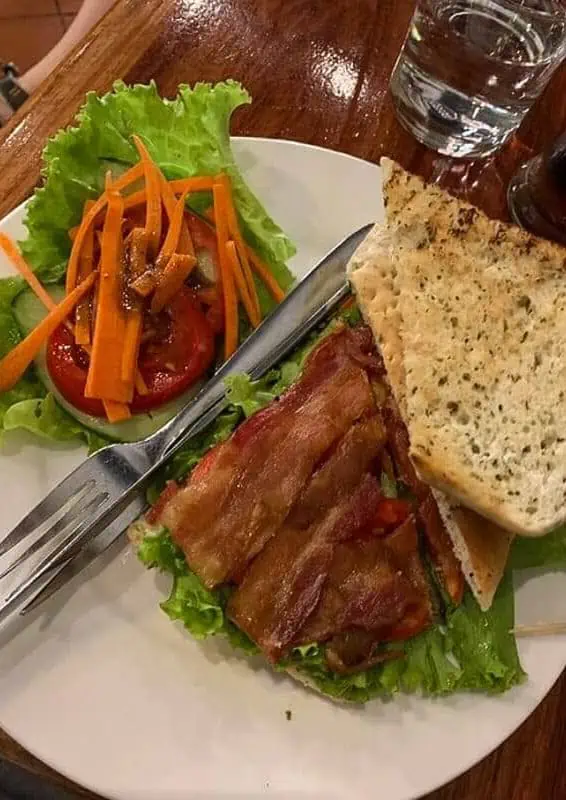 ---
Le Banneton Cafe
Le Banneton Cafe is the perfect chill breakfast spot in Luang Prabang when you are after a delicious Western meal.
They have great food and delicious coffee so what more could you want? Try not one of their amazing baguettes full of the freshest ingredients.
This cafe is located within a beautiful old colonial building oozing that UNESCO World Heritage beauty that is found all around Luang Prabang.
It is right next to some incredible temples or wats, providing the perfect lunch getaway while temple hopping your way through the city.
Opening Hours: Wednesday- Monday 6.00 am- 9.00 pm and Tuesdays 6.30 am- 6.00 pm
Location: Sakkaline Rd, Luang Prabang
---
Saffron Coffee
The perfect place for breakfast in Luang Prabang, Saffron Coffee has such awesome chill vibes and great food making an overall excellent experience for travelers. The staff here are amazing, always with a smile and able to assist with requests.
With views overlooking the incredible Mekong River, there is plenty of shade and comfortable tables to relax at.
This riverside eatery features everything you could ever want, from amazing views to chocolate-covered pancakes. Make sure to pop in for the relaxing atmosphere and social vibes, it is the perfect place to get into Laos life.
Opening Hours: 6.30 am to 4.45 pm, 7 days a week
Location: Khem Khong Road, Luang Prabang
---
🚗 How I Book Cheap Transport In Laos: 12Go Asia
---
Lunch In Luang Prabang
Make sure you have the energy to keep exploring this incredible city by checking out the best Luang Prabang restaurants for lunch!
---
Indigo Cafe
Indigo Cafe is certainly one of the best places to eat Luang Prabang. Whether that is breakfast, lunch, or dinner this place is always packed with travelers looking for a delicious bite.
They even have delicious vegan and vegetarian food so can cater to your dietary requirements. Make sure to head there for happy hour as well, can't say no to 2 for 1 cocktail!
The team at Indigo Cafe also has a stall out front selling absolutely delicious goodies.
This also operates during the Luang Prabang Night Market which basically starts straight outside. On it, you will find everything you could want such as slices, cakes, pastries, and muffins.
Opening Hours: 6.30 am until 10.00 pm, 7 days a week
Location: Sisavangvong Road, Pakham Village, Luang Prabang
---
The Belle Rive Terrace
A beautiful and romantic hideaway in Luang Prabang is The Belle Rive Terrace. Tucked away surrounded by trees and overlooking the Mekong River you must bring your special someone here for a delicious lunch!
However, if it is a little too hot to sit outside, don't worry as they also have indoor seating.
They offer both a delightful selection of Western and Laos food which you need to try.
If you want a truly unique foodie experience make sure to offer one of their Laos tasting plates so you can sample a variety of this country's favorite cuisines.
Opening Hours: 7.30 am until 10.00 pm, 7 days a week
Location: Baan Phonehueang 99, Luang Prabang
---
Dyen Sabai Restaurant
Dyen Sabai Restaurant Luang Prabang is a must-visit for any foodie wondering where to eat in Luang Prabang.
Here is where you can have a local Lao culinary experience overlooking the beautiful Nam Khan River. Be aware to get there you will need to pass over a wobbly wooden bridge which has a $1.00 fee.
If you decide to go at night or during sunset the bridge will be lit up in fairy lights as well.
Here at Dyen Sabai Restaurant, you will be able to try the famous Laos fondue, or what is commonly known as a hot pot in Southeast Asia, or even a delicious noodle soup.
Though the menu does change every day so if you are one of those people who like to preplan their meals this might not be the place for you.
Opening Hours: 8.00 am until 11.30 pm, 7 days a week
Location: Ban Phan Louang, Luang Prabang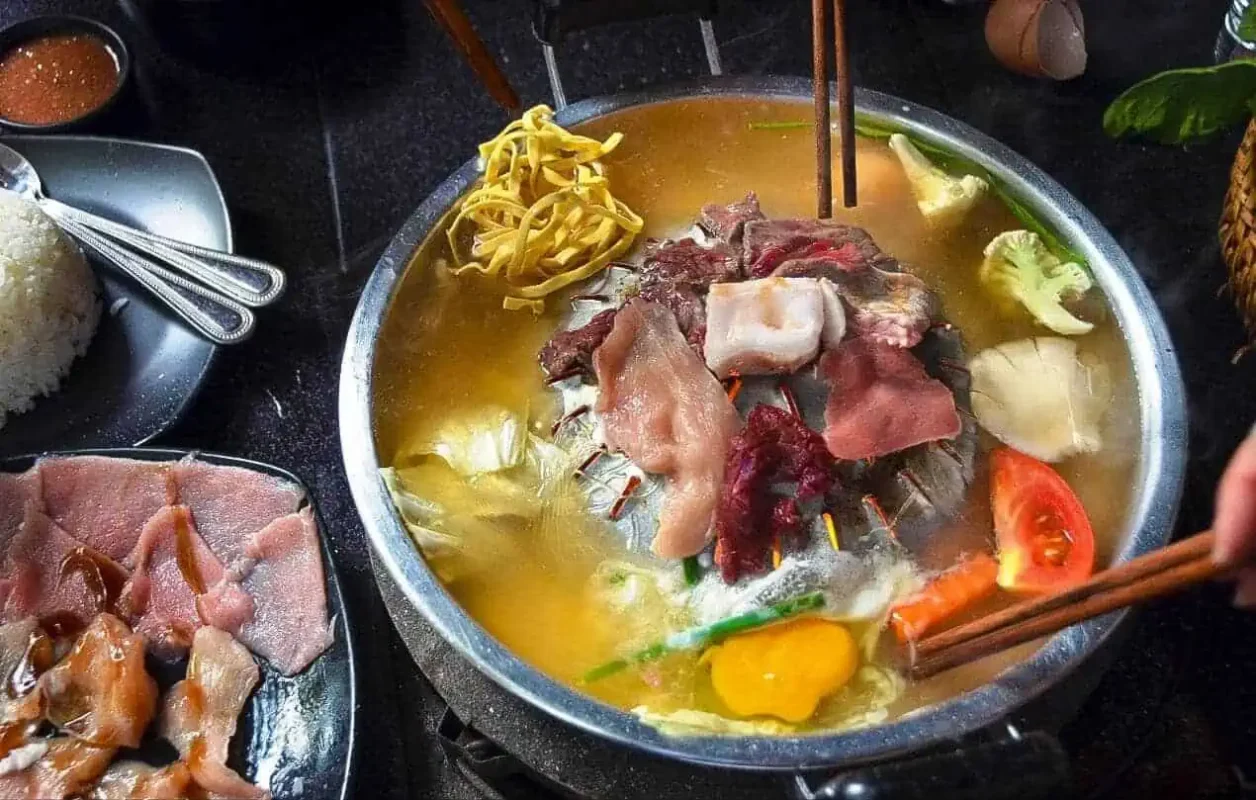 ---
Yuni Yupon
Yuni Yupoun is a restaurant located in the heart of Luang Prabang and is a must-visit during your stay.
It was established in 2019 and offers a wide range of authentic Laotian dishes, including their specialty of fried eggplant with pork or tofu.
In addition to Laotian cuisine, Yuni Yupoun also serves international dishes such as steak, pasta, burgers, Indian butter chicken or tofu, and my favorite, the Mezze platter.
The decor is beautiful, and the food is presented beautifully. The set lunch changes daily, but there are always delicious options such as salad, pork laap, and sticky rice with mango.
Yuni Yupon's multicultural kitchen, central location, and friendly staff make it a popular choice among tourists and locals alike. Their set lunch is a great way to sample the food, and they also do a happy hour on selected cocktails from noon to 7 pm!
Opening Hours: Daily from 11.30 am to 11 pm
Location: Sisavangvong Road, Luang Prabang, Laos
---
🚗 How I Book Cheap Transport In Laos: 12Go Asia
---
Dinner In Luang Prabang
Find out where to eat in Luang Prabang for dinner. End your night well, with a full stomach of delicious bites. These are some of the best Luang Prabang restaurants.
---
Tangor
Tangor is another one of the best places to eat Luang Prabang and will be bustling no matter what evening you go. They have been operating for many years, and they know exactly what they are doing.
With delicious and beautiful food, great customer service, and a chill atmosphere, there is nothing more you could want. Enjoy the 60s and 70s music while tucking into some of their delicious dishes.
There is a wonderful French manager here does his best to ensure all the guest are happy and meals coming out of the kitchen are to a high standard.
Make sure to try the ceviche and to get one of their scrumptious desserts!
Opening Hours: 10.30 am until 11.30 pm, 7 days a week
Location: House No.63/6, Ban Xiengmouane, Rue Sisavangvong, Luang Prabang
---
Secret Pizza
Pizza lovers rejoice and get to Secret Pizza for a taste of the best! Though this place is not in the easiest location to get to, trust me it is so worth it. You will need to take a tuk-tuk from the city center.
This should cost about $4.60 / 40,000LAK for the journey, though you might have a haggle for a decent price. Nevertheless, this place is an absolute gem that is seemingly located in the middle of nowhere.
As the name suggests, the pizzas here are the star of the show. Think thing and crispy woodfired bases, delicious and fresh topping, all of which are cooked to perfection.
This place is no doubt the best pizza in Luang Prabang where you can just enjoy the chill countryside vibes of this secret gem.
Opening Hours: 6.00pm until 9.30pm, Tuesdays and Fridays only
Location: Ban Nasaphanh street 3 (End of Soi 3 Off Highway 13 Nasamphanh Village) Luang Prabang
---
Popolo
Another great choice for Italian food in Luang Prabang is Popolo. This is the ideal spot to eat if you are craving a change from the typical Asian food and looking to mix it up a little.
Also, if you want great pizza, but Secret Pizza is closed, this is a great alternative with their wood-fired pizza oven cooking each one to perfection.
They also have delicious wines, cocktails and serve many tapa-style dishes. There are many seating options for you to relax whether you want indoors, patio, or at the bar.
You cannot go wrong coming here for a delightful cocktail and one of their scrumptious bites.
Opening Hours: 11.00 am until 10.00 pm, 7 days a week
Location: Kounxoau Road, Luang Prabang 0600
---
Bouang
If you are on a budget and looking for a colorful, delicious fresh meal you cannot go wrong with Bouang.
This has got to be one of the best cheap eats in Luang Prabang which makes it perfect for backpackers on a budget.
The colorful and unique decor here will put you in a good mood. It also matches perfectly with the bright and colorful cheery ingredients Bouang uses.
Whether you are after a burger, local bites, or even dessert there is something for everyone here at this delightful eatery.
Opening Hours: 9.30 am until 9.30 pm, Thursday to Tuesday (Wednesday Closed)
Location: Main Street, Luang Prabang
---
Khaiphaen
Khaiphaen offers creative Lao cuisine, as well as great shakes and cocktails, all in beautiful surroundings. It is a non-profit organization that trains marginalized youth in cooking and serving skills.
They are known for their serious Lao food, an attractive atmosphere in the old town, and great service. The menu features a variety of Asian and healthy dishes, with vegetarian-friendly, vegan, and gluten-free options available.
Some of the popular dishes include tofu and khaiphaen salad, pork belly, green beans with lime, and fish dumplings.
Khaiphaen is a river weed that the restaurant deep fries and serves with homemade silken tofu in a fruit sauce.
This is certainly a unique fine dining experience in Luang Prabang, but one that is well worth visiting.
Opening Hours: 11 am until 9.30 pm, Monday to Saturday (Sunday Closed)
Location: 100 Sisavang Vatana Road, Ban Wat Nong, Luang Prabang, Laos
---
🚗 How I Book Cheap Transport In Laos: 12Go Asia
---
Where To Stay In Luang Prabang?
There are plenty of choices when it comes to accommodation in Luang Prabang. From the 5* resort, historic hotels, simple hostels, and locally owned guesthouses, you will find something to fit your budget and needs.
During our recent visit, we stayed on a quaint little side street minutes from the center and across from the Mekong River. I fell in love with this little spot.
There are a few budget guesthouses and nicer hotel-style accommodations available down this street.
Check out Mylaohome Hotel & Spa for comfortable rooms, an awesome spa, and a delicious cafe onsite from $23.00 per night.
There is also Villa Pumalin which has an indoor pool and beautiful wooden rooms starting at $30.00 per night.
A chill hostel with friendly staff. Dorms start from $6.50 per night inclyding breakfast.

BOOK NOW

More of a luxe hostel with great facilities. Dorms start from $10.00 per night including breakfast.

BOOK NOW

A great location and with rooms starting from $45.00 per night including breakfast.

BOOK NOW

A walk from the city attractions, starting from $26.00 per night with breakfast.

BOOK NOW
---
Other Things To Do In Luang Prabang
Apart from eating to your heart's content at Luang Prabang restaurants, there are plenty of awesome things to do here, so much I recommend spending at least three days in Luang Prabang.
It's an awesome city with gorgeous landscapes, some of Lao's best waterfalls, and delicious food.
Visit the Kuang Si Waterfall: This waterfall is located about 23 km from the city and is surrounded by lush greenery. You can swim in the turquoise blue water, and hike to the top of the waterfall.
Explore the city's spirituality: Luang Prabang is home to over 33 temples, each with its own unique architecture and history. The temples are beautiful and give the city a deep spiritual feel.
Experience the famous night markets: The night markets in Luang Prabang are a great place to shop for souvenirs, handicrafts, and local food. They are open every night from around 5 PM to 10 PM and are located in the center of the city.
Hike up to Mount Phou Si: This hike is not too difficult and offers stunning views of the city and the surrounding mountains. The best time to hike is either early in the morning or late in the afternoon to avoid the heat.
Learn about Laos' devastating past at UXO Luang Prabang Center: This is a museum that educates visitors about the history of Laos and the impact of the Vietnam War on the country. The museum is open every day from 9 AM to 5 PM.
---
FAQs About Cafes & Restaurant In Luang Prabang
What are the delicious traditional foods of Luang Prabang?
Laotian cuisine is known for its rich flavors, herbs, and simple and fresh ingredients. Luang Prabang offers a great variety of Laotian food with street food and restaurants. Some of the traditional dishes that you can try are Jaew, Sticky Rice, Laos Khao Soi (Luang Prabang's official noodle dish), Larb, Khai Pan, and Sai Oua.
What do people in Laos eat for breakfast?
Laotian breakfasts are a delicious and hearty way to start the day, typically comprised of some sort of soup. Some of the most popular breakfast dishes include Khao piak sen (Lao noodle chicken broth soup), Khao piak khao (thick Laotian rice chicken stock soup), and Feu (beef noodle soup).
What is the dining etiquette in Laos?
In Laos, sharing a meal is considered a significant social activity, and observing proper manners and etiquette is a sign of respect. Examples of this include that it is common to eat with your hands Lao meals are typically served family-style, with a variety of dishes placed in the center of the table, and the first taste of a meal is always had by the oldest person at the table.
What is the most eaten food in Laos?
The most commonly eaten food in Laos is sticky rice or khao niaw. It is served with fresh greens dipped in chilies or fermented sauces, and laap.
---
Wrap-Up: The Ultimate List Of Where To Eat Luang Prabang & Best Restaurants In Luang Prabang
With the help of this list of the best cafes and restaurants in Luang Prabang, you will be able to explore the city with your mouth. Whether you are looking for traditional Lao cuisine, international flavors, or fusion dishes combining the best of both worlds.
Now go ahead and fulfill your foodie cravings now you know exactly where to eat in Luang Prabang for breakfast, lunch, and dinner!
---
LIKE IT? PIN IT!
---
Want more Laos Inspiration? Check out….
---
Disclaimer: This post contains affiliate links. So, if you click on it and purchase something, I get a small percentage at no extra cost to you. As always all opinions are my own and your support is much appreciated.
Related Posts
Looking for the best hostels in Luang Prabang? Well, I have compared the price, facilities, [...]
1 Comment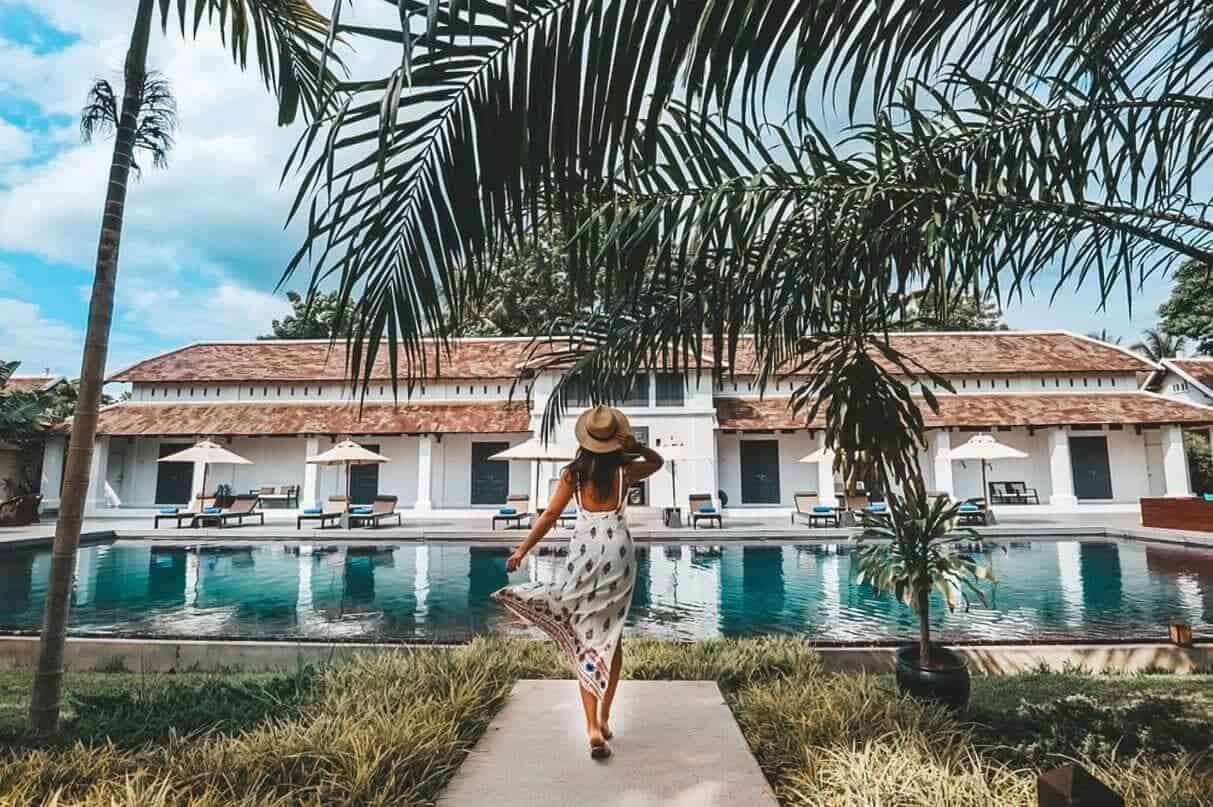 Find out where to stay in Luang Prabang for the ultimate holiday. I have compared [...]
1 Comment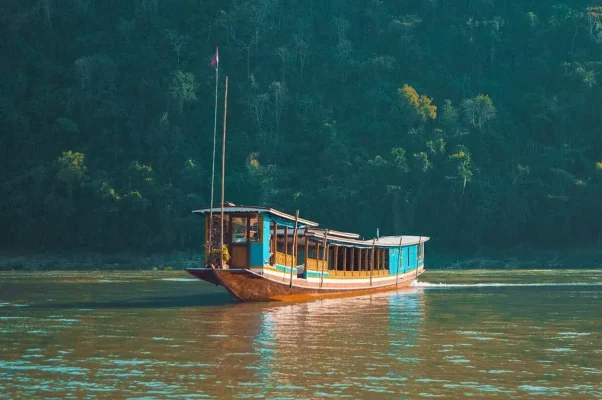 Find out exactly how to travel between Chiang Mai to Luang Prabang. Comparing taking a [...]
61 Comments