Find out all you need to know about visiting Tad Yuang Waterfall outside of Pakse.  Learn about how to get there, what to expect, entry fees, and more to make the most out of your visit to Tad Yuang Falls!
---
The Bolaven Plateau outside of Pakse is full of insane nature, crazy waterfalls, and endless jungles. This is a unique part of Laos which you need to explore. Completely away from the city of Pakse and in nature there is no better way to experience Southern Laos.
I decided to check out Tad Yuang Waterfall while there to see what it has to offer. This is certainly not the most popular waterfall in the Bolaven Plateau area, though is definitely worth the visit.
I was unfortunately only in Pakse for one day, but I knew I had to get away from the city and to one of the many incredible waterfalls that call the area home. There are plenty of different waterfalls around here so there is no need for you to come to this exact one.
However, if you are looking for a waterfall where you can swim inside, which is picturesque and relatively quiet, I can highly recommend Tad Yuang Waterfall.
---
Tad Yuang Waterfall: Why You Need To Visit When You're In Pakse
---
How To Get To Tad Yuang Waterfall
The majority of travelers wishing to explore the Bolaven Plateau and Tad Yuang Waterfall will likely be staying in the main town of Pakse. Here is an international airport, plenty of accommodation choices and restaurants.
However, Tad Yuang Waterfall is located 40 kilometers away so you will need some sort of transportation to get there. Let's find out about the different transportation choices when figuring out how to get to Tad Yuang Waterfall from Pakse.
By Motorbike: One of the easiest and cheapest ways to explore Tad Yuang Waterfall and the Bolaven Plateau is to hire a motorbike while in Pakse. There are plenty of rental stores, so you will have no problem finding one.
If you are going to hire a motorbike for one day you can expect to pay around $9.10 – $11.40 / 80,000 – 100,000LAK. Though, if you are wanting to hire one for multiple days, perhaps doing the short or long loop around the Bolaven Plateau, you can likely negotiate a deal.
The road between Pakse to Tad Yuang Waterfall was surprisingly quite well made. There were a couple of areas where work was being done. Though, the majority of the way was simple smooth driving.
On A Group Tour: Taking a group tour of Tad Yuang Waterfall and the Bolaven Plateau is a great option for those who are not confident riding a motorbike, especially in an area they are not familiar with.
There are limited options to book online for a group tour, plus they are quite overpriced so I highly recommend not booking anything until you have arrived in Pakse. Once you are in the city there are plenty of travel agencies, as well as hotels, hostels, and even restaurants selling tours of the Bolaven Plateau.
You can expect to pay around 150,000LAK for a full-day tour (Chato Hostel organizes its own group tours as well). If you for certain HAVE to visit Tad Yuang Waterfall then I highly recommend double-checking what falls your group tour will be visiting.
Depending on who you book with they will have different schedules and stops so you might need to shop around to find the best option for you.
---
Tad Yuang Waterfall Entrance Fee
Here is an admission fee of  $1.10 / 10,000LAK to enter Tad Yuang Waterfall.
---
Tad Yuang Waterfall Opening Hours
Here are the opening hours for Tad Yuang Waterfall:
Opening Hours: 8am-5pm from Monday to Sunday.
---
My Experience At Tad Yuang Waterfall
Don't let the arrival put you off. Lined up are many touristy restaurants and souvenir stores lining the pathway down the trail. Even with all these spots, all the restaurants and stores were completely empty.
I will say that we did venture there in a bit of an overcast day, but during our whole time at the falls, there were only about 10 other groups coming and going.
Walking past all these touristy spots the landscape opens up pretty quickly after these buildings to a large green mountainous area covered in forest. Across there is access to a nice little picnic area which is a great spot to relax.
It is actually at the top of the waterfalls, though the water was quite past moving in the wet season so I wouldn't jump in!
---
Climbing Down The Base Of The Waterfall
There is only one word to describe the walk down, STEEP. We visited in the wet season which meant it was only fairly muddy. A short way down the track was a fallen tree blocking the path, which meant we had to climb over or under to get past.
It is a short, but rather steep descent to a covered viewpoint. As it was raining a little bit we stopped here for a while and watched the insane waterfalls gushing down.
This is where the majority of people stopped and enjoyed the sights from a seat. There was a minivan full of people who arrived not long after us. Luckily that group stopped here so we nearly had it all to ourselves.
Down a set of stairs, you can descend down to the base of the waterfalls. You will need to climb down a couple of rocks here, but it is nothing extreme. Apart from our group of six, there were only two other groups around the pool of the falls.
One seemingly Instagram couple focused on getting photos, and a group of two guys also getting photos.
---
Swimming At Tad Yuang Waterfall
Climbing down the rocks and dropping our gear we slip into the pool 40 meters below the waterfall. The rocks are quite slippery, though luckily I have water shoes which definitely helps with walking through the shallows to the drop-off.
The current in the water is quite strong, especially around the base of the falls. Even though there are plenty of photos of us around it, it was super difficult to swim to! Though, in some areas around the base of the falls, we could touch the bottom.
Therefore if you are traveling around the dry season the currents shouldn't be as strong and the water levels will likely be lower.
We are actually the lower people swimming in the pools during our visit. Honestly, the water was quite brown, so didn't look too enticing. Though once you are in it is bound to be a great time.
As the Bolaven Plateau is located in the mountains the temperature here is a lot cooler than the majority of places you have likely been in Laos. The water here also was not the warmest, though it was definitely bearable and I am sure it would have been super refreshing on a hot sunny day.
No doubt one of the highlights is swimming underneath the two waterfalls and climbing onto the rocks underneath them. I do recommend having water shoes for this if you want to do it as the rocks can be extremely slippery.
---
What To Bring On Your Visit
Tad Yuang Waterfall is in the Bolaven Pleatue so the temperatures here are not like the rest you might be expecting in Laos. Here it is a lot cooler, the chance of rain is high and the sun is not always shining.
As a result of this, you will definitely want to bring some warmer clothes. Apart from the usual swimmers and towels, here is a more specific list of what exactly you should bring:
Camera and GoPro as it is a super beautiful spot
Water shoes if you want to climb on the rocks at the base of the waterfall
A warm rain jacket to wear afterward to keep you warm and in case it rains
---
Where To Stay
If you are wanting to visit Tad Yuang Waterfall during your time in Southern Laos, the easiest and best option for you would be staying within the city of Pakse. This is a large hub full of a variety of accommodation, restaurants, supermarkets and basically everything you could need.
There is a large choice of accommodation options here from basic backpacker hostels to 5* riverside resorts. If you are looking for budget accommodation I highly recommend checking out You Empire Hostel and Bar.
They have super comfortable dorm rooms with plenty of common spaces for $6.00 per night. Another option for travelers with a higher budget and who want a private room is Pakse Hotel and Restaurant. They have modern rooms with everything you need from $30.00 per night.
Though, perhaps you are looking to stay closer to the waterfalls, among nature and away from the city.
First of all, if you are thinking of doing this I highly recommend hiring a motorbike in Pakse as you will likely want to explore further afield from your accommodation and transport may be harder to find being in the countryside.
A great option here is Falls View Resort Tad E-Tu. Backing onto a different waterfall, this resort is located in a valley with insane jungle views. Rooms here start from $35.00 per night with breakfast in a large double room.
Alternatively, there is Tad Fane Resort, again backing onto a different waterfall called Tad Fane. This is no doubt the most popular waterfall in the region. Rooms here start from $30.00 per night including breakfast.
There isn't anything too extravagant about the rooms themselves, but all rooms have a private balcony so you can sip tea among nature.
Any Questions? Let me know in the comments!
---
LIKE IT? PIN IT!
---
Want more Laos Inspiration? Check out….
---
Disclaimer: This post contains affiliate links. So, if you click on it and purchase something, I get a small percentage at no extra cost to you. As always all opinions are my own and your support is much appreciated.
Related Posts
Find out exactly how much it will cost to travel Laos on a budget and [...]
17 Comments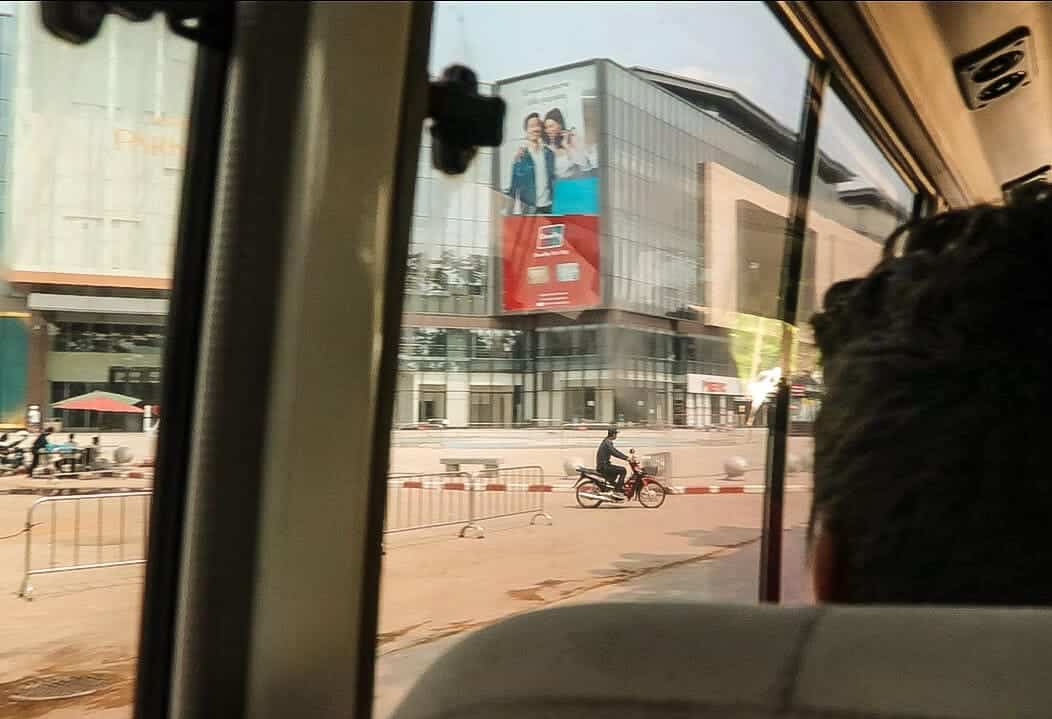 Find out the best and easiest way to travel from Vang Vieng to Vientiane in [...]
1 Comment
Find out the best waterfalls in Laos that you need to visit at least once. [...]