If you are like me and basically plan your next destination based on what the most affordable countries to travel in are, then this post is for you.
Seriously, if I had a dollar for each time I googled "cheapest countries to visit", "affordable destinations to travel to" or "backpacker friendly countries" I would have enough money to fund my travels in those more expensive countries such as France, basically just so I can eat all the cheese.
But, until then I will keep marking off the cheapest countries to backpack off my must-visit list. So here is the cheapest countries that are backpacker-friendly round-up for 2023!
---
Cheapest Countries To Visit: The Ultimate List
I have traveled to both expensive and extremely affordable countries and for some reason, I always have the best experiences in the cheapest countries. If something goes wrong then I know that I will be able to afford to fix the issue without breaking the bank.
My monthly expenses are always cheaper than what they are even in my home country of New Zealand. I spent $4000.00 in Asia over a 6 month period, that amount also includes return flights and insurance. That same amount in somewhere like the United Kingdom might last me 3 months max if I am lucky!
So let's get into the details about which countries are the cheapest to travel to and why.
---
Cheapest Countries In Asia
Let's start with the most obvious continent, Asia. This is a region in the world which is famous for affordable holidays. Accommodation, food, and activities are all cheap. Flying around Asia can also be extremely affordable with budget airlines galore. Whether that is traveling the banana pancake trail in Southeast Asia or trekking in the Himalayas. You will certainly get a lot of bang for your buck in Asia, ultimately allowing you to travel better and longer.
Find out what you need to know before traveling Asia
---
Sri Lanka
I feel like India is on every single cheapest countries list, so I decided to mix it up and add in Sri Lanka instead. This teardrop-shaped island is located off the southern coast of India, so it is super accessible and can also be easily reached thanks to cheap flights from Kuala Lumpur.
With rolling green hills, tea plantations, urban cities, surf beaches and wildlife safaris Sri Lanka seriously has something for everyone. It is a cheap country to travel to with backpacker hostels in all main towns and transport is crazy cheap! Enjoy some of the best meals of your life while sipping a beer on the beach.
Ever heard of Bentota? Well, you should have! This coastal town is the perfect way to spend a few days, there are so many fun things to do in Bentota!
Remember not to miss the gorgeous train journey between Kandy to Ella.
Check out the impressive formation of Sigiriya.
Cost per day: $30.00
---
Laos
Laos is a super up and coming country, slowly growing in popularity and making its mark within the South East Asia banana pancake backpacking trail.
Even though Laos is a landlocked country you will have no problem finding the perfect place for a swim. From the Mekong River which flows straight past Luang Prabang to the beautiful blue lagoons which are dotted around Vang Vieng and the amazing Kuang Si Falls, you will be spoiled for choice in activities that will help beat the heat.
As Laos was colonized by the French prepare yourself for deliciously cheap baked goods and baguettes. I highly recommend checking out the Luang Prabang night market for the best danishes of your life!
Unfortunately, Laos is one of the pricier destinations in South East Asia, well in comparison to Vietnam and Thailand. Though, compared to other places around the world and it is still one of the cheapest countries to travel for 2023.
Cost per day: $30.00
Find out exactly how I backpacked Laos for $30.00 per day!
---
Indonesia
Indonesia is no doubt one of the most affordable countries to travel. As well as being cheap it is also super stunning with surf beaches, rice paddies sprawling metropolises and beautiful islands. Your time in Indonesia will for sure be one to remember.
Thanks to cheap and delicious street food, super affordable backpacker hostels and the low cost to hire a motorbike, it is no doubt Indonesia is a backpackers paradise. You can even find yourself in a private bungalow for the same price as a hostel bed in Western Europe! This has made it a super popular hangout for digital nomads (if you are interested in becoming a digital nomad have you thought about Remote Year?) and tourists from all over the world!
Just remember to eat local and get away from the tourist destinations. Staying in touristy Bali and eating at restaurants catering for western tourist will result in you breaking the bank. I happened to find this out the hard way.
Cost per day: $28.00
---
Nepal
Nepal is known as the cheapest country in the world and because of this, it has an excellent backpacker scene. Hostels are in all major towns and if you are getting off the beaten track you will be able to find an affordable guesthouse with no issue.
The perfect country for the adventurous, Nepal will keep you constantly busy. Whether that is exploring a new city, hiking or checking out rhinos in the amazing Chitwan National Park. Home of the Himalayas and one of the best trekking scenes it is the perfect place to do shopping, with knock-off Patagonia and North Face clothing for cheap.
If you are wanting to hike in the Himalayas I highly recommend the Annapurna Circuit. It won't break the budget unlike the Everest Base Camp trek and the views are equally amazing thanks to the Annapurna Himalayas. You can even find yourself free tea houses to spend the night at, which these days even have wifi!
Make sure you try the cheesy momos and some delicious Indian curries. To say I ate well in Nepal would be an understatement.
Cost per day: $18.00
---
Thailand
You certainly cannot talk about the cheapest countries of 2023 in Asia and not include Thailand! Phuket is the perfect place to visit post covid and was actually the first part of the country to reopen to international tourism. This backpacker paradise is an absolute hub of international travelers and the perfect place to travel solo.
This is a country full of amazing people, beautiful landscapes and paradise beaches. Mix this in with a desirable travel scene and you are in heaven. Arriving in the bustling city of Bangkok you cannot miss the backpacker hangout of Khao San Road, especially if you are a party person. From there head up north to Chiang Mai to check out an elephant sanctuary or head south to the islands to enjoy the paradise beaches in Koh Phangan.
Hostels can be easily found in many towns where you can quickly meet new people. The famous 7/11 provides the most affordable toasted sandwiches you could ever imagine. It is seriously a major hang out spot for travelers at breakfast, lunch or dinner.
Cost per day: $22.00
---
Vietnam
Vietnam is an awesome country full of some amazing sights. Whether you are wanting to check out the UNESCO World Heritage site of Ha Long Bay, the rice fields in Sapa or discovering rolling sand dunes, it is a country for everyone. Oh, and I must say the food in Vietnam is some of the best I have ever had.
There is a train which runs down the country, from Hanoi to Ho Chi Minh. This makes it extremely easy for travelers to move around with minimal stress. I took plenty of overnight trains and cannot recommend them enough!
Vietnam is also one of the streetfood capitals of the world. There are so many enticing dishes to get your taste buds watering. All for just a few dollars as well! Hostels are plentiful here and many of them will have happy hour specials such as free beer!
Cost per day: $25.00
Find out exactly how I backpacked Vietnam for $25.00 per day!
---
Cambodia
A country filled with history and some of my favorite islands in the world, Cambodia is a must on the cheapest countries to visit list! There is an excellent backpacker scene here with hostels extremely easy to find and affordable nightly rates.
Make sure you head south to the islands and check out Koh Rong and Koh Rong Samloem. These places have some of the most beautiful beaches I have ever seen and I spent over a week exploring these two islands alone. Staying at Sunset Beach over of Koh Rong Samloem I even got to swim with stingrays right off the beach, its complete paradise.
Transport is extremely easy here and the majority of hostels will be able to organize it for you. In all but one trip in Cambodia we traveled around in minivans, rather than buses like you would in the rest of South East Asia.
As with many South East Asian countries, you will need to negotiate in order to receive a good price when hiring a tuk-tuk or purchasing souvenirs at a market. Though we managed to hire tuk-tuks for $9.00 for half a day on multiple occasions.
Make sure you don't miss visiting the impressive Angkor Wat Archaeological Complex!
Cost per day: $22.00
---
Myanmar
One of my favorite countries, it is often considered one of the most expensive countries to backpack in South East Asia, but I am proof that it is possible. From the temples in Bagan, the colonial architecture in Yangon and the impressive U-Bien Bridge in Mandalay there are plenty of magical sights to keep you busy while exploring Myanmar.
In my personal opinion, what makes Myanmar a slightly more expensive country than its neighbors is the accommodation costs. This is certainly not the land of $3.00 hostel beds, you will be paying at least $10.00 per night. Though I did notice that the overall quality of the hostels is much higher than the rest of South East Asia.
Don't be too concerned by the high cost as it balances out the overall cost per day thanks to the availability of extremely affordable food.
Cost per day: $26.00
Find out exactly how I backpacked Myanmar for $26.00 per day!
---
India
The cheapest country to travel, India. This would be complete without including India in the cheapest countries to backpack list. With gorgeous sights such as the Taj Mahal and the backwaters of Kerala, India is certainly a country to visit if you are tight on money. Make sure you cross off some bucket list items and check out the top things to do in Varanasi.
You can find rooms here from a few dollars per night, though up that budget slightly and you could be sleeping extremely comfortably. This large country has an impressive train network to help you get around. There are a variety of tickets you can choose from at different price points. Though, if you are going to get the cheapest, just remember to expect the most basic comfort levels.
Nevertheless, it is worth traveling India just for the food alone. A delightful mix of spices it will get your mouth watering and have you excited for your next meal. Street food is abundant here are very affordable. Just make sure to eat where the locals do and if you are not comfortable with the hygiene levels just walk away.
Cost per day: $20.00
---
Cheapest Countries In The Americas
You certainly won't find the cheapest countries to travel in the Northern parts of the Americas. Though, head further south and the range of affordable destinations becomes plentiful.
With a whole new culture and language to discover Central and South America provide an excellent backpacker scene for travelers coming from all around the world. Whether you are into pristine sandy white beaches, lush rainforests or snow-capped mountain ranges, The Americas certainly have something for everyone. Combine this with a low cost of travel, it makes the places in this region some of the cheapest countries to travel in 2023 for backpackers.
---
Guatemala
The popular backpacking destination of Guatemala is no doubt one of the cheapest countries in the world. You will be sure to find plenty other like-minded people traveling on a budget and exploring this picturesque country.
Grab your meals to local restaurants called Commodores, order the 'meal of the day' at restaurants and eat cheap street foods. Taking chicken buses to get around rather than private transport will also cut down on costs. Though, watch to see what the locals are paying so you don't get ripped off.
With stunning locations such as Semuc Champey, Flores, Lake Atitlan and Tikal you will surely be in awe of this amazing cheap country!
Cost per day: $43.00
---
Cuba
Having become a lot more accessible in the past year, Cuba is welcoming travelers and sharing their amazing culture. This is why it has been added to the cheapest countries for 2023 list. Prices are currently affordable, though being a growing destination which has dramatically increased in popularity, the costs are beginning to reflect this.
Enjoy the sun, sand, cigars and vintage cars as you explore this amazing country. Check out the Paladres for cheap eats and great food, which will be a great relief to your budget as accommodation prices in Cuba are on the rise.
Though, do what the locals do, by speaking Spanish and bargaining, drinking rum instead of fancy cocktails and stay away from the touristy areas.
Cost per day: $47.00
---
Mexico
This vast country has so many landscapes and experiences to offer you could spend months here and not even see half of it. Spend your days on the beaches, checking out the unique things to do in Cancun, surfing in the Pacific, and learn the history by spending 4 days in Mexico City. Everything you could ever want is available here, from beautiful beaches, sprawling cities, Mayan Riviera cenotes, and lush jungles. This is the only North American country that is in the cheapest countries to travel while backpacking list.
There are plenty of hostels available while exploring Mexico, so you will have no problem meeting like-minded individuals and traveling on a budget. It can also sometimes be difficult to explore a country where you do not speak the native language so you might find yourself a friend who even speaks Spanish. Many people will start their travels in Mexico and backpack all the way down to Panama on the Gringo Trail. This allows you to see the best of Central America and some of the amazing places on offer.
Whether you are into big cities, exploring nature, or simply a foodie wanting to check out the best restaurants, there is something in Mexico for everyone! So make sure to chuck some reef-safe sunscreen in that Tulum packing list, and get ready for a whole lot of cenotes, beaches, and incredible culture.
Cost per day: $38.00
---
Colombia
If you are traveling from Colombia from Central America make sure to catch a sailboat from Panama via the San Blas Islands for the ultimate paradise. Though, if you are arriving via the airport you may just find a bit of paradise here in one of the cheapest countries of 2023 that are backpacker friendly.
Colombia is truly a country which seems to have it all. From the warm weather, colorful buildings, and gorgeous beaches to the ancient ruins, green rainforests, excellent coffee and great culture. It is hard to get bored in this destination which has really exploded in the backpacker scene over the past couple of years.
There is an awesome backpacker scene here and you can even find some of the best hostels in Colombia you will ever experience.  They are located all around Colombia from large metropolitan cities to the small rainforest towns. They are extremely affordable as well and often times will include a delicious breakfast in the room rate, a good way to fill up for the day and save money on lunch.
Cost per day: $30.00
---
Bolivia
No doubt one of the cheapest countries to travel in The Americas is Bolivia. If you are a real adventure lover looking for a backpacker friendly destination you cannot beat Bolivia.
This hidden gem in the heart of South America as a variety of landscapes which will leave you in complete awe. Explore the most untouched parts of the Amazon Rainforest, appreciate the gorgeous views in the Andes Mountains and discover the many beautiful colonial towns.
If you are interested in exploring Bolivia, but have hesitations such as the language barrier or worried about heading to a new part of the world, there is no better way to travel than with a group tour. There are plenty of different tours in Bolivia which will take you to a variety of places such as the famous Uyuni Salt Flats.
Cost Per day: $25.00
---
Cheapest Countries In Europe
Europe is a part of the world not often associated with affordability and definitely has some of the most expensive countries. Though, if you know where exactly to explore you can discover some of the cheapest countries to travel.
With cheap airlines servicing the majority of the continent, not just you're in-country expenses can be kept low, but your international flights as well. Just make sure to read the fine print as when something is often cheap it is oftentimes never easy. Of which, Ryanair is a perfect example of.
---
Portugal
One of the cheapest countries to travel to in Western Europe is no doubt Portugal. This country borders Spain and the Atlantic Ocean so has an amazing culture and equally as amazing beaches. Have a weekend in Lisbon, the country's capital, or if you have enough time, explore all of Portugal, or perhaps even do a Spain and Portugal itinerary!
The prices of a hostel bed are super affordable, especially when considering Portugal's location in the more pricier part of the world. You will be able to find cheap food in bakeries and intercity public transport is super affordable. Also if you are confident enough give CouchSurfing a try. There is an excellent Couchsurfing community in Portugal and it is a great way to experience how the locals live.
Lastly, like the majority of Europe, thanks to budget airlines it is super affordable to travel to Portugal. If this is sounding like a good option for you make sure you just out Portugal travel tips prior to visiting!
Cost per day: $42.00
---
Hungary
The picture perfect and one of the cheapest countries in Eastern Europe is Hungary. The capital Budapest is a beautiful fairy tale looking city with an excellent backpacker scene and super affordable hostels, at least by European standards. The street food is absolutely delicious and cheap. Though, if you are wanting to eat out at a restaurant there are plenty of budget options in a wide range of cuisines that won't break the bank.
Hungary has really been put on the map in the past couple of years, securing its place on the European backpacker trail and thanks to its affordable prices even has a large expat community.
Hungary is also super accessible and you can find cheap flights there from nearly all major hubs in Europe. You will also be spoilt for choice when deciding where to go next. Why not hit up some lesser visited backpacking spots such as Estonia, Belarus, or Russia (though make sure you check whether you need a visa of Russia for entry).
Cost per day: $40.00
---
Greece
With the famous Santorini and Athens, the European country of Greece is certainly more on the pricier side of the cheapest countries to travel scale. Though, nonetheless, it can be surprisingly affordable, especially in comparison to nearby Croatia and Italy (be aware that come 2024 you will require an ETIAS to enter Croatia and other Schengen countries).
Greek food will be your saving grace here and will certainly help you keep your costs down. You can find $1.00 gyros nearly everywhere, which will easily keep you going until the next meal. Just remember to splash out on a delicious gelato every now and then! Backpacker Hostels can be surprisingly affordable, even in the wanderlust destination of Santorini (though book a flight instead of a ferry to save money).
If you are thinking of booking flights to Greece check out Sky Scanner to find the best possible price. I recommend checking 'entire month' when inputting your date, as changing your flight dates by a couple days can make a surprisingly large difference!
Cost per day: $38.00
---
Bulgaria
If you are in Europe and running low on cash then there is no better way to stretch your bucks than to head to Bulgaria. This underrated gem in Europe is a backpackers paradise, with cheap food, affordable accommodation and a good party scene.
Don't worry too much about the cost of international flights either! The infamous Ryanair and Whizzair both fly here. Book ahead of time to get the lowest rates. You can also travel around the country with ease thanks to affordable public transport.
No matter what type of landscapes you love, you can find it in Bulgaria. From the beautiful mountains, the seaside towns and big city living, you will love exploring this awesome country which has so much to offer!
Cost per day: $27.00
---
Turkey
The amazing country of Turkey is extremely underrated. From the impressive mosques of Istanbul, the beaches along the coast and the dream-worthy landscapes of Cappadocia, Turkey is a destination which more backpackers need to explore!
Buses here are an excellent way of traveling around the country. They are known for being extremely high quality, I'm talking entertainment units in the headrests! Though, if you are short on time like I was when exploring Turkey, internal flights are not too expensive. Just remember to book ahead to save money.
What really surprised me was how affordable hotels and backpacker hostels were while in Turkey. You can get a dorm room for less than $10.00 in the heart of the city. Though, if you are like me and prefer a bit of privacy and traveling with someone else we found private rooms including a traditional Turkish breakfast from $30.00, that's $15.00 each.
Cost per day: $32.00
---
Cheapest Countries In Africa
There is so much more in Africa than just South Africa where most backpackers seem to congregate in this area. Head north to some other affordable countries such as Morocco and Egypt. These places are also just an easy flight from many international hubs in Europe.
Wanting a real adventure while in Africa? Why not do an overland tour traveling in a bus around this impressive continent with a bunch of like-minded people.
---
South Africa
Who knew South Africa is considered one of the cheapest countries to visit, especially for such a developed country. Well, thanks to affordable accommodation, a well-worn backpacker scene and cheap alcohol (and free wine tastings) it has resulted in South Africa being one of the cheapest countries to travel to as well as being extremely backpacker friendly.
One of the best things to do in Africa is going on a safari to see the big five, though with park fees and tours prices can quickly add up. Thankfully South Africa is the perfect place for finding affordable safaris, ensuring you are able to tick off those animals for your list.
Cost per day: $55.00
---
Morocco
One of the most beautiful destinations which often appears in the cheapest countries lists is Morocco. From the Sarah Desert to the surf beaches and the mountains, Morocco is an affordable destination that will keep you amazed by the changing landscapes. The seaside town of Essaouira is a popular beach spot, though if you are looking a more relaxed vibe definitely check out Sidi Kaouki.
There are plenty of Morocco travel tips to know to make the most out of your stay. One of my favorite parts of the country was the beautiful and surprisingly affordable Riads to stay in you will be feeling like royalty as you fall asleep each night. Make sure to try the street food with delicious kefta meat and kebabs you certainly will not be going hungry!
Thanks to regular flights from all around Europe you could be exploring a country on a whole new continent without having to spend that much money! No matter whether you are traveling solo, bikepacking Morocco with your partner, or even exploring Morocco with kids, you are in for an amazing time.
Cost per day: $40.00
---
Egypt
Having unfortunately decreased in popularity in current years thanks to the situations in nearby countries, the cheap country of Egypt has unfortunately fallen off the radar a bit.
Luckily prices here are crazy cheap and I highly recommend you pay this amazingly cheap country a visit. Book in at the Pyramids Loft in Cairo with a rooftop view overlooking the Great Pyramids of Giza for as little as $20.00 per night for a single room. Egypt is a place where you will get a lot of value for your money. The prime example of this is the entry fee to the Great Pyramids only costing around $4.00!
Cost per day: $48.00
Where to Next? The Cheapest Countries to travel for backpackers in 2023!
No matter where you decide to explore during your adventures there are plenty of affordable countries to explore on a backpacker budget. All around the globe, you will find some of these amazing destinations, offering some excellent landscapes, a new culture to discover and plenty of new experiences to be made!
So which countries will you be traveling to in 2023 and do you have any other recommendations?
---
LIKE IT? PIN IT!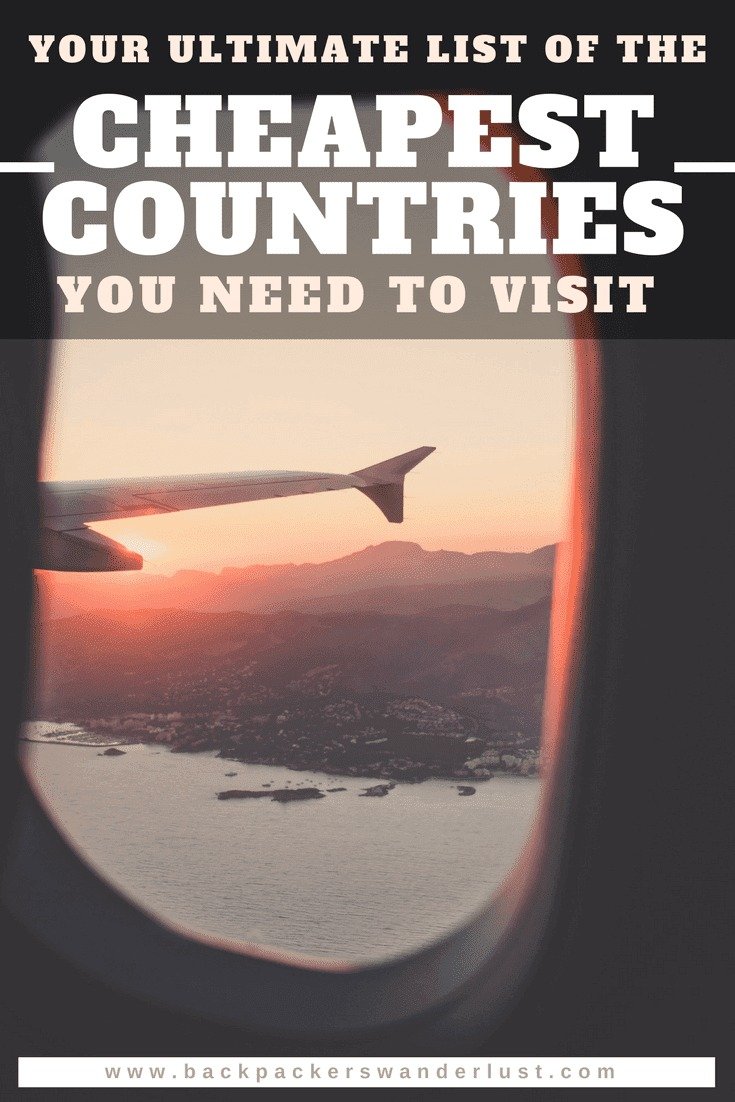 Want more travel inspiration? Check out….
Disclaimer:  This post contains affiliate links. So, if you click on it and purchase something, I get a small percentage at no extra cost to you. As always all opinions are my own and your support is much appreciated.[spacer height="20px"]