Come find out everything you need to know about going river tubing in Vang Vieng, Laos. Learn about how to get there, what to do, the costs, where to stay, and more!
---
No doubt river tubing in Laos used to be one of the most popular things to do here and in Southeast Asia. That is what put the country on the banana pancake map aka the Southeast Asia backpacking trail.
Your afternoons would be spent river tubing in Vang Vieng along the Nam Song River. You would stop off at the many bars and participate in questionable water activities.
This was essentially the "it" thing to do in South East Asia. Similar to how the Full Moon Paty in Koh Phagan is a must-visit these days.
Though nowadays it is no longer the same. There have been some serious incidents over the years and things eventually had to change. Oh, and if you have traveled South East Asia you can just imagine the seriousness of these situations to actually force the government to implement safety precautions.
Nevertheless, river tubing in Vang Vieng is still a thing. Though it may look a little different from those old articles you read online. But don't worry that is why I am here. I have actually been river tubing in Laos twice, on two separate trips!
Get ready to find out absolutely everything you need to know about river tubing in Vang Vieng including what's it like now, the history, where to hire, costs, and routes!
---
River Tubing In Vang Vieng & River Tubing In Laos: What You Need To Know
---
Why Go River Tubing In Vang Vieng
If you're wanting to go tubing to get drunk and forget the world then maybe go with a group from your hostel in Vang Vieng. Though the majority of the time tubing in Laos is certainly no longer like this.
Sure yes, there are still a couple of bars set up. But for the most part, it is simply the best way to take in the nature of the countryside.
Seriously there is nothing more relaxing than lying back in your tube, listening to the bird's chirp, feel the sun warm your skin and the gentle sway of the Nam Song River.
There is excellent scenery on the journey as you pass the countryside, riverside jungles, and those incredible limestone karst mountains which dot the landscape. It is a relaxing and interesting journey all in one.
---
Vang Vieng Tubing Deaths
Back in the day tubing in Vang Vieng brought a constant stream of visitors to Laos. Each one looking for a party on the river. At the peak of infamous tubing shenanigans over four hundred people would visit each day! It provided the town of Vang Vieng with a constant stream of tourists.
Ultimately put them on the map as a must-visit destination for any backpacker in Southeast Asia.
Makeshift swings from ridiculous heights lined the riversides. Bars enticed party-goers with games, cheap alcohol, and drugs. The infamous 'death slide' flung people into the river.
Everyone made their way through the river bars, drunk themselves silly, and somehow managed to float downriver. This tubing in Laos dream, that resulted in many people traveling to Vang Vieng, didn't always end in a happy story.
Throughout the years of tubing in Vang Vieng, many people had been injured. It's easy to see how as well, with intense rapids and rocky shallows mixed with drug and alcohol pumped backpackers. With all these young, drunk, and drugged people, this was never going to be a good combination.
The tipping point though was the number of preventable deaths that occurred as a result of tubing in Vang Vieng. Due to the lax laws in Laos, there is no definite number. Though, it is reported that there were at least twenty people dying each year.
In 2012 The Laos government was pressured by foreign ambassadors to do something about the tubing in Vang Vieng. The number of people dying was unacceptable. Especially when it was a result of negligent behavior, dodgy activities, and drug and alcohol-fueled river parties.
The Laotian Government banned tubing while it was given a safety transformation, ensuring the lives of future backpackers.
---
River Tubing In Vang Vieng Now
These days the Nam Song River is no longer a hot spot of drunken debauchery. The crazy swings that lined the river have been dismantled. The 'death slide' has been laid to rest and the zip lines along the river you need to book with the authorized tour company to use.
There are still bars, though only a few are allowed to be opened at the same time. Ultimately preventing people from bar hopping all day and getting obliterated.
Tubing may have put Vang Vieng on the South East Asia tourist trail, but it no longer the reason why it remains on there. The government re-branding of Vang Vieng has resulted in it becoming an adventure travelers paradise.
With numerous hikes to amazing lookouts, the famous Vang Vieng Challenge, and the beautiful lagoons that dot the area.
Nonetheless, Vang Vieng is still a backpacker's town, but this is slowly changing. You will find at least one party going on every night. Though, it has moved from the river to the numerous bars in town.
Even the once heavy drug scene thanks to restaurants and bars openly selling 'magic' foods and drinks is slowly coming to an end.
---
Where To Hire River Tubes In Vang Vieng
Now the tubing office in Vang Vieng isn't in the most obvious location. All the guides seem to say you can't miss it, but when you are in a brand new place and everything looks the same it can be kind of confusing.
Honestly, the shop is barely marked and with all the sun-bleached signage around the town, it all merges into one!
Unfortunately, the shop isn't listed on google maps either. Basically, you will need to need down Kangmuong Street. Though don't take the first right, instead, continue until the road forks into two.
When you see this stick to the right-hand side and just after this fork you will find the tubing company on the right-hand side of the road. You should see a literal garage with a tuk-tuk out front and hundreds and tubes stacked up. It is near Paradise Vang Vieng Hotel.
---
Tubing Vang Vieng Price
The price for the tube is 55,000 LAK / $2.86. There is also a 60,000 LAK / $3.12 refundable bond which you will need to pay.
Though, it is refundable on the condition you return the tube before 8pm. This price also includes your tuk-tuk ride to the beginning of the river. Be aware if you want it to leave before the tuk-tuk is full you will need to pay an extra 20,000 LAK / $1.00.
There is also a spot at the tubing center to leave your shoes. You will just need to hope nobody steals them.
---
Top Tips For Tubing In Vang Vieng
Essentially this is just a round-up of my most important tips so you can have the best time tubing in Laos:
Less Bars: There are a lot fewer bars these days than are mentioned online. Currently, there are only really a few set up right at the start, then a couple of restaurants when you reach the bamboo bridge about halfway along.
Check Your Tube: Make sure to check the tubes in the tuk-tuk. Don't be like me and take one with a whole on it. Put some pressure on them to make sure it doesn't deflate.
Cash: You will need some cash for your journey. This is mainly for the tube hire, beers, and a little extra in case of emergencies.
---
When To Go River Tubing In Laos
Depending on what time of year, as well as what time of day you visit your river tubing in Vang Vieng experience will vary greatly. Whether you want an exhilarating journey, a drunken time, or just a peaceful ride will depend on the following choices.
---
Seasons
The rather the season will affect your tubing in Laos experience is because the water levels will vary. Also if it is too rainy you may find it actually becomes quite dangerous as the river currents are too strong.
December to May: December through to May is the dry season. During this period water levels are lower. Though this is when the majority of travelers visit Laos so you will find plenty of other people to make friends with.
You won't be able to touch the bottom of the riverbed in some parts. Though at the same time in some areas you may find yourself having to walk over a rocky bed to deeper water on the other side.
June to October: This is known as the monsoon season in Laos and all over Southeast Asia. The heavy monsoon rain causes havoc over the region during this time of year. It's probably not safe to do tubing in the heart of the monsoon season.
Though on either side can actually be a pretty good option. During this time water levels are higher and currents are stronger but still safe. This leads to a much more exhilarating experience as you are flung down the river.
---
Time Of Day
If you want to head to the bars for a few drinks then you are best to start tubing after 12 p.m. This is when the parties start and things actually begin to get lively.
I am not that way inclined unfortunately so I usually start at around 10 am or 11 am after a good breakfast. There will be a few different groups along the river during this hour. As well as some kayaking tours.
It is a lot more chilled out and relaxing doing it in the morning rather than the afternoon where the bars have their music blasting.
---
My Experience River Tubing In Laos
James and I decided to begin our tubing in Vang Vieng at 10am. Probably a little too early as the town was dead and the rest of the backpacker crowds were still sleeping off their hangovers. We paid our fees and bond, received the tubes, and got the numbers one and two written on our hands.
Jumping in the tuk-tuk we decided to pay the $1.20 each extra for it to leave early. We knew nobody else would be joining anytime soon. Driving down the road we head further out to the countryside, leaving the awakening town behind us.
After arriving we make our way down across the riverside, trying to stay balanced on the rocks which line the shores. The water is shallow, it's the dry season so that's expected, though the current is still strong.
Placing my tube in the water I awkwardly jump on, with my feet out front and bum dragging on the rocky riverbed.
Heading out into deeper waters we both enjoy the peacefulness and serenity of floating down the Nam Song River. Soon enough I realize my tube is feeling a soft as a pillow. It's deflating. Luckily we are only about 100 meters from where we were dropped off.
We decide to head back and wait for the next tuk-tuk as they carry extra tubes. Luckily we only needed to wait 20 minutes and then one came with our Stray Asia mates.
Ready for round 2 the murky water below hides how deep it is. Locals are burning rubbish from their houses by the river which sends a shower of ashes down on us. A group of Asian kayakers paddle past us and are amused by the tubes. Surprisingly there are people working at the bars along the riverside.
They try to entice us in with free shots and by throwing a rope out. It's still morning and we certainly are not keen so we just float on by.  I am not going to lie, the bars actually look pretty cool and there are some awesome restaurants set up on the riverside as well.
We float underneath bamboo bridges as motorcycles drive on top and jump out for a swim every now and then. A group of zip liners flies above us, life along the riverside certainly is busy.
Remember how I said this was during the dry season so the water was low. Well, it was so low and the current was so weak it took us five freakin hours. FIVE HOURS! Everywhere online said in the dry season expect three hours, not including stops.
Well, it took five hours from start to finish without getting out at any of the bars, just peacefully floating. Though, in the end, we did get over it and started paddling downriver.
It was obvious when we were getting into town that the finish point would be coming up soon. After reading online we reached smile beach bar, the end of our journey. We got out here and it was a short walk through town to drop off our tubes.
---
Packing For River Tubing In Laos
There are some things its best to take along with you while going river tubing in Vang Vieng to make the most out of your experience:
Go Pro: For sure bring along your Go Pro if you have one. You won't be able to see much under the water, but you will be able to get some epic shots of yourself swimming and relaxing!
Sunblock: Let's avoid looking like a lobster and bring a reef-safe sunblock along with you!
Sunglasses: It'll definitely be worth bringing sunglasses along with you. The sun shining off the sea can be super bright so protect your eyes by bringing along a pair of sunglasses.
Dry Bag: If you need dry bags plenty of places in Vang Vieng sell them. Just make sure to test it in a sink before you venture out onto the river. Waterproof phone cases are also widely available, as well as anything else you can imagine to do with tubing. This is a town whose tourism was built around catering for tubing backpackers.
Cash: Bring a little extra than what you think you'll need. You never know what could happen. Perhaps you could float on past the exit and need to take a tuk-tuk back to town.
---
Where To Stay In Vang Vieng?
While staying in Vang Vieng we slept in a private bungalow at Pan's Place for $7.10 per night. The room was basic with only two single mattresses on the floor and a fan. Though,  it was the first bamboo bungalow we stayed in so we enjoyed the novelty.
Plus, it was clean, the reception was helpful and we had no unwanted visitors throughout the night which is always a bonus.
During my second visit to Vang Vieng, I wanted to stay somewhere slightly more comfortable and settled on Vang Vieng Galaxy Guesthouse. They had recently opened and I was amazed at how clean and modern everything was. Rooms there start at $30.00 per night.
A relaxed and chill hostel slightly outside of the center. From $9.00 per night.

BOOK NOW

A social and party hard hostel on the main road of the town. From$4.00 per night.

BOOK NOW

One of the newest guesthouses in the city. From $30.00 per night with breakfast.

BOOK NOW

A luxurious hotel with amazing views. Prices start from $100.00 per night.

BOOK NOW
---
Other Things To Do In Vang Vieng
There are plenty of awesome things to do in Vang Vieng apart from the cave. If you can I recommend you hire a bicycle or motorbike to explore some of the beautiful landscapes of the region.
Honestly, the best thing you can do is getting out of the main town, whether that is hiking a viewpoint, checking out Blue Lagoon 3, or going river-tubing.
All in all Vang Vieng is an awesome chill town worth checking out in Laos and while you are there it is definitely worth checking out the impressive Tham Chang Cave and Blue Lagoon 2.
---
LIKE IT? PIN IT!
---
Want more Laos Inspiration? Check out….
---
Disclaimer: This post contains affiliate links. So, if you click on it and purchase something, I get a small percentage at no extra cost to you. As always all opinions are my own and your support is much appreciated.
Photo credit:  "Trying out the giant swing" (CC BY 2.0) by ChristianHaugen . "Floating down the Nam Song" (CC BY 2.0) by ChrisFeser.  
Related Posts
Share Tweet Pin Find out the perfect three days in Luang Prabang itinerary to ensure [...]
8 Comments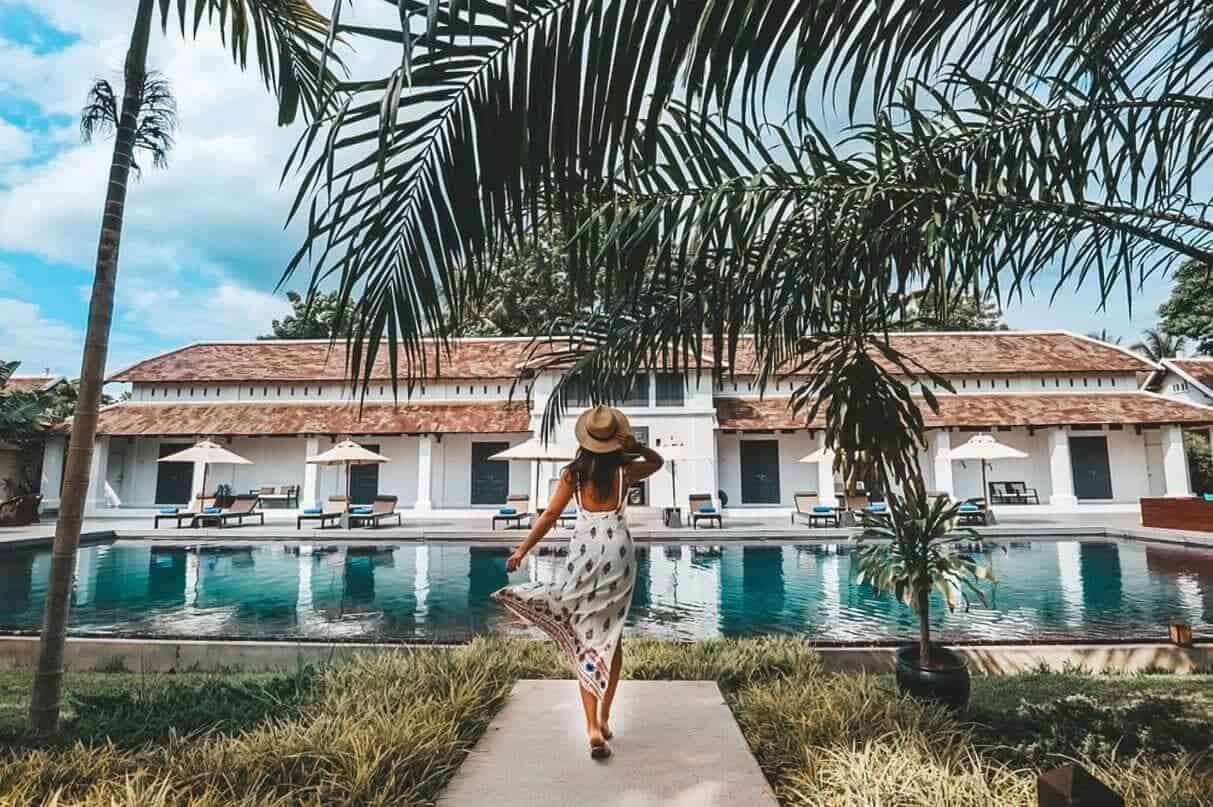 Find out where to stay in Luang Prabang for the ultimate holiday. I have compared [...]
1 Comment
Find out everything you need to know for backpacking Laos on a budget. Learn about [...]
1 Comment