Find out the perfect three days in Luang Prabang itinerary to ensure you have the ultimate time in this beautiful city. Let's talk about the best things to do, restaurants, where to stay, and more in this gem of Laos!
---
Luang Prabang is a city that stole my heart years ago. The quaint streets, laid-back life, and peaceful atmosphere make this place a favorite for many travelers in Laos. In my opinion, 3 days in Luang Prabang is the perfect amount of time.
You will be able to see some of the gorgeous nature, explore the impressive temples, and take in the beauty of this UNESCO World Heritage City.
I have actually spent a reasonable amount of time in Luang Prabang over individual trips to Laos. In my most recent adventure, I spent 6 days in the city alone and was able to do some truly unique activities.
That is why I have written this best 3 day Luang Prabang Itinerary so you can make the most out of your time with your three days in Luang Prabang.
---
Three Days In Luang Prabang: A 3 Day Luang Prabang Itinerary
---
Day One Of Your Three Days In Luang Prabang
Morning- Temples And Night Markets
There is no better way to start your 3 days Luang Prabang Itinerary than exploring the many temples around Luang Prabang. Though, before setting off make sure to grab yourself a delicious breakfast.
Personally, I found it rather difficult to find an affordable breakfast spot in Luang Prabang, though a favorite of ours quickly turned out to be Changkam Bakery & Cafe. If you do not have such a strict budget, the neighboring Joma Bakery Cafe is one of the breakfast hotspots for tourists and coffee lovers.
Now you are fueled for the daytime to check out some of the best temples around Luang Prabang:
The impressive Wat Pa Phai is a great picturesque temple to visit during your Luang Prabang itinerary. It has a gold and red wooden fresco depicting life here in the 1800s. This temple is a little bit forgotten by tourists so there will not be many other people there, but it is certainly worth checking out.
Wat Mai Suwannaphumaham is another awesome temple to visit in Luang Prabang. It is the largest temple here you can explore and is extremely grand. The interior and exterior are covered with black and red lacquer with gold leaf. The entrance fee is $1.10 / 10000LAK.
The Royal Palace is next to see, though it is more of a museum than a temple. Here you are able to see religious objects, weapons, statues, screens, paintings, and even the crown jewels of Laos.
There is even a room that features murals depicting Lao life in the 1930s. Entry to the Royal Palace grounds is free, though if you would like to look at the inside there is an entrance fee of $3.40 / 30000LAK.
Situated slightly outside of the main town, though within walking distance, Wat Xieng Thong is one of my personal favorites. This is the most historically significant temple in the city and one of the highest symbols of Buddhism in Laos.
It costs $1.10 / 1000LAK for an entry ticket. Though, you are certainly getting your money worth with over 20 structures on the grounds.
---
Afternoon- Pak Ou Caves
You can either take a tuk-tuk back to the center of town or walk and grab lunch. If walking good recommendations are The Belle Rive Terrace if your craving Asian or Popolo for Italian.
I think the Pak Ou Caves is one of the best trips you can take in Luang Prabang. It allows you to see this important historic and sacred site as well as experience life from the water.
You can either organize your trip to Pak Ou Caves in advance from a tour agency in Luang Prabang or just turn up at the main dock opposite Saffron Coffee. If you aren't traveling solo you might prefer to charter your own boat for privacy which will cost you around $29.90 / 450,000LAK.
However be aware you will need to bargain hard for a decent price. Joining a shared boat at the dock (though these leave early morning) will cost around $7.50 / 65,000LAK. The entry to the cave is not included either and will be an extra $2.30 / 20,000LAK.
Visiting Pok Ou caves in the afternoon will allow you to escape the crowds to truly appreciate the beauty. The lower cave is full of Buddhas with gorgeous views out to the Mekong River, whilst the upper cave is a literal cave (bring your phone light) with Buddhas in it as well.
You will need to climb up a couple of hundred steps to the upper cave so wear comfortable shoes. The journey will also take around 4 hours in total.
Check out my 2 weeks in Laos Itinerary!
Book Online:
---
Evening – Night Market
Beat you have worked up an appetite after all those stairs at Puk Ou Caves. No worries, after you've headed back to your accommodation, got cleaned up, and are no longer sweat-drenched it's time for dinner at the Luang Prabang Night Market.
Just head towards the Royal Palace and you will find the roads transformed, now covered in gazebos with goods lined up.
My favorite spots to eat basically any meal in Luang Prabang is the night market so of course, I had to add it to this three day itinerary! Here is the budget traveler's dream with meals costing a couple of dollars.
Whether you are craving something sweet, noodles, rice, or a simple baguette, you can get it all at the Luang Prabang Night Market. A popular option for travelers is the vegetarian buffets which are down the side alleys (just look out for the big signs).
You just pay for a plate and can fill it up as much as you would like. Though, I personally chose not to eat here as it looked just full of flies which put me off.
After dinner it's the perfect time for some souvenir shopping! There are so many items being sold here, though it does get a little repetitive. From toys, jewelry, clothing and so much more no doubt you will find something to bring home.
Just be aware that you will need to, and are expected to barter for prices.
Now, time to get a little bit of rest before an adventurous day tomorrow on the second day of our three days in Luang Prabang.
---
Day Two Of The 3 Day Luang Prabang Itinerary
Morning- Kuang Si Falls
You can either start the morning as early or as late as you would like as today our main activity will be visiting Kuang Si Falls. Just make sure to have a good breakfast before you depart as you will need the energy.
If you are wanting to try somewhere new check out Saffron Coffee for a delicious bite with Mango and coconut French toast.
These days the main way to get to Kuang Si Falls is by going on an organized tour. These can be pre-booked through basically any accommodation or travel agency. Prices start around $5.70 / 50,000LAK. With these tours, it is standard to have 3 hours exploring the falls.
Though, if you are like me and can spend 3 hours photographing alone, this will not be enough time. If so, the best option is to hire a motorbike and do it yourself or to hire a private tuk-tuk (about $23.00 / 200,000LAK).
On arrival at Kuang Si Falls, you will first pass a bear sanctuary. These bears have been saved from people using them for medical reasons and now call this place home. After that, you will reach the lower pools which are perfect for swimming.
There is also a changing room available in case you are not already in your swimmers.
Further up the path, you will find the magnificent main waterfall of Kuang Si Falls which is quite a sight. There are plenty of viewpoints to appreciate the beauty from and there is even a path from which you can climb to the top.
Be aware it is quite steep and in my opinion, there is nothing overly special at the top, so if you're limited on time just give the climb a miss.
Book Online:
---
Afternoon- Relax And Shop
You can choose to either have lunch at the food vendors near Kuang Si Falls or back in the city. Though it is likely you will not have enough time at the falls so waiting will be your best bet.
An excellent option and one of the best places to eat in Luang Prabang is called Khaiphaen. This restaurant provides training opportunities for locals wanting to get into the hospitality industry.
Afterward, I highly recommend checking out a little bit of the shopping around Luang Prabang. There are some excellent social enterprises in the town center so your money will be going towards helping the community. An extremely popular option is Ock Pop Tok which specializes in textile goods.
Make sure to have a bit of a relax by popping into one of the many spas that line the streets to splurge for a massage. Prices for massages in Luang Prabang are among some of the cheapest I have seen in Southeast Asia so there is no excuse!
---
Late Afternoon- Mount Phousi
Mount Phousi is no doubt one of the best spots to watch the sunset in Luang Prabang, so you will want to head up at least an hour before the sun goes down. As this is one of the best spots, many tourists come here to check it out which is why you should head up a bit earlier for a good spot.
There is an entry fee of $2.30 / 20,000LAK which you will need to pay at a booth about halfway up. The climb consists of over 300 stairs and there are two access points on each side of the mountain.
Apart from the impressive view at the top, there is also a temple called Wat Chom Si. If you are not a fan of crowds you can always visit Mount Phousi for sunrise while the majority are still sleeping.
---
Evening- Utopia and Bowling
After your climb down make your way to the number one tourist hangout in Luang Prabang, Utopia. Located on the banks of the Nam Kham River this is the perfect place to spend an evening.
Grab a Lao beer and a meal while you wait for this place to get buzzing. Delicious cocktails are served and the further the night goes on you will notice people going 'bowling'.
Well, this is exactly how it sounds, a bowling alley, basically in the middle of nowhere, providing a party sanctuary when the midnight Luang Prabang curfew has begun. Though, do not stay up too late as there is an early start tomorrow!
---
Day Three Of 3 Days In Luang Prabang
Morning- Giving Of Alms And Morning Market
The Giving of Alms is a bit of a controversial subject, due to Luang Prabang being such a popular tourist town. You will now see signs up along the streets stating and do's and dont's during the Giving of Alms. Please be an informed tourist by respecting the monks and this religious practice.
Even though I am saying you should check out the Giving of Alms experience please do not partake in it. I recently traveled Laos with an ex-monk who now calls Luang Prabang home. He advised me that only people who practice Buddhism should partake in the Giving of Alms ceremony.
What happens is during sunrise each morning the Buddhist monks walk down streets whilst the locals kneel and offer alms, usually in the way of food. There is no issue with tourist watching this practice, though the problem is them not respecting it.
Many people will use flash photography, get right up in the monk's face, and try to get 'selfies'. This is obviously completely inappropriate behavior which has resulted in negative connotations with tourists participating in the ceremony.
Instead, stand on the other side of the street, give the locals and monks space and respect this practice. Turn your camera's shutter off and be as silent as possible. You can also head off the main street and into a more local area for a more authentic experience.
After the Giving of Alms' head to the impressive Morning Market held in the town center. The is the perfect place to be to watch the locals begin their day, and if you would like to indulge in a traditional breakfast.
If this does not sound like your thing, then why not try Le Bistro Ban Vat Sene. This is a popular breakfast spot for tourists and ex-pats. They offer a mixture of Lao and Western cuisine to suit any pallet, as well as set menus.
---
Daytime- Experience Local Life
I recommend on your last day to do an activity that will give you some insight into life here in Laos. Now, depending on your interests I will let you decide what you think best suits you.
Rice Farming Experience: This is what I personally choose on my recent trip to Laos, so decided to add it to this 3 day Luang Prabang Itinerary. We booked the rice farming experience and it was an interesting half-day trip.
We did all the steps involved in the rice process, from planting, transplanting, drying, cooking, and finally tasting. The tour included many snacks and even some rice wine at the end. Oh, plus we got to plow with a water buffalo!
Cooking Class: I think the perfect way to finish off exploring a destination is through a cooking class. I really wanted to do one for vegetarians in Luang Prabang where it is a real local experience.
Not only are you cooking Laos food, but you are also using traditional cooking and preparing techniques to create the dishes, such as cooking straight over fire.
Chompet: If you are not the type of person who likes a tour or guided experience then definitely make the trip to explore Chompet on your own. This small rustic village is perfect for anyone wanting to get slightly off the beaten track and explore away from the typical tourist hotspots in the city center.
The best option to get to Chompet from Luang Prabang is by taking the ferry from the unofficial pier called the cross-river ferry port (on google maps and maps.me). It costs $0.60 / 5000LAK for the ferry boat which is just a simple local fishing boat.
Once in Chompet, it's best to just walk around and explore at your own pace. The only really must-do thing here is to see Wat Chompet on the hill.
---
Evening- Garavek Storytelling
Finish off your 3 days in Luang Prabang itinerary by heading to Garavek Storytelling for a unique performance. It does not officially begin until 6.30pm.
Though it is best to purchase tickets when they first go on sale at 6.00pm so you can reserve a seat by leaving an unimportant personal item on it. Next, simply head across the road to purchase drinks before it starts.
Prepare for an intimate performance of Lao folklore during Garavek. The hour-long show is put on by an older gentleman playing an instrument called a khene, whilst a younger man tells stories. It is a truly unique experience and with only 30 seats, it makes for a special evening.
---
Luang Prabang Travel Tips
Where To Stay
There are plenty of choices when it comes to choosing your accommodation in Luang Prabang. From 5* resorts, historic hotels, simple hostels, and locally owned guesthouses, you will find something to fit.
During our recent visit, we stayed on a quaint little side street minutes from the center and Mekong River. I fell in love with this little spot. There are a few budget guesthouses and nicer hotel-style accommodations available down this street.
Check out Mylaohome Hotel & Spa for comfortable rooms, awesome spa, and delicious cafe onsite from $23.00 per night. There is also Villa Pumalin which has an indoor pool and beautiful wooden rooms starting at $30.00 per night.
---
Traveling To Vang Vieng From Luang Prabang
There are plenty of buses and minivans which you can book when you are in Luang Prabang or pre-book online at 12.Go Asia. The journey itself takes AT LEAST 5 hours (it will be longer on a bus) which includes 1 bathroom stop along the way.
The road from Luang Prabang to Vang Vieng is one that winds through hills and through forests. If you get motion sick definitely take medication before this journey!
---
Any Questions? Let me know in the comments!
---
LIKE IT? PIN IT!
---
Want more Laos Inspiration? Check out….
---
Disclaimer: This post contains affiliate links. So, if you click on it and purchase something, I get a small percentage at no extra cost to you. As always all opinions are my own and your support is much appreciated.
Related Posts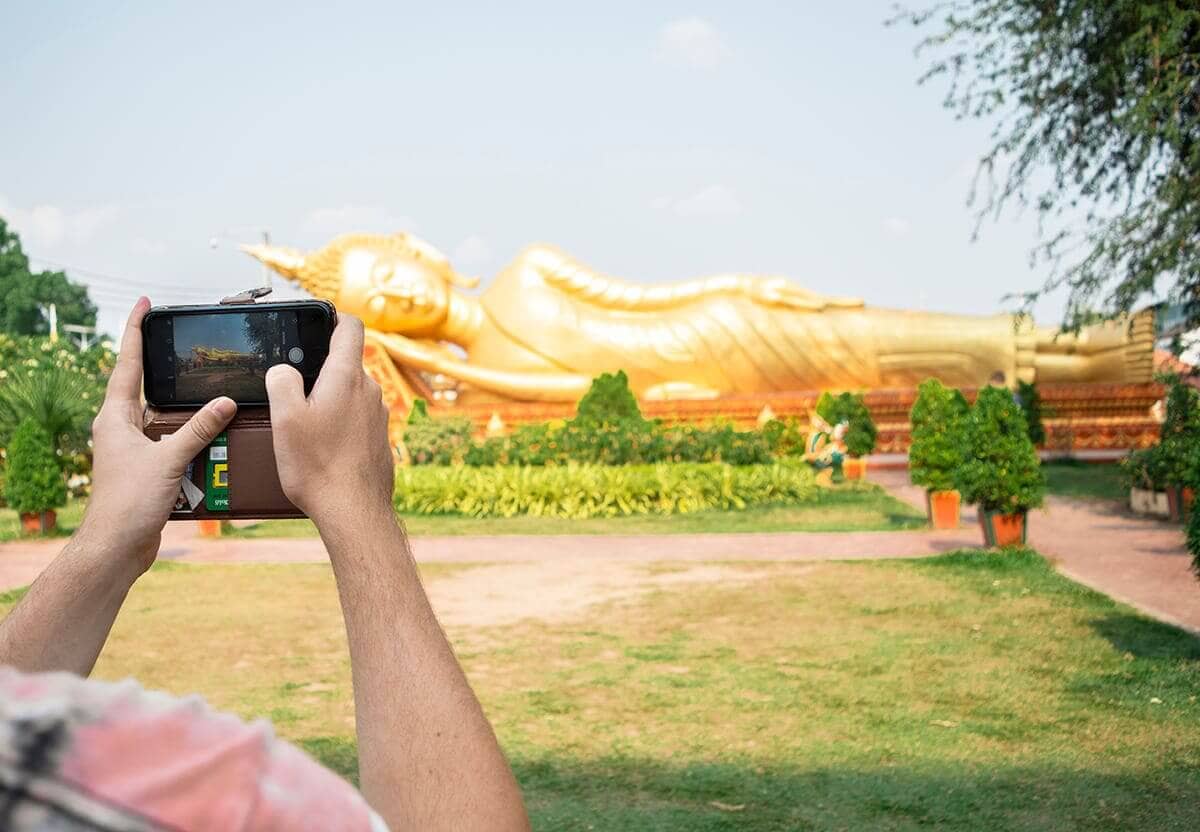 Find out the perfect one day in Vientiane itinerary to ensure you have the ultimate [...]
1 Comment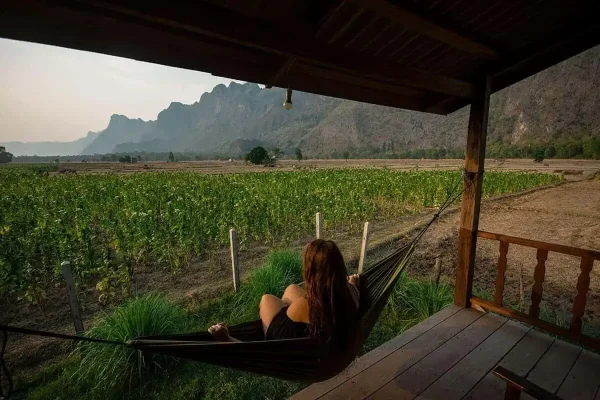 Find out the perfect 2 weeks in Laos Itinerary to ensure you have the ultimate [...]
6 Comments
Come find out absolutely everything you need to know about the Thailand Laos Border Crossing [...]
12 Comments