Find out the best and easiest way to travel from Luang Prabang to Vang Vieng in Laos. This is not the most comfortable journey as the roads are not the best, but there are some awesome views waiting which makes it all worth it!
---
If you have limited time in Laos and are looking to get in touch with nature there is no better option than a visit to Vang Vieng. This once drugged-filled drunken backpacker town has been rebranded into an adventure nature lovers' paradise.
With spectacular viewpoints, the bluest lagoons, and karst limestone mountains there is nothing more you could want. Though, traveling from Luang Prabang is not the easiest journey.
There are no airports close by and the roads are not in the best condition. It never is the most enjoyable experience being squished in the back of a minivan, but neither is being stuck in a local bus stopping every couple of minutes.
So let's find out what exactly is the easiest and best way to travel between Luang Prabang and Vang Vieng, and if it can be done on a budget!
---
Best Ways To Travel From Luang Prabang To Vang Vieng
---
How I Book Cheap Transport In Laos: 12Go Asia
---
Fly From Luang Prabang To Vang Vieng
Unfortunately, there is no airport in Vang Vieng at this current time, even though there is one in Luang Prabang. This means there are no flights that arrive in Vang Vieng.
If you do perhaps get horrible motion sickness and cannot bear the curvy roads from Luang Prabang to Vang Vieng then there is another option that involves flying. Though, this involves 2 separate parts to complete the journey.
For the first portion of the journey, you will need to fly from Luang Prabang to Vientiane. This is a short easy flight to the capital of Laos. Lao Airways and Lao Skyways collectively fly 5 times a day between these cities allowing for many options.
These flights are every day of the week and it is best to book in advance for cheaper prices.
The second half of the journey will consist of taking a minivan or bus from Vientiane to Vang Vieng. I know this may seem counterproductive. Though the roads between these two cities are a lot better than that of Luang Prabang.
This journey will take around 4 hours, so this way is more expensive than the others as well as overall will take a lot longer. Nonetheless, you will be avoiding the horrible curvy roads and mountain ranges. Overall making for a lot smoother transit.
---
Train From Luang Prabang To Vang Vieng
The newest and definitely fanciest option to travel from Luang Prabang to Vang Vieng is by taking the train. This will allow you to avoid the motion sickness-inducing winding roads and instead be able to have a comfortable and enjoyable journey.
The total travel time is 3 hours including transfers. Since it is a high-speed train you are able to cut out a lot of travel time, instead giving you more time to enjoy your destination. They definitely look super futuristic and don't fit in with the chill and quaint vibes of Laos.
These are actually eclectic trains with air conditioning that were built in China. You can travel from the Laotian capital of Vientiane, right to the town of Boten which is on the border of China. This is perfect for backpackers looking to explore further afield, just make sure to organize your China visa in advance.
Nevertheless, it is definitely the best option for a quick and enjoyable journey from Luang Prabang to Vang Vieng. It is a little bit more pricey with tickets starting at $25.00, but if you are someone who suffers from motion sickness it is definitely worth splurging out and booking this.
You can book your tickets online with 12.Go Asia. This is a booking platform I have used all throughout Southeast Asia and highly recommend. You can even see other travelers' reviews of certain transportation companies, so you know what to expect.
---
What Is The Road To Vang Vieng Like?
The road from Luang Prabang to Vang Vieng is not the most comfortable journey, so let's hope the vehicle has good suspension. There are many potholes and curves which is never fun. If you have motion sickness tablets I highly recommend you take them.
Seriously I would consider this to be one of the worse journeys on the banana pancake trail around Southeast Asia. Though the worse of all is no doubt Chiang Mai to Pai.
The plus side is that there is a lovely stop where the majority of tourist buses and minivans will stop. On my most recent trip around Laos, our guide called this stop the 'loo with a view'.
There are a few small stores selling snacks like chips as well as cup noodles for a quick bite. It will also cost you just under a dollar to use the bathroom.
From the parking lot, there are sweeping views of the valley below. The green mountains seem to go on forever and it is incredible to see how high you have climbed. Just be prepared for a very curvey downhill journey from here.
The last time I was here the roads after the 'loo with a view' stop were being resurfaced, so they were just dirt. It made for quite an amusing experience to see cars struggling to get up on the other side and instead, slipping back down the road.
---
Old Road VS New Road
There are two different roads you can take to Vang Vieng, the old road and the new road. The old road is the one which the buses have to take and the total journey does take longer this way. Though, it is a lot more scenic with great views and overall fewer hills/curves.
The new route is used by cars and minivans and is quicker by about an hour or two. It may not be as scenic as the old road, though it is still pretty good. I mean there is still the impressive 'loo with a view'.
Being the new road it is still not completely finished, there will be potholes and dirt sections you will need to drive through. This can cause major havoc when it's wet, especially during the rainy season. Parts of the road will be muddy and there can even be landslips.
An entire hillside was a dirt road on my last trip as they are remaking the road. This meant a lot of cars coming up the hillside were actually slipping back down as they couldn't get enough traction.
Another thing with the new road is that it is very curvy and hilly, not great for people who get car sick. It is common to see vans pulled to the side of the road with people vomiting. My advice is just to take motion sickness pills.
---
Bus From Luang Prabang To Vang Vieng
Taking the bus from Luang Prabang to Vang Vieng is a great option for those who get motion sick. As it is more of a slower journey, as well as the bus takes the old route where there are fewer curves, it makes for a much more comfortable and less vomit-inducing experience.
Though, in saying this, taking the bus will at least add an hour to your journey. Therefore if you are rushed for time you may be better off taking a minivan. But just in case let's get into the differences between taking a VIP tourist bus or a local bus to Vang Vieng.
---
VIP Tourist Bus
If you are taking the VIP Tourist bus from Luang Prabang to Vang Vieng a shuttle bus will come and pick you up from your accommodation to take you to the station. This may mean being stuck while it picks up other guests. Though it could also mean the complete opposite and you head there straight away.
At the bus station, you will then have to grab your bags and put them on the bus which will transport you to Vang Vieng. It may not leave straight away though as you wait for other passengers to join so just be prepared for that.
When the bus finally heads off you will be taking the old road from Luang Prabang to Vang Vieng. This is perfect for people who get motion sick as you won't constantly be being tossed around corners.
Being a tourist bus you should also have air conditioning for the journey. Though this is Laos and there is no promise that it will be working. Luckily, you will be able to get some fresh air during the refreshment breaks. It will stop at least once over the journey and you can use the bathroom and get some snacks.
One of the best parts about taking the bus is the beautiful scenery out the window. From lush mountainsides to children playing, farm animals, and local families, there is always something happening out there.
You will finish your journey a few kilometers outside the main center of Vang Vieng and need to catch a tuk-tuk for the final portion of your journey. Unfortunately, drivers won't be willing to negotiate. Though if you walk down the road a bit you should be able to find a cheaper ride.
---
Local Bus
The local bus is similar to the VIP Tourist bus, though will be a couple of dollars cheaper. This is because local buses are infamously slow. You will likely be stopping off in numerous villages and towns, loading and unloading locals.
It will also be much more of a cramped journey as they try to squeeze on as many people as possible. It is not unusual to have small plastic stools in the walkway acting as extra seats.
Lastly, be prepared for just having Southeast Asia air conditioning aka an open window. There is not usual air conditioning on the local bus meaning it could get quite dusty inside from the open windows.
The local bus might not be as much of a direct journey, nor as comfortable. Though, if you are looking to save money and are not worried about time and comfort this could be your best option.
---
Shared Minivan From Luang Prabang To Vang Vieng
We booked our shared minivan from Luang Prabang to Vang Vieng in advance from a travel agency in the town. If you are wanting to do the same there are so many around you will have no problem finding one.
Though, if you want some peace of mind you can check out 12.Go Asia and prebook from them. On their website, you will also be able to check out reviews so you will know exactly what to expect.
Prices for these shared minivans generally range between 100,000 – 150,000LAK. This will include pick up in a tuk-tuk from your guesthouse or hostel in Luang Prabang to the bus station.
We generally try to shop around for the cheapest price and ended up paying 105,000LAK for our journey. Though expect 120,000LAK as an average cost.
---
My Experience Taking A Shared Minivan
A tuk-tuk comes and meets us at our accommodation in Luang Prabang. Luckily we don't have to pick up too many passengers and are soon on our way out to the city center and to the bus station. Pulling up on the side of the road we enter a gate to a property with a few different minivans around.
There is a little bit of confusion, but we finally figure out that we need to exchange our ticket for a different ticket. My partner does this for us while I use the bathroom. After that, we are ushered over to a minivan and packed in preparation for the journey.
Being someone who often can get mountain sick on these journeys, I try to sleep most of the way. Though it can be hard to keep your eyes closed while being tossed around each corner. The van is packed full of people with a couple of bags downs the middle which cannot fit in the back of the van.
A couple of hours into the journey we pull over at the impressive 'loo with a view' stop. The bathrooms are unimpressive, though the view is quite the opposite. Even being the burning season we can still see across the valley and over the beautiful rolling hills.
There are a couple of snack places here, but I purchased some lollies and chips last night at a supermarket to keep me going.
Sleeping away a few more hours on the bus the landscape quickly begins to change. The rolling hills become impressive karst mountains and we follow alongside a river to the town of Vang Vieng.
Pulling into the bus station outside of the center of Vang Vieng we quickly become swarmed with tuk-tuk drivers. Being 2 kilometers outside out the town options are limited, especially in the heat. We quickly give in and pay the 20,000LAK for a shared ride to the doorstep of our hostel.
---
Vang Vieng Bus Station Into Town
Like most transportation in Southeast Asia, the minivans and buses will drop you at a bus station inconveniently out of town. In Vang Vieng, this station is situated 2 kilometers outside of the city center of the town.
Realistically 2 kilometers is not too far, though under the hot sun, carrying all your luggage makes it seem a whole lot longer.
Don't worry though as there will be tuk-tuks waiting around to take you into town for an expensive price knowing they are basically your only option. Generally, they ask for at least 20,000LAK per person for the short ride.
Though, if you walk a little further down the ride you should be able to flag down a driver for a cheaper rate. Just prepare to pay at least 10,000LAK. Which only a dollar difference you might not worry too much about finding another driver and just suck it up.
This is what I did and it was not a big deal since the drivers will drop you off right at your accommodation door.
---
Private Car/Taxi From Luang Prabang To Vang Vieng
This will likely be one of the most expensive options for traveling from Luang Prabang to Vang Vieng. Though it provides you with the freedom to stop wherever you like along the way and avoid being stuck with a bunch of randoms.
If you ask your hotel or a travel agency in Luang Prabang they will be able to advise you of their costs. Generally, it should cost around $150.00. Though you might have to visit a few places in order to get a decent rate.
---
How I Book Cheap Transport In Laos: 12Go Asia
---
LIKE IT? PIN IT!
---
Want more Laos Inspiration? Check out….
---
Disclaimer: This post contains affiliate links. So, if you click on it and purchase something, I get a small percentage at no extra cost to you. As always all opinions are my own and your support is much appreciated.
Related Posts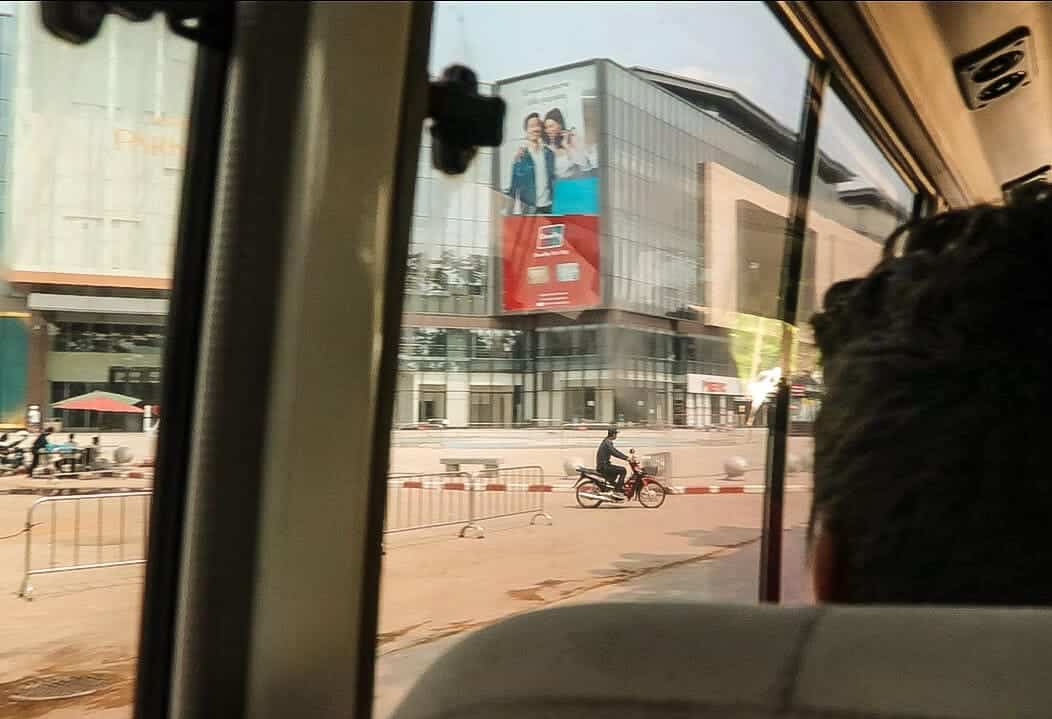 Find out the best and easiest way to travel from Vang Vieng to Vientiane in [...]
1 Comment
Come find out absolutely everything you need to know about the Thailand Laos Border Crossing [...]
13 Comments
Find out exactly how much it will cost to travel Laos on a budget and [...]
17 Comments