Find out the perfect 2 weeks in Laos Itinerary to ensure you have the ultimate adventure from North to South. Let's talk about the best route, transportation, things to do, and more in this gem of Southeast Asia!
---
My first visit to Laos was short and I knew I had to come back. This gorgeous country is full of adventure, mountains, rivers, and quaint towns. Ultimately providing the perfect backpacking adventure.
On my more recent trip, I spent a couple of weeks on the Laos backpacking route doing some of the best things this country has to offer, completely covering the country from North to South.
That is why I have decided to put together all the information I know to create the best 2 weeks in Laos Itinerary so that you can experience the highlights on offer.
Most people seem to come to Laos and just stick to the tourist trails of Luang Prabang, Vang Vieng, and Vientiane. That is what I did on my first trip which just left me craving more.
In this Laos Itinerary, we will still include those popular towns, but also adventure out into the countryside and off the beaten track.
Now let's get into this 2 week Laos itinerary and more travel tips for the best adventure.
---
The Best 2 Weeks In Laos Itinerary
---
🚗 How I Book Cheap Transport In Laos: 12Go Asia
---
Luang Prabang (Day 1- 3)
The gorgeous UNESCO World Heritage Site and town of Luang Prabang is no doubt one of the best starting points for your 2 weeks backpacking Laos. This is a popular tourist hot spot and is perfectly set up for visitors with lots of activities on offer.
While in Luang Prabang you need to check out Kuang Si Falls. This is one of the most beautiful waterfalls I have ever seen with flowing turquoise waters cascading down. Apart from the grand fall at the very top, there are also many smaller falls with pools you can swim in along the way.
Just be aware if you are visiting during the wet season the falls turn into rapids and the blue water is now murky. Nevertheless, it is still an impressive sight. Basically everywhere in Luang Prabang offers minivan tours to the falls so you do not have to search far.
There is also a must-visit night market each evening in the city center. There are a wide variety of goods for sale including clothing, art, and souvenirs. It is also a great place for a meal with such an assortment of street food on offer!
If you are looking for something unique to do in Luang Prabang we tested out a couple of local experiences for travelers. We tried a rice farming tour where we learned about all the steps involved in the rice process and even weaved our own scarves with a lovely local lady.
Luang Prabang is the perfect place to relax alongside the Mekong River and get into the slower pace of life in Laos. This makes it the ultimate place to start your Laos itinerary. Before heading further south to Vang Vieng, if you have time you could also make a detour to Phonsavan to visit the Plain Of Jars.
---
Where To Stay In Luang Prabang On Our Laos Itinerary
There are plenty of different choices when it comes to choosing your accommodation in Luang Prabang. From 5* resorts, historic hotels, simple hostels, and locally owned guesthouses. No matter your budget you will find something to fit.
However, I will say the cost of accommodation in Laos is a bit more expensive than in neighboring Northern Thailand, Cambodia, and Vietnam.
In Luang Prabang, I like to stay nearby to the Mekong River. That way we can walk down there to enjoy the sunset and afterward make the quick walk into town for a street food dinner.
During our recent visit, we stayed on a quaint little side street minutes from the center and Mekong River, and I fell in love with this little spot. There are a few budget guesthouses, as well as, nicer hotel-style accommodations available down this street.
Check out Mylaohome Hotel & Spa for comfortable rooms, an awesome spa, and a delicious cafe onsite for $23.00 per night. There is also Villa Pumalin which has an indoor pool and beautiful wooden rooms starting at $30.00 per night.
Personally, I have not stayed in any hostels in Luang Prabang. I like to go for more 'glampacker' hostels and none which have been available during my visits really meet this requirement.
That's why I have always splashed out for a guesthouse or hotel in Luang Prabang. However, you could check out Little Freedom Friendlys Place which offers air-conditioned dorm rooms from $4.00 per night! There is even a pool on-site for you to cool off in.
A chill hostel with friendly staff. Dorms start from $6.50 per night inclyding breakfast.

BOOK NOW

More of a luxe hostel with great facilities. Dorms start from $10.00 per night including breakfast.

BOOK NOW

A great location and with rooms starting from $45.00 per night including breakfast.

BOOK NOW

A walk from the city attractions, starting from $26.00 per night with breakfast.

BOOK NOW
---
🚗 How I Book Cheap Transport In Laos: 12Go Asia
---
How To Get To Luang Prabang
There are multiple ways that you can begin your 2 weeks in Laos itinerary starting in Luang Prabang. However, this depends on where exactly you are coming from and if Laos will be one of your first stops in Southeast Asia.
If you are traveling from your home country straight to Laos one of your best options will likely be to catch a flight from Kuala Lumpur or Singapore. These airports are international hubs connecting to many regions around the world and offer direct flights to Luang Prabang.
An option I have always done to enter Laos has been crossing from Northern Thailand. This is certainly for the more adventurous and will involve a 2-day slow boat journey down the Mekong River so you will need to make sure you have enough extra time on your Laos Itinerary to complete this.
The 2-day slow boat ride is not as bad as it sounds and I will provide further details into this adventure towards the end of this post.
You could also be coming from Vietnam, of which I highly recommend flying instead of going overland. Luang Prabang from Hanoi is a notorious route, known as the 36-hour bus ride from hell. Just buy a flight to avoid torturing yourself.
If you are coming from Cambodia I recommend doing this itinerary the opposite way. Alternatively, there are direct flights on Monday, Wednesday, Thursday, Friday, and Saturday from Siem Reap to Luang Prabang. However, if you did this you would still be ending up near Cambodia at the end of this Laos itinerary.
---
Vang Vieng (Day 3- 5)
The once-popular party hangout of Vang Vieng has a much different vibe these days. Predominately filled with Korean and Chinese tourists the days of floating along the river and visiting bars are now long gone.
Nevertheless, I personally find Vang Vieng still worth the visit as it is quickly becoming an adventurous town with plenty of guided and unguided activities on offer.
If you are looking for something different to do check out the Vang Vieng Challenge. This is perfect for those outdoorsy people, taking you completely out of your comfort zone with some exciting activities.
There is also zip lining, kayaking, and more available in Vang Vieng as well.
If you like to do your own thing definitely make the effort to go out and explore on your own. Vang Vieng has some incredible Blue Lagoons (my favorite is Blue Lagoon 3), awesome caves, and mind-blowing viewpoints.
This town is a nature lover's dream, so in my opinion, it is still well worth the visit. Also, are you still able to do river tubing, it is just a much more relaxing journey with the bars now closed. There are the occasional restaurants that the kayakers stop in as well.
---
Where To Stay In Vang Vieng On Our Laos Itinerary
The main area in Vang Vieng is basically situated down one long street and a few side streets. It is a relatively small area and the town itself is easy enough to get around on foot.
Nowadays there is a wide variety of accommodations in Vang Vieng. High-end hotels are seemingly popping up out of nowhere as the town is beginning to cater more towards Korean and Chinese tourists instead of backpackers on a budget.
Nonetheless, there are still plenty of affordable options available.
On my most recent visit, we stayed at Vang Vieng Galaxy Guesthouse. It is run by a few lovely young ladies and in a great location.
Starting from $20.00 per night for a hotel quality double room we found it great value for money. Just be aware it is about a 5-minute walk from the main tourist area. Oh, and they let us use the pool at a neighboring property which was a great way to cool off!
There is also plenty of decent backpacker accommodation around Vang Vieng in the way of hostels.
Be sure to check out Nana Backpackers Hostel if you are a party lover. They have excellent facilities, including a gym and a pool, with prices starting from $5.00 per night!
A fun and social hostel in an excellent location. From $7.00 per night for a dorm.

BOOK NOW

A social and party hard hostel on the main road of the town. From$4.00 per night.

BOOK NOW

A lovely resort with a pool to relax in. Prices start from $22.00 per night.

BOOK NOW

A luxurious hotel with amazing views. Prices start from $100.00 per night.

BOOK NOW
---
🚗 How I Book Cheap Transport In Laos: 12Go Asia
---
How To Get To Vang Vieng From Luang Prabang
The road from Luang Prabang to Vang Vieng winds through hills and forests. If you get motion sick definitely take medication before this journey!
There are plenty of buses and minivans that you can book when you are in Luang Prabang or pre-book online at 12.Go Asia. The journey itself takes AT LEAST 5 hours (it will be longer on a bus) which includes 1 bathroom stop along the way.
When in Laos, I personally always use minivans to get around as they are usually a more reliable form of transport. Buses here can be a bit hit or miss.
The newest and definitely fanciest option is by taking the train. The total travel time is 3 hours including transfers. Since it is a high-speed train you are able to cut out a lot of travel time, instead giving you more time to enjoy your destination.
It is a little bit more pricey with tickets starting at $25.00, but if you are someone who suffers from motion sickness it is definitely worth splurging out and booking this. You can book your tickets online with 12.Go Asia.
---
Vientiane (Day 5- 6)
Welcome to the capital city of Laos. This place is bustling with cars, tuk-tuks, and people. Though personally, it is my least favorite place in Laos as I am not a city person.
Nonetheless, it is still well worth the visit and there are some cool places of interest to check out.
Patuxai is a popular landmark among tourists and might even remind you of a certain attraction in Paris. You also cannot come here without checking out some of the gorgeous temples. There are plenty around!
Also if you do have a little extra time to spend in Vientiane I have heard that Buddha Park makes an excellent day trip.
As a foreigner, I had never heard much about it, but Laos was actually part of the Secret War during the 60s and 70s. Actually, it was bombed so much that it was equivalent to one planeload of bombs being dropped every 8 minutes for a decade.
It actually still holds the title of the most bombed country on earth. As you can imagine this had a major effect on the local people and resulted in many lost limbs. The organization COPE in Vientiane was set up to assist them.
Providing artificial limbs, wheelchairs, and physical rehabilitation. Visiting the COPE center is well worth it and an extremely educational experience.
---
Where To Stay In Vientiane On Our Laos Itinerary
Personally, I have not fallen in love with any particular part of Vientiane. Though, on my more recent stay, we did stay in a decent area that had a nearby minimart, local restaurants, and western eateries.
It was also a quick walk to the riverfront where you can find the daily night markets.
Here is where we stayed at Mixay Paradise Guesthouse. I honestly did not find the accommodation itself overwhelmingly great (we were in an internal room with no window). Though, it was fine enough for one night.
Rates start at around $20.00 per night and honestly, the pictures online look like much better rooms than what we had (we booked directly with the guesthouse).
The most popular hostel in the city. Dorms here start from $5.00 per night.

BOOK NOW

A chill upscale hostel in the city. Pod style dorms start from $6.50 per night.

BOOK NOW

A beautiful hotel with a swimming pool. Private rooms start from $50.00 per night.

BOOK NOW

A relaxing and modern stay starting from $40.00 per night.

BOOK NOW
---
🚗 How I Book Cheap Transport In Laos: 12Go Asia
---
How To Get To Vientiane From Vang Vieng
The best option to travel from Vang Vieng to Vientiane is by minivan or train. The drive is easy and relatively straight, though saying that it is rather average scenery.
Again I do recommend taking a minivan over a bus due to the comfortability factor. However, that is ultimately up to you whether you want to save those couple of dollars or not.
The transport can either be booked at one of the many travel agencies in Vang Vieng, your hotel, or in advance from 12.Go Asia.
There is also the train which is super fast taking about 1 hour to an hour and a half including transfers. Prices start at $25.00, and you can book your tickets online with Baolau. Just be aware if you book your tickets with Baolau you still need to pick up your physical tickets when in Vang Vieng.
---
Kong Lor (Day 6- 8)
Time to get away from the cities and right off the beaten track in Kong Lor!
This hidden gem is a must on anyone's Laos itinerary and one of my favorite places in the country. Now this will take you away from the cities and into a remote village surrounded by nature.
A highlight here in Kong Lor, and why many people travel here, is to visit Kong Lor Cave (Tham Kong Lo). This geological wonder of Southeast Asia features stalactites, stalagmites, limestone mountains, rivers, and 300-foot-high ceilings.
The best way to see the cave is by taking a boat tour. This will take a couple of hours and over 7 kilometers. Also depending on the water levels, you might need to get out of the boat during some portions so the bottom doesn't drag.
The cost of the boat tour is $5.00 / 100,000 LAK. This can be split between the 3 people (or less) the boat holds.
There is also a $0.10 / 2,000 LAK per person fee to enter the National Park and a $0.50 / 10,000 LAK entrance fee for the cave.
Kong Lor itself is such a quaint lovely little village. There is not too much happening here, but with a couple of guesthouses, a small selection of restaurants, stunning nature, and incredible views you couldn't really want anything more.
---
Where To Stay In Kong Lor On Our Laos Itinerary
There are minimal accommodation choices available in Kong Lor as it is quite a small village. However, there are still a handful of decent options.
I stayed in Thongdam Bungalows and had a wonderful time. It is a beautiful location and the rooms are perfect. I highly recommend them if you don't need air conditioning to sleep.
They are also the only place in Kong Lor that offer dorm room accommodation, perfect for travelers on a budget.
Another good option is SpringRiver Resort. Starting at $15.00 for a double room the property is completely tucked away in nature and offers plenty of things to do. Seriously it is in the most amazing location!
Konglor Eco-Lodge Guesthouse and Restaurant

Clean and modern rooms in a peaceful location starting from $10.00 per night.

BOOK NOW

An incredible resort surrounded by nature. Rooms here start from $20.00 per night.

BOOK NOW

A great affordable option for travelers on a budget. Private rooms start from $8.00 per night.

BOOK NOW

With both dorms ($5.00 per night) and private rooms ($10.00 per night) this is a great choice for all travelers.

BOOK NOW
---
🚗 How I Book Cheap Transport In Laos: 12Go Asia
---
How To Get To Kong Lor From Vientiane
There is a daily bus from Vientiane which will take you all the way to Kong Lor.
This can be purchased from nearly all tour agencies and guesthouses around Vientiane. That is the only direct option so you do not have much of a choice in regards to transport.
It will be a local bus and as this is not a common route there will not be many other travelers on the journey, but you will be able to find others once you get to Kong Lor.
This daily bus should cost around $5.00 / 100,000 LAK including a minivan transfer to the bus station and it takes about 6 hours.
If for some reason this is not an option for you, there is one other option. You can take a bus to Thakhek, but ask the bus driver to let you off in a town called Vieng Kham.
This is about halfway to Thakhek and is where there is a turnoff to Kong Lor. Obviously, you will need to keep an eye on your location with GPS on your phone to make sure the driver pulls over to let you off.
Depending on the time you can stay there the night or get a songthaew to take you the remainder of the way to Kong Lor.
---
Thakhek (Day 8- 9)
Thakhek is the perfect place to spend a night to break up the journey between here and Pakse.
It is not an overly touristy town though provides a great stop along the Mekong River to relax. On the other side of the river, you can even see Thailand!
There is a real French colonial influence throughout Thakhek. These buildings line the street and are home to some excellent restaurants and cafes.
Also, be sure to check out Inthira Restaurant for excellent local and Western food for those on a budget!
---
Where To Stay In Thakhek On Our Laos Itinerary
There is a mixture of accommodations available in Thakhek. Though honestly, they are a bit pricey for what is on offer. We stayed one night at The Mekong Hotel, but I cannot say I would recommend it.
There were a few other tourists there, but it seemed to have a sort of seedy vibe about it. The rooms are relatively cheap starting at $18.00 per night, and mine was massive.
The problem is the in-room amenities were extremely dated and ants were crawling around.
Another option, which I have heard is good is the hotel run by the same restaurant I mentioned before called Inthira Thakhek.
It is a bit pricier starting at $26.00 per night. Though they are modern air-conditioned rooms and that price also includes breakfast.
A clean and comfortable hostel from $6.50 per night for a dorm bed.

BOOK NOW

A social and popular hostel in an excellent location. From $7.50 per night.

BOOK NOW

Modern and clean air conditioned rooms starting from $30.00 per night.

BOOK NOW

A lovely hidden gem. Rooms for this guesthouse start from $20.00 per night.

BOOK NOW
---
🚗 How I Book Cheap Transport In Laos: 12Go Asia
---
How To Get To Thakhek From Kong Lor
The journey from Kong Lor to Thakhek is 180 kilometers and will take you at least 5 hours. Around 6.30 am a songthaew style local bus begins in Kong Lor and will take you all the way to Thakhek, arriving around midday.
The cost is $3.60 / 75,000 LAK and prepare to get a numb bum on the wooden seat!
You can also choose to continue traveling directly onto Pakse by heading to the bus station in Thakhek. On arrival, there are a couple of afternoon bus departures that will get you into Pakse around 8 pm.
If you do happen to miss the direct songthaew from Kong Lor to Thakhek, there is another which leaves at 7.30 am to Nahin Lak.
From there you will need to change to a different Songthaew which will take you to Thakhek. This is the same price as the first option.
---
Pakse (Day 9- 11)
Pakse is a rather large city and the international gateway to Southern Laos. From here are direct flights to neighboring Thailand, Cambodia, and Laos. This makes it an ideal place for travelers to visit in the South.
It is another town founded by French colonialists during the 1900s and is the meeting point of the Mekong River and Xe Don River.
There are some awesome things to do around Pakse as it happens to be the gateway of the Bolaven Plateau. In the Bolaven Plateau, you can find numerous impressive waterfalls, cooler temperatures, and lush forests.
There are organized tours to the waterfalls in the town of Pakse or if you are a little more comfortable and looking for an adventure you can hire a motorbike and do it yourself. There is a fairly well-trodden route in this region with towns and restaurants catering to tourists.
Make sure to try some of the delish coffee as well!
I was actually in Pakse for one night and only had the chance to see one waterfall called Tad Yuang. Even though they were impressive, I wish I had the chance to stay longer.
This way I would have been able to explore some of the many other falls in this region.
If you are a temple lover make sure to check out the UNESCO World Heritage Site of Wat Phou. It is located a little bit out of the main town, though certainly worth the visit. It is a Khmer Temple which was the former capital of the Khmer Kingdom before Angkor Wat.
Lastly, make sure to try the 2-for-1 cocktails on the rooftop of The Pakse Hotel & Restaurant between 5 pm-7 pm. They have a great view to watch the sunset and the drinks are very strong!
---
Where To Stay In Pakse On Our Laos Itinerary
Being back in a fairly large city you will now have a wide variety of accommodation options to choose from. Whether that is a comfortable hotel, local guesthouse, or backpackers hostel the choice is yours.
Most hostels here seem to start around $14.00 for a shared dorm room. However, I will say they are higher quality rooms with privacy curtains and personal reading lights.
If this sounds like you have a look at You Empire Hostel & Bar or Chato Hostel, which are both great options.
If you are looking to splash out you certainly can in Pakse, though there are some good mid-priced rooms as well. We popped into The Pakse Hotel and fell in love with the grand colonial building and friendly staff.
They offer rooms starting at $50.00 per night which is at the higher end of the scale, but if you are looking for comfort and hospitality this is the place.
The most popular hostel in Pakse. Dorms start from $7.00 per night.

BOOK NOW

Spacious and air conditioned dorm rooms here starting from $5.30 per night.

BOOK NOW

Modern and clean hotel in a great location. Rooms here start from from $38.00 per night.

BOOK NOW

A great and affordable option starting from $10.00 per night for a private room.

BOOK NOW
---
🚗 How I Book Cheap Transport In Laos: 12Go Asia
---
How To Travel To Pakse From Thakhek
The route from Thakhek to Pakse is a popular one and you will have no problem jumping on one of the many buses daily. The journey is a long one though, around 7 hours so remember to bring snacks!
As Southern Laos is not as popular as the north you basically will only have the option of a local bus, rather than a minivan. It may not be the most comfortable journey. Just be patient and you will eventually get there.
Tickets can be purchased through one of the travel agencies in Thakhek or your hotel should be able to do this as well.
---
Don Det (Day 11- 14)
After all this traveling I think it's time for some rest and relaxation. Well, you can either do that or party, as here in Don Det, part of the 4000 islands, caters perfectly for both.
This lush riverside island is a backpackers paradise and where you will find 90% of tourists who are traveling to Southern Laos.
Life is slower here on Don Det and there are no extreme activities. Enjoy the riverside life from your hammock, visit the nearby Little Eden pool to meet other travelers, or grab a Lao Beer at one of the many restaurants and bars. A sunset cruise along the river is the perfect way to end this trip.
Hire a bike to go to the popular Liphi Falls to experience the powerful water that runs down the Mekong River. You can even set out to find the Irrawaddy Dolphins.
Though I have heard mixed reports on the likeliness of actually seeing them. Supposedly there was only a handful left around Don Det when I was and our guide said one of them even died during our visit.
Either way, Don Det is the ideal place to relax and simply enjoy the slower pace of Laos. It is a town/village/island perfectly set up for tourism, though with none of the stress or crowds that it would regularly entail.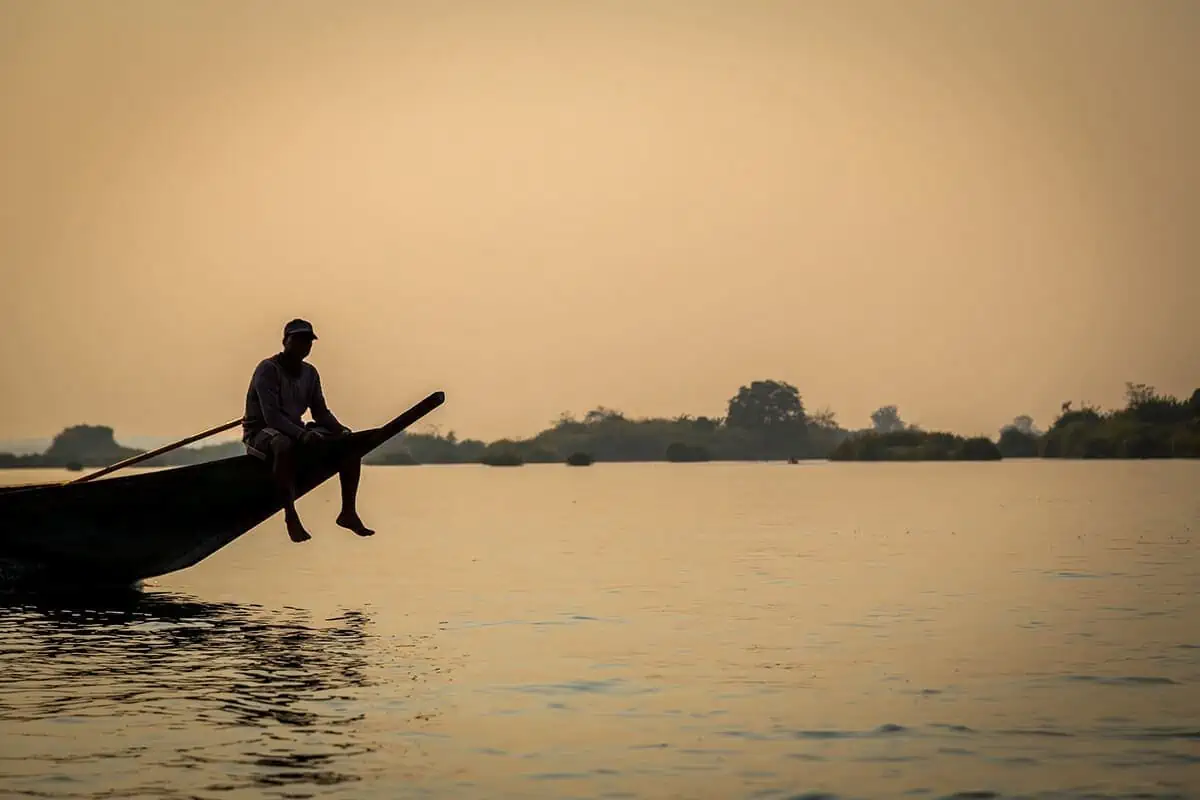 ---
Where To Stay In Don Det On Our Laos Itinerary
There is no better option for accommodation in Don Det than in one of the many riverside guesthouses. They might be a bit more simple in terms of amenities.
Though, all you need here is a bed, a fan, and a good hammock where you can appreciate the views from.
A couple of options include Champa Mekong Bungalows and Riverside Bungalow. These offer rather basic accommodations with a fan-cooled room and a private bathroom. Prices start from $25.00 per night for a double room including breakfast.
Though if you would like something a little high quality check out Souksan Sunset Bungalows. They have air-conditioned cooled rooms starting at around $37.00 including breakfast.
For those looking to make a splash, literally, Little Eden Hotel is your best bet. With an onsite pool to cool off in, modern rooms, and close to the ferry pier it is fair to say they offer the nicest accommodation on the island.
Though, of course, it comes with a price tag. Their rooms start at $65.00 per night for a double air-con room.
A great budget friendly option with river views. Rooms start from $10.00 per night.

BOOK NOW

Basic but comfortable rooms here start from $18.00 per night.

BOOK NOW

Budget friendly stay for backpackers. Rooms start from $6.00 per night.

BOOK NOW

Clean and comfortable rooms with epic river views start from $20.00 per night.

BOOK NOW
---
🚗 How I Book Cheap Transport In Laos: 12Go Asia
---
How To Travel To Don Det From Pakse
Don Det and Pakse are actually relatively close together so no need to worry about any more horribly long bus journeys.
The total travel time, including a transfer on a ferry, and then another boat to the island will take between 3- 4 hours. The best option to travel is by using a minivan.
You can buy tickets from travel agencies, guesthouses, and even restaurants in Pakse.
If you would like to book in advance you can check out 12.Go Asia for a couple of options. The ticket price should be around $10.00 and if you book online it will be a bit more.
You will need to also check whether the boat from Nakasang to Don Det is included in the price or not, as if not this will cost $0.70 / 15,000 LAK extra.
---
Where To Travel From Don Det
That was no doubt a whirlwind trip from the North to the South in this 2 weeks in Laos Itinerary. From tourist hotspots to off-the-beaten-track, there's no doubt you have seen some of the best sights this country has to offer.
From Don Det, the best way to get out of Laos is to head back to Pakse and the International Airport there.
Even though you are so incredibly close to the Cambodia / Laos border no one really goes this way to Siem Reap.
Trust me I have done this journey. The border crossing was nearly abandoned as our group and the border agents were the ONLY people there. Though if you must do the 11-hour journey 12.Go Asia has this service.
Pakse Airport has direct flights to Thailand, Cambodia, and Vietnam. Thanks to affordable airlines in Southeast Asia they will not put a big dent in your budget.
---
Extend Your 2 Weeks In Laos Itinerary
Maybe you want to make the most out of your tourist Visa in Laos and spend the entire 30 days here! Laos is a great country and there is so much more you can do to turn this 2 week Laos Itinerary into a longer journey.
---
Slow Boat From Northern Thailand
The slow boat journey is one which I have done a few times now and I can say it is not as bad as many people online say it is!
If you are in Northern Thailand around Chiang Mai it is easy enough to get a minivan to Chiang Khong or Huay Xai at the border and do the journey yourself.
It is a 2-day journey with an overnight stop in the small town of Pakbeng. The days are never as long as they say (was only around 6 hours each day) and the car seats make for very comfortable chairs.
Seriously the journey from Chiang Mai to Luang Prabang on the slow boat is an experience in itself and an excellent way to begin your adventures in Laos.
---
Bolaven Plateau Loop
The Bolavan Plateau loop outside of Pakse is one of the best ways to see the many waterfalls which lay in this region.
Personally, I have not done this myself, though it is on my bucket list. The best way to do the loop is by hiring a motorbike in Pakse and exploring at your own pace.
There are 2 different itineraries you can do of the Bolaven Plateau depending on how much free time you have; either 3 days or 5 days, known as the short and big loop.
---
FAQs About The Laos Backpacking Route
Is Laos good for tourists?
Laos is a good destination for tourists who are looking for a peaceful and authentic experience of Southeast Asia, away from the crowds and noise of some of the more popular destinations. Laos offers a variety of activities and things to do, such as hiking, biking, kayaking, caving, tubing, cooking classes, and more.
Is Laos in Thailand or Vietnam?
Laos is neither in Thailand nor in Vietnam. It is a separate country in Southeast Asia, bordered by Thailand to the west, Cambodia to the south, Vietnam to the east, and China to the northwest.
How do you say hello in Laos?
The most common way to say hello in Laos is "sabaidee" (ສະບາຍດີ), which means "hello" or "are you well?". This is usually accompanied by a gesture called "nop", which involves pressing the palms together in front of the chest or face and bowing slightly.
Can you fly direct to Laos?
Depending on where you are flying from you may be able to get a direct flight to Laos. The city of Luang Prabang has direct flights to and from Thailand and Vietnam. From the capital of Vientiane, there are also direct flights from Singapore.
Is Laos tourist friendly?
Laos is a tourist-friendly country that offers a variety of attractions and activities for visitors. Laos is known for its natural beauty, rich culture, and historical heritage. One of the main tourist-friendly cities is Luang Prabang.
Is Laos cheap to travel?
Laos is a relatively cheap destination to travel, for example, I traveled on $30.00 per day. However, the cost of traveling in Laos depends on various factors, such as the type of accommodation, transportation, and activities you choose.
---
🚗 How I Book Cheap Transport In Laos: 12Go Asia
---
Laos Itinerary: Wrap Up
Laos is a country that no doubt deserves more attention from travelers who want to discover a unique and authentic destination in Southeast Asia.
With a two-week itinerary, you can see some of the best attractions and experiences that Laos has to offer. Plus you will still have time to relax and enjoy the local culture and hospitality.
I have fallen in love with Laos throughout my adventures exploring this incredible country, and I can;t wait for you to do the same!
---
Any Questions? Let me know in the comments!
---
LIKE IT? PIN IT!
---
Want more Laos Inspiration? Check out….
---
Disclaimer: This post contains affiliate links. So, if you click on it and purchase something, I get a small percentage at no extra cost to you. As always all opinions are my own and your support is much appreciated.
Related Posts
Find out all you need to know about visiting Tad Yuang Waterfall outside of Pakse.  [...]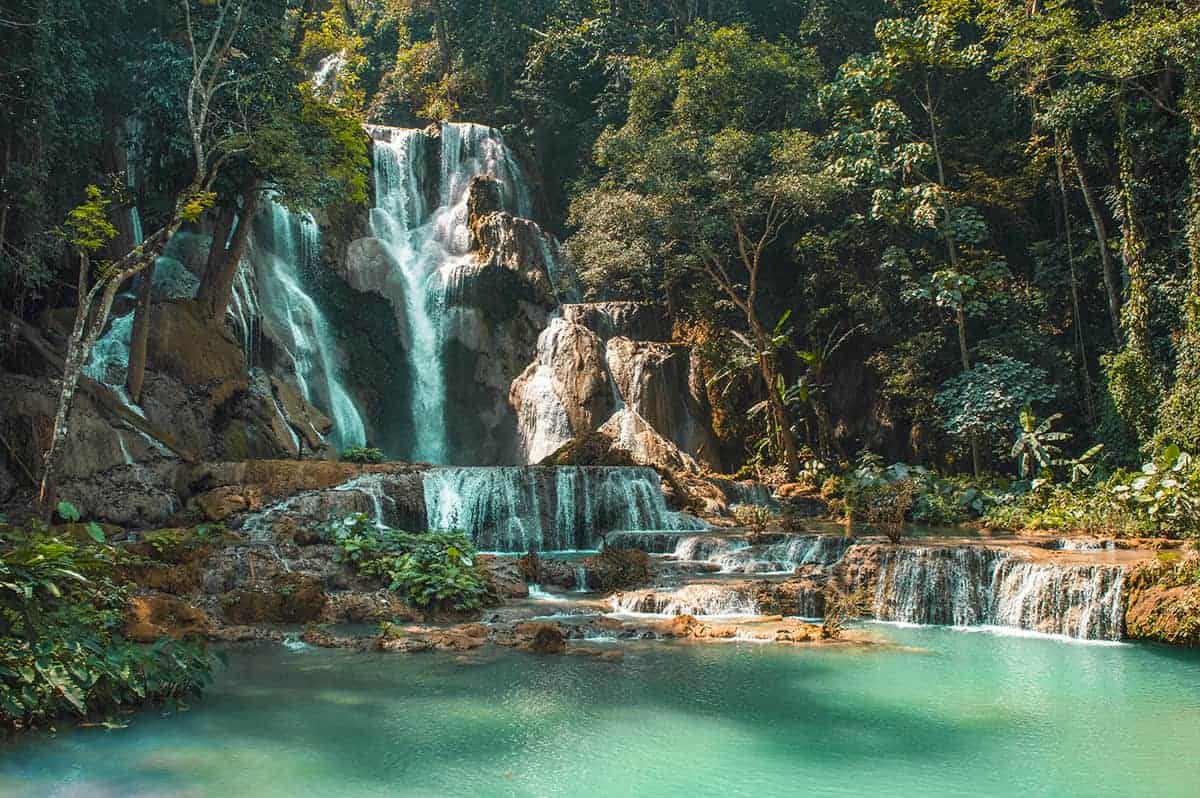 Find out absolutely everything you need to know about visiting Kuang Si Falls in Luang [...]
28 Comments
Find out absolutely everything you need to know about common scams in Laos to help [...]
1 Comment