Find out the perfect 3 weeks in Thailand itinerary to ensure you have the ultimate adventure from North to South. Let's talk about the best route, things to do, transportation, accommodation, and more during your time in Thailand!
---
Thailand is a huge country with so much to offer. Think lush jungles, swaying palm tree-covered beaches, and bustling markets. I think I fell in love with Thailand as soon as I stepped foot off the plane. So much so that I have actually traveled through the country four times so far exploring some of the most popular towns, cities, and islands.  Though this has allowed me to create the best 3 weeks in Thailand itinerary.
If you are looking at getting off the beaten track and away from other travelers, then I will say it now; this is not the itinerary for you. This is assuming you are visiting Thailand for the first time and want to see some of the best places it has to offer. We will keep you on the well-trodden backpacking Thailand route. Though with a few extra tips and tricks are thrown in to take your adventure to the next level.
Before we get into that Thailand itinerary, let me say this is a combination of all my trips. Also even though it is North to South you don't need to do it this way. You can change it up by flying into Phuket and working your way up, or even do what I have done before; crossing into Laos from the north, then going to Vietnam and Cambodia before heading back to Bangkok and continuing your travels South.
Now, let's get into this 3 weeks in Thailand itinerary and find out what to do in Thailand for 3 weeks with all the information you need to know to have the ultimate adventure.
---
The Best 3 Weeks In Thailand Itinerary
---
Chiang Mai (Day 1- 3)
Chiang Mai is the perfect introduction to your 3 weeks in Thailand itinerary. Even though it is a city it is a much more relaxed vibe than somewhere like Bangkok. This will allow you to start off your trip relaxed and ready to explore. Plus get over that jetlag!
I have actually written a 3 days in Chiang Mai itinerary which is definitely worth the read if you are wanting to go into quite a bit of detail about Chiang Mai. Though for now, let's chat about some of the highlights this city has to offer and what you need to check out while here.
First up, let's mention one of the most popular things to do in Chiang Mai, visiting Elephant Nature Park. Sure there are plenty of elephant sanctuaries in Chiang Mai. Though what you want to make sure to do is visit an ethical one. This means no riding, no chains, no tricks, and ideally no bathing with the elephants. One of the most popular, so much so tickets are sold out weeks in advance is Elephant Nature Park. Though lucky they have plenty of projects they run through sister sanctuaries in which you can partake in.
I always tell everyone visiting Chiang Mai to make sure you are there for a Sunday. This is so you can visit the incredible Chiang Mai Sunday Night Market. Over a kilometer long you can find here absolutely everything you could ever want. Think delicious food, local artists, clothing, and souvenirs galore!
This is also the perfect place for foodies. Whether you love a good hearty meal or are a vegetarian like me, there are so many affordable restaurants in Chiang Mai!
Other highlights in Chiang Mai include visiting the numerous temples in the old town, taking a cooking class, Doi Suthep and so much more!
---
Where To Stay In Chiang Mai
You are spoiled with choices when it comes to choosing where to stay in Chiang Mai. There are countless luxury 5-star resorts, locally run guesthouses, and modern hostels.
I mainly choose to stay within the confines of the Old City when choosing where to stay in Chiang Mai. It is within walking distance of many beautiful temples, excellent shopping, and delicious restaurants.
There are also plenty of hostels available in Chiang Mai. I generally budget around $5.00 per night for a hostel dorm bed. You can see the latest prices on booking.com or check out my list of the best hostels in Chiang Mai.
On my most recent visit, I stayed at De Lanna Hotel. This is a mid-range hotel located in the heart of the Old City. The location was fantastic and having a pool to enjoy during the afternoon heat was fantastic. Though on the complete opposite side, I have also stayed in the cheapest available hostel on my first visit. The owner was great, but the facilities were less than, and I think it's probably a good thing it's shut down.
---
How To Get To Chiang Mai
The simplest and easiest way to begin your 3 weeks in Thailand itinerary. Though, this depends on where exactly you are coming from and if Thailand will be one of your first stops in Southeast Asia.
If you are traveling from your home country straight to Thailand one of your best options will likely be to catch a flight from Hong Kong, Vietnam, Laos, Singapore, and Malaysia. These airports are international hubs connecting to many regions around the world and offer direct flights to Chiang Mai. I recommend checking flights on SkyScanner to ensure you find the best price for your journey. It is also super easy to get from Chiang Mai Airport to the city.
You could also be coming from Laos if you have been backpacking Southeast Asia already. One of my favorite things is the slow boat from Luang Prabang to the Thai-Laos border town. From there is it pretty easy to get a minivan or a bus down to Chiang Mai.
---
Ayutthaya (Day 3- 5)
Ayutthaya is the perfect place for history buffs or just those interested in a glimpse of Thailand's past. This UNESCO World Heritage Site once was the second capital of the Siamese Kingdom having been founded in 1350. From the 14th to the 18th centuries it actually grew to one of the largest in the world, an important center of diplomacy and commerce.
Once there you will understand why this area was chosen as the capital. Located on an island encompassed by three rivers that flow to the sea made for a strategic position. Unfortunately, in 1767 Ayutthaya was attacked and razed by the Burmese. The city was burned to the ground and the locals who called it home had to flee.
Nowadays it is a sleepy town with temples seemingly around every corner. Visiting these temples is actually why the majority of travelers visit the city. Some have been restored and others are untouched with the beauty of nature slowly taking over. This is one of the best landmarks in Thailand and draws in tourists daily.
There are plenty of ways to see the temples once you are there. Though two of the best options are to either do a boat tour or by bicycle. Personally, I did a boat tour and it was so beautiful seeing them all from the river and we had shade from the hot Thai sun.
---
Where To Stay In Ayutthaya
You will actually only need to stay one night in Ayutthaya. Though I will get into details on that below in the transportation section. The main touristy area of Ayutthaya isn't too large in itself being the main island which the rivers are situated around.
For an affordable private room have a look at Baan Are Gong Riverside Guesthouse where rooms start at just $14.00 and it's in a great location. Another option is Chommuang Guesthouse with rooms starting from $16.00 per night. These options are great if you have a friend or partner to share with.
For those traveling solo in Thailand or a more of a budget, a hostel is a great option. Also, they generally will run their own tours of the nearby temples, often at a much cheaper price than the travel agencies.
---
How To Get To Ayutthaya From Chiang Mai
The journey from Chiang Mai to Ayutthaya is a bit of a long one. Though this is where I recommend you take the sleeper train, though get off in Ayutthaya before it gets into Bangkok. This is where you will be spending one of your nights in Ayutthaya, sleeping on the train!
This is a super comfortable journey, much better than taking a bus and having to stop multiple times in the night for a "toilet break". The journey is super popular with travelers and is a proper initiation to the backpacking Thailand lifestyle.
The journey is reserve is a lot more popular. Though tickets on the sleeper can sell out quite far in advance. I recommend pre-booking online at 12.Go Asia. The journey itself takes AT LEAST 12 hours so bring some snacks and some sort of entertainment (phone reception can be quite spotty).
---
Bangkok (Day 5- 7)
Welcome to Bangkok, the capital of Thailand. This city is unlike anywhere you have visited so far and it's likely you will love it or hate it. Though either way, it is the main hub for travelers in Thailand, and most seem to spend a few days here exploring this crazy city.
One of the best things to do during your 2 days in Bangkok is to visit The Grand Palace, and yes it is worth the eye-watering $16.70 / 500 THB entry fee. Though this also grants you access to both the Royal Palace and the famous Wat Phra Kaeo Temple housing the 14th Century Emerald Buddha. Don't forget to cover up your legs and shoulders as with the rest of the temples in Thailand.
Bangkok is also home to some incredible markets! But instead of going through them all, Chatuchak is a must-visit as it's actually Thailand's largest market with over 15000 stalls! The Chatuchak Weekend Market has everything you could ever want and even things that you probably never would want all in the same place. It is open from Wednesday to Friday, but during the weekend is where this place truly transforms with countless stalls selling anything and everything.
Nearby to Khao San Road, you can take a boat trip on the Chao Phraya River or visit Wat Arun. These are budget-friendly activities perfect for those backpacking Thailand on a budget.
Lastly, you NEED to visit one of the Skybars in Bangkok! These places are absolutely incredible with impressive views over the city's skyline. Make your way there just before sunset for the most amazing sights. Oh, and make sure to bring a bit of money because prices are closer to those in Western countries.
---
Where To Stay In Bangkok
There are many different areas of Bangkok that are popular with travelers. Though the main ones here are Khao San Road, Silom, Siam, and Sukhumvit.
For a more "normal" experience of Bangkok, I recommend you stay in Silom, Siam, or Sukhumvit. These are more modern parts of the city and definitely a lot more low-key. My favorite here is Hotel Indigo Wireless Road.
Khao San Road is perfect for first-time travelers coming to Bangkok or those just looking to party. I do not recommend for ANYONE stay on actual Khao San Road. There is constant noise from the street below and because that's automatically where travelers book there is no standard for accommodation, as no matter what, the room gets filled.
In terms of hostels on Khao San Road, the list seems to be never-ending. Seriously there are hundreds! Though check out my guide on the best hostels around Khao San Road for the best stay.
---
How To Get To Bangkok From Ayutthaya
The best option to travel from Ayutthaya to Bangkok is by minivan or bus. The drive is easy and it is pretty short in distance ( expect it to take between an hour to two depending on traffic).
Alternatively, you can also continue on the train.m Trains leave every hour, though the journey takes about the same amount of time it would do in a minivan. Unfortunately, the train station in Ayutthaya is not very conveniently located. You will need to take a tuk-tuk there which will cost you around 100 baht depending on your negotiating skills. You can book your train tickets over on 12.Go Asia.
---
Koh Tao (Day 7- 9)
Time to hit up one of the best Thai Islands! Koh Tao is the perfect quiet island to relax on surrounded by incredible marine life. There are plenty of things to do here which will really allow you to experience the beauty of this place. This includes amazing snorkeling, incredible diving, mind-blowing viewpoints, and palm tree-covered beaches.
Koh Tao is famous for being a diving hot spot in Thailand and one of the cheapest places to become PADI certified. As a result, it attracts thousands of backpackers every year looking to gain some new skills exploring life under the water. With so many dive schools on the island, it helps keep the price low. It can cost as little as $300.00 to become certified here. The 2 most popular diving schools are Big Blue Diving & Ban's Diving School.
Make sure to book yourself a Koh Tao Snorkeling Tour while on the island. You will visit the famous Koh Nang Yuan, Mango Bay, Hin Wong Bay, Aow Leuk, and Sharks Bay. There will be a variety of underwater life to explore which plenty of coral reef systems to check out. Lunch is also included as the tours generally run until the afternoon.
Make sure you check out the incredible viewpoints during your stay as well. The most popular is John Suwan Viewpoint. There is an entrance fee of $1.63 / 50 THB. This palm tree-laden spot is super popular with other travelers. In the evenings check out Sunset Viewpoint and Love Koh Tao for epic views looking out over the sea.
---
Where To Stay In Koh Tao
There are a few main areas of Koh Tao where you will find various accommodation options:
Sairee Beach: Sairee Beach is one of the more popular places to stay in Koh Tao simply because this is where the majority of accommodation options are located. There are some quaint bungalows here as well as a handful of hostels for backpackers on a budget.
Chalok Baan Kao: Away from the township in a more peaceful location is the area of Chalok Baan Kao. Here you will find more affordable beachfront bungalows. This is definitely an area for backpackers who want to be more in nature and the seaside without having to pay ridiculous prices.
Mae Haad: Mae Haad is the main area of Koh Tao and where all the ferries depart from. There isn't too much of a nice beach here due to boat pollution. I stayed in this area on my first trip to Koh Tao and found the options quite limited. There are more hostels here as well as a few affordable resorts. I stayed in Baan Rock Inn for $20.00 per night which I shared with my partner.
---
How To Get To Koh Tao From Bangkok
Unfortunately getting to Koh Tao from Bangkok isn't the easiest. This is because, no matter which type you choose, you will need to take multiple types of transport to get to the island. This could be either a train and boat or a bus and boat combination.
Personally, I booked my journey with Lomprayah. It was a long overnight trip, though there was minimal planning needing to be done on our half and it is a reputable company so I knew we would be safe.
I recommend checking out 12.Go Asia for booking such trips. I have done a detailed breakdown of how to travel from Bangkok to Koh Tao which explains fully how to get there and how much it costs.
---
Koh Phangan (Day 9- 12)
Koh Phangan is equal parts a quiet and chilled back island, as well as a place where swarms of tourists gather to get absolutely wasted and forget realities. Though just be aware that the latter part is only for certain periods of the month.
For the most part, Koh Phangan is an awesome island offering a piece of paradise with some of the best beaches in Thailand. If you can definitely hire a motorbike and explore the island at your own pace. From waterfalls, viewpoints, and white sandy beaches, it is easy to spend weeks here!
---
Where To Stay In Koh Phangan
When deciding where to stay in Koh Phangan you really need to figure out what kind of traveler you are. Whether you wish to stay on a quiet secluded beach or among the action of the Full Moon Party.
Had Rin: If you're keen on a party this is the place to be. Home to a few different hostels this beachside spot is a top hit with backpackers. Even when the full moon party is not on you can find fire shows and other parties going on.
Thong Sala: This is the main town of Koh Phangan and where the ferry boats all arrive at. You will have plenty of guesthouse options located here as well as some of the best restaurants on the island. Just be aware you will need to head a bit further out to find a nice beach.
Baan Tai: This is where I have previously stayed in Koh Phangan. Most properties here are beachfront (including hostels). It caters more to backpackers again rather than luxurious travelers. There are also some awesome local restaurants nearby within walking distance.
Haad Salad: Now Haad Salad is definitely where I will be staying on my next trip. Salad Beach is one of my favorite beaches on the island with pristine white sand and turquoise blue water. The accommodation options here are more beach shack vibes so is a good low-cost option for a private room.
---
How To Get To Koh Phangan From Koh Tao
It is super easy to travel between Koh Phangan and Koh Tao with regular ferries departing daily.
I personally used the Lomprayah ferry to travel between and they offer 2 different departure times per day. These are 8.30 am and 3.30 pm. The speed boat from Koh Phangan to Koh Tao will take about an hour. The cost of the ride is $15.90 / 500 THB. This is a pretty good price and overall isn't too much more expensive than taking a regular ferry.
---
Ao Nang (Day 12- 14)
I read in so many travel blogs to go to Krabi, but don't, instead head to Ao Nang. Ao Nang is a beautiful beachside town located in Southern Thailand looking out over the Andaman Sea. Here you will find a couple of gorgeous beaches, some chilled-out restaurants, and an assortment of accommodation options. It's a lot more relaxed here than nearby in Krabi town which seems quite city-like.
There are plenty of things to do here and it's a great spot to spend a couple of days. This includes the nearby Khao Phanom National Park which has incredible waterfalls and nature sprawled across 50 square kilometers of untouched land. You can also easily take a day trip to Railay Beach to check out one of the most perfect places in all of Thailand (definitely spend a night there if you can afford it).
---
Where To Stay In Ao Nang
Being a popular tourist area, Ao Nang has plenty of accommodation options to choose from. Whether that is a comfortable hotel, local guesthouse or backpackers hostel the choice is yours.
Most hostels here seem to start around $8.00 for a shared dorm room. Though, I will say they are higher quality rooms with privacy curtains and personal reading lights.
If you are looking to splash out you certainly can in Ao Nang, though there are some good mid-priced rooms as well. My favorite is Aonang Silver Orchid Hotel which is affordable, has a pool, and modern rooms. They offer rooms starting at $20.00 per night which is at the higher end of the scale, but if you are looking for comfort and hospitality this is the place.
---
How To Travel To Ao Nang From Koh Phangan
Once again I used Lomprayah to travel to Ao Nang from Koh Phangan. This is mainly because I wanted a stress-free travel day where I would need to be taking various types of transport to get to my guesthouse. It isn't an overly long journey, taking just over 6 hours, but traveling from the east coast to the West does take some time.
The boat took us across to Koh Samui to collect some more travelers before heading back to the mainland. Once at the wharf, there were numerous buses waiting there going to various destinations around the country. The bus was super comfortable and we stopped once for a bathroom break.
Tickets are able to be purchased through 12.Go Asia, one of the travel agencies in Koh Phangan or your hotel should be able to do this as well.
---
Koh Lanta (Day 14- 17)
The perfect idyllic spot in Southern Thailand is no doubt the chilled-out Koh Lanta. It is nowhere near as touristy as the neighboring Koh Phi Phi or Phuket which we will check out later. Though also not completely off the beaten track where first-time travelers would find things a bit daunting.
Even though it is a laid-back place, Koh Lanta has so many things to do here. Sure it won't have the massive waterparks that you'll find in Koh Phangan and the huge parties of Koh Phi Phi. Though if you appreciate nature and want to check out some of the best Thailand has to offer, I highly recommend adding Koh Lanta to your Thailand itinerary.
This is the perfect place for nature lovers. Check out the incredible Mu Ko Lanta National Park and watch the sunset from on top of the viewpoint which sticks out from the ocean. Venture into the darkness at Khao Mai Kaew Cave. The tour of the cave takes 2 and a half hours. Throughout this time you will find yourself squeezing between rocks and exploring caverns. The entry fee to the cave is $9.60 / 300 THB.
You may even want to extend your stay here, I certainly did! It's the perfect place to explore by motorbike. Get lost in the many viewpoints looking out to the sea, hang out with dogs at Lanta Animal Welfare, and watch the sunset turn the sky all shades of red.
---
Where To Stay In Koh Lanta
Koh Lanta is quite a large spread-out island. You'll find the majority of accommodations along the west coast where you can relax and watch the sunset from the beach.
Koh Lanta also has an incredible amount of quite nice fancy beachside resorts. Unfortunately, this wasn't in my budget, and if you're reading this backpacking guide it's unlikely to be in yours. Nevertheless, you can find 3 to 4-star resorts for just $20.00 per night. For such a small step up in price you get a lot more including a pool to relax in.
Check out Cottage Hill At Lanta as an affordable option. For around $11.00 per night, you can find yourself a decent private room. They also have scooter hire onsite for just $6.38 / 200 THB per day.
---
How To Travel To Koh Lanta From Ao Nang
You will need to get back to Krabi where the boats depart to get to Koh Lanta. We actually booked our ferry through our accommodation which included the transfer. It was an easy and affordable option that was relatively stress-free. Though we were forgotten about which meant a quick race across town and sprint to jump on the boat.
You can buy tickets from travel agencies, guesthouses, and even restaurants in Ao Nang or Krabi. If you would like to book in advance you can check out 12.Go Asia has a couple of options.
---
Koh Phi Phi (Day 17- 20)
Koh Phi Phi is a must for any 3-week Thailand itinerary. The island has become an institution with young travelers within the area and is the highlight of a lot of people's trips. During the day check out some of the incredible beaches around the island and by night find yourself partying underneath the stars. Buckets are flowing and the music is pumping, this is the type of traveler Koh Phi caters from.
Make sure you visit the famous Koh Phi Phi Viewpoint. This spot has been plastered over Facebook, Instagram, and Youtube for years now. It is less of a secret slice of paradise and more like an influencers photo op. This is the best way to take in the beauty of Koh Phi Phi and really understand the landscape. From swaying palm trees to crystal clear water this island is paradise.
Maya Bay has to be the second most popular thing to do here while on Koh Phi Phi. This place was made famous by the film The Beach, starring Leonardo DiCaprio. This did close back in 2018, though has now reopened with thousands of tourists visiting daily.
For the best snorkeling, I recommend heading to Hat Yao. This is a beach on the south coast of Phi Phi Don and is just a 30-minute walk from Ton Sai. Once there you can spot clownfish and if you're lucky you may even see a black-tipped reef shark!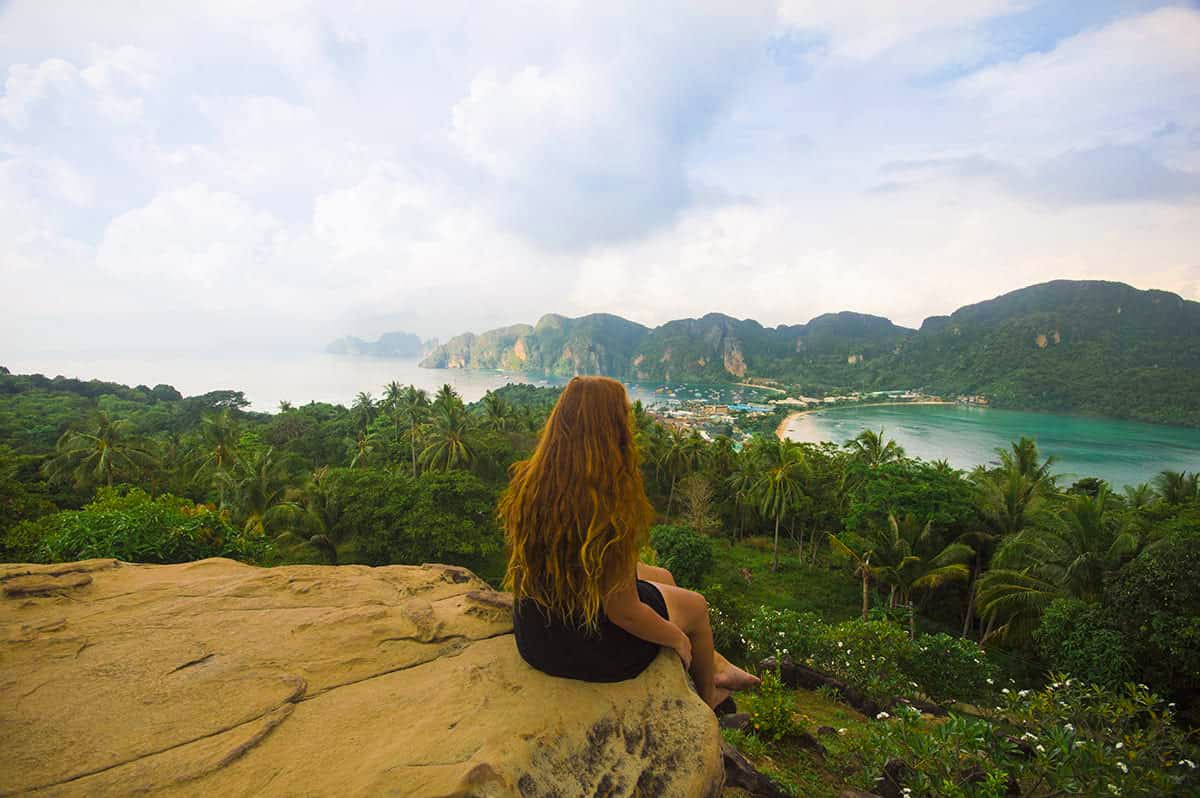 ---
Where To Stay In Koh Phi Phi
Everything in Koh Phi Phi is relatively close together. There is the main town, where you arrive, and then all the accommodation is spread throughout here as well as up the hills.
I stayed in literally the cheapest "resort" I could find. Knowing I wouldn't be partaking in the drunken parties I decided I would book a place with an infinity pool with an amazing view. It ended up costing us around $25.00 per night, which was split between the two of us it was a pretty good price at $12.50 per night.
In terms of accommodation in Koh Phi Phi, you can literally find everything here. From 5-star resorts to those squished dorm room hostels and locally run guesthouses. Though what they all the in common is they will all be ridiculously overpriced.
---
How To Travel To Koh Phi Phi From Koh Lanta
It is super easy to travel from Koh Lanta to Koh Phi Phi. Plenty of ferries operate this route delay and it should only take you a couple of hours to make the journey. Because Thailand is basically built around tourism it is super easy to travel around and make your way from A to B.
You can buy tickets from travel agencies, guesthouses, and even restaurants in Koh Lanta. If you would like to book in advance you can check out 12.Go Asia. I do recommend booking a few days in advance because tickets can sell out if you leave them too late.
---
Phuket (Day 20- 21)
Now the reason I have chosen to finish this trip in Phuket is that it is the main travel hub to other destinations around Southeast Asia. You can easily catch a flight from the International Airport to Cambodia, Malaysia, Singapore, Vietnam, and further afield.
Whether you are heading back home or continuing on with your travels you will have plenty of options when departing from Phuket. The only thing to really be aware of is that the airport is a considerable distance from the main town of Phuket. Make sure you leave enough Thai Baht to complete this journey!
There are also plenty of things to do in Phuket if you would like to extend your time here. Whether that is visiting an ethical elephant sanctuary, booking yourself into a luxury resort, check out some of the best beaches in Phuket, or simply enjoying the comforts of high-speed internet and Western fast food options.
---
Where To Stay In Phuket
Phuket is a super spread out city and honestly, you will want to stay depending on what your plan to do there is. If you are just following this itinerary and just staying 1 night then your best bet will be nearby the airport. This means you will be nice and close to your flight.
Though if you are planning to do a bit of exploration then you may instead prefer to stay in Phuket Town. There are also some luxurious resorts that you can stay that. They won't be as cheap as you may find on the islands. Though they will have plenty of amenities and top-notch service.
---
How To Travel To Phuket From Koh Phi Phi
It is super easy to travel from Koh Phi Phi to Phuket. Numerous ferries operate this route delay and it should only take you a couple of hours to make the journey.
You can buy tickets from travel agencies, guesthouses, and even restaurants. If you would like to book in advance you can check out 12.Go Asia. I do recommend booking a few days in advance because tickets can sell out if you leave them too late.
---
Extend Your 3 Weeks In Thailand Itinerary
Maybe you want to make the most out of your tourist Visa in Thailand and spend the entire 30 days here! Thailand is a great country and there is so much more you can do to turn this 3 weeks in Thailand Itinerary into a longer journey. Though be aware you only really have an extra week available as you don't want to overstay!
---
Slow Boat From Northern Thailand
The slow boat journey is one which I have done a few times now and I can say it is not as bad as many people online say it is! If you are in Northern Thailand around Chiang Mai it is easy enough to get a minivan to Chiang Khong or Huay Xai at the border and do the journey yourself. You can also visit the White Temple in Chiang Rai which is a sight in itself.
It is a 2-day journey with an overnight stop in the small town of Pakbeng. The days are never as long as they say (was only around 6 hours each day) and the car seats make for very comfortable chairs. Seriously the journey from Chiang Mai to Luang Prabang on the slow boat is an experience in itself and an excellent way to begin your adventures in Laos.
This would also allow you more time as you return to Thailand as your 30 days via would restart. This ultimately gives you more time to explore this incredible country!
---
Pai
A few hours on a twisty van journey from Chiang Mai you will find the backpacker hang out of Pai. This is a super relaxed place set among nature. I haven't had the luck of visiting Pai yet, but I definitely will on my next visit to the North!
---
More Islands
There are so many islands other than those listed in this itinerary that you could add to your 3 weeks in Thailand itinerary if you have the time. What I have recommended are the more popular spots. Though there are plenty of other lesser-known beautiful islands which you could check out.
---
Koh Sok National Park
Lastly, you could check out Koh Sok National Park as an option to extend your 3 weeks in Thailand itinerary. Located in nature this spot can often be a highlight for many travelers. The only reason I haven't visited so far is that it is a far distance from other popular spots making it quite the journey to access.
---
Any Questions? Let me know in the comments!
---
LIKE IT? PIN IT!
---
Want more Thailand Inspiration? Check out….
---
Disclaimer: This post contains affiliate links. So, if you click on it and purchase something, I get a small percentage at no extra cost to you. As always all opinions are my own and your support is much appreciated.
Related Posts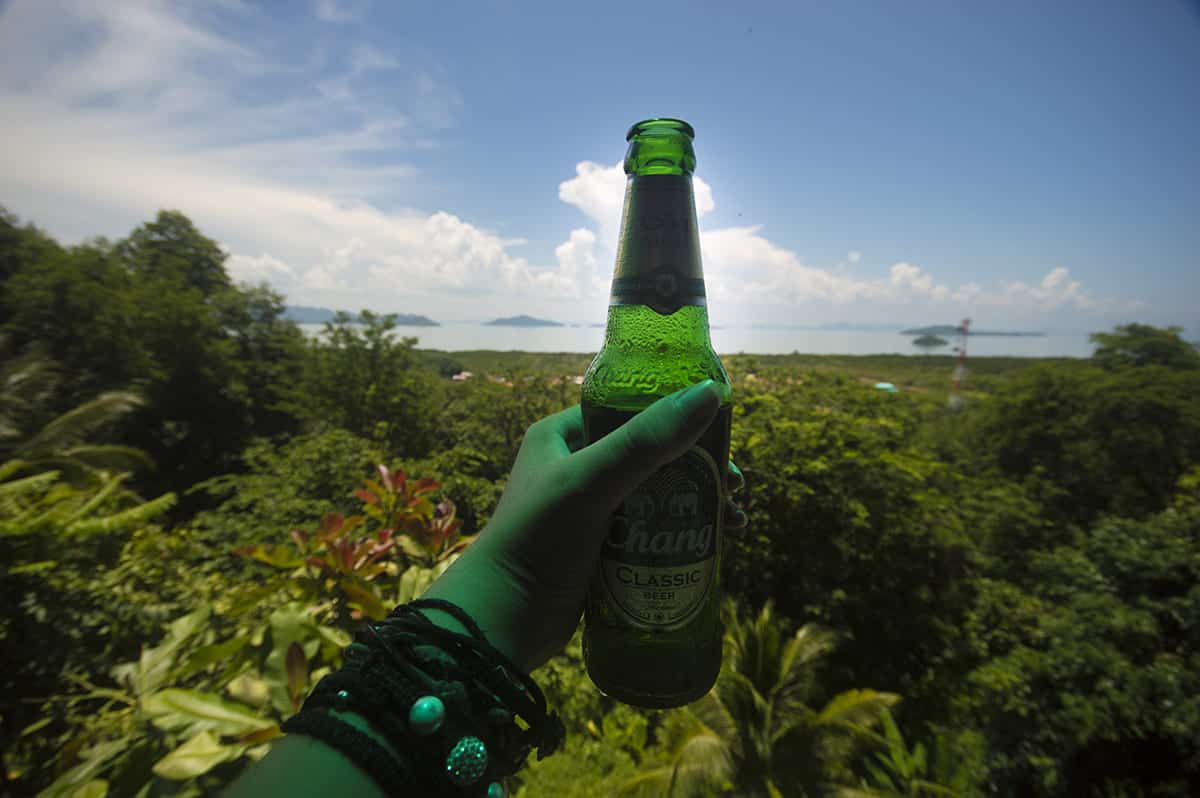 Come discover the ultimate island paradise by checking at our backpacking Koh Lanta itinerary. Find [...]
2 Comments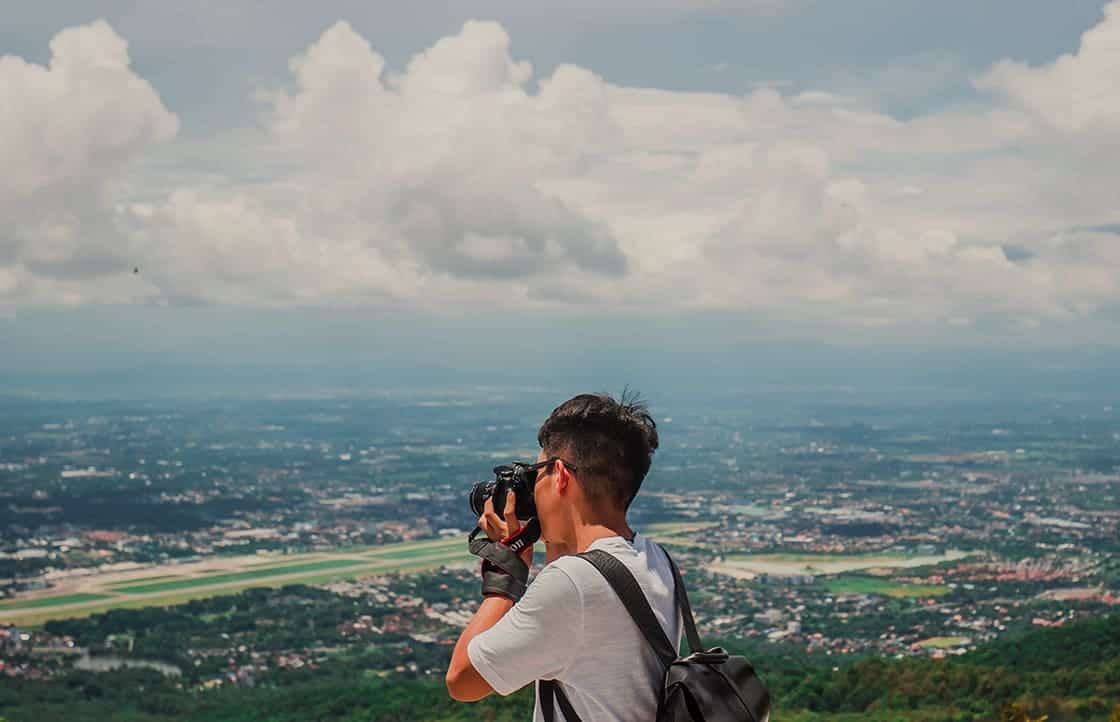 Learn all you need to know about backpacking Chiang Mai on a budget while in [...]
1 Comment
Traveling Chiang Mai on a budget? Find out the top cheap eats in Chiang Mai [...]
17 Comments