Ever wanted to take a cooking class but happen to be a vegetarian? This was my case and I always found it hard to find a suitable option. Luckily during my most recent trip, I found an incredible vegetarian cooking class in Chiang Mai. I will let you know how to book it, what to expect, meals you may make, and other important tips!
---
When you're backpacking Southeast Asia you'll quickly discover that there is always one hotspot in each country where a cooking class is a must-do. Whether that is in Hoi An in Vietnam or right here in Chiang Mai, Thailand.
There are numerous cooking classes to choose from to the point that actually deciding on one can be a bit daunting. Though, one of the bonuses of being vegetarian is that it'll make your decision easier with fewer choices. You will learn how to make incredible local dishes and the ingredients it takes to make each one taste like perfection. Most cooking schools will also give you a recipe book so you can recreate the meals on your own.
Get ready to have your taste buds dancing and your stomach rumbling! Let's find out all you need to know about taking a vegetarian cooking class in Chiang Mai including which are the best, what to expect, prices, and more!
---
Taking A Vegetarian Cooking Class In Chiang Mai: What You Need To Know
How I Book Cheap Transport In Thailand: 12Go Asia
---
Why Book A Vegetarian Cooking Class In Chiang Mai?
Whether you're a vegetarian or not, I highly recommend booking a cooking class during your time in Chiang Mai. Discovering a country through its food is so magical. Though learning about those dishes and how to recreate them at home so transport you back every time you make them. Even with such powerful flavors, Thai food is relatively easy to make with few ingredients actually required.
Taking a cooking class is also an activity suitable for all age ranges. Whether you are backpacking solo or a couple traveling the area a cooking class will get you mingling with others and further your understanding of the country. Chiang Mai is also one of those popular cooking class destinations in Asia. I mean if you are keen to do a cooking class in Thailand why not do it in Chiang Mai where the majority of ingredients are grown locally?
---
What Dishes You May Cook During Your Vegetarian Cooking Class In Chiang Mai
You won't just be cooking one dish at the cooking school. You will cook a wide variety of dishes which will give you a good overview of the cuisine.
Nearly all cooking schools will have you making an appetizer, stirfry, soup, curry, and dessert. Each one will have three or so different options which you can choose from. That way you can make food that you know you will enjoy. For example, for stirfry, you may have the choice of pad thai, fried cashew nut,  pad see ew, or fried drunken noodles. Though these exact dishes will likely vary between cooking schools and some may choose dishes that the region is famous for.
---
The Best Vegetarian Cooking Classes In Chiang Mai
So now let's get into my list of the best vegetarian cooking classes in Chiang Mai. Hopefully reading through you'll be able to decide which is the best option for you.
---
Thai Akha Cooking School
One of the top vegetarian cooking schools in Chiang Mai is Thai Akha Cooking School. Located within the walls of the old town they are in a super convenient location. After being picked up you will be taken to the Chiang Mai Gate Local market. Once here, you will learn about different types of Thai ingredients and buy some which will be used in the cooking.
At the cooking school, you will be taught how to make 6 different dishes. This consists of an appetizer, dessert, Akha dish, stirfry, soup, and curry. What makes Thai Akha cooking school different than the rest is the opportunity to make a local Akha dish. Your choices are Sapi Thong, Akha Soup, or Akha Salad.
Cost:
$35.00 per person
---
Green Mango Thai Cookery School
Located in a beautiful green garden the Green Mango Thai Cookery School is a popular choice when cooking a cooking class in Chiang Mai. They will pick you up from your hotel in the morning and transfer you to the cooking school in the district of Hang Dong. This is about 20 minutes out of the city center, surrounded by bamboo and rice fields. Once here, enjoy a bit of peace and tranquility as you a given a welcome tea to relax and sip on.
The menu consists of 6 dishes of your choice which will be decided on the day depending on your preferences. The cooking class does offer meat dishes which you can substitute for alternative vegetarian or vegan options.
There are two things that make Green Mago Thai Cookery School stand out above the rest. The first is low-class numbers. During the high season, there is only a max of 6 people in a class, and in the low season 2-4 people. The second is that nearly all of their ingredients are homemade. The only 2 things which aren't are fish sauce (which we don't need to worry about) and coconut sugar.
Cost:
$44.00 per person
---
May Kaidee
If you don't want to be the person to substitute meat and ingredients in your dishes then why not take the vegan & vegetarian cooking class with May Kidee. Opened in 1988 this place has gained attention throughout the world as one of the best places to learn. Therefore why not pick this cooking class if you are a diehard vegetarian or vegan?
You will learn to cook 7 different dishes all made to be vegan suitable. This includes 2 different soups, a stirfry, 2 curries, a salad, and dessert.
May Kaidee is in an easily accessible location just outside of the old city. So, you should easily be able to walk from your accommodation in Chiang Mai.
Cost:
$54.00 per person
View this post on Instagram
---
Baan Farm Thai Cooking School
Baan Farm Thai Cooking School will pick you up from your accommodation and take you to the markets. Once here, you will learn about different ingredients and how to buy the freshest produce. Afterward, you will be transported 10 kilometers away to the countryside of San Sai. Here you will find Baan Farm Thai Cooking School located in an impressive organic garden.
You'll use some of their homegrown organic fruit and vegetables in your dishes. In total the teacher, Kru Ploy, you will be shown how to make 5 separate meals. This consists of soup, curry, appetizer, stirfry, and dessert.
Cost:
$34.00
---
Aromdii Cooking School
I personally booked my vegetarian cooking class in Chiang Mai with Aromdii Cooking School. What made me do this was that they would allow me to substitute meat for tofu and also swap out ingredients I don't like such as onion. As my partner is a meat eater this allowed us to do the same class rather than be separated.
I will go into my experience at Aromdii Cooking School further below. Though we did a market visit and made 5 separate dishes. An appetizer, soup, stirfry, curry, and dessert. The cooking school is located just outside the old town in a local suburb. It's a beautiful bamboo building with a passionate owner running it.
Cost:
$25.00 / 800 THB
---
Trichada Cookery Home
Discover incredible Northern Thailand cuisine with Trichada Cookery Home. Unlike other cooking schools which offer dishes from all around Thailand such as green curry and pad thai, here they only offer dishes from the region. Food in Northern Thailand is absolutely delicious and learning the techniques and ingredients it takes to make such dishes is an amazing experience.
They will pick you up from your accommodation in the city and take you to one of the local markets. Once there you will be taken around and shown local ingredients and buy what is needed to cook today's meals. After a bit of shopping, you will then arrive at Trichada Cookery Home and will receive a welcome drink.
Throughout the class, you will learn to cook 5 individual meals. This is made up of a starter, soup, curry, stir-fry, and dessert.
Cost: $64.00 per person
---
My Experience Taking A Vegetarian Cooking Class In Chiang Mai
As above, I decided to book in with Aromdii Cooking School when I was in Chiang Mai. They allowed me to substitute the meat in dishes with tofu and alter ingredients based on my preferences. Perfect for those fussy eaters like myself, and everything still turned out delicious!
Backpacking Chiang Mai also meant I was on a budget. This is one of the cheaper cooking classes in the city without forgoing any experience. We still cooked 5 dishes each and were left absolutely stuffed with no room to fit anything else in. All for the extremely reasonable price of $25.00.
Though lets get into each element of the cooking class with Aromadii so you can see whether it could be a suitable option for you.
---
Visiting The Market To Purchase Food
After being picked up in the back of a pickup truck, a private songthaew-type thing, we made our way to the local market. There was another couple in the cooking class, so four of us total. A nice small number for an intimate experience.
At the market, we were given little woven baskets to put the purchases in. We went around and grabbed some staple vegetables and herbs. Our guide and teacher, Nok, showed the Thai versions of common ingredients such as eggplants. Whereas the local version is small green and oval-shaped. Quite different from what we are used to. We also picked up my favorite, tofu, which I added to my little basket.
---
Cooking With Aromdii Cooking School
Pulling up a short 5-minute drive out of the old town we pilled out of the back of the pickup truck and into a large area enclosed by bamboo walls. Here was the cooking class. Across the room, there were numerous cooking stations and space for a lot more than the four of us. In the corner was a seating area set up where we would obviously be enjoying our meals.
Putting on some aprons and making our way to the first cooking station we got ready to start cooking our first dish. Nok put aside the relevant ingredients. My first dish is stir-fried cashew nut. This is one of my favorite dishes and was surprisingly super easy to make! After cooking we made our way to the table where to could enjoy our dishes while they are fresh and hot.
Next, we made the appetizer and I choose to do spring rolls. Using the fresh ingredients Nok helped me wrap them ready to be deep-fried. We then also began making the soup. My choice was a coconut tofu soup which I had never had before but was absolutely delicious!
One of the main dishes was green curry. We also created a curry paste from scratch by using grinding up certain herbs and spices in a mortar and pestle. Then they were fried up in the wok along with eggplant and my tofu before adding coconut cream.
Lastly was dessert and I choose mango sticky rice. A staple for travelers making their way around Thailand. A simple but delicious meal to make and an icon you will leave the country in love with.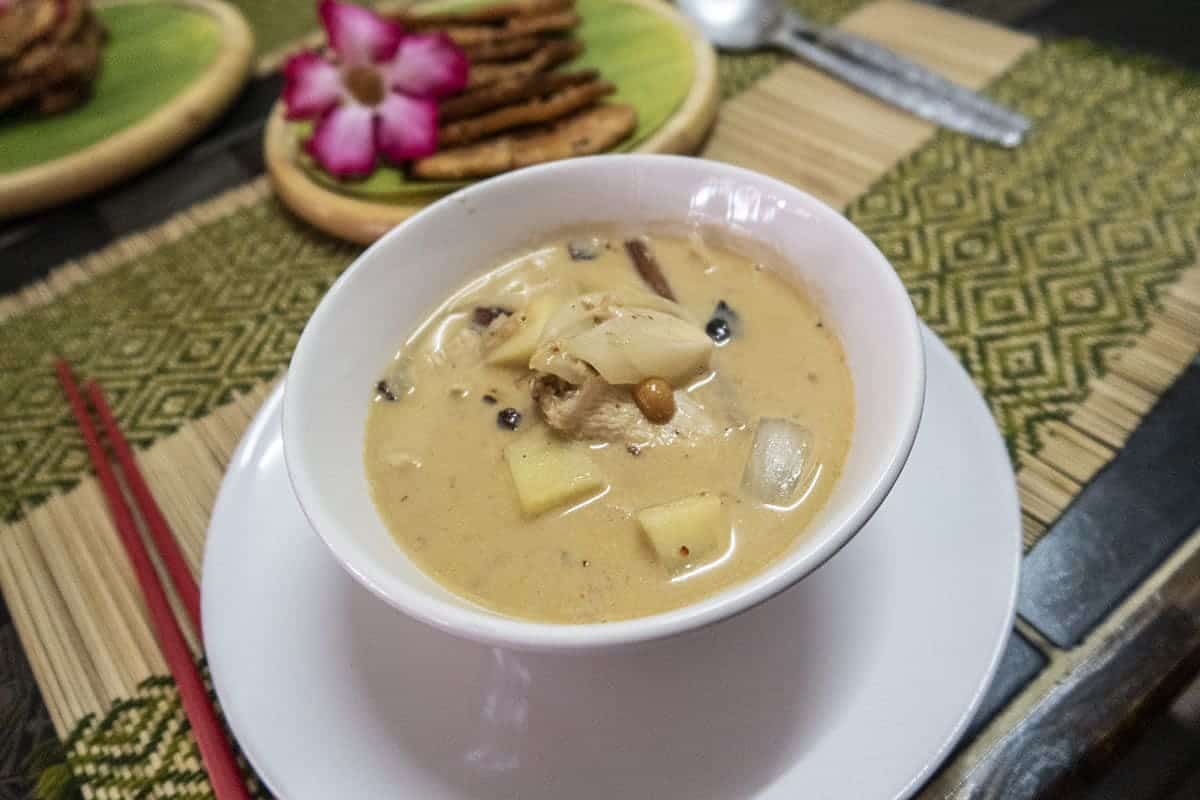 ---
Other Important Tips For Taking A Vegetarian Cooking Class In Chiang Mai
Here are my top tips for booking a vegetarian cooking class in Chiang Mai. That way you can make the most out of your experience and find one which suits you best.
I highly recommend shopping around for a cooking class to find one with a menu that suits you. Alternatively, look for a cooking class that is more flexible in substituting ingredients. This way you will only be making food that you absolutely love.
Think about the environment you want to be cooking in. Do you mind being in the city center? Or would you prefer to be surrounded by the nature in the countryside where the ingredients would've been grown?
Most cooking classes offer a morning session or an afternoon session. Therefore you can fit it perfectly into your Chiang Mai itinerary.
Lastly, don't worry about booking your cooking class in advance. You will be able to book no worries once you are in Chiang Mai.
---
How I Book Cheap Transport In Thailand: 12Go Asia
---
Where To Stay In Chiang Mai?
When choosing where to stay in Chiang Mai you are spoilt for choice; with countless 5-star resorts, locally run guesthouses, and hostels. No matter your budget or the type of traveler you are there is something to fit all your needs.
I mainly choose to stay within the confines of the Old City when deciding where to stay in Chiang Mai. This is definitely the best location if you are staying for a short period or this is your first time visiting. Though, if you are thinking about living in Chiang Mai you will want to stay further afield in such places as Nimman. The Old City is within walking distance of many beautiful temples, excellent shopping, delicious restaurants, and the famous Sunday Night Market. Have you checked out my 3 days in Chiang Mai itinerary yet?
On my most recent visit, I stayed at De Lanna Hotel. This is a mid-range hotel located in the heart of Old City. The location was fantastic and having a pool to enjoy during the afternoon heat was fantastic. Though on the complete opposite side, I also stayed in the cheapest available hostel on my first visit. The owner was great, but the facilities were less than, and I think it's probably a good thing it's shut down now.
So, here are my top picks for the backpacking Chiang Mai travel guide:
Find the best hotels in the area
A modern and upscale hostel. From $13.00 per night including a fab breakfast.

BOOK NOW

A favorite with travelers. A hostel with all the amenities, from $6.00 per night.

BOOK NOW

Beautiful private rooms for $25.00 per night and in the heart of the city with a pool.

BOOK NOW

A walk from the city attractions, starting from $18.00 per night with an amazing pool.

BOOK NOW
---
LIKE IT? PIN IT!
---
Want more Thailand Inspiration? Check out….
---
Disclaimer: This post contains affiliate links. So, if you click on it and purchase something, I get a small percentage at no extra cost to you. As always all opinions are my own and your support is much appreciated.
Related Posts
Check out what the best elephant sanctuaries in Chiang Mai are during your visit to [...]
9 Comments
Khao San Road is a place known for its crazy nightlight and basically a right [...]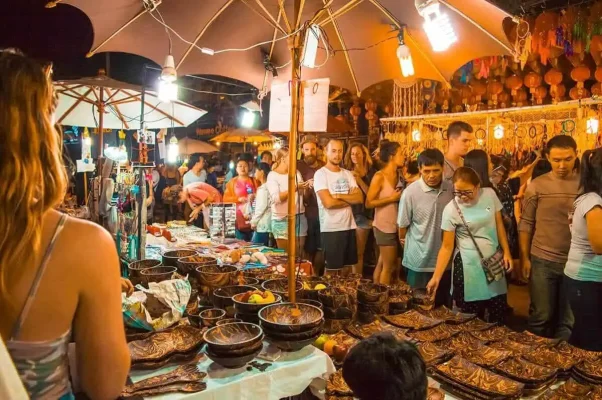 Find out everything you need to know about the Chiang Mai Sunday Night Markets. From [...]
33 Comments