Traveling Chiang Mai on a budget? Find out the top cheap eats in Chiang Mai which will keep you and your wallet full. From local bites, western favorites, and everything in between, you will find it all here in this guide. 
---
I am always on the lookout for cheap eats in Chiang Mai when I am in the city. Even though northern Thailand is a lot more budget-friendly than the islands down south, it can still be very easy to overspend. This is especially so at the numerous delicious cafes and restaurants which line the streets of one of my favorite cities.
Over various trips, I have spent over a month in Chiang Mai. During these times I explored the many impressive temples, experienced nature outside of the city and of course ate out plenty of times. From that, I have been able to gather up this list of the top cheap eats in Chiang Mai, all tested and tried by yours truly. All of these options are located in the Old Town area as this is where my hostel in Chaing Mai was.
Whether you are vegan, vegetarian or simply have a taste for something a bit meaty, there is something for everyone on this list! So let's get into this list of my favorite cheap eats in Chiang Mai so you can have some great food without blowing the bank.
---
The Top Cheap Eats In Chiang Mai
---
How I Book Cheap Transport In Thailand: 12Go Asia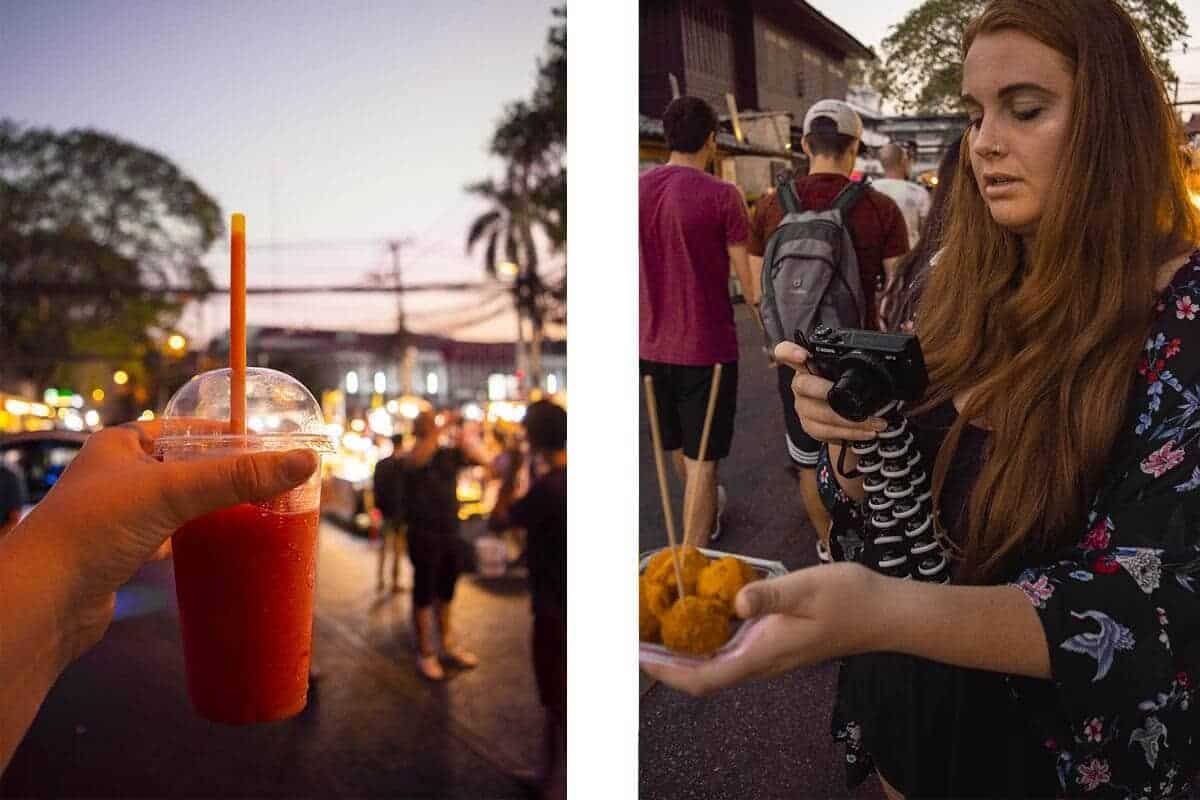 ---
Breakfast Cheap Eats In Chiang Mai
Bagel House Cafe & Bakery
Bagel House Cafe & Bakery is always my favorite breakfast joint for cheap eats in Chiang Mai which makes a delicious start to the day. With freshly made bagels and fresh produce, it hits the spot. The cafe is set on a quiet road off one of the main streets with both indoor and outdoor seating areas. Also, there is a counter cabinet that displays the bagel range for the day and the friendly staff always greet you with a smile.
The meals are all put together in a small area out front and are served with a fresh slice of fruit. Though, because of the small preparation area sometimes there is a bit of a wait, but trust me it's worth it. I paid $3.60 for a yummy egg, cheese, and avocado bagel and a drink which was my regular order the numerous times I visited here.
Opening hours: Sunday- Saturday 8.15am-5pm
Location:  1 Moonmuang Soi 8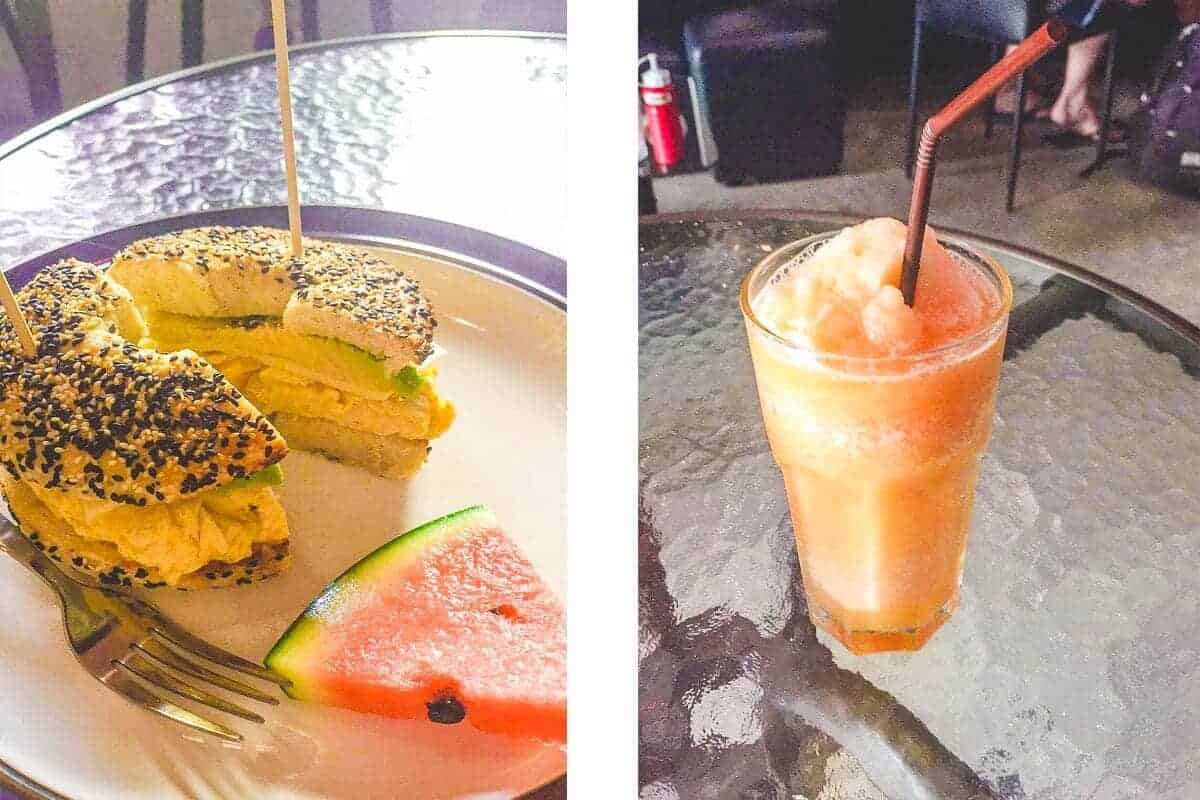 ---
Vigie Sist Cafe
Vigie Sist Cafe is the perfect place for delicious baked goods and a relaxing drink. I loved coming here when I was craving a wonderful slice of cake or something a little sweet. In Chiang Mai, I found it quite hard to find a cafe with a cabinet that had cakes, etc so Vigie Sist Cafe was a lifesaver! They are actually quite known for their amazing baked goods, sweet frappes, and iced drinks! It's the best way to cool down in the Thai heat.
I also love the decor in here! With dark wood, Lanna feel and so many knick-knacks hanging about I could spend hours looking around inside and still not even see it all. Furthermore, the tables are covered in cute white doilies which makes the perfect place for tea or coffee. I paid $3.75 for a croissant, cake, and tea.
Opening Hours: Sunday- Saturday 7.30am-8pm
Location:  200/3 Moon Muang Soi 6,Rachapakinai Road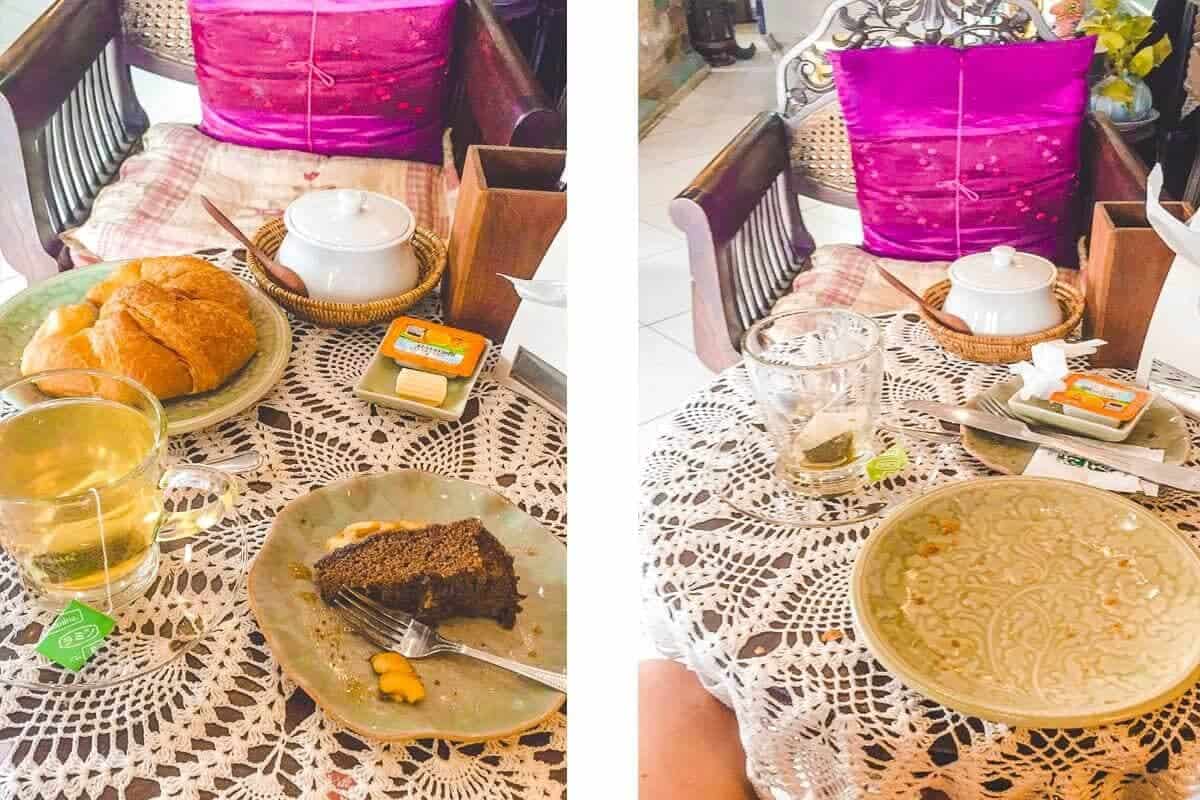 ---
Blue Diamond Breakfast Club
An extremely popular option with the ex-pat community in Chiang Mai is Blue Diamond Breakfast Club. Walking in there is like a beautiful oasis with a river running through the middle of the outdoor area and a little waterfall. The space is abundant with greenery which provides a lot of shade and feels like you've been transported to the jungle, a stark contrast to the Chiang Mai streets outside.  The triangular ground pillows you find all over South East Asia are set up alongside low set tables. There are also regular tables inside the restaurant itself and directly outside.
The food here compliments the decor with the freshest ingredients used. There are numerous vegan and vegetarian options that are perfect if you have any dietary requirements. The portions are massive and you will definitely be full by the time you leave. It will give you plenty of energy to go out and explore the amazing Chiang Mai temples. I paid $5.40 for scrambled egg, roast potato, avocado with a bread roll, and a green tea.
As well as all this there are also cabinets of freshly made baked goods ranging from cinnamon rolls to bread, to muffins and cheesecakes. You will certainly leave having had a great experience! Just be aware they are not open on Sunday; I found this out the hard way.
Opening Hours: Monday – Saturday 7am-8.30pm
Location: 35/1 MoonMuang Road, Soi 9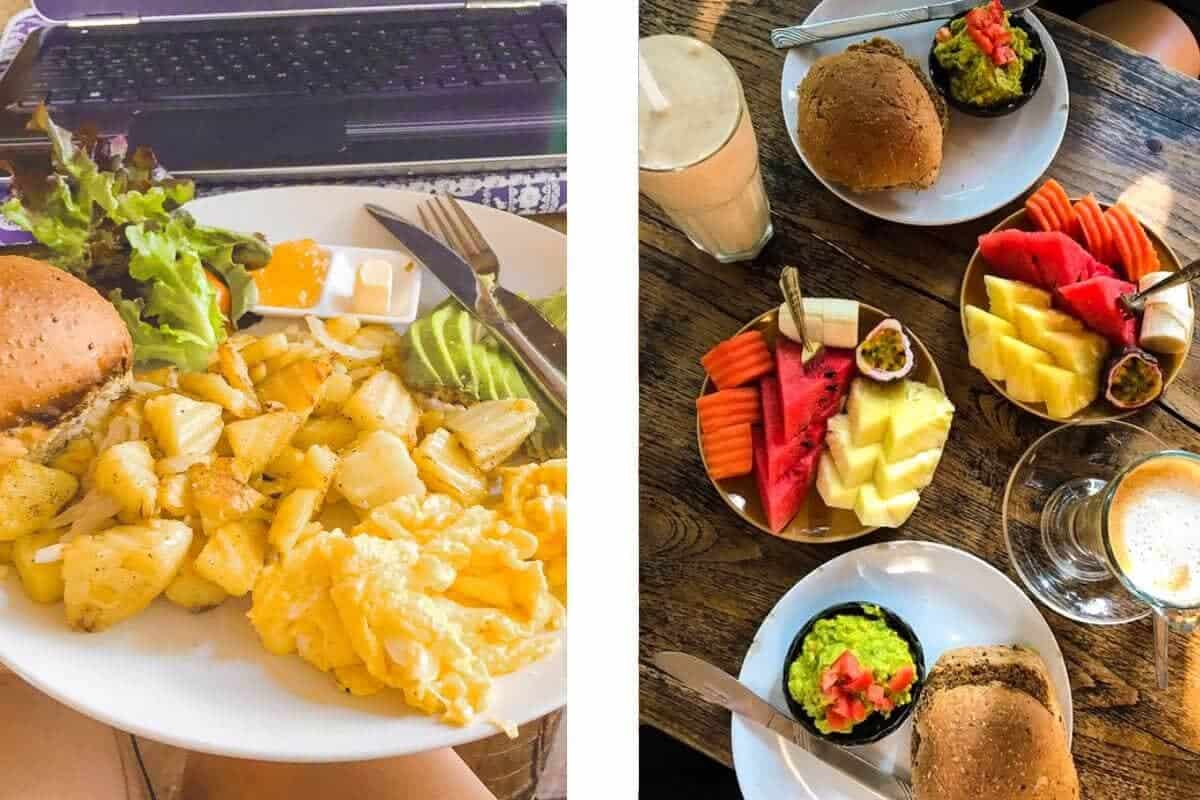 ---
Lunch Cheap Eats In Chiang Mai
Seven Eleven
What would a cheap eats post be without mentioning the staple eatery for a budget meal in Chiang Mai? Seven-Eleven caters to the budget-conscious traveler who isn't fussed about a sit-down meal by providing the quickest and most cost-effective option. Hot meals are still available which separates it from a lot of convenience stores you would regularly find with microwaves, sandwich presses, and boiling water.
Toasted sandwiches are available for as little as $0.60 with options from jam to cheese, sausage, and even chocolate! You can even choose between regular bread or croissant bread. There are so many options it is unlikely you will ever get sick of having seven-eleven toasties! As well as the generic toasties there are also burgers, sausages, noodles, and prepackaged microwave meals. I can not tell you how many times I have eaten lunch or dinner on the stairs of a seven eleven!
Opening Hours: 24/7
Location: Absolutely Everywhere
---
Its Good Kitchen
For a delicious Thai meal, you cannot go wrong with Its Good Kitchen. Being in the middle of the old town it is easy to get to no matter where you are staying. Though, that could also be a bit problematic as it's a super popular cheap eat. We luckily got in straight away when we visited, though there were groups having to wait 15+ minutes for a table.
Nonetheless, if you are happy to wait for cheap and delicious food Its Good Kitchen is the best spot. They have a variety of vegetarian and meat options all for less than 100 baht! Most meals are served alongside a cute teddy bear or heart-shaped rice. I order a portion of fried mushrooms which was delicious.
Opening Hours: Friday- Wednesday (closed Thursdays) 11am-9.00pm
Location: 175/6 Rachadamnoen Rd
---
Taste From Heaven
On one of my more recent trips to Chiang Mai, I discovered Taste From Heaven and absolutely had my mind blown! This delicious vegan and vegetarian joint is a must-try in the city, even for the most devoted meat lover. I actually brought my partner here (he loves his meat) and he requested we went back on various other occasions.
Whether you are wanting western or Thai cuisine, Taste From Heaven caters to both. Though I must admit, one of our favorite meals here is the amazing Khao Soi. With tofu and mushrooms as the 'meat' of the dish, it allows us veggie-eaters to taste some of the local delicacies Chiang Mai is known for. This big bowl of noodle goodness will set you back only $3.30 / 100baht and you will leave with a very full stomach!
Opening Hours: Every day, 9am- 10pm
Location: 34/1 Ratchamanka Rd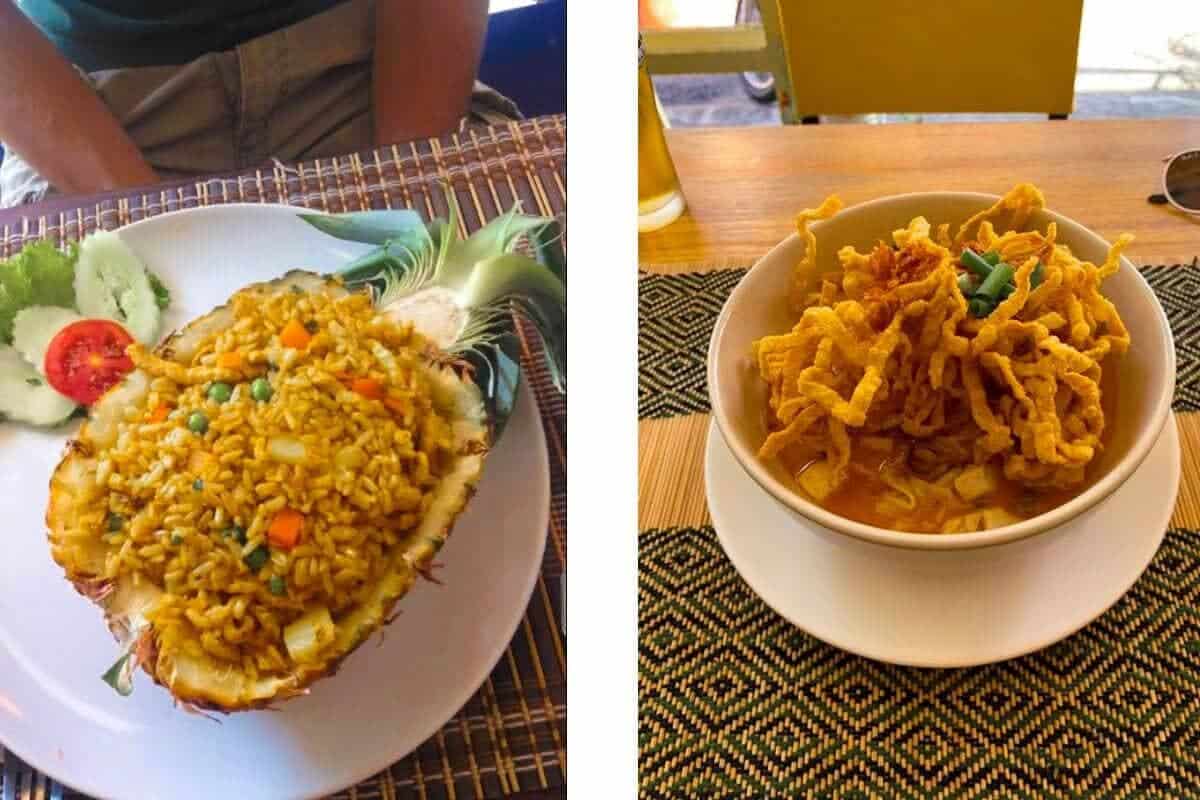 ---
Uno Pizza Italy
The Thai-owned Uno Pizza Italy and Thai Food Restaurant provides great food for an even better price. The decor is simple and maybe a little too 'homely' for some people's preference (I am pretty sure at the back of the restaurant is the family's living room). Though, if you are looking for simple and good food this is the place to be.
The owners are lovely and while I was visiting the young daughter was dancing to the background music out back. Soon afterward a family friend appeared, it is a really homely feel. Though, if you are not bothered by a relaxed atmosphere and basic decor this is the perfect place for you! I paid $6.15 for a margarita pizza and a passion fruit smoothie.
Opening Hours: Saturday- Sunday 11am-10pm
Location: 268 Ratchapakhinai Rd
---
Dinner Cheap Eats In Chiang Mai
New Delhi Indian Restaurant
If I had a dollar for every time I craved Indian food I would have enough money to fund my travels. Okay, not seriously, but I absolutely love Indian food and have tried it in nearly every country I have traveled to.
New Delhi Indian Restaurant was one of three Indian Restaurants I have eaten in Thailand and I had a few great meals here. As always the portions are large and will for sure keep you full. They have both indoor and outdoor seating with fans and air-con. It is a great place to chill out after a busy day to people watch from the balcony with a cold beer. While there I paid $7.50 for curry, rice, naan, and soda.
Opening hours: Sunday- Saturday 11am-12am
Location: 46/32, A, Ratchawithee Road, Chiang Mai
---
Chiang Mai Markets
One of my favorite things to do in Chiang Mai is exploring all the amazing markets. With such a variety no matter what day of the week it is I promise you will be able to find a market very easily. My personal favorite is the Sunday Night Walking Street Market which is the largest market in Chiang Mai set up 1km along Ratchadamnoen Road.
With such a wide range of food available at the markets, it should be your go-to place for cheap eats in Chiang Mai. Honestly, you cannot go wrong with pad thai and a smoothie.  The samosas cost me $0.75 for three pieces and the coconut ice cream cost $1.00.
Though if you are not visiting on a Sunday, or perhaps crowded markets are not your thing, there is also:
Chiang Mai Gate Night Food Market
When: Every day, from 5pm till midnight.
Location: Chiang Mai South Gate. Just at the opposite side of the Chiang Mai Gate. Rat Chiang Saen road.
Chang Puak North Gate Food Market
When: Every day, from 5pm till midnight.
Location: Chiang Mai North Gate / Chang Puak Gate.
Saturday Night Market
When: Every Saturday, 5pm – 11pm.
Location: Wualai Road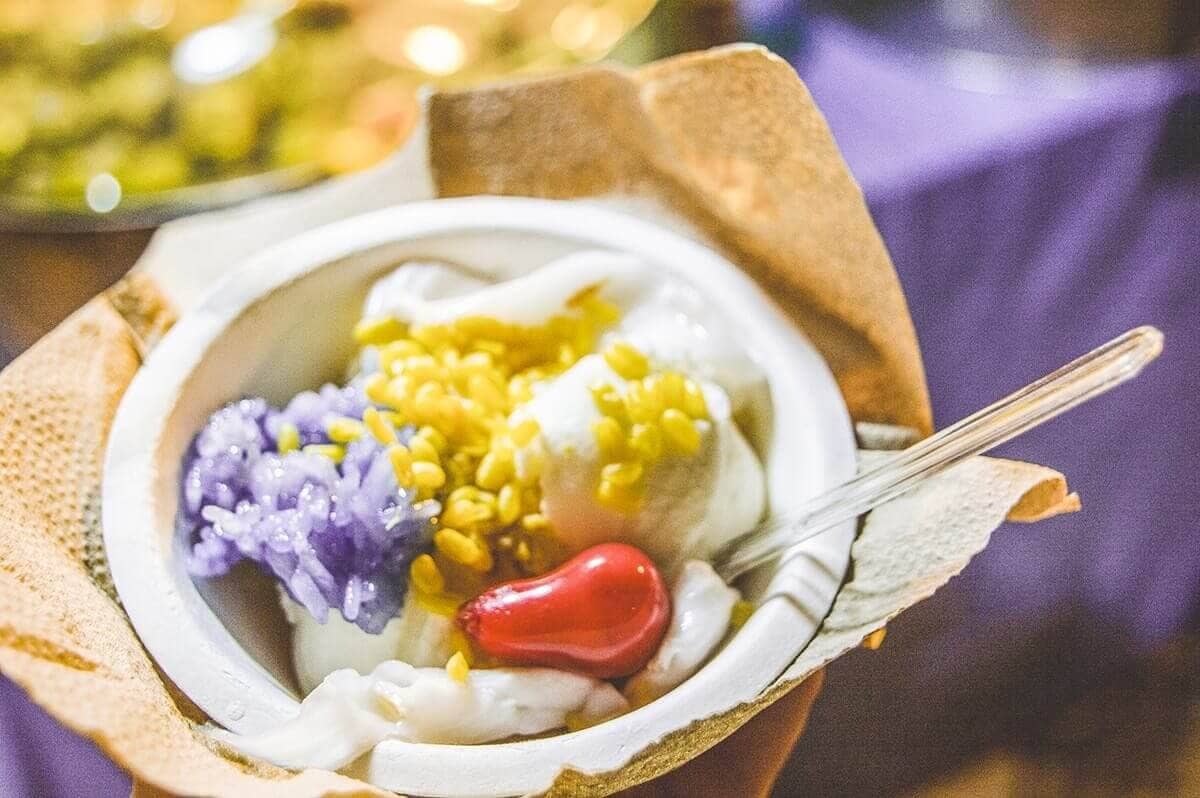 ---
By Hand Pizza Cafe
Located near the beautiful temple of Wat Lamchang a visit to By Hand Pizza Cafe is the perfect way to spend a warm evening. The pizzas are made right in front of you in the massive pizza oven out front. The freshest ingredients are used and music is always playing. This place definitely has a great atmosphere with an excellent section of drinks.
There are so many options of pizza to choose between, from the classic margarita to vegan options and meat lovers deluxe. No matter your food preference here you are bound to find something you will love. I spent $6.00 on a regular pizza and a drink.
Opening Hours: Saturday- Sunday 5pm-10.30pm
Location: 25 Moon Muang Soi 7 (On Corner Opposite of Wat Lamchang)
---
Dessert Cheap Eats In Chiang Mai
Crepe/ Pancake/ Roti Stands
The treats from the Crepe Stands around Chiang Mai are part of the staple diet for any backpackers traveling Thailand and I love them. They are oily fried sweet goodness covered in chocolate sauce or condensed milk. If you are currently traveling Thailand and haven't had one yet, please do! They make for the perfect dessert and there are usually also savory options if that's what you're craving.
My regular Crepe stand in Chiang Mai is located next to Wat Chiang Man and opposite the Seven Eleven on Ratchapakinai Road. There is no real set time when the Thai gentleman that runs it is there, but it is usually around early lunch until late dinner hours. He is very friendly and makes a damn good crepe for around $1.00. My favorite is condensed milk and banana.
Opening hours: Usually early lunch to late dinner
Location: All over Chiang Mai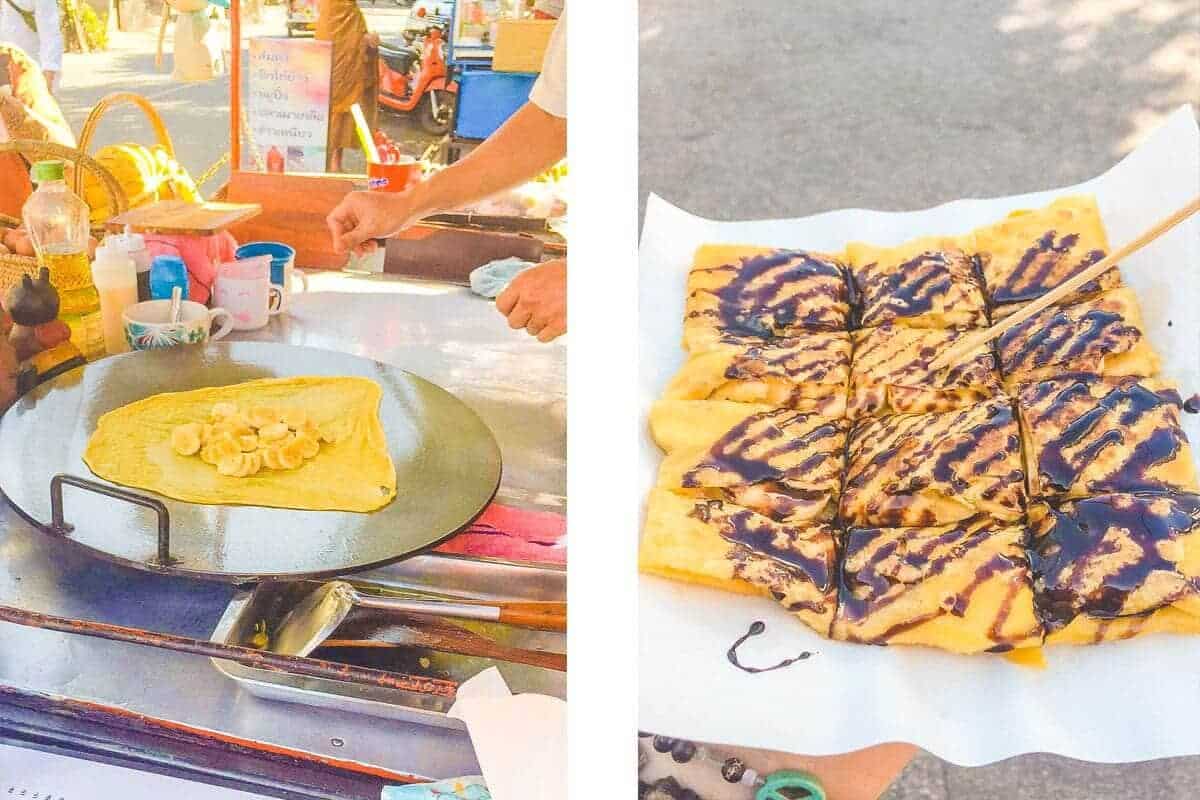 ---
Want To Splurge?
Rock Me Burger
For any burger lover missing a taste of home, you cannot go wrong with Rock Me Burger in Chiang Mai. Everything here is oversized, the food, the drinks, the portions, which does mean prices are a bit more expensive. Though, it is so worth it!
I am not the biggest burger lover, though my partner is and after listening to him begging me to go there for dinner I gave in. It is the kind of red-light district area of Chiang Mai, so prepare to walk past seedy bars. Though, this restaurant is nothing like those ones. Prepare yourself for the biggest burgers you have ever seen in your life and such a wide variety as well. Though I will say they only have one vegetarian burger, and in my opinion, it wasn't the nicest. Therefore I only recommend Rock Me Burger to meat lovers.
Opening Hours: Everyday 11am-11.15pm
Location:  17-19 Loi Kroh Rd, Tambon Chang Khlan
---
Take A Cooking Class
One of the best foodie experiences in Chiang Mai is to take a cooking class, so I just had to add it to the cheap eats list! On our most recent trip, we actually tried out our first-ever cooking class. They offer recipes that can be altered to become vegetarian/vegan which was a big plus in my book.
The whole experience was excellent from start to finish and we learned some new skills we can put into use back home. Also, we got to eat so much! There was an appetizer, couple, stir-fried dish, curry, and dessert. Each one we learned to make and were able to eat! The cost is only $24.00 for all this food plus it makes for an awesome experience.
Opening Hours: Every day is 2 classes, 9am or 4pm
---
Where To Stay In Chiang Mai?
When choosing where to stay in Chiang Mai you are spoilt for choice. No matter your budget or the type of traveler you are there is something to fit all needs.
I mainly choose to stay within the confines of the Old City when deciding where to stay in Chiang Mai. This is definitely the best location if you are staying for a short period or this is your first time visiting. On my most recent visit, I stayed at De Lanna Hotel. This is a mid-range hotel located in the heart of Old City. Though, if you are thinking about living in Chiang Mai you will want to stay further afield in such places as Nimman. The Old City is within walking distance to many beautiful temples, excellent shopping, delicious restaurants, and the famous Sunday Night Market. Have you checked out my 3 days in Chiang Mai itinerary yet?
A modern and upscale hostel. From $13.00 per night including a fab breakfast.

BOOK NOW

A favorite with travelers. A hostel with all the amenities, from $6.00 per night.

BOOK NOW

Beautiful private rooms for $25.00 per night and in the heart of the city with a pool.

BOOK NOW

A walk from the city attractions, starting from $18.00 per night with an amazing pool.

BOOK NOW
---
How I Book Cheap Transport In Thailand: 12Go Asia
---
LIKE IT? PIN IT!
---
Want more Thailand Inspiration? Check out….
---
Disclaimer: This post contains affiliate links. So, if you click on it and purchase something, I get a small percentage at no extra cost to you. As always all opinions are my own and your support is much appreciated.
Related Posts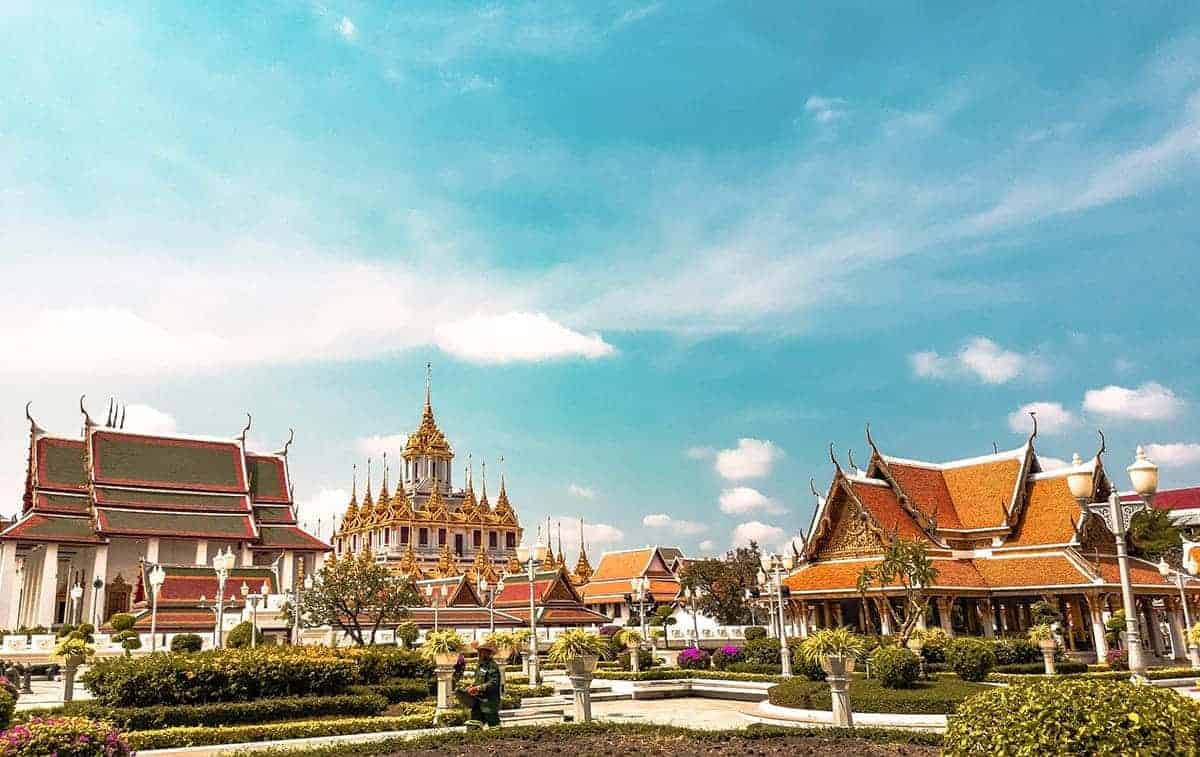 Learn all you need to know about backpacking Bangkok in Thailand. I will be giving [...]
Absolutely everything you need to know about the Thailand Laos Border Crossing and getting from [...]
10 Comments
Thinking about a day trip to Ayutthaya? From how to get there from Bangkok, Ayutthaya [...]
3 Comments