Find out everything you need to know about Koh Nang Yuan Island in Thailand. From how to get there, what to do, where to stay, and other important tips for visiting! Check out how to make the most out of your visit!
---
I don't think any trip to Thailand is complete without a visit to the beautiful Koh Nang Yuan Island from Koh Tao. The photos of it seem to be plastered across every travel influencer's Instagram and youtube channels. It's unlikely you haven't seen the sweeping views from the lookout point across the islands connected with a sandbar and surrounded by a turquoise blue ocean.
Koh Nang Yuan is actually composed of three tiny islands that are connected by a sandbar, forming a unique and picturesque landscape. The island is surrounded by clear turquoise waters, colorful coral reefs, and diverse marine life, making it a perfect destination for snorkeling, diving, and relaxing. It is also only a short boat ride away from Koh Tao, a popular diving island in the Gulf of Thailand.
As a result this Koh Nang Yuan certainly isn't a hidden gem. It's far from it. Nevertheless, Koh Nang Yuan is worth the visit. You just need to plan accordingly to make the most out of your trip there. That's why I am here to help.
So let's find out all you need to know about visiting Koh Nang Yuan including how to get there, sleeping on the island, entry fees, visiting hours, things to do, and more!
---
Visiting Koh Nang Yuan: All You Need To Know
---
How I Book Cheap Transport In Thailand: 12Go Asia
---
---
Why Visit Koh Nang Yuan?
When you think about beautiful Thailand beaches in your head Koh Nang Yuan comes pretty close to fulfilling this image. Picturesque small islands connected by a sand bar that tucks under the water during high tide, creating stunning natural scenery.
You can swim, snorkel, kayak, or sunbathe on the beautiful beach. It has clear and calm waters that are ideal for snorkeling and diving, where you can see a variety of fish and coral species. The most popular dive sites in Koh Tao are actually around Koh Nang Yuan, proving just how great the marine life is here.
It has a viewpoint that gives you a panoramic view of the island and the sea, which is especially breathtaking at sunrise or sunset. Also, Koh Nang Yuan has a resort that provides comfortable accommodations and delicious food, as well as a friendly and helpful staff. Though I will say it can be quite pricey, especially because you can't take your own water with you, but more on this below.
It is certainly a pretty beautiful place and is for sure somewhere worth visiting if you're nearby on the island of Koh Tao.
---
How To Get To Koh Nang Yuan
I remember taking the Lomprayah ferry from the mainland of Thailand to my final destination of Koh Tao. Nearly having arrived at Koh Tao we randomly pull into a small island off the coast, Koh Nang Yuan. I was absolutely amazed by the beauty and the incredible bamboo paths hanging over the rocks and water around the exterior of the island. As I watched a group get off the ferry I would be lying if I said I wasn't jealous. This seriously looked like paradise.
Though, let's figure out all the possible ways to actually get to Koh Nang Yuan. Whether you are wanting to stay there yourself or just do a day trip.
---
Ferry To Koh Nang Yuan
One of the easiest and most comfortable ways to get to Koh Nang Yuan from Koh Tao is by taking the Lomprayah ferry. Lomprayah is a reputable company that operates high-speed catamarans between the islands in the Gulf of Thailand.
This is best to be organized in advance with the company. Though they generally make a stop at Koh Nang Yuan on their between Chumphon and Koh Tao to drop off passengers.
They have a daily service that departs from Mae Haad Pier on Koh Tao at 9:30 am and arrives at Koh Nang Yuan at 9:45 am. The return trip leaves Koh Nang Yuan at 5:00 pm and reaches Koh Tao at 5:15 pm.
Lomprayah also offers a 3-day 2-night package to stay on the island.
Lastly, they offer a day trip from Koh Samui to visit both Koh Nang Yuan and Koh Tao islands. This includes a buffet lunch and snorkeling equipment.
---
Long Tail Boat To Koh Nang Yuan
One of the most popular ways of visiting Koh Nang Yuan from Koh Tao is by taking a long-tail boat. A long-tail boat is a traditional wooden boat with a propeller attached to a long pole. They are widely used by locals and tourists for transportation and fishing around the islands.
To do this head to one of the western beaches on Koh Tao. Sairee Beach is a good spot to find a boat and a driver to take you. You will need to haggle for a decent price with the boat drivers. Though the going rate is between $3.33 – $5.00 / 100 THB – 150 THB for a one-way journey.
Lotus Bar also has a taxi-style boat stand where you can book the journey. Through them, it is $10.00 / 300 THB for a roundtrip which is pretty good and won't put too much of a dent in your cost to travel Thailand budget.
Taking a long-tail boat is definitely an awesome way to travel. It generally takes around 15 – 20 minutes depending on the waves. There is nothing better than speedy through the beautiful waters with the wind in your hair while appreciating the palm tree-laden beaches. I know this is definitely my preference to travel to the islands in Thailand. If you're taking a ferry your views are also pretty average being that you'll be deep inside the boat far from the windows.
Lastly, be aware that when you book your long-tail boat journey also agree on a return time with the driver.
---
Kayak To Koh Nang Yuan
It is possible to kayak between Koh Tao and Koh Nang Yuan. Though it will take a bit of planning on your half to make sure you have enough time and do so safely.
First of all, you will need to get yourself a kayak. There are plenty of places to hire a kayak in the main center of town or at one of the resorts. Prices for a double-person kayak generally start around $13.33 / 400 THB for half a day's hire. Some popular spots to hire kayaks include Ban's Diving Resort and Dusit Buncha Resort. Whatever you choose it is definitely worth stopping in at Dusit Buncha Resort for a bite to eat in their restaurant. They also have an incredible view across the water to Koh Nang Yuan. There is plenty of space there to relax on the decks built over rocks.
Depending on where exactly you depart from the kayak journey can take anywhere from 45 minutes to 1 hour each way. Though if you decide to hire from Dusit Buncha Resort they are only a 15-minute journey from Koh Nang Yuan. This is perfect if you aren't a confident kayaker or can't be bothered kayaking for hours.
---
Taking A Tour Of Koh Nang Yuan
I personally visited Koh Nang Yuan as part of a snorkeling tour I booked when in Koh Tao. The tour itself cost $20.00 / 600 THB. The first stop on this tour happened to be Koh Nang Yuan. Throughout the day there will be numerous tour boats arriving on the island and it can build up quite a crowd. Don't expect to have this piece of paradise to yourself. If you are wanting more of a relaxing experience then you are best to book an overnight stay (more on that below). Though this has its positives and negatives as well.
While visiting on the tour we had over an hour to explore. This allowed us enough time to do the famous viewpoint. Though we likely waited the majority of time in a line to actually get to the top of the viewpoint. It was a bit ridiculous. Afterward, we also went are a bit of a snorkel which was surprisingly good. We were just in the sandy shallows so there weren't any corals to look at. Though there was plenty of interesting-looking fish around. It was also nicely sheltered so would be perfect if you have young children.
---
Swim To Koh Nang Yuan From Koh Tao
Can you technically swim between the closest points on Koh Tao and Koh Nang Yuan? Yes. Should you do it? No.
The currents between these two locations are extremely strong and could quickly sweep you away. Even though it looks super close. Things generally just do when you're looking at a distance. Though when you are close up seeing how quickly the tides are moving and the height of the waves it is a lot different. Just please do not swim between Koh Tao and Koh Nang Yuan.
---
Where To Stay On Koh Nang Yuan
There is actually only one place to stay in Koh Nang Yuan so there aren't too many options to choose from. Though this helps keep the island nice and private so you can enjoy it with minimal other hotel guests.
The accommodation there is called NangYuan Island Dive Resort. They offer 8 different room types which provide options to travelers on all budgets. Whether a beachside villa is your style or you are happy with the cheapest option of the standard aircon room. Prices range from $83.00 – $200.00 / 2500 THB – 6000 THB.
They offer plenty of opportunities to dive with numerous awesome nearby dive sites. There is also a restaurant onsite. Be aware if you're staying this is the only place on the island to get food. Prices are a lot more expensive here than in the neighboring Koh Tao. Though that's because you are staying on a beautiful island that you are sharing with only a small amount of travelers. You will also receive a free beach chair and umbrella so you can relax on the beach all day. This place really has its best moments once the tour groups have departed.
---
Koh Nang Yuan Entrance Fee
The entrance fee to visit Koh Nang Yuan is $3.33 / 100 THB.
---
Koh Nang Yuan Opening Hours
Koh Nang Yuan is a private island so it is not accessible during all hours. This is mainly to control crowds and allow the people staying on the island an opportunity to appreciate the beauty of this place without feeling like they don't have any privacy.
It is open from around 9 am to 5 pm. So make sure you plan your visit between these hours or you will be turned away.
---
Things To Do On Koh Nang Yuan Island
I am not going to lie, there is not an abundance of things to do on Koh Nang Yuan Island. Instead, it is more about relaxing and enjoying the beauty of nature around you. So let's see what exactly you can get up to here on your visit.
---
Swim
Surrounding these idyllic conjoined islands is turquoise blue waters. Surrounding the sandbank which joins the island is the safest place to swim. The waves are quite small so even if you are not a confident swimmer you don't have to worry too much. Just be aware that high tide currents around the island can pick up a lot, and if you are not a confident swimmer you could find yourself in a difficult situation. Just remember to be aware of the water conditions and if you're unsure ask one of the staff members.
There are plenty of little hidden spots around the island where you can jump in and refresh. Try for a morning and evening swim to avoid the hoards of tourists who visit during the day. It's paradise when you have this beach to yourself.
---
Sunbathe
Depending on the timing of your visit the sandy beach could be wide enough for multiple rows of chairs or just a sliver. Like anywhere in the world the tides change the landscape of the beach area a lot. Though if you're staying overnight on Koh Nang Yuan then, at some point throughout the day, you will have enough sandy area to relax in.
Also, guests are provided with a free chair to relax on the beach. Though if you are just a visitor you will need to pay for the privilege to use these chairs.
---
Zipline
There use to do zip lining daily between two of the islands which make up Koh Nang Yuan. Though nowadays it is usually not operating. If this is something you are super keen to do then you're best to contact the resort directly.
---
Viewpoint
One of the top things to do here on Koh Nang Yuan is to hike up to the viewpoint. This has to be one of the most famous viewpoints in the Gulf Of Thailand. It is plastered all over Instagram and youtube. So, as a result, you can imagine it is a pretty popular spot to check out.
The hike itself is pretty straightforward and takes around 20 minutes to climb to the top. There is a slightly overgrown path so I would recommend wearing shoes.
Though at the end of the hike, you will find yourself needing to climb up and over a few boulders. Luckily, there are usually a few other people around to lend a hand to the less flexible.
Just try to avoid doing this hike when there are also tour groups visiting the island. Sometimes there can be a 20+ minute wait just to reach the top. And if you're traveling as a tour group, that's what you can expect. Luckily a lot of the walk is shaded by trees. Though it does get hot standing around and inching forward every couple of minutes.
---
Diving
Surrounding Koh Nang Yuan are some awesome diving sites. Koh Tao is also a world-famous diving location so there is a big diving community around the island and those nearby.
On Koh Nang Yuan you will find the Resort's Dive Shop. Here you can rent both snorkeling and diving gear. They also can organize excursions for those staying on the island. Nearby sites include Twin Peak and the Japanese Gardens. A little further afield are White Rock and Green Rock which have an abundance of underwater life.
I recently went back to Koh Tao, partly to update some content here, and also to use it as an excuse for a bit of a diving holiday. Over 5 days I did 11 dives and no doubt this is an incredible place to explore life underwater. Surrounding the corals are so many fish it honestly looks like an aquarium. My last dive was also an epic one at Twin Peak where even the instructors onboard said it was the best dive they had done all year.
---
Other Important Tips
If you are visiting as just a short trip make sure you have a meal before you make your way over there. The one restaurant on the island is pretty pricey. Head to 7/11 beforehand and grab some snacks if you're planning to stay awhile.
You are not allowed to bring plastic water bottles on the island. This includes both reusable and disposable bottles. When you arrive at the pier and pay the fee you will be asked to dispose of any bottles you have brought along with you. The resort only allows glass bottles onto the island. Though personally, I believe this is just a money-making scheme so that you have to buy an overpriced glass of water during your visit. There isn't really any way around this rule, but it is just something to be aware of.
---
Where To Stay In Koh Tao?
Sairee Beach: Sairee Beach is one of the more popular places to stay in Koh Tao simply because this is where the majority of accommodation options are located. There are some quaint bungalows here as well as a handful of hostels for backpackers on a budget.
Mae Haad: Mae Haad is the main area of Koh Tao and where all the ferries depart from. I stayed in this area on my first trip to Koh Tao and found the options quite limited. There are more hostels here as well as a few affordable resorts. I stayed in Baan Rock Inn for $20.00 per night which I shared with my partner.
Chalok Baan Kao: Away from the township in a more peaceful location is the area of Chalok Baan Kao. Here you will find more affordable beachfront bungalows. This is definitely an area for backpackers who want to be more in nature and the seaside without having to pay ridiculous prices.
Ao Thian Og: If budget isn't a limit for you, it's likely you will be staying in Ao Thian Og. This is a super-luxurious area with some of Koh Tao's best resorts and hotels. A night here will cost you a few hundred dollars.
One of the cheapest hostels around. From $8.00 per night in a shared dorm.

BOOK NOW

A modern guesthouse. From $20.00 per night in the main town.

BOOK NOW

The hostel is set in nature with an incredible pool. From $15.00 per night for a shared dorm.

BOOK NOW

A beautiful beachfront location from $15.00 per night for a basic fan room.

BOOK NOW
---
How I Book Cheap Transport In Thailand: 12Go Asia
---
LIKE IT? PIN IT!
---
Want more Thailand Inspiration?
Check out….
---
Disclaimer: This post contains affiliate links. So, if you click on it and purchase something, I get a small percentage at no extra cost to you. As always all opinions are my own and your support is much appreciated.
Photo credit: "Koh Nang Yuan" (CC BY 2.0) by Mikko Koponen. "Koh Nang Yuan" (CC BY 2.0) by  Snapboot . "Koh Nang Yuan" (CC BY 2.0) by  Irumge. "Koh Tao: Koh Nang Yuan" (CC BY 2.0) by  Bertconcepts.
Related Posts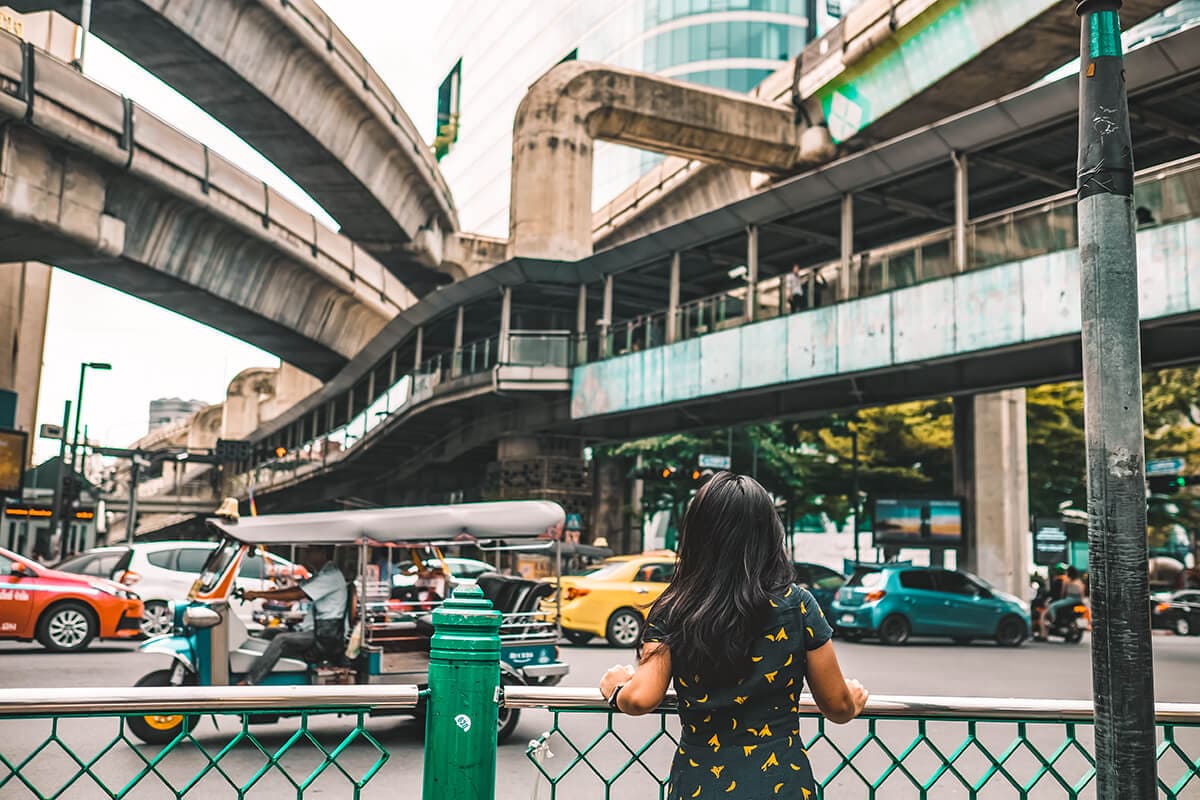 Find out everything you need to know about traveling from Khao San Road to Don [...]
6 Comments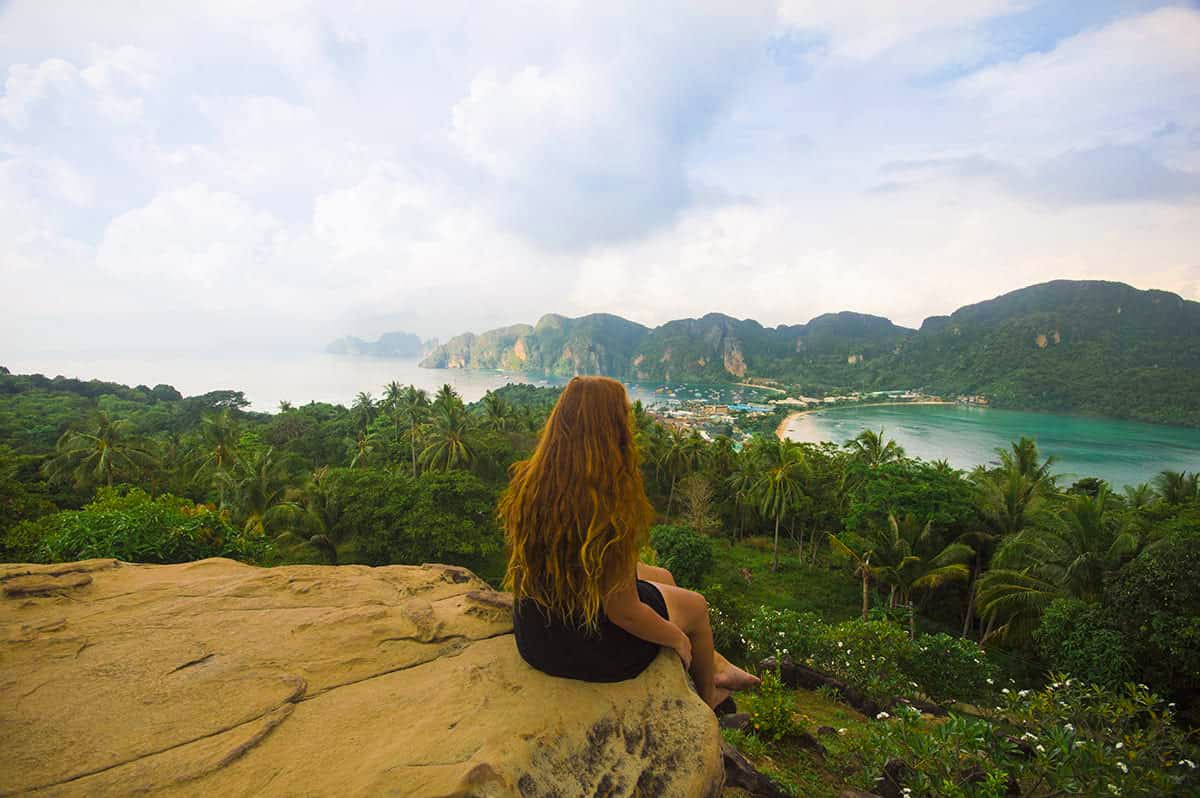 Come discover paradise, parties, and beaches as you are backpacking Koh Phi Phi. Find out [...]
Find out what is the perfect 2 days in Bangkok itinerary to ensure you have [...]
1 Comment