Learn all you need to know about backpacking Bangkok in Thailand. I will be giving you all the information you need to know such as costs, getting around, accommodation, what to do and so much more in this capital city!
---
First of all, Bangkok is truly a hustling and bustling city. It's likely you will love it or hate it. Though either way it is the main hub for international travelers arriving in Thailand and most seem to spend a couple of days in Bangkok exploring this crazy city. Therefore if you are planning on visiting Thailand, backpacking Bangkok is a necessity to connect you with the chilled back life up north or beachside living in the southern islands.
In this backpacking Bangkok travel guide, I will let you in on all the top things to do in Bangkok, where to sleep in Bangkok, where to eat in Bangkok, and more!
Bangkok is a huge city and there are more than enough things here to keep you entertained for quite some time. Whether you are an adventure junkie, enjoy a nature fix, or are ready for the party scene. There will be a special corner of Bangkok you will end up cherishing. Discover some hidden foodie gems down the small sidelines and enjoy a great meal with locals.
If Bangkok is your first taste of Thailand it may be a little overwhelming at first. This is a huge fast-paced city of over 10 million. Though that's why I have written this backpacking Bangkok travel guide which all you need to know.
---
Backpacking Bangkok: All You Need To Know
---
How Many Days Backpacking Bangkok?
I won't lie, Bangkok isn't the most beautiful place you'll visit in Thailand. Honestly, it'll be pretty far down the list. Though that's simply because Thailand is such an incredible place and has so much more to offer than cities. Nevertheless, during your travels, you'll need to start somewhere and no better place than in the heart of Thailand, Bangkok.
Honestly, I recommend spending between 2 to 3 days here in Bangkok. This will allow you enough time to see some of the main sights and get a good feel for the place before needing to move on. Though if you are quite a party animal you may want to spend a little longer here. Bangkok has an incredible party scene, hello Khao San Road! You can spend the nights partying and the days recovering.
If you are not so much as a party animal, such as myself, 2 days will be the perfect amount. Though in saying that I have spent about 3 weeks of my life so far in Bangkok using it as a midway point between destinations recovering from long travel days.
Another option would be using Bangkok at home while doing a couple of day trips. One of my favorites was a day trip to Ayutthaya from Bangkok using the train. It was an awesome day and a nice way to see a bit more of a relaxed side of Thailand. There is also the famous Chanthaburi or you could even do a day tour to one of the floating markets which seem to be all over Instagram! If you are planning on doing a couple of day trips it'll be worth adding a couple of extra days to your backpacking Bangkok itinerary.
Lastly, you can maximize the amount of time you spend in Bangkok by taking an overnight bus or train to your next destination. This is a popular way backpackers can save money on accommodation and extend your stay in a location when you are short on time.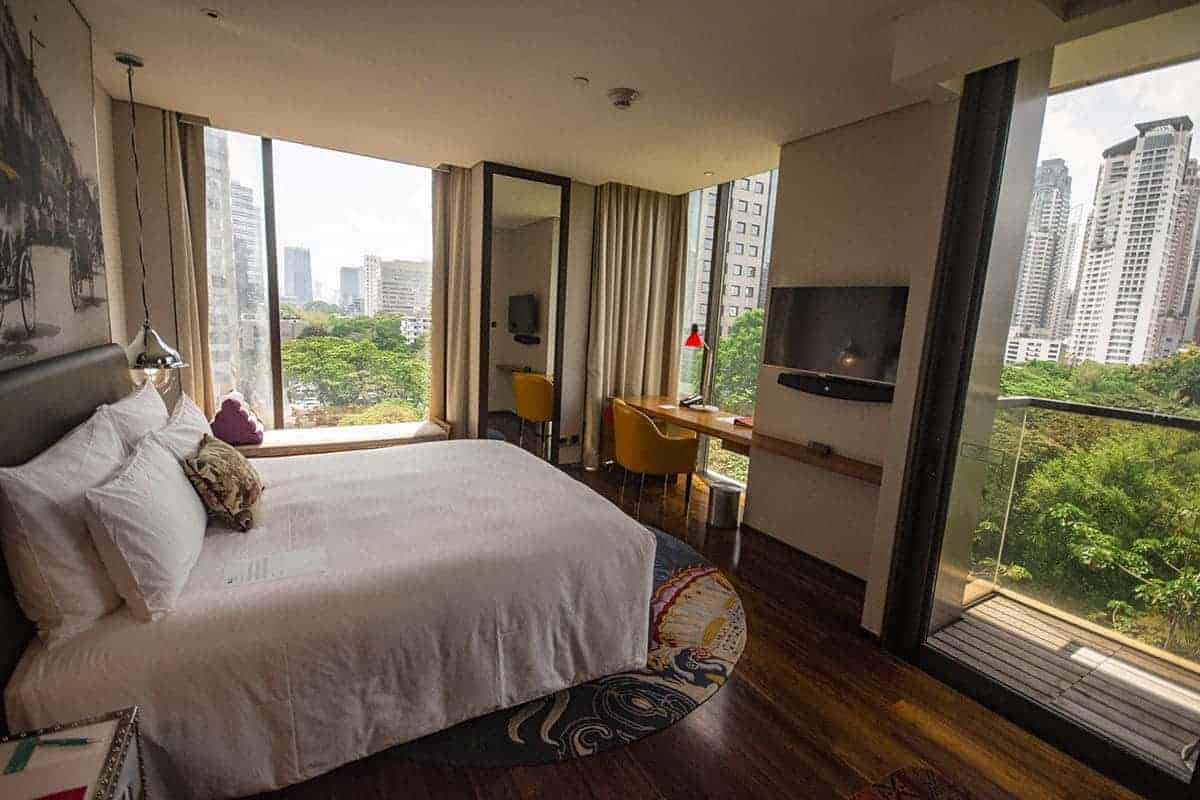 ---
Cost Per Day To Travel Bangkok
Thailand is an affordable country to travel to. Though depending on your travel style it would be very easy to go over budget in Bangkok. I also may be talking from experience when I say that.
In terms of accommodation, there is such a wide variety available. From luxurious 5 star hotels with sweeping views over the city of the dimly lit dorm rooms with creaking metal bunks. Though considering you're looking at a backpacking guide I will assume you are in the more budget style type of travelers. Even my partner and I, who prefer to stay in private rooms these days, will book at hostels in Bangkok due to the fact private rooms here cost too much more than dorm rooms!
To shorten the list of choices a bit further I have written a post on the best hostels around Khao San Road. Though expect to spend around $7.00 to $12.00 for a dorm room depending on quality. For a private room, you will look at paying around $50.00 per night for a private room around Khao San Road. Though you can get a better deal the further afield you look.
A meal in a restaurant will typically set you back around 100 THB / $3.33. Though there are plenty of 7/11s around to keep your food costs low.
Overall I would budget approximately $35.00 per day for backpacking Bangkok to stay on the safe side. This will allow you a decent bed to sleep in, a few beers, and a couple of restaurant meals to keep you energized.
---
Where To Stay While Backpacking Bangkok
There are multiple different areas of Bangkok which are popular with travelers. Though the main ones here Khao San Road, Silom, Siam, and Sukhumvit. Khao San Road is perfect for first-time travelers coming to Bangkok or those just looking to party. Once night falls on this busy area the streets come alive with thousands of travelers looking for an alcohol-fueled time. Though the Khao San Road area is far from a true representation of what Bangkok itself is actually like.
For a more "normal" experience of Bangkok, I recommend you stay in Silom, Siam, or Sukhumvit. These are more modern parts of the city and definitely a lot more low-key. They are also connected with an easy-to-use metro system which helps you travel around. These areas are where a lot of the upscale 5-star hotels are located and huge shopping malls. Ultimately catering to a different market of tourists. My favorite here is Hotel Indigo Wireless Road.
I have stayed in both and I prefer to stay in the Khao San Road area. Well not on the actual street itself, but within the area. A 5 or so minute walk away.
I do not recommend for ANYONE to stay on actual Khao San Road. There is constant noise from the street below and because that's automatically where travelers book there is no standard for accommodation as no matter what the room gets filled. My sister, unfortunately, made this mistake and stayed at the infamous and overpriced D&D Inn Khaosan. She called me after a night of absolutely no sleep and I told her to write of the stay as a mistake and get the hell off Khao San Road. I then shouted her a night at the incredible Ibis Styles Bangkok Khaosan Viengtai. It is located 1 street over on Soi Rambuttri and I will forever stay there when I visit Bangkok.
In terms of hostels on Khao San Road, the list seems to be never-ending. Seriously there are hundreds! Though check out my guide on the best hostels around Khao San Road for the best stay.
Here are my top picks for the backpacking Bangkok travel guide:
A super social hostel with a pool. The perfect place to stay for backpackers.

BOOK NOW

A favorite with travelers. A hostel with all the amenities, from $16.00 per night.

BOOK NOW

Ibis Styles Bangkok Khaosan Viengtai

Colorful accommodation with a decent pool and onsite restaurant. From $55.00 per night.

BOOK NOW

Affordable and modern private rooms from $40.00 per night.

BOOK NOW
Getting Around Bangkok
---
Getting From Bangkok Airport To Khao San Road
Unfortunately, it isn't as easy as searching how to get from Bangkok airport to Khao San Road. This is because there are actually 2 airports here in Bangkok. The first one is Suvarnabhumi Airport which is located approximately;y 40 kilometers away from Khao San Road so it is certainly not a walkable distance. The second airport is Don Mueang Airport which is 30 kilometers from the backpacker hub of Khao San Road.
Both options you will need to take some form of public transport so let's see which will be the best option for you.
---
 Don Mueang Airport To Khao San Road
I have written a full post on how to travel Don Mueang Airport To Khao San Road which goes into all your option in detail, this here will just be an overview.
---
Airport Shuttle
 You can take the airport shuttle bus. There are two different options here. The first is the A1 bus which stops at the Morchit bus terminal. From here you will need to take a taxi or local bus to Khao San Road. These local bus times can be found on Rome2Rio. The second bus is the A2 bus which stops at Victory Monument. This is slightly closer to Khao San Road but you will still need to take a taxi the rest of the way. Even better simply book a Grab taxi.
---
Private Transfer
 If you are in a large group a private transfer may work out to be an affordable option. You can book private transfers from any hotel in Bangkok on 12.Go Asia from $24.00 for a 4 seater car or $28.00 for a 9 seater van.
---
Train
Another option to travel to Don Mueang Airport to Khao San Road is by taking the commuter train. The closest train station to Khao San Road is Hua Lamphong station, approximately 4km away. If you decide to take the train I highly recommend taking one of the local buses to get to Hua Lamphong Station. Once you are at Hua Lamphong train station there should be at least one train every two hours heading to Don Mueang Airport.
---
Taxi
One option which takes minimal organization is to take a taxi. Be prepared to barter heavily, especially for a journey from the airport, or just insist the taxi driver uses the meter.
---
Local Bus
The local bus is run by Bangkok Mass Transit Authority and stops at Democracy Monument. Just a quick 8 minute walk away from Khao San Road, much closer than the airport buses. Look for bus number A4. It will cost between $0.18 – $0.60 / 6 – 21 baht depending on distance, so make sure you have some small notes on you.
---
Limo Bus
The limo bus is a direct bus service from Don Mueang Airport to Khao San Road. Operating every half hour between 9am and midnight. It's a bit more expensive at 150 baht for a one-way journey this certainly is not the cheapest option. Though, if you are wanting a hassle-free transfer where you can just jump on and relax this is the perfect option.
---
Suvarnabhumi Airport To Khao San Road
Again, I have written a full post on how to travel Suvarnabhumi Airport To Khao San Road which goes into all your option in detail, this here will just be an overview.
---
Local Bus
A super affordable way is by taking the S1 Bus. This stops at the Democracy Monument bus stop, just 600 meters for Khao San Road. The cost to use the S1 bus is just $1.80 / 60 baht. For more information on the S1 bus check out Transit Bangkok.
---
Private Transfer
The easiest way is definitely by booking a private transfer. You can book private transfers from any hotel in Bangkok on 12.Go Asia with prices ranging from $30.00 for a 4 seater car or $40.00 for a 9 seater van.
---
Airport Rail Link:
Another type of public transport you can from Suvarnabhumi Airport is the Aiport Rail Link.  You will need to get on the City Line Train at the Airport and depart at PhayaThai Plaza. This costs 45 baht / $1.50. From PhayaThai Plaza you can take bus number 59 to Democracy Monument at a cost of 16 baht / $0.50.
---
Taxi
The simplest way to get to Khao San Road in Bangkok is by taking a taxi. You can choose to flag one down yourself or use the grab mobile app on your phone. If you decide to take a taxi make sure you haggle for a good price or insist that the driver uses the meter. You should expect to pay around $13.00 / 400 baht for the journey.
---
Traveling Within Bangkok
Unfortunately, Bangkok is a large city and that means the best attractions and sights in the city won't be right outside your accommodation. Though looking into what public transport options are available is the perfect place to start as you will need to take something to travel around.
Within the area of Bangkok, you are staying in you should be able to find amazing food and cheap eats. Though it's a matter of the beautiful sights and attractions here which will force you to travel further afield.  I highly recommend downloading the offline map of Bangkok on the Maps.Me app for your cell phone. It'll be super helpful in navigating your way around if you do not have data.  This is one thing I always make sure I have before arriving at a new destination. 
---
Walking
Small distances around Bangkok are okay. Though it is a large city and you will need some form of public transport to take you from A to B. There is a lot of traffic in the city and many of the footpaths are covered in market stalls. This does mean occasionally you will need to step onto the road with the cars. This may be daunting at first, but it is a common occurrence all around Asia.
---
Grab
This is my personal favorite way to travel around Bangkok is by taking a Grab car. Download the Grab app on your phone and then you are all good to go. It provides the cost before you book which is a great tool to use to keep you on budget. Because you also enter your location before the journey starts by dropping a pin, there are no communication issues and ending up in the wrong place. The drivers are always super friendly, with a nice and clean car as well as having air conditioning blasting.
Just be aware there is a bit of a taxi mafia around Bangkok and there are some areas the Grab taxis cannot go to. One of them is around the hot tourist site, the Grand Palace. If you try to make a booking to take you here the driver will just cancel it immediately. Though using it to travel to different areas of Bangkok or if you're staying it different accommodation it will be no problem.
Grab is available all around Thailand and Southeast Asia as well. If you are traveling around different countries this is a must-have app!
---
MRT
Certain areas of Bangkok are connected by MRT. This is an extremely cheap and affordable way to traverse around the city. The MRT runs on time and is super clean inside. I recommend using the Rome2Rio website to look at which trains to take and when or Transit Bangkok for a map and all the timetables.
---
Bus
Bangkok has an excellent bus system which can take you all around the city. This will also be the cheapest way to travel around The majority of buses run between 5 am to 11 pm, though there are some which operate 24/7. The most a bus fee will cost is $0.80 / 24 THB. Again you can check on the Bangkok Transit website for which buses go where.
---
Where To Eat In Bangkok
From endless markets to street food stalls and Michelin star restaurants. Bangkok is a hub of a variety of cuisines at an assortment of prices. These are my top picks, all tested and tried, for my backpackers travel guide to Bangkok:
---
Cheap Eats In Bangkok
One of the best ways to find delicious cheap food in Bangkok is by visiting one of the street food stalls. This is where many of the locals eat and oftentimes the food here is so much better than what you would find at a popular tourist restaurant!
If you are staying on Khao San Road best not to eat the street food here. It isn't made with effort and is instead mass-produced to feed all the tourists. Instead, head over to Soi Rambuttri. This is the neighboring street, connected by a small alleyway. During the evening this street is absolutely covered with street food vendors. My favorite spot is a smoothie stall at the one end of the street opposite a pizza place. They make the most flavorsome and fresh smoothies. It's definitely a great start to your Bangkok adventure.
There is a heap of Bangkok cheap eats to choose from though. Some top picks include Pad Thai Thip Samai, P'Aor Tom Yum Goong, and Daniel Thaiger. A quick google search will also bring up plenty of other choices.
---
Western Food In Bangkok
Being such a popular tourist hub Bangkok has an endless supply of Western food and Western Restaurants. No matter where you are staying in the city you will never be too far away from a taste of home. Though be aware Western Food is considerably more pricey than local dishes in Bangkok. This is especially so for a high-quality meal which imported ingredients.
One of my favorite spots in Streats Bangkok Khao San. They have a delicious range of western foods such as burgers, pizzas, pasta, and steaks. They have brought in an international chef to run the kitchen team ensuring all the flavors are correct. This was actually one of the best places I have eaten in Bangkok. Oh and the cocktails here are absolutely delicious!
Nonna Nella By Lenzi has got to be one of my favorite restaurants in Bangkok. This incredible Italian restaurant takes you back to Italy with its authentic flavors. The pizza transported me right back to Florance. With the open-style kitchen, you can sit back and watch the chefs create art. It's the perfect place for a romantic meal or if you're needing a quick break from Thai Food.
---
Where To Drink While Backpacking Bangkok
There are two widely different routes you could take when figuring where to drink in Bangkok. You could lean towards the low-key cheap beer spots which spread out over the footpath with their plastic chairs and tables. On the opposite side, you have the incredible sky bars which Bangkok has become famous for.
Though whether you've watched Hangover 2 or checked out Instagram. Visiting a Skybar is a must while you're backpacking Bangkok. Put away that shirt and pull out your one and only piece of decent clothing.
One of my favorite Skybars in Bangkok is located in Hotel Indigo Wireless Road, called Char Bar. They usually have live music playing and it is the perfect place to watch the sunset over the skyline in the distance. Grab a cocktail and check out some of the best views in the city.
---
Safety While Backpacking Bangkok
Bangkok is as safe as any other large city around the globe. Sure there is crime, but use common sense and you will be fine the majority of the time. Though what you need to be aware of are scams. Bangkok is unfortunately a city that is full of scams and if this is your first introduction to Asia it may seem daunting at first.
The only real crime you need to be concerned about when backpacking Bangkok would be petty theft. Don't use your phone along a busy street and if you must, turn away from the traffic. Carry your valuables in a cross-the-body bag. Bag snatching is quite common here to you want to prevent giving people the opportunity.
The number one thing is always to get the taxi to use a meter. Be aware that if the meter seems to be going up unusually fast get out of the taxi. Some drivers have altered their meters as a way to con tourists. If you are concerned about getting scammed in a taxi then use Grab. This is an app that can be downloaded on your phone. Prior to taking your journey, it will give you a final cost. This is also a good way to figure out prices if you want a baseline of what you should haggle to when it comes to taking a taxi.
Don't drink the water out of the tap. Even though the local government says it is okay to drink and is treated to the worldwide standard. The pipes used to disperse it to homes in the city are extremely dirty. Though you will be fine to use it to brush your teeth. 7/11 has plenty of cheap water bottles.
The tourist site is closed. This is a famous one in Bangkok where your taxi driver or official-looking person outside of the Grand Palace will state it is closed. Though they know somewhere just as amazing elsewhere. This is 99% of the time untrue. Just ignore this person and get on your way to getting inside the attraction. Most of the time they use this to get you in their taxi or tuk-tuk to bus you around to their uncle's suit store and aunties souvenir shop where they will get a commission.
Traveling in Thailand can be hard as you don't know which locals are trying to screw you over and who is being genuine. If you aren't sure listen to your instincts and have a plan B to leave this person. I remember walking through the dark streets with my partner, way out of the general tourist area, and being approached by a local. At first, we were hesitant as he asked us about our lives and what we were doing in Bangkok. Though after 10 minutes of chatting and walking in the same direction he went his own way.
---
Things To Do In Bangkok
Bangkok has enough things to do to keep you entertained for days, even weeks. It is such a huge city with endless activities and attractions. Whether you enjoy a bit of relaxation, adrenalin-fueled adventure, or check out the sights, Bangkok has something for everyone.
---
Visit The Grand Palace
Visiting the Grand Palace has to be one of the top things to do while backpacking Bangkok. Sure you will be surrounded by hoards of tourists, but it a must-do when you are here. You can try to visit early morning when it first opens if you want to beat the crowds.
The entry fee is $16.70 / 500 THB so it will put a rather large dent in your budget. This grants you access to both the Royal Palace and the famous Wat Phra Kaeo Temple housing the 14th Century Emerald Buddha. It is a super beautiful spot so make sure you bring along your camera. Though don't forget to cover up your legs and shoulders as with the rest of the temples in Thailand. There are clothes for hire at the entry in case you forget.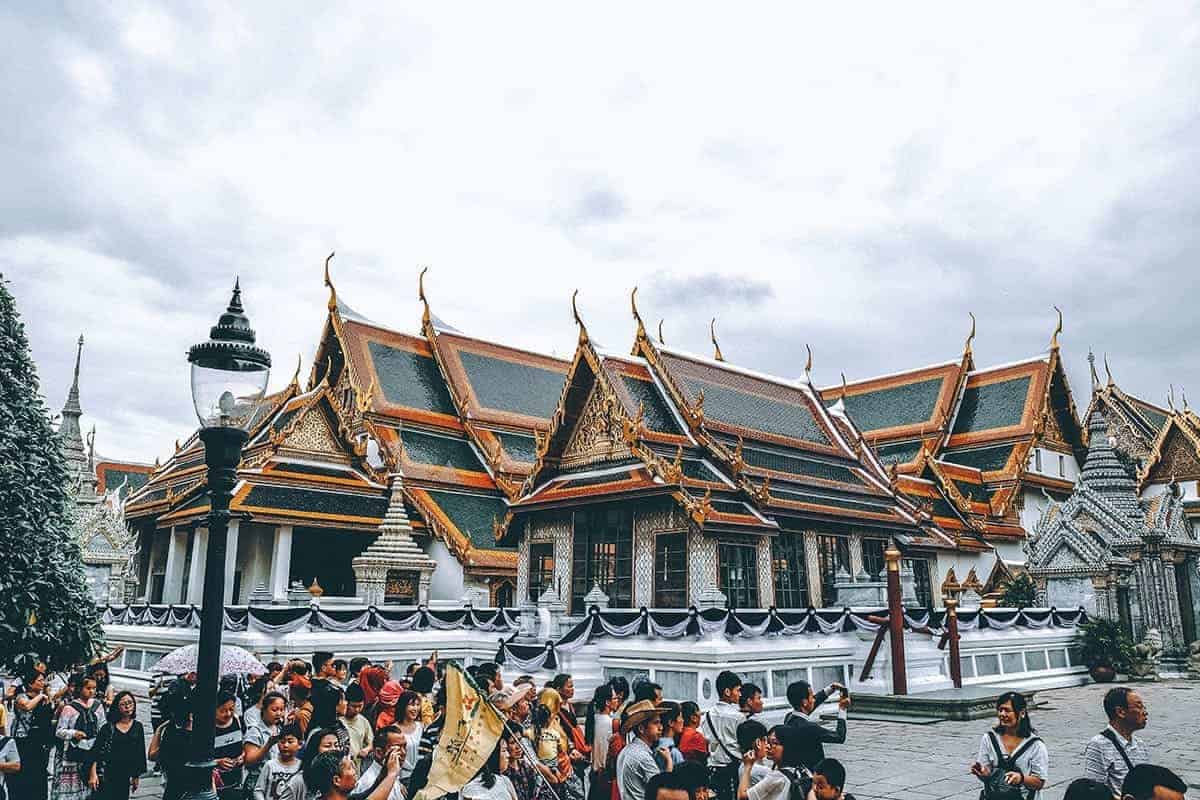 ---
Reclining Buddha (Wat Po)
Another one of the must things to do when in Bangkok is visiting Wat Po. This is home to the incredible 45 meter long reclining Buddha. It is also 15 meters high and this Wat (temple) is the oldest and largest in Bangkok.
The entry fee is $6.70 / 200 THB and it is on the same grounds as the Grand Palace.
---
Check Out The Markets While Backpacking Bangkok
Bangkok has so many excellent markets to check out. Though to keep this on the shorter side I will just mention the top choices which many travelers visit.
Flower Market: The Flower Market is one of Bangkok's most famous markets. As the name implies this is where you can find a sea of flowers being sold. The most popular time to visit here is actually midnight when the freshest flowers arrive ready to be sold in stores the next morning. If you're a night owl it's definitely worth checking out.
Chatuchak Market:
The Chatuchak Weekend Market has everything you could ever want and even things that you probably never would want all in the same place. This is Thailand's biggest market boasting over 15,000 stalls! It is also open from Wednesday to Friday, but during the weekend is where this place truly transforms with countless stalls selling anything and everything.
---
Boat Trip On The Chao Phraya River
Now, this isn't a simple boat trip and return back to the same place, no. The boats on the Chao Phraya River are actually are a form of public transport in Bangkok and it is a great way to see some of the city. There are both contrasts of Bangkok located along the river. From the shining and grand temples to the low-key markets.
You can book either a hop-on hop-off ticket for less than $3.00. You're also given a free pamphlet explaining each stop and the landmarks. Some top spots on the journey include The Grand Palace, Wat Po, Wat Arun, and Chinatown.
---
Wat Arun
Wat Arun is definitely known as one of the more instagramable temples in Bangkok. Though that is because it is absolutely beautiful. Known as the Temple of Dawn it is one of the many iconic sights of the city and is a must-visit when backpacking Bangkok.
If you are staying over on Khao San Road you will need to utilize one of the water taxis to cross the river to the other side. The entrance fee is $2.70 / 80 THB.
---
Airplane Graveyard
The famous airplane graveyard in Bangkok has become a famous Instagram spot in recent years. Have a fifty for the strange and out of place or into a bit of urban exploration? Then it is definitely worth checking out if you have time.
Near to the Ramkamhaeng Station in Bangkok, you will find a field of abandoned airplanes. Be aware that locals patrol the area and will ask you to pay an entry fee. You will need to pay this in order to access the property and it generally is a couple of hundred baht.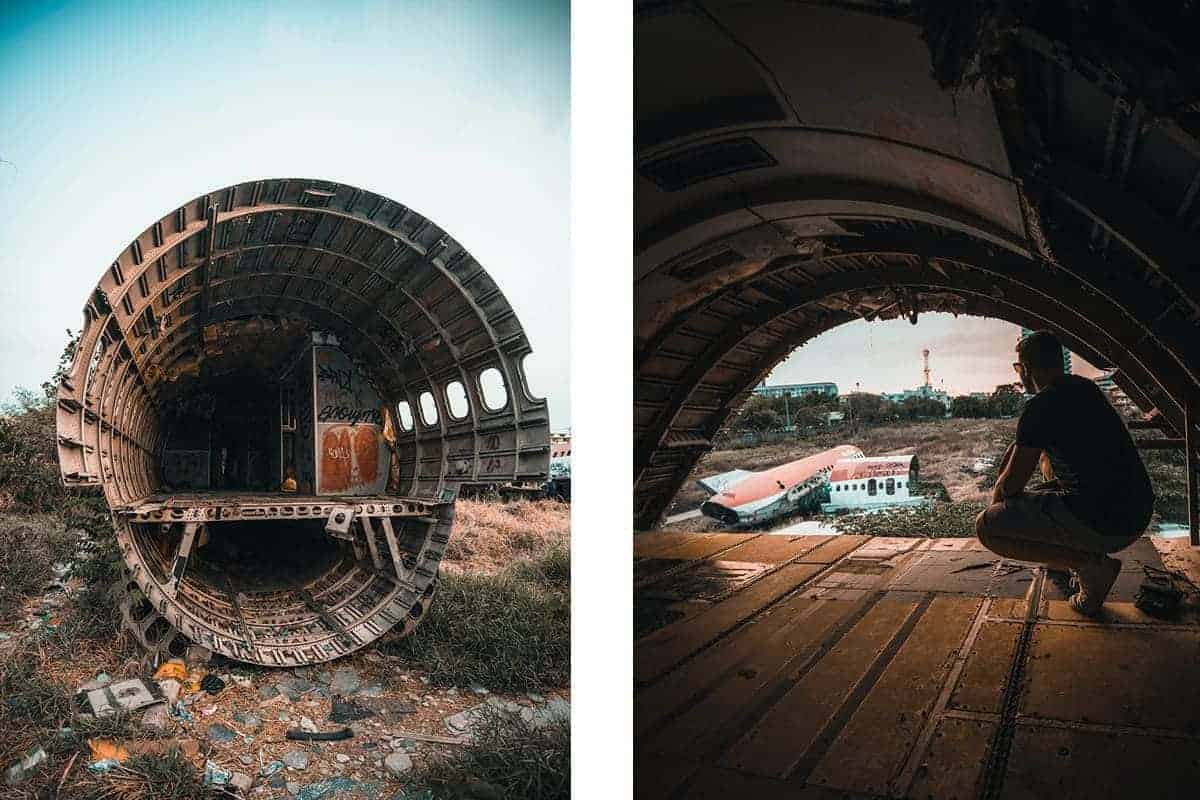 ---
Food Tour
If you are a bit of a foodie like me what better way to discover a new city than through its flavors. Try some local favorites and maybe even a couple of odd dishes as you are shown around the city.
There are a few different options available. Though I recommend checking out Get Your Guide to discover what tour would be best suited for you. If you are looking for an all-in-one, Bangkok by Night Tuk Tuk Tour: Markets, Temples & Food encompasses an assortment of Bangkok highlights.
---
Lumpini Park
If you are looking for a break from this bustling city and missing a bit of greenery in your life. Then definitely head to Lumpini Park to get back in touch with nature. It is super easy to get to as well as being located between the modern business districts of Silom and Sukhumvit.
Here you will find jogging trails, gym equipment, and even boats to hire. You can even find a bit of inner-city wildlife here in terms of birds and the infamous monitor lizards which seem to run this place.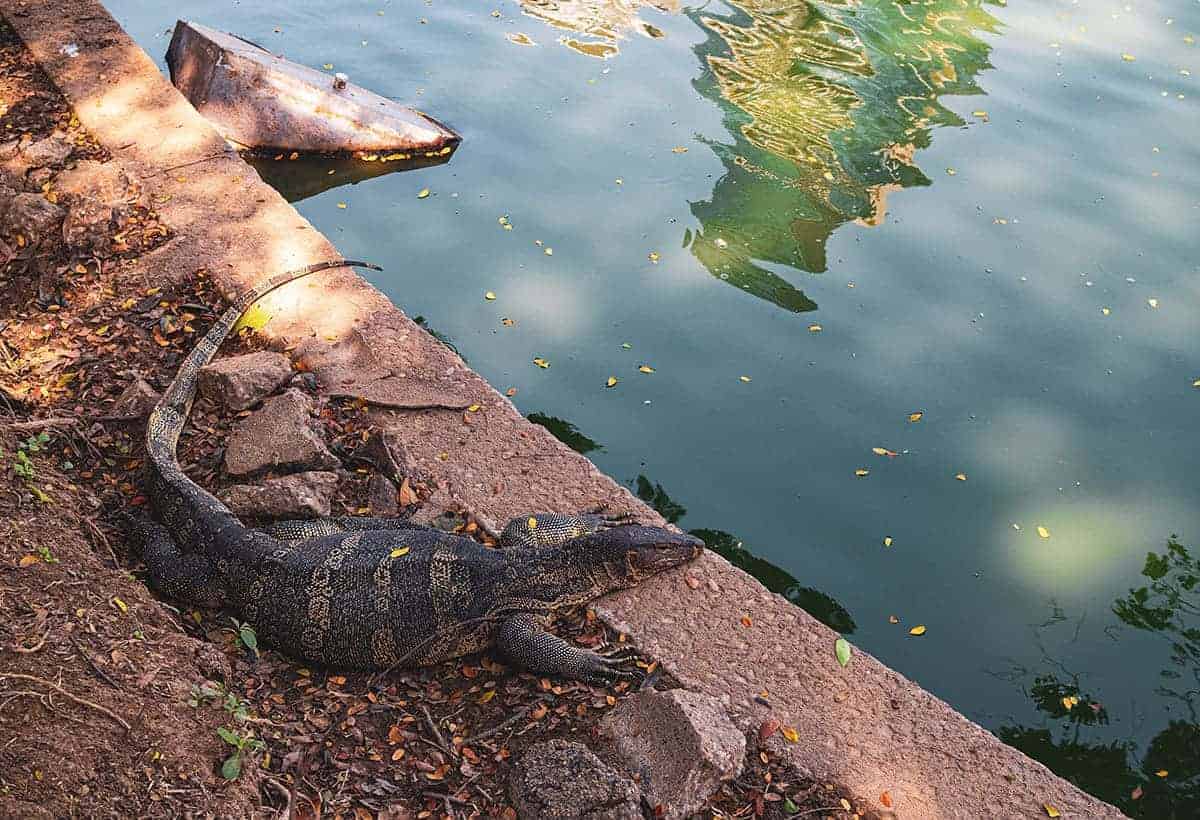 ---
Khao San Road
If you are not staying in the backpacker hub of Khao San Road it is definitely worth heading out to spend a night partying. Though if the party life isn't your scene you can still people watch, try some street food, and get in a bit of shopping.
In all honesty, this place isn't for everyone and that is fine. It can be quite overwhelming with the crazy amount of people and locals approaching you selling goods. Though it's worth spending a couple of hours in the area. That way you can cross it off the list and not come back.
---
Where To After Bangkok
After your backpacking Bangkok adventure has come to an end you basically have two options, to travel North or South.
North: Heading up north will take you inland and to beautiful countryside sights. Be sure to check out Thailand's former capital, Ayutthaya. This can be done on a day trip from Bangkok, or as a pit stop as you head further North. An overnight journey will get you from Bangkok to Chiang Mai. For those looking to immerse themselves in the country definitely take the overnight sleeper train to Chiang Mai. It is quite the experience and who can say no to train travel.
South: Alternatively, you can end back down South towards the incredible beaches. Though don't head too far south just yet. About halfway down the country on the east side are the islands of Koh Tao, Koh Phangan, and Koh Samui. These are popular tourist hotspots and a must on your backpacking Thailand itinerary. First travel from Bangkok to Koh Tao and then from there the rest of the islands will be extremely accessible to navigate between.
---
Any Questions? Let me know in the comments!
---
LIKE IT? PIN IT!

---
Want more Thailand Inspiration? Check out….
---
Disclaimer: This post contains affiliate links. So, if you click on it and purchase something, I get a small percentage at no extra cost to you. As always all opinions are my own and your support is much appreciated.
Related Posts