Find out everything you need to know about traveling from Khao San Road to Don Mueang Airport. From the trains, buses, taxis, private transfers, and my top tips so you don't miss your flight, this ultimate guide absolutely has you covered!
---
If you are a backpacker on a budget it is likely you will be flying from Bangkok's budget airport. This is a hot spot for travelers making their way in and out of the country. That means you will need to find a way from Khao San Road to the Don Mueang Airport. A way that will fit within your time limits as well as in your budget.
Servicing a handful of budget airlines such as Air Asia, Thai Lion Air, and Nok Air. This is the airport is where you find the travelers who are looking at getting the best bang for their buck. It's not as fancy and luxurious as its counterpart Suvarnabhumi Airport. Though it will get you from A to B will keeping money in your wallet.
So, what is the best way to get to Don Mueang International Airport? Taking a taxi can be expensive, though the buses can take hours and how are you even meant to know which one to get on!
So let's go through all the options from the airport shuttle bus, train, and private transfer to the taxis and buses to find the right option for you.
| | | | |
| --- | --- | --- | --- |
| | Time | Cost | Highlight |
| Airport Bus | 1.5 hours | from $2 | Affordable |
| Private Transfer | 30 minutes | from $24 | Prebooked reliable transport |
| Train | 50 minutes | from $2 | Cheap journey |
| Taxi | 30 minutes | from $15 | Easy to organize |
| Local Bus | 1.5 hours | from $0.60 | Super cheap! |
| Limo Bus | 1 hour | from $5 | Straightforward journey to Khao San Road |
---
How to Travel From Khao San Road To Don Mueang Airport: Bus, Taxi, Private Transfer or Train?
---
Airport Bus
There are two different airport shuttle buses that you can take to or from Don Mueang Airport. Unfortunately, neither of these have a direct stop at Khao San Road where many backpacker accommodations are located, so, first of all, you will need to get yourself to the closest location.
The A1 bus starts from the Morchit bus terminal. Unfortunately, the Morchit bus terminal is not within walking distance from Khao San Road, being over 10 kilometers away. That would not be an easy walk with luggage and under the hot Thai sun. The best option would be to take the local bus to the Morchit bus terminal. I recommend checking out Rome2Rio for the latest bus times to see what bus number you need to jump on to get there.
The A2 bus originates at the Victory Monument, stopping at Sanam Pao, Ari, Saphan Kwai, and Morchit BTS stations. As the latter is also served by the A1 route, it makes more sense to take the A2 bus if possible as it starts closer to Khao San Road. Unfortunately, Victory Monument is neither really within walking distance to Khao San Road, being over 5 kilometers away. You can take a bus there, just check out Rome2Rio for the latest bus times. Though another alternative is using the Grab mobile app to order a taxi to take you there. Grab offers affordable rates, ensuring you won't get ripped off by dodgy taxi drivers.
Overall the travel time highly depends on traffic, as during the morning and evening work rush the roads can come to a near standstill with traffic. You can use the online version of google. maps to determine how far in advance you need to leave, though generally, the journey can take from 60 to 80 minutes and sometimes even more.
---
Private Transfer
The easiest way to get to Don Mueang Airport is certainly by booking a private transfer. Though, when something is easy it is oftentimes never cheap. You can book private transfers from any hotel in Bangkok on 12.Go Asia from $24.00 for a 4 seater car or $28.00 for a 9 seater van. Alternatively, plenty of hostels or hotels should be able to book this transfer for you as well.
If you have a large group or are worried about untrustworthy taxi drivers this could be the perfect option for you!
---
Train
Another alternative to travel to Don Mueang Airport or the opposite, Don Mueang Airport to Khao San Road is by taking the commuter train. The closest train station to Khao San Road is Hua Lamphong station, approximately 4km away. This distance could take up to an hour to walk, which is not fun, especially on a hot day and carrying all your luggage.
If you decide taking the train is the best option for you I highly recommend taking one of the local buses to get from Khao San Road to Hua Lamphong Station. There are a variety of bus stops within easy access from Khao San Road which will take you to Hua Lamphong Station. Depending on the time of day you might need to transfer buses, though check out Rome2Rio for the latest times and bus schedules.
If you cannot deal with the bother of catching the bus, or perhaps you are in a rush, there will be plenty of tuk-tuks around which will be more than happy to take you. Just be prepared to negotiate heavily to get a good price or use the Grab mobile app!
Once you are at Hua Lamphong train station there should be at least one train every two hours heading to Don Mueang Airport. The journey takes about 50 minutes and you will not have to deal with all the traffic on the roads which is a bonus. Just be aware the service only operates from 6.20am until 10.25pm. Though, once more, I encourage you to check out Rome2Rio to find out current schedules.
---
Taxi
One option which takes minimal organization is to take a taxi. You will find plenty of them cruising the streets, especially around the Khao San Road area. The exception of this is during commute hours when everyone is traveling to or from work.
The taxis in Bangkok are notorious for ripping off tourists, though in saying that not every driver does this. If you have found a good driver you have taken a previous day, grab their contact details so you can call them direct. Though If this is not an option be prepared to barter heavily, especially for a journey to the airport.
If you have a connection to the internet I would recommend using the Grab mobile App over a taxi. This way you do not need to worry about getting scammed and they will give you the amount on your phone beforehand so you know how much it will cost.
---
Local Bus
One of the cheaper options, but not the fastest is taking the bus. The local bus is run by Bangkok Mass Transit Authority and stops at Democracy Monument. This is just a quick 8-minute walk away from Khao San Road, much closer than the airport buses.
Keep an eye out for bus number A4. This will take you all the way to Don Mueang International Airport. It will cost between $0.18 – $0.60 / 6 – 21 baht depending on distance, so make sure you have some small notes on you.
It runs every 20 minutes between 5am and midnight, making it an easy and cost-effective option. Though, be aware that traffic in Bangkok can be horrendous. If you decide to take the bus you will need to leave plenty of time to account for all the stops and any delays. This journey will take AT LEAST 1 hour, so if you are short on time this will not be the best option as there is nothing worse than missing your flight!
---
Limo Bus
The limo bus is a direct bus service, though it seems to operate only from Don Mueang Airport to Khao San Road. Operating every half hour between 9am and midnight. They offer a comfortable direct service between these two popular spots in Bangkok.
I have taken their service before simply because it was easiest for me when arriving at Don Mueang Airport. It was signed well and the staff were friendly enough. This was during peak traffic and we still arrived at the time quoted to us.
A bit more expensive at 150 baht for a one-way journey this certainly is not the cheapest option. Though, if you are wanting a hassle-free transfer where you can just jump on and relax this is the perfect option. Plus it literally drops off right next to Khao San Road!
---
Where To Stay In Bangkok Before Your Journey From Khao San Road To Don Mueang Airport?
There are multiple different areas of Bangkok which are popular with travelers. Though the main ones here Khao San Road, Silom, Siam, and Sukhumvit. Khao San Road is perfect for first-time travelers coming to Bangkok or those just looking to party. For a more "normal" experience of Bangkok, I recommend you stay in Silom, Siam, or Sukhumvit. These are more modern parts of the city and definitely a lot more low-key.
Here are my top picks:
Find the best hotels in the area
A super social hostel with a pool. The perfect place to stay for backpackers.

BOOK NOW

A favorite with travelers. A hostel with all the amenities, from $16.00 per night.

BOOK NOW

Ibis Styles Bangkok Khaosan Viengtai

Colorful accommodation with a decent pool and onsite restaurant. From $55.00 per night.

BOOK NOW

Affordable and modern private rooms from $40.00 per night.

BOOK NOW
---
Things To Do In Bangkok Before Your Journey From Khao San Road To Don Mueang Airport
Bangkok has enough things to do to keep you entertained for days, even weeks. It is such a huge city with endless activities and attractions.
Visit The Grand Palace: Visiting the Grand Palace has to be one of the top things to do while backpacking Bangkok. Sure you will be surrounded by hoards of tourists, but it a must-do when you are here. The entry fee is $16.70 / 500 THB so it will put a rather large dent in your budget. This grants you access to both the Royal Palace and the famous Wat Phra Kaeo Temple housing the 14th Century Emerald Buddha.
Reclining Buddha (Wat Po): Another one of the must things to do when in Bangkok is visiting Wat Po. This is home to the incredible 45 meter long reclining Buddha. The entry fee is $6.70 / 200 THB and it is on the same grounds as the Grand Palace.
Check Out The Markets: Bangkok has so many excellent markets to check out. Though Thailand's biggest market is The Chatuchak Weekend Market boasting over 15,000 stalls! It is also open from Wednesday to Friday, but during the weekend is where this place truly transforms with countless stalls selling anything and everything.
Boat Trip On The Chao Phraya River: The boats on the Chao Phraya River are actually are a form of public transport in Bangkok and it is a great way to see some of the city.  You can book either a hop-on hop-off ticket for less than $3.00. Some top spots on the journey include The Grand Palace, Wat Po, Wat Arun, and Chinatown.
Wat Arun: Wat Arun is definitely known as one of the more instagramable temples in Bangkok. Though that is because it is absolutely beautiful. The entrance fee is $2.70 / 80 THB.
Lumpini Park: Head to Lumpini Park to get back in touch with nature. Here you will find jogging trails, gym equipment, and even boats to hire. You can even find a bit of inner-city wildlife here in terms of birds and the infamous monitor lizards which seem to run this place.
---
LIKE IT? PIN IT!
Want more Thailand Inspiration?
Check out….
Disclaimer: This post contains affiliate links. So, if you click on it and purchase something, I get a small percentage at no extra cost to you. As always all opinions are my own and your support is much appreciated.
Related Posts
Come find out absolutely everything you need to know about the Thailand Laos Border Crossing [...]
12 Comments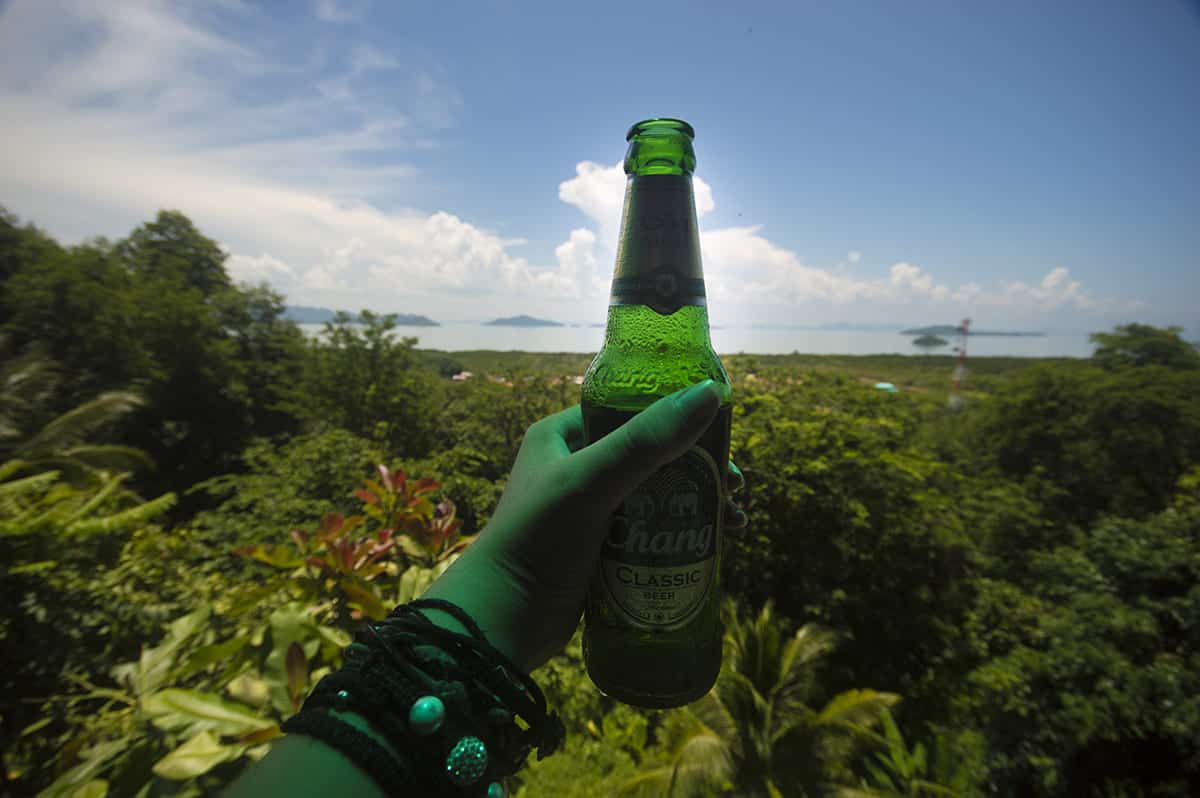 Come discover the ultimate island paradise by checking at our backpacking Koh Lanta itinerary. Find [...]
2 Comments
Find out everything you need to know about traveling from Khao San Road to Suvarnabhumi [...]
3 Comments