Find out everything you need to know about traveling from Khao San Road to Suvarnabhumi Airport. From the trains, buses, taxis, private transfers, and my top tips so you don't miss your flight, this ultimate guide absolutely has you covered!
---
If you are flying from Bangkok there is a high chance that you will be flying at Southeast Asia's busiest airport, Suvarnabhumi Airport. That means you will need to find a way from the popular backpacker hang-out of Khao San Road to Suvarnabhumi Airport.
Servicing nearly all international and domestic flights to and from Bangkok, Suvarnabhumi Airport is certainly a busy place. Many travelers will find themselves needing to somehow get between these two different locations. So, let get into the best ways to travel from Khao San Road to Suvarnabhumi Airport.
| | | | |
| --- | --- | --- | --- |
| | Time | Cost | Highlight |
| Bus | 1.5 hours | from $1.80 | Affordable |
| Private Transfer | 1 hour | from $30 | Prebooked reliable transport |
| Airport Rail Link | 50 minutes | from $4 | Quickest journey |
| Taxi | 1 Hour | from $15 | Easy to organize |
Located 40 kilometers from Khao San Road is Suvarnabhumi Airport. This is quite a distance, so determining the best mode of transport for budget travelers is important in order to avoid getting scammed and spending unnecessary money.
Taking a taxi can be expensive, there is no way you can walk 40 kilometers and the buses can take hours, how are you even meant to know which one to get on! Bangkok can be notorious for its traffic and no way you want to fork out more money for a new flight as you were late to your original one!
So let's go through all the options from the train and private transfer to the taxis and buses to find the right option for you.
---
How to Travel From Khao San Road To Suvarnabhumi: Bus, Taxi, Private Transfer or Train?
---
Bus
A super affordable way to travel between Khao San Road to Suvarnabhumi Airport is by taking the S1 Bus. From the Democracy Monument bus stop, you can begin the 1-hour long journey to the Airport. Democracy Monument is just 600 meters from Khao San Road, making for a very easy walk, even when you are carrying all of your luggage. Just make sure to ignore all those annoying tuk-tuk drivers along the way.
The cost to use the S1 bus is just $1.80 / 60 baht. This is a very reasonable price for an hour-long journey and provides an excellent budget-friendly option when in Bangkok.
For more information on the S1 bus check out Transit Bangkok and to check out the latest times check out Rome2Rio.
Just make sure to leave well beyond your flight time to account for any delays. Traffic in Bangkok can be notorious and you definitely will not want to get caught up in it and miss your flight.
---
Private Transfer
The easiest way to get from Khao San Road to Suvarnabhumi Airport is definitely by booking a private transfer. Though, when something is easy and fast it is oftentimes never cheap, so you will need to be prepared to part with quite a bit of cash.
You can book private transfers from any hotel in Bangkok on 12.Go Asia with prices ranging from $30.00 for a 4 seater car or $40.00 for a 9 seater van. Alternatively, plenty of hostels or hotels should be able to book this transfer for you as well once you are in the city.
Also, if you have a large group or are worried about untrustworthy taxi drivers this could be the perfect option for you! It takes away the hassle of having to negotiate for a decent rate and the uncertainty of choosing a taxi driver off the street.
---
Airport Rail Link
Another type of public transport you can use to travel from your accommodation on Khao San Road to Suvarnabhumi Airport is the Aiport Rail Link. This is not the most convenient option as you will need to take various forms of transport. Though if you are on a budget with plenty of time to spare you might give the Airport Rail Link a try.
First of all, you will need to catch the local bus from Democracy Monument to Phayathai Plaza. Democracy Monument is just 600 meters from Khao San Road, making for an easy, no-stress walk. From there jump on bus number 59. You can check out Rome2Rio for the latest departure times. Though it departs every 10 minutes so you should not have a long wait. The cost of this ride is cost $0.50 / 16 baht so make sure to have some small change.
Once you have arrived at Phayathai Plaza you can enter the train station and get on the city line train to Suvarnabhumi Airport. This portion of the journey only costs $1.50 / 45 baht.
In total it will take you at least 1 hour and 20 minutes to travel from Khao San Road to Suvarnabhumi Airport using the Airport Rail Link. Make sure to take this time into account if you are running late and prepare for delays. If you have plenty of time to spare this could be the best option, especially as it only costs $2.00 / 60 baht.
---
Taxi
No doubt the simplest way which takes minimal organization is by getting a taxi. You can choose to flag one down yourself or use the grab mobile app on your phone.
During the majority of the day, it will be relatively easy to find a taxi around the Khao San Road area. Though be prepared to haggle and expect higher prices as this is the touristy part of town. Unfortunately, during busy commute hours, it can be relatively hard to find a taxi. This is something which I found out the hard way.
Also, the taxis in Asia are notorious for ripping off travelers. There are numerous scams where they may lie about the agreed price or have a dodgy meter. Though in saying this not every driver does it. If you have found a good driver previously, make sure to grab their contact details. This way you can call them directly and confidently know they will keep you safe. Though if this is not an option be prepared to barter heavily, especially for a journey to the airport.
As well, I highly recommend purchasing a local sim card when traveling in Thailand. They are super cheap and will give you internet access when you have no WiFi coverage. If you do have some sort of cellar connection I highly recommend using the Grab mobile App over a taxi. So you do not need to worry about getting scammed. They will also give you the amount on your phone beforehand so you know how much it will cost.
In total, the journey will take 30 minutes, though this obviously depends on traffic. If you know it is going to be busy on the road make sure to leave plenty ahead of time. You can also use google.maps online for live traffic estimates. You should expect to pay around $13.00 / 400 baht for the journey from Khao San Road to Suvarnabhumi Airport.
---
Deciding How To Travel To Suvarnabhumi Airport
Make sure to weigh up all your options to determine which will be the best transportation option for you. Take into account the price, how long, and if it is likely to be delayed. I mean forking out the cost of a new flight is going to be a lot pricier than taking a taxi.
No matter what option you decide is best, just make sure you get to the airport in time and that you enjoy the next stage of your journey!
---
Where To Stay In Bangkok?
There are multiple different areas of Bangkok which are popular with travelers. Though the main ones here Khao San Road, Silom, Siam, and Sukhumvit. Khao San Road is perfect for first-time travelers coming to Bangkok or those just looking to party. For a more "normal" experience of Bangkok, I recommend you stay in Silom, Siam, or Sukhumvit. These are more modern parts of the city and definitely a lot more low-key.
Here are my top picks:
A super social hostel with a pool. The perfect place to stay for backpackers.

BOOK NOW

A favorite with travelers. A hostel with all the amenities, from $16.00 per night.

BOOK NOW

Ibis Styles Bangkok Khaosan Viengtai

Colorful accommodation with a decent pool and onsite restaurant. From $55.00 per night.

BOOK NOW

Affordable and modern private rooms from $40.00 per night.

BOOK NOW
---
Things To Do In Bangkok
Bangkok has enough things to do to keep you entertained for days, even weeks. It is such a huge city with endless activities and attractions.
Visit The Grand Palace: Visiting the Grand Palace has to be one of the top things to do while backpacking Bangkok. Sure you will be surrounded by hoards of tourists, but it a must-do when you are here. The entry fee is $16.70 / 500 THB so it will put a rather large dent in your budget. This grants you access to both the Royal Palace and the famous Wat Phra Kaeo Temple housing the 14th Century Emerald Buddha.
Lumpini Park: Head to Lumpini Park to get back in touch with nature. Here you will find jogging trails, gym equipment, and even boats to hire. Also, you can even find a bit of inner-city wildlife here in terms of birds and the infamous monitor lizards which seem to run this place.
Check Out The Markets: Bangkok has so many excellent markets to check out. Though Thailand's biggest market is The Chatuchak Weekend Market boasting over 15,000 stalls! It is also open from Wednesday to Friday, but during the weekend is where this place truly transforms with countless stalls selling anything and everything.
Wat Arun: Wat Arun is definitely known as one of the more instagramable temples in Bangkok. Though that is because it is absolutely beautiful. The entrance fee is $2.70 / 80 THB.
Boat Trip On The Chao Phraya River: The boats on the Chao Phraya River are actually are a form of public transport in Bangkok and it is a great way to see some of the city.  You can book either a hop-on hop-off ticket for less than $3.00. Some top spots on the journey include The Grand Palace, Wat Po, Wat Arun, and Chinatown.
---
LIKE IT? PIN IT!

Want more Thailand Inspiration? Check out….
Disclaimer: This post contains affiliate links. So, if you click on it and purchase something, I get a small percentage at no extra cost to you. As always all opinions are my own and your support is much appreciated.
Photo credit: "Concouse E, Suvarnabhumi Airport Bangkok, Thailand" (CC BY 2.0) by  David McKelvey . 
Related Posts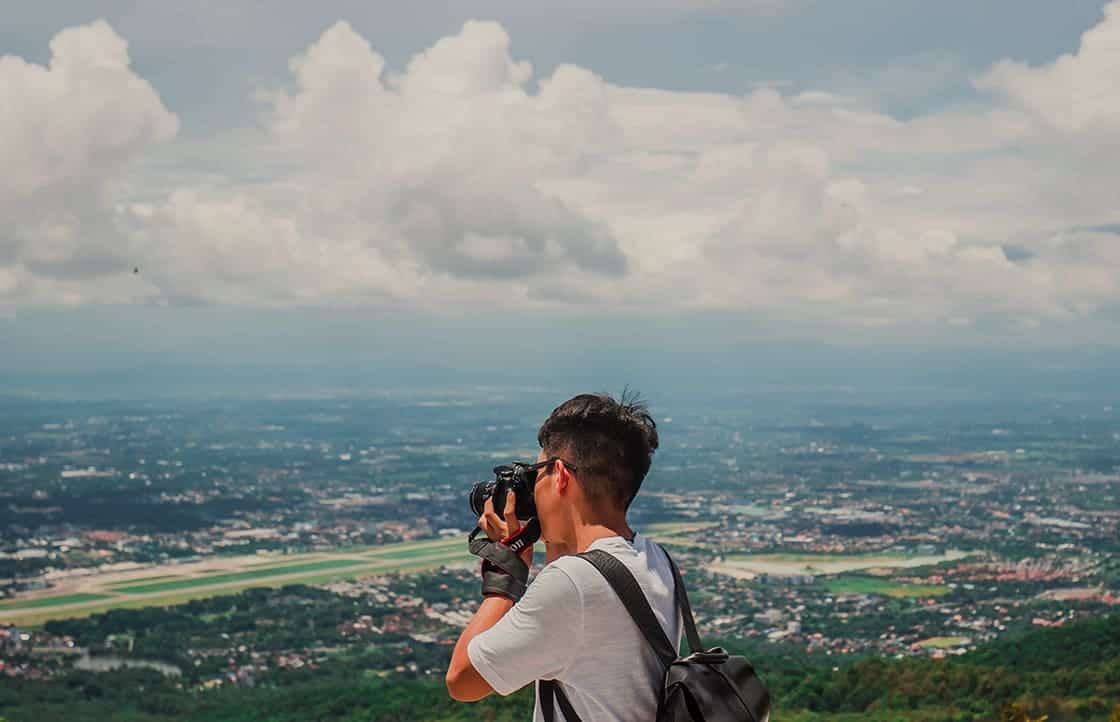 Learn all you need to know about backpacking Chiang Mai on a budget while in [...]
1 Comment
Find out everything you need to know about taking the overnight sleeper train from Bangkok [...]
6 Comments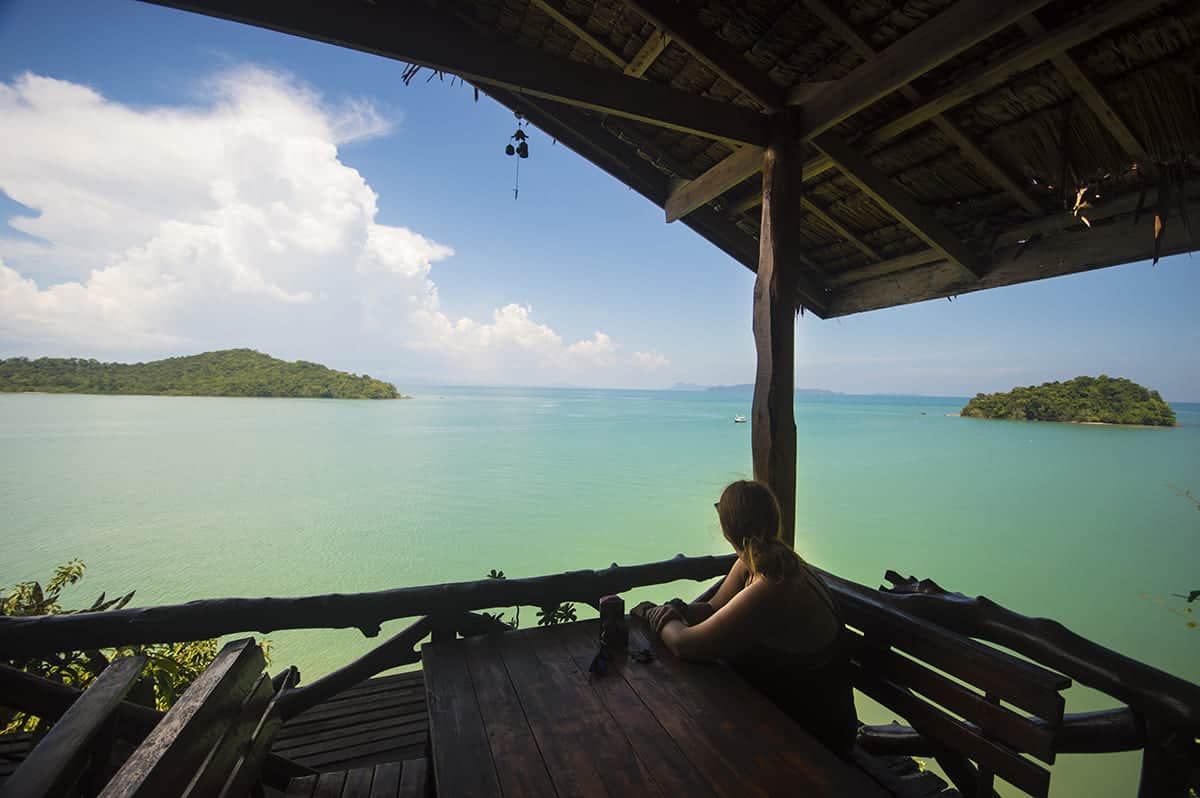 Find out everything you need to know for backpacking Thailand on a budget. Learn about [...]