Check out what the best elephant sanctuaries in Chiang Mai are during your visit to Thailand. Find out what makes an ethical elephant experience, the history of elephants in Thailand, the top elephant sanctuaries to visit, and more!
---
There is a crazy amount of Elephant sanctuaries in Chiang Mai. Walk down any street and you will be surrounded by travel agencies showing off their popular elephant experiences. Though, with so many options to choose from the experiences vary widely. Thailand itself has over 80 elephant camps, mostly in the North so it is important that you choose one which is best for you, as well as the elephants involved for your Chiang Mai itinerary.
As a traveler, it can be easy to get swept up in the moment and do something you may just regret later. I remember looking back at my parent's photos of them riding elephants in Thailand and cringing. Though this was back in the early 2000s when there was, unfortunately, a lack of knowledge and understanding of responsible tourism and access to information. When I then went on my backpacking trip to Thailand and was asked by my mother if I would too ride an elephant I said no and explained my reasons why.
Before we get into the top elephant sanctuaries in Chiang Mai and about responsible tourism I would just like to say thank you for researching this subject and taking it seriously. It is important we get the word out and encourage them to partake in responsible tourism by visiting ethical elephant sanctuaries.
---
The Best Elephant Sanctuaries In Chiang Mai: How To Have An Ethical Elephant Experience
---
Elephant Nature Park In Chiang Mai
Elephant Nature Park is no doubt the most popular elephant sanctuary in Chiang Mai. It is certainly known as one of the most ethical as well. It was opened in the 1990s by founder Lek Chailert who is widely known for her conservation work with elephants. Located 60 kilometers from Chiang Mai the property sits on a huge 250 acres giving the elephants a huge amount of land to live in.
How To Visit: I highly recommend booking as far in advance as possible if you are planning to visit Elephant Nature Park. Seriously, I missed out on trying to book 3 weeks in advance. They offer single-day visits at a cost of 2,500 THB per person which will involve transportation to the park. They also have an overnight stay which is 5,800 THB per person where you can wake up to the noises of elephants. If you are wanting to stay a little longer at Elephant Nature Park they also have a 7-day program and finally a dog rescue volunteer program as well.
Feeding Elephants: YES
Bathing Elephants: NO
Riding Elephants: NO
Office Location: 1 Ratmakka Road, Phra Sing, Chiang Mai 50200, Thailand
Website: View Here
View this post on Instagram
---
Elephant Freedom Project In Chiang Mai
Elephant Freedom Project is Chiang Mai is actually the first elephant sanctuary I visited in Chiang Mai when Elephant Nature Park was all booked out. This place is actually run by Elephant Nature Park and is one of their many projects within Northern Thailand. This is where Elephant Nature Park works alongside the elephant owners and local communities to showcase the benefits of ethical elephant experiences and demonstrate that this is what tourists want to see these days.
Located in the Mae Wang Area of Chiang Mai Elephant Freedom Project is an excellent way to get out of the city and into the countryside. You will get the chance to spend the day with about 6 amazing elephants and have them show you their home. The highlight for me doing this tour was going for a jungle walk with the elephants. This is where their individual personalities shine. The younger elephants would climb up the hills of the small valley and slide down, they seemed so happy.
How To Visit: Because there is so much choice you do not need to book the projects Elephant Nature Park offers so far in advance like you would do if you were visiting the actual park. You can do a single-day visit for 2,500 THB and children are half this price. Included in your booking are transportation and a vegetarian lunch.
Feeding Elephants: YES
Bathing Elephants: YES
Riding Elephants: NO
Office Location: 1 Ratmakka Road, Phra Sing, Chiang Mai 50200, Thailand
Website: View Here
BOOK NOW
---
Into The Wild Elephant Camp
Into The Wild Elephant Camp gives high importance to the well-being of elephants as well as the Karen Community. Employing locals it gives them more opportunities. They also give clothing and supplies to nearby local villages. For them, it is important that the elephants and locals are both respected and appreciated.
How To Visit: At Into The Wild Elephant Camp they have both full-day and half-day tour options.
Feeding Elephants: YES
Bathing Elephants: YES
Riding Elephants: NO
Office Location: 115 3 Room 1 Sri Poom Rd . Office at Hug Hostel, Chiang Mai 
Website: View Here
View this post on Instagram
---
Karen Elephant Retreat
Similar to The Elephant Freedom Project in Chiang Mai, The Karen Elephant Retreat is actually run by Elephant Nature Park. It is one of their many projects within Northern Thailand.
Located in the Mae Taeng Area it is less than an hour's drive to arrive at the sanctuary in the Chiang Mai countryside. While visiting you get to make some elephant food and go for an awesome jungle walk. It is a relatively steep climb uphill to where the bamboo is. The elephants loved throwing dust on themselves and ripping out the bamboo. Unlike the Elephant Freedom Project, we actually did 2 feeding sessions at the Karen Elephant Retreat as well.
How To Visit: Because there is so much choice you do not need to book the projects Elephant Nature Park offers so far in advance like you would do if you were visiting the actual park. You can do a single-day visit for 2,500 THB and children are half this price. Included in your booking are transportation and a vegetarian lunch.
Feeding Elephants: YES
Bathing Elephants: YES
Riding Elephants: NO
Office Location: 1 Ratmakka Road, Phra Sing, Chiang Mai 50200, Thailand
Website: View Here
---
Happy Elephant Home
Home to rescued elephants from the tourist trade they can now roam freely at Happy Elephant Home. This is one of the many ethical elephant sanctuaries in Chiang Mai I recommend visiting. It's easy to see the team here loves these elephants. You also get to wear traditional Karen clothing here so just be aware you will be expected to change on arrival.
How To Visit: There are a few different options to choose from when you at Happy Elephant Home. The first is the standard full-day tour which costs 2400THB. The second is a half-day tour which costs 1800THB. Lastly, there is the overnight option for those who really want to immerse themselves in the experience at a price of 5000 THB.
Feeding Elephants: YES
Bathing Elephants: YES
Riding Elephants: NO
Location: 74/1 Kuet Chang, Mae Taeng District, Chiang Mai 50150
Website: View Here
View this post on Instagram
---
BEES – Burm & Emily's Elephant Sanctuary
I have saved the best for last so if you're looking for ethical elephant sanctuaries in Chiang Mai you cannot do better than BEES. Founded in 2011 by Burm and Emily they have the elephant's best interest at heart. Emily's trip to Thailand inspired her to open it as she saw the conditions of the elephants which were giving tourists rides and performing tricks. The goal of the sanctuary is to allow elephants to actually be elephants and have natural behaviors. As a result, there is no bathing or riding of elephants.
How To Visit: They have 3 different options for programs. The first is 7 days running Monday to Sunday. They also have an overnight stay and a 3-night stay. This is so you can get the most out of your experience with the elephants and learn about how BEES operates. They provide plenty of educational activities and even though there is a hands-off policy with the elephants, you will be hands-on in caring for the elephants by making their food, observing their behaviors, and more.
Feeding Elephants: NO
Bathing Elephants: NO
Riding Elephants: NO
Location: 34 M1, Ban Thung Yaw, Tambon Chang Keung Chiang Mai
Website: View Here
View this post on Instagram
---
History Of Elephants In Thailand
Before we get into ethical elephant sanctuaries in Chiang Mai and responsible tourism I think it is important to understand the importance of elephants in Thai history and culture. This is because it is likely quite different from what you think as a foreigner.
Elephants in Thailand during the old times were an integral part of everyday life. Exactly how horses were too many of us, they allowed transportation and heavy lifting when vehicles and machinery were not an option, they were working animals. The presence of elephants is also a rich part of Thai culture and religion.
In 1989 the government banned logging in Thailand, an industry that heavily relied on the use of elephants. As a result over 4000 of these working animals were displaced and their mahouts were left without any income. With increased tourism in the 90s, the locals quickly realized the appeal of elephants to international travelers and thus the creation of elephant tourism. These travelers were more than happy to pay large amounts to interact with and ride these majestic creatures. Therefore encouraging an even greater movement into elephant tourism.
During this time in the 90s and early 2000s, the popular thing to do was watch an elephant performance or ride one. Though in the early 2010s, the opinion of travelers quickly changed as accessibility to information increased and animal rights groups gained traction. As a result, many companies had to transition quickly to keep up with new market demands as this experience was the top spot in many travelers Thailand bucket list. Though this doesn't necessarily mean they are an elephant sanctuary, something which I will touch more on below.
For a better understanding of elephants in Thailand and Southeast Asia, I highly recommend checking out the Southeast Asia Backpackers article.
---
What Makes An Ethical Elephant Sanctuary?
First of all, there is no law in Southeast Asian countries as to what is considered a sanctuary. If there was this could restrict what camps can call themselves. Therefore nearly every elephant experience you will come across in Chiang Mai will call itself a sanctuary. Though that is why it's important for you to research the sanctuary you are thinking about before visiting or even look into a few different options before deciding. That is why I am recommending a few different options so you can consider each one and choose which one suits you best.
The definition of ethical is "relating to moral principles or the branch of knowledge dealing with these". Relating this back to elephant experiences would be ensuring the company has the elephant's best interests at heart. Also that they create a safe and enriched experience for both the tourist and the elephant. Though balancing what is best for each animal and the tourist's interest is certainly a difficult balancing act. Especially on a subject matter on which many people have strong opinions.
My partner visited an elephant sanctuary in Phuket, though I choose not to do it as I had already been to one in Chiang Mai recently. On his return, he told me the sayings he was taught to tell the elephant, letting it know when to open its mouth for you to put food in, etc. This is an experience that was considered ethical and had great reviews online. Though learning about the commands made me question it as you would've needed to train an elephant to do this.
Unfortunately, the process to train an elephant is not a nice one. It is called Phajaan, breaking an elephant spirit or the crush and it is exactly as bad as it sounds. Often involving a young elephant as this is when they are the most impressionable resulting in them becoming submissive to humans. It is a form of torture that basically scares the elephant in hopes it will never disobey a human. Fortunately, with elephants being bred in captivity for tourism purposes, this tradition is slowly being phased out over the years. Many young elephants these days haven't experienced the phajaan and are instead learning behaviors from their mother.
Ultimately the most ethical elephant sanctuary will be one that provides the closest lifestyle as if the elephant was out in the wild. Yes, that may mean you may not get to interact with the elephant, but it's for a good cause.
---
Is Riding Elephants Ethical?
In terms of riding elephants for tourism, no it is not ethical. You should never pay for the experience to ride an elephant. Though in saying this you will find a few riding camps still operating throughout Southeast Asia. Western tourists for the most part no longer participate in riding. Though in other cultures they still consider it okay.
The exception when riding an elephant that could be considered ethical is if the mahout is riding it. A mahout is a dedicated career and has usually grown up alongside that elephant. They have a special bond and sometimes the mahout will ride the elephant if this is to gain control over the elephant or simply to catch a ride over a river.
---
Is Bathing Elephants Ethical?
The question of whether bathing elephants is ethical is something that has been in hot debate in recent years. Experts for the most part agree that bathing elephants is an unethical practice that needs to be phased out. Though there doesn't seem to be much of this passing out within the industry. It is still widely practiced. Though this is likely due to the demand for it by tourists. Just like riding, if we change our mindset of what we want in the experience the industry will begin providing for it.
It is still relevantly difficult to find elephant experiences that do not offer bathing on the tour. But you can always choose to sit out of partaking in this activity while we wait for it to die out.
---
Are Bullhooks Ethical?
This is another hot debate between experts and tourists. Check any TripAdvisor form and everyone is complaining about the mahout carrying their bullhook. I have personally seen scathing reviews of sanctuaries because of a bullhook. Looking from only the perspective of the tourist it can be easy to question this practice. I mean come on, they are basically carrying around a device whose main purpose is to hurt the elephant.
Though many experts claim this is a necessity to keep both the mahouts and tourists safe. Now you do get the overzealous mahout who may just like to have a little bit too much control. This is not okay. But, for the mahout having this device is literally a matter of life and death. No one wants a 4-tonne animal losing control. Using this on sensitive areas allows the mahout to quickly gain control over a situation that could've gone very bad. Unfortunately, there was a "no hooks" policy implemented at  Boon Lott Elephant Sanctuary. This is because they saw this is what tourists wanted. This resulted in the death of one of the owners when they couldn't regain control of one of their elephants. These deaths are actually common in "no hook" and "no ankus" elephant sanctuaries.
Personally, I think a bit more conversation is needed regarding the positives and negatives of bullhooks. I believe a lot of tourists likely just see a torture device, rather than a life-saving instrument which it can be when used correctly.
---
What To Bring To Your Elephant Sanctuary Experience In Chaing Mai
Camera: For sure a camera is a necessity when you are visiting one of the many excellent elephant sanctuaries in Chiang Mai. There will be some amazing moments so be sure to have your camera out to snap some amazing pics. It may also pay to take a spare battery and SD card! Trust me you will need them if you take as many pics as I do.
Sunscreen and Hat: The sun is hot out here in Chiang Mai so you will want to bring along some sunscreen and a hat. There will be a little bit of shade at whatever sanctuary you choose. Though if you want to be around the elephants it's likely you will be standing out in the sun for the majority of the day.
Bathing Suit and Towel: Now I don't recommend you partake in the bathing of elephants as it is not ethical. Remember we want the elephants to be living as close as they can to if they were in the wild. Though if you cannot stop yourself you will need to bring along a bathing suit and towel. Bathing the elephants can be a dangerous activity as you are up quite close to the elephants in the water so keep as much distance as you can.
---
Where To Stay In Chiang Mai?
You are spoiled with choices when it comes to choosing where to stay in Chiang Mai. There are countless luxury 5-star resorts, locally run guesthouses, and modern hostels. No matter your budget or the type of traveler you are there is something to fit all your needs.
On my most recent visit, I stayed at De Lanna Hotel. This is a mid-range hotel located in the heart of the Old Town. The location was fantastic and having a pool to enjoy during the afternoon heat was fantastic. Though on the complete opposite side, I also stayed in the cheapest available hostel on my first visit. The owner was great, but the facilities were less than, and I think it's probably a good thing it's shut down. Though just make sure to read reviews to stay at the best hostels in Chiang Mai.
I mainly choose to stay within the confines of the Old Town when choosing where to stay in Chiang Mai. This is definitely the best location if you are staying for a short period. Though if you are thinking about living in Chiang Mai you will want to stay further afield. The Old Town is within walking distance of many beautiful temples, excellent shopping, delicious restaurants, and the famous Sunday Night Market.
A modern and upscale hostel. From $13.00 per night including a fab breakfast.

BOOK NOW

A favorite with travelers. A hostel with all the amenities, from $6.00 per night.

BOOK NOW

Beautiful private rooms for $25.00 per night and in the heart of the city with a pool.

BOOK NOW

A walk from the city attractions, starting from $18.00 per night with an amazing pool.

BOOK NOW
---
LIKE IT? PIN IT!
---
Want more Thailand Inspiration? Check out….
---
Disclaimer: This post contains affiliate links. So, if you click on it and purchase something, I get a small percentage at no extra cost to you. As always all opinions are my own and your support is much appreciated.
Related Posts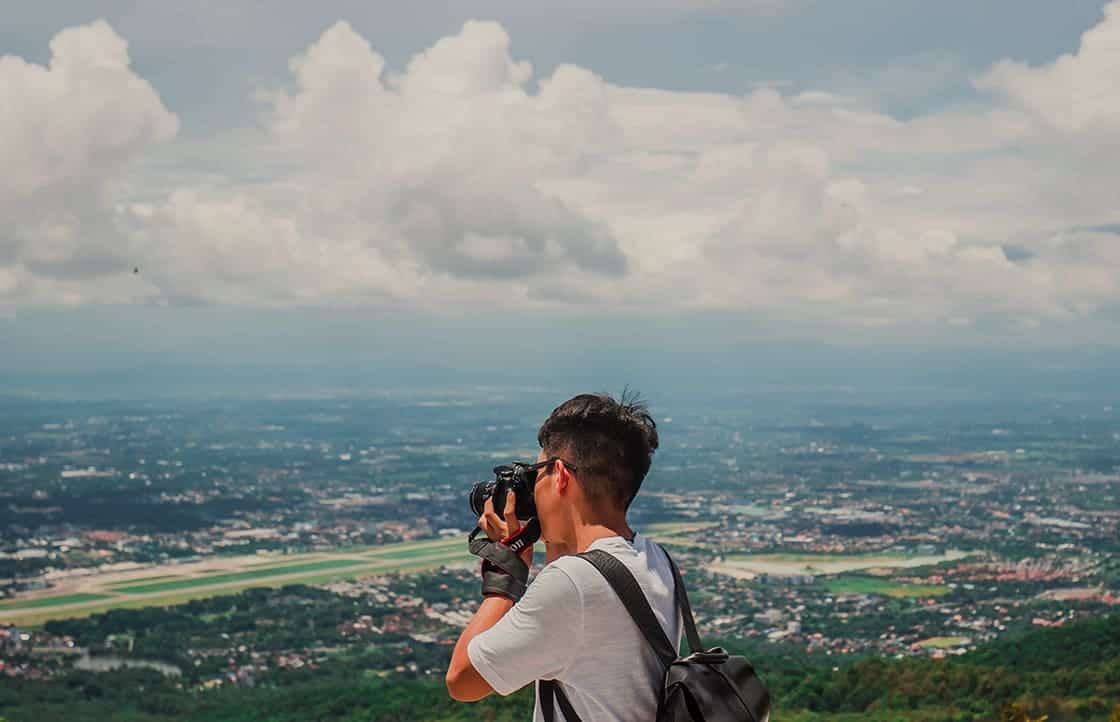 Share Tweet Pin Learn all you need to know about backpacking Chiang Mai on a [...]
1 Comment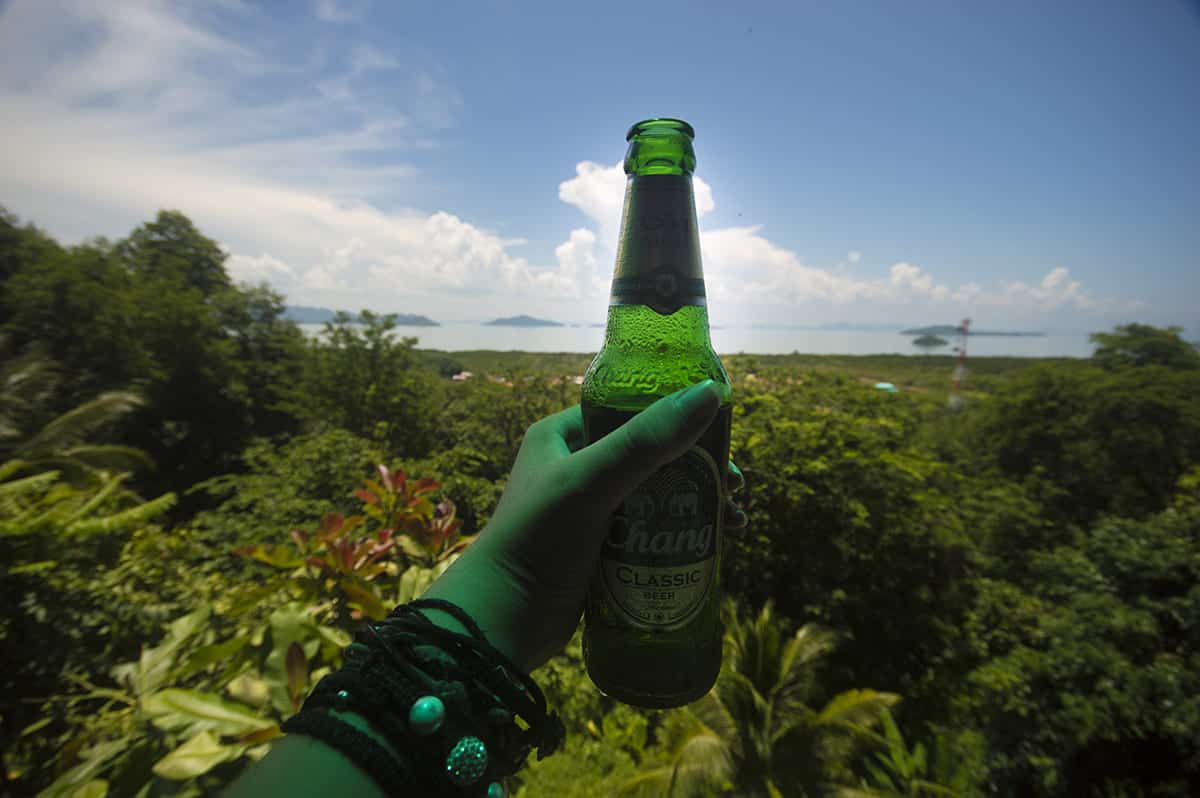 Come discover the ultimate island paradise by checking at our backpacking Koh Lanta itinerary. Find [...]
2 Comments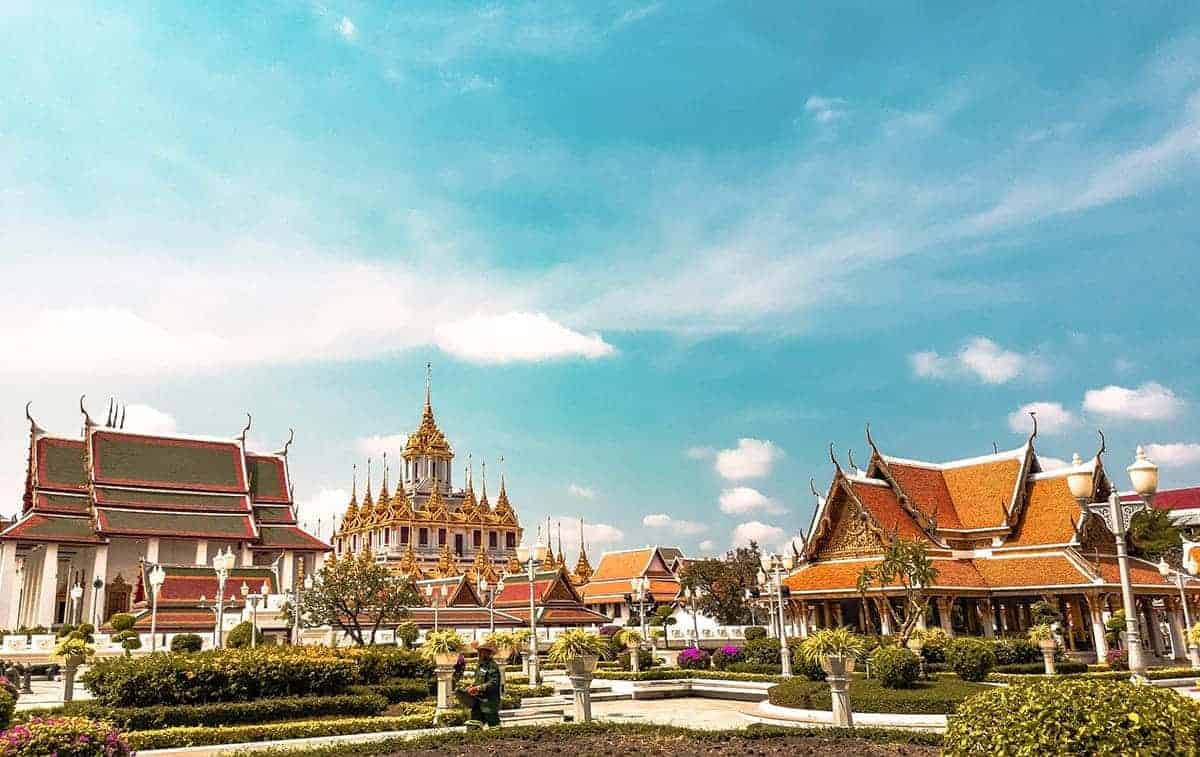 Learn all you need to know about backpacking Bangkok in Thailand. I will be giving [...]