Thinking of visiting The White Temple in Chiang Rai, also known as Wat Rong Khun? Find out absolutely everything you need to know such as how to get there, what to do, entry fees, where to stay, and more important information!
---
Head to Northern Thailand and you won't need to travel far before you are asked if you will be visiting the White Temple in Chiang Rai, also known as Wat Rong Khun.
This is a landmark in the region and no doubt the most popular attraction north of Chiang Mai. Though this is actually for a pretty good reason. The White Temple is darn impressive!
Not only does the outstanding architecture make it appealing, but it also has quite a lot of personality you could say. There will be moments of amazement and equal parts confusion during your visit. You may even leave questioning your sanity.
The White Temple is equally terrifying and beautiful. Though with all the fascination about the place it draws in huge crowds of tourists throughout the day. It is said that over a million people visit Wat Rong Khun each year which is huge as Chiang Rai isn't a city that is on the main backpacker trail in Thailand.
Though, to make the most out of your visit you will need to time it well so you miss out on the crazy number of tour buses that show up at about the same time each day.
So, let's get into all the important information about visiting The White Temple in Chiang Rai. From how to get there, tours, entry fees, what to expect, and more. This is certainly one spot to add to your Chiang Mai itinerary!
---
The White Temple Chiang Rai: All You Need To Know About Visiting
---
🚗 How I Book Cheap Transport In Thailand: 12Go Asia
---
The History Of The White Temple
You wouldn't think looking at it, but Wat Rong Khun is actually one of Thailand's original temples. Though at around the end of the 20th century, the building was in a pretty bad state and there wasn't enough money to repair it.
Luckily a local artist, Chalermchai Kostitpipat decided to rebuild the temple himself, with his own money. To date, he has spent 1080 million THB creating his vision. He believes that doing so will give him immortal life.
It took 120 volunteer builders, architects, and artists to create his vision. Though it isn't even finished! Currently, 4 parts have been completed. This is made up of the meditation hall, a hall of relics, accommodation for the monks, and an art gallery.
Though there is still plenty of work being done and more planned for the future with the hope of having 9 parts, they aren't even halfway completed. It actually is expected to be entirely finished in 2070!
An earthquake struck here in 2014 and caused quite a bit of damage. Enough so that Kostitpipat stated he was going to demolish the building. Though luckily engineers deemed it structurally sound and so repairs began.
---
Why Visit The White Temple In Chiang Rai
This is the part where I am meant to explain what makes the White Temple so special. Though the list would honestly be ridiculously long as the insane seems to become the norm when you enter the grounds.
You are surrounded by symbolism as each tiny detail and oddly out-of-place figure all have a deeper meaning.
While in Thailand you absolutely cannot miss out on the awe-inspiring beauty of the magnificent White Temple in Chiang Rai.
This remarkable architectural masterpiece is not just your ordinary temple – it's a harmonious fusion of traditional Buddhist temple elements and captivating modern art installations that will leave you utterly mesmerized.
Picture this: as you approach the White Temple, standing tall and majestic against the backdrop of a vividly blue sky, you'll be instantly captivated by its pristine white structure that gleams like a jewel in the sunlight.
The intricate details and exquisite craftsmanship will leave you in awe, as every corner reveals a new artistic surprise. This remarkable blend of ancient traditions and contemporary creativity truly makes the White Temple a unique masterpiece in the world of architecture.
But the White Temple is not just a feast for the eyes – it's also a place that tells an enthralling story. As you explore its grounds, you'll uncover a symbolic journey of life, death, and rebirth depicted through intricate sculptures and thought-provoking artwork.
Each element of the temple has a deeper meaning, inviting you to reflect on the profound mysteries of existence and the cycle of life. You are surrounded by symbolism as each tiny detail and oddly out-of-place figure all have a deeper meaning.
---
Why White?
First, let's answer the question why make it the White Temple? Well, this is because white is considered a pure color. Many other temples around Thailand are covered in gold.
Kostitpipat felt that gold was a color that was suitable for people who lust for evil deeds. The white is also simply stunning. Visit on a sunny day and you will need sunglasses. There are also thousands of small mirrored pieces of glass creating a glistening look.
The public toilets here are actually engulfed in gold, a sign of disapproval towards modern society's obsession with money and wealth. They are also known as the cleanest public toilets in Thailand. Though in my opinion, this wouldn't be a particularly difficult thing to achieve.
---
Explaining The Architectural Choices
The White Temple in Chiang Rai is certainly created in a more modern eclectic style, you won't find anything like this in other temples in Thailand that date back that far.
At the entrance of the temple, you will find a large pond with a bridge suspended over the middle. These ponds house fish which are so huge in size I had to look twice thinking they could be small sharks.
The small bridge is known as The Bridge of the Cycle of Rebirth showcases multiple religious figures and statues symbolizing anger and suffering. With hands stretching up to the sky in desperation. As you leave them you enter the main building guarded by two dragons.
This building is called the ubosot, and is quite small in comparison to the crowds who visit. Inside is where you can discover just a small taste of the weird which this temple is famous for. With walls adorned with murals of such things as Harry Potter and Michael Jackson. It is certainly quite a sight to see.
---
🚗 How I Book Cheap Transport In Thailand: 12Go Asia
---
Symbolism Within The White Temple
As with many great architects and designers, such small details at the White Temple have a larger meaning. The most obvious which we touched on earlier is the color. Whereas you'd usually find stunning bright-colored golden temples, here you have a grand white temple.
This is due to the fact that white represents purity. It's all about leaving behind Earth's temptations as you enter the temple.
Though as you may have figured out not everything at the White Temple is pure and white. You will also find plenty of visuals depicting images of Hell. Whether this is disembodied heads hanging from trees, skulls, and less than familiar monster-looking creatures crawling out of the grounds.
You may be wondering why you'd find Harry Potter and Michael Jackson murals in a temple. Well, these aren't actually the only ones, there's also Spiderman, Hello Kity, and many others. They all portray impure facets of everything in life, showing an imperfect society with no real happiness.
There are plenty of pop culture references within the White Temple. Because it is all so detailed you could literally stand there for 20 minutes just spotting different icons.
However one that may seem out of place is in the ground outside the main building, where you will find a metal statue of Predator. This is a satirical opinion on international politics, consumerism, and thoughtless towards nature.
---
Entrance Fee For The White Temple In Chiang Rai
The White Temple In Chiang Rai (Wat Rong Khun) has an entrance fee of $1.58 / 50 THB per person
It is well known that Kositpipat didn't want money to be a major influence in the building of the temple. This message of greed is also thoroughly represented throughout the decor. He actually even set limits on the amount of money that could be donated. The entry fee was only established in 2016 to cover maintenance costs!
---
White Temple In Chiang Rai Opening Hours
The White Temple in Chiang Rai (Wat Rong Khun) is open from 8 a.m. to 5 p.m. on weekdays and from 8.30 a.m. to 5.30 p.m. on weekends.
---
White Temple In Chiang Rai Dress Code
When visiting any temple in Thailand it is important to understand the dress code to show respect to the culture and those people visiting as part of their religion.
This is especially important for tourists as the locals are showing them a glimpse into their life and welcoming us into learning about their practices.
Please make sure your shoulders and knees are covered. This is applicable to all genders and is a sign of respect toward the Thai people. Shoes must also be removed prior to entering the temple.
If you have forgotten appropriate clothing that is okay. There are many vendors next door selling everything from pants to scarves, and souvenirs galore.
---
🚗 How I Book Cheap Transport In Thailand: 12Go Asia
---
Chiang Rai White Temple Tour From Chiang Mai
If you are not traveling further North than Chiang Mai and perhaps aren't traveling overland to Laos, then a day trip may be the best way for you to see the White Temple in Chiang Rai.
You can either book a day trip from one of the many travel agencies along the streets or in advance on websites such as Get Your Guide. They actually have a tour which is the White Temple & Golden Triangle Day Trip.
This is a full-day action-packed tour checking out not only the White Temple but many others in the region as well. The price is around $70.00 with lunch, transfers, and a guide.
---
How To Get To The White Temple From Chiang Rai
If you are already in Chiang Rai then it is pretty easy to get to the White Temple. It'll at least be a lot quicker to get there than having to travel from Chiang Mai.
Unfortunately, the White Temple isn't exactly in the city center where you will find the majority of hostels and hotels. It is actually about 12 kilometers down the road.
Essentially this means you will need to take some sort of transportation to get there:
Bus: If you are comfortable taking public transport then you can easily take the public bus to the White Temple. Just head to the Chiang Rai Bus Terminal number 1, also known as the Old Bus Station.
You will want to catch bus number 1246 which leaves every half hour between 10 am and 2 pm. You will know pretty quickly if you are on the correct bus as there is usually a white temple banner hanging off it. The drive to The White Temple takes around half an hour and costs $0.60 / 20 THB.
Grab Taxi: If you are perhaps limited on time or simply don't want to take public transport then it's easy enough to use the Grab Taxi App. If you have already been in Thailand a while it is likely you have already used it.
I prefer it over regular taxis as there's no miscommunication about where you want to go and less of a chance of getting scammed.
---
My Experience At The White Temple
I have actually visited the White Temple in Chiang Rai on two separate occasions. The first was back around 2017. We were taking a minivan from Chiang Mai to Chiang Khong and the van pulled into the temple grounds for a rest break.
I remember being absolutely overwhelmed by the number of people. It seemed like every bus, minivan, and taxi was here and the crowds were insane.
My second and most recent visit was a lot more peaceful and relaxed. I was traveling Southeast Asia with Stray Travel. As with any expert guide and a well-planned trip, they knew the exact moment to visit to avoid the majority of the crowds.
This was actually when all those tour bus groups went for lunch! We essentially had it to ourselves with only a few other random in the area. This is a rarity.
You can check out my experience in the video below:
---
What To Pack
You may think you can just rock up to a temple and just enter. Though there are a few things you will need to bring to the White Temple in Chiang Rai to ensure you make the most out of your visit.
Camera: Of course, you can't forget the camera. The White Temple is absolutely stunning and you will want to take plenty of photos. If you are finding things a bit bright with all the white try increasing the shutter speed.
Scarf: It's hot in Thailand so you can't be expected to cover up all the time. That's why a scarf is a perfect solution! You can quickly chuck it over your shoulders and take it off depending on where you are. I purchased my scarf at the Chiang Mai Sunday Market prior to visiting.
Pants: Unfortunately you can't really be seen changing pants in public so you'll be best off wearing them there when visiting any temple in Thailand. If you are looking for a more lightweight breathable option you can't go past the trusty backpacker elephant pants! They are a staple in any traveler's Southeast Asia wardrobe.
Sunglasses: As mentioned earlier, it'll definitely be worth bringing sunglasses along with you. The sun shining off the white facade can be super bright, add on top of this, thousands of sparkling pieces of glass and it can get a little overwhelming.
---
🚗 How I Book Cheap Transport In Thailand: 12Go Asia
---
Other Things To Do In Chiang Rai
Even though the White Temple may be the most popular thing to do in Chiang Rai, it is far from the only thing to do here. This is a bustling city where some travelers like to base themselves for a few days.
Whether you enjoy temple hopping, shopping, or a bit of nature, there is something for everyone in Chiang Rai.
Blue Temple: Similar to the White Temple, the Blue Temple is another popular thing to do here, and as the name suggests it is totally blue. Travelers seem to check this place out for the photogenic hues and giant blue Buddha.
However, I recommend staying here longer than just taking a couple of photos and checking out how incredible this place is.
Night Market: If you like a spot of shopping then make sure you check out Chiang Rai's Night Bazaar. Whether you are looking to buy some local handicrafts as souvenirs or feeling a little hungry and ready to eat some delicious local dishes.
This is certainly the place to be in the evening, both for tourists and locals alike!
Khun Korns Waterfall: For those nature lovers, you can't go past Khun Korns Waterfall. Located about 30 kilometers outside the city you will find yourself in the incredible Thai jungle.
Enjoy the 30-minute walk to the waterfall through impressive bamboo forests. This is actually the highest waterfall in the Chiang Rai province so it's quite a sight to see.
---
Where To Stay In Chiang Rai?
When it comes to where to stay in Chiang Rai, there are many different areas to explore!
If you are visiting Chiang Rai for the first time, you might want to stay in the Clock Tower area, which is the center of the city and the travel hub. You will be close to many restaurants, cafes, shops, and the night market.
Here you can also enjoy the nightly light show at the Clock Tower, which is a popular attraction in the area. The Clock Tower area has a variety of accommodation options, from budget-friendly hostels to boutique hotels.
If you are looking for a luxury stay in Chiang Rai, you should consider staying in the Riverside area, which is located along the Kok River and offers a tranquil setting with scenic views. It has some of the most luxurious accommodation options in Chiang Rai, such as hotels with pools, spas, and restaurants.
If you are interested in visiting the famous White Temple or Wat Rong Khun, you can stay in the South Chiang Rai area, which is close to this attraction.
You can also visit other temples and museums in this area, such as Wat Rong Suea Ten or the Blue Temple, Wat Huay Pla Kang or the Big Buddha Temple, and Baan Dam Museum or the Black House Museum.
An upscale and modern hostel. Enjoy this flashpacker accommodation, from $7.00 per night.

BOOK NOW

A relaxing location with beautiful grounds, from $8.00 per night including breakfast.

BOOK NOW

Beautiful private rooms from $27.00 per night and an incredible pool.

BOOK NOW

A boutique hotel, starting from $21.00 per night in a large modern room.

BOOK NOW
---
🚗 How I Book Cheap Transport In Thailand: 12Go Asia
---
LIKE IT? PIN IT!
---
Want more Thailand Inspiration? Check out….
---
Disclaimer: This post contains affiliate links. So, if you click on it and purchase something, I get a small percentage at no extra cost to you. As always all opinions are my own and your support is much appreciated.
Related Posts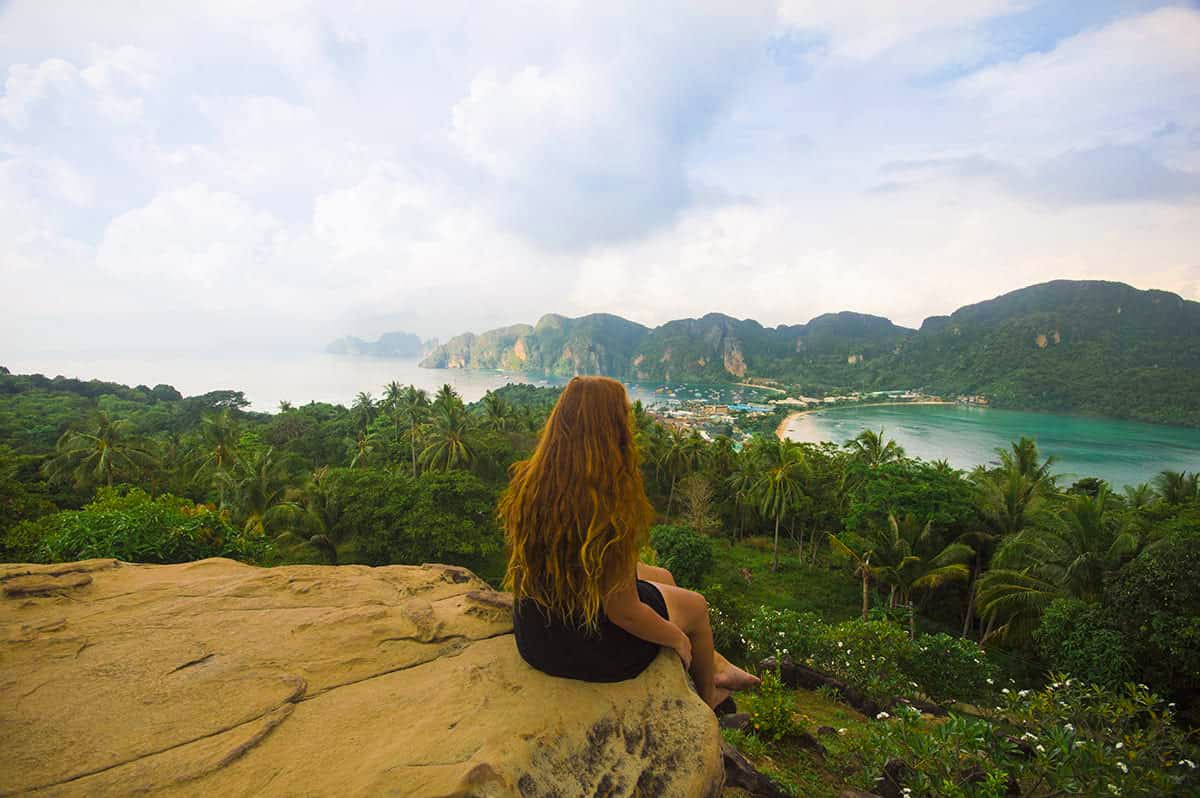 Come discover paradise, parties, and beaches as you are backpacking Koh Phi Phi. Find out [...]
Traveling Chiang Mai on a budget? Find out the top cheap eats in Chiang Mai [...]
17 Comments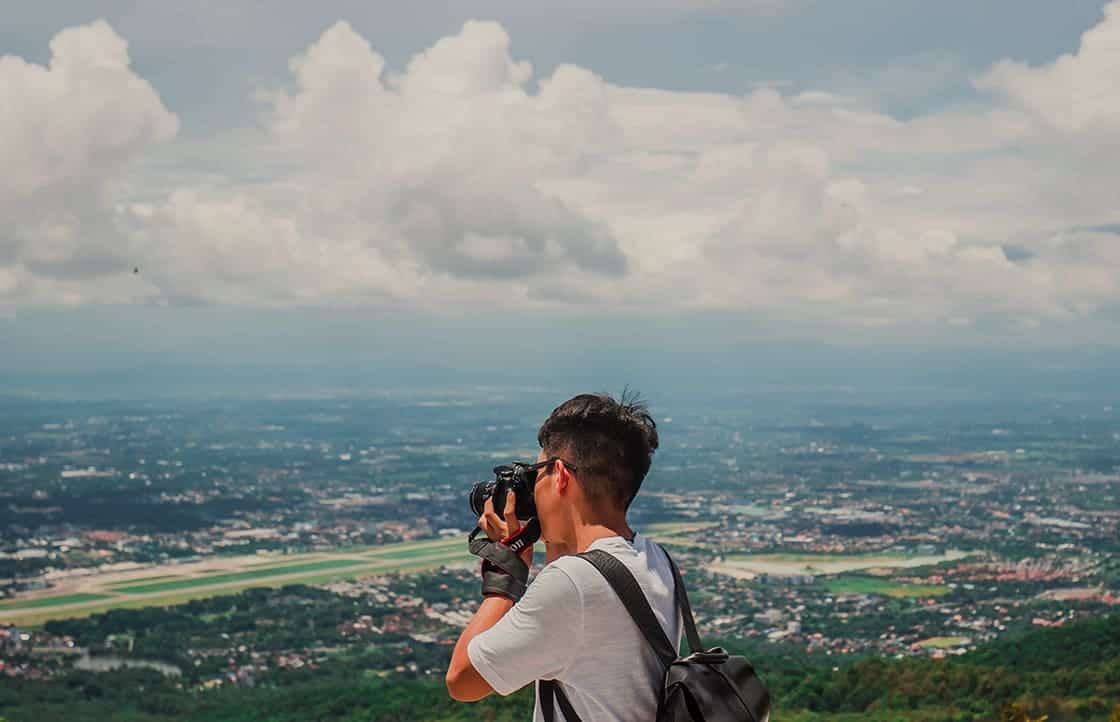 Learn all you need to know about backpacking Chiang Mai on a budget while in [...]
1 Comment