Find out everything you need to know about traveling from Ao Nang to Railay Beach. This island paradise is a must when you are in Southern Thailand. Let's find out how to get to Railay Beach From Ao Nang!
---
Ao Nang is a fantastic holiday destination on the coast of Southern Thailand. It's great for many travelers, from those on a budget to those who enjoy the finer things in life.
Though unfortunately even though Railay Beach is part of the mainland, it is not the easiest place to get to. It is not as simple as getting a taxi and driving a few minutes down the road.
To get from Ao Nang Beach to Railay Beach is only a few kilometers. But the journey does involve some time on the water which I will get into, so you can find out how to get from Ao Nang to Railay Beach.
What all travelers can get behind is that a day trip to Railay Beach is one of the best things to do in Ao Nang. I had an amazing time visiting Railay Beach and no doubt this is a special place. I have spent about 3 months in Thailand and even though this may be a touristy spot it is still beautiful.
There are also quite a few hotels on Railay Beach as well so you can spend a couple of nights out here exploring the incredible scenery. However, be aware because there is limited accommodation that prices can get a lot higher than what you'll find in the main towns of Ao Nang or Krabi.
---
How To Get To Railay Beach From Ao Nang
🚗 How I Book Cheap Transport In Thailand: 12Go Asia
---
How To Get To Ao Nang
Ao Nang is a beautiful beachside town located in Southern Thailand looking out over the Andaman Sea. There are plenty of things to do here and it's a great spot to spend a couple of days.
There is also the nearby Khao Phanom National Park which has incredible waterfalls and nature sprawled across 50 square kilometers of untouched land.
I thoroughly enjoyed the three days I spent in Ao Nang which of course included a day trip to Railay Beach. It is definitely one of the most popular things to do in the area, for a reason.
---
Krabi To Ao Nang
It's super easy to travel from Krabi to Ao Nang as they really aren't that far apart. The short 15-kilometer journey is relatively easy to make and there are multiple different transport options to choose from.
Taxi: A taxi you can find all around the city and will cost you around $10.00. There is also Grab which is a mobile app similar to Uber that you can use all over Southeast Asia. This is great for navigating language barriers and so you can know you are not going to be scammed.
Songthaew: The cheapest way to travel between Krabi and Ao Nang is definitely by taking a Songthaew. This is popular with both the locals and travelers. I have taken this songthaew on this journey and it was an awesome stress-free ride. The only minimally difficult part was finding the spot where you take the Songathew from. You will see the white songthaews either by the main mall or near the bus station. The journey only costs a couple of dollars and they will either let you off at Nopparathara Beach or right in the center of Ao Nang. Each one generally makes both stops.
---
Bangkok To Ao Nang
If you are in the capital of Thailand and you want to travel to Ao Nang the easiest, quickest, and the best way will be to fly. Krabi Airport is the nearest airport to Ao Nang.
However, if you are tight on money, unfortunately, a bus will be the cheapest option. It's a long and pretty painful 11-hour journey along the roads.
---
Koh Saumi, Koh Phangan Or Koh Tao To Ao Nang
Before arriving in Ao Nang I was actually staying in the Gulf Of Thailand in Koh Phangan. So this was the journey I took and it was surprisingly straightforward.
First of all, you will need to take a ferry from whichever island you are on to the mainland. From the mainland, you will be able to take a bus all the way to at least Krabi where you will need to take a transfer to Ao Nang.
I have actually done the entire journey with Lomprayah multiple times. It even includes a hotel transfer at the end which makes the whole travel day super stress-free.
The other alternative is getting yourself to Koh Samui where there is an airport. From there you can get a direct flight to Krabi and then get a transfer to your accommodation in Ao Nang. Though of course, this is the more pricey option.
---
Phuket To Ao Nang
Lastly, if you are staying in the popular tourist spot of Phuket you can still get to Ao Nang. In all honesty, the easiest way here will probably be getting a ferry across the sea to Krabi and then taking a songthaew to Ao Nang.
There are plenty of ferry operators and they have multiple departure times per day. The cost of this is around $25.00 and generally includes a quick pick up/ drop off in Koh Phi Phi.
---
Why Travel Ao Nang To Railay Beach
What makes Railay Beach the perfect day trip is how close it is to Ao Nang. All it takes is a simple long-tail boat trip to navigate between these two locations. Unfortunately, Railay Beach is not accessible by car or on foot.
Though taking a long tail boat is still an affordable and speedy way to travel. You also get some incredible views of all the little picturesque bays and huge limestone cliff faces.
---
Where To Catch The Long Tail Boat To Railay
To buy a ticket to get from Ao Nang Beach to Railay Beach you will need to go to one of the ticket counters. There are a few options here, though the closer you get towards Railay the shorter you will have to wait for the boat to fill up.
Noppara Thara Beach: The ticket counter here is located Between Wai Sang Seafood and Coffee Beach before the corner into the township, just before crossing over the red bridge. There is a small ticket counter when you turn down the driveway on the left-hand side.
Ao Nang Boat Service Point: This is located just before the corner heading towards Noppara Thara Beach, away from the main Ao Nang Beach.
Ao Nang Longtail Boat Service Club: This is located essentially in the center of Ao Nang Beach and will involve the shortest wait times as its the most popular.
After you have purchased your ticket you can wait in the restaurant and boat for a boat driver to shout Railay. This is how you know it's your turn.
Regardless of where you book, you may need to wander out quite a way to get onto the boat, over slippery rock pools.
If it's high tide you will need to get wet up to about your knees where you can then climb on board. The same thing happens at Railay Beach as well.
---
Cost To Travel To Railay Beach From Ao Nang
The ticket cost to Railay Beach from Ao Nang is $3.24 / 100 THB one way or $6.48 / 200 THB for a return trip. There is an additional $1.62 / 50 THB charge after 6.30 pm.
At the ticket counter, you can choose whether you would like a one-way ticket or a return ticket. If you decide to book a return ticket be aware that there will be a set time for your return trip to Ao Nang.
You can't just hang around Railay Beach until you are ready to leave. Generally, this is around 3 hours after your arrival time.
Personally, this is not enough time to enjoy the paradise which is Railay Beach. There are plenty of things to do there which I will get into below.
However, if you want to check out the scenery, grab a meal, and swim at a couple of beaches you will be pushed for time. Even though it is a relatively small area there are quite a few things to do and explore while you are visiting.
You can book a one-way ticket to Railay Beach and once there and ready to leave book another ticket back to Ao Nang for $3.24 / 100 THB.
This is actually a pretty good deal, as usual, things cost extra if you don't book a return journey all at once.
---
What Time Do The Boats From Ao Nang To Railay Operate
If you want to make the most out of your trip then you may find yourself wanting to travel from Ao Nang to Railay Beach pretty early in the day. This was the case for us, and was well worth it!
The longtail boats from Ao Nang operate from 8 a.m. to 6 p.m. seven days a week. This is perfect for the majority of travelers and day-trippers.
However, if you have a late flight arriving in Krabi and you want to travel straight to Railay then you will need to organise a private longtail boat. If you are in this situation your accommodation should be able to help you out with a reliable driver, just make sure to agree on a price in advance.
---
My Experience Traveling To Railay Beach From Ao Nang
We decided to get up early to travel from Ao Nang to Railay Beach by catching the first long-tail boat out there at 8.30 a.m.
For some reason, I can never manage to sleep in. This meant waiting around for 15 minutes or so until enough people turned up to fill up the boat.
Once the driver was ready he called up down to the shoreline where we walked out into the water and jumped onboard. There were 8 or so of us on the longtail boat.
The journey to Railay Beach only takes 10 minutes though the views are amazing you'll have your eyes staring at the shoreline the entire time.
Once we arrived at Railay Beach the driver let us know what time to meet back at the beach. Looking back now everyone was late to this meeting time as you do need at least a full half a day to really experience Railay, rather than a few hours.
🚗 How I Book Cheap Transport In Thailand: 12Go Asia
---
Things To Do In Railay Beach
Whether you are visiting for just a day trip to Railay Beach from Ao Nang or you've decided to stay here a couple of nights. There are plenty of things to do here to keep you entertained.
---
Railay West Beach
Railay West Beach will be where you arrive in Railay Beach from Ao Nang. Your long-tail boat will pull up alongside the beautiful white sand while you take in these mind-blowing surroundings.
This is definitely one of the best sights in Thailand. And yes, the photos do look like that in real life.
The long tail boats all lined up with steep cliffs and palm tree-covered beaches surrounding them. At Railay West Beach you can swim on either side of where the long tail boats park.
It's definitely the perfect place to swim and there is so much space to spread out so it feels a lot more private. Be aware that you can snorkel here.
However, if you decide to do so it's best to position yourself close to the rocks as the long-tail boat zip in and out quite fast. You don't want to get hit.
---
Railay East Beach
Railay East Beach is less of a swimming beach and one which you just wander past. There isn't much going on here apart from the wharf where larger boats arrive at.
---
Rock Climbing
Railay is actually a rock climbing hot spot and one of the best places across Thailand to participate in the sport.
Don't worry if you aren't a professional. There are some smaller beginner-sized rock faces that you can learn to climb.
If you are keen to find out more about rock climbing Railay I recommend checking out Backpacking Bananas video:
---
Phra Nang Beach
Phra Nang Beach seems to have a much different vibe than the main Railay Beaches. This is because it is a bit more secluded, tucked away through a little walk. Though that doesn't mean it's quiet. Not in the slightest.
Now I am not sure whether it was because we visited at high tide so there wasn't much beach, but Phra Nang Beach was absolutely packed when I visited.
It was actually hard to relax with so many people. Surprisingly the majority seemed to be Thai tourists, compared to the usual international traveler.
There is also quite an unusual feature of the penis cave. Yes, you read that correctly! The idea behind this is that these penis carvings are gifts by fishermen and locals as offerings to the princess of the cave who will bring them prosperity.
---
Railay Beach Viewpoint
As much as I love a good viewpoint, unfortunately, the Railay Beach Viewpoint is not the easiest to get to. Rather than a hike, it is more of a climb.
This is because a lot of the way you will be using a rope to pull yourself up the cliffside. Even though the entire trail is only 1 kilometer long it is not something for the faint-hearted to attempt.
If you are feeling brave enough to take on the viewpoint just make sure you are equipped. You will need proper shoes with a semi-decent grip, you won't get far in handles.
If you are extra brave, once at the top you can descend down into the secret lagoon. This is in no way safe, especially if there has been rain so proceed with caution.
---
Kayaking The Cliffsides
You can definitely go kayaking from Railay West to check out things slightly further afield. You can rent kayaks from Railay West Beach either by the hour or per day.
There are lots of little tunnels and passages to explore on the rock faces which make it worth hiring a kayak for a couple of hours.
Rates start at $6.48 / 200 THB and increase by $3.24 / 100 THB for each additional hour. You can do a full-day hire for $25.93 / 800 THB.
---
Sunset On The Beach
What better way to finish your day trip to Railay Beach than by watching the sunset. Either gather down by the shoreline or time your boat ride back accordingly and watch the sun dip below the horizon.
---
Make Monkey Friends
There are plenty of monkeys around which call Railay Beach home. If you want to find them your best bet will be along the trail to Phra Nang Beach.
They seem to chill here and check out the tourists as they walk past. Be aware that you're best not to carry food around them. Also, avoid plastic bags as they associate this was food.
As cute as monkeys are keep your distance and do not feed them.
---
Where To Stay In Railay Beach?
One thing I regret is not booking to stay at Railay Beach overnight. This secluded spot is absolutely incredible and I would love to watch the sunrise and have the beach all to myself.
Therefore I highly recommend you stay one night if you can afford it. Just be prepared that prices here are higher than in other places on the mainland due to the isolation.
Unfortunately, you will not be spoilt for choice when booking accommodation in Railay. This is because it is only a small area with a limited number of accommodation options.
Though luckily there should be something for nearly every budget.
The cheapest choice you'll have is Rapala Rock Wood Resort. Here you can find a basic private room starting from $10.00.
At this stage, there are not any hostels operating on Railay Beach. This is likely due to it being more of a honeymoon spot than a backpacker's spot.
If you are looking for something a tad more luxurious you only need to up your budget to about $25.00 per night for plenty of other options. This includes Avatar Railay which is an adults-only resort.
A cheap and cheerful option. From $10.00 per night for a basic room.

BOOK NOW

A favorite with travelers. A with all the amenities, from $26.00 per night.

BOOK NOW

Beautiful and modern rooms for $60.00 per night with a pool.

BOOK NOW

For a luxurious and romantic holiday. Rooms starting from $65.00 per night.

BOOK NOW
---
FAQs About Traveling Ao Nang Beach To Railay Beach
Is Ao Nang or Railay Beach better to stay?
Each Ao Nang and Railay offers something slightly different, but if you want a special experience in Thailand I highly recommend Railay Beach. It is a magical spot, but you will need to budget for it!
How do I get from Ao Nang to Railay Beach?
You can easily take a long-tail boat from Ao Nang to Railay Beach. It takes a quick 15 minutes and you'll arrive on Railay West. There are also boats from Ao Nang to Tonsai Beach and Phra Nang Beach but they are less frequent. A one-way ticket will cost 100 baht.
Can you walk from Railay Beach to Ao Nang?
No, you can't walk from Ao Nang to Railay Beach. Railay is surrounded by cliffs and can only be reached by boat. No road or path connects Railay Beach to Ao Nang, and the distance is too far to swim. You will need to take a longtail boat.
How much is the ticket from Ao Nang to Railay Beach?
A ticket to Railay Beach from Ao Nang is $3.24 / 100 THB one way or $6.48 / 200 THB for a return trip. Be aware there is an additional $1.62 / 50 THB charge after 6.30 p.m.
How long is the boat from Ao Nang to Railay Beach?
The boat ride from Ao Nang to Railay takes between 10 to 15 minutes and you'll be dropped off on Railay West. 
Is Railay Beach worth visiting?
Railay Beach is a gem in Southern Thailand with gorgeous landscapes, beautiful beaches, amazing viewpoints, and awesome jungle trails. It is definitely worth doing a day trip to Railay Beach or staying overnight if you can afford it.
Why is Railay Beach so popular?
Railay Beach is so popular thanks to its stunning landscapes such as its beautiful limestone cliffs which surround this secluded paradise and attract many rock climbers. You can also find beautiful beaches, epic viewpoints, and jungle trails filled with monkeys.
Can you swim at Railay Beach?
Yes, you can swim at Railay. The Pensuila of Railay is divided into three parts of which you can find Railay West Beach and Phra Nang Beach, both of which are excellent places to swim.
Which part of Railay Beach is best?
Railay West Beach is the most famous and popular beach, with a long stretch of white sand, calm and shallow water, and stunning views of the limestone cliffs. No doubt this is the spot for the typical Thailand photograph with the colorful tail boats lined up.
🚗 How I Book Cheap Transport In Thailand: 12Go Asia
---
Long Tail Boat From Ao Nang To Railay Beach With Ease
Now you should know all there is about traveling to Railay Beach from Ao Nang in Thailand. Luckily enough it is a pretty simple route, so you can't go too wrong.
However, with my tips, you should be able to make the most of this paradise adventure. Whether you decide to stay in Railay Beach for multiple nights, or perhaps are just doing a day trip, no doubt you are in for a great time!
---
LIKE IT? PIN IT!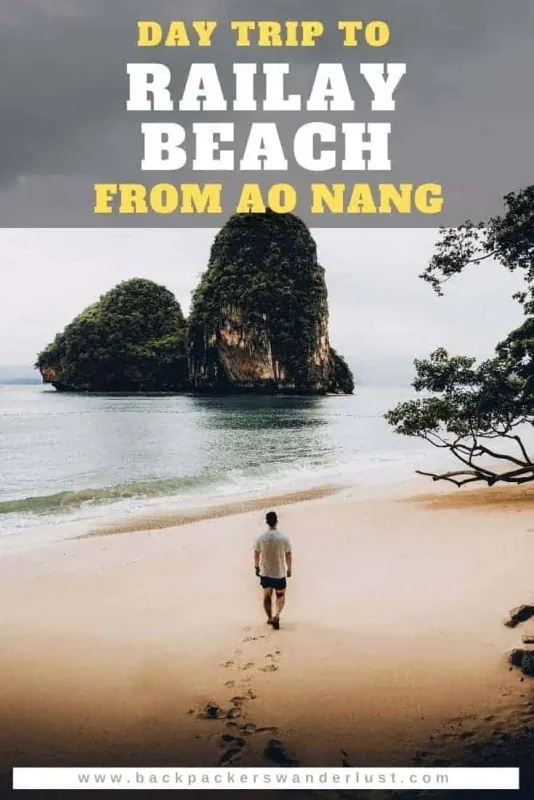 ---
Want more Thailand Inspiration? Check out….
---
Disclaimer: This post contains affiliate links. So, if you click on it and purchase something, I get a small percentage at no extra cost to you. As always all opinions are my own and your support is much appreciated.
---
Related Posts
Want to explore the best beaches in Koh Phangan? From my favorite beaches, the best [...]
8 Comments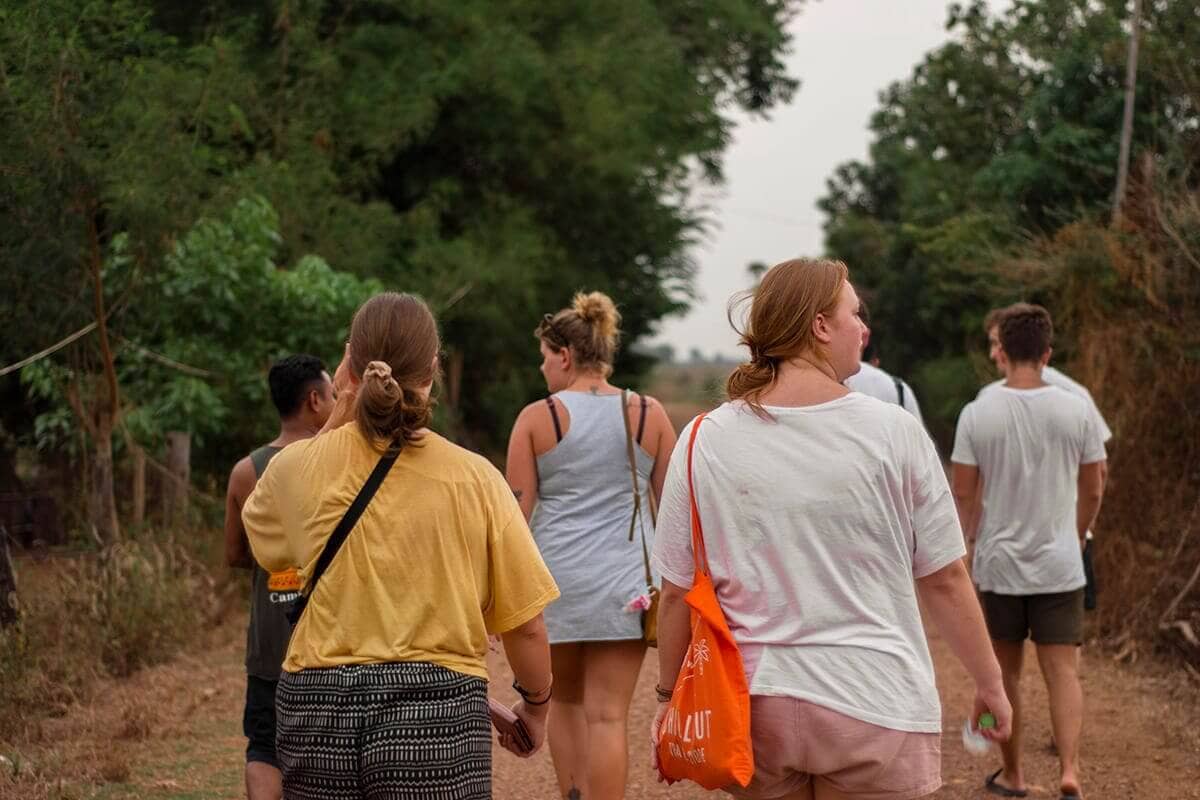 Find out everything you need to know about traveling South East Asia with Stray Asia. [...]
4 Comments
Find out what is the perfect 2 days in Bangkok itinerary to ensure you have [...]
1 Comment