Thinking of taking a Koh Tao snorkeling tour while you are on this paradise island? Find out absolutely everything you need to know such as what company to book, prices, where you will visit, and what to expect!
---
While you are on the beautiful island of Koh Tao you will see all the travel agencies offering various snorkeling tours. This is one of the more popular things to do here. Though be aware it is definitely more on the family-friendly activity side than the backpacker adventurous side.
This is due to the majority of travelers in Thailand who make their way to Koh Tao generally do so to get PADI certified. Koh Tao is both an underwater paradise and one of the cheapest places in the world to become qualified, bonus. As a result, the majority of backpackers will come here to go diving rather than snorkeling. Though if you have limited funds as I did, you may find a snorkeling tour in Koh Tao being your only option.
As much as I would love to become PADI certified someday, that day has not come yet. In the meantime, I will continue partaking in various snorkeling tours around the world. Awkwardly floating on the surface and diving down a few meters before quickly swimming back up to catch my breath.
Nevertheless, I will let you know the good, bad, and ugly of taking a Koh Tao snorkeling tour. Unfortunately, it wasn't all picturesque waters and a stress-free day. It actually started off pretty good, but unfortunately didn't end so great.
So, let get into all the important information about taking a snorkeling tour in Koh Tao. From the different companies, prices, stops you will visit, what to expect, and more. So let's get into it so you can decide whether to add this to your backpacking Koh Tao itinerary!
---
Koh Tao Snorkeling Tour: All You Need To Know
---
How I Book Cheap Transport In Thailand: 12Go Asia
---
Why Snorkel In Koh Tao
Well if you haven't figured out why exactly you should snorkel in Koh Tao, it's cause this place is known for having an insane underwater world, it's one of the best snorkeling spots in Southeast Asia. With rocky coasts and inaccessible beaches, it allows life under the surface to absolutely flourish.
Just doing a small amount of research into Thailand will lead you to quickly discover how popular Koh Tao is with those travelers interested in snorkeling and diving. Clear waters provide amazing visibility and with such an assortment of fish to discover! This is a popular activity with all types of tourists.
If you are perhaps not a fan of diving or simply don't have the budget or time, then doing a day-long snorkel tour is a great alternative. Sure there is a huge difference between snorkeling and diving, but as an alternative for budget travelers, it is certainly a good option.
---
What Company To Book With
There is a variety of companies you can book your snorkeling tour on Koh Tao through. Seriously, they are dotted all around the island. If you head to the main port area of Mae Haad you will see all the diving stores and tour agencies offering such excursions all lined up along the street side.
Now, most of these tours are the same. They all seem to make the same stops, just perhaps in a slightly different order. This means you don't worry about overthinking which one to book your snorkeling tour with.
Unfortunately or fortunately, I visited during Songkran which is the Thai New Year. During this period many locals travel back to their hometown to spend some time with their families. It was a great vibe spending this time celebrating on Koh Tao. Though as a result, we were very limited in choosing a company to book with. Actually, every single office was closed. Therefore to book a tour we just showed up at a random hostel, chatted to the reception and they booked us in.
Though there are a few options if you are able to choose. This includes We Travel Snorkeling Adventures, U&I Place, and Oxygen Tours.
---
Price Of A Koh Tao Snorkeling Tour
These are the prices for the above snorkeling tours in Koh Tao:
We Travel Snorkeling Adventures: $29.00
U&I Place: $52.00
Oxygen Tours: $29.00
Essentially all these tours visit the exact same places, though will do so in a different order so that there is minimal overlap and not too many excited travelers swimming around. They all visit the same bays which I will explain further below and they also included a cooked lunch and drinks.
---
My Experience With Oxygen Tours
So if you read above, I, unfortunately, didn't get too much choice when it came to who I was to book my Koh Tao snorkeling tour with. It just so happened that the hostel we booked our tour through was with Oxygen Tours. Oxygen Tours and We Travel Snorkeling Adventures are the two most popular companies on the island to book with.
Personally, we ended up paying $20.00 for our snorkeling tour. This is because you will find prices are cheaper when you are physically on the island versus what you can find online. Though by doing this you risk that they may become all booked out, especially in the high season.
---
Arriving With Oxygen Tours
As we wandered down the hillside to the Oxygen Tours office it was pretty easy to spot. A large pile of tourists chilled along the roadside at the painful hour of 8.30am. At least it's painfully early when you are on holiday.
Unfortunately, this wasn't the small number of tourists I was used to doing tours with. Instead, there were are 30 other travelers we would be sharing one decent-sized boat with and unfortunately just one toilet.
Next, our names got checked off a list and we are given a snorkel that would be ours for the day. Once everyone was ready which did take some time we walked down to the wharf in one big group to Oxygen Tours boat.
Though to get to our boat meant "walking the plank" from the wharf across to another boat, and then over another wooden plank to finally the boat we would be venturing the island on today. Unfortunately my partner James just happened to drop his snorkel in the water between these two boats. Though one of the staff quickly sprung into action, dived in, and grabbed it. Thank you, Sir!
---
Nangyuan Island
Our first stop of the day is Nangyuan Island. It is a quick 20-minute boat ride here from Koh Tao and an awesome way to take in the sights. We saw plenty of fishermen doing their morning catch.
If you have never heard of Nangyuan Island before it is just perfection. White sandy beaches, lush jungles, and crystal blue water. The photos from here are the ones you see plastered all over Pinterest and Instagram. Problem is, that with this comes the hoards of travelers keen to check it out and snap pics for the gram.
Though be aware there is a 100 THB / $3.00 entry fee for Nangyuan. You are also not allowed to bring plastic bottles in and yes your luggage will be searched. It was actually quite complicated to enter this little island paradise. Though once all the admin side of things is completed we begin with exploring.
First up is the impressive Nangyuan lookout point. Unfortunately, it seems like everyone else had this idea as the queue to the top point is about halfway up the track. Nevertheless, we wait patiently and move forward inch by inch. At the top, a couple of gentlemen help us navigate the rocks. I hate to say it but the view is definitely worth the climb and waiting in the heat. Though be aware you will only get a minute or so up the top before you will need to descend to let the next group up.
Back down on the beach, it is time to cool off with a dip in the ocean. As there are a few different tour boats here it is quite busy and difficult to find an empty patch of sand. We manage to duck around a corner and find a more sheltered and quiet part to swim in. There isn't too much in the shallows in terms of snorkeling. Though there is the occasional curious fish,
After a couple of hours and purchasing some crazy overpriced water we head back to the boat.
---
Mango Bay
It's a nice little boat ride to Mango Bay with only one other tour boat in the area. This is quite different from Koh Nang Yuan where there seemed to be 5+ other boats.
We are told this is one of the best spots on Koh Tao to go snorkeling which gets everyone excited. The water to perfectly clear even though it is pretty deep. Luckily Oxygen Tours provides life jackets and noodles to those who aren't confident swimmers.
There are rather large coral formations on the side of the rocks. Here is where numerous fish call home. We were even lucky enough to spot some clownfish.
The team on the boat jump in with you, make sure everyone is safe and points out anything of interest underneath the surface.
---
Hinwong Bay
What makes Hinwong Bay special is the large assortment of fish which seem to gather here. Thousands of them in large schools create dark shadows all around you.
After a quick dip, we jump out to enjoy a warm cooked lunch. This was in the form of a large buffet of rice, stir fry, and fresh fruit to keep everyone happy.
---
Ao Leuk
On our journey over to Ao Leuk the weather, unfortunately, changed quite a lot. We were traveling Thailand in the wet season so in the afternoons it's quite normal for storms to roll in seemingly out of nowhere. As a result the seas suddenly got rough and the air temperature dropped. This meant the wind was super chilly, in stark contrast to the weather when we boarded this morning.
The not-so-fun part of this is that we were all wet from the previous stop and now shivering cold. Unfortunately, as a result, the water was too rough to stop in at Ao Leuk. Being a bay with rocks all around they were worried the winds could push the boat around too much.
---
Shark Bay
Luckily as Shark Bay is a relatively open area we could safely stop here for our last stop of the day. Though going all the way from Hinwong Bay to Shark Bay with no shelter on the side of the boat was quite a cold and long journey. We wrapped ourselves in half wet towels and cuddled up to create warmth.
Taking the last plunge of the day there is some excitement in the air about the possibility of spotting a shark. Though little did we know the best chance of seeing a shark here is during the morning, not on a stormy afternoon.
The seafloor here is relatively barren. With waves crashing and white caps forming it was far from the best swimming conditions. I am luckily a pretty good swimmer, at least good at being buoyant. Unfortunately, my partner, James isn't the same, and with waves creating difficulty, he has a panic attack so we both head back onto the boat together.
---
What To Pack On Your Koh Tao Snorkeling Tour
There are some things its best to take along with you on your snorkeling tour in Koh Tao to make the most out of your experience:
Camera: Of course, you can't forget the camera. You will want this when you are visiting Nangyuan Island. This place is absolutely incredible and if you are going to hike to the viewpoint then you will want to capture to view.
Go Pro: For sure bring along your Go Pro if you have one. The underwater world here is pretty damn good. You will regret not bringing along your GoPro at your first snorkel spot.
Jacket: Yes I know you are exploring paradise under the hot Thai sun. But seriously the weather here can change fast and trust me there is nothing worse than being stuck in the elements with the wind blowing against you as you are shivering away.
Towel: Bring along your towel! Even bring two! You'll be in and out of the water all day and it's likely your towel won't completely dry properly between swims. If you are cold you can also wrap it around you.
Sunblock: Let's avoid looking like a lobster and bring a reef-safe sunblock along with you!
Sunglasses: It'll definitely be worth bringing sunglasses along with you. The sun shining off the sea can be super bright so protect your eyes by bringing along a pair of sunglasses.
---
Other Things To Do In Koh Tao
There are so many things to do here in Koh Tao, you won't be bored. You can check out my full Koh Tao itinerary to help you plan your stay on the island. Though here are a few favorite activities to get you started:
---
Get PADI Certified
One of the most popular things to do in Koh Tao and why many people travel here is to get PADI certified. Koh Tao is known as one of the cheapest places to get your PADI license in the world with it costing as little as $300.00. As a result, it attracts thousands of backpackers every year looking to gain some new skills exploring life under the water.
---
Ang Thong Marine Park
If you snorkeled all of the beaches while in Koh Tao why not head out a bit further afield on a day trip to Ang Thong Marine Park. This is a popular trip for people to take when staying in Koh Tao, Koh Phangan, or Koh Samui. It is made up of 42 separate islands and is one of the best spots to snorkel in the Gulf of Thailand. Prices generally start around $30.00 for the day trip on a group tour.
---
Pub Crawl
Being such a small island with relatively limited things to do, partaking in the famous Koh Tao pub crawl has become a bit of an institution for backpackers in Thailand. It is a pretty cheap thing to do here and you will also receive a free teeshirt or singlet. It is a great way to meet new people as well, especially if you are traveling solo.
---
Where To Stay In Koh Tao?
Koh Tao is a beautiful island full of tropical beaches and small towns. As a result, you will find when booking there are a wide variety of options of where you book your accommodation in Koh Tao. Here is a small glimpse of popular locations are what you can expect when staying there:
Sairee Beach: Sairee Beach is one of the more popular places to stay in Koh Tao simply because this is where the majority of accommodation options are located. You will find plenty of delicious restaurants and cafes here. There are some quaint bungalows here as well as a handful of hostels for backpackers on a budget.
Mae Haad: Mae Haad is the main area of Koh Tao and where all the ferries depart from. I stayed in this area on my first trip to Koh Tao and found the options quite limited. There wasn't a whole heap of restaurants to choose from and the beach was at the main port so it wasn't really an option. There are more hostels here as well as a few affordable resorts. I stayed in Baan Rock Inn for $20.00 per night which I shared with my partner.
Chalok Baan Kao: Away from the township in a more peaceful location is the area of Chalok Baan Kao. Here you will find more affordable beachfront bungalows. This is definitely an area for backpackers who want to be more in nature and the seaside without having to pay ridiculous prices.
Ao Thian Og: If your budget isn't a limit, it's likely you will be staying in Ao Thian Og. This is a super-luxurious area with some of Koh Tao's best resorts and hotels. A night here will cost you a few hundred dollars.
One of the cheapest hostels around. From $8.00 per night in a shared dorm.

BOOK NOW

A modern guesthouse. From $20.00 per night in the main town.

BOOK NOW

A hostel set in nature with an incredible pool. From $15.00 per night for a shared dorm.

BOOK NOW

A beautiful beachfront location from $15.00 per night for a basic fan room.

BOOK NOW
---
How I Book Cheap Transport In Thailand: 12Go Asia
---
LIKE IT? PIN IT!
Want more Thailand Inspiration? Check out….
Disclaimer: This post contains affiliate links. So, if you click on it and purchase something, I get a small percentage at no extra cost to you. As always all opinions are my own and your support is much appreciated.
Photo credit: "snorkeling koh tao"  (CC BY 2.0) by Jeremy Leneveu. "snorkeling, koh tao"  (CC BY 2.0) by jajaja nenene. "snorkeling, koh tao"  (CC BY 2.0) by jajaja nenene & "snorkeling, koh tao"  (CC BY 2.0) by jajaja nenene.
Related Posts
Find out how to see the best of this paradise island with our perfect backpacking [...]
1 Comment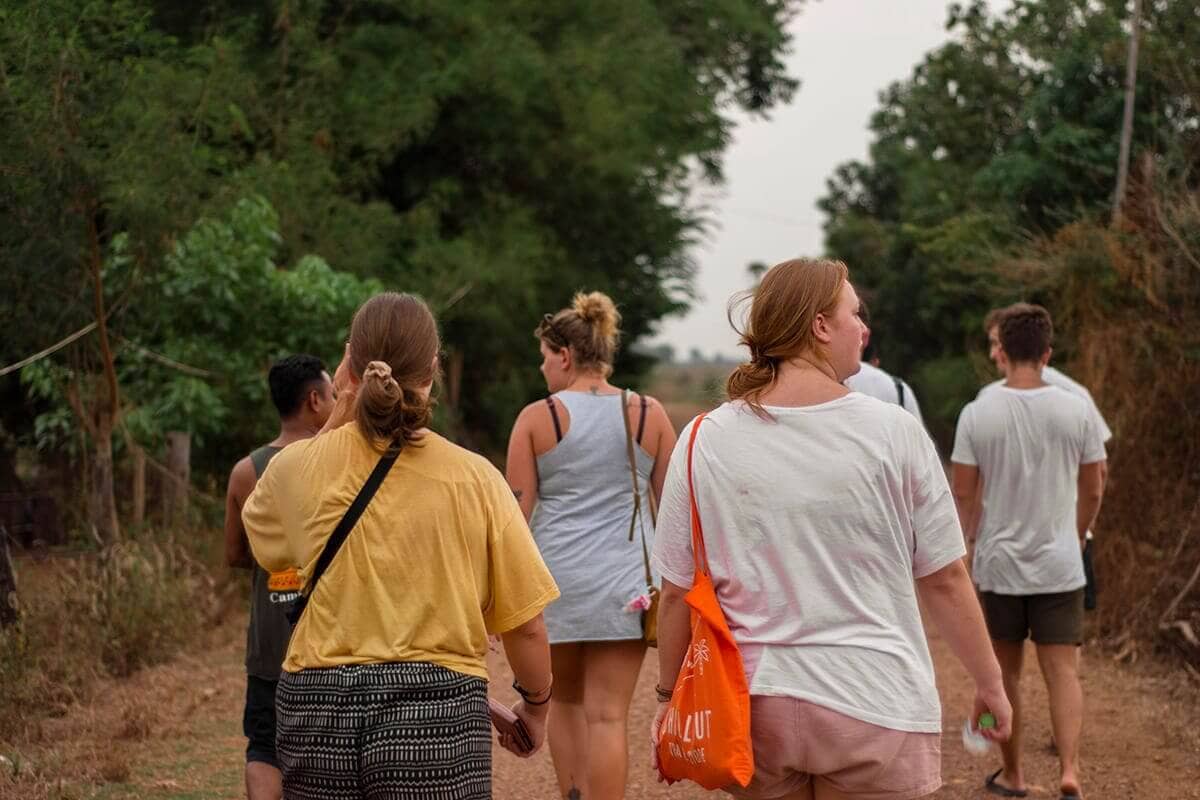 Find out everything you need to know about traveling South East Asia with Stray Asia. [...]
4 Comments
Find out everything you need to know about traveling from Khao San Road to Suvarnabhumi [...]
3 Comments