Find out how to travel from Krabi to Koh Phi Phi. Whether you are looking to take a ferry or a speed boat. So, let's find out prices, booking tickets, the best companies and more!
---
Southern Thailand is an absolute gem you must check out while you are exploring this impressive country. From the beautiful beaches to the lush tropical jungles, it's really something else. Koh Phi Phi is a tourist hotspot that must be on nearly every person's Thailand itinerary. Made famous thanks to the nearby Maya Bay and is an absolute picturesque spot.
Though how exactly do you travel from Krabi to Koh Phi Phi? Obviously, being an island you will need to take some sort of boat service to get there? But which one is the fastest? Are there any unsafe ones and how do I go about booking tickets? I will answer all this and more below in this guide for how to travel from Krabi to Koh Phi Phi.
| | | | |
| --- | --- | --- | --- |
| | Time | Cost | Highlight |
| Ferry | 2 hours | from $12 | Cheapest journey |
| Speed Boat | 1 hour | from $20 | Fastest journey |
I visited Koh Phi Phi towards the end of my travels in Southern Thailand and it was definitely different than all the other islands I had been to at that point. This was a mecca for travelers who like to party and those who are in Thailand for a drunken good time. Honestly, it wasn't what I was expecting, as I don't really drink that much anymore. Though we managed to make our own fun and because we were traveling in the wet season the rains usually appeared during the evenings anyway, so everyone retreated to their rooms.
---
How To Get From Krabi To Koh Phi Phi
---
Krabi To Koh Phi Phi Distance
Once your Krabi itinerary has come to an end and you are trying to figure out where to go next, why not choose Koh Phi Phi? They are relatively close together and thankfully it is relatively simple to work out the distance from Krabi to Koh Phi Phi. This is because there is only one real route you can take to get there. Though depending on what type of boat you decide to book will affect how long this journey actually takes. For example, a speed boat is a lot quicker than a local ferry.
Though if you are short on time you can do a day tour to Koh Phi Phi, this is actually one of the best tours in Krabi and is super popular among travelers on a strict itinerary.
All in all the journey itself is roughly around 45 kilometers over the Andaman Sea. This is likely to take you somewhere between 30 minutes to 2 and a half hours depending on the type of boat you booked. Also, be aware that if you are traveling during the wet season this trip may take longer again thanks to the ocean currents and waves being a lot more aggressive than during the dry season.
Just be aware in Thailand you can't rely on things to run on time. Therefore you are best to give yourself an extra hour than stated on your ticket to complete this journey.
---
Ferry Schedule Krabi To Koh Phi Phi
Here is a breakdown of the ferry schedule from Krabi to Koh Phi Phi. Though be aware these can often change, especially in the dry season versus wet season. Make sure you check out 12.Go Asia for an updated list of current operations.
| | | | |
| --- | --- | --- | --- |
| Krabi To Koh Phi Phi Ferry Schedule |  Departs Krabi | Arrives Koh Phi Phi | Ferry Price |
| Seatran | 10:30am |  12:30pm |  $12.00+ |
| Seatran | 3pm |  5pm | $12.00+ |
| Songserm | 8am |  10:30am | $14.00+ |
| Songserm | 9am |  10:30am | $14.00+ |
| Songserm | 12pm |  3pm | $14.00+ |
| Andaman Wave Master | 9am |  11am | $14.00+ |
| Chaokoh Travel Centre | 3pm |  4:30pm | $14.00+ |
| Ao Nang Travel & Tour | 9:45am |  11:30am | $14.00+ |
| Ao Nang Travel & Tour | 9:30am |  11:30am | $14.00+ |
| Tigerline Travel | 9am | 1pm | $14.00+ |
| Koh Yao Sun Smile | 12pm | 12:30pm | $33.00+ |
---
Krabi To Koh Phi Phi Ferry
The easiest, simplest, and basically the only way to travel from Krabi to Koh Phi Phi is by booking a ferry. Sure there are also speedboats. Though the majority of travelers will book a ferry thanks to being a much more affordable option and that in reality, it doesn't really take too much longer.
Just be aware that since this is the most popular option with travelers, the ferry boats can quickly get booked up in advance. It will be best to book your journey at least a couple of days out. This can either be done with your accommodation in Krabi or online on websites such as 12.Go Asia. If you book with your accommodation it will likely also include a transfer to the ferry port. Just make sure your ferry transfer actually picks you up on time.
Ours was 20 minutes late because they forgot about us. As a result, when the van finally arrived they then speed through Krabi town at 80+ kilometers per hour as we rushed to the port before the boat left. We were told simply to run once we arrived in order to make the boat on time. The downside to this was all the seats inside the boat were taken so we had to sit out the front under the midday sun.
Though this is the downside of booking through your accommodation as you don't really know what ferry company they've used. Usually, we thoroughly research our options before booking online. Though things in Thailand are definitely more chiller.
Either way I recommend you do some research, especially regarding previous accidents on the boats. This is important as the ferries in Thailand have quite a reputation for questionable safety standards. Whether this is not enough life jackets on board, or just venturing out in rough seas. I highly recommend reading reviews if you are worried about this.
---
Ferry Price From Krabi To Phi Phi
For the journey from Krabi to Phi Phi, you will find tickets starting around $14.00. This is a pretty decent price, though just be aware you will likely be packed on board with numerous other travelers.
As I said above, I highly recommend booking your tickets in advance, rather than showing up at the pier on the day. This is especially so in the high season where it is pretty normal for the boats to get completely booked up. The only exception to this would be if you are traveling in the monsoon season, also known as the low season. This is because you don't have all those other travelers there all competing for one seat, and secondly, so you can make sure the weather is decent.
When it comes to actually booking a ferry, you can do so on the 12.Go Asia website from anywhere in the world. This means if you are on a strict itinerary you can book months in advance from the comfort of your own home.
Alternatively, you can book once you are in Krabi at one of the many travel agencies along the streets. The majority of accommodation providers in Thailand are usually more than happy to organize ferry boats and buses for you. It may cost a couple of dollars more. Though the majority of the time they will also include transfers to the pier which makes things a bit simpler for you.
---
Speed Boat From Krabi To Koh Phi Phi
Taking a speed boat will be a quicker option, though it will be a few dollars more expensive than taking the ferry. I know the majority of backpackers generally take a ferry over a speedboat. Though this is because they aren't fussed about how long it takes and will be wanting to save money.
If you are short on time then it would be well worth booking a speedboat from Krabi to Koh Phi Phi. This can be done in advance on websites such as 12.Go Asia or if you would like to book once you are in Krabi you will just need to visit one of the numerous travel agencies.
---
Day Trip From Krabi To Koh Phi Phi
If you are short on time it is still well worth visiting Koh Phi Phi from Krabi in the form of a day trip. Luckily, these are pretty easy to organize thanks to both locations being popular tourist destinations.
Get Your Guide offers this exact day trip called Phi Phi Islands Full-Day Speedboat Trip from Krabi. This is a top choice with the entire day costing $50.00. This tour takes you to Koh Phi Phi, but you will also be able to visit Railay Beach, Bamboo Island, Viking Cave, Pileh Lagoon, and Monkey Beach. Also, with lunch included this is a full day of snorkeling, swimming, and enjoy the island life under the Thai sun.
---
Getting From Koh Phi Phi Wharf To Your Accommodation
Koh Phi Phi is an island with no cars and minimal roads only built for motorbikes. This means getting to your accommodation isn't always the easiest.
Luckily the majority of accommodation providers and located relatively close to the wharf. On top of this thankfully the island is pretty flat. Though you may find yourself sweating up the side of the occasional hill.
When you arrive you will see numerous hotel workers all holding up signs of different places with large metal carts sitting next to them. You can put your baggage in these carts and they will take it to your hotel while you walk alongside. If you happen to be staying somewhere a bit more luxurious then this will likely be an option for you.
---
Things To Do In Koh Phi Phi
Koh Phi Phi isn't just a party place, it also has some excellent things to do. Whether you like a bit of exploration, life on the ocean or simply just relaxing, there is something for everyone here.
---
Koh Phi Phi Viewpoint
No doubt one of the best things to do in Koh Phi Phi is to check out the viewpoint. I am sure at least once every traveler will hike their way up the hill to check out the view. Yes, it is as amazing as it looks in photos.
At the top you will be asked to pay an entry fee of $1.00 / 30 THB. Though it is well and truly worth that small price. There is also a small bar at the top where you can buy drinks.
---
Visit Maya Bay
Maya Bay was made famous by the film The Beach, starring Leonardo DiCaprio. Though throughout the years the number of travelers it attracted was not sustainable.
Litter was left everywhere, the reefs were destroyed, and as a result, the Thai government made the move to close it from June to September 2018. Though they quickly realized this was not enough time and have closed Maya Beach indefinitely.
Nevertheless, it is still possible to visit, you just cannot steep foot on the shoreline. The best way to do this is by an organized day trip or a private longtail boat.
---
Drink Buckets
You can find tables set up in the main town full of buckets, each containing different ingredients depending on your liquor preference. They are also cheap, but be aware they are potent.
The best places to party here on Koh Phi Phi are Slinky Bar, Stockholm Syndrome, and The Apache Beach Bar. There is also the popular Ibiza Pool Party held at Ibiza House. This happens every Tuesday, Thursday, and Sunday with free entry from 1pm to 9pm.
---
Go Snorkeling
What better activity to do when you're in tropical paradise than snorkeling! Koh Phi Phi is teeming with an assortment of underwater life. There will be so many fish to see and the waters are warm like a bath. That's one of my favorite things about Southeast Asia.
For the best snorkeling, I recommend heading to Hat Yao. This is a beach on the south coast of Phi Phi Don and just a 30-minute walk from Ton Sai. Once there you can spot clownfish and if you're lucky you may even see a black-tipped reef shark!
---
Kayaking To Monkey Beach
There are plenty of places offering rentals on both sides of the island. Though for the purpose of visiting Monkey Beach you will want to hire it from the Loh Dalum Beach Side. The rental should cost you approximately $12.70 / 400 THB. You should be able to reach the beach within an hour where you can then enjoy meeting some new furry friends.
---
Bamboo Island: Bamboo Island may not be as picturesque as Koh Phi Phi with the steep limestone cliffs. Though you can never go too wrong with a secluded sandy white beach. The waters are crystal clear so make sure to bring your snorkel mask for a spot of snorkeling!
Mosquito Island: As the name suggests, you may not be exactly alone while visiting Mosquito Island. Though the mosquito population should only be an issue if you are visiting during dusk. If you are coming for the day and the sun is out you will be fine.
---
Where To Stay In Koh Phi Phi?
Everything in Koh Phi Phi is relatively close together. There is the main town, Tonsai, where you arrive, and then all the accommodation is spread throughout here as well as up the hills.
I stayed in literally the cheapest "resort" I could find. Knowing I wouldn't be partaking in the drunken parties I decided I would book a place with an infinity pool with an amazing view. It ended up costing us around $25.00 per night, which split between the two of us that were traveling was a pretty good price at $12.50 per night.
Though this place is no longer operating, and I think that may be a good thing. Reviews were seriously not good, and even though I had a pretty good time, it was obvious not everyone had this experience. Also, it was the first and only time I saw a print-out list of the cost of literally EVERYTHING in the room and how much we'd be charged if we broke it. Fantastic.
In terms of accommodation in Koh Phi Phi, you can literally find everything here. From 5 star resorts to those squished dorm room hostels and locally run guesthouses. Though what they all the in common is they will all be ridiculously overpriced.
Here are my top picks for the backpacking Koh Phi Phi travel guide:
A recently opened hostel with spacious air-conditioned dorm rooms. Starting room $16.00 per night.

BOOK NOW

A modern beautiful resort with a big pool. Double rooms starting from $26.00 per night with a pool view.

BOOK NOW

A beautiful resort for just $20.00 per night. They offer budget rooms for travelers which are also air-conditioned.

BOOK NOW

If you have a bit more money to spend why not check this out. From $100.00 per night for a 5 star resort.

BOOK NOW
---
LIKE IT? PIN IT!

Want more Thailand Inspiration? Check out….
Disclaimer: This post contains affiliate links. So, if you click on it and purchase something, I get a small percentage at no extra cost to you. As always all opinions are my own and your support is much appreciated.
Photo credit: "the ferry to koh phi phi"  (CC BY 2.0) by Dan Searle. "ferry to phi phi island"  (CC BY 2.0) by Fabio Achilli.  "koh phi phi don"  (CC BY 2.0) by Dan Searle.
Related Posts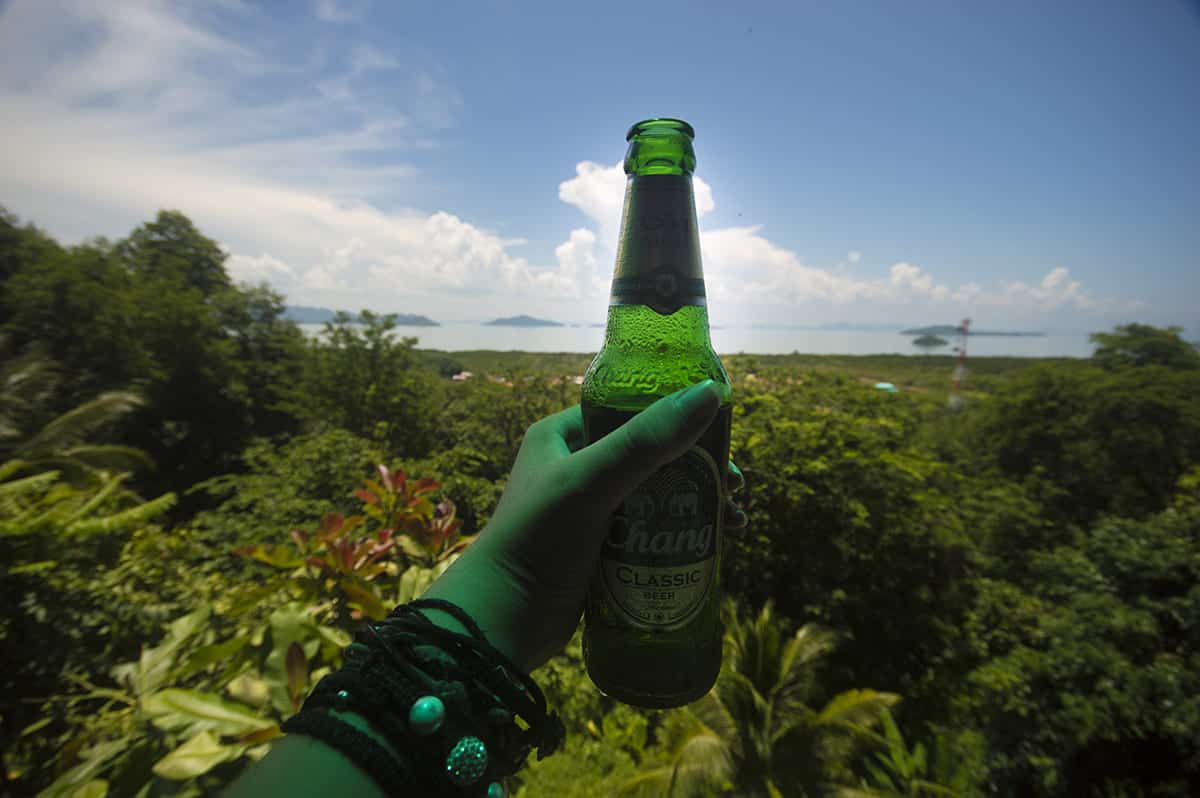 Come discover the ultimate island paradise by checking at our backpacking Koh Lanta itinerary. Find [...]
2 Comments
Looking for the best hostels on Khao San Road? Comparing the price, facilities, amenities, and [...]
4 Comments
Thinking about a day trip to Ayutthaya? From how to get there from Bangkok, Ayutthaya [...]
3 Comments