Looking for the best hostels on Khao San Road? Comparing the price, facilities, amenities, and location- come find out the top backpackers for all types of travelers in this ultimate guide!
---
Khao San Road in Bangkok is a backpacker's paradise. With cheap beer and endless parties, it is more than enough to keep you entertained all night. Staying at one of the best hostels on Khao San Road is important as you need a decent place to rest your head when you finally decide to head to be. Whether you want to catch up on sleep during the day or keep the party going poolside we will explain where exactly you should stay in Khao San Road.
It is a seemingly right of passage for any backpacker in South East Asia or Thailand to stay up all night and party on Khao San Road. A street full of restaurants, bars, and tattoo parlors all dedicated to one thing, a good time. You might leave looking a little worse for wear, though by finding out the best hostels on Khao San Road will help you recover again for the next night.
That is why I created this guide on the best hostels in Khao San Road!
With the help of this list, you'll be able to see what to look for when booking a hostel on Khao San Road! Making sure you can book a bed confidently and get a good deal.
So, let's find out the best hostels on Khao San Road.
For the purpose of this article, I will be ranking the best hostels around the Khao San Road area. Some hostels might not be exactly on Khao San Road, but they will be within easy walking distance.
---
Where To Stay On Khao San Road: The Best hostels On Khao San Road
How I Book Cheap Transport In Thailand: 12Go Asia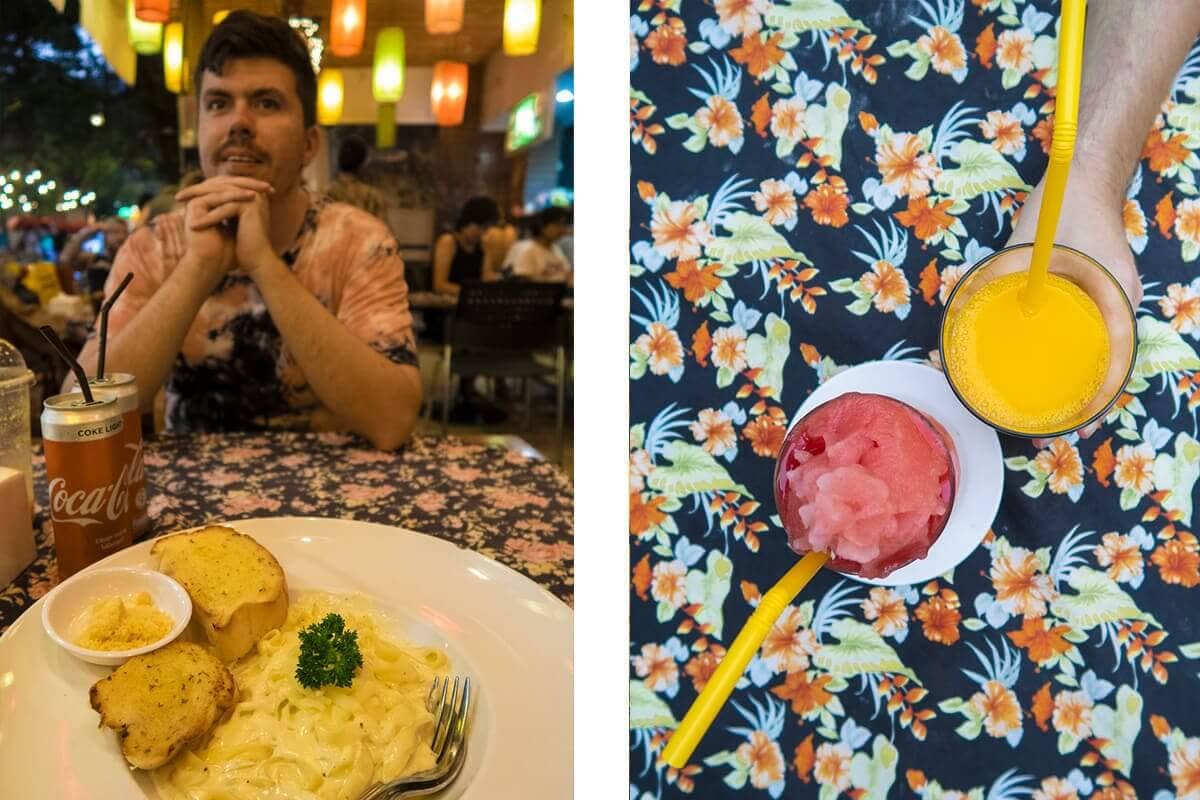 ---
How to Choose the Best Hostels On Khao San Road
Khao San Road overall is a fairly decent budget destination when it comes to hostel beds. Though, this can be a bit hit and miss in terms of the quality you receive for your Thai Baht.
Let's be honest there's nothing worse than skimping a few dollars and then ending up with bed bugs. Trust me you will be spending a lot more having to wash all your belongings in hot water trying to get rid of them, yes including your shoes and your backpack. No matter whether you are spending 4 days or 2 days in Bangkok, you will want somewhere comfortable to relax at the end of the day.
So when choosing the best hostels on Khao San Road, some things I took into account are:
---
Price
It is amazing the range of price differences you can come across when looking for hostels here on Khao San Road. They are not as cheap as you will find in neighboring Cambodia or perhaps up north in Chiang Mai. Though, this is due to location and being within a large popular city.
---
Location
Khao San Road itself is a simple street. Though there are plenty of other streets close by which I recommend staying on. A personal favorite of mine is Soi Rambuttri. It is a lot more laid back than the neighboring Khao San Road, though there is still plenty of bars and restaurants available to eat at.
You can also easily access the party over on Khao San Road easily by the alleyways which connect these two roads. Nearby you can find some of the best things to do in Bangkok. Khao San Road itself can get extremely noisy so if you are wanting to stay among the action remember to bring earplugs!
---
Amenities
To get the most out of your money on Khao San Road you are definitely going to want to get as many free amenities as possible. Booking a hostel with free breakfast and water will help save a little bit extra each day. Well save or more to spend on drinks, that's up to you.
There are even hostels with pools! What more could be the perfect way to spend the day. Also if you can find dorm rooms with pod-style beds this is great for sleeping during the day.
The last thing I think is important to note is quite a few hostels around Khao San Road turn off the air conditioning during the day, forcing you to go out and explore. Like this is great and all, but when you are hungover and just want to sleep, I couldn't imagine anything worse!
---
The 13 Best Hostels On Khao San Road In Bangkok, Thailand
The ultimate backpacker hangout around, BED STATION Hostel is the overall best hostel in Khao San Road. No matter your preferred size of dormitory you will find one here. Each one has pod-style beds with privacy curtains ensuring a good night's sleep.
Oh and of course plenty of air conditioning to keep you cool. Though, if you are wanting the ultimate way to cool off just head downstairs to the pool and make some new friends! No doubt the facilities here make this place stand out, with the pool table, common area, onsite restaurant, and bar, as well as a gym what more could you want! Be sure not to miss the beer pong nights and walking tours!
$$
Swimming Pool
Bar & Cafe Onsite
Tour Desk
Universal Sockets, Elevator, Play Station & More!
400 Meters From Khao San Road
CHECK BEST PRICES
---
I have got to give the Printing House Poshtel an honorable mention of this Best Hostel on Khao San Road list. This hostel is great and another which I highly recommend. You will find everything you could want here and even more.
With extremely comfortable dorm rooms you will not find cheap metal bunk beds around here. Rather enjoy a sturdy wooden frame, personal TVs for each bed, and a privacy curtain. Also if you are not ready to head out for the night just yet, then head upstairs to the rooftop bar for impressive views over the city.
$$
Televisions In Bed!
Bar & Restaurant Onsite
Social Lounge
600 Meters From Khao San Road
CHECK BEST PRICES
---
The best hostel for solo travelers on Khao San Road is Nappark Hostel @ Khao San. With plenty of social areas, you will have no problem finding like-minded travelers to mingle with throughout your stay. The light and airy air-conditioned rooms provide a great place to rest your head, well if you do plan on sleeping.
The staff here are known to be among the friendliest around and will be more than happy to provide recommendations or assist you with requests. The only downside is that they turn the air conditioning off during the day. Though, luckily once night comes they turn it on. If your a social solo traveler looking to make friends to hit the town with you will have no problem with Nappark Hostel @ Khao San.
$$
Free Individual Lockers
Lounge Area With Netflix
Onsite Laundry Facilities
400 meters from Khao San Road
CHECK BEST PRICES
---
For a fun time and to meet more travelers you cannot go wrong with Here Hostel Bangkok. There's a great garden area where you can mix and mingle with new people. To prove this place oozes fun there is even a slide from the dorm floor to reception, how cool!
It is no wonder this place received a TripAdvisor certificate of excellence for the past 3 years. It might be slightly pricier than some of the other hostels in the Khao San Road area, but it does include a free breakfast which many of the others do not.
$$$
Free Breakfast
Free Coffee, Water & Tea All Day
Pool
700 meters from Khao San Road
CHECK BEST PRICES
---
Best Cheap Hostel On Khao San Road – Sloth Hostel
I actually tested out Sloth Hostel on my most recent trip to Bangkok and had a great stay. With close proximity to Khao San Road you are close to all the action, but in a quiet enough location to get a good night's sleep. The aircon is left on all day which is ideal if you enjoy a sleep-in.
The dorm rooms are high quality with sturdy beds, a privacy curtain as well as a personal light, and sockets. For the cheap price, breakfast is also included which will get you going for the day. If you are looking for value for money Sloth Hostel is certainly the Best Cheap Hostel on Khao San.
$
Free Breakfast
Tour Desk
Privacy Curtain
400 Meters From Khao San Road
CHECK BEST PRICES
---
One of the best cheap hostels in Khao San is Krit Hostel. Perfect for travelers on a budget with extremely affordable rooms, actually they are the cheapest on this list. Krit Hostel provides a free buffet breakfast and free WiFi. There is also a great rooftop space to chill on as well as a delicious coffee bar on site.
Free Breakfast
Free Water
700 Meters From Khao San Road
CHECK BEST PRICES
---
The LOL Elephant Hostel is the best hostel for female travelers in Khao San Road as they offer clean and beautiful female dorm rooms with plenty of amenities. With enough rose gold to make any millennial knees weak this aesthetically pleasing hostel has gorgeous common areas and even an impressive reception area. They provide a tranquil space where you can relax and the ladies who run the hostel are great.
The bed's capsule design with a personal reading light, socket, and a curtain for privacy. The only downside is that it is not overly spacious, though small rooms are a common theme in hostels in Khao San Road and Bangkok itself. If you are a female looking for a peaceful and relaxing hideaway, then you cannot go wrong with The LOL Elephant Hostel.
$$
Free Breakfast
24 Hour Reception
700 Meters From Khao San Road
How I Book Cheap Transport In Thailand: 12Go Asia
---
Best Cheap Private Room On Khao San Road – Jam Hostel Bangkok
Easily one of the best cheap private rooms in Khao San is Jam Hostel Bangkok. If you're looking for a quiet and relaxing place to rest your head Jam Hostel Bangkok is the perfect option for you. All rooms come with a wardrobe, air conditioning, private bathroom and television, ensuring you have a perfect stay in Bangkok. The friendly staff at Jam Hostel Bangkok will be happy to assist you and give you recommendations.
$$
Refrigerator In Room
Clean And Modern Design
700 Meters From Khao San Road
---
Another place I recently stayed while in Bangkok was the new Ibis Styles Khao San. This has no doubt become one of my favorite places in the area and I will certainly be back in future visits. This is more of a family-friendly hotel than your party backpacker hostel. There is an impressive pool onsite to chill at during the day and a delicious restaurant on site. Seriously if you are missing some home comfort western food I cannot recommend their strEATS restaurant more!
$$$
Pool
Onsite Restaurant
Onsite Bakery
300 Meters From Khao San Road
CHECK BEST PRICES
---
More Best Hostels In Khao San
I had to include at least one hostel which was located on Khao San Road, so here it is, Nitan Hostel Khaosan. This is a beautifully designed hostel that seems a world away from the crazy party life outside. If you are good at getting so drunk you have difficulty walking, this may be the best place to stay for you. The beds here are designed with privacy in mind, ideal if you want an early night or a sleep-in. If location matters to you there is no way you can beat Nitan Hostel Khaosan.
$$
Free Breakfast
Privacy Light
On Khao San Road
CHECK BEST PRICES
---
If you are not a fan of regular bunk bed style dorms then you cannot go wrong with Siam Colors Hostel. Their dorm rooms are just regular style single beds. Some of the rooms have privacy walls, so it is like you have a private room, but you are still paying dorm prices. Just click on the pictures to check what kind of room you are booking as they have such a variety, no doubt something for every type of traveler.
$$
Free Breakfast
Colorful Design
750 Meters From Khao San Road
CHECK BEST PRICES
---
Suneta Hostel Khaosan is one of the best hostels in Khao San Road area. They offer nightly activities throughout the week and you will become well acquainted with the three resident cats who quickly become everyone's best friend. The swanky decor here makes for a beautiful stay and there is even a little shop on site selling ice creams! The dorm rooms here are excellent as well! The capsule-style dorm room is a common theme throughout the best hostels in Khao San Road, though what sets Suneta Hostel apart is the personal televisions that are located in the capsules! If you are looking to stay close to all the action, but still somewhere that you can get some peace and quite definitely check this place out.
$$
Free Breakfast
Dorm Rooms With Personal TVs!!!
350 Meters From Khao San Road
CHECK BEST PRICES
---
Vivit Hostel Bangkok provides gorgeous common and dorm areas for travelers with a bit of a higher budget. There are privacy curtains around the bed as well as personal lights and power sockets. One feature which you do not commonly find in dorm rooms is shelving with the bed area as well. Perfect for those little items you like to sleep with.
The beds at Vivit Hostel Bangkok are also something to write home about as they are known as being the best mattresses in Bangkok. Though, one truly stand-out feature of this hostel is that it is set in a heritage building. It was the traditional custom-made uniform shop that served the Royal Household since 1909.
$$$
Free Breakfast
24 Hour Reception
Laundry Facilities
750 Meters From Khao San Road
CHECK BEST PRICES
---
Where To Eat & Drink In Bangkok
From endless markets to street food stalls and Michelin star restaurants. Bangkok is a hub of a variety of cuisines at an assortment of prices. These are my top picks, all tested and tried, for my backpacker's travel guide to Bangkok:
If you are staying on Khao San Road best not to eat the street food here. It isn't made with effort and is instead mass-produced to feed all the tourists. Instead, head over to Soi Rambuttri. This is the neighboring street, connected by a small alleyway.
During the evening this street is absolutely covered with street food vendors. My favorite spot is a smoothie stall at the one end of the street opposite a pizza place. They make the most flavorsome and fresh smoothies. It's definitely a great start to your Bangkok adventure.
One of my favorite spots in Streats Bangkok Khao San. They have a delicious range of western foods such as burgers, pizzas, pasta, and steaks. They have brought in an international chef to run the kitchen team ensuring all the flavors are correct. This was actually one of the best places I have eaten in Bangkok. Oh and the cocktails here are absolutely delicious!
Oh, and one of my favorite Skybars in Bangkok is located in Hotel Indigo Wireless Road, called Char Bar. They usually have live music playing and it is the perfect place to watch the sunset over the skyline in the distance. Grab a cocktail and check out some of the best views in the city.
---
Safety In Bangkok
Bangkok is as safe as any other large city around the globe. Sure there are crimes, but use common sense and you will be fine the majority of the time. Though what you need to be aware of are scams. Bangkok is unfortunately a city that is full of scams and if this is your first introduction to Asia it may seem daunting at first.
The only real crime you need to be concerned about when backpacking Bangkok would be petty theft. Don't use your phone along a busy street and if you must, turn away from the traffic. Carry your valuables in a cross-the-body bag. Bag snatching is quite common here to you want to prevent giving people the opportunity.
Don't drink the water out of the tap. Though you will be fine to use it to brush your teeth. 7/11 has plenty of cheap water bottles.
The number one thing is always to get the taxi to use a meter. Be aware that if the meter seems to be going up unusually fast get out of the taxi. If you are concerned about getting scammed in a taxi then use Grab. This is an app that can be downloaded on your phone.
The tourist site is closed. This is a famous one in Bangkok where your taxi driver or official-looking person outside of the Grand Palace will state it is closed. Though they know somewhere just as amazing elsewhere. This is 99% of the time untrue. Just ignore this person and get on your way to getting inside the attraction.
---
Things To Do In Bangkok
Bangkok has enough things to do to keep you entertained for days, even weeks. It is such a huge city with endless activities and attractions. Whether you enjoy a bit of relaxation, adrenalin-fueled adventure, or check out the sights, Bangkok has something for everyone.
---
Visit The Grand Palace
Visiting the Grand Palace has to be one of the top things to do while backpacking Bangkok. Sure you will be surrounded by hoards of tourists, but it a must-do when you are here. Try to visit early morning when it first opens if you want to beat the crowds.
The entry fee is $16.70 / 500 THB so it will put a rather large dent in your budget. This grants you access to both the Royal Palace and the famous Wat Phra Kaeo Temple housing the 14th Century Emerald Buddha. Don't forget to cover up your legs and shoulders as with the rest of the temples in Thailand. There are clothes for hire at the entry in case you forget.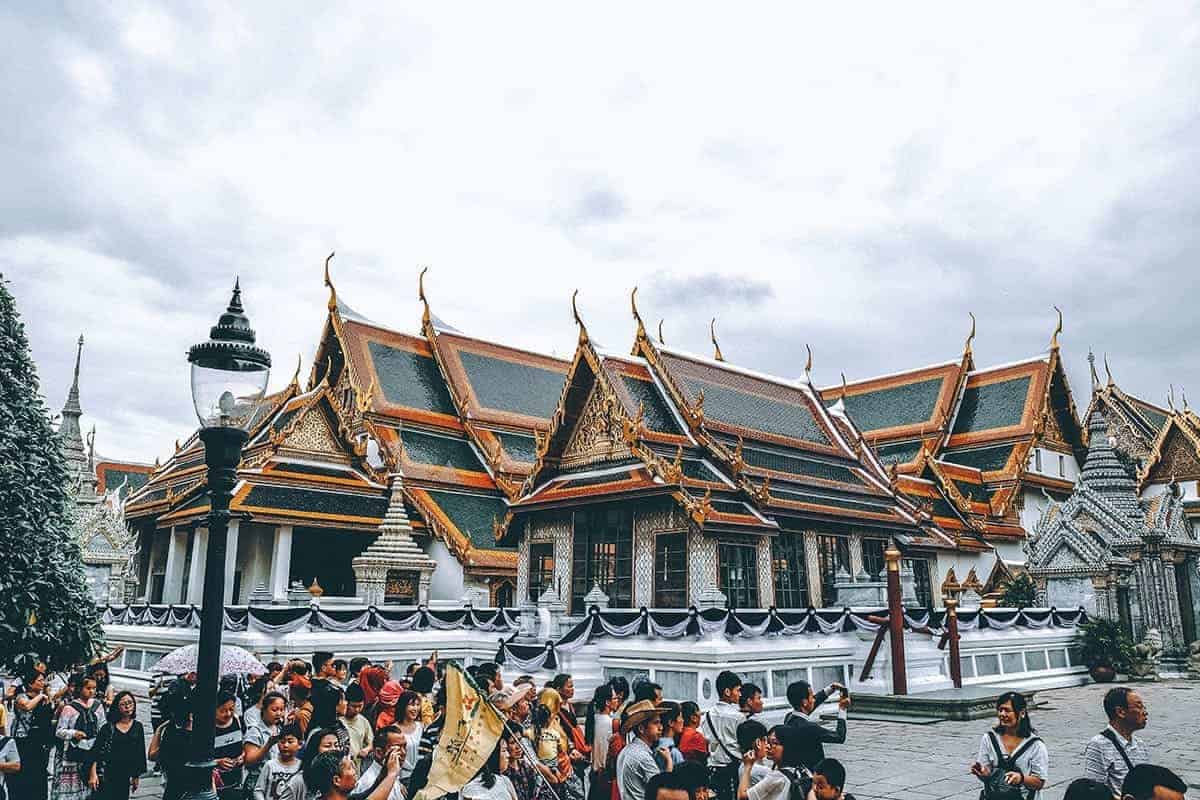 ---
Reclining Buddha (Wat Po)
Another one of the must things to do when in Bangkok is visiting Wat Po. This is home to the incredible 45 meter long reclining Buddha. It is also 15 meters high and this Wat (temple) is the oldest and largest in Bangkok.
The entry fee is $6.70 / 200 THB and it is on the same grounds as the Grand Palace.
---
Check Out The Markets
Bangkok has so many excellent markets to check out. Though to keep this on the shorter side I will just mention the top choices which many travelers visit.
Chatuchak Market: The Chatuchak Weekend Market has everything you could ever want and even things that you probably never would want all in the same place. This is Thailand's biggest market boasting over 15,000 stalls! It is also open from Wednesday to Friday, but during the weekend is where this place truly transforms with countless stalls selling anything and everything.
Flower Market: The Flower Market is one of Bangkok's most famous markets. As the name implies this is where you can find a sea of flowers being sold. The most popular time to visit here is actually midnight when the freshest flowers arrive ready to be sold in stores the next morning. If you're a night owl it's definitely worth checking out.
---
Boat Trip On The Chao Phraya River
Now, this isn't a simple boat trip and return back to the same place, no. The boats on the Chao Phraya River are actually are a form of public transport in Bangkok and it is a great way to see some of the city. There are both contrasts of Bangkok located along the river. From the shining and grand temples to the low-key markets.
You can book either a hop-on hop-off ticket for less than $3.00. You're also given a free pamphlet explaining each stop and the landmarks. Some top spots on the journey include The Grand Palace, Wat Po, Wat Arun, and Chinatown.
---
Wat Arun
Wat Arun is definitely known as one of the more instagramable temples in Bangkok. Though that is because it is absolutely beautiful. Known as the Temple of Dawn it is one of the many iconic sights of the city and is a must-visit when backpacking Bangkok.
If you are staying over on Khao San Road you will need to utilize one of the water taxis to cross the river to the other side. The entrance fee is $2.70 / 80 THB.
---
Airplane Graveyard
The famous airplane graveyard in Bangkok has become a famous Instagram spot in recent years. Have a fifty for the strange and out of place or into a bit of urban exploration? Then it is definitely worth checking out if you have time.
Near to the Ramkamhaeng Station in Bangkok, you will find a field of abandoned airplanes. Be aware that locals patrol the area and will ask you to pay an entry fee. You will need to pay this in order to access the property and it generally is a couple of hundred baht.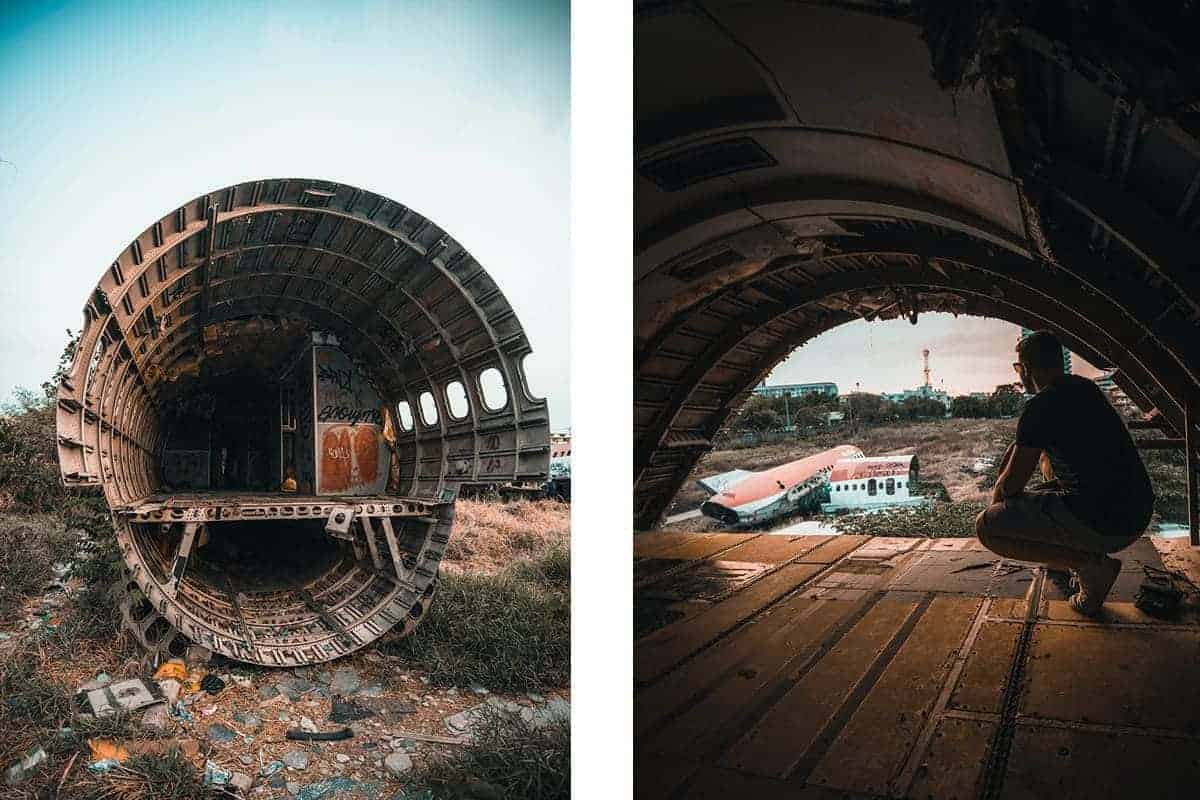 ---
Lumpini Park
If you are looking for a break from this bustling city and missing a bit of greenery in your life. Then definitely head to Lumpini Park to get back in touch with nature. It is super easy to get to as well as being located between the modern business districts of Silom and Sukhumvit.
Here you will find jogging trails, gym equipment, and even boats to hire. You can even find a bit of inner-city wildlife here in terms of birds and the infamous monitor lizards which seem to run this place.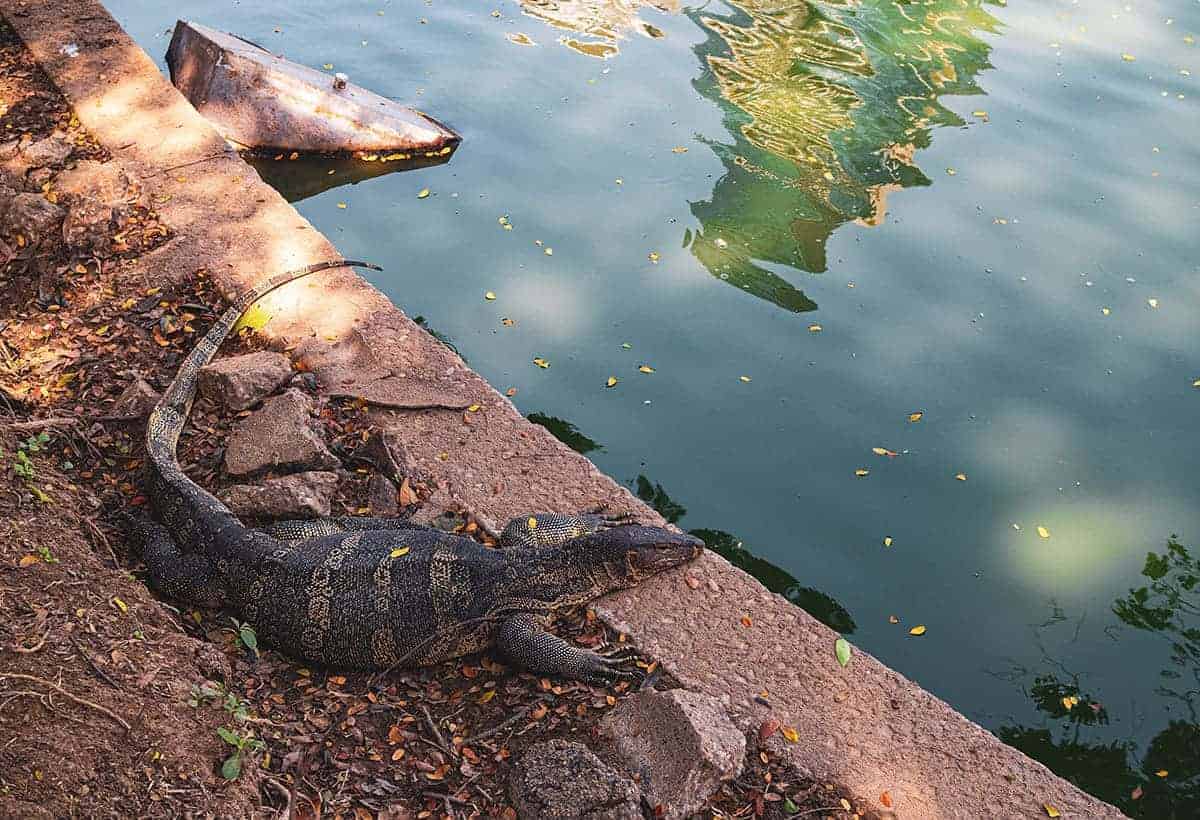 ---
So Where To Stay On Khao San Road?
Khao San Road is a must-do for any backpacker in South East Asia. Being the ultimate party destination having a good place to rest your head will be important. So with the help of this list of the best hostels on Khao San Road, you will know exactly where to stay.
Do you own or work for a hostel and want to be featured? Let us know over at [email protected]
---
How I Book Cheap Transport In Thailand: 12Go Asia
---
LIKE IT? PIN IT!
Want more Thailand Inspiration? Check out….
Disclaimer: This post contains affiliate links. So, if you click on it and purchase something, I get a small percentage at no extra cost to you. As always all opinions are my own and your support is much appreciated.
Related Posts