Find out everything you need to know about the Chiang Mai Sunday Night Markets. From the location, prices, opening hours, what to buy, and more, this ultimate guide to this massive walking street has you covered!
---
Before I visited the Chiang Mai Sunday Markets I thought it would be like the rest of the markets you find throughout Thailand and Southeast Asia. Consisting of souvenirs, a few food stalls, a bit of live music and is mainly full of tourists. Though, this opinion of mine quickly changed after hitting up The Chiang Mai Sunday Markets, which in my opinion is the best night market in Thailand.
Just so you know the Chiang Mai Sunday Market/ Chiang Mai Night Market/ Sunday Walking Street Market Chiang Mai has so many different names. Luckily, no matter what you call it by everyone will know which one you are talking about.
---
Chiang Mai Sunday Night Market:
---
How I Book Cheap Transport In Thailand: 12Go Asia
---
---
Opening Hours Of The Chiang Mai Sunday Market
The Sunday Walking Street Market is held every Sunday from 4pm until about midnight when all the crowds depart. To say it draws in a massive audience would be an understatement. When I was visiting some of the first questions I was asked is 'if I would be in town for the Sunday market', The answer was "of course, yes!"
The majority of the crowds tend to swarm the streets between 7pm-10pm. Therefore if you are claustrophobic or get anxious in large crowds I highly recommend visiting earlier in the evening.
---
Location Of The Chiang Mai Sunday Night Market
The location of the Chiang Mai Walking Street Market is extremely easy to find as it is within the Old Town walls. Stalls are set up 1km along Ratchadamnoen Road, as well as spreading through the side streets and Tha Phae Gate. From the late afternoon until the midnight darkness the streets in the Chiang Mai Old City quickly come to life with people enjoying the evening.
It is in a central location and is easy to get to from some of the best areas to stay in and the best hostels in Chiang Mai. You need a decent amount of time set aside for exploring. Trust me, you will want to be tasting all the wonderfully cheap food, buy some souvenirs and watch the street performances from the locals.
---
How I Book Cheap Transport In Thailand: 12Go Asia
---
---
What To Expect At The Chiang Mai Sunday Markets
To say the Night Markets are one of the best things to do in Chiang Mai would be an understatement. It seems that everybody visits on a Sunday evening, travelers, locals, and domestic tourists. There are even plenty of dogs walking around with their owners! In all honesty, it is one of the top things to do in Thailand and should be added to your adventure bucket list.
If you are not comfortable in large crowds it is best if you visit during the earlier part of the evening, before 7.00pm. I cannot even put into words how crowded the streets become, the only time you can really move is when the people in front of you do, and if they stop to look at something, you will be stuck there as well.
I visited the Chiang Mai Sunday Markets with a couple I had previously met in Bangkok. We were all on Khao San Road trying to get to the bus terminal without getting ripped off by the tuk-tuks and ended up getting to know each other in a taxi. We got along quite well so decided to catch up again in Chiang Mai to explore the markets everyone says are a must-see.
To say it is crowded would be an understatement, though we managed not to lose each other in the chaos.  There is no real direction that everyone goes, you will just constantly be dodging others, though it's totally worth it.
There are so many stalls to look at selling all sorts of goodies and it's the perfect place to purchase souvenirs. Remember to haggle! From flower-shaped soaps, jewelry, buddhas, and butterfly wall pieces, you will find everything here. Some amazing artists line the streets as well, showing off their talents to the crowd. Unfortunately, photos are discouraged, but trust me it's something you have to see!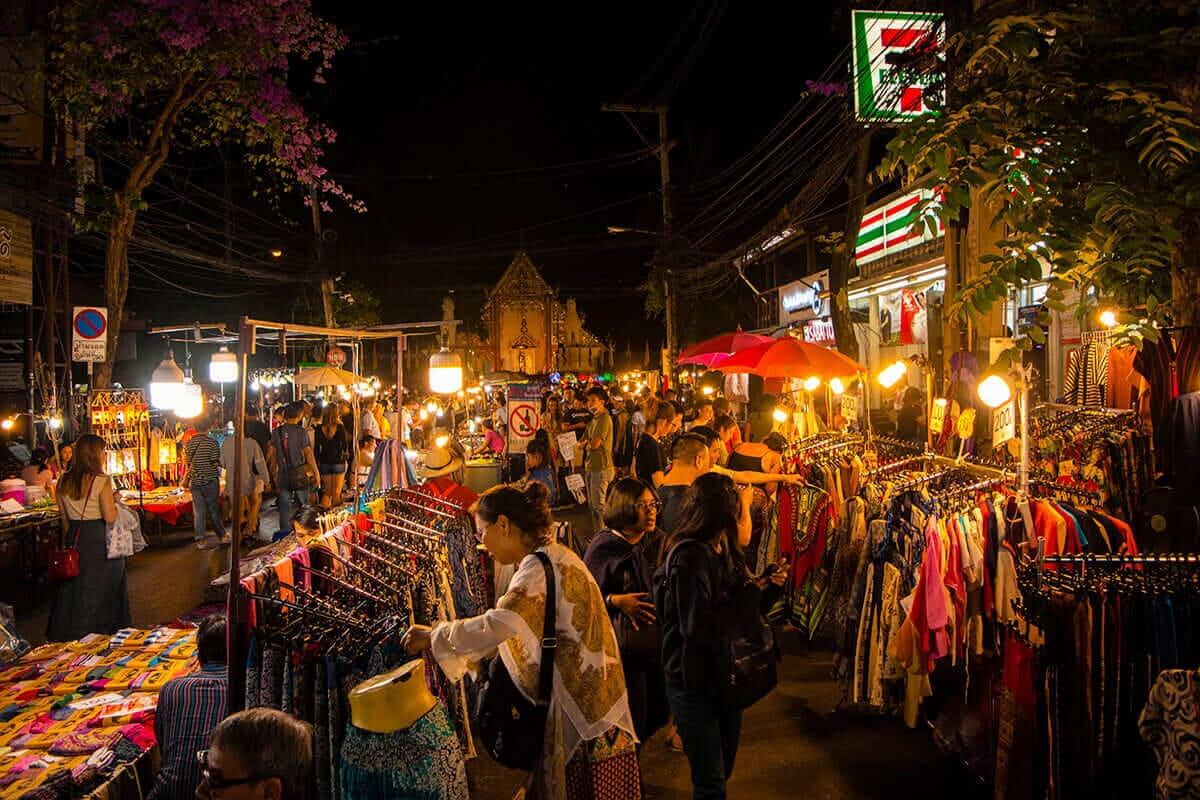 ---
Chiang Mai Sunday Market For Foodies
To say I love food is an understatement, and I was certainly in heaven at the Chaing Mai Sunday Markets. There are multiple areas dedicated to food stalls, as well as the many which also line the walking street. Here, you can get whatever food you feel like and at amazing prices! Wanting noodles? No problem. Feeling like seafood? Easy done. How about something a little sweet? All sorted. Or even my favorite tourist staple, a fruit smoothie.
Seriously it is an awesome atmosphere, with so many scents in the air, and the way they mass cook the food is like some sort of show. I often ended up in a temple complex where many food outlets are situated as well as a decent amount of seating. My favorite was three samosas for $0.75 and coconut ice cream for $1.00. On the main Walking Street of Ratchadamnoen Road, there is also the best steak in the world, according to my partner, who was absolutely amazed.
Of course, if you are craving the iconic Thai foods such as pad thai, coconut pancakes, and curry, there is an abundance available. With friendly locals serving up decent-sized portions you cannot go wrong! If you are feeling like something a little more adventurous give the fried insects a try. Choose from tarantulas, crickets, worms, and so many more creepy crawlies if you are brave enough!
Seriously the Chiang Mai Sunday Market is a food lover's dream. On my most recent visit, we treated it like our own food tour and purchased such a wide variety of items we usually wouldn't. It was great giving some new foods a go and in total, we spent less than $15.00 for both of us! We were certainly full enough to explode by the end.
---
What Else Can You Buy?
If you aren't in the mood for street food there are plenty of restaurants right off the walking street. Chill out with a good meal and watch the craziness unfold in front of you from the peace and quiet of your private table. Though, this market only happens once a week, so do you really want to miss out on all the action?
If you are needing to relax with a foot massage after wandering around for hours this is the place to be. There are cheap massages on offer set up on the streets. Trust me you won't miss it with the locals doing their sales pitch to every person who walks past. Also when it's $6.00 for an hour you can't really pass up this type of bargain.
One of my favorite purchases from my most recent trip to Thailand was actually from the Chiang Mai Sunday Night Market. I first saw a sign stating 100 baht for these large screen-printed paintings. I thought that could not be true, though on my way out I saw it again and knew I had to stop. Luckily enough the prices were correct and I brought 2 different paintings. One of the beaches in Southern Thailand and another of elephants in the hills of Northern Thailand.
No matter what you are after you can bet on finding here in the night markets. From delightful soaps, elephant temple pants and so so much more! It is seriously shoppers paradise and I cannot stress it enough that you need to visit, especially if you are wanting to purchase souvenirs.
---
How Much Should I Pay?
It can always be difficult in markets around Asia to know exactly how much you should pay. Luckily in the Chiang Mai Sunday Market, the street food almost always has pricing around it. Most items are around 20 baht, though if you are looking for something fancier expect to pay more.
The decor, clothing, and basically anything except the food is a little more difficult as they sometimes do not have pricing. Luckily for me the screen printings I purchased which I mentioned above, were 100 baht each, fixed pricing. For many items here you will want to haggle.
It is best to know a rough estimate of the price of the item before purchasing so you know whether you are getting a fair deal, though this can sometimes be hard to do. To avoid this you can try to shop around try to establish an average price. Alternatively, it is best practice to counteroffer at least half what the seller first says it costs. Unfortunately, 99% of the time they will refuse and offer a price lower than the original. You will then go back and forth until an agreement is made.
Through personal experience, I have found that the closer you are to the middle of the market the more expensive items get. On the side streets and at each end of the road is where average prices seem to be a bit cheaper. I guess this is due to be traffic within the center.
---
Other Top Markets in Chiang Mai
If you are a lover of exploring markets and trying new foods here are some other highly recommended markets you should check out during your visit to Chiang Mai. Just don't eat beforehand so you have plenty of room for some yummy delights.
Chiang Mai Gate Night Food Market
When: Every day, from 5pm till noon.
Location: Chiang Mai South Gate. Just at the opposite side of the Chiang Mai Gate. Rat Chiang Saen road.
Chang Puak North Gate Food Market
When: Every day, from 5pm till noon.
Location: Chiang Mai North Gate / Chang Puak Gate.
Saturday night Market
When: Every Saturday, 5pm – 11pm.
Location: Wualai Road.
---
How I Book Cheap Transport In Thailand: 12Go Asia
---
Where To Stay In Chiang Mai?
A modern and upscale hostel. From $13.00 per night including a fab breakfast.

BOOK NOW

A favorite with travelers. A hostel with all the amenities, from $6.00 per night.

BOOK NOW

Beautiful private rooms for $25.00 per night and in the heart of the city with a pool.

BOOK NOW

A walk from the city attractions, starting from $18.00 per night with an amazing pool.

BOOK NOW
---
Chiang Mai Sunday Market: The Best Market In Thailand
Seriously if you are in Chiang Mai make sure you check out Chiang Mai Sunday Markets. It is the perfect way to spend an evening with great food, good atmosphere and provides the perfect opportunity to do a little souvenir shopping or pick up a new pair of temple pants.
If you think the Chiang Mai Sunday Markets are going to be a little too crazy for you, there are so many other markets in the area, you are bound to find one you love.
---
Any Questions? Let me know in the comments!
---
LIKE IT? PIN IT!
---
Want more Thailand Inspiration? Check out….
---
Disclaimer: This post contains affiliate links. So, if you click on it and purchase something, I get a small percentage at no extra cost to you. As always all opinions are my own and your support is much appreciated.
Related Posts
Share Tweet Pin Find out everything you need to know about taking the overnight sleeper [...]
5 Comments
Find out everything you need to know about Koh Nang Yuan Island in Thailand. From [...]
Ever wanted to take a cooking class but happen to be a vegetarian? This was [...]
2 Comments