Find out absolutely everything you need to know about backpacking Cambodia! I will share with you my best travel tips, money, important information, top places to see, and more in this guide on one of my personal favorite budget destinations, Cambodia!
---
It may not be as popular as neighboring Thailand or Vietnam as a backpacker-friendly destination, though Cambodia has a lot to offer to all types of travelers.
As I said before it is one of my personal favorite countries and one I always recommend to friends and family to visit. Think palm tree-covered beaches, lush jungles, and incredible history, backpacking Cambodia will have you in awe of all the varied landscapes.
Also thanks to the fact Cambodia is along the banana pancake trail you will find plenty of other travelers also visiting this scene. If you are like me and travel on a budget you will be happy to know there are an assortment of hostels, affordable foodie options, and crazy cheap beers.
Though for the more high-end traveler, you can also enjoy 5-star luxe accommodation for a quarter of the price you would pay in a European destination. Siem Reap is an excellent spot for finding fancy accommodation options on a budget.
Cambodia is not a huge country, though you will certainly find yourself having a few travel days if you are planning to explore the whole thing. There are numerous incredible destinations worth checking out, though I will get into this more down below.
Nevertheless, you will find the majority of travelers generally spend 2 to 3 weeks backpacking Cambodia. This will give you enough time to explore the history, check out a couple of the islands, and compare small-town versus big-city life.
Though, before we get into all the details of the best places to see in Cambodia, let's start with the basics. I will cover for you everything you will never need to know about backpacking Cambodia.
From money matters, visas, when to go, accommodation, getting around and so much more before finally getting into where exactly you should go and do during your adventure.
---
Backpacking Cambodia On A Budget: All You Need To Know
---
What Is The Currency In Cambodia
The local currency in Cambodia is the Cambodian Reil.
Check online exchange rates.
Though what is unique about the money situation in Cambodia is that US dollars are widely accepted all around the country. That means it is quite common for you will receive your change in a mixture of Cambodian Reil and US Dollars when you pay for goods.
It may take a little bit to get used to, especially if you are not the best at conversions.
Be aware that in 2020 the Cambodian Government started phasing out smaller US Dollar bills, such as $1.00, $2.00, and $5.00 notes. This is especially so in Phnom Penh, though in larger tourist centers such as Siem Reap they are still often accepted.
Just be aware over time this is likely to change and Cambodian Reil will again become the norm in the country. 
---
Travel Budget For Backpacking Cambodia
Before my life of travel took over I actually spent many years studying to become an accountant. Therefore don't be overly surprised to learn that I actually kept track of all my costs while backpacking Cambodia on my first trip.
This includes transportation, food, accommodation, activities, and even some souvenir shopping. I tracked all my expenses to make sure I kept on budget and it has also allowed me to hold onto that information to share with you.
All in all, I ended up spending $29.00 per day. This was done by staying in some super cheap, and questionable rooms, booking minivans as tourists, and honestly doing as less tours as possible.
Of course, there are some pricey experiences in Cambodia such as visiting Angkor Archeological Park on the small circuit or grand circuit. Though this is a bucketlist experience and something that is well worth splurging on!
In typical fashion, the most expensive part of my budget was actually food, at over twice as much as my accommodation costs. Though I am quite the food and enjoy eating in pricier hipster spots which are seemingly around every corner in Siem Reap.
Therefore if you eat street food, and book accommodation with breakfast included, it would be easier to beat my personal average daily spend of $29.00 while backpacking Cambodia.
One thing which is really growing in popularity these days is volunteering at organizations such as Worldpackers where you work for a preorganized amount of time in exchange for a bed, and usually some meals as well.
Worldpacker work exchanges are quite a popular thing in Cambodia and around the hostel scene around the world. Essentially you will be eliminating your accommodation, and some meal costs, allowing you to travel for longer.
---
Entry Requirements For Backpacking Cambodia
You do need a visa to enter Cambodia. Though you either have the option of getting an eVisa online or a visa on arrival.
Be aware if you decide to do a visa on arrival they cost around $30.00 (make sure you have cash on you) and you will need one passport-sized photo. Both the eVisa and visa on arrival are valid for 30 days from entry.
Though you will be required to show proof of departure when arriving at the airport. This is because many people travel to Cambodia and end up overstaying. Alternatively, in the past, it has been a popular place to do visa runs to neighboring countries and then your 30-day stay restarts.
If you do not have proof of onward travel many travelers use such services as Onward Ticket. The company books a legitimate ticket in your name and cancels it after a certain period.
You just need to pay a small service charge. This provides you with an actual ticket for proof of onward travel. I have used them before, but remember you still need to leave the country within 30 days of arriving.
---
Best Time To Travel Cambodia
The weather in Cambodia is similar to Thailand where the high season is between November and March. During this period you will find the weather is at its best throughout the country.
This is also known as the dry season, with minimal rain and clear days. During this period, there is an influx of tourists as people come to visit, and as a result, accommodation prices increase.
Personally, I have always traveled Cambodia during the later side of the high season in either March or April. During this time the sunny days seemed to stick around, and it wasn't until the islands that we experienced only a couple of thunderstorms.
Though what we honestly struggled with was the heat. This was especially so in Siem Reap, where I definitely recommend booking an air-conditioned room if you are wanting to get any sleep.
If you travel during April you will also get the chance to experience Songkran in Cambodia. This is the local New Year and is celebrated all around the country. Though be aware the best places to experience this are in smaller towns such as Kampot, as in larger cities nearly everyone leaves to be with their families in the villages.
---
Sleeping In Cambodia On A Budget
You can actually find such an assortment of accommodation options when backpacking Cambodia. Just be aware that if you are planning on visiting the islands then you will definitely want to up your budget a little bit.
This is simply because of the fact that it costs a lot more to run and build these hotels or hostels on an island. Nevertheless on the mainland, you will find a good mix of hostels, guesthouses, and hotels for all budgets.
No matter where you are in the country and what your budget is, it is very likely you will be able to find a suitable option.
Siem Reap and Phnom Penh you can find a huge variety of affordable accommodation options. Honestly, they are excellent value for money. You can easily find a nice modern hotel in Siem Reap with air conditioning, and a pool, in a good location for as low as $20.00 per night.
Also on quite a few occasions I have just rolled up on Phnom Penh and wandered around to find a deal. Doing this can often mean you find private air-conditioned rooms for the same amount as a dorm bed you book online.
In smaller towns such as Battambang and Kampot, the best value-for-money accommodation comes in the form of a guesthouse. These are more like locally run hotels so you may find the beds are a bit harder and the rooms relatively basic. Though at the end of the day, they are excellent value-for-money options.
Overall, if you are a dorm bed person I would budget about $8.00 per day to spend on accommodation. If you are like me and enjoy simple guesthouses, and also have someone else to split private room costs with, I would budget $15.00 per day just to be safe.
---
Getting Around Cambodia On A Budget
Honestly, there are no super fancy ways to travel around Cambodia. The trains are in no way the standard you find in Thailand, and the VIP minivans with lazy boy seats aren't as common here as in Vietnam.
Nevertheless, there are always multiple choices for how to travel from point A to point B. Here is a little overview of the types of transport you may find yourself taking while backpacking Cambodia:
Planes: No doubt if you are on a budget then it is safe to say you likely won't be taking any flights in Cambodia. Though if this is something you are interested in doing then your cheapest spots will be departing from Phnom Penh or Siem Reap.
Luckily if you don't have the budget for this it is honestly not a big deal. This is simply because Cambodia is a relatively small country and you won't find yourself needing to do any overnight journeys.
Mini Van: Now taking a minivan is no doubt one of the main ways to travel in Cambodia. Even if you actually book a bus, don't be surprised if instead, a minivan turns up. They will pick you up from your guesthouse or hostel and drop you off at the bus station in the city you are traveling to.
The prices are only a little bit higher when compared to a bus. Though the journey will be a lot faster. The one downside is they will fill up the minivans to the brims, and full seats plus bags for each traveler do not make for a comfortable journey.
Also, they are generally more dangerous as the drivers swerve in and out of traffic, and not very well taken care of, so don't be surprised; if you experience a breakdown.
Bus: A slightly cheaper option than a minivan, the bus is a good choice for those who aren't in a rush. Personally, I make sure to book The Giant Ibis when traveling by bus in Cambodia.
These are more pricey but are always a comfortable journey with soft seats and working air conditioning. They will also stop every few hours for a bathroom break.
Train: Slowly taking the train is becoming a more popular option in Cambodia as the rail lines are being refurbished around the country. Though as of writing this they aren't widely available within the country.
Instead, you are only really able to take the train between Phnom Penh, Battambang, Kampot, and Sihanoukville on the main tourist trail. Also, be aware the trains in Cambodia are notoriously slow so you may find it still takes the same amount of time as a bus would.
Boat: Of course, if you are planning to travel to the islands, which you definitely should be, then you will need to take some sort of boat. Honestly, the easiest way to do this is just to turn up at the pier and book with the next company going out.
On the speed boats or ferries, all service that they offer is essentially the same. Just make sure you don't turn up to the pier in the late afternoon as you may find that the timetable has finished for the day. Alternatively, you can do the cheaper option of the slow boat from Sihanoukville to Koh Rong.
Motorbike: A less popular, but still doable option is to motorbike around Cambodia. As you will likely be traveling from Siem Reap to Phnom Penh, or visa versa, and visiting all the towns along the way, renting will not be an option.
This means you will need to purchase one. It may not be as popular as doing it in Vietnam, though I can tell you it is still possible and people definitely give it a go.
---
Food & Drink In Cambodia
In Cambodia, you can easily find a wide assortment of food. This is even more true in the tourist hot spot of Siem Reap. From vegan, Italian, Indian, and Vietnamese. There is a variety of cuisines here for foodies.
A lot of restaurants and cafes here are also set up as social enterprises. This is where they give back a portion of their profits to educating and supporting local communities, as well as hiring and training local workers.
Though wherever you find yourself in the country good food will not be far behind. I am a fussy eater and a vegetarian, luckily I had no issues whatsoever finding something suitable in Cambodia. My personal go-to options were small locally run restaurants offering various stir-fried tofu dishes.
At local eateries, you can plan to spend between $2.50-$3.50 per meal. Though, eating out at Western-style upscale restaurants you can easily double this amount.
---
Internet Access In Cambodia
Internet access is pretty decent in Cambodia. As a result, it is a pretty popular place with digital nomads as they can easily work remotely, this is especially so in Siem Reap and Pnom Penh.
The only place you are likely to have internet issues is on any of the islands, basically don't expect to have any internet access there at all, some parts of the islands even have limited or no power. The price of the internet should be included in your accommodation as well.
---
Buying A SIM Card In Cambodia
No doubt the easiest and simplest way to buy a SIM card in Cambodia is when you arrive at the airport.
This is because the people at these booths are trained to help foreigners and know what plan will be best for you. Though be aware that because of this service you are likely to pay a premium when compared to just simply buying it in a store off the street.
I have actually always arrived in Cambodia using one of the overland borders from neighboring Vietnam, Laos, or Thailand. This meant I didn't have that ease of purchasing one like I would have had I arrived at an airport.
In this instance, I usually wait until my final city of the day and find a phone store there. Generally, the person working can figure out what you want. Though you can always download Google Translate offline in advance.
---
Top Places To Visit While Backpacking Cambodia On A Budget
If you haven't figured it out already Cambodia is one of my personal favorite backpacking destinations. here you can find a variety of cities and islands perfect for travelers. So let's get into the details of each one a little more:
---
Siem Reap
Welcome to one of my favorite spots in Cambodia, Siem Reap. This is an awesome spot with the incredible Angkor Wat Archaeological Park which is a must on your Cambodia bucketlist. Also, you will find plenty of delicious foodie choices and some incredible value-for-money hostels.
This extraordinary place is one of the main gateways into Cambodia receiving hundreds of thousands of travelers each year. I recommend spending 4 days in Siem Reap to make the most out of your visit. This will give you time to check out Angkor Wat, markets, museums, and of course a spot of shopping.
A fun and social hostel with a rooftop pool. Prices start from $5.00 per night for a dorm room.

BOOK NOW

A chill hostel with a co-working space as well. Prices start from $7.00 per night.

BOOK NOW

My top choice. Rooms start from $45.00 per night with two pools and breakfast included.

BOOK NOW

A Luxe Hotel with modern rooms and a pool. Prices start from $70.00 per night.

BOOK NOW
---
Phnom Penh
Phnom Penh is a huge city and honestly, it can be a bit overwhelming when you first arrive. This is nothing like the quaint streets of Siem Reap. Instead, it is busy, loud, and a little bit dusty. Nevertheless, it is well worth spending a couple of days in Phnom Penh during your adventures around Cambodia.
In my personal opinion, it is actually a must to do this to check out some of the historic sights around the city. If you are not aware, Cambodia has quite an unfortunate past that happened not so long ago in the 1970s.
I think it is important to gather an understanding of what happened here so you can appreciate the hardship its citizens have been through and how many lives were changed because of it.
A backpacker's favorite in this city. Dorm rooms start at $7.00.

BOOK NOW

Live in luxury for less with prices from $40.00 per night for a double room.

BOOK NOW

Excellent value for money with modern pod-style dorms starting from $6.00 per night.

BOOK NOW

Enjoy riverside living with the most incredible infinity pool. Rooms start from $80.00 per night.

BOOK NOW
---
Battambang
Battambang is a quaint cute town in Cambodia. Honestly, there isn't a whole heap to do here, though one of the most popular things is the famous Bamboo Train.
If you are backpacking Cambodia no doubt you have heard of the Battambang Bamboo train. I mean seriously I came across this city and added to my itinerary literally just to do the bamboo train ride.
An upscale and modern hostel. Enjoy this flashpacker accommodation, from $8.00 per night.

BOOK NOW

Budget-friendly accommodation with dorm rooms starting from $5.00 per night.

BOOK NOW

Beautiful private rooms from $50.00 per night and an incredible pool.

BOOK NOW

A boutique hotel for those who enjoy a luxe life. Rooms start from $100.00 per night.

BOOK NOW
---
Kampot
This is a beautiful chill and quaint town that is well worth visiting. It also perfectly breaks up the journey from Phnom Penh to Sihanoukville or vice versa.
I made my way here prior to visiting Phnom Penh and it was the perfect way to reintroduce myself back into the busy city life after living beachside for the past week. You may be surprised to learn that Kampot has a pretty awesome backpacker scene.
Seriously, there is some super awesome hostels here, whether that is luxe amenities, a riverside location, or even with a waterpark! It's no wonder this is such a popular spot with travelers.
You will also be able to find some delicious restaurants, interesting things to do, and no doubt make plenty of memories during your stay.
A homely backpacker hangout with plenty of onsite activities. Prices start from $20.00 per night.

BOOK NOW

Another awesome hostel for travelers looking to relax. Hang poolside on a budget with dorms starting from $6.00 per night.

BOOK NOW

Enjoy riverside serenity in this cute spot. With prices starting from $25.00 per night you must check this one out!

BOOK NOW

Another beautiful riverside spot in unique bamboo cabins. Rooms start from $30.00 per night.

BOOK NOW
---
Sihanoukville
Sihanoukville is a rather large city that has changed a huge amount over the years. On my first visit in 2017, it was okay. Though you probably wouldn't want to stay there for more than 1 night, aka it was a good place to stop before the ferry to the islands.
In 2019 it was obvious this place was no longer the idyllic backpacker destination that put it on the map. Construction was now strongly present in the nearby, Otres Beach, and many locally-owned restaurants and hotels had quickly begun shutting down.
In early 2022 many tour agencies such as Stray Travel and Intrepid pulled out of visiting this destination citing the above reasons, ultimately making it a backpacker hell than a paradise for those travelers visiting.
---
Koh Rong
One of my favorite spots to chill beachside with clear waters and squeaky sand in the entire world has got to be Koh Rong and its sister island Koh Rong Samloem in Cambodia.
I have visited Koh Rong a couple of different times throughout my travels in Cambodia and absolutely love it there. if you are looking for a paradise island you have certainly found the right place. From the calm waters to the white sandy shoreline, this island has some truly incredible beaches.
Find out how to travel from Koh Rong to Koh Rong Samloem
Enjoy beachfront living in luxury. Rooms here start from $70.00 per night.

BOOK NOW

One of the best party places on the island. Dorm rooms here start from $5.00 per night.

BOOK NOW

Located on a quieter part of the island. You can find a seaview tent here for $11.00 per night.

BOOK NOW

A short walk from an incredible beach and the main town. Rooms here start at $50.00 per night.

BOOK NOW
---
Koh Rong Samloem
Koh Rong Samloem is an absolute paradise! Seriously you will be amazed by the impressively clear shores, white sand, and calm lapping water. No matter where you go on Koh Rong Samloem no doubt you will find some beautiful serene spots.
Though if you are not wanting to put in the effort of wandering until you find this, or perhaps want to book accommodation on one of the best beaches on Koh Rong Samloem. Well lucky for you there are so many to choose from, though you will find the issue is actually to do with getting to them.
There are two main beaches on Koh Rong Samloem called Saracen Bay and M'Phey Bei which are where the speed boats and ferries arrive. Therefore this is where the majority of people choose to stay since it is easily accessible.
A glamping-style hotel on an excellent snorkeling beach. Prices from $20.00 per night.

BOOK NOW

A popular hostel chain throughout Cambodia. Grab a dorm bed from $10.00 per night.

BOOK NOW

My top choice. Rooms start from $36.00 per night with air-con, 24/7 power, and awesome wifi.

BOOK NOW

An affordable hostel on the main beach of Saracen Bay. Dorms start from $6.00 per night.

BOOK NOW
---
Work For Accommodation In Cambodia
Give working for your accommodation a try. Many hostels in Cambodia offer those who are staying a free place to rest their head. Though in exchange you must be willing to help with cleaning, front desk, and other general duties.
Another option is WWOOFing or Helpx.
---
LIKE IT? PIN IT!
---
Want more Cambodia Inspiration?
Check out….
---
Disclaimer: This post contains affiliate links. So, if you click on it and purchase something, I get a small percentage at no extra cost to you. As always all opinions are my own and your support is much appreciated.
Related Posts
Welcome to the paradise spots of the Cambodian Coast. Get ready for the bluest of [...]
Find out absolutely everything you need to know about backpacking Cambodia! I will share with [...]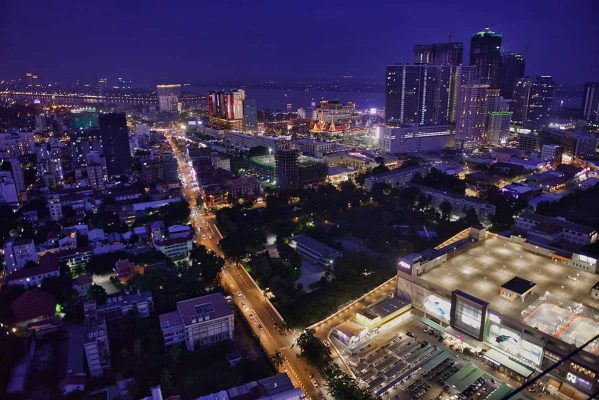 Find out the best, and most cost-effective way to travel from Ho Chi Minh City [...]