Planning on visiting Siem Reap? Then I highly recommend you do the Angkor Wat Small Circuit that'll take you to all the famous temples in Angkor Archeological Park. I will let you know how to get around, ticket prices, and what temples you will visit during your adventures. 
---
No doubt visiting Angkor Archeological Park is a must-do when you are traveling around Cambodia. This easily becomes a highlight in many people's adventures, and the best way to see the most impressive temples is by doing the Angkor Wat Small Circuit. Though what exactly is this?
Well, if you are planning on visiting Angkor Archeological Park in Siem Reap then you will have two different options to explore; either the Angkor Wat Small Circuit or Grand Circuit.
Even though the small circuit may not sound as fancy this is actually the loop that will take you to all the famous temples that have put Siem Reap on the map. This includes the famous Angkor Wat, Bayon, and Ta Prohm.
This Small Circuit is suitable for those people who perhaps only have 1 day to explore the temples, allowing you to see all the highlights and leave with some incredible memories. Though this is also the most popular route with many tour buses visiting and crowds galore. So is it still worth it?
Well, I will get into why you should do the Angkor Wat Small Circuit, how to get around, purchasing tickets, what temples you will see, their highlights, what to bring with you, and more in this guide. So prepare to get excited as we explore these impressive Khmer ruins.
---
Angkor Wat Small Circuit: Visiting The Most Famous Temples In Siem Reap
---
Why Do The Angkor Wat Small Circuit?
The Angkor Wat Small Circuit is definitely the most popular way to experience Angkor Archeological Park. Though this means you will find A LOT of crowds, including those fantastic tour buses. So why even want to do it?
Well, there is a reason why it is so popular and draws in such a crowd. The Angkor Wat Small Circuit takes you around to the park's best and most famous temples.
This includes sunrise at Angkor Wat, which is no doubt the most well-known, Bayon, the temple with all the faces carved in, and lastly Ta Prohm, which is the temple made famous by the movie Tomb Raider.
Experiencing the dark sky change to lightly colored pastel hues, being watched over by stone faces, and witnessing nature take over these structures is truly mesmerizing.
No doubt, if you are traveling Cambodia and only have 1 day to check out Angkor Archeological Park, or perhaps just want to see the highlights, then the Angkor Wat Small Circuit is the best bet.
Though if you do have longer, such as 4 days in Siem Reap, I highly recommend checking out my itinerary for the best things to do. 
---
Buying Your Tickets To Angkor Archeological Park
Now there are a few different types of tickets you can buy to Angkor Archeological Park, and you will need at least a 1-day ticket to experience the Angkor Wat Small Circuit.
Though be aware the tickets are not as cheap as they used to be. Actually, this was the most expensive thing I did in Cambodia, and it is likely you will have the same experience as well.
Now you have three different ticket options to experience Angkor Archeological Park:
1-Day Ticket- $37.00
3-Day Ticket (valid for 1 week)- $62.00
7-Day Ticket (valid for 1 month)- $72.00
Other things to note are children under 12 can enter for free but they must show their passport. The ticket grants you entry to all the temples excluding Kulen Mountain and Bengmealea Temple. 
---
Top Tip: Experience Sunset After Buying Your Ticket
One of the best things you can do in the evening while in Siem Reap is going for sunset at Angkor Archeological Park. It is super easy to take a tuk-tuk there and all the drivers know about this not-so-secret, secret.
The basis is that if you purchase your ticket after 5 pm then you can head straight into the park to experience the sunset.
One of the most popular temples to watch the sunset from is called Phnom Bakheng. This is also the temple that we visited for sunset, it was busy, but not overwhelming. Just know you won't have it all to yourself.
The temple is tall enough for the perfect view over the jungle where you can watch the sunset over the horizon and the sky change to beautiful hues of pink and orange.
Doing this is super easy to organize, and is a relatively affordable experience. For example, it only cost my partner and me an additional $10.00, or $5.00 each to do this.
---
How To Get Around Angkor Wat Small Circuit
Even though it is called the Angkor Wat Small Circuit it is not in any way small, rather it is simply smaller than the alternative option, the grand circuit. This is definitely not walkable, and I do not recommend you try it. Instead, the best options to get around are by bicycle, tuk-tuk, or on an organized tour.
Here is a bit more information on each of these options…
---
Bicycle
No doubt one of the most eco-friendly ways to see the Angkor Archeological Park is by bicycle. Though in all honesty if you think this option is the best for you I do recommend thinking twice.
This is simply because of the heat. Now I know I may not be the fittest person in the world, but visiting all these temples is utterly exhausting. This is without having to bike around to and from each one, as well as from your accommodation and back.
If you insist on using a bicycle, then I highly recommend an e-bike as an alternative. These are the battery-powered motorbike-type vehicles that you can drive around (actual motorbikes aren't allowed in the park).
Be aware that you will need to stop to charge your E-Bike. Though, don't worry as there are charging stations available in the park, or you are able to charge in a lot of restaurants as long as you purchase something as well.
There are many companies in Siem Reap where you can hire these E-Bikes or you can organize it in advance by booking online.
---
Tuk-tuk
Taking a tuk-tuk is my preferred way to check out the Angkor Wat Small Circuit and makes for a super enjoyable experience as there is no need to navigate. Instead, you can just relax and enjoy the warm Cambodian breeze in your hair.
It is also surprisingly affordable to hire a tuk-tuk to take you around as well. You can either organize a driver in advance or simply just wait until you are in Siem Reap and meet one. You will find plenty hanging around the touristy area of Pub Street and then you can negotiate a rate with them.
Though, I prefer to organize mine in advance as then you don't have to worry if you can't find someone, or perhaps you may be short on time. Personally, I used Sary from Tuk Tuk Angkor and the whole process was super easy, from sending him an email, locking in the dates and times, and exploring on the day.
He has all the prices listed on his website so you know what you are paying up front. For example, as of writing it is $15.00 for the Angkor Wat Small Circuit, $3.00 extra for sunrise, and you can add on $7.00 to do the sunset tour as well the day before.
If you are traveling as a couple or a small group it is easy to see how affordable of an option doing this is.
---
Organized Tour
Now the last option you have to explore the Angkor Wat Small Circuit is by taking an organized tour. These are super easy to find and can be booked in advance via platforms like Get Your Guide.
Though before you decide to go with this option know that you will be transported around in a minivan or bus (bonus air conditioning). Though personally, for me, this takes away some of the magic of the Angkor experience. Also, best to read reviews so you know exactly what you are signing up for.
One of the most popular tours is the Highlights and Sunrise Small Group Tour. On this, you will have the opportunity to watch the sunrise at Angkor Wat, Angkor Thom, Bayon, and Ta Prohm, all from the comfort of an air-conditioned bus or van.
They will pick you up and drop you off at your hotel, and provide an English-speaking tour guide so you can learn about the history of these impressive temples.
---
The Temples On The Angkor Wat Small Circuit
Now it is time to learn about the temples on the Angkor Wat Small Circuit, so you know what to expect on your adventures. From the famous Angkor Wat to Ta Prohm, and the less-known temples that are equally as magical, let's dive into exploring each one of them…
---
Angkor Wat
The first temple on the Angkor Wat Small Circuit is the star of the day, Angkor Wat.  This is no doubt the most famous part of the Angkor Archeological Park that put Siem Reap on the map and that flag.
You will come here for sunrise and join the crowds as you watch it rise over one of the ponds out front (it's a pretty epic reflection). Though, don't expect that you will have it all to yourself.
There will be quite a few crowds joining you this morning, but in all honesty, I didn't find it too overwhelming. Plus watching the sky turn from night to day, with all those magical colors, is the perfect distraction.
Once the sun is in the sky, and the sunrise show is over, then it is time to head inside Angkor Wat and explore all it has to offer. Now, I recommend not rushing and taking your time to let the crowds disperse.
This happens rather quickly because Angkor Wat is freakin huge. There are so many areas to explore you will quickly find yourself away from the masses.
You will see plenty of monks here offering blessings for a donation, which is a pretty popular thing to do here. They are usually located in the first part when you enter, which can be more crowded.
You can also climb the extremely steep steps to the temple in the center. There is usually a line, as numbers are limited, but you do get quite an epic view up the top.
Just take your time as the stairs are incredibly steep. This area opens a little later at 6.40 am and a conservative dress code is enforced with your shoulders and knees covered.
Once you have finished checking out Angkor Wat I recommend heading to one of the nearby cafes for a quick breakfast to fuel you for more exploring. That and you will be able to find a decent bathroom.
---
Phnom Bakheng
I highly recommend visiting Phnom Bakheng during sunset, as it is truly the most magical way to experience this temple. Sure, it will be busy, but there is an awesome view from the top where you can watch the sunset into the jungle. It takes about 10 to 15 minutes to climb the stairs to this awesome view.
This is one of the temples in Angkor Archeological Park which is going through a lot of construction. Therefore you may have scaffolding, a crane, or building materials to contend with. Nevertheless, it is still well worth visiting for sunset for some epic views and to get you excited for tomorrow's adventures.
If you visited this temple for sunset it is likely you will skip it on the day when you are doing the Angkor Wat Small Circuit.
---
Bayon
Welcome to Bayon temple, this is another one of the famous spots here in the Angkor Archeological Park, so you will not be alone during your visit.
This is the second of the famous three that are located along the Angkor Wat Small Circuit. This Gothic-style temple is located right in the middle of Angkor Thom, or Great City.
It is best to visit this temple early morning before all those tour buses arrive. Typically they make their way here around 8.30 am to 9.00 am, letting off hoards of travelers.
As a result, the best time to visit here is between 7.30 am to 8.30 am. Though if you are wanting to climb the stairs at Angkor Wat, and spend a couple of hours exploring there you may be tight on time.
This is what happened to us, so we got stuck with the hundreds of other tourists. Though because there is no set route to exploring this temple it is still possible to explore easily at your own pace and avoid a lot of crowds while you do it.
What really sets this temple apart from the rest and makes it world famous is the faces built into the facade looking outward of the building. It truly is impressive thinking about how these were carved out and built.
There are actually 216 faces here, though whose face it is has been of controversy between historians, either the former king, Jayavarman VII, or the face of the bodhisattva of compassion, Avalokitesvara.
One of the highlights of Bayon Temple is to venture up to the rooftop. From here you will get an awesome view of the nearby well-preserved faces, some that are so close you are face to face and others that still loom high above. This is a popular spot to take a "kissing photo" with faces.
Top tip: Make a stop at the gates of Angkor Thom during your journey around the Angkor Wat Small Circuit. A lot of people stop here just before visiting the Bayon temple as it is on the way. The gates are super impressive and make for an excellent photo opportunity. 
---
Baphuon
The next temple to check out is called Baphuon. It is a huge temple to explore that has a steep staircase leading to a pretty epic view from the top of the surrounding area.
Make sure to follow the "way of visit" signs around the temple. Yes, you do need to stick to a predetermined path. Though this will lead you through the impressive stone gate, past the Hindu pyramid of Phimeanakas, and lastly to Prasat Preah Pillay.
It was built as the state temple of Udayadityavaman II, dedicated to Shiva, the Hindu God of Death and Destruction.
Though this is certainly one of the temples a lot of people decide to skip if they are short on time. This is because the architecture isn't as remarkable as others with impressive carvings.
Personally, I quite enjoyed this one as there hasn't been any reconstruction work done so there are plenty of stones lying around, and trees growing through the rubble. These large trees and the carved stones underneath actually made for the perfect spot for a quick bite of a prepacked lunch underneath the shade.
---
Terrace Of Elephants
It is an easy short couple of minutes' walk to the Terrace of Elephants from Baphuon, so it is well worth checking out while you are on the Angkor Wat Small Circuit.
This is a 300-meter terrace where back in the day the king would watch events along with the people of Angkor. The elephants are impressively carved into the terrace, giving it its name.
Some tuk-tuk drivers will skip this stop, but it is well worth visiting.
---
Thommanon & Chau Say Tevoda
Thommanon and Chau Say Tevoda are located just after the east gate of Angkor Thom. The drawcard here for these two temples is the perfectly preserved Aspara carvings.
Thommanon is slightly more preserved than Chay Say Tevoda, but both provide the perfect opportunity to check out some well-preserved carvings of Devetas, or female deities.
This is another spot that some tourists choose to skip. At this point in the day, you are no doubt feeling a bit of exhaustion from the early wake-up and heat. Though as a result, if you do decide to visit these temples you will definitely notice the lack of crowds, which makes it even more magical.
---
Ta Keo
A relatively new temple that has popped up on the Angkor Wat Small Circuit is Ta Keo. The highlight here is that you can climb the stairs to the top for a pretty epic view of the surrounding areas.
However be aware that these stairs are extremely steep. So, if you decide to visit in the mid-day heat take your time climbing up and bring some water to keep hydrated.
At the top, you can see a small temple, and inside is a shrine dedicated to Buddha. The temple is unique in that it is a pyramid style that was built out of sandstone all the way back in 975 AD.
---
Ta Prohm
The last of the famous three temples on the Angkor Wat Small Circuit is called Ta Prohm. It is also located on a huge ground, sprawling all over, so prepare to spend quite a bit of time here. You will definitely want to have your camera close by as there are plenty of epic photo opportunities here!
This is no doubt one of the highlights to many people doing the Angkor Wat Small Circuit, and as a result, you will see many MANY other tourists exploring Ta Prohm. The big drawcard here is it is the filming location of the Tomb Raider movie.
Expect to find a lot of large tour groups, especially once the large tour buses descend around 9 am. Though in my experience everyone was pretty well-behaved and took turns taking photos.
Though, apart from the film, the other reason people love this temple is there are multiple occurrences here of nature reclaiming the structures. Think tree roots forming a maze over these impressive carved stone buildings. It is truly a magnificent sight to behold.
Though to prevent any human destruction, a lot of these areas have been roped off, preventing access, and only allowing you to admire from afar.
One thing to be aware of is that some areas, especially when you are exploring inside the temple have a designated path and you need to follow that direction.
That means it can be hard to get away from the other crowds like you may have been able to do at the other temples and appreciate the beauty of this place in peace.
---
Banteay Kdei
Essentially one of the last temples you will visit on the Angkor Wat Small Circuit is Banteay Kdei. This is one of the temples where you can see it giving away to time.
It has had a few renovations over the years, so if you look closely you will see the stones are actually being held together by wire due to it being quite unstable.
The name Banteay Kdei translates to a citadel of chambers, and here you will find plenty of hallways waiting to be explored.
Marvel at the impressive carving, be mesmerized by gravity slowly pushing over the structures, and make sure to check out the large tree at the back of the temples growing up on one of the walls. It certainly is a highlight.
Be aware that many tuk-tuk drivers will probably skip this temple unless you ask. They probably assume many people are tired, hot, and ready to head back to the city center. Though if you are up for it, it is well worth visiting.
---
Srah Srang
Just across from Banteay Kdei, you will find Srah Srang which is the last stop on the Angkor Wat Small Circuit. Here you can find a massive man-made lake where you can check out a beautiful reflection of the sky and relax.
There is also a delicious noodle shop here which makes for the perfect spot if you are feeling a bit hungry, or grab a strong cup of coffee if you are needing a bit of energy hit after all that exploring.
Though if you are tired from all the adventures today don't fret about heading straight back to your hotel for a cold drink and a dip in the pool. It has no doubt been a hot and sweaty day under the Cambodian sun, and you deserve a relax.
---
Where To Stay In Siem Reap
Siem Reap is a popular destination for travelers of all types so you will find accommodation for all budgets. Whether you are looking for a taste of 5-star luxe, an affordable guesthouse, or a hostel where you can meet other travelers, there is something here for everyone.
Though in my eyes, there are two things you need to be aware of when booking accommodation in Siem Reap. The first is I highly HIGHLY recommend booking a room with air conditioning.
Secondly is that there are a heap of power cuts in Siem Reap A LOT. Therefore depending on where you book if the power goes out, there goes your air conditioning.
My personal favorite place to stay in Siem Reap is called the Royal Crown Hotel & Spa. They have two different pools you can use, a quick 5-minute walk from the Old Market, beautiful rooms, a generator, and delicious food options on-site.
I actually got quite sick in Siem Reap and we ended up bunkering up here in this hotel for a week.
A fun and social hostel with a rooftop pool. Prices start from $5.00 per night for a dorm room.

BOOK NOW

A chill hostel with a co-working space as well. Prices start from $7.00 per night.

BOOK NOW

My top choice. Rooms start from $45.00 per night with two pools and breakfast included.

BOOK NOW

A Luxe Hotel with modern rooms and a pool. Prices start from $70.00 per night.

BOOK NOW
---
Any Questions? Let me know in the comments!
---
LIKE IT? PIN IT!
---
Want more Cambodia Inspiration? Check out….
---
Disclaimer: This post contains affiliate links. So, if you click on it and purchase something, I get a small percentage at no extra cost to you. As always all opinions are my own and your support is much appreciated.
Photo credit: "Srah Srang 1" (CC BY 2.0) by Joaquin Uy. "Banteay Kdei Temple" (CC BY 2.0) by Ecperez . "Ta Keo 2" (CC BY 2.0) by Ben Kucinski .
Related Posts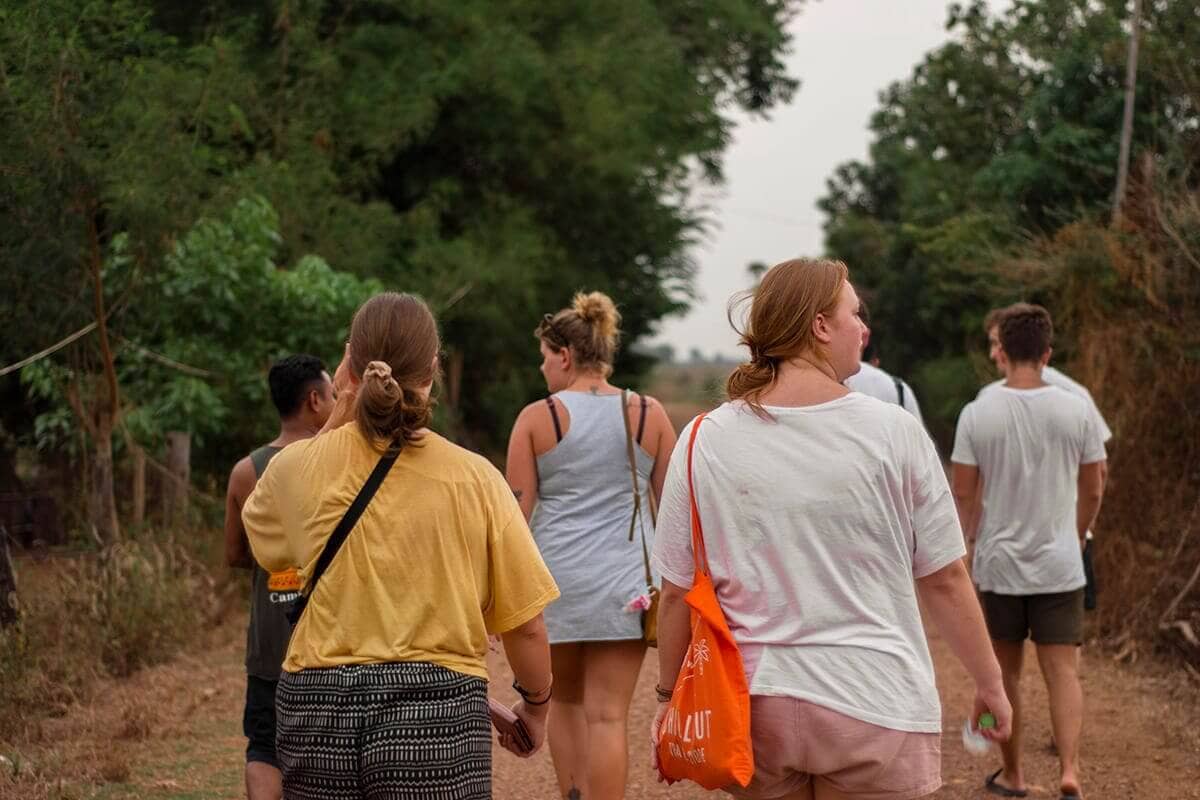 Find out everything you need to know about traveling South East Asia with Stray Asia. [...]
4 Comments
Come check out how to travel from Sihanoukville to Kampot. I will compare the bus, minivan, [...]
Planning on traveling around Cambodia? Then come check the cost to travel Cambodia on a [...]