Want to find the perfect backpacker dorm for your trip to paradise? Well, come check out the best hostels on Koh Rong Samloem and the best hostels on Koh Rong in this guide.
I have compared the price, facilities, amenities, and location- so come find out the top backpackers for all types of travelers in this ultimate guide and have the perfect stay!
---
Welcome to the picture-perfect islands of Koh Rong and Koh Rong Samloem in Cambodia. You can truly find some amazing beachfront hostels here which will make you truly believe you are in paradise.
Though there are also ones that give the complete opposite experience, and unfortunately I can say I have stayed in some of these on the islands.
Though that is why I am letting you know what are the best hostels on Koh Rong Samloem and the best hostels on Koh Rong so you don't make the same mistakes as me.
Seriously you can find backpackers here of all types, some are luxe, and others have limited power and no flushing toilets. Though if you are looking for the true deserted island experience you may be fine for this, it's best to know in advance what you are signing up for.
You may also want to know which are situated on the best beaches of Koh Rong and the best beaches of Koh Rong Samloem.
I am not going to lie, usually, I would split these two islands into two different posts, focusing on the best hostels on each. Though unfortunately, the options on Koh Rong are rather limited for shared dorm rooms.
Instead, you will find an abundance of affordable private fan rooms. On Koh Rong Samloem they have a huge assortment of hostels available catering to all types of travelers.
Don't worry though I will also get into whether you should travel to Koh Rong or Koh Rong Samloem as a backpacker and what each island has to offer.
With the help of this list, you'll be able to see what to look for when booking a hostel on Koh Rong Samloem or a hostel on Koh Rong! Ensuring you can book a bed confidently, in a decent location, and for a good price.
---
List Of The Best Hostels On Koh Rong
---
How I Book Cheap Transport In Cambodia: 12Go Asia
---
How To Choose The Best Hostels On Koh Rong
Well in all honesty you won't be spoilt for choice regarding hostels on Koh Rong. In all honesty, this is the island you always hear about when talking about the paradise spots on the Cambodian Coast. So therefore you would automatically assume there are plenty of options available.
But unfortunately here that is not the case. Actually, you will have a lot more choice on the smaller of the two islands Koh Rong Samloem, which I will cover further down in this article. Though for now, let's keep on talking about the best hostels on Koh Rong.
All of the hostels on Koh Rong, at the time of writing, are located on Long Set Beach. This spot is also known as 4k beach thanks to its spoilt sprawling shoreline which just stretches on.
It is an easy 30-minute walk from the main village of Koh Toch where the ferry boats arrive so if you choose to stay here you will be relatively close to the action and have plenty of restaurant options.
---
Overall Best Hostel On Koh Rong – Nest Beach Club
Okay before we get into the details of Nest Beach Club you need to know this is a party place. Like a super noisy bass-pumping party place. Therefore I recommend only staying here, as well as the other hostels on Koh Rong, which are all on the same beach if you are wanting to join in on this.
It is a party every night and my friends who were young UK backpackers did not enjoy their stay as it was too much party for them.
Nevertheless, if you are down to drink the night away and spend your hungover days beachside Nest Beach Club is the spot. They have super comfortable dorm rooms with privacy curtains, personal reading lights, and electrical sockets.
Just be aware there are no hot showers. Usually when you are spending all day in 30-degree heat and ocean water that feels like a bath, the best way to cool down is a cold shower.
They have a choice of 10 or 12-bed dorm rooms, depending on your budget. It is also an excellent social atmosphere so if you are traveling solo and looking to meet other travelers, you will have no problem here.
$$
Beachfront Location
Onsite Restaurant
Pod style Dorms
CHECK BEST PRICES
---
Honorable Mention Best Hostel On Koh Rong – Bunnas Jungle
Our runner-up honorable mention for the best hostel on Koh Rong, and the only other hostel on the island is Bunnas Jungle. This is located nearby to Nest Club Club, just pushed slightly inland in a more jungle-like location. Though it is still an easy enough walk until you are right back on the beach in paradise.
They have a six-bed dorm room, otherwise an assortment of private rooms. Therefore no matter your budget, or if you want a bit more privacy, there is something for you here.
This is a nice family-run hostel so it is a good alternative if you want something a bit more quiet and low-key. Perhaps less of a party atmosphere, or simply just to get a decent night's sleep after checking out Nest Beach Club.
The dorms here have air conditioning, privacy curtains, personal lights, and electrical sockets. Though there is no onsite restaurant so you do need to venture down to Long Set beach for your meals.
$
Privacy Curtains
Air conditioning
Chill Atmosphere
CHECK BEST PRICES
---
Best Cheap Private Room On Koh Rong – Lonely Beach
This cheap private room is actually on one of the most secluded beaches on Koh Rong. Though it is also one of the best beaches where you can get away from the crowds and enjoy the white sand and clear waters.
This is one of the top picks for accommodation on Koh Rong, and it is not just for its affordable price. The location here is incredible, the hosts are so friendly, and the rooms may be basic, but you get that true deserted island experience.
Be aware that many of the more affordable options are actually for tents. It is not really somewhere you want to be hanging out unless you are super tight on funds. Well, luckily Lonely Beach has private rooms with shared bathrooms as their cheapest option.
This spot is a bit back to basics, but that is the beauty of this place, it's like stepping back in time before tourism really took over the island. There are a few different types of bungalows available and the prices are pretty affordable.
Even though it may be a more rustic experience this is one of the most highly rated accommodations on the island thanks to its incredible location, amazing owners, and eco-friendliness.
To get to this slice of paradise you either have two different options. The first is taking the slow boat from the main pier in Sihanoukville, though be aware this can take anywhere from two to three hours, so best to bring some snacks.
Alternatively, you can take a speed boat to the main village of Koh Touch on Koh Rong and then organize transport with a local taxi boat to Lonely Beach.
$
Beautiful Beach
Onsite Restaurant
No Tents
CHECK BEST PRICES
---
List Of The Best Hostels On Koh Rong Samloem
---
How To Choose The Best Hostels On Koh Rong Samloem
Now we have some choices, welcome to Koh Rong Samloem. This island is a lot more low-key than Koh Rong but has actually gained a lot of hostels over the years.
There are even some Cambodian chain hostels located here. Though there are still some decent ones and some bad ones, I am here to divide the two options so you don't end up booking somewhere horrible!
Honestly, the quality of hostels on Koh Rong Samloem may not be as great as on the mainland. This is because there are limited resources on the island, and you may not have air conditioning/ power or wifi 24/7 or at all.
This is why it is important to research what hostels are available, see what they offer, and read reviews so you book the best one for your needs.
The older, and perhaps wiser, I get the more of a glampacker travel style I begin to develop and there are plenty of bougie hostels in Cambodia that cater to this, though options are quite limited on Koh Rong Samloem.
Sure, you can't go wrong with the old-school wooden-style bunk beds. Though there are plenty of affordable and modern hostels here so there is honestly no reason to stay somewhere substandard.
So when choosing the best hostels in Koh Rong Samloem, some things I took into account are:
---
Price
Honestly, the prices of hostels on Koh Rong Samloem are quite a bit more on the mainland. Though this is pretty standard for islands all around the world.
This is because of the extra effort it takes to move goods and materials across the sea or ocean to the island. You will also find restaurants are quite a bit more expensive here.
Personally, I recommended budgeting around $12.00 for a hostel dorm room on Koh Rong Samloem per night. This will also you to stay somewhere comfortable, with a great atmosphere, and perhaps even a pool.
Though if you are planning to stay in a private room you will need to up your budget to around $35.00 per night. Hopefully, you are traveling with a friend or as a couple so you have someone to split the price with.
---
Location
Koh Rong Samloem is rather limited to where you can stay due to the different beaches being connected by jungle treks, there are no roads. Though a lot of people get between these spots by boat.
If you are coming from Sihanoukville the boats will drop you off at Saracen Bay. This is a gorgeous beach with calm and shallow waters. There are plenty of accommodation options here, including a few hostels. restaurants and tour providers.
---
Amenities
Now unfortunately as I mentioned previously amenities can be quite limited on an island. This means you may not have air conditioning, wifi, or 24/7 power. Oh, and of course hot showers.
Now if you are reading this and think hmmm, this doesn't sound like me, then I recommend upping your budget. There are some excellent resorts here for those with a bit more to spend, including my personal favorite Sara Resort.
I recommend doing your research and reading plenty of reviews before booking your hostel on Koh Rong Samloem. This will prepare you for what to expect and make sure you are not under or overwhelmed.
Quite a few of the hostels on this list organize nightly events and have an excellent social scene. Perfect if you want to meet other travelers!
One thing to be aware of is often cheaper hostel dorm rooms won't have air conditioning. Rather they will have a fan, I have stayed in both during my travels in Southeast Asia.
---
Welcome to the best hostel on Koh Rong Samloe, Onederz Hostel. This is an excellent spot for travelers of all types to relax, explore some incredible beaches, and swim to their heart's content.
Onederz is located right on Saracen Beach so it'll be a super easy walk stepping off your ferry boat and straight to your accommodation.
This is actually a popular hostel chain throughout the country, and this location was their first so you know it has got to be good. They actually often top my 'best hostels in' lists all over Cambodia.
Get that perfect Instagram shot on the beach swing at sunset, grab a delicious cocktail from their beachfront bar, or simply have a delicious meal at the restaurant.
They have 4 different types of dorm rooms, whether you want a mixed, female, or just a small amount of people to stay with they will have something suitable for you.
Each bed has a large locker, a personal reading light, and an electrical socket. Just be aware that, like many hostels, they do turn the air conditioning off during the daytime.
$$
Beachfront Location
Tour Desk
Dorms or Private Rooms Available
CHECK BEST PRICES
---
Perhaps you are traveling Koh Rong Samloem as a solo traveler, wanting to make some friends and some awesome memories. Well, then Mad Monkey Koh Rong Samloem is definitely the place to be.
This place isn't just a hostel, it is like a resort! Seriously, it has its own private bay so you can enjoy the island without the crowds. That clear water and golden sand are all yours!
Make some new friends at the bar which is located on a pier in the ocean, or grab one of the kayaks and go out on one of your own adventures. Whether you want a beachfront bungalow or want to stay in one of the shared dorms overlooking the beach, this seriously is an incredible hostel.
There are either 10, 6, or 4-bed dorms available for booking, with 10 beds being the cheapest option. Though be aware the dorms here are quite basic, with the 10 beds having an open-air concept, i.e no walls so uninterrupted views of the beach on one side. There are mosquito nets provided to keep the creepy crawlies away luckily!
One thing to be aware of is that since it is not connected to the main ferry port on Koh Rong Samloem you will need to pay a boat driver to take you there, or alternatively visit their booking office at the main speed ferry office by the lion roundabout in Sihanoukville. They will be able to organize your transfer to the island for you.
$$$
Private Beach
Daily Events
CHECK BEST PRICES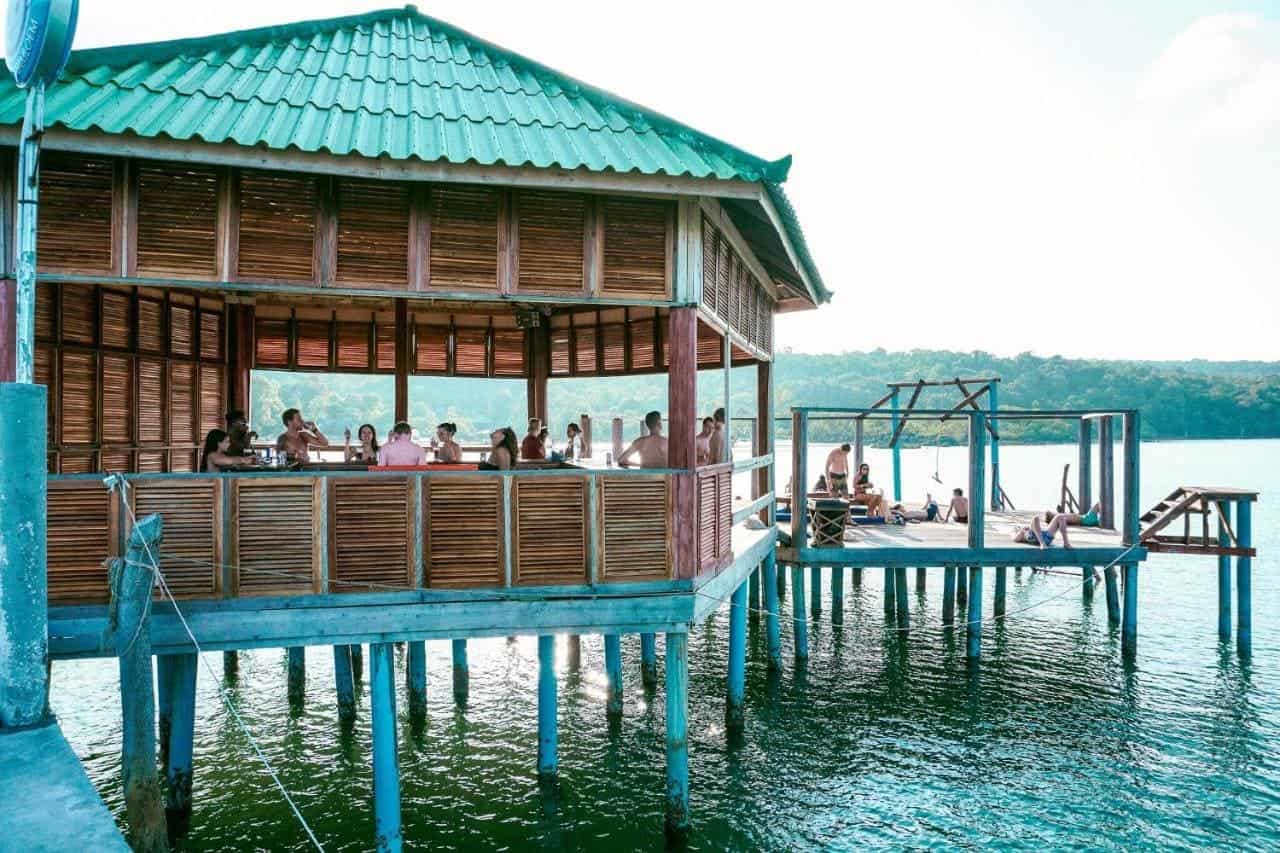 ---
Best Cheap Hostel On Koh Rong Samloem – The Cliff Hostel
Welcome to our cheap hostel on Koh Rong Samloem called The Cliff Hostel. This spot is actually located in M'Pay Bay which is a local village on the island, making it an excellent choice for budget travelers.
It is just a 5-minute walk from the pier, though be aware it is uphill so bring along some water. This is a super unique picturesque location, unlike any other hostel on the island. As the name suggests it is located right on the side of a cliff with sweeping views over to the nearby Koh Rong.
Grab a beer and enjoy the sunset in one of the many hammocks. This may be one of the cheaper options, but you won't be skimping on experiences.
There is also some excellent snorkeling to be had in the clear waters below the hostel. There is no way you can come here and not experience so prepare yourself to meet some cool fish and check out the beautiful coral.
Onsite they have both dorm and private rooms available for travelers. There are no bunk beds to be had here, not even in the dorm rooms. Instead, you will find individual single beds with a mosquito net. This means you won't be woken up some someone rolling over during the night.
$
Onsite Restaurant
Epic Clifftop Location
CHECK BEST PRICES
How I Book Cheap Transport In Cambodia: 12Go Asia
---
Best Luxe Hostel On Koh Rong Samloem – Bodega Hostel
If you aren't on too much of a budget, or perhaps enjoy the finer things in life and are not looking for a hostel with a bunch of drunk young people then I highly recommend Bodega Hostel.
It is far from the cheaper option, but I know as I have aged, what I am looking for out of a hostel has changed as well. Not going to lie when I come back to my favorite slice of paradise called Koh Rong Samloem I am pretty sure this is what I would be booking.
Onsite you will be able to find an incredible pool looking straight out over the ocean. There is also a bar right next to the pool so make sure to grab yourself a refreshing cocktail and simply relax the day away.
You will be able to sleep well in luxe-style dorm rooms featuring air conditioning, something that isn't even common in private rooms on this island. The beds are pod style with a pull-across curtain so you can have a bit of privacy. You will also have a locker, personal reading light, and electrical sockets.
Be aware that it is in a more secluded location sharing a bay with just a couple of other resorts. You will need to organize your ferry boat to drop you off at Sandy Beach.
From there the team at Bodega Hostel will come to pick you up in one of their boats and bring you to the location. This means you do need to let them know in advance what time you plan to arrive.
$$$
Pool
Male & Female Dorms Available
CHECK BEST PRICES
---
Best Cheap Private Room On Koh Rong Samloem – Sleeping Trees
Yes, I know no one wants to sleep in a tent, especially on a hot island. Though I stayed here at Sleeping Trees during one of my visits to Koh Rong Samloem and absolutely loved it as an affordable option.
This is located on the opposite side of the island from Saracen Bay looking straight out to the open ocean. You will experience the most epic sunsets from here as you watch them drop down straight into the water.
We stayed in the Teepee which is the next step up from their basic tent option. This was a great choice for us as there was plenty of room in the tent to hang out during the day, there was a full-size bed, and it had electrical outlets inside powering fans.
We spent our days frolicking in the water, doing a bit of snorkeling (the snorkeling here is so good it is where the mainland snorkeling tours come to visit), and simply just relaxing.
There isn't that picture-perfect white sand here, instead, it is a more golden shade. Though there are plenty of hammocks and areas to chill around which more than made up for it.
The main thing to be aware of if you are wanting to stay here is accessibility. You basically have two options, the first is the across-island jungle trek, and the second is taking a boat.
Though I am a bit basic and the boat doesn't run every day so we did the across-island trek which was basically the extent of our Annapurna Circuit training.
It was relatively easy, though you definitely need to have backpacks, not suitcases, and be able to walk for around an hour with them no with no issues (even though the trek takes about 40 minutes it isn't easy terrain).
$
Super Affordable
Glamping Tents
CHECK BEST PRICES
---
During my last visit to Koh Rong Samloem, we actually ran out of money and needed to stay somewhere that accepted credit cards, hence Sara Resort. This is in no way a budget option.
Though they do have some more affordable rooms that have air conditioning, some of the best wifi on the island, and a completely epic location right on Saracen Beach.
There is a delicious onsite restaurant offering up an assortment of meals, including some super fresh seafood, oh and the breakfasts here are pretty damn good as well. I definitely enjoyed my comfortable stay here, though if you are looking for a more deserted island experience, I recommend the above.
$$$
Beachfront Location
Onsite Restaurant
CHECK BEST PRICES
---
More Best Hostels On Koh Rong Samloem
The Big Easy
Another one of the best hostels on Koh Rong Samloem that didn't quite just make the list is The Big Easy. This is another popular hostel chain throughout the country.
They actually had a super popular hostel in Sihanoukville, but then it closed down due to all the construction, and it no longer being a popular backpacking spot so moved to this island instead.
They offer private rooms and dorms. Though what is awesome is that all the dorm beds are actually queen-sized, as well as have individual power sockets, reading lights, lockers, and privacy curtains. Also, there is air conditioning, YAY!
This is another social hostel where you can easily meet people at the bar and enjoy alternative music, live sport and music, and different events each night of the week.
We ate at the onsite restaurant quite a few times during our most recent visit to Koh Rong Samloem and the food here is delicious. They offer an assortment of Khmer and Western cuisines and whip up some super homely meals.
$
Restaurant & Bar Onsite
Queen-Sized Dorm Beds
CHECK BEST PRICES
---
Another option for a hostel on Koh Rong Samloem is Lucky Sun. They are located on the main beach of Saracen Bay which is absolutely incredible with soft white sand and calm waters.
They advertise themselves as a party hostel and that is exactly what they are. With nightly events including fire shows and fire limbo, this is not the place to come if you plan on getting a restful night's sleep. Though they do offer a chill dorm or a fun dorm so you can meet like-minded people.
This is not something I have seen in many other hostels and think it is awesome. They also offer super affordable food and drinks at the onsite restaurant, and if there is nothing you are keen on there is also a convenience store next door.
The dorms are once again pod style which is my preferred setup for a bunk situation. There is also air conditioning to keep you cool during those hot island nights.
$$
Onsite Restaurant
Air Conditioned Dorms
CHECK BEST PRICES
---
Last but not least on the list of the best hostels on Koh Rong Samloem is a little spot called Lazy Bones Hostel. This place is once again in the more local spot of M'Pai Bay.
This means you will have heaps of affordable choices when it comes to food and drinks in the area. There is also a quite nice beach in the main town so you won't be missing out on that either.
The owner actually built this place from the ground up so there has been a lot of love put into this place. It definitely has more of a hippie boho vibe going on and is located in more of a jungle-like location rather than a beachfront.
The dorm rooms here are your basic bunk beds covered with a mosquito net. There is also no air conditioning, but there are some super cute private rooms that are also quite affordable on the budget.
$$
Hippie Vibe
Awesome owner
CHECK BEST PRICES
---
So Where To Stay on Koh Rong & Koh Rong Samloem?
Well now you have had your first introduction to complete paradise, it is time to experience the real thing by going there. Hopefully, with the help of this article, you have been able to find the best hostels on Koh Rong Samloem & Koh Rong so you have the best stay on the islands.
No matter what type of traveler you are there is a little bit of everything here, whether you are looking to party or relax.
Do you own or work for a hostel and want to be featured? Let us know over at [email protected]
---
How I Book Cheap Transport In Cambodia: 12Go Asia
---
LIKE IT? PIN IT!
---
Want more Cambodia Inspiration? Check out….
---
Disclaimer: This post contains affiliate links. So, if you click on it and purchase something, I get a small percentage at no extra cost to you. As always all opinions are my own and your support is much appreciated.
Related Posts
Check out how exactly to travel from Koh Rong to Koh Rong Samloem to discover [...]
2 Comments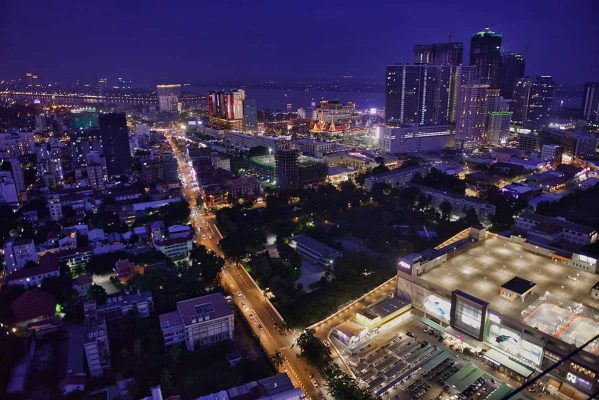 Find out the best, and most cost-effective way to travel from Ho Chi Minh City [...]
Come find out how to travel from Sihanoukville to Koh Rong. Whether that may be [...]