Sihanoukville used to be a bucket list destination on many travelers' lists, but nowadays it is probably somewhere you would purposely try to avoid.
How exactly did it end up like this, is it safe, is Otres Beach still okay and is Sihanoukville still worth visiting in 2023? Let's get into it.
---
Sihanoukville is a rather large city that has changed a huge amount over the years.
On my first visit in 2017, it was okay. Though you probably wouldn't want to stay there for more than 1 night, aka it was a good place to stop before the ferry to the islands.
Luckily I read about the paradise spot of Otres Beach Sihanoukville, and we decided to stay there for a few nights. To say I fell in love with Otres would be an understatement.
The number of times I looked at month-long Air BnBs in the area, living here was my digital nomad dream.
On a recent trip to Cambodia, we went back, and I was excited to rediscover my slice of paradise. Though unfortunately, it seemed like Otres Beach was no longer the boho hippie hangout, and instead was an extension of the Sihanoukville City madness that I remembered.
So let's get into absolutely everything you need to know about Sihanoukville and its surrounding areas to discover is Sihanoukville worth visiting in 2023?
I'll let you know its history, whether it is safe and clean, how long you should stay, and plenty more!
---
Is Sihanoukville Worth Visiting In 2023: What You Need To Know
---
Where is Sihanoukville
Located off the Southern Coast of Cambodia this is a popular spot for travelers to come to check out the best beaches the country has to offer.
It is an easy 3-hour, 200-kilometer drive from Phnom Penh along the new expressway. There has even been an airport built there, providing plenty of access to travelers.
---
History Of Sihanoukville
For the majority of history, Sihanoukville has been relatively ignored. With no proper waterways, it wasn't a decent place to trade and it wasn't until Cambodia's Independence in 1954 that a port was even built here.
Sihanoukville was once a sleepy little backpacker town. It was put on the traveler route in the late 90s, with beautiful sandy beaches and small-town vibes.
From then it grew in popularity with a steady stream of travelers, and soon enough many tour companies started taking their guests there as well.
However, this all changed during the 2010s when there was a huge boom in construction from Chinese investors. Plenty of casinos set up shop, with the numbers quickly climbing into the hundreds.
Thousands of Chinese workers flew in to build these huge modern skyscrapers, being provided accommodation equivalent to a jail cell.
In the late 2010s construction was at its peak, and quite a few of the buildings finished and were now open for business. Though in contrast to this were the ones abandoned, whether the investors ran out of money, or the locally run businesses such as restaurants and guesthouses were left to rot.
Sure, it's easy to focus on the opinion of the traveler, and think what a bummer this place used to be paradise, and look at it now. However, what is the most important thing to think of is the locals who were essentially run out of town.
A popular local holiday destination turned into a city of gambling, sex, and debauchery. Small businesses were brought up on the cheap, demolished, and quickly popped up as huge skyscrapers and modern hotels.
You may think, that at least it provides locals with employment opportunities. Unfortunately, that was not the case as since business was being done in Chinese, they required workers who spoke the language and who would provide cheap labor, hence the many people who were brought over from mainland China.
In the late 2010s it was obvious this place was no longer the idyllic backpacker destination that put it on the map. Construction was now strongly present in the nearby, Otres Beach, and many locally-owned restaurants and hotels had quickly begun shutting down.
In early 2022 many tour agencies such as Stray Travel and Intrepid pulled out of visiting this destination citing the above reasons, ultimately making it a backpacker hell rather than a paradise for those travelers visiting.
---
What Is Sihanoukville Like Now?
Nowadays, in Sihanoukville the days of a quaint backpacker beach destination and nothing more than a distant memory. These backpackers have been replaced by Chinese tourists and the guesthouses and hostels have been replaced by casinos and 5-star concrete hotels.
The only thing that really remains of the past is the numerous tuk-tuks.
There are direct flights here from over 29 cities in mainland China, as well as Hong Kong and Macau.
I will say though that Sihanoukville is looking a lot better than it did when I first visited in 2017. During that time there were these huge concrete half-built buildings and dirt roads that had essentially turned to mud.
The smell of raw sewage and stale water lingered in the air as we, thankfully, sped through the town on our tuk-tuk. You could still find the occasional hostel, and a delicious cafe or restaurant wasn't too far away.
In contrast nowadays, the roads are paved and there appears to be some proper basic infrastructure such as drainage. Huge concrete buildings are everywhere and the skyline of the city can easily be spotted from the horizon.
Even though you may find these sparkling brand-new hotels on accommodation booking platforms, be aware that they are in no way set up for backpackers or Western travelers. Instead, they cater primarily to the Chinese tourist in terms of food, drinks, and facilities.
---
Should I Visit Otres Beach In Cambodia?
Ahhhh the place that broke my heart, Otres Beach. As I explained before, I fell head over heels in love with this destination during my first visit in 2017. This was the perfect backpacker's paradise.
You could easily find plenty of affordable accommodation, the night markets were an excellent way to meet other travelers, and there were delicious foodie options that were affordable.
Even though I stayed a couple of roads back from the main beach, it was an easy 10-minute walk past locally-owned businesses and a few foreign-owned ones by travelers who had also fallen in love with this destination.
Sure, there were a couple of big concrete structures popping up, but they were on the outskirts. Out of sight, out of mind.
Unfortunately on my most recent visit, Otres Beach Sihanoukville was a shell of what it once was. It had now and truly become a full-fledged part of Sihanoukville, with perfectly manicured streetsides and large buildings popping up everywhere.
Some locals were still present living in small shacks along the dusty roads. But for the most part, it seemed the majority had given up on their once slice of paradise and moved on.
Many hotels in the area were in talks of packing up, for them it was just a matter of deciding when. I mean no one wants to sleep in a hotel with 24/7 construction next door, no matter how nice it is.
Here you will find the real picture of the rich vs. the poor. Many people live in bamboo shacks that have sheets for walls, while these insane skyscrapers and built literally next door.
On my most recent stay in Otres Beach, I slept at Sok Sabay Resort. This place is great if you can ignore all the chaos outside the walls.
Though this place is great if you NEED to stay in Sihanoukville or Otres Beach Cambodia. They have wonderfully air-conditioned rooms, awesome internet, a delicious onsite restaurant offering vege and vegan options, and a clean pool in a tropical garden, seriously it's paradise.
It is a little bit on the pricey side, but you will want to stay somewhere decent as there isn't anything to do here anymore, and it is so worth it! No doubt this was the most expensive room we booked in Cambodia, and we have zero regrets.
---
Is Sihanoukville Safe & Is Sihanoukville Dangerous?
For the most part Sihanoukville is not a safe place, unfortunately. There are few places in the world I have felt unsafe as a traveler, and unfortunately, this is one of them.
You couldn't pay me to walk around the area at night. Even though I haven't seen any crimes with my own eyes they are certainly present.
Most reports indicate crime here is now between Chinese nationals, though it is still not something you would want to get caught up in.
Older reports of safety in Sihanoukville seem to focus on petty crime with travelers. However, since the travelers no longer visit, those days are essentially over.
Nevertheless, you still need to keep your wits about you as you can quickly become a target if you let your guard down to someone opportunistic.
---
Is Sihnoukville Clean?
Sihanoukville Cambodia is certainly cleaner than it once was during the height of the construction boom in 2019. Now a lot of the roads are paved, proper drainage installed, and power cables run underneath the street.
It is certainly the cleanest it has been in years.
Nevertheless in saying that the beaches are certainly far from clean. With this influx of hotels and apartments has come an influx of trash, a lot of it has unfortunately ended up in the ocean and nearby beaches.
It isn't uncommon to see plastic littering the shoreline here, and if I am being honest, personally I would hold off swimming until you get to the islands.
---
How Long Should You Stay In Sihanoukville For?
If you have to stay in Sihanoukville, perhaps to catch a ferry or a bus, I would recommend staying for the shortest amount of time, 1 night.
As I mentioned before, I recommend staying at Sok Sabay Resort if you need to spend a night or two in Sihanoukville. They have air-conditioned rooms, awesome internet, a delicious onsite restaurant offering vege and vegan options, and a clean pool in a tropical garden.
It is a little bit on the pricey side, but if you are staying around chaos you will want to splurge for somewhere a bit nicer.
---
Do You Need To Stay In Sihanoukville To Visit Koh Rong?
Maybe in the past, you would spend a day or two in Sihanoukville instead of going to the islands, but these days are long gone.
It is pretty normal for travelers to head directly to the ferry terminal on arrival, and straight to the bus station when they want to leave.
Most travelers will arrive in Sihanoukville having come from either Phnom Penh or Kampot.
Coming from Phnom Penh: There is an assortment of buses and minivans transporting passengers between Phnom Penh and Sihanoukville. Prices start from $12.00 on 12.Go Asia.
The majority of buses leave in the morning and you will arrive in the afternoon, the exact time depends on which bus you decide to book.
The latest bus arrives at 5 pm, whereas the last ferry departs at 3 pm (hopefully with slowly increased tourism post covid, this will change).
Coming from Kampot: Kampot is closer to Sihanoukville so your travel time will be a lot shorter at 2 hours. This means you will be able to leave around lunch and still be able to take the ferry in the afternoon.
You can book tickets online at 12.Go Asia or even a train on Baolau.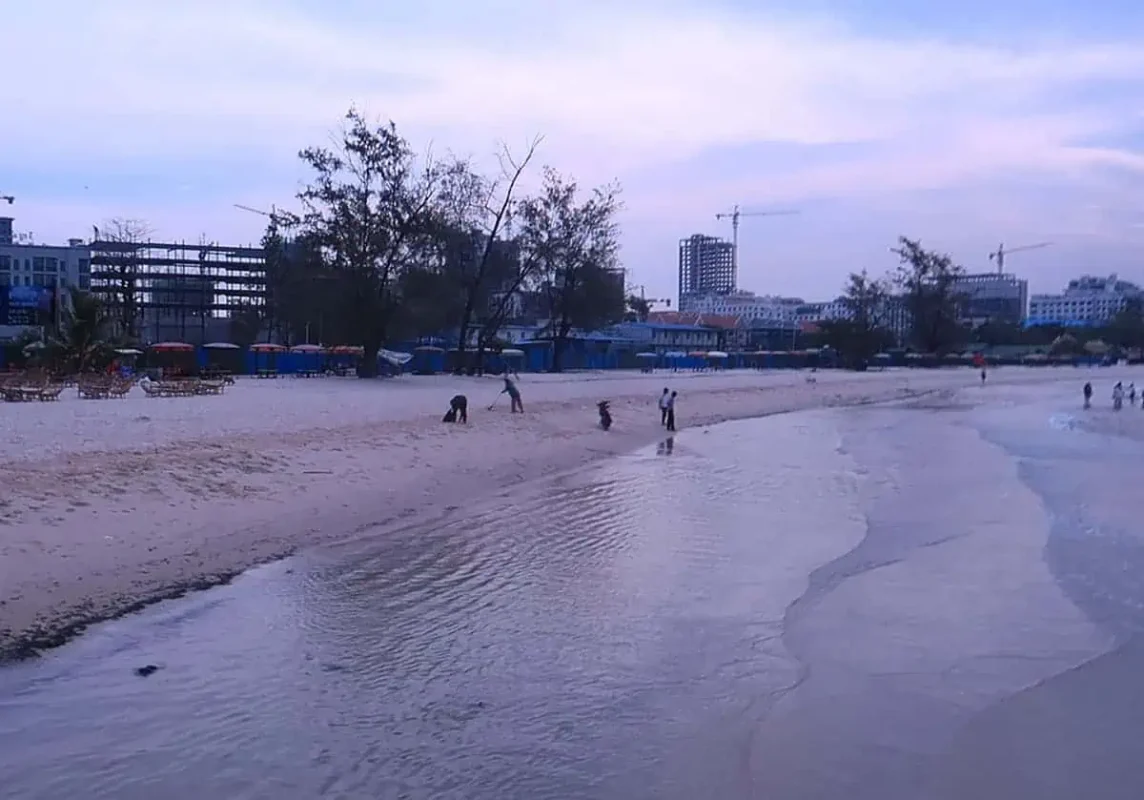 ---
Is This The Result Of Over Tourism?
For sure this crazy boom in infrastructure in Sihanoukville is the result of over-tourism, though in its worst possible form.
Over-tourism is something we have seen replayed over and over again around the world. Especially as travel becomes easier for the modern-day traveler, and social media (as well as travel blogs like this one) push once under-the-radar destinations into the spotlight.
First of all typical backpackers, or budget travelers discover these destinations, then adventure travelers, and finally, the tour companies open up routes there making it a lot more accessible.
Quickly the local government spots this boom and new hotels and restaurants will quickly pop up to cater to these travelers. Lastly, the media pushes the location into the international spotlight, whether that is in the form of a top 10 list, a movie, or a TV show.
Other places we have seen this occur throughout the world include Dubrovnik in Croatia, Koh Pho Phi in Thailand, and Venice in Italy.
Sihanoukville was very quickly thrust into the international spotlight, thanks to its pristine beaches and beautiful warm water. Soon enough it was packed with travelers looking for a little slice of paradise on the Cambodian coastline.
Seeing this popularity many tour agencies also started to take their groups there. Very quickly this dirt road town, with basic facilities was catering to the masses and had a steadily growing crime rate.
---
Where To Go Instead Of Sihanoukville In Cambodia
As you can see Sihanoukville isn't the backpacker paradise it once was and you may now need to rethink your backpacking Cambodia itinerary.
Though don't worry there are plenty of other sun-kissed beach paradise locations that you can add to your route instead.
---
Mainland
Unfortunately, there aren't too many places left in Sihanoukville or nearby surrounding areas where you won't be affected by being surrounded by a giant construction site. Honestly, the only place I recommend in Sihanoukville is in Otres Beach called Sok Sabay Resort.
It is like being transported to a whole other world as soon as you walk in, and trust me that is what you will want. Alternatively, you can always just head straight to one of the islands.
---
Koh Rong
Welcome to one of the many paradise islands you will find around the coast of Cambodia. This is certainly the most built-up island where you can find an assortment of restaurants, cafes, and types of accommodations.
Whether you want an all-inclusive 5-star resort or a cheap dorm room, you can easily find it here. I don't recommend staying in the main town where you arrive straight off the ferry, but instead, somewhere a 10 or 15-minute walk away.
This will still allow you to access all the amenities but also have some privacy and a quiet beach to relax on. For something, more lux check out Long Set Resort, for mid-range prices you have Tree House Bungalows, and for dorms, Nest Beach Club (though it is a party hostel).
---
Koh Rong Samleom
Koh Rong's slightly lesser ventured sister is Koh Rong Samleom. Here is less built-up than its neighbor, though equally picturesque.
I loved staying at Sara Resort in the main beach area. The rooms have amazing air conditioning, it's in an awesome location and the onsite restaurant is delicious.
For something a bit off the beaten track definitely check out Sleeping Trees for their glamping tents. This is on the other side of the island looking straight out to sea, so awesome sunsets. It does lack a paradise white sand beach, but the snorkeling here is next level!
---
Koh Ta Kiev
If you are looking for something off the beaten track with minimal other travelers then check out Koh Ta Kiev. This island is equally as stunning as the others, though a lot less built up.
One of the top places to stay here is called Kactus where you can find basic bamboo huts and dorm rooms. You won't be able to find any super glamorous accommodation here.
This spot is like the rest of the islands 20 years ago, with just what you need and nothing more.
In mainland Sihanoukville, this low-key resort is still paradise. Prices start from $65.00 per night.

BOOK NOW

Lovely bungalows a short walk from long beach. Rooms start from $33.00 per night.

BOOK NOW

Beautiful private rooms from $35.00 per night and in a beautiful beachfront location.

BOOK NOW

Discover life off the beaten track by staying in Koh Ta Keiv. Rooms here start from $15.00 per night.

BOOK NOW
---
What Is The Future Of Sihanoukville Cambodia
Now, what exactly does the future hold, and will it ever be worth visiting Sihanoukville?
I mean they have rebuilt this entire city from the ground up, all at freakin once. No doubt this causes a lot of short-term problems, but will it once again become the coastal paradise that originally put it on the map?
Well, I think for the most part Sihanoukville City Center has accomplished what it set out to do, though there was a whole lot of mess to get there.
The shorelines are relatively cleaned up, the sealed roads keep expanding into the outskirts and the modern skyscraper hotels provide a level of comfort that is a first for the area.
Though the hundreds of casinos on both land and on the sea provide little excitement for backpacker customers. This will never again become the quiet traveler hangout we once knew, with bamboo huts, locally run restaurants, and hammocks on the beach.
I know for sure one thing, at least in the meantime, that you can find me on one of the nearby islands, where Iife is more laidback.
---
FAQs About Sihanoukville & Otres Beach Cambodia
Why we no longer travel to Sihanoukville?
A lot of people, and tour groups no longer travel to Sihanoukville as it no longer caters to them. Rather than relaxing beaches, and hippie vibes you will now find concrete skyscrapers and a large modern city with plenty of casinos. You are also no longer supporting local businesses there anymore as the majority are foreign-owned.
What happened to Sihanoukville?
The once sleepy town of Sihanoukville essentially changed almost overnight when Chinese investment flooded in. By the late 2010s, the once-tranquil city was transformed. Sihanoukville today is an enclave of Chinese investments including hotels, apartment towers, restaurants, and casinos. Khmer and English language signs have been replaced with Mandarin catering for the new tourists.
Is it safe to go to Sihanoukville?
Sihanoukville is not considered a safe place to visit for the most part. There are reports of crimes and thefts in the area, and it is advisable to be cautious while traveling there. However, there are still some activities that you can enjoy in Sihanoukville, such as visiting the beaches and exploring the city by daylight.
Why are there so many casinos in Sihanoukville?
Sihanoukville is now home to over 100 casinos, most of which are small operations. The reason for this growth is attributed to Chinese developers who have invested heavily in the region. The Chinese government has banned gambling, so these tourists are not allowed to gamble in their home country. Cambodia, on the other hand, has made it easy to obtain a casino license, and they do not tax earnings from gaming.
How many Chinese live in Sihanoukville?
The population of Sihanoukville is made up of about 90% Chinese Nationals who live and work there. This figure is approximately 200,000 people, however, it has decreased since then due to online gambling being banned in Cambodia due to increased crime.
What happened to Otres Beach?
The once backpacker haven of Otres Beach Cambodia has now been well and truly taken over by the Chinese investors popping up all around Sihanoukville. This includes building hotels, casinos, and apartments in masses. You can even find a floating helipad on the shoreline!
Where is Otres Beach?
Otres Beach is an old backpacker hangout in Sihanoukville, Cambodia. It is situated past the south end of Ochheuteal Beach, and beyond the Viewpoint to Sihanoukville City. The beach is split into Otres Beach and Otres Two, the latter located slightly further down the coast.
What to see in Sihanoukville Cambodia?
Some of the popular tourist attractions in Sihanoukville are:
Otres Beach: A peaceful beach that is perfect for swimming and sunbathing.
Koh Rong Island: A beautiful island that is known for its white sandy beaches, crystal clear waters, and vibrant nightlife.
Ream National Park: A nature reserve that is home to a variety of wildlife, including monkeys, gibbons, and elephants. Visitors can explore the park by boat, kayak, or on foot.
Sokha Beach: A private beach that is known for its clear waters and soft sand. It is a great place to relax and unwind.
---
Wrap-Up: Is Sihanoukville & Otres Beach Worth Visiting
While Sihanoukville and Otres Beach were once popular destinations for travelers, they have undergone significant changes in recent years.
While Otres Beach can be a good overnight option if you have no other choice, Sihanoukville is no longer the bucket-list destination it once was.
If you're looking for a relaxing beach getaway, there are plenty of other options to consider in Cambodia.
---
LIKE IT? PIN IT!
---
Want more Cambodia Inspiration? Check out….
---
Disclaimer: This post contains affiliate links. So, if you click on it and purchase something, I get a small percentage at no extra cost to you. As always all opinions are my own and your support is much appreciated.
Related Posts
Come check out the perfect 2 weeks in Cambodia Itinerary for first-time visitors, hitting up [...]
Sihanoukville used to be a bucket list destination on many travelers' lists, but nowadays it [...]
5 Comments
Planning on traveling around Cambodia? Then come check the cost to travel Cambodia on a [...]