If you are wanting to check out some of Siem Reaps lesser visited, but still equally amazing temples then I recommend checking out the Angkor Wat Grand Circuit. In this guide I will let you know how to get around, ticket prices, and what temples you will visit during your adventures. 
---
Of course, if you are visiting Siem Reap a trip to explore Angkor Archeological Park is a must! This will no doubt become a highlight of your adventures in Cambodia, as it did mine.
If you are wanting to beat crowds and aren't too worried about seeing the big 3, or perhaps, you've already done the Angkor Wat Small Circuit and want to see some more temples, then the Angkor Wat Grand Circuit is a perfect choice.
I decided to do the Angkor Wat Small Circuit on my first trip to Cambodia as I had to see all those temples everyone was raving about. On my second trip, I wanted to see a different side of Angkor Archeological Park and chose to do the Angkor Wat Grand Circuit.
Which honestly was a perfect surprise. No doubt one of the best parts was being able to escape the crowds which were nearly impossible to escape on our previous visit.
Is it actually worth doing over the Angkor Wat Grand Circuit, especially if you only have 1 day in Siem Reap to explore these incredible temples? Will you also have those amazing experiences everyone else talks about? Is there a reason there are fewer crowds on this route?
Well, I will get into why you should do the Angkor Wat Grand Circuit, how to get around, how to purchase tickets, what temples you will see, their highlights, what to bring with you, and more in this guide. So prepare to get excited as you find out all there is to know about these impressive Khmer ruins.
---
Angkor Wat Grand Circuit: Find Out All You Need To Know
---
Why The Angkor Wat Grand Circuit?
The Angkor Wat Grand Circuit may not be the most popular way to experience the incredible temples of Angkor Archeological Park, though this doesn't mean it isn't worth visiting.
You won't be like a tin of sardines like you will if you visit Angkor Wat for sunrise, Ta Prohm, and Bayon. Actually we never really experienced any crowds whatsoever on the Angkor Wat Grand Circuit, which was a nice change.
There are still some incredible temples on this route, which I will get into below. You may be surprised to find out you will still see faces carved into rocks with overgrowing vines.
Sure the temples may not be as grand and magnificent, but having them nearly to yourself and being able to enjoy the quietness of the Cambodian jungle will be a magical experience in itself.
On the Angkor Wat Grand Circuit, you will also see a lot more of the Cambodian countryside as it takes a lot longer to travel to the temples on this route. Though the downside of this is that it isn't really suitable for some more manual transportation methods, more details on that are a bit further down.
Honestly, if you only have 1 day in Siem Reap set aside to do the temples, do the Small Circuit. You don't want to leave with any regrets and seeing some of those outstanding temples such as the Big 3 are truly incredible.
Experiencing the dark sky change to lightly colored pastel hues, being watched over by stone faces, and witnessing nature take over these structures is truly mesmerizing. However if you do have a bit longer in Siem Reap I can highly recommend the Angkor Wat Grand Circuit.
Though if you do have longer, such as 4 days in Siem Reap, I highly recommend checking out my itinerary for the best things to do. 
---
Buying Your Tickets To Angkor Archeological Park
Now there are a few different types of tickets you can buy to Angkor Archeological Park, and you will need at least a 1-day ticket to experience the Angkor Wat Grand Circuit.
Though be aware the tickets are not as cheap as they used to be. Actually, this was the most expensive thing I did in Cambodia, and it is likely you will have the same experience as well.
Now you have three different ticket options to experience Angkor Archeological Park:
1-Day Ticket- $37.00
3-Day Ticket (valid for 1 week)- $62.00
7-Day Ticket (valid for 1 month)- $72.00
Other things to note are children under 12 can enter for free but they must show their passport. The ticket grants you entry to all the temples excluding Kulen Mountain and Bengmealea Temple. 
As you can purchase multi-day tickets at a discounted price this will allow you to do the Grand Circuit and Small Circuit, ensuring you see the two separate sides of the Angkor Archeological Park, and see the best it has to offer.
---
Top Tip: Experience Sunset After Buying Your Ticket
Now a lot of tuk-tuk drivers will offer that you can pick up your Angkor Archeological Park tickets the evening before you plan to go. After purchasing them they will then take you into the park to experience the sunset. This is one of the best things you can do in the evening while in Siem Reap.
One of the most popular temples to watch the sunset from is called Phnom Bakheng. This is also the temple that we visited for sunset.  It was busy, but not overwhelming, so just know you won't have it all to yourself.
The temple is tall enough for the perfect view over the jungle where you can watch the sunset over the horizon and the sky change to beautiful hues of pink and orange.
Doing this is super easy to organize, and is a relatively affordable experience. For example, it only costs my partner and me an additional $10.00, or $5.00 each to do this.
---
How To Get Around Angkor Wat Grand Circuit
How this is a much larger area to cover than the Angkor Wat Small Circuit. As a result, you may find yourself more limited in terms of what transport you take to get around and explore.
This is definitely not walkable, and I do not recommend you try it. Instead, the best options to get around are by bicycle, tuk-tuk, or on an organized tour. Here is a bit more information on each of these options…
---
Tuk-tuk
Personally taking a tuk-tuk is my favorite way to check out both the Angkor Wat Grand Circuit and the small circuit. In my experience, this is a super enjoyable way to see the park, where you can simply just sit back and enjoy the views as there is no need to navigate.
It is also surprisingly affordable to hire a tuk-tuk to take you around as well. You can either book a driver in advance or simply just wait until you are in Siem Reap and meet one. You will find plenty hanging around the touristy area of Pub Street and then you can negotiate a rate with them.
Though, I prefer to organize mine in advance as then you don't have to worry if you can't find someone, or perhaps you may be short on time. Personally, I used Sary from Tuk Tuk Angkor and the whole process was super easy, from sending him an email, locking in the dates and times, and exploring on the day.
He has all the prices listed on his website so you know what you are paying up front. For example, as of writing, it is $18.00 for the Angkor Wat Grand Circuit, $3.00 extra for sunrise, and you can add on $7.00 to do the sunset tour as well the day before.
If you are traveling as a couple or a small group it is easy to see how affordable of an option doing this is.
---
Bicycle
No doubt one of the most eco-friendly ways to see the Angkor Archeological Park is by bicycle. Though in all honesty if you think this option is the best for you I do recommend thinking twice.
The Angkor Wat Grand Circuit takes you quite a distance through Angkor Archeological Park and a lot of the roads are not under any shade. Also, I know I may not be the fittest person in the world, but visiting all these temples is utterly exhausting.
This is without having to bike around to and from each one, as well as from your accommodation and back.
If you insist on using a bicycle, then I highly recommend an e-bike as an alternative. These are the battery-powered motorbike-type vehicles that you can drive around (actual motorbikes aren't allowed in the park).
Be aware that you will need to stop to charge your E-Bike. Though, don't worry as there are charging stations available in the park, or you are able to charge in a lot of restaurants as long as you purchase something as well.
Personally, I would only recommend using this E-Bike option if you are doing the Small Circuit, not the Grand Circuit. There are many companies in Siem Reap where you can hire these E-Bikes or you can organize it in advance by booking online.
---
Organized Tour
Now the last option you have to explore the Angkor Wat Grand Circuit is by taking an organized tour. Just be aware that because the Angkor Wat Grand Circuit isn't as popular as the small circuit you may have some trouble finding a tour group to take you around.
Since most people come here to see the big 3 featured on the other circuit, this is the route many of the tour operators cater to.
You can book tours via platforms like Get Your Guide. Though before you decide to go with this option know that you will be transported around in a minivan or bus (bonus air conditioning).
Though personally, for me, this takes away some of the magic of the Angkor experience. Also, best to read reviews so you know exactly what you are signing up for.
---
The Temples On The Angkor Wat Grand Circuit
Now it is time to get into the temples on the Angkor Wat Grand Circuit. This way you will know what to expect on your adventures and how to make the most of your time away from the busy crowds. Get ready to discover some super underrated spots…
---
Angkor Wat
Honestly, Angkor Wat is actually not a part of the Angkor Wat Grand Circuit. Though I decided to add it as the first stop on this list as many people will visit for sunrise no matter what circuit you decide to book on. I
t is an icon of not just Siem Reap, but the entire country of Cambodia and is no doubt the most famous part of the Angkor Archeological Park.
You will come here for sunrise and join the crowds as you watch the sunrise over one of the ponds out front (it's a pretty epic reflection). Though just keep in mind this will be the busiest stop of the day.
No doubt you will hear plenty of horror stories about crowds during sunrise at Angkor Wat, though I didn't find it too overwhelming. Plus watching the sky turn from night to day, with all those magical colors, is the perfect distraction.
Once the sun is in the sky, and the sunrise show is over, then it is time to head inside Angkor Wat and explore all it has to offer. Now, I recommend not rushing and taking your time to let the crowds disperse. This happens rather quickly because Angkor Wat is freakin huge.
There are so many areas to explore you will quickly find yourself away from the masses. You will see plenty of monks here offering blessings for a donation, which is a pretty popular thing to do here. They are usually located in the first part when you enter.
You can also climb the extremely steep steps to the temple in the center. There is usually a line, as numbers are limited, but you do get quite an epic view up the top. This area opens a little later at 6.40 am and a conservative dress code is enforced with your shoulders and knees covered.
Once you have finished checking out Angkor Wat I recommend heading to one of the nearby cafes for a quick breakfast to fuel you for more exploring. That, and you will be able to find a decent bathroom.
---
Preah Khan
Preah Khan is certainly one of the highlights of the Angkor Wat Grand Circuit, and it certainly was for me during my visit. It is quite impressive arriving and being welcomed by what appears to be a line of carved people pulling a snake. Well, they actually represent the churning of the ocean of milk.
We did have a couple of issues here with young children being very pushy with selling their goods. Though the best thing to do is continue saying no and walk away, hoping soon enough their interest is peaked by someone else.
The temple of Preah Khan seems to go on forever as you follow the central hallway. Through here there are pockets of courtyards that open up, as well as small rooms that seem to showcase particular carvings. Make sure to walk through here only and take in all the intricate detailing, it truly is impressive.
Unlike many of the other temples which seem to be overrun with tourists, it is a lot more laid back here. As a result, you can create your own path as you explore at your own pace, without feeling overwhelmed by crowds or forced to go faster.
---
Neak Pean
Neak Pean is another super interesting temple that is quite unique to the others in Angkor Archeological Park. Though before you get into the temple you will need to walk along a decent-sized pathway as it is a few hundred meters from the car park.
Though in my opinion, this walk was actually one of the highlights of visiting Neak Pean.
This is because the landscapes surrounding it are quite unique to what you usually see in the Park. Instead of a lush dense jungle, it is more of a swampy area with small ponds scattered around.
There also looks to have been a fire in the area during my first due to the lack of vegetation, blackened dying trees, and fresh boardwalk. You will also see plenty of vendors in this area selling fruits, cold drinks, and souvenirs.
Once you make it to the temple of Neak Pean you will notice it sits right in the middle of a man-made pond. This means you can not go inside and explore, but instead walk around the perimeter and appreciate its beauty from a distance.
---
Ta Som
No doubt Ta Som was my favorite temple I visited on the Angkor Wat Grand Circuit. It may look like nothing special from the road, but once walking inside the complex I was in complete awe. Here you can find intricate stonework and excellently preserved colors.
Ta Som is actually an excellent alternative to Bayon and Ta Phrom on the Angkor Wat Small Circuit, this is because here you can see huge trees taking over the complex as well as faces carved into the rocks.
Though what made this place special for me is that we literally had it to ourselves during this visit. Seriously, we spent a good 20 minutes here appreciating the beauty before anyone else turned up. That is why I love the Angkor Wat Grand Circuit.
Make sure you turn around during your visit once you reach the back gate, this is where you will find the impressive face watching over the complex. This makes for an incredible photo opportunity.
---
East Mebon
East Mebon temple is our next stop on the Angkor Wat Grand Circuit. This one if actually quite similar to the next temple, though with fewer stairs to climb, resulting in not much of a view at the top.
One of the highlights here is the small gate you pass through just as your enter. This is a super popular photo spot and often you'll find a bit of a traffic jam of people qued up waiting for their turn to take a photo. Though it is a pretty decent photo as you can capture the temple in all its glory.
---
Pre Rup
As I said above Pre Rup is pretty similar to East Mebon. Though here you will find a decent set of stairs so steep it comes close to climbing a ladder. With no handrails to assist with climbing and descending, I recommend taking things slow and knowing your limits.
In such steep staircases, it is often easier to climb up than it is to get down. Therefore, if you need to even just slide down on your butt, one stair at a time.
Though, this effort to climb the staircase will well and truly be rewarded. At the top, you will find an epic view of the ruins below which seem to sprawl out.
This is another excellent temple to visit during sunrise or sunset. So perhaps if you already did sunrise at Angkor Wat while doing the Angkor Wat Small Circuit, then this is an excellent alternative for the grand circuit.
---
Srah Srang
Srah Srang is the last stop on the Angkor Wat Grand Circuit. Some people actually decide to do it in the opposite direction and begin their day here watching the sunrise. Here you can find a massive man-made lake where you can check out a beautiful reflection of the sky and relax.
There is also a delicious noodle shop here which makes for the perfect spot if you are feeling a bit hungry, or grab a strong cup of coffee if you are needing a bit of an energy hit after all that exploring.
Though if you are tired from all the adventures today don't fret about heading straight back to your hotel for a cold drink and a dip in the pool. It has no doubt been a hot and sweaty day under the Cambodian sun, and you deserve a relax.
---
Where To Stay In Siem Reap
Siem Reap is a famous destination for travelers of all types so you will find accommodation for all budgets. Whether you are looking for a taste of 5-star luxe, an affordable guesthouse, or a hostel where you can meet other travelers, there is something here for everyone.
Though in my eyes, there are two things you need to be aware of when booking accommodation in Siem Reap. The first is I highly HIGHLY recommend booking a room with air conditioning. Secondly is that there are a heap of power cuts in Siem Reap A LOT.
Therefore depending on where you book if the power goes out, there goes your air conditioning. Though some high-end hotels will actually have generators for this exact reason. Therefore you can still enjoy some air conditioning and wifi no matter what happens around the city.
My personal favorite place to stay in Siem Reap is called the Royal Crown Hotel & Spa. They have two different pools you can use, a quick 5-minute walk from the Old Market, beautiful rooms, a generator, and delicious food options on-site. I actually got quite sick in Siem Reap and we ended up bunkering up here in this hotel for a week.
A fun and social hostel with a rooftop pool. Prices start from $5.00 per night for a dorm room.

BOOK NOW

A chill hostel with a co-working space as well. Prices start from $7.00 per night.

BOOK NOW

My top choice. Rooms start from $45.00 per night with two pools and breakfast included.

BOOK NOW

A Luxe Hotel with modern rooms and a pool. Prices start from $70.00 per night.

BOOK NOW
---
Any Questions? Let me know in the comments!
---
LIKE IT? PIN IT!
---
Want more Cambodia Inspiration?
Check out….
---
Disclaimer: This post contains affiliate links. So, if you click on it and purchase something, I get a small percentage at no extra cost to you. As always all opinions are my own and your support is much appreciated.
Photo credit: "
Srah Srang 1
" (CC BY 2.0) by Joaquin Uy. "Banteay Kdei Temple" (CC BY 2.0) by Ecperez . "Ta Keo 2" (CC BY 2.0) by Ben Kucinski .
Related Posts
Check out how exactly to travel from Koh Rong to Koh Rong Samloem to discover [...]
2 Comments
Planning on traveling around Cambodia? Then come check the cost to travel Cambodia on a [...]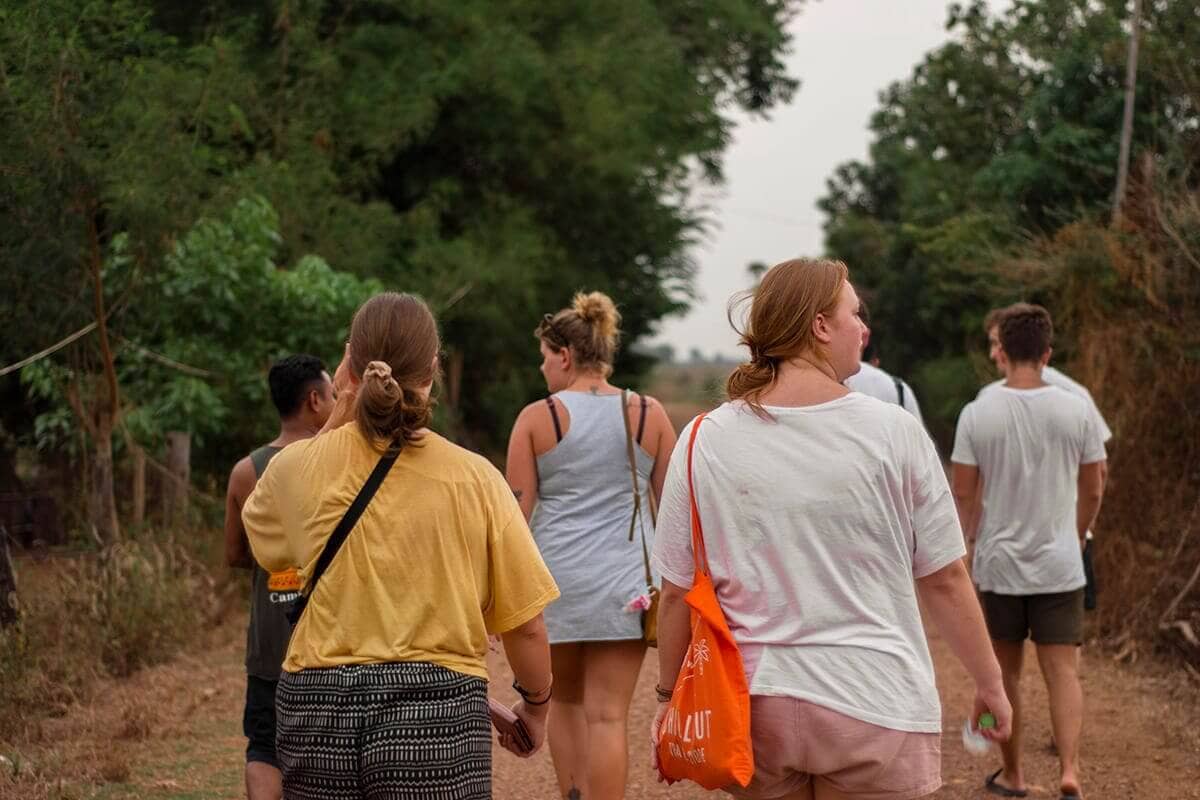 Find out everything you need to know about traveling South East Asia with Stray Asia. [...]
4 Comments