Off the coast of Cambodia, you will find the paradise islands of Koh Rong and Koh Rong Samloem. Even though they may sound so similar, don't let this confuse you as each one has its own highlights and minimal lowlights. Nevertheless, how do you decide which island is best for you, Koh Rong or Koh Rong Samloem?
---
No doubt if you are traveling around Cambodia you have plans to visit the idyllic islands, and if you don't have this on your itinerary yet, I recommend you change that asap. Think crystal clear blue water and fine white sand that squeaks underneath your feet. Seriously I have traveled to many incredible destinations around the world and the beaches and island life here are among the best I have ever experienced. Though if you do not have time to visit both islands, how can you pick Koh Rong or Koh Rong Samloem?
Sure, they are both incredibly beautiful, though depending on what kind of holiday you are on and what kind of amenities you need will greatly affect your visit. Do you need air conditioning, power, access to an ATM, and numerous activities within easy access? In contrast, you will also need to think about what type of island vibe you want as this will affect what one you stay at and in which area. Think deserted beach or party haven. Sure there is something for everyone but you need to know where exactly to look.
That is why I have written a compression of everything and anything you may need to know when deciding which island to visit. That way you can easily choose whether Koh Rong or Kong Rong Samleon is best for your getaway, so you can have the perfect time with zero regrets.
---
Koh Rong or Kong Rong Samloem? How To Choose Your Island Paradise
---
The Basics Of Koh Rong
Located off the coast of Cambodia the island of Koh Rong is the larger one. Though this doesn't mean it is developed. Ferries run regularly from the nearest port of Sihanoukville making it super easy to access.
Once on the island, you will arrive in the area known as Koh Toch Village. This is where the main town on the island is located and where you can catch a boat to other parts.
In this area of the main town, you will find a handful of locally run guesthouses for travelers on a budget. Though you will need to travel to other parts of the island to experience some of the 5-star resorts or budget hostels. In the main town of Koh Toch, you will mainly find restaurants, small shops, and a handful of tour agencies.
The roads here are simply made of dirt paths through the green jungle. You will notice an absence of cars on these roads as most locals travel by motorbike instead. For travelers, it is still common to travel to your accommodation on another boat from Koh Toch village rather than getting a taxi.
Enjoy beachfront living in luxury. Rooms here start from $70.00 per night.

BOOK NOW

One of the best party places on the island. Dorm rooms here start from $5.00 per night.

BOOK NOW

Located on a quieter part of the island. You can find a seaview tent here for $11.00 per night.

BOOK NOW

A short walk from an incredible beach and the main town. Rooms here start at $50.00 per night.

BOOK NOW
---
The Basic Of Koh Rong Samloem
The smaller sister of Koh Rong is called Koh Rong Samloem, located just 4 kilometers away. Though just because it is smaller doesn't mean it is any less spectacular. Ten or so years ago this was definitely the less ventured between Koh Rong or Koh Rong Samloem. Though in more recent years we have seen a huge influx of resorts, hostels, and cheaper accommodation options, bringing with them a new influx of travelers.
The main tourist area of Koh Rong Samloem is called Saracen Bay and this is where the ferry will arrive from Sihanoukville. Be aware there are not actually any roads on Koh Rong Samloem. Therefore many people choose to stay in Saracen Bay where it will just be a short walk from the ferry pier to your accommodation. Though if you are looking for a more secluded experience there are numerous accommodation options where you will need to take another boat or go on a jungle trek to access.
When doing research you will quickly notice inconsistencies when it comes to the spelling of Samloem. This is simply been because this has been an issue since the 19th century with different maps containing different versions. Nowadays in the 21st century, you will notice there are even differences between Google and Google Maps. Nevertheless, all spellings are generally used interchangeably.
A glamping-style hotel on an excellent snorkeling beach. Prices from $20.00 per night.

BOOK NOW

A popular hostel chain throughout Cambodia. Grab a dorm bed from $10.00 per night.

BOOK NOW

My top choice. Rooms start from $36.00 per night with air-con, 24/7 power, and awesome wifi.

BOOK NOW

An affordable hostel on the main beach of Saracen Bay. Dorms start from $6.00 per night.

BOOK NOW
---
Who has The Best Beaches Koh Rong Or Koh Rong Samloem?
There are some incredible beaches on both Koh Rong and Koh Rong Samloem. So much so that I wouldn't say one is better than the other. Though if you are wanting some accommodation where you can get straight off your accommodation and check in at a place on a beautiful beach then Koh Rong Samloem is the winner hands down.
Though this is simply because the village of Koh Toch on Koh Rong is a lot more built up and touristy than that main village so the water straight in front is not clean enough to swim in, and there can be some interesting smells. Though head 5 minutes down the beach and you will find numerous people lapping up the waves under the Cambodian sun.
Both islands have the opportunity to do some snorkeling. Though these beaches are generally not the picture-perfect ones you see all over Instagram with clear waters and white sand. Instead, the best spots for snorkeling are along the cliffside or in rocky spots where the fish have places to hide and the coral has somewhere to grow. I have actually swum with stingrays over on Sunset Beach in Koh Rong Samloem.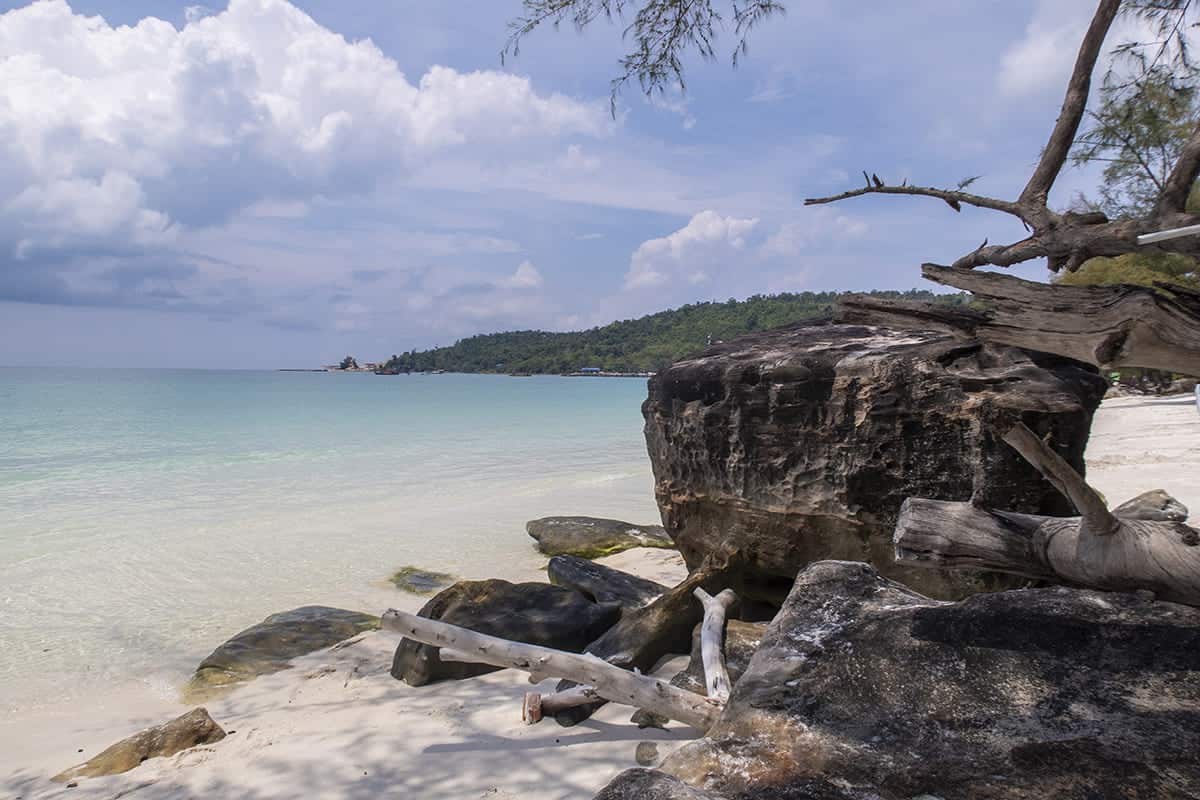 ---
What Island Has The Best Accommodation?
Both Koh Rong and Koh Rong Samloem have an assortment of accommodation choices to suit all types of travelers. Though there are definitely some differences between the two. Whether this is the amenities and facilities that they offer. There are certainly more accommodation options on one island over the other so let's get into it.
---
The Best For Hostels
You will find both islands do have hostels. Though Koh Rong generally will have a wider variety. This is simply because it is known as having more of a young party backpacker vibe. Though keep in mind this is not all areas of the island, so if you are looking for a chill place to stay you can still find plenty of options here.
Nevertheless, you will find hostels on both Koh Rong and Koh Rong Samloem. Surprisingly over recent years more and more hostels have been popping up over Koh Rong Samloem and you can actually find a lot of Cambodia hostel chains here such as Onederz and Mad Monkey.
Hostels in both locations will generally offer everything you could need under one roof, a nearly resort-style hostel. This includes dorm rooms, an onsite restaurant, and plenty of activities. This is because on both islands, depending on where you are, food options may be scarce, so the hostel needs to be able to cater to its travelers and their needs.
---
The Best For Resorts
You can find nice luxury resorts on both Koh Rong and Koh Rong Samloem. Though on Koh Rong you will be absolutely spoilt for choice and you can find numerous 5-star resorts here. This means a pool, onsite restaurant, air conditioning, wifi, and all the amenities. These generally cater to a more upmarket traveler. Though prices here are unlike anything you would pay back home for the same standard,
In contrast, on Koh Rong Samloem, there is a hand full of more luxury resorts, but these are definitely on the smaller side. This means the amenities and facilities may not be as plentiful. Though you will still be in a paradise destination on one of the best islands in the world.
---
Who Has Better Facilities Koh Rong Or Koh Rong Samloem?
Now I know this is unlikely something you often think about when usually traveling. Though when you are in Koh Rong or Koh Rong Samloem you will want to consider the facilities available. Depending where you stay will affect your availability of wifi, electricity, restaurants, cash, and air conditioning.
---
Wifi
Now depending on where exactly you are staying on either Koh Rong or Koh Rong Samloem will affect your access to Wifi. Some areas of each island have it available while others do not. Also if you are staying in a nicer resort or accommodation it is likely it will be available.
Nevertheless, if you are staying in the main areas of Saracen or Koh Toch it is likely you will have access to Wifi. As an alternative, you can always visit restaurants in these locations and use their Wifi as well.
It is highly recommended you look at reviews of your accommodation prior to booking to determine whether it has Wifi availability or if said wifi is even fast enough to be usable. Though if you do have a Cambodian Sim Card it is likely you will have reception at all the main beaches around each of the islands.
---
Electricity
Now I know this may seem crazy, but depending on where you stay on Koh Rong or Koh Rong Samloem will affect whether you have electricity available or not. Some resorts and accommodations only have solar panels and they can't make enough electricity to have it on 24/7. Therefore you will commonly see electricity available only between certain hours.
If you are staying in a small guesthouse in the main village on Koh Rong called Koh Toch you will likely have electricity 24/7. Though power cuts here can occur quite regularly, especially if there is a storm in the area.
I have stayed in locations around both Koh Rong and Koh Rong Samloem where electricity has been limited or we have had zero access to it at all. In all honesty, it is not the worse thing in the world as you just need to prepare to disconnect and embrace those deserted island vibes.
---
Restaurants
Depending on where exactly you stay in either Koh Rong or Koh Rong Samloem will affect your availability of restaurants. Though be aware that most accommodations, whether that is a hotel, hostel, or resort, do have a restaurant onsite. This means that as long as the place you decide to book has a few different accommodation options around it within walking distance you should have a small handful of different restaurants to choose from. I mean if you are going to stay 3 nights in a rather isolated hotel, the onsite restaurant options can get rather boring, and if you have dietary requirements like me, then the number of meals you have available can get cut quite short.
If you happen to be staying in the main areas of Koh Toch or Saracen Bay then you will have numerous options within a short distance. This is awesome as you can mix up your meals and cuisines quite a bit.
---
Access To Cash
Now one thing that stumped me, and stumps a lot of other travelers to these islands is the inability to access cash. This basically means what you bring over from the mainland is how much cash you have. Oh and a very very very small number of places here accept credit cards. These are essentially just pricey hotels and resorts.
There is a mixture of information online amount the accessibility of cash so I am just going to speak from my experience on the island and my struggles getting cash. Basically, we were traveling for 6 nights, 3 on Koh Rong and the other 3 on Koh Rong Samloem. Unfortunately, we greatly underestimated the amount of money we would need. But no worries heaps of reports online advise how easy it is to get cash out in Koh Rong, even though you do have to pay rather large fees.
Unfortunately, we had zero luck getting any cash out on Koh Rong. This may have been because we were traveling during Songkran, which is the New Year. But everyone we asked said no to getting cash out. Luckily after a bit of research, I found a more pricey resort we could stay at for our 3 nights in Koh Rong Samloem that would accept credit cards for our booking. This means we could use our cash to eat, rather than paying for accommodation.
---
Air Conditioning
Now I know I may sound bougie saying this, but like seriously sometimes I need my air conditioning. As you would imagine being on a rather undeveloped island like Koh Rong or Koh Rong Samloem, having air conditioning is actually quite the luxury.
Even though you can spend your days swimming in the wonderfully warm waters, and relaxing beachside. There is nothing better than coming back to an air-conditioned room, having a shower, and not immediately becoming covered in a layer of sweat immediately upon exiting.
Now as you may have guessed having air conditioning here is not the norm. Rather only a select few fancy hotels and resorts have this on offer. Though if you have traveled to Southeast Asia or Cambodia staying strictly in air-conditioned rooms, then I highly recommend splurging somewhere since that also has this. This is especially so if you cannot afford a beachfront room and perhaps are located a little further inside the island so do not get the sea breeze.
---
Which Island Has The Best Vibes, Koh Rong or Koh Rong Samloem?
I know "vibes" may sound silly, but seriously depending on what you are expecting will affect which island will be best for you to stay on. Are you wanting a deserted island experience, a party atmosphere, or to experience a bit of the local culture?
---
Deserted Island Experience
Now if you are looking at getting away from it all then both islands offer this. With minimal electricity, no wifi, no cell phone reception, etc. Though you won't find this is the main area of Koh Toch or Sacaren Bay. Instead, you will need to transport yourself to these isolated locations where you can find these idyllic secluded bungalows for your true deserted island experience.
As Koh Rong is a rather large island you can find plenty of places to do this kind of thing. Generally, they are also easier to get to with roads making the bays accessible and plenty of boats who will happily transfer you there for a price. A popular spot here for this kind of experience is called Lonely Beach. Here you can find beautiful, but simplistic bungalows and no wifi (but if you have a Cambodian Smart Sim Card there is cell reception).
This is also an experience I have done on Koh Rong Samloem at Sunset Beach. We stayed at Sleeping Tree's in one of their glamping tents and it was a true deserted island experience. Though we did have some luxuries such as a good choice of nearby places to eat, and very nice shared bathrooms. This is also an awesome snorkeling beach where you can see many of the snorkeling tour boats come and visit. Though keep in mind that it is much harder to reach these isolated areas in Koh Rong Samloem and you will need to either do a jungle trek with all your luggage or hire a boat.
---
Party Atmosphere
Perhaps you are a younger traveler looking at partying on the beach and basically living your best life. Well, you may be surprised both Koh Rong and Koh Rong Samloem cater to this and more. Though this is only small areas of the island, or during certain times of the month, so don"t roll up expecting to find a party without doing any research.
In Koh Rong there are two places you will find this party atmosphere. This is either in the main village of Koh Toch, where the beach basically turns into a dance floor, or along Long Set Beach. Personally I would choose Long Set Beach as it is an easy walk from the main pier, and one of the most incredible locations I have ever seen. The water is calm, shallow and super warm.
Koh Rong Samloem definitely has less of a party culture than Koh Rong. There you will find the occasional Full Moon Party here which is usually held in the jungle. Therefore if you are wanting somewhere to party every night you may prefer to check out Koh Rong instead.
---
Local Culture
Perhaps you may want to visit Koh Rong or Koh Rong Samloem to experience some of the local cultures in Cambodia. Well, I will be honest these islands are set up for tourism so you won't find much local culture without searching for it. Though nevertheless it is around and can be found if you know where to look.
Visit off is Koh Rong, this is the larger of the islands and definitely has quite a lot of locals living on it. The best place to experience this is in a place called Daem Thkov Village. Though this spot isn't super accessible unless you have some sort of transport such as a motorbike.
On Koh Rong Samloem the local part is known as M'Pay Bay. This is a bit easier to get to as you can just jump on the ferry from Koh Rong to Koh Rong Samloem or visa versa, and it stops at this village. You can also find quite a few affordable hotels and restaurants here. Though the beach at this spot isn't nearly as spectacular as the nearby Sacaren Bay.
---
What Island Has The Most Things To Do?
Now you will find both islands are more set up for relaxing beachside and enjoying a spot of swimming rather than adventure activities. Though nevertheless there are a handful of things you can do in both Koh Rong or Koh Rong Samloem to keep you entertained.
Koh Rong is definitely the island with the most things to do. This is simply because it was essentially the first popularised island and therefore set up for travelers a bit better. This includes activities like scuba diving, zip lining, high rope park, paddle boarding, and jet ski rental. In comparison, on Koh Rong Samloem, you will only really find Scuba Diving and other basic water activities.
Though one of the most popular things to do on both islands is to experience bioluminescence. These tours are super affordable, generally costing between $5.00- $10.00, and can be booked at the main towns of Koh Toch or Saracen Bay, depending on which island you are staying on.
---
LIKE IT? PIN IT!
---
Want more Cambodia Inspiration? Check out….
---
Disclaimer: This post contains affiliate links. So, if you click on it and purchase something, I get a small percentage at no extra cost to you. As always all opinions are my own and your support is much appreciated.
Related Posts