Come find out all you need to know about the Battambang Bamboo Train. It has changed quite a lot over the years so let's see if it is still worth visiting. I will let you know everything including the difference between the old and new bamboo train, how to get there, tickets, and what exactly to expect.
---
If you are backpacking Cambodia no doubt you have heard of the Battambang Bamboo train. I mean seriously I came across this city and added to my itinerary literally just to do the bamboo train ride.
My first visit to Battambang was in 2017 before the second train popped up on the scene, and prior to the old one being refurbished. It was definitely a super authentic experience, where danger meets local innovation. Though is it still worth visiting?
Seriously it is kind of crazy when you first see the bamboo trains. A bamboo slab on wheels and a motor at the back powering it all, I mean it is definitely more complicated than I just made it sound, though the simplicity is so awesome.
Oh, and make sure you have someone strong in your group in case you come across another bamboo train coming toward you. That, or travel in a large group as the train with the least people has to be deconstructed to let the other pass.
Honestly, I have visited Battambang twice and the bamboo train was always the highlight of my visits. Though since covid a new kid has popped up on the scene, and reviews are mixed.
There also seem to be quite a few scams around the bamboo train so read on to find out what you do and do not need to know, as well as what to watch out for during your visit.
---
Battambang Bamboo Train: All You Need To Know
---
How I Book Cheap Transport In Cambodia: 12Go Asia
---
The History Of The Battambang Bamboo Train
The Bamboo Train also known as the Norry is an improvised method of transportation in Cambodia. It came about after the Khmer Rouge absolutely destroyed the country, from its citizens, children, and infrastructure, including the railway system.
The tracks were left broken and essentially unusable, though there were these paths that connected the country, just no use for them. That is when the villagers decided to take leftover truck parts from the war and make them fit on the width of the railroad.
They then built bamboo platforms that sat on top and added a small motor from either a car, boat, or motorbike to get it moving. It may not sound like a fast journey at 40 kilometers per hour. Though when there are no walls, doors, or seatbelts, it certainly is a thrill.
Since then it has gained popularity as a tourist attraction, providing money to the local economy and bringing in a steady stream of travelers to the area. It has also given many local salespeople the chance to sell their goods to these tourists once they reach the turnaround point on the railway track.
---
Are There Two Bamboo Trains In Battambang?
If you have done a bit of research about the Battambang Bamboo Train then you will quickly find mixed reviews and people talking about "the new train" and "the old train". We will get into a bit of the difference between the two, and which one is actually worth doing a little bit, further people.
Though, in the meantime, why are there two trains? Well, it seems a private company actually started the new bamboo train, There has been talk for many years about the Cambodian government fixing up the railway tracks, and getting the trains back up and running.
This has actually happened in a few areas of the country, such as between Phnom Penh to Sihanoukville. Obviously, if/when this happens they will no longer be able to operate the old bamboo train due to the simple fact you don't want to be squashed by a legitimate train.
Though, until that happens, the Battambang Bamboo Train is still up and running servicing tourists wanting to experience the countryside of Cambodia and do something a bit more unique.
Top tip: Some locals and tuk-tuk drivers, as well as articles online, will say the old bamboo train is no longer running. Please be aware this is a scam to bring crowds into the new bamboo train, and the old one is in fact still operating. 
---
The New Bamboo Train In Battambang
So, let's get into the new, awkward, kid on the block, the new bamboo train in Battambang. As I said previously this was set up by a private company. This means they had funds to put into building it, and as a result, it has come up a lot more Disneyland-ish than tourists expect from this experience.
As a result, a lot of negative reviews of the Battambang Bamboo Train actually talk about the new train, rather than the old one.
Lonely Planet describes it as a "kiddies' rollercoaster ride" if that gives you any idea of the experience you should expect. Surprisingly enough it is quite a popular choice for locals and young families. It seems the one good thing about this New Bamboo Train is that you get hassled by young children selling drinks and souvenirs at the other end.
Here you will find an absolutely ridiculously sized car park, ready and waiting to fit in those tour buses. The ride itself is very modernized, with fancy-looking concrete train tracks and well-manicured landscapes. This is certainly not the authentic experience travelers come here for.
View this post on Instagram
---
The Old Bamboo Train In Battambang
The Old Bamboo Train is the main bamboo train in Battambang and what the majority of travelers who visit here expect to do. It is a super unique and authentic experience and unlike anything else, I have ever done anywhere in the world.
Though in saying that my first visit was in 2017, this was a true jungle bamboo train experience. We zoomed fast over a rickety bamboo bridge, ducking to avoid overhanging branches, and through thick jungle.
I was excited for my next visit quite a few years later but it had since been refurbished and modernized.
The jungle landscape was gone, a concrete bridge replaced the bamboo one, and the whole operation was more professionally run. There are both good things and bad things about the improved old bamboo train, but nevertheless, it is a much more worthwhile experience than the new train.
---
How To Get To The Battambang Bamboo Train
The, in my opinion, best Battambang Bamboo Train can be found about a 45-minute to 1-hour walk outside of the main city. Of course, you can also take a tuk-tuk to get there as well for just a few dollars.
We decided to walk one way there and get a tuk-tuk on the way back. We left early to beat the worst heat of the day and stopped along the way at a delicious little breakfast spot to refuel. It was actually a really nice walk, especially as you head out of the city and to the more suburban side.
This map marks the exact location:
---
The Battambang Bamboo Train Costs
On arrival, you will be directed to buy a ticket which costs $5.00 per person. Depending on how busy it is you may find yourself getting teamed up with another group, or simply just having a private journey.
Once you have purchased your ticket you will be teamed up with a driver who will show you to your innovative bamboo vehicle which will carry you through the countryside.
---
My Experience At The Bamboo Train
After a hot and sweaty walk through the small streets on the outskirts of Battambang, we arrived at a small dirt road where the Battambang Bamboo Train office was to be found.
It was a very chill, very Cambodian, experience rolling up, with no exact instruction, but of course, a nice tuk-tuk driver was more than happy enough to point us in the correct direction.
After purchasing our tickets we jumped on board with other travelers and of course, had the obligatory bamboo train photo. Soon enough the engine started roaring and the clicking of the metal wheels on the train tracks sped up and we were on our way.
As I said this was my second experience on the original Bamboo Train, and it was super interesting to see how it had changed over the years.
On the plus side, it was a lot more comfortable as we were given cushions to sit on, the downside is a lot of the jungle had been cut down and made way for new farmland. Since it was the burning season the smoke gave a beautiful contrast against the countryside.
Luckily enough because we were put in a large group we didn't have to give away to any other bamboo trains, instead, they had to stop, pull their train apart, and let us go ahead.
After about 20 minutes we arrived at the so-called end of the line aka a small section of huts and shops set up. It is hard to see the local children here selling souvenirs, rather than being in school.
Though this is a pretty standard practice in Cambodia and many other countries around the world. The best thing is to use your own discretion whether to purchase something to support their families or not.
After a few photos and a cold drink, it was time to jump back on board for the second part of our journey back to the statin. If you didn't know the bamboo train doesn't do a loop, instead you go back the way you came. This means you can just simply sit back and relax as you watch the countryside go by.
---
What To Pack
I know honestly, you don't actually need to bring too much with you on the Battambang Bamboo Train. Though here are a few things that I recommend to ensure you make the most out of your visit.
Camera: Of course, you can't forget the camera. Make sure to have a fast shutter speed so your photos don't come out all blurry once you are moving!
Sunblock & Hat: Don't expect any shade on the bamboo train. This means for at least an hour to will be out in the blazing sun, so make sure to protect your skin. No one looks cute as a lobster.
Sunglasses: It'll definitely be worth bringing sunglasses along with you. I know 40 kilometers per hour doesn't actually sound too fast, but you'll find your eyes quickly watering without them.
---
Other Things To Do In Battambang
No doubt checking out the Battambang Bamboo Train is the most popular thing for travelers to do here, I mean it has gained quite a bit of popularity. Nevertheless, there are plenty of other things to do while you are exploring this quaint town.
Central Market: Right in the center of the town you will find Central Market, also known as Phsar Nath Market. Here is much more of a local market than for tourists. Though it is an interesting walk-through to see the different goods for sale.
Free Walking Tour: An excellent way to discover a new destination is on a free walking tour. It departs from the Central market at 4 pm the hottest part of the day is over.
The guide will take you around the central area pointing out French architecture and historical sites. Be aware that even though it is a free tour, if you found it worthwhile it is always appreciated to leave a tip.
Killing Cave: Why not learn about some of the history and venture to the Killing Cave? It is a rather nice walk where you can see monkeys and even swarms of bats during sunset. Though once you reach the caves prepare to learn about the past and the horrors many people suffered.
Kampon Pil Pagoda: Make your way across the long bamboo bridge and to Kampon Pil Pagoda. Have a wander around the grounds and marvel at the impressive golden roof in contrast with the white walls.
Bat Cave: For another unique experience in Battambang head to Phnom Sampeaou Mountain about 12 kilometers outside of the city. A lot of tuk-tuk drivers will know about the location so you won't have an issue getting there.
What makes it worth visiting is the insane amount of bats that fly out when the sky starts going dark. It is a continuous stream for about 20 minutes, seriously my mind can't even comprehend how many there must be!
View this post on Instagram
---
Where To Stay In Battambang?
Honestly, did I fall in love with Battambang as a town and the accommodation on offer? Not particularly. We stayed in a small super cheap guesthouse with a fan room.
Though I am not going to recommend it simply due to the fact that there was a constant stream of bugs that seemingly appeared from nowhere during our stay. Instead I advise you check out a couple of the below options:
An upscale and modern hostel. Enjoy this flashpacker accommodation, from $8.00 per night.

BOOK NOW

Budget-friendly accommodation with dorm rooms starting from $5.00 per night.

BOOK NOW

Beautiful private rooms from $50.00 per night and an incredible pool.

BOOK NOW

A boutique hotel for those who enjoy a luxe life. Rooms start from $100.00 per night.

BOOK NOW
---
How I Book Cheap Transport In Cambodia: 12Go Asia
---
LIKE IT? PIN IT!
---
Want more Cambodia Inspiration? Check out….
---
Disclaimer: This post contains affiliate links. So, if you click on it and purchase something, I get a small percentage at no extra cost to you. As always all opinions are my own and your support is much appreciated.
Related Posts
Come find out all you need to know about the Battambang Bamboo Train. It has [...]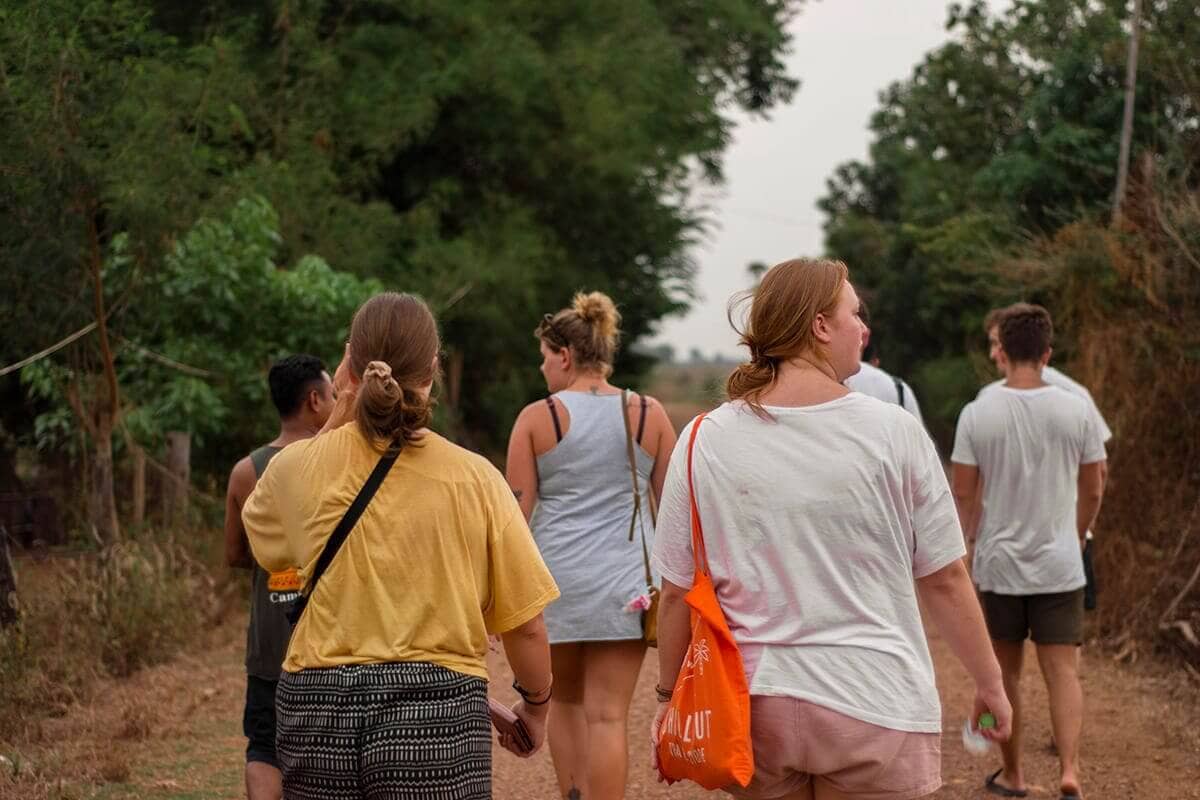 Find out everything you need to know about traveling South East Asia with Stray Asia. [...]
4 Comments
Come find out the best, easiest, and most cost-effective way to travel from Siem Reap [...]