If you are looking for the best hostels in Siem Reap you have come to the right place! I have compared the price, facilities, amenities, and location- so come find out the top backpackers for all types of travelers in this ultimate guide and have the perfect stay!
---
I love Siem Reap, it is one of my favorite cities in the world and I have traveled there quite a few times. I mean you have the incredible Angkor Archeological Park, incredible foodie options, and plenty of markets to explore.
Siem Reap is a popular digital nomad spot thanks to its affordable living and gorgeous cafes. Though equally, you will find plenty of other travelers there popping in for a visit while they explore the rest of Cambodia or Southeast Asia. It is the perfect mix of chill town and bustling city.
I mean what is the best location, which one has the best social atmosphere, and how do I know if the beds are actually comfortable. There are a lot of different things to consider when deciding what is the best hostels in Siem Reap.
When traveling it is important to find a good place to rest your head. Whether you want to spend all night partying or find a quiet spot I will explain where exactly you should stay in Siem Reap.
Now when you are looking for accommodation you will quickly notice how many options you have when booking. Honestly, it can be a bit overwhelming trying to figure out what is best for you and reading through all of the reviews.
That is why I created this guide on the best hostels in Siem Reap!
With the help of this list, you'll be able to see what to look for when booking a hostel in Siem Reap! Ensuring you can book a bed confidently, in a decent location, and for a good price.
---
List Of The Best Hostels In Siem Reap
---
How I Book Cheap Transport In Cambodia: 12Go Asia
---
How To Choose The Best Hostels In Siem Reap
There is a huge choice of hostels to choose from when you are in Siem Reap. Honestly, some people may say too many hostel options as it can be difficult to make a decision on what one will be best for you.
The older, and perhaps wiser, I get the more of a glampacker travel style I begin to develop and there are plenty of bougie hostels in Siem Reap that cater to this. Sure, you can't go wrong with the old-school wooden-style bunk beds.
Though there are plenty of affordable and modern hostels here, so there is honestly no reason to stay somewhere substandard.
Nonetheless, there are cheaper options available that have a great social atmosphere, comfortable beds, and clean bathrooms. So you don't need to worry too much, nor do you have to look far.
So when choosing the best hostels in Siem Reap, some things I took into account are:
---
Price
It is super affordable to stay in a hostel in Siem Reap, and basically all of Southeast Asia for that matter. If you are just looking for somewhere basic to lay your head then prices can be found as low as $5.00.
However, if you were to increase your budget slightly you will be able to find a comfortable bed in a hostel with a great social atmosphere and amenities.
Therefore I recommend budgeting $8.00 for a hostel in Siem Reap per night. This will allow you to stay somewhere decent, perhaps even with a pool!
However, if you are looking for a private room then you will need to increase your budget to approximately $20.00 per night. However if you have a friend to split a double room with, then it is only slightly cheaper than the average hostels in Siem Reap.
---
Location
When you are traveling in Siem Reap you will want to stay in the city center. Honestly looking at a map it can be hard to tell where exactly to stay as accommodation options can be quite spread out.
I mean a lot of the 5-star resorts are located quite far out of the central area. Though as a backpacker you will want to stay near to the city, close to plenty of affordable markets and foodie options.
Personally, I judge where to stay by its proximity to the Old Market. This is just a couple of minutes from the ever-popular pub street where you can find those infamous 50-cent beers and backpackers partying to the early hours.
---
Amenities
There is such a huge variety of hostels in Siem Reap it will be hard to find one that doesn't tick all of your boxes. Booking a hostel with free breakfast and water will help save a little bit extra each day. Some hostels even include free coffee and tea!
Quite a few of the hostels on this list organize events and have an excellent social scene. Perfect if you want to meet other travelers!
One thing to be aware of is often cheaper hostel dorm rooms won't have air conditioning. Rather they will have a fan, I have stayed in both during my travels in Southeast Asia. Though for Siem Reap I will recommend air conditioning only as the heat here is next level.
The last thing I think is important to note is quite a few hostels turn off the air conditioning during the day. I guess this forces you to go out and explore, though I will leave it up to you whether you book one of these hostels.
---
No doubt the award for the best hostel in Siem Reap goes to Onederz Hostel. This is a traveler's favorite located in a prime location with just an easy 5-minute walk away from the infamous Pub Street.
They have two incredible swimming pools where you can meet plenty of other travelers and cool off after a busy day of temple hopping. There is an onsite restaurant where you can treat yourself to a delicious meal. They also get a DJ in twice a week and have a party (don't worry it's not every night).
The rooms are modern, clean, and bright. They have personal reading lights, electrical outlets, and even a spot for drying towels. The adjacent bathrooms are modern and come stocked with shampoo, conditioner, and soap.
$$
2 Swimming Pools
Tour Desk
Free Towels
400 meters from Pub Street
CHECK BEST PRICES
---
Honorable Mention Best Hostel In Siem Reap – Lub D Hostel Siem Reap
Our runner-up or honorable mention for the best hostel in Siem Reap is Lub D Hostel. They are located in my personal favorite area of Siem Reap, just across the river in a slightly quieter part of town. Nevertheless, it is only a 5-minute walk until you are smack bang among all the action again.
This is one of the largest hostels in Siem Reap. Though don't let that scare you off, they have so much to offer including an incredible swimming pool, with a swim-up bar, a games area, and an overall awesome design.
There is a cafe on-site called The PumpHouse that serves up all-day breakfast and delicious barista-made coffees.
They have an assortment of private and dorm rooms. However, a stand-out feature in their dorm rooms is a separate changing and luggage area. That means you don't need to be woken up early by people getting up to check out the sunrise at Angkor Wat.
It has pod-style beds with curtains for privacy. You will also find a reading light, electrical sockets, and USB ports. The shared bathrooms even have hair straighteners and hairdryers- how awesome!
$$$
Onsite Dining
Swimming Pool
Games Area Including Aracade Machines And Pool Tables
600 meters from Pub Street
CHECK BEST PRICES
---
No doubt if you are already in Cambodia or Southeast Asia you would have heard about Mad Monkey Hostels. They have an assortment of locations and are many travelers' favorites.
Though their location in Siem Reap is a 10-minute walk away from Pub Street you are still surrounded by plenty of food options and hotels.
Their dorm rooms have metal bunks, though the next step up from the ones when you were a child. There are lockers underneath as well as a personal reading light and electrical socket next to the bed. You can find a decent-sized pool onsite with plenty of chairs around to lounge on.
Though what the hundreds and thousands of backpackers have stayed here for is the atmosphere. It is super easy to meet other travelers thanks to the parties and events that are put on. Make sure to join their pub crawl if you are staying here!
$$
Swimming Pool
Pub Crawl
850 meters from Pub Street
CHECK BEST PRICES
---
Siem Reap Pub Hostel is an excellent choice for solo travelers. They hold regular events creating an excellent social atmosphere. There is an onsite bar that serves beers, wine, and cocktails at affordable prices.
They also serve delicious Cambodian and Western dishes that'll have you drooling. Out from the bar, you have a huge pool where volleyball games are regularly held.
Siem Reap Pub Hostel offers male, female, and mixed dorm rooms catering to all travelers. I will say that the bunk beds are a bit basic, just your standard metal bunk. Though they still have a personal reading light and electrical sockets.
Anyway, most people seem to stay here for the social aspect, not the beds. Oh, and they put on an awesome temple tour for their guests!
$
Tour Desk & SIM Cards To Purchase
Bicycle & Motorbike Hire
550 meters from Pub Street
CHECK BEST PRICES
---
An excellent choice of a cheap hostel in Siem Reap is The Place Hostel & Pool Bar. This affordable option is perfect for travelers trying to get the most bang for their buck. There is even a pool which is super important as it gets crazy hot here in Siem Reap!
Though this isn't a party hostel, instead it is known for its chilled atmosphere. Nevertheless, you can meet plenty of travelers around the pool, at the restaurant, or at happy hour at the bar.
The dorm rooms have bunk beds with curtains (yes my favorite), as well as personal reading lights and electrical sockets. There is also a variety of dorm sizes from 4 beds to the cheapest which is 8 beds.
$
Tour Desk
Swimming Pool
Privacy Curtain
700 meters from Pub Street
CHECK BEST PRICES
---
One of the new kids on the block is Revolution Hostel in Siem Reap. Therefore you know everything is going to be fresh and clean. They have been able to create a gorgeous little oasis in the middle of the city.
There are plenty of chill areas to hang out, whether you want a dip in the pool, a game of pool, or a drink around the bar.
The dorm rooms are clean and modern. You will have a personal reading light and an electrical socket on each bed. They have the option of either 6-bed or 8-bed dorm rooms and they all have air conditioning.
$
Free Water
Family Atmosphere
800 meters from Pub Street
CHECK BEST PRICES
---
The Twitz Lifestyle Hostel oozes luxe with the female backpacking community in mind. The interior and exterior and incredibly gorgeous with decor emphasizing the old colonial style.
It is in an awesome spot providing you with the perfect location to be amongst the action. Though if you don't feel like going out you don't have to. Onsite is a restaurant serving up delicious and affordable eats. What more could you want?
Sometimes as a female traveler, you would rather eat in than venture out in the dark.
There are no rickety old metal bunk beds here instead you will find sturdy pod-style spaces with plenty of storage. A nice thick mattress, fluffy pillows, and an actual duvet are what we love. plus you of course have a personal reading light and socket.
$$$
Rooftop Pool
Female Only Dorms
Restaurant Onsite
650 meters from Pub Street
How I Book Cheap Transport In Cambodia: 12Go Asia
---
Passport Hostel is another popular hostel in Siem Reap. Nice and close to the center it will be easy to walk to some of the best cafes in the city. They provide clean, modern, and spacious hostel dorm rooms.
On offer are female or male dorm rooms with each bed having its own electrical socket and personal reading light.
There is a brand new pool onsite providing the perfect place to meet other travelers. Just be aware this isn't a party hostel and is usually a place travelers come to have a relaxing and more peaceful stay.
$$$
New Pool Onsite
Female & Male Dorm Rooms
550 meters from Pub Street
CHECK BEST PRICES
---
Best Cheap Private Room in Siem Reap – Tropical Breeze
Perhaps you aren't keen on a dorm but you still want somewhere affordable to stay in Siem Reap. Well, the perfect option is Tropical Breeze Guesthouse. They have everything a traveler could want such as a pool, onsite restaurant, and affordable prices.
Sleep well in one of the modern and clean rooms. Just be aware that the cheaper rooms only have a fan in terms of cooling. Though Siem Reap can get super hot so it may be best to upgrade to an air-con room. They are also in an awesome location a short walk away from the Old Market and Pub Street.
$
Super Affordable
Clean Rooms
550 meters from Pub Street
CHECK BEST PRICES
---
If you are wanting a private room that is a little more luxurious, but not pay hundreds, Pages Room Hotel is the one for you. They have an amazing pool on site which is the perfect way to cool down after a day in the hot Cambodian sun.
It gives tropical holiday vibes with the banana palms planted out in the garden.
All rooms here feature air conditioning and they have a very modern and sleek design. You will have plenty of space to spread out in these huge bedrooms that also contain a desk and mini fridge as well. There is also a restaurant on-site if you are feeling peckish and don't feel like venturing out onto the streets.
$$
Pool
Luxe On A Budget
750 Meters from Pub Street
CHECK BEST PRICES
---
More Best Hostels In Siem Reap
This is certainly more of a glampacker type of hostel. They have a beautiful pool area and common space you will no doubt meet many other travelers here.
Though be aware this is not a party hostel, instead, they pride themselves on creating a relaxing environment for travelers to chill. The onsite restaurant serves delicious local and western foods and the bar has an assortment of drinks available as well.
Bokre Angkor Hostel offers free pick-up from the airport or bus station as well! Though the one downside of this property is it is a little further out from the others. Luckily tuk-tuks are cheap enough in Siem Reap so you should have no problem getting around.
The dorm rooms have curtains around the beds for privacy, as well as air conditioning, electrical sockets, and personal reading lights.
$
Swimming Pool
24/7 front desk
1400 meters from Pub Street
CHECK BEST PRICES
---
Our last, but definitely not least choice for the best hostels in Siem Reap is Noni Tree Hostel. They have nice and clean dorm rooms featuring air conditioning.
Though one of the best things about Noni Tree Hostel is its location. They are smack bang amongst the action in the middle of the city center.
Essentially Pub Street is on your doorstep, so you shouldn't get lost trying to find your way back home after a chaotic night out. This will also give you easy access to plenty of tour operators, things to do, and delicious restaurants.
$$
Clean & Modern Rooms
10 meters from Pub Street
CHECK BEST PRICES
---
So Where To Stay in Siem Reap?
Siem Reap is an amazing city that I recommend everyone in Cambodia to visit. No doubt it will quickly become one of your favorite spots in Southeast Asia. It's a more laidback way of life than other large Asian cities and it just has a completely different vibe there than elsewhere in the country.
There is a heap of social enterprises in the way of cafes and restaurants that give back to the community so you know your money is going somewhere good.
No doubt it is somewhere where I could happily live. There is a little bit of everything here, whether you are looking to party or relax.  So with the help of this list of the best hostels in Siem Reap, you will know exactly where to stay.
Do you own or work for a hostel and want to be featured? Let us know over at [email protected]
---
How I Book Cheap Transport In Cambodia: 12Go Asia
---
LIKE IT? PIN IT!
---
Want more Cambodia Inspiration? Check out….
---
Disclaimer: This post contains affiliate links. So, if you click on it and purchase something, I get a small percentage at no extra cost to you. As always all opinions are my own and your support is much appreciated.
Related Posts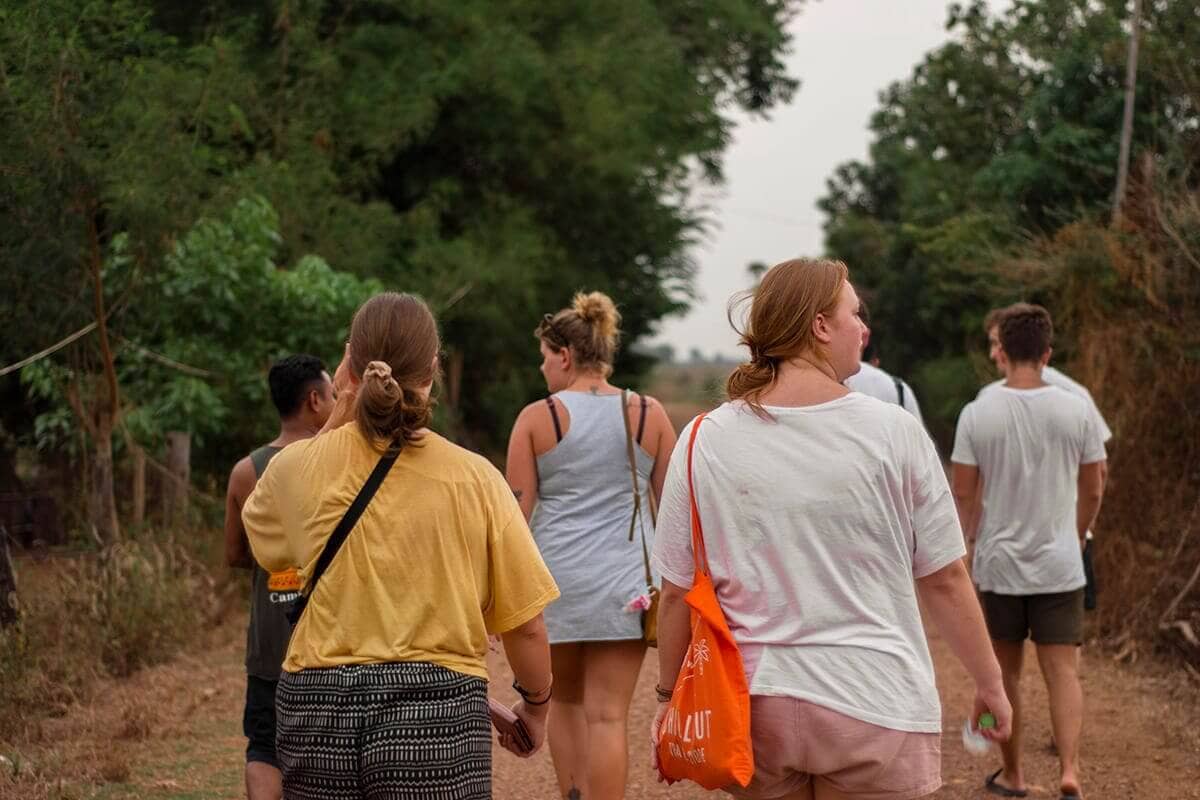 Find out everything you need to know about traveling South East Asia with Stray Asia. [...]
4 Comments
Want to find the perfect backpacker dorm for your trip to paradise? Well, come check [...]
Come check out the perfect 2 weeks in Cambodia Itinerary for first-time visitors, hitting up [...]